Words: David Stagg    Photos: Monica Tindall
As I rode up the escalators, the first thing that came to my mind is "wow"! You look up and you are watched over by this enormous koi lantern. It truly is spectacular. I feel instantly transported to Japan as Touan and several other restaurants appeal for my attention.
Touan is located on the 4th floor of ISETAN – The Japan Store, it is an annex of Lot 10 Shopping Centre. I was met by a waitress wearing a beautiful pink outfit, that made her look like a cherry blossom. I glanced inside and the interior reminded me of a restaurant I visited in Tokyo, exposed polished wood, booths for at least four people, tables for couples and my favourite, stools at the counter, overlooking the chefs and the beautiful fish on offer, or as I like to call it, the action zone.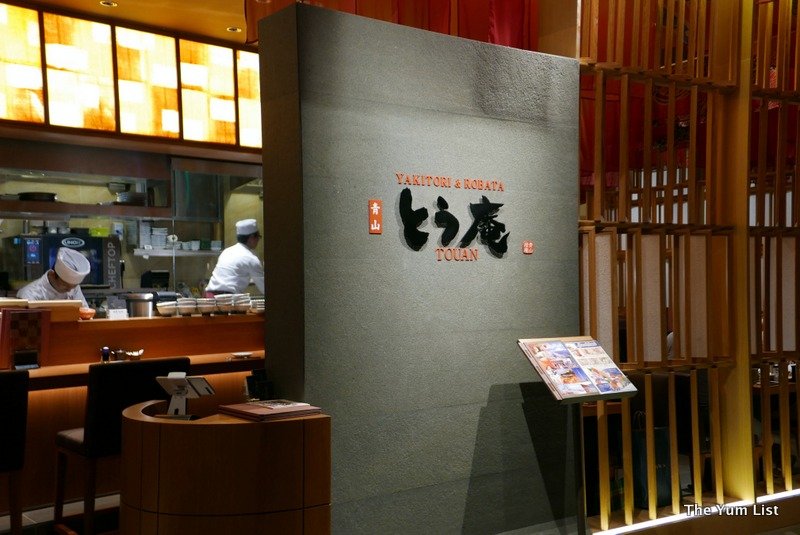 As I was directed to my chair, I received a chorus of "irasshaimase" by the chefs behind the counter wearing white hats and shirts and was handed a moist towelette – I am pretty sure this is how all greetings should occur!
Sake Sommelier at Touan!
Our host for the evening was Akira Nagata who also happens to be a 'Sake Sommelier.' Did you know this was a thing? I certainly did not, I am very grateful that it is, and that Akira was there for us. He presented us with a Ginban Junmai Daiginjo (RM48 a glass) in stunning blue glasses. It was very clear, and very smooth, with the subtle flavours profile of orchard fruit and melons.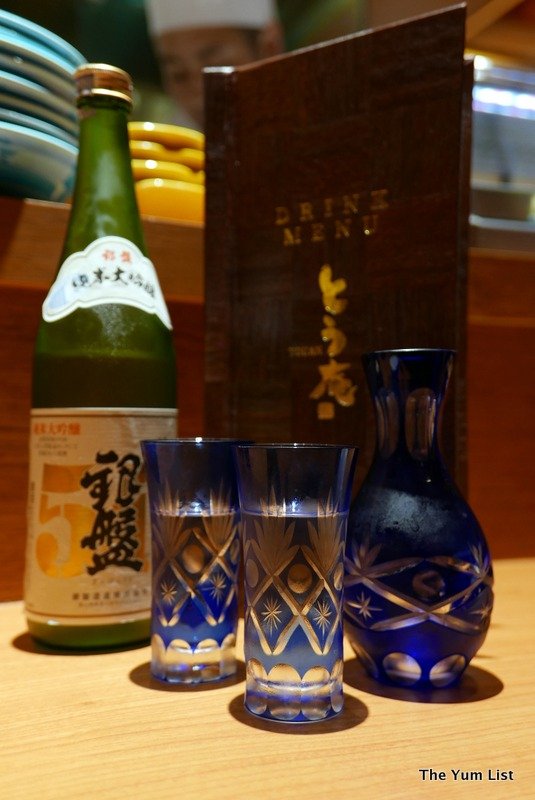 Sashimi
The sake went well with our 'Assorted Sashimi 3 Type' (RM65) – just a quick side note, all dishes in the photos are of tasting portion, the actual size is a little larger. When eating the sashimi (tuna, salmon and kanpachi/yellowtail) we were being examined by an elder Japanese head chef, I thought that there must be a particular order in which to eat this. So I asked my observer in which order, and for future references it goes (according to him and who am I to question his wisdom?), kanpachi, salmon then tuna. The kanpachi was lean and creamy, the salmon was tender and tasted very fresh, whilst the tuna was lovely, smooth with a good meaty flavour. All three fish were complemented well the delicate sauce and mild wasabi. When you are presented with a plate of sashimi, it comes with all these trimmings, I never know what is food and what is decoration? I asked my scrutiniser, what do I do with the pretty purple herb (akame) adorning my plate, and he suggested I eat it, with the fish, some wasabi, and sauce. Honestly, I did not know sashimi could get any better! It was phenomenal, it somehow made it taste even fresher, I cannot rate it highly enough.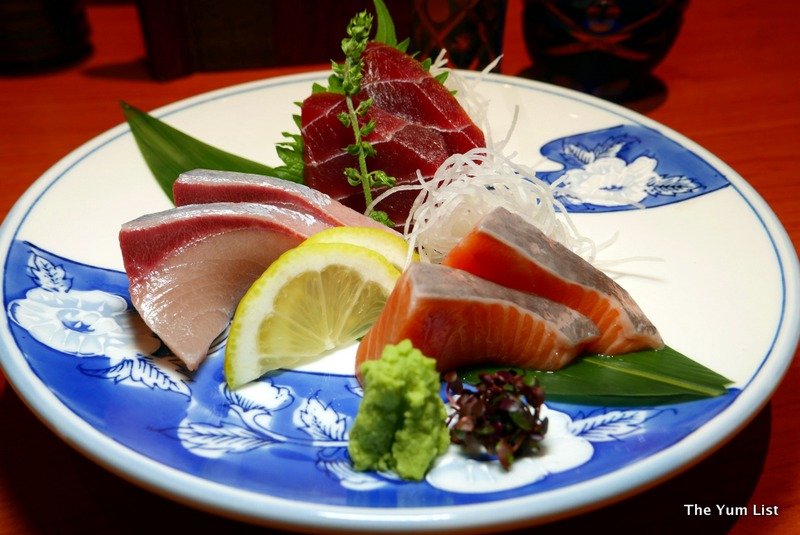 Yakitori at Touan
Our next delight was the yakitori, we had Chicken Thigh Salt (RM7), Chicken Liver Salt (RM6) and Chicken Wing Salt (RM8). All three had absorbed the flavours from the charcoal, caramelised well on the outside and juicy on the inside and during the cooking process, they were sprayed with a mixture of sake and salt. My favourite was the chicken wing, it was so juicy, the skin crispy and the meat just peeled off the bone, I could have eaten the bone, the flavour was that superb.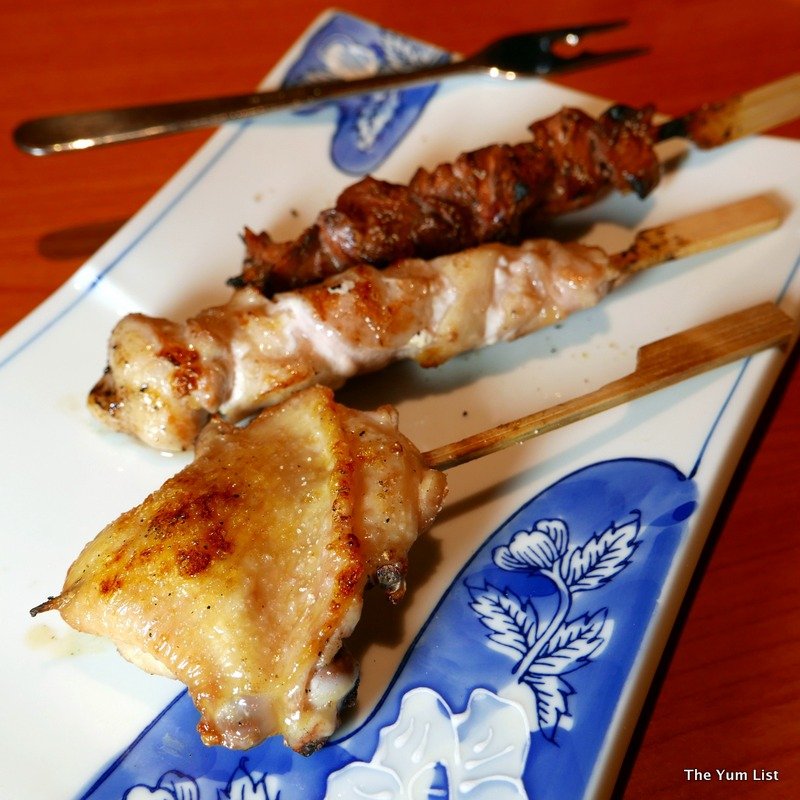 Scallop
The Grilled Scallop Butter with Soy Sauce (RM28) was brought to us with the butter still melting through it, they are imported from Tohoku, and with the special soy sauce made from fish, they were very umami. The scallops were great, but the sauce, I could eat that as I might a broth for a ramen – I slurped the sauce out of the shell.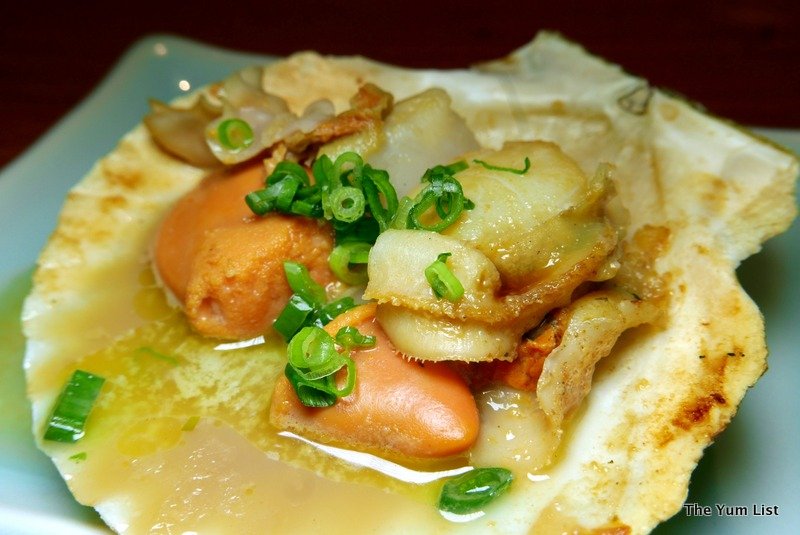 More Sake
It is time for a new sake, Tokubetsu Junmai Yamatanmasmune (RM278 720ml bottle) and it's stronger than the previous, and thus comes in a new wonderful ceramic cup. It is full body and is fascinatingly aromatic.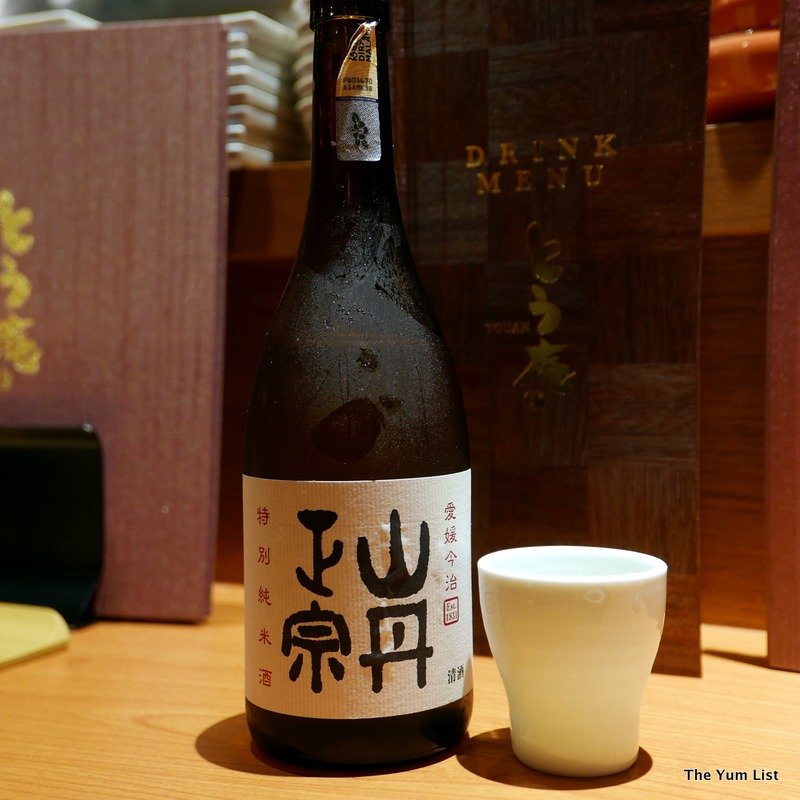 Grilled Fish
Grilled SABA Mackerel (RM23) and Grilled Salmon Belly (RM32) were crisp and moist, tasted well with the lemon and sauce.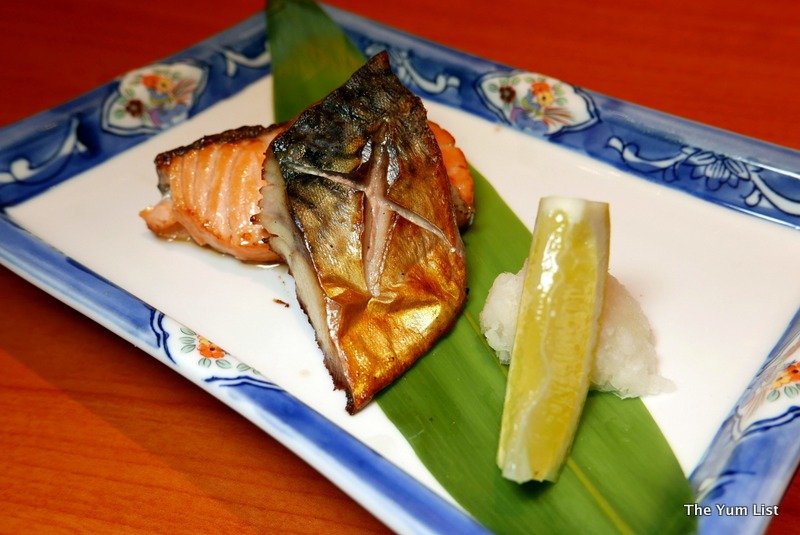 Fried Chicken
I am a big admirer of deep fried chicken and karaage falls into this category so when the Fried Chicken Thigh "Karaage" (RM25) appeared before me, I was excited when I tasted it, my mind was blown. It was one of the only times in my life I did 30 chews and swallowed. I wanted to savour the flavour. The chicken is marinated in a soy sauce and battered using two types of flour when cooked. The batter is light and crispy, the chicken succulent and the dipping sauce awesome – vinegar, soy sauce, a Chinese sauce and spring onions. I could spend an entire night eating these, with beer and a sporting game and have one of the best nights of my life.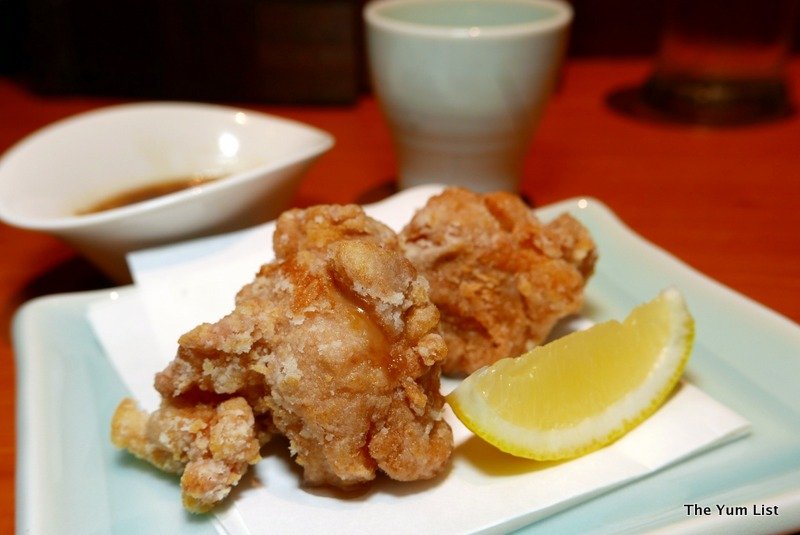 Sushi
For the last plate a Mixed Sushi Plate – 3 Type (RM28), I requested the help of my new sushi sensei and the order in which to consume (you need to ask these questions, I did not want to upset him). The scallop, salmon, and tuna were exquisite and with the wasabi and sauce, the flavours just built into a crescendo in my mouth. The accompanying rice was a credit to the itamae.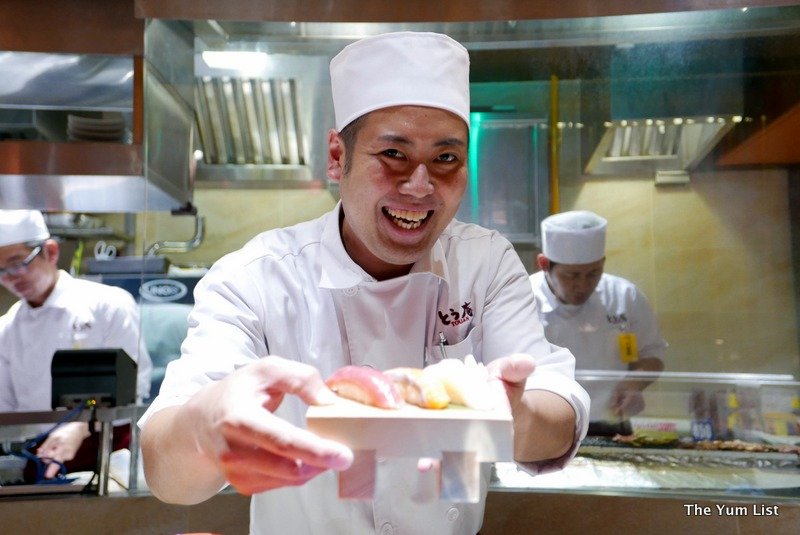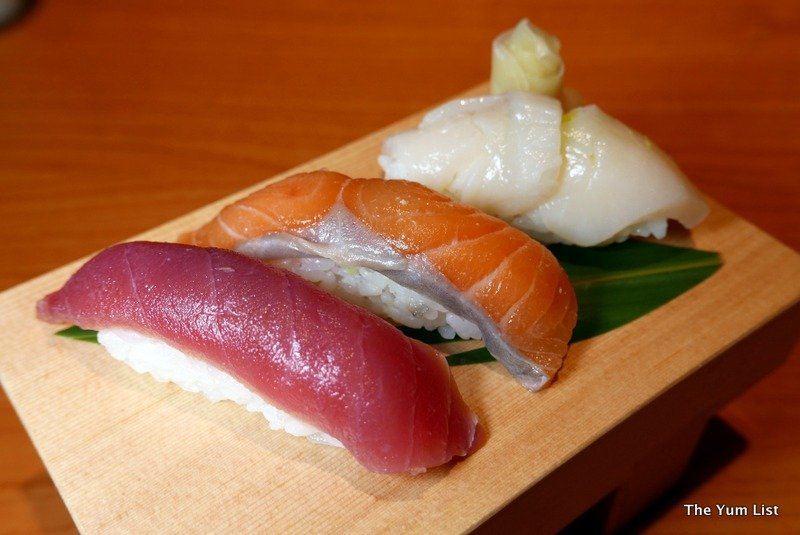 I unashamedly love Japanese food, and Touan did not disappoint. The Japanese specialise in deceptively simple food letting the food and the preparation be the stars. Touan certainly did this and reminded me of how super Japan is as I felt like I had been shifted to a restaurant somewhere near the heart of Tokyo.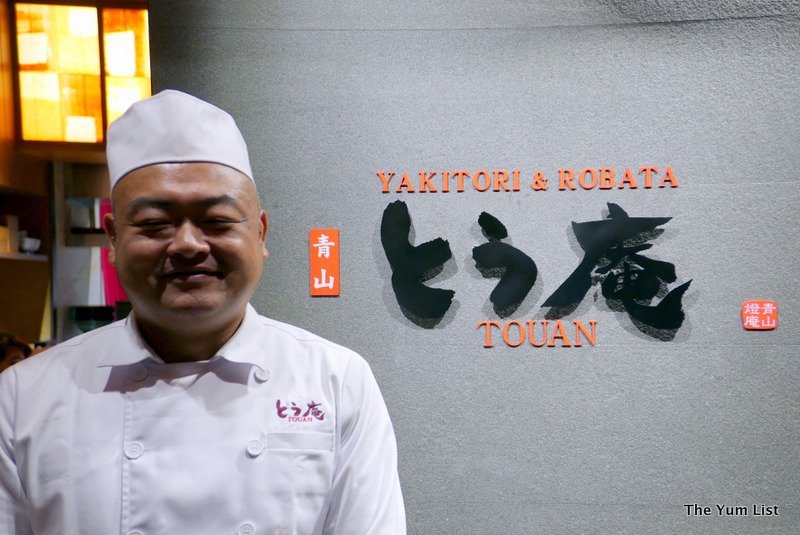 Reasons to visit: fantastic atmosphere, with three Japanese chefs in the kitchen under the watchful eye of the head chef, you feel transported. Great sake and high-quality ingredients.
Touan – Yakitori Robata-yaki
4th Floor, ISETAN The Japan Store,
Lot10 Shopping Center,
50 Jalan Sultan Ismail, Kuala Lumpur
Malaysia
Open Daily: 11:00 – 23:00
+60 3 2119 2627
http://thejapanstore.mistore.jp/my/en/floorguide/restaurant/touan.html
www.facebook.com/TOUAN