Monica Tindall
One of the absolute delights of travel around Italy is the celebration of local cuisine and wine. If you truly eat local, you're guaranteed a different experience in every region. Valdobbiadene is no different and it's here at Locanda Sandi Restaurant where we devour a wine paired meal featuring some of the culinary highlights from the surrounding areas of Trevigiana and Veneto.
Aperitivo at Locanda Sandi Restaurant
Perched on the patio, right in the middle of vineyards where Prosecco is first born, there is no choice but to have the aforementioned as aperitivo. Lovely, light and fruity, Villa Sandi's Valdobbiadenne Brut Prosecco is a flawless starter. As we gaze at the neighbouring rolling hills and grapevines, we reflect on the taste of the land in our palates.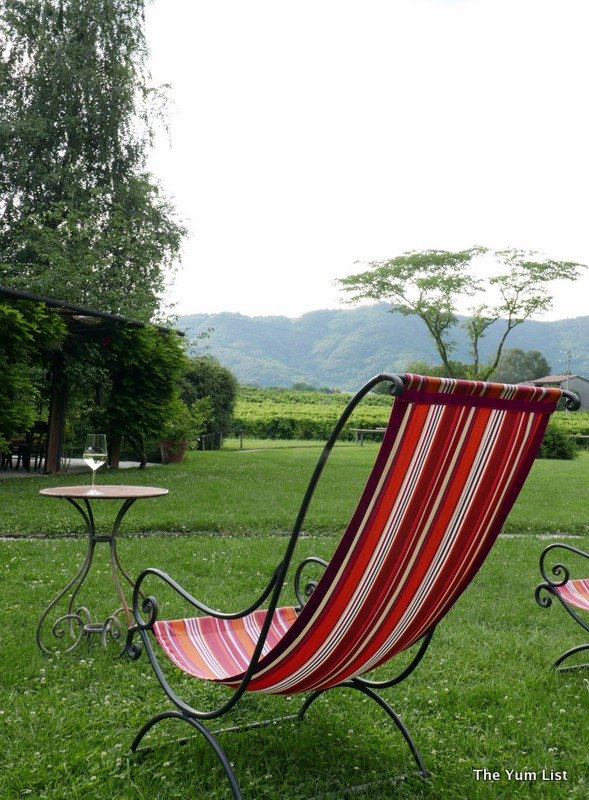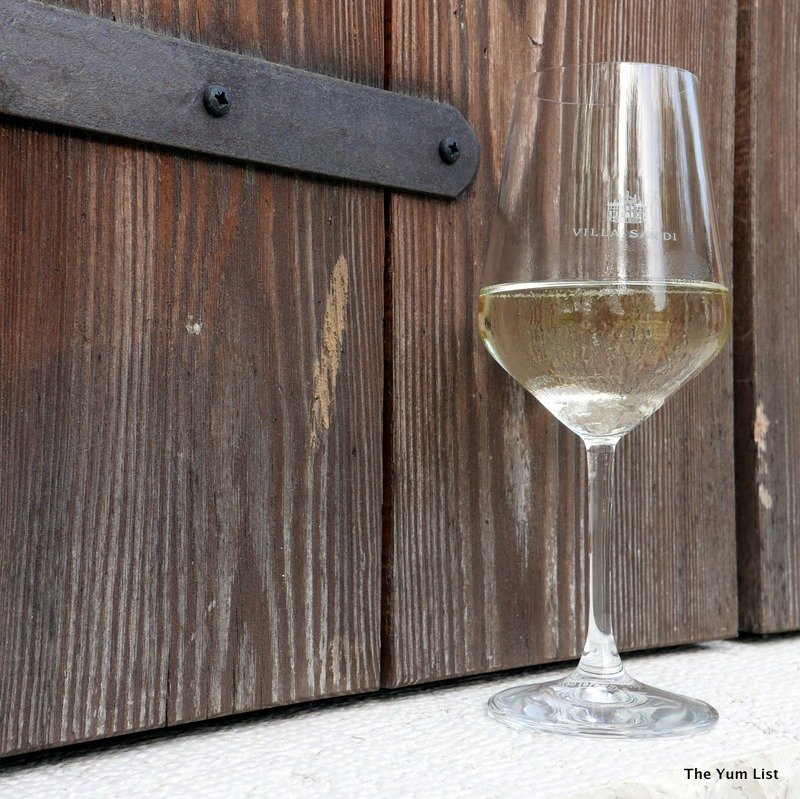 Antipasto
Moving inside the restaurant we follow up with a traditional method sparkling, the Opere Millesimato 2011 Spumante Classico Italiano. Aged for five years and double fermented in the bottle this wine is a little more complex with aromas of nuts, honey and toast: a versatile match for our starters.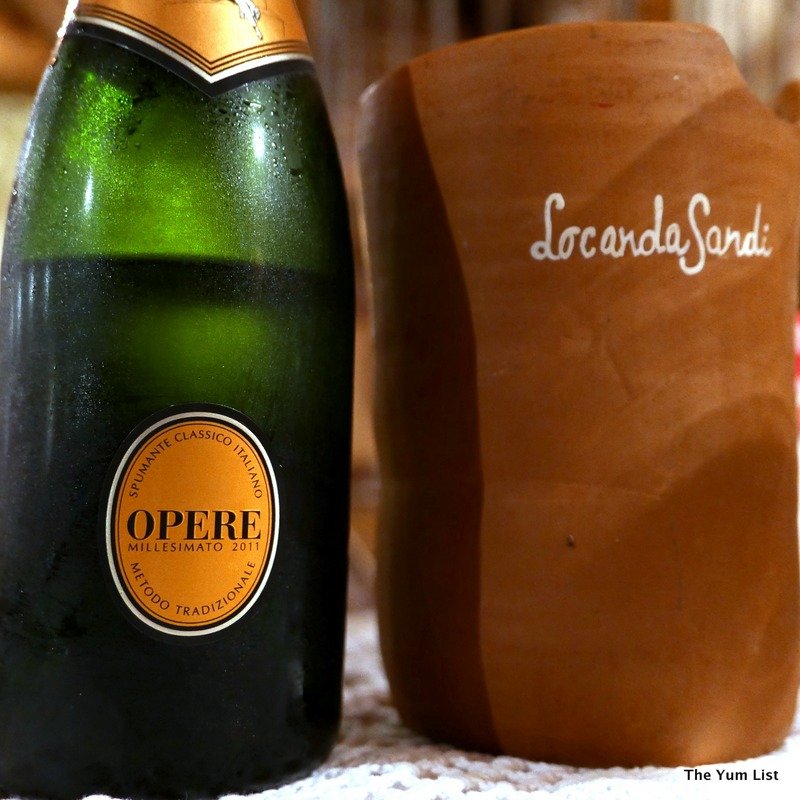 A pretty take on a classic is presented in La Burratina con Pane ai Cereali e Pomodori Confit (Euro 9). The cheese is incredibly fresh and soft and the contrast with the intensely flavoured vegetables makes a more-ish beginning. La Parmigiana di Melanzane e Zucchine (Euro 9) is wonderfully rich, yet not oily. It's beautifully caramelized around the edges of the pot, and for me, this is the best part – worth scraping the bottom for. I Fiori di Zucca Fritti Patellati con Stracciatella e Pomodorini ( Euro 9) is served in a glass jar with layers of bright red tomatoes, then burrata, and lastly on top the fried pumpkin flowers sit ready for the picking. Comforting and delicious – yum!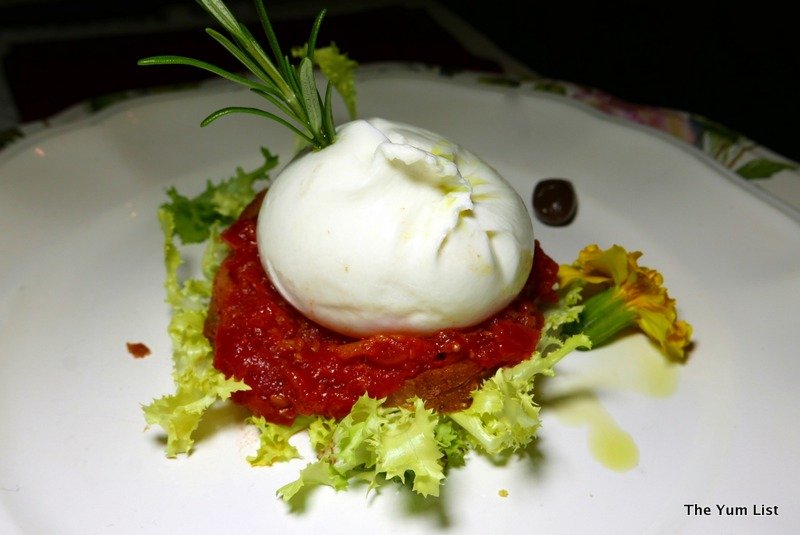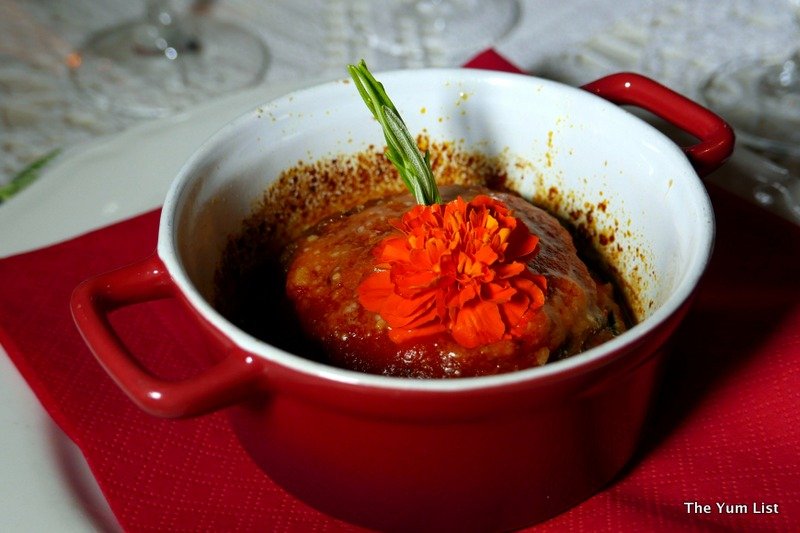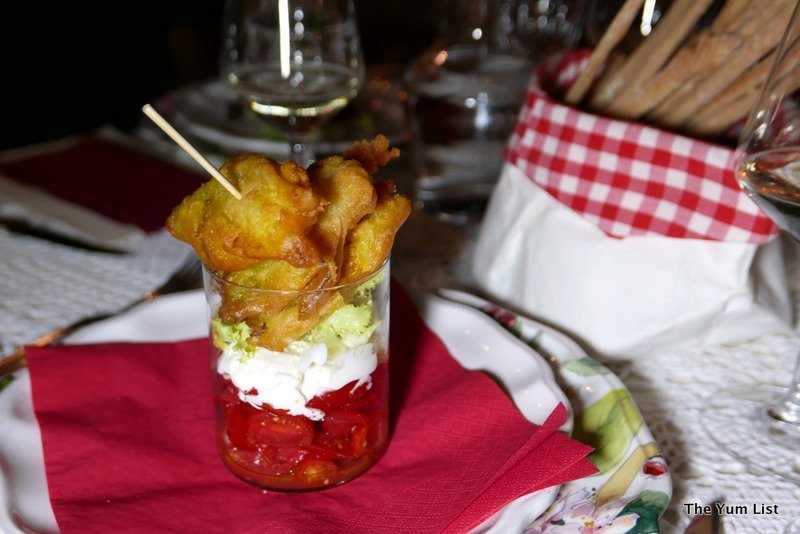 Pasta
All of our pastas are adorned with edible flowers. They're simple dishes, made with few ingredients, but boy are they fresh and bursting with the taste of the garden. Mixed mushrooms produce an earthy and flavourful dish in the I Tagliolini all 'uovo con Misto Bosco al Profumo di Tartufo (Euro 9). Pea cream, ham and buffalo cheese combine to make tasty toppings for the La Tagliatelle Crema di Piselli, Crudo and Bufala (Euro 9). And, lastly, the I Gigli al Pesto di Rucola e Basilico (Euro 9) is ruffled pasta in the shape of a flower with rocket and basil. It's backed up with potato chunks and green beans. If pasta could be a green juice, this would be it.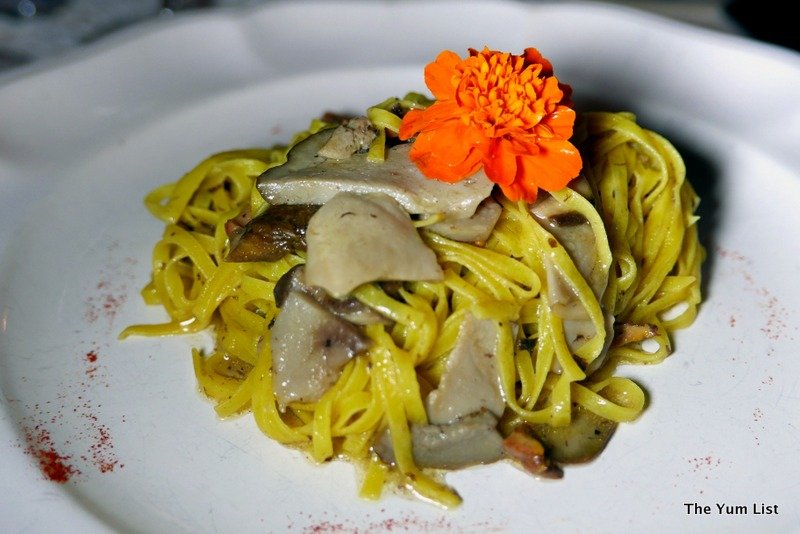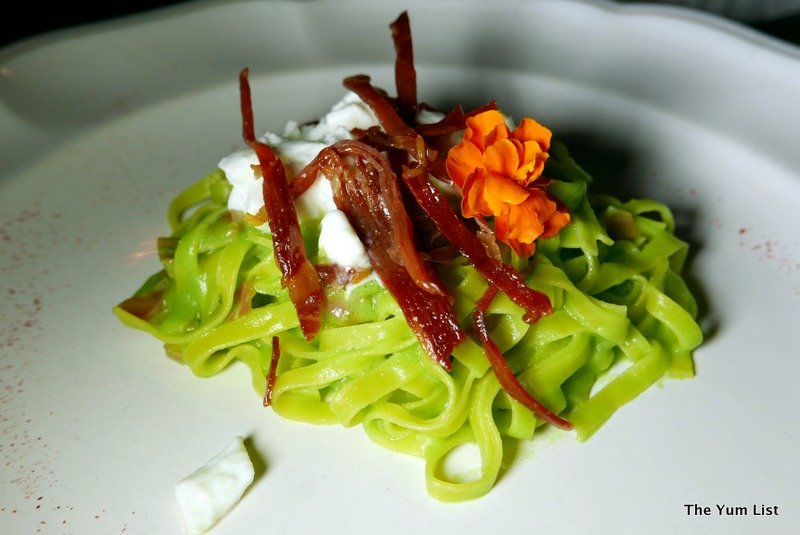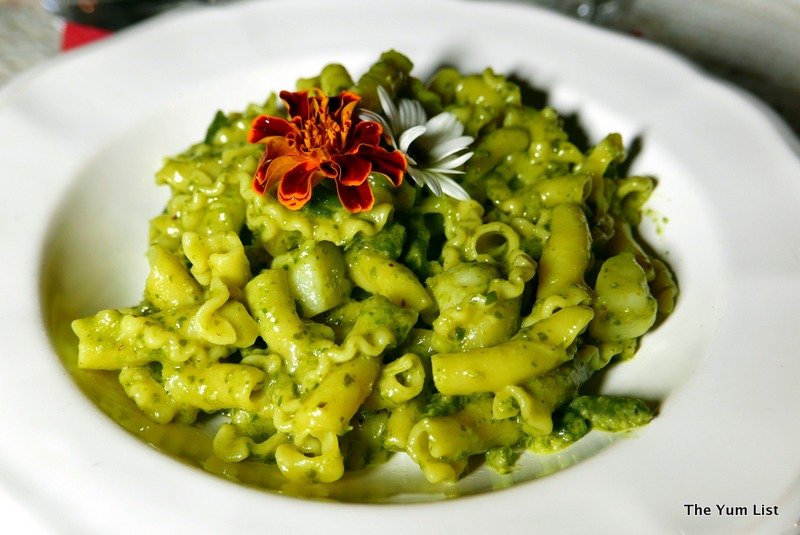 The Opere Millesimato (Millesimato, by the way, means that the grapes have come from a single vintage) does particularly well with our pasta dishes, slicing through the olive oil in the sauce and bringing out the fresh herb flavours in each recipe.
Mains at Locanda Sandi Restaurant
Grilled meats are Locanda Sandi Restaurant's specialities and, if you choose to sit inside, the flames of the grill create a flickering illumination and a welcoming warmth to the ambience. Both the steak, Galleto all Brace (Euro 12), and the chicken, Il Filetto di Manzo (Euro 18), sport the scars of the grill and the smoky whisperings that go with it. The portions are large, so large that the two of us ladies at the table decide to share a portion and still don't clean our plates!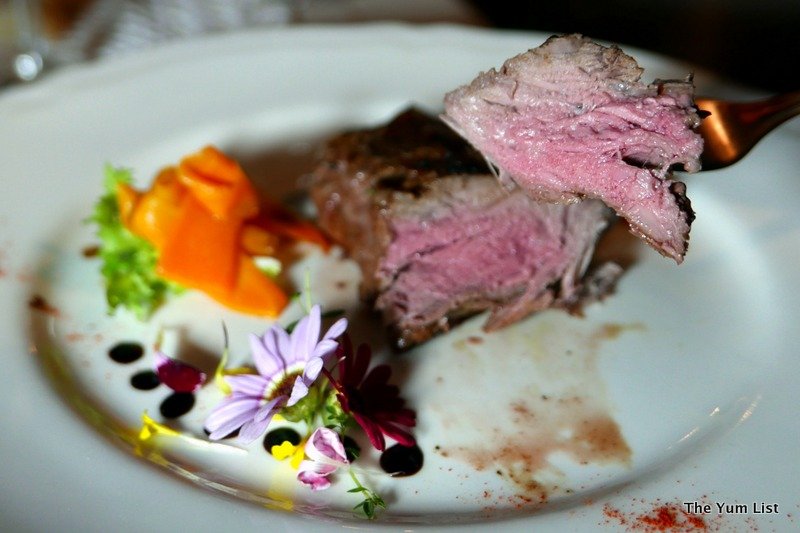 With the mains we try a 2012 Marinali Raboso, a typical grape from the region, but not common elsewhere. It's a grape that has traditionally been used in blends but not usually on its own. This grape, however, has been "caressed" over the past ten years, softening its roughness and taming it like a wild horse to produce a wine that is very palatable and does particularly well with our barbecued meats.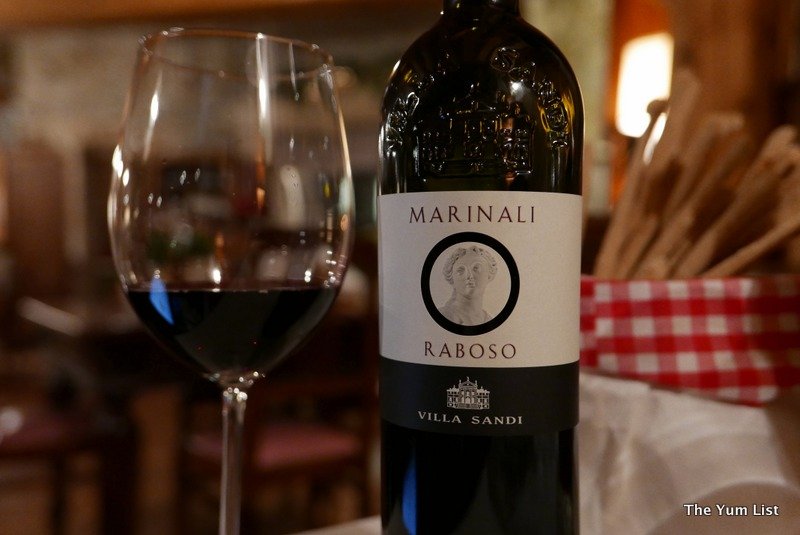 Dessert
Fruit flavoured sorbet, La Selezione dei Nostri Fruttini Ripieni del Loro Sorbetto (Euro 8), is an unexpected presentation of iced sweets served in the very skin of the fruit they were made from. All, apart from the passion fruit and banana, come in their own edible containers. My favourites are the strawberries!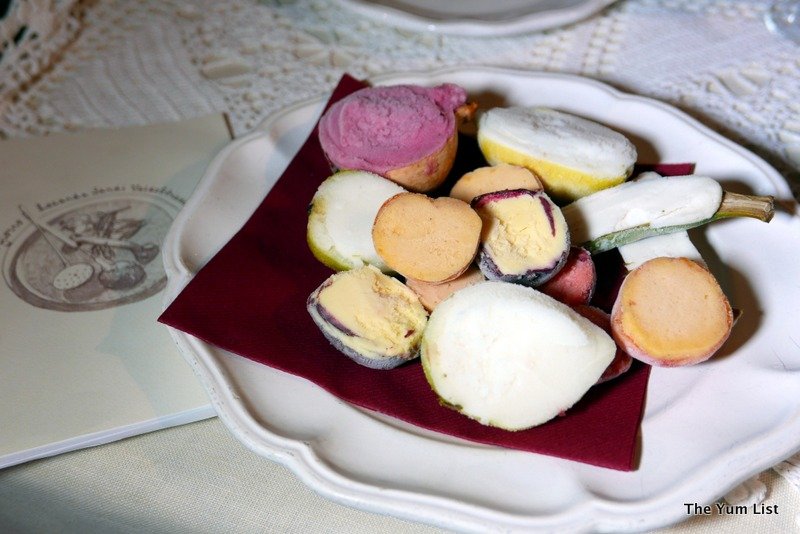 Il Cofanetto della Locando (Euro 6) is a fancy way to say Tiramisu. Served in a jar, it's a rich, creamy number topped with a generous covering of powdered chocolate – a traditional finish to a rustic Italian dinner.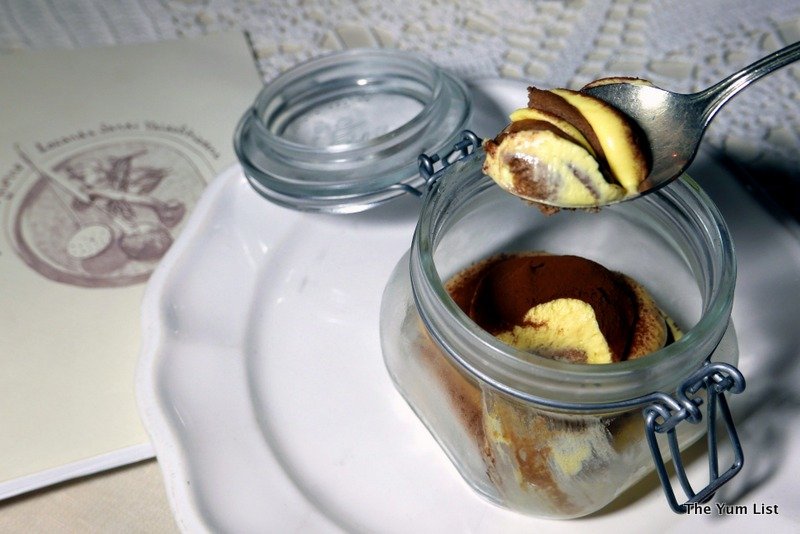 Reasons to visit: beautiful country-themed setting; don't miss the eggplant and zucchini Parmigiana, the mushroom tagliatelle, the grilled items and you must order the fruit sorbet; also, be sure to take advantage of the region and order some local wines to pair with your meal.
Locanda Sandi Restaurant
Loc. Zecchei Via Weaving 1
31049 Valdobbiadene TV
Italy
+39 0423 976239
PI IT 00321980260
www.locandasandi.it