Monica Tindall
Good food is worth traveling for and we've come half way around the globe to dine at Ristorante "La Credenza," about a 30-minute drive out of Turin's city centre.
Chef Giovanni Grasso opened the restaurant in 1991 and says it's been an evolution of place as well as person ever since. Accompanied by Chef Igor Machhia, the team has achieved numerous awards including the highly coveted Michelin Star.
The setting is almost surreal. The street outside is classic Italian antiquity: cobblestone pavement, narrow streets, and walls that could be a millennium old. Inside we find a stylish dining area with minimalist design and key pieces such as feature glass doors, a Japanese styled wooden framed ceiling in an impressive arch, and splashes of colour in a few carefully chosen artworks. Tables look out to a lush garden courtyard complete with water feature. Meanwhile, the stereo plays an eccentric mix of tunes from the 50s and 60s. An eclectic collection, but it works!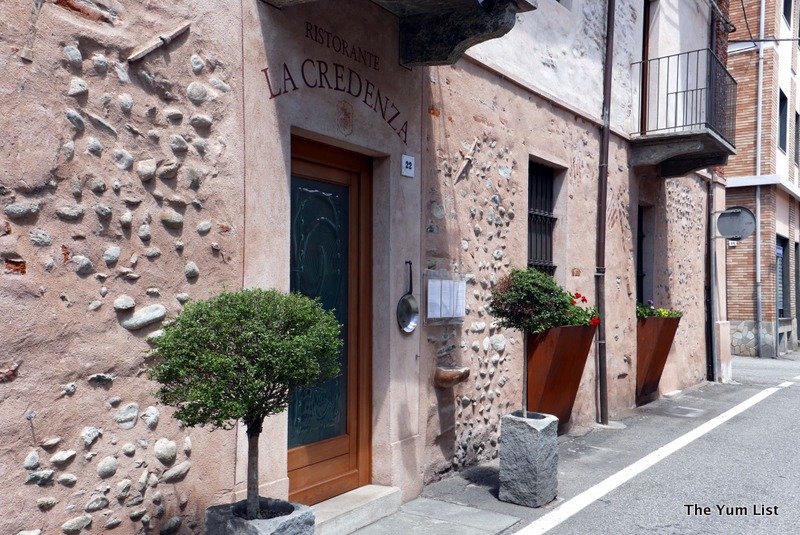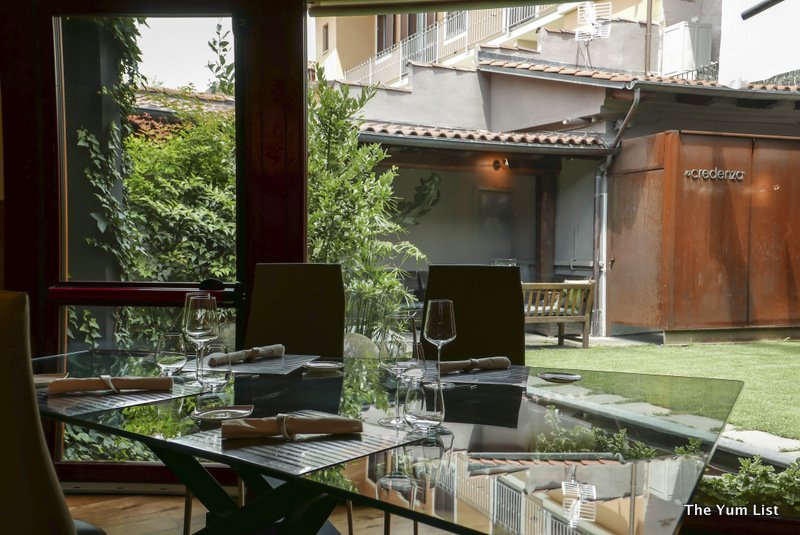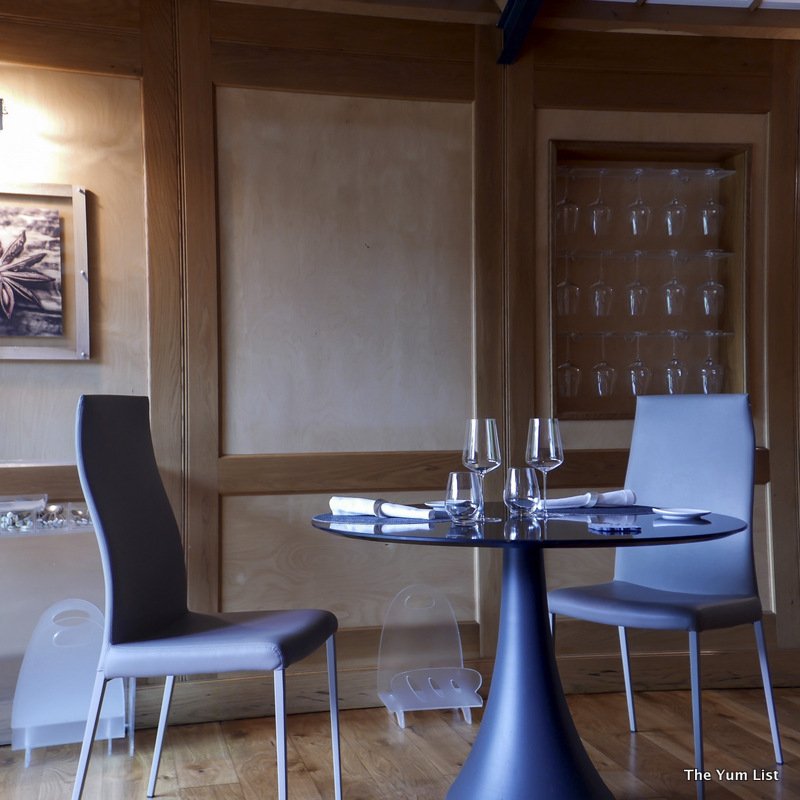 We immediately feel at home greeted by Chef Giovanni Grasso's warm hospitality and sommelier, Take's, knowledge of wine. Both a la carte and tasting menus are available and we decide on the later with wine pairing.
Aperitivo at Ristorante "La Credenza"
An aperitivo is served in incredibly fine-stemmed glasses. It's a bubbly from Franciacorta, Brut La Montina. Made with the Champagne method from 85% Chardonnay and 14% pinot noir, its freshness and subtle minerality make an exemplary palate opener.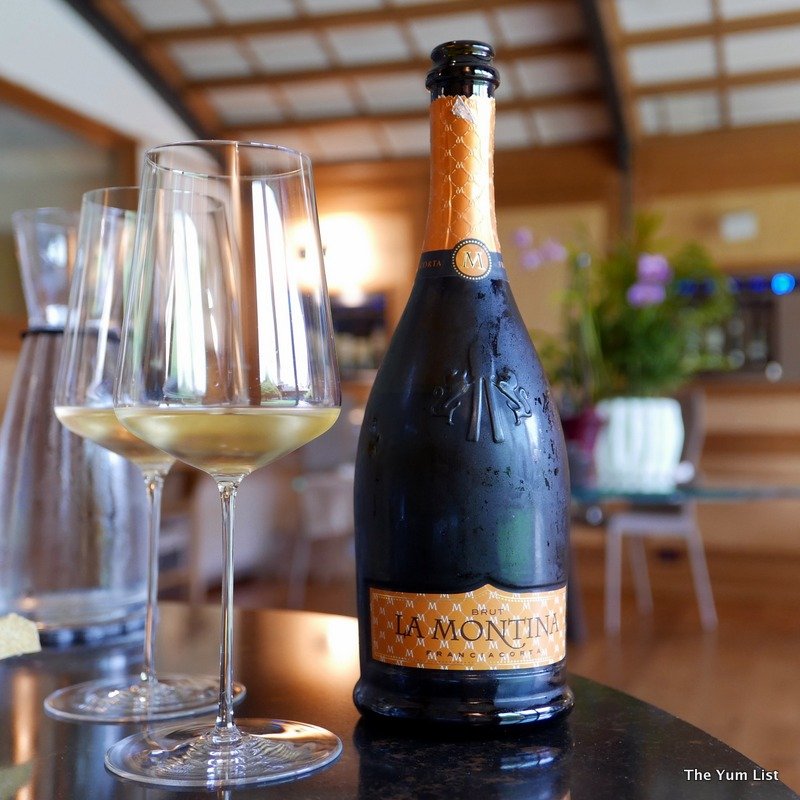 Amuse bouche
From the start the plating of food is eye-catching. A thin crisp roll of wheat pastry holds a "Russian salad". Mayonnaise foam is encased in the roll with herbs showing through like veins visible through skin. Crowning the cylinder are tiny cubes of tuna and the traditional vegetables used in the salad ingredients. Chef warns that it's dangerous because outside is crispy and inside is soft. Best to pick it up with your hands and put the entire thing in your mouth. Yum!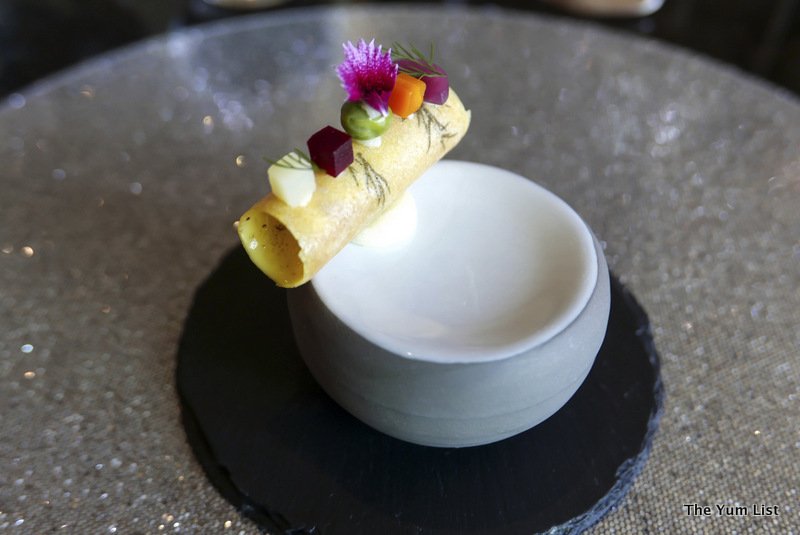 Second Amuse Bouche
Tomato and mozzarella, the second amuse bouche, faintly resembles a caprese salad. Balls of buffalo mozzarella are deep-fried in tomato tempura and cheekily formed into the shape of a cherry tomato. Tempura "stems" and a pesto "soil" complete the presentation. It's both fun and tasty.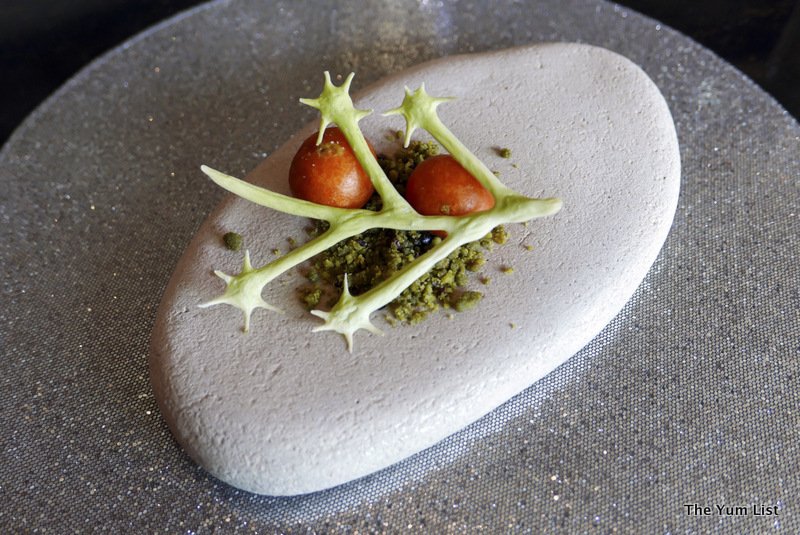 First Appetiser
A beautiful deep-fried zucchini flower, spread like an open peacock tail, grabs our attention as the first appetiser is laid on the table. A roll of fresh anchovies and red prawn sashimi hugs mozzarella and tomato confit. A paintbrush stroke of black squid ink and drops of watercress puree finalsze the plating. The delicate raw seafood is paired expertly with a local 2014 Cornarea, Roero Arneis. The white's citrus notes and minerals thread through in a crisp, dry drop with good structure. This is a bottle we'll seek out again.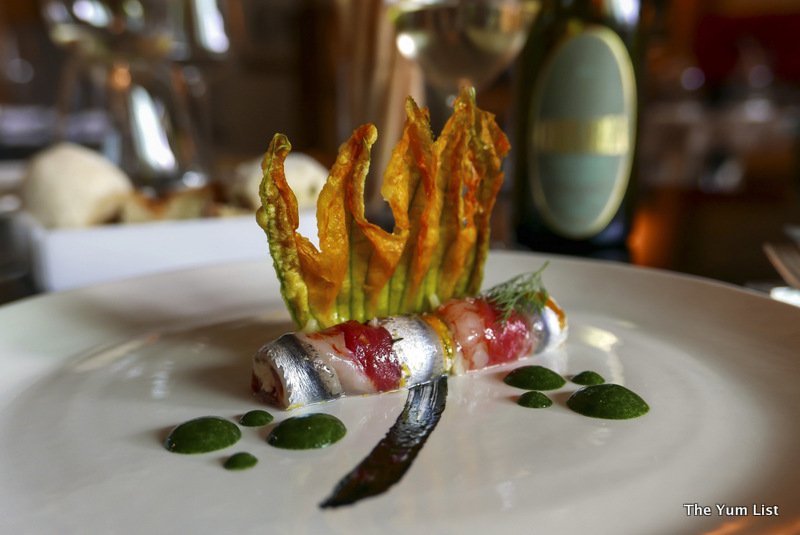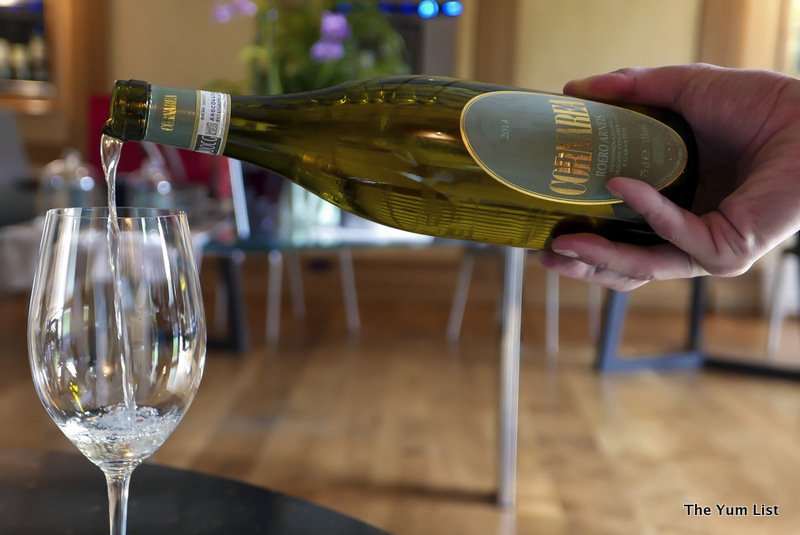 Second Appetizer
A circle of potato mash guards a salad of Pigna white beans and tasty pieces of soft octopus in the second starter. Lightly fried seaweed covers it all. There's heartiness from the beans, but also lightness from the seafood and seaweed.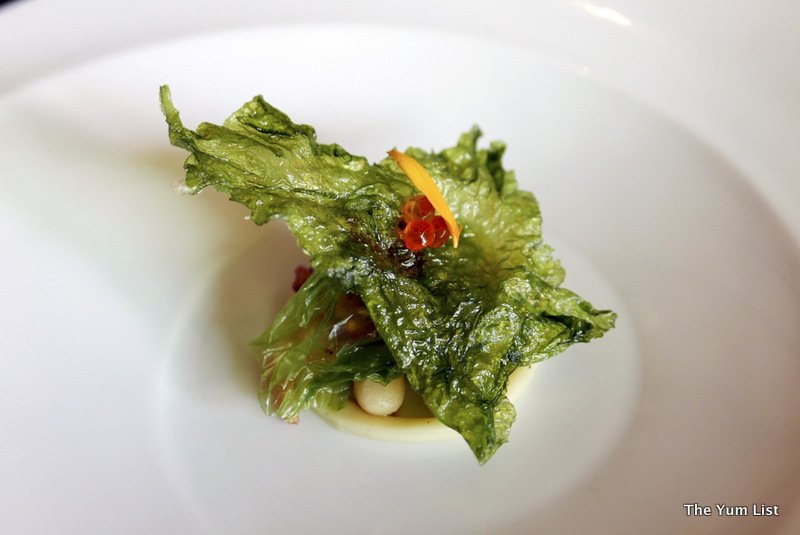 Risotto
Zucchini risotto with lightly smoked soya sauce marinated eel honours the northern Italian tradition while bringing distinctive Japanese flavours to the plate. Dried and fresh zucchini boost the textures, and the subtle touch of a trio of mint and small basil leaves as garnish add an essential lightening of the dish by slicing through some of the creaminess. It's a "wow", and celebrates how the coming together of two cultures can elevate an experience.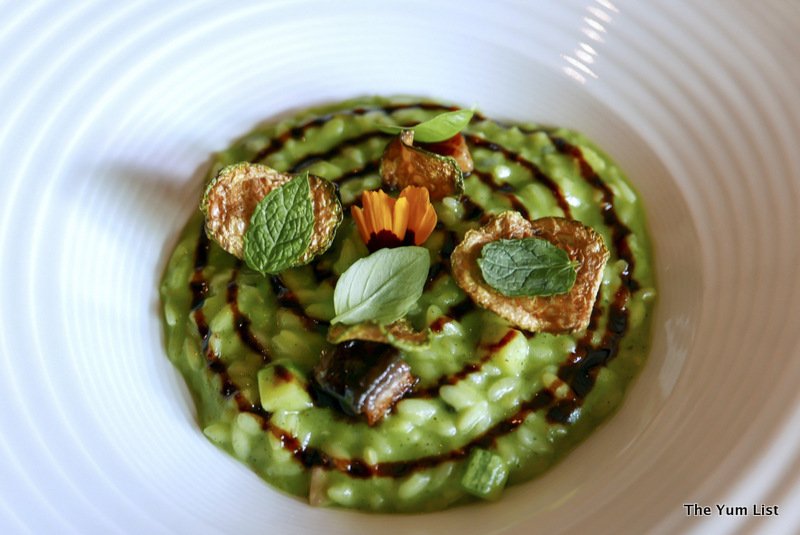 The wine pairing is from a famous winemaker from Mastroberardino. This aged 1999 more maiorum made from fiano di Avellino grapes is a deep yellow hue. Honey and smoke immediately tickle the nostrils and you could be fooled into thinking that this wine would be sweet – absolutely not so! In the mouth it's wonderfully smoky with a long lingering finish. It mirrors the risotto without flaw.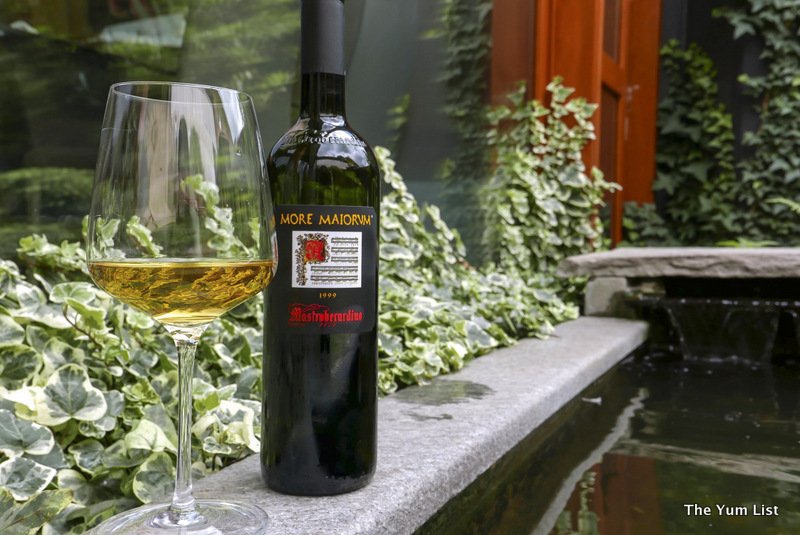 Pasta
Homemade cappellacci filled with parsley sauce comes with beef tongue and green leaves. The filling and sauce are rich and only a few pieces are needed to satisfy. A faint bitterness from the broccoli and greens assists in breaking up the intensity. The wine pairing of fiano di Avellino continues to do well with this dish.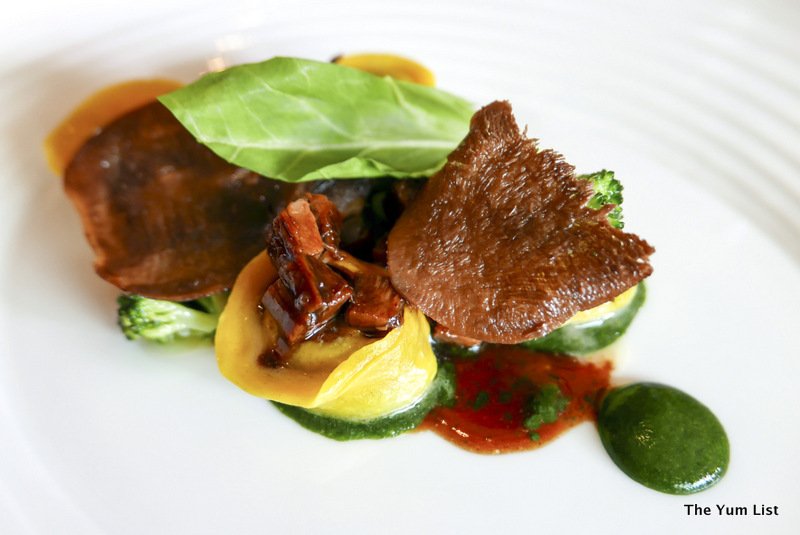 Main at Ristorante "La Credenza"
What pairing could be better than pork and apple? Chef proves just how good the two go together in this main. Pork ribs and capocollo (a cut that runs from the neck to the rib) are frosted in herbs and a sticky marinade made of port wine and sherry. Fresh and just cooked apple accompany the meat with a creamy cashew paste. Hubby drools as he describes his delight with this dish. Fruit and spice on the nose of the wine mate, Beni di Batasiolo Langhe Nebbiolo 2014, follow through to a nice structure with light tannins and a persistent finish. The longer the wine sits, the more wonderfully aromatic it becomes. It's worth savouring this one slowly.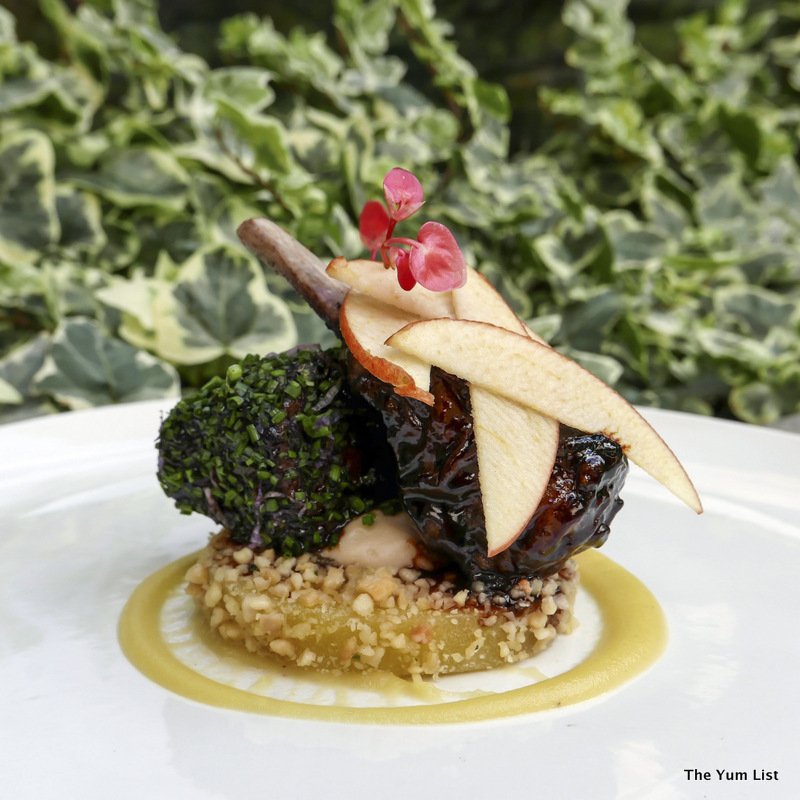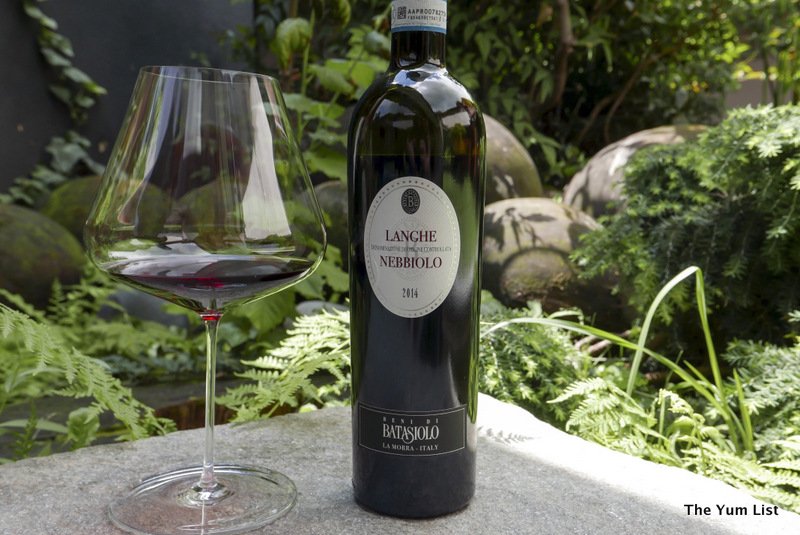 Pre-Dessert
A pretty pre-dessert is the house Italian meringue. A more-ish tanginess from yoghurt cream, lemon zest, lemon grass and raspberry mute the saccharine egg white and sugar. Mirroring an artwork, it's almost too attractive to eat.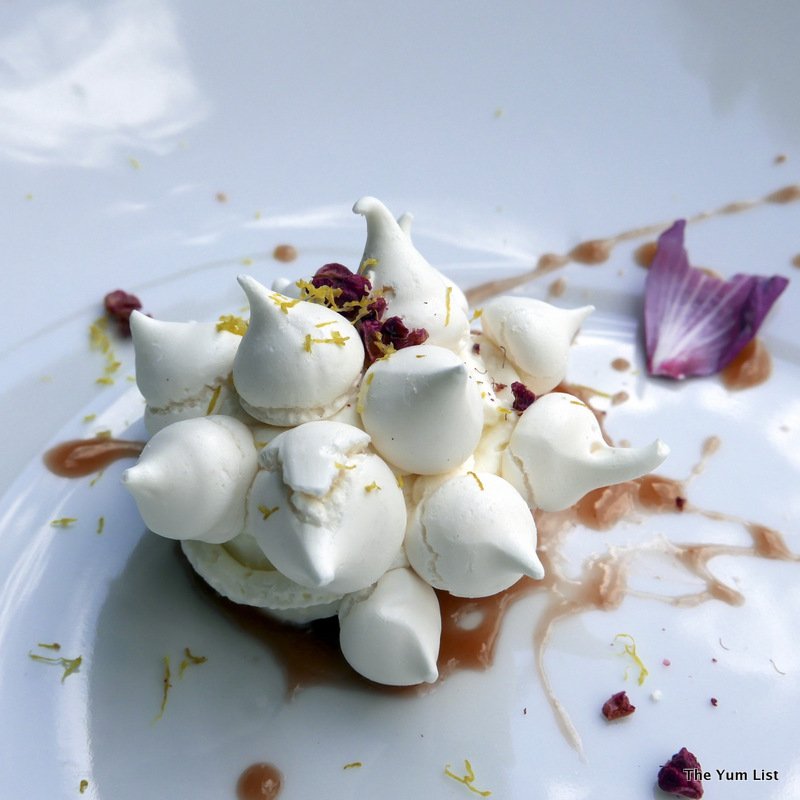 A sweet ending deserves a dulcet wine and Take, La Credenza's sommelier, has chosen the ideal mate. If sweet dreams were wine, they would be a Loazzolo Late Harvest, Borgo Maragliano 2012. It's fragrant with vanilla and honey, elegant in the mouth with a velvety finish.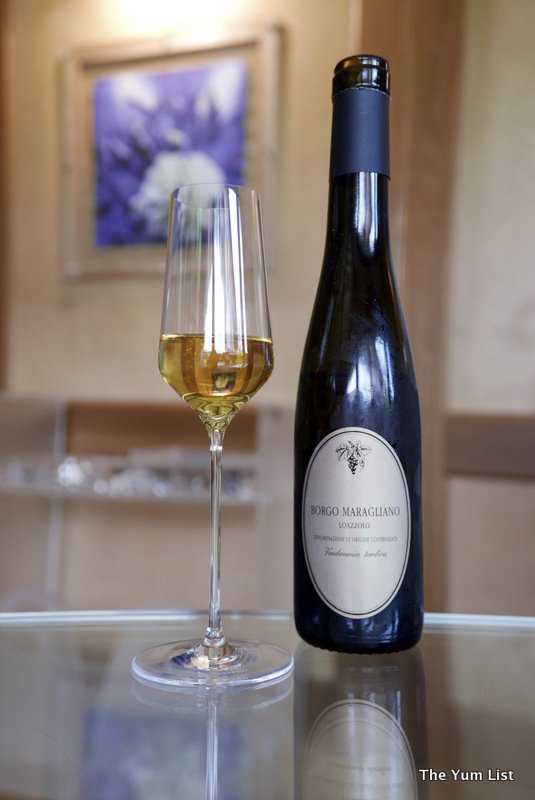 Dessert at Ristorante "La Credenza"
Turin is known for chocolate so it goes without saying that we're hoping for some cacao in the pudding. Dulcey chocolate mousse delivers on our mellifluous fantasies. Caramelized hazelnut cream, tonka bean ice cream and a finishing of warm chocolate sauce fill every last crevice in our tastebuds and tummies. Comforting and ambrosial, we couldn't invent a better ending.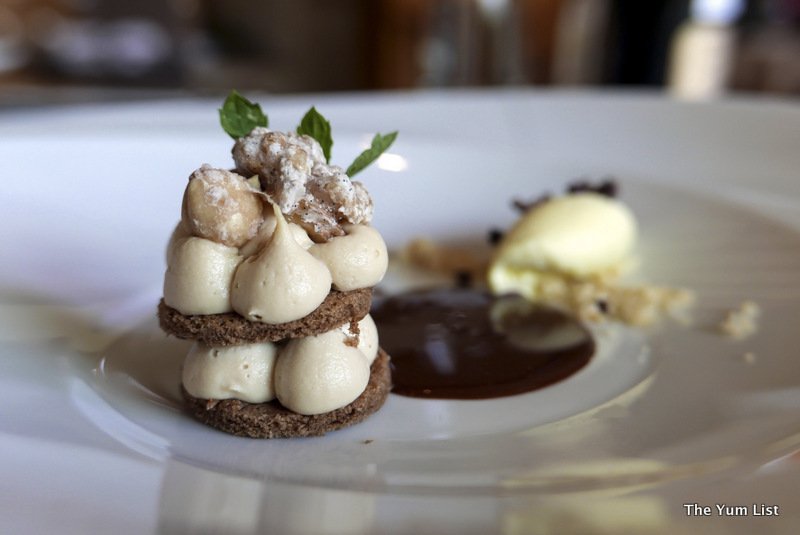 Petit Fours
But wait, there's more! Coffee is presented with a small box of petit fours. Torrone (toasted almond nougat), tartufo (the most creamy chocolate truffle ever), bacio with hazelnut cream, and a madeleine are packaged so that guests, if they so choose, can take a little taste of Ristorante "La Credenze" home with them.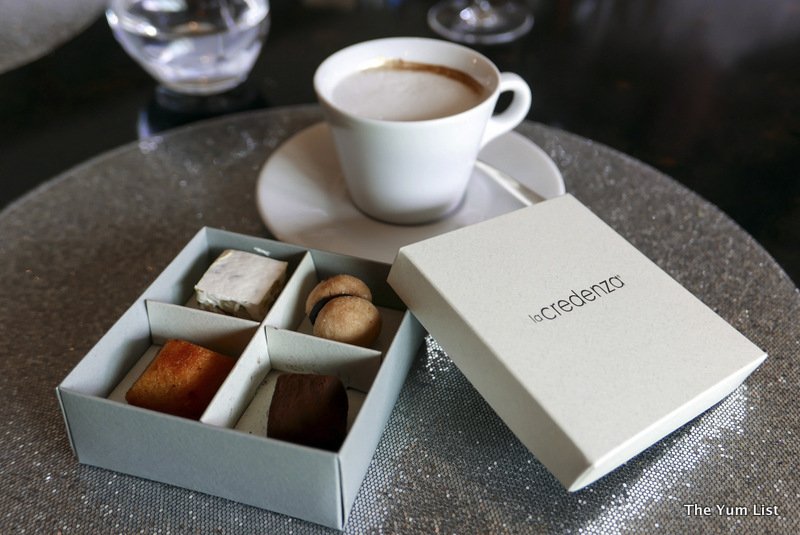 Reasons to visit: a true gem that must be sought out "off the beaten path"; pretty setting; expert service; don't miss ordering the "sashimi," risotto and pork; DO pair with wine – it's expertly done.

Ristorante "La Credenza"
Via Cavour 22
10077 San Maurizio C.se
Torino, Italy
+39 011 511771

www.ristorantelacredenza.it
Lunch: 12.30 – 14.30
Dinner: 19.30 – 21.30
Closed on Tuesdays and Wednesdays