Monica Tindall
At Casa Format Restaurant, Chef Igor Macchia, of the Michelin-starred Ristorante "La Credenza," and his partner in culinary aspirations, Giovanni Grasso, honour all that I admire about Italian cuisine. Local ingredients, simple honest recipes, warm service and portions ensuring that no person leaves hungry (but at the same time not stuffed and rolling out of the restaurant either) are the core of much happiness. The team at Casa Format embodies these ideals, so it's without a doubt that our experience here plays out in high spirits with uncompromised satisfaction.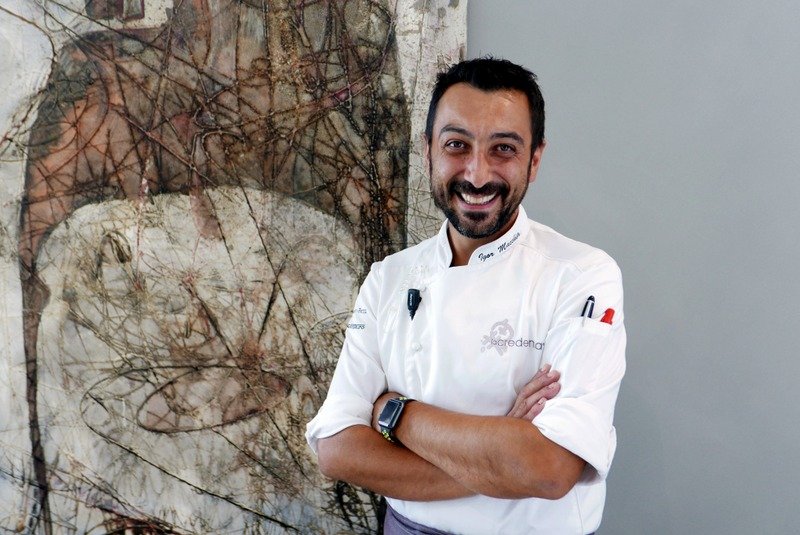 Using their "natural pantry," Casa Format's vegetable garden provides the simple goodness that is the heart of the kitchen. Local, seasonal ingredients are celebrated, and products are treated with thoughtful care to ensure the quality of each is saluted in every preparation.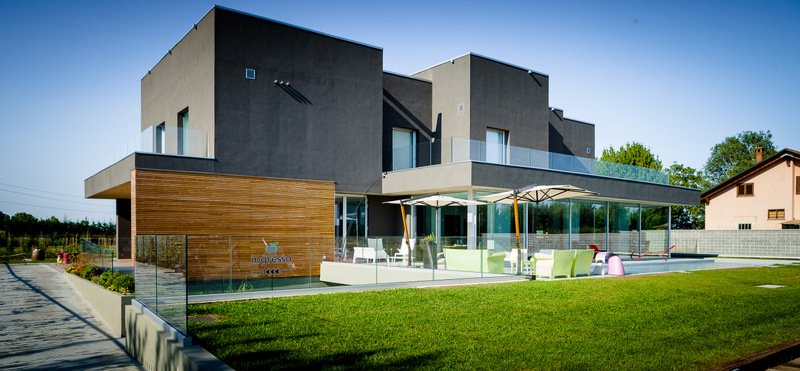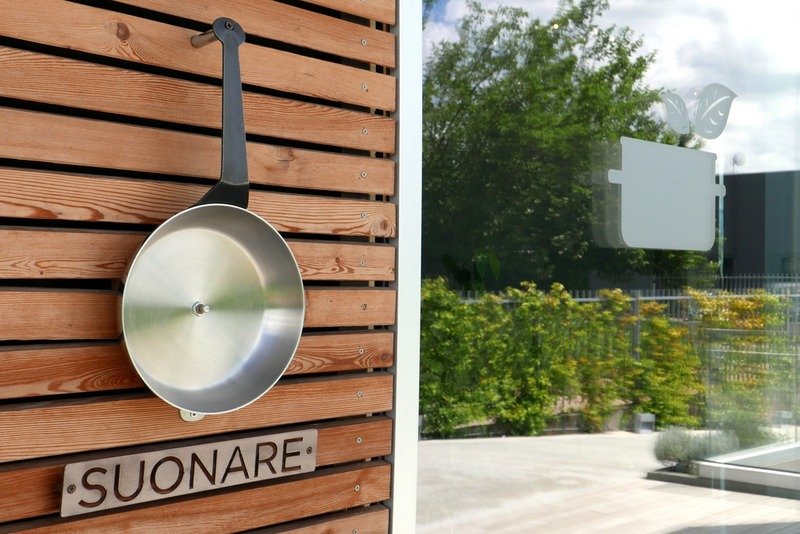 Respect is seen not only in the use of produce, but so too is clearly visible in the relationships between staff. The service and kitchen crew relate more like family than colleagues, seeming to work with such a synergy that you'd think could only come about with years of time together. A mission to treat the earth with care and guests as family, however, unites the team with a common goal, a purpose from which to act.
First Impressions of Casa Format
We're here for lunch and a beautiful warm rustic loaf of sourdough, crunchy exterior and spongy core, accessorises our wooden dining table. Garden vegetables in a rich tomato sauce are Casa Format's unique accompaniment. Give me a glass of wine, and I'd happily make lunch of this alone. But there's more, much more, and so we continue!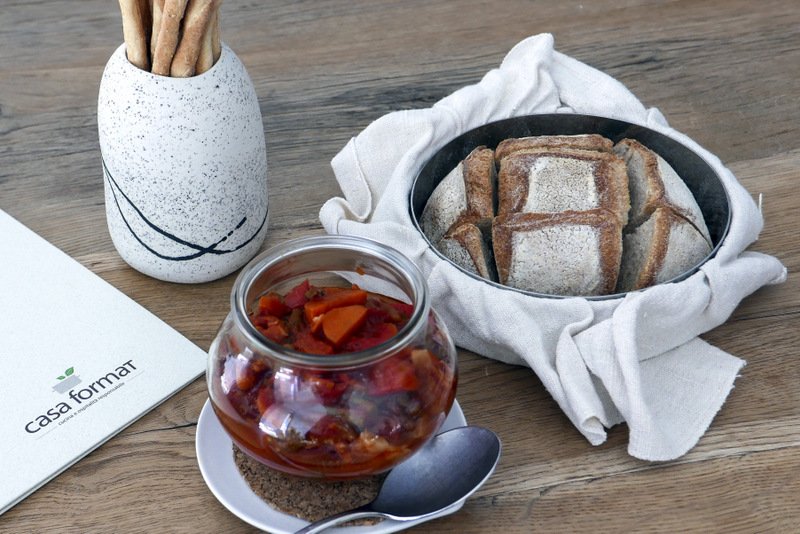 Aperitivo and Snacks
Vermouth Rosso, a typical aperitivo from Turin, opens our palates. It's a rich amber hue, sports wonderfully pleasant aromas, and bitterness in the palate is quickly smoothed over by an equally intense sweetness. Both fresh and viscous, it's a play on contrasts and is just lovely.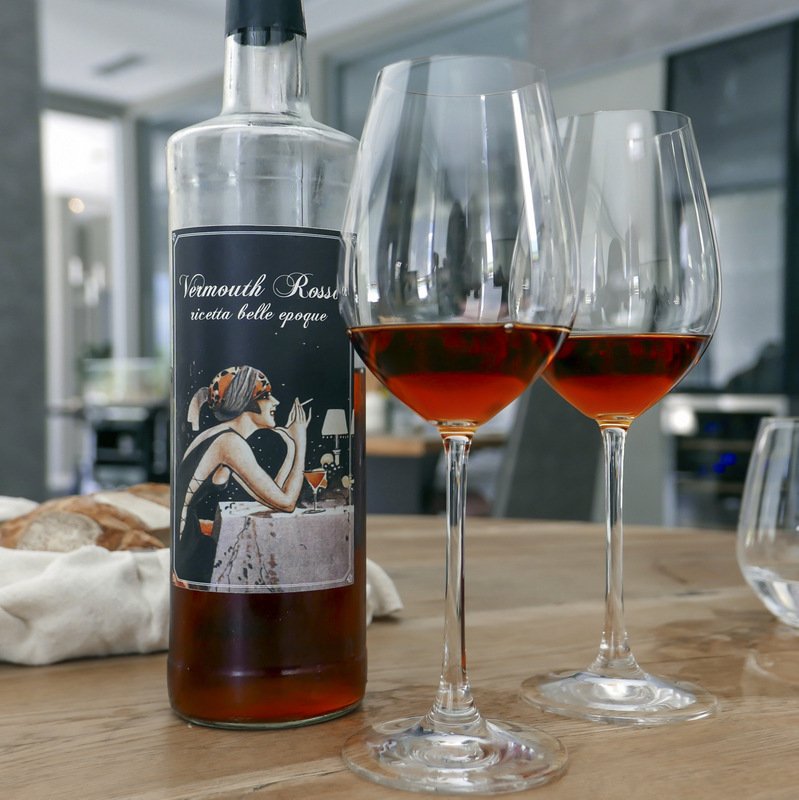 Buffalo mozzarella with Tuscan olive oil (Euro 8) is delivered daily from Paestum, a little village near Naples. I'm sincere when I say I've never before tasted cheese this good! It's fresh, juicy and feels clean. A second snack, Anchovies from Sicily (Euro 11) are bursting with flavour and covered with a rich parsley sauce. The best way to enjoy this recipe is just like the people from Piedmont. Take a piece of crusty bread, spread it with just-churned mountain butter and pile it high with the anchovies. Put the whole bite in your mouth, and exclaim, "Delizioso!"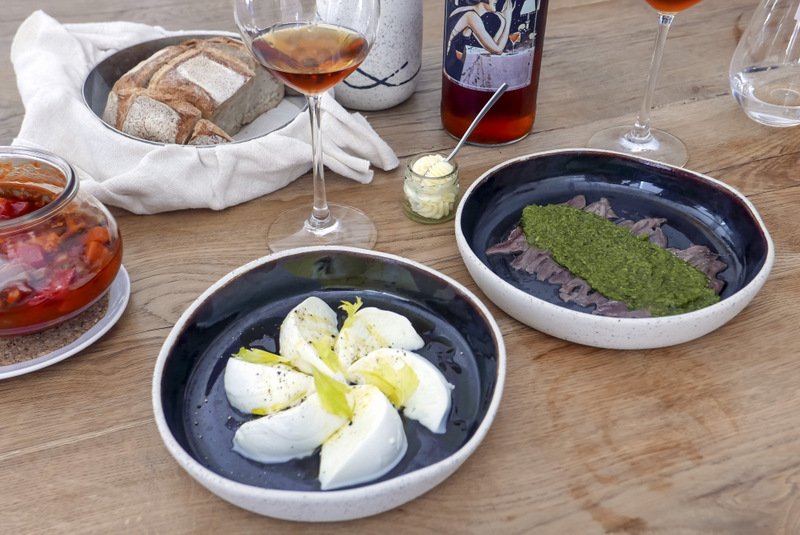 Starters
Both starters are superbly clean and fresh. They're something I could eat everyday and feel great. Mackerel (Euro 14) cooked in extra virgin olive oil lies atop a garden of vinegar marinated vegetables and parsley sauce. Raw and steamed vegetables (Euro 14), a vegetarian option, are accompanied by a chickpea cream and extra virgin olive oil mousse. It's Casa Format's revisiting of pinzimonio, a traditional Italian starter of vegetables dipped in olive oil. A 2016 Fosche Chardonnay from Piemonte plays a fine partner to our Casa Format starters. Straw in colour, it offers a complex bouquet of ripe fruit and goes down smooth, clean and crisp.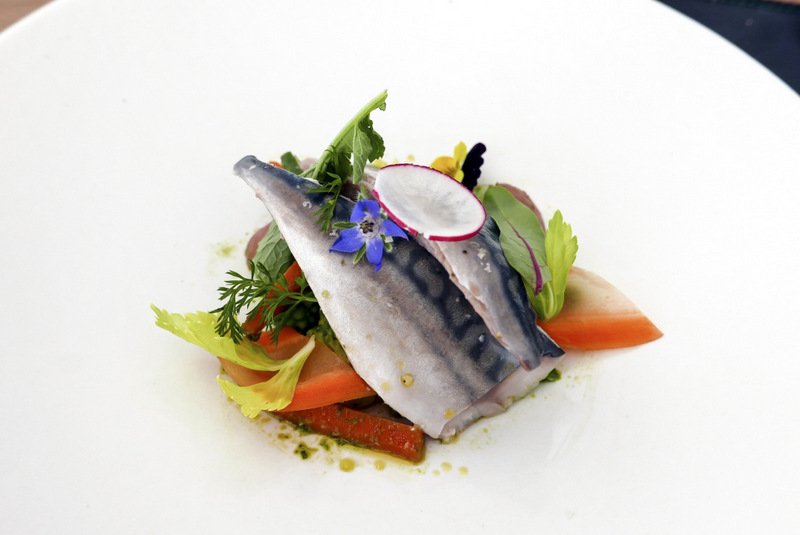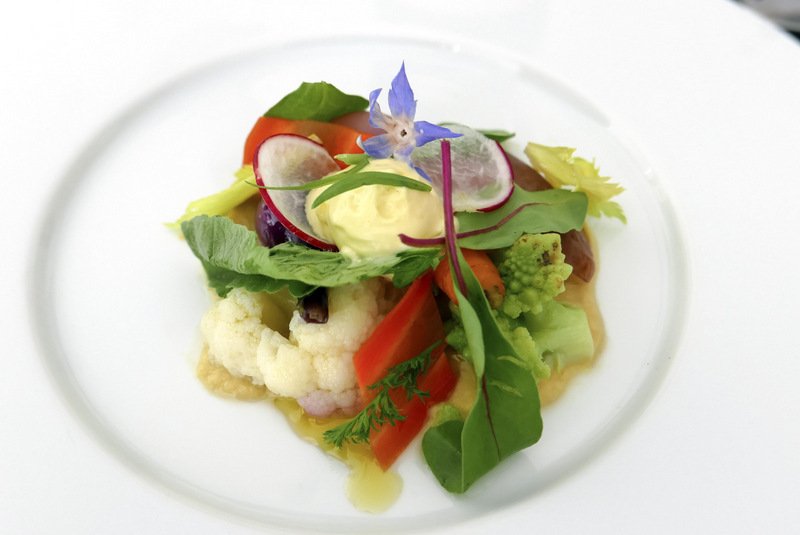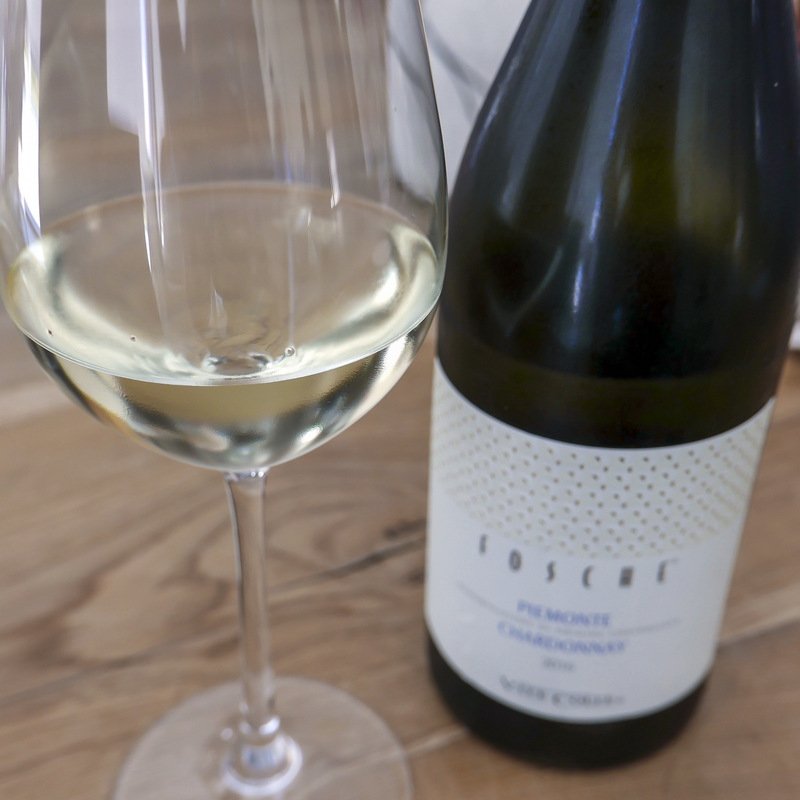 Pasta
Handmade Tagliattelle (Euro14) from Piemonte bio flour is firm to the bite and coated with a tasty beef ragout. We learn that the secret to the tastiness is in the choosing of meat close to the bone. It's finished off with a Parmesan cream and we can't help but believe our waiter's declaration that it's "very very very great and tastes much better than Bologna's version."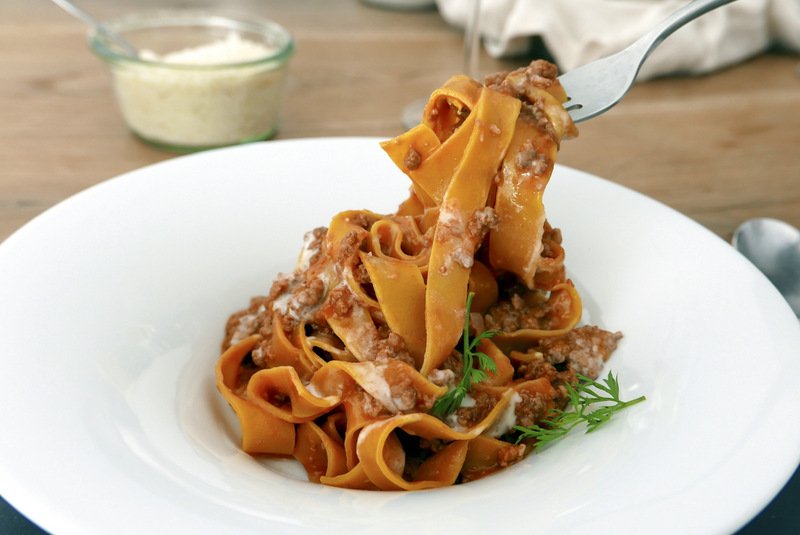 Zucchini Risotto (from the set menu) is only made for three weeks every year because the key ingredient, Toma de Violets, is a cheese that can only be made after the dairy cows have grazed on pastures when violets are in bloom. This dish is so special, you can order it a year in advance! We're lucky to be here in season. The rice in the risotto is firm to the bite, covered with thin slices of fresh zucchini and flourishes with a mild floral sensuality.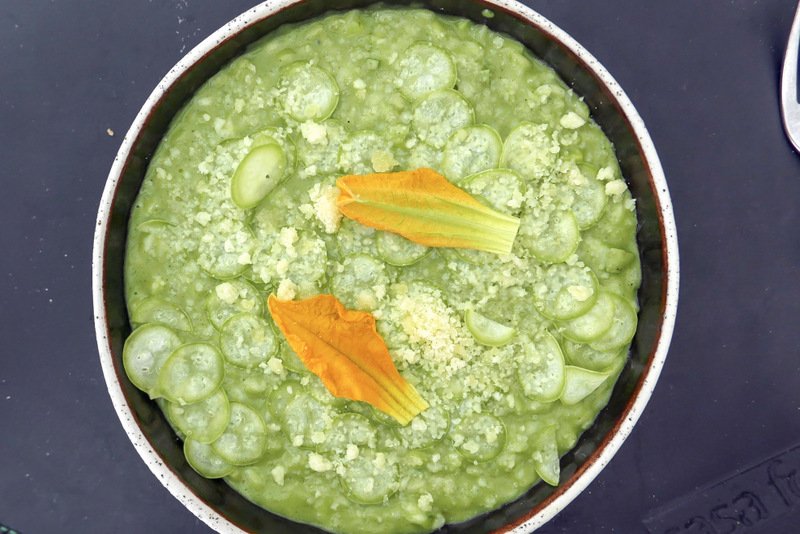 Main
I'm completely enamoured by the passion of our waiter Fabio who has some clear favourites on this menu. He introduces two sauces for the mains, noting one as a spicy ketchup and the other a black mustard, unique to Casa Format, and one that he loves. They go with the glazed pork ribs (Euro 17), which flaunt a glimmering sticky glaze of red wine, soy sauce and honey. Our initial hunch that these are going to be finger-licking good is confirmed by the moist wet towels that come along with the main. Sides of fried potato with the skin, seasoned with fennel, pepper and saffron, and green beans and cauliflower in a celery sauce are plated in cast iron pots. A 2015 Nebbiolo from Langhe, Tenute Cisa Asinari Dei Marchesi di Gresy Martinenga displays deep red fruits on the nose, is balanced and nicely structured and its moderate tannic finish drinks well with the sticky pork.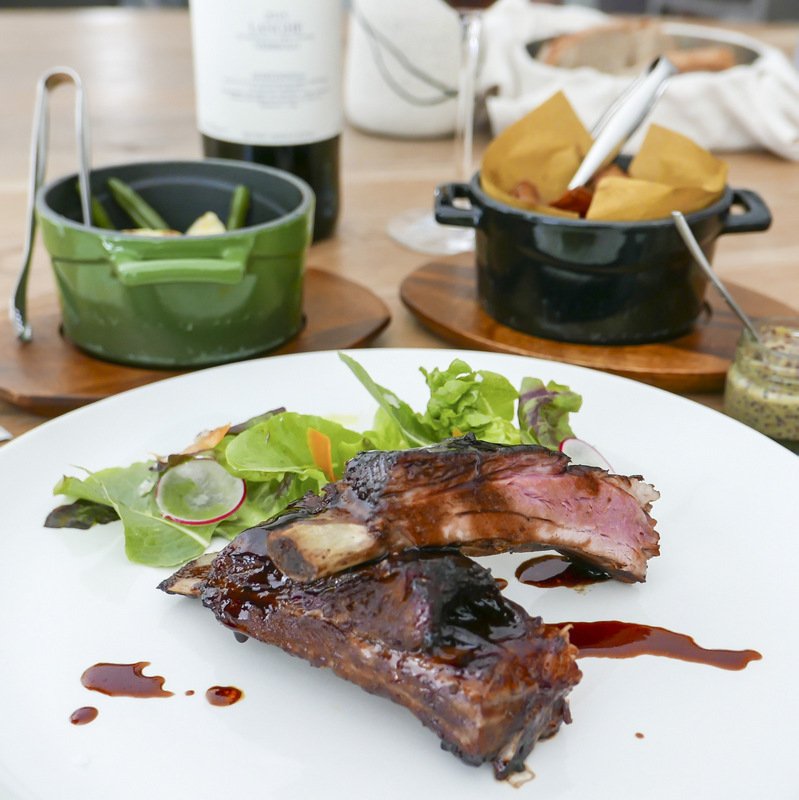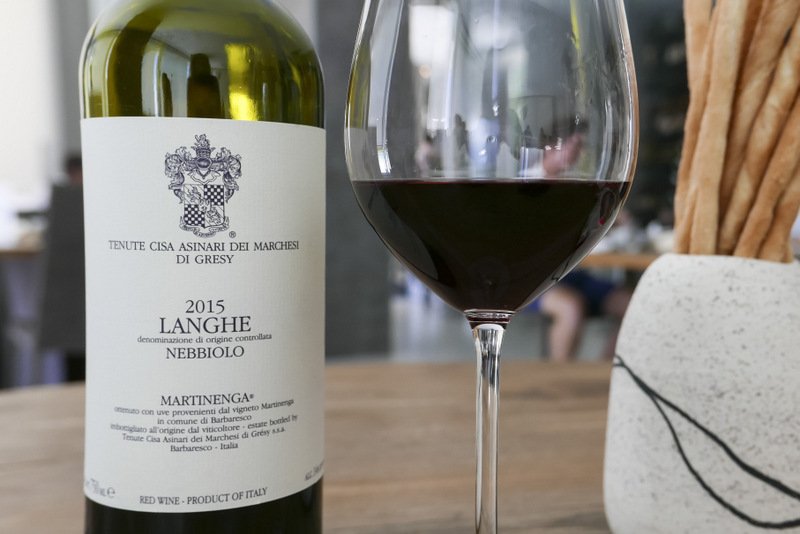 Dessert at Casa Format
A sweet conclusion (Euro 7) also comes with a small theatrical display. An enormous pile of custard ice cream made by one of Turin's (if not Italy's) most celebrated gelato makers, Alberto Machietti, is rolled out on a trolley (providing a lusty drool worthy show from kitchen to table) and scooped in three large egg-sized ovals onto each plate. Foam of sabayon is discharged on the side and three small glass jars of toppings – pears stewed with vanilla, hazelnut crumble (mildly salty) and hot chocolate sauce – are left with guests for appending at will. Lastly, Borgo Maragliano "El Caliè" Mosto d'Uva, from one of Italy's smallest DOCs provides a light, sweet and softly effervescent finale.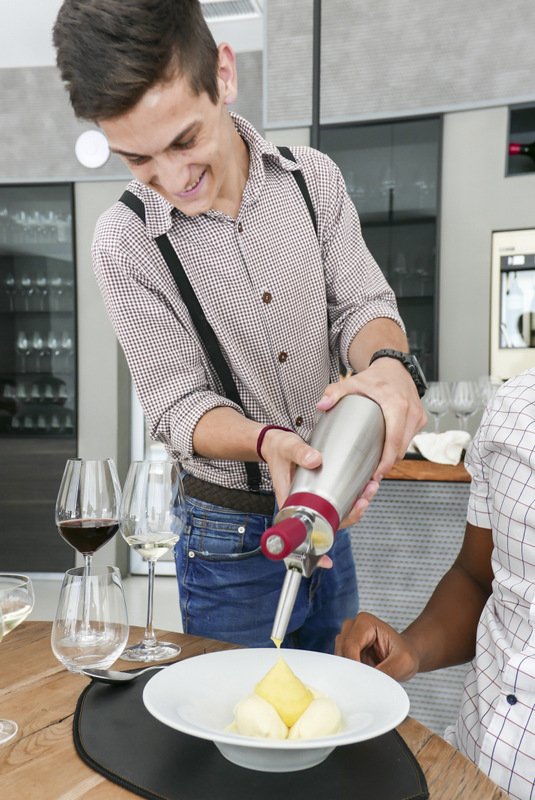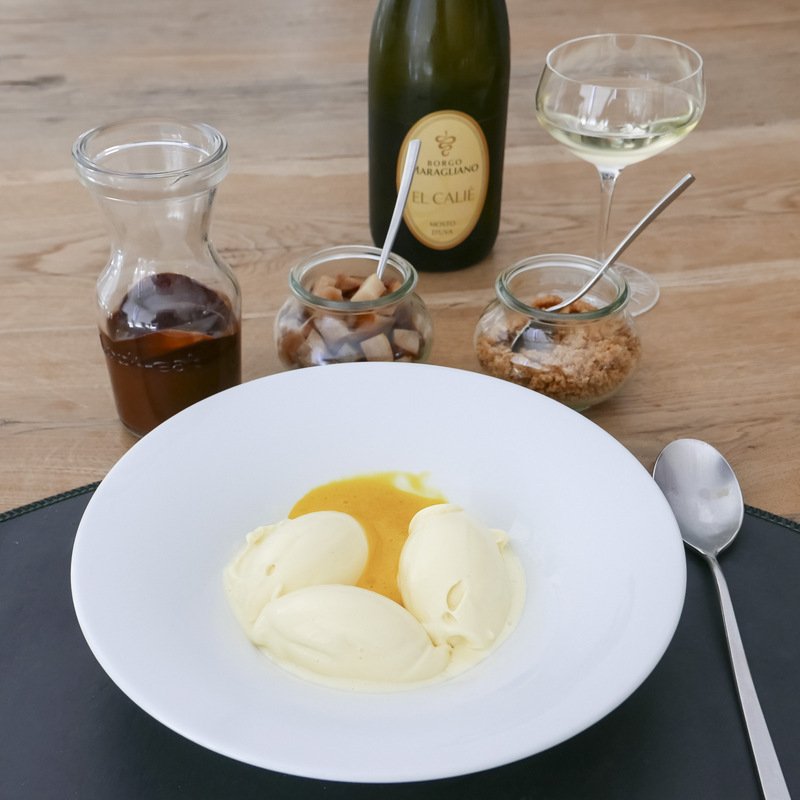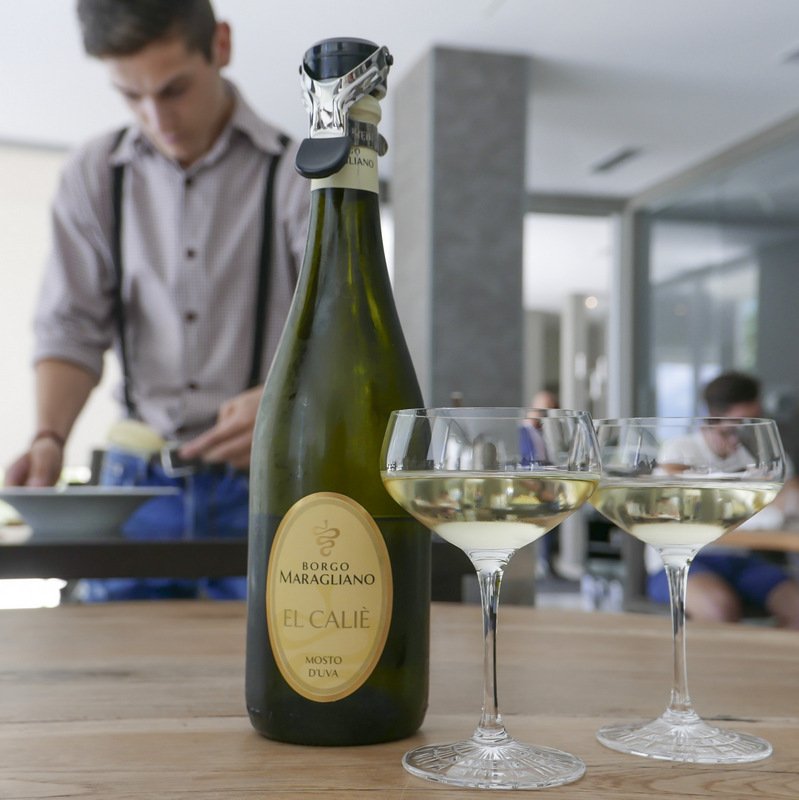 Casa Format Restaurant presents dishes with such freshness, quality of produce and cleanness in preparation that I feel that I could eat here daily without guilt. Something a little more decadent though with wine pairings can easily spruce up a menu into a more opulent affair. Only opened a year, Casa Format is already buzzing with full houses daily for lunch and dinner, and a list of requests for functions. Reservations are highly recommended.
Reasons to visit: light bright setting; field to table concept with much of the produce coming from their own backyard or nearby organic producers; excellent wine pairings; good clean tasty food; don't miss Zucchini Risotto with "cheese of violets" if it's in season.
Casa Format Restaurant
Roofs via Valfré hamlet. Roofs Valfré
10043 ORBASSANO (TO) 
ITALY
+39 011 9035436
[email protected]
www.casaformat.it
Open Lunch: 12:30 pm – 2 pm Dinner: 7:30 pm – 10 pm
Closed on Wednesday