Louise Miller
Who doesn't love a great free flow Sunday brunch? There are few things more decadent and pleasurable than whiling away hours pondering over which food option to go for next whilst sipping on something delicious and bubbly. I've often wondered though why this kind of event is largely reserved for Sundays when a modicum of self-discipline is desirable in order to face work on Monday morning. Well, as of the 5th August, this kind of hedonism is no longer the exclusive domain of Sunday afternoons as Shook! will be launching its Saturday Night Vibes event which, in my view, is just what Kuala Lumpur's weekend scene has been waiting for.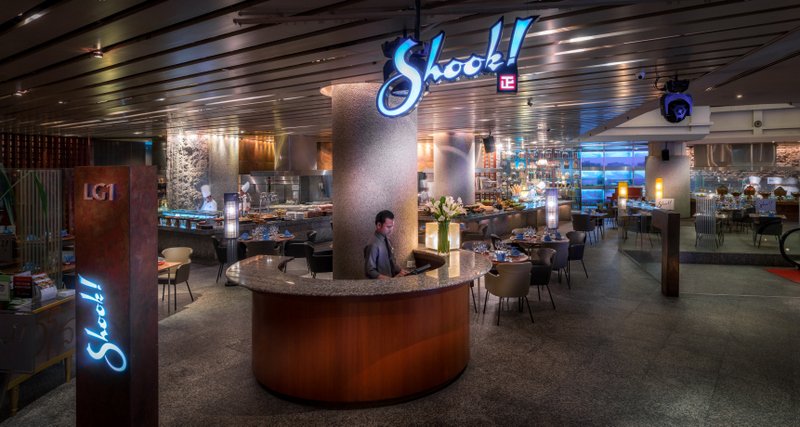 Monica, Caning and I had the privilege of attending a preview meal of the event. The concept is both simple yet brilliant: live music, magic and fantastic food and drinks. The menu has been compiled with the very best of Starhill Gallery's culinary offerings to create a Cirque du Culinaire dinner. Yes, you no longer have choose between the Feast Village's stylish kitchens as five of them will be showcasing their signature dishes, which are passed around to tables in addition to the generous buffet spread.
Seafood at Shook!
No meal at Shook! would seem complete without its signature Snow White Dancing Prawns: the crystal sea prawns, deep fried in the lightest of batters coated with a hot tangy mayonnaise and sprinkled with chopped honey-glazed walnuts were a highlight for all of us. We also enjoyed a selection of super fresh sashimi, sushi, Pacific oysters and Luk Yu Tea House's slippery and springy King Prawn Noodles, deep fried until crispy and golden brown, served with aromatic ginger, garlic and prawn gravy topped with fresh, succulent water prawns.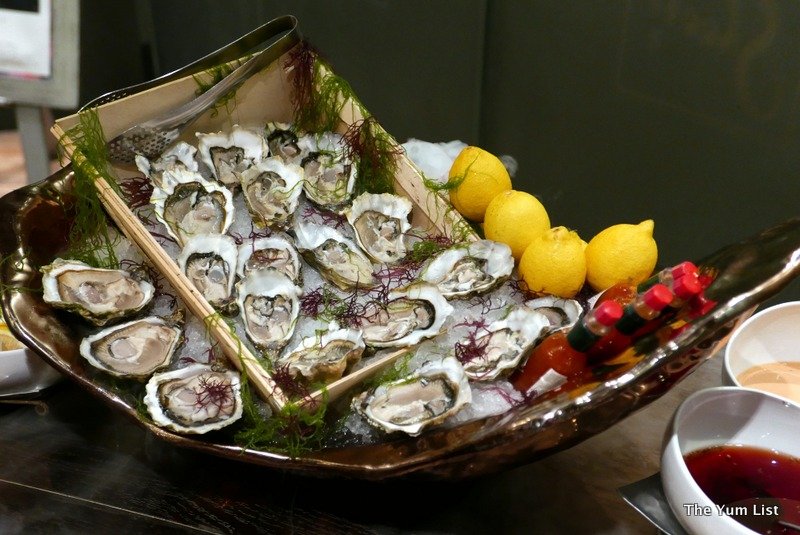 Fisherman's Cove offered us both Crispy Fried Calamari with Mint Mayo and Tiger Prawn Skewers seasoned with Togarashi or Japanese chilli powder. Both were delicious and bursting with flavour.
The Feast Village's Indian restaurant, Khushi Spice showcased its Fish Anarkali, an authentic North Indian deep fried fish marinated with ginger, garlic paste, chilli powder, cumin seeds and lemon juice served with a special subtly spiced yet cooling homemade mint sauce, this was another winner.
Seafood Paella was offered by Sentidos. The Gastrobar and Latin Grill's interpretation of this popular Spanish dish was tinged golden by saffron and paprika, and generously laden with fresh tiger prawns, mussels, clams and squid. Having been so often disappointed elsewhere by this dish, we marvelled at the perfection of this Paella, both in its intense seafood flavour and wonderful textures.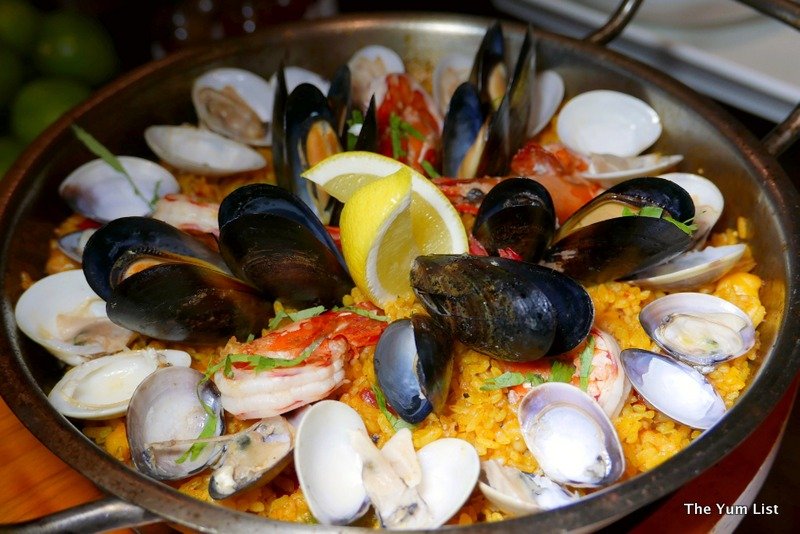 Meat
Sentidos also contributed Roasted Garlic Chilli Chicken – another traditional Spanish dish. The garlic and chilli flavoured pan-seared chicken offering was served with a creamy and toothsome white sauce.
Shook! further furnished the menu with no fewer than three meat dishes. Teppan Style Beef was cooked to perfection on the Japanese iron grill and enhanced with shoyu butter sauce.  Assorted vegetables and sauces made great companions to the super succulent tenderloin.
Wagyu Beef Cheeks With Truffle Mash were sublime. The tender braised wagyu just fell apart with a gentle nudge of a fork and the buttery truffle infused mashed potatoes provided a hearty partner to the meat and rich beef gravy.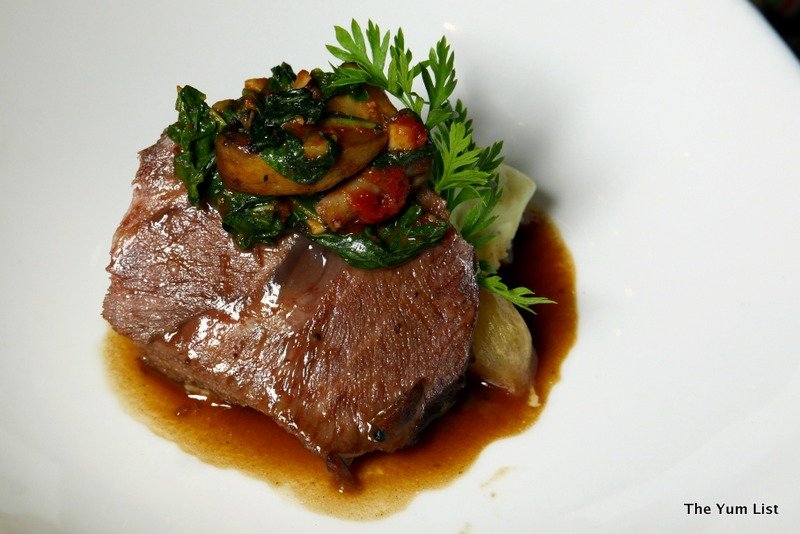 Five Spiced Rack of Lamb provided a contrast to the beef dishes. A special spice mix of caraway, cayenne, cinnamon, cumin and coriander gave the meat delicious aromatic layers of complex flavours.
The Buffet at Shook! Kuala Lumpur at Feast Village, Starhill Gallery
If, in the unlikely event that  all of the above do not provide enough to satisfy your tastebuds or satiate your appetite, take a trip (or several) to the buffet where fine displays of seafood, meats, antipasti, cheeses and more will have your eyes popping and your stomach growling but do save room for something sweet!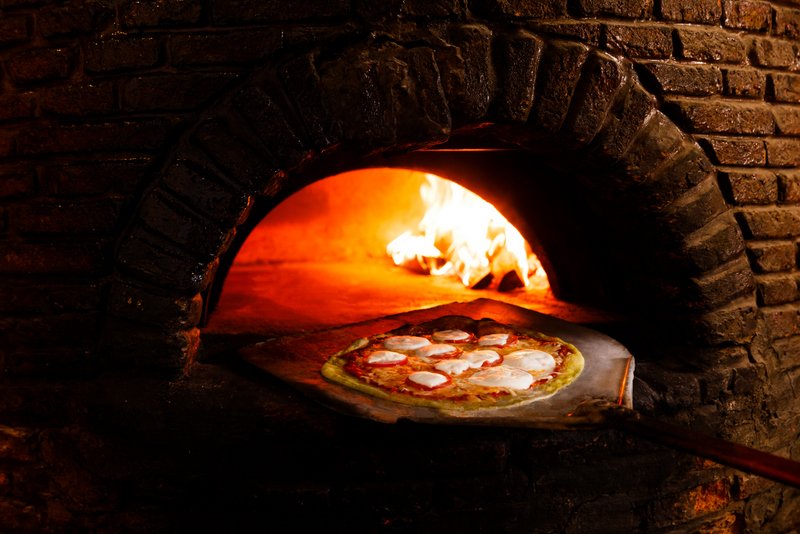 Desserts
Admiring the stunning display of desserts at Saturday Night Vibes is like stepping into a Wonderland for the sweet toothed. Mountains of multicoloured macarons tower beside dark and white chocolate popsicles. Huge slabs of nut studded chocolate flank jars of honeycomb, bowls of jelly beans and layered plate stands carrying a myriad of yummy cakes.
Some retro delights will also reward those who leave enough room for the finale. Bomb Alaska Cake and Crepe Suzette await to conclude this banquet along with Shook! Symphony, a delectable selection of berry mousse, chocolate cookies, brownies and green tea and vanilla ice-creams.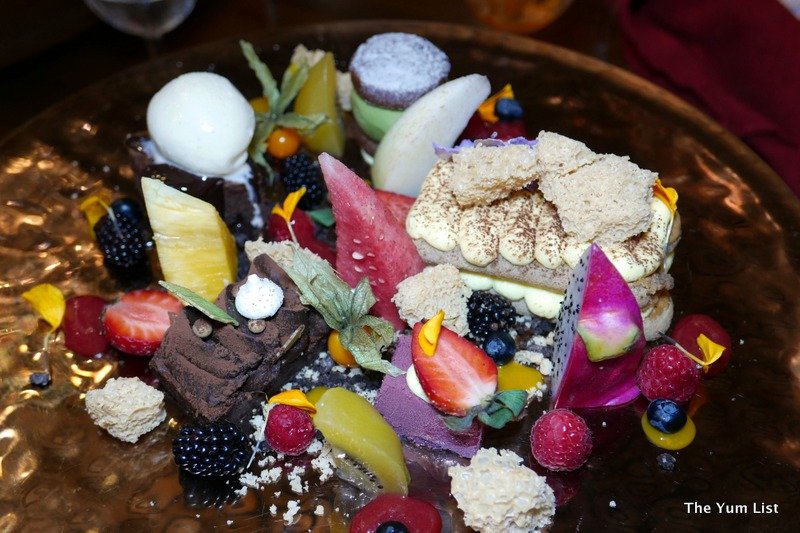 Free-flow Drinks and Happy Hours
It seems very apt that the signature beverage for Saturday Night Vibes is Aperol Spritz. This Italian aperitif symbolises a convivial and lively atmosphere due to the vibrancy of its orange colour and refreshing taste. Surging in European popularity over the last decade, it's great to see it make its mark at Shook! in both classic and crushed ice 'slushy' versions.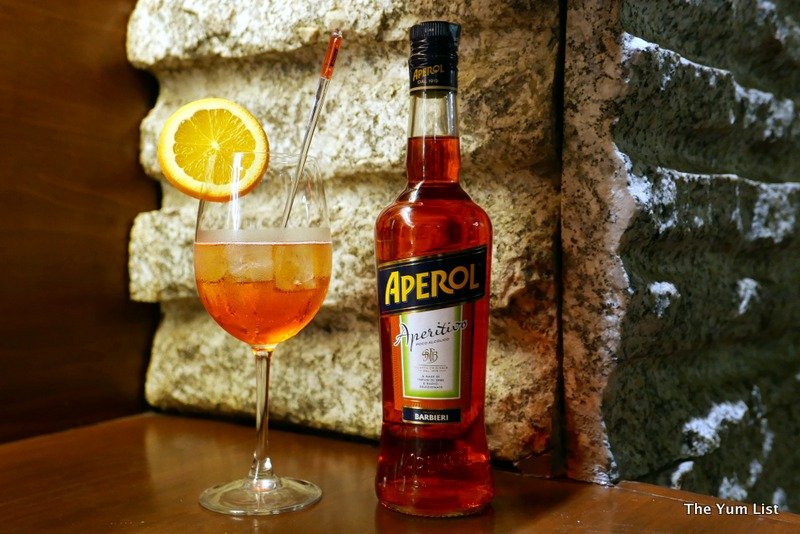 Entertainment – Saturday Night Vibes
Setting Saturday Night Vibes at Shook apart from all other dining experiences is the lineup of entertainment. Singer/song writer and music curator, Bihzhu, is very excited about the acts that have been scheduled. Penang born and incredibly proud of her heritage, Bihzhu was delighted that the focus was to showcase Malaysia's finest musical talent. Between 9pm and 11pm, diners will therefore be treated to original and high calibre live performances.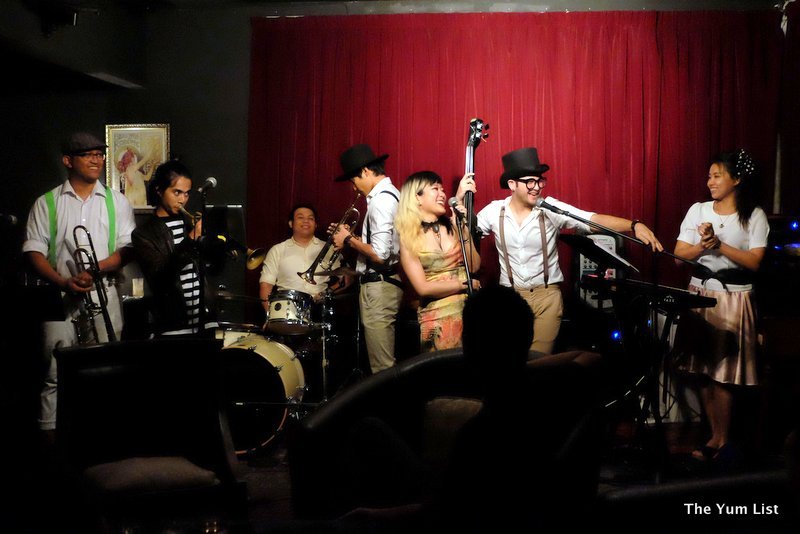 Before the live music begins though, be prepared to be blown away and utterly baffled by the magic of Moudini! This world-class illusionist performed a range of conjuring and card tricks at our table that left us incredulous. I won't ruin any surprises but suffice to say that if he asks you to hand over a five ringgit note for one of his tricks, don't hesitate!
Cirque du Culinaire Dinner will be available from 7.00pm to 10.00pm at RM168 per person and an additional cost of RM88 for free flow Aperol Spritz, wine and beer.
Live Performance & Happy Hour  from  9.30pm to 11.00pm (1-For-1)
Reasons to visit: A fantastic night out of great entertainment, value for money that features the culinary highlights of Starhill Gallery's Feast Village.
Shook! Kuala Lumpur
Feast Village, Starhill Gallery
At JW Marriott Kuala Lumpur
183, Jalan Bukit Bintang
55100 Kuala Lumpur
www.feastvillage.com/vibes
+60 3 2782 3875