Monica Tindall
"My contemporary cuisine looks to the future, but never forgets its origins" – VUN Andrea Aprea, Park Hyatt Milan
VUN, meaning 'one' in Milanese, signifies the relationship between setting, city, cuisine and guests, bringing them all together in a unified experience. This we soon discover at dinner with the acclaimed chef, and Michelin-star awarded, Andrea Aprea at Park Hyatt Milan's signature restaurant VUN.
With sound foundations in Italian traditions, Chef Aprea innovates on a strong historical base, respecting quality ingredients while exciting diners with his unconventionality. Guests encounter something new, yet still find comfort in the familiar.
Ensuring the culinary creations of chef Andrea Aprea are the protagonists of every visit, architect Flaviano Capriotti has designed the setting as a supporting backdrop. The details are intimate, the design elegant, and both enhance the gastronomic journey.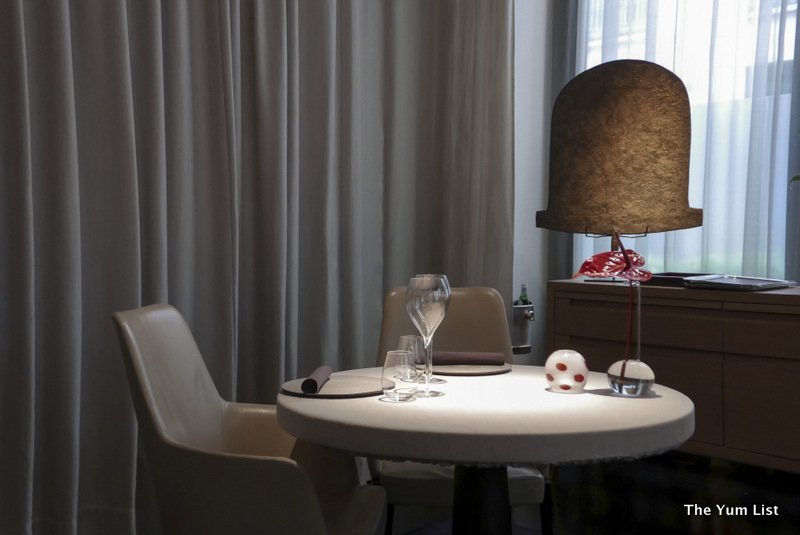 Welcome Canapés at VUN
Our introduction to VUN cuisine begins with a "Wow!" A trio of welcome canapés, to be eaten from right to left, resembles a timeline of life. The first, is bubbly and youthful, a praline of spritz that delights, surprises and is completely unexpected. The second, puffed potato and cream cheese coated with sweet paprika, is creamy and calm, a bit like a stable adulthood. The last, tartlet of black olive and orange, has depth and layers, much like a senior, wise person taking a contemplative look back on life.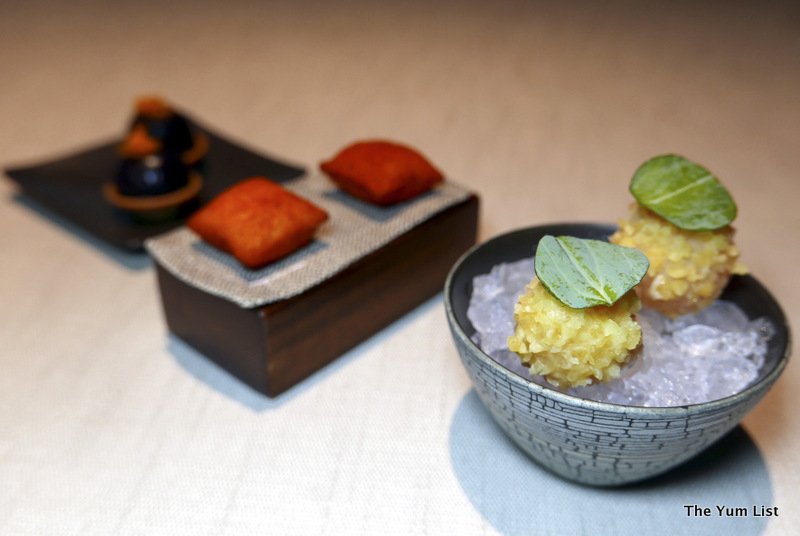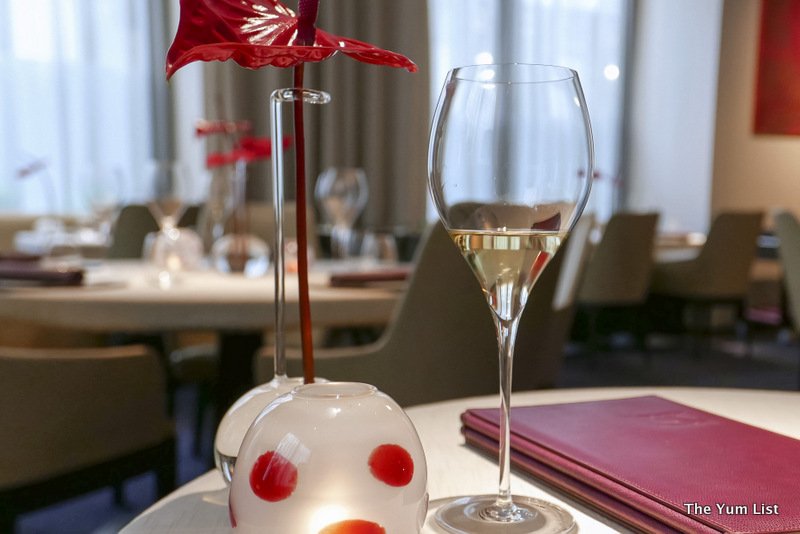 Amuse Bouche
The "Wow!" continues with the amuse bouche. I should have learned from the induction to expect the unexpected, but I see Caprese and think it's a pretty presentation of a common Italian dish. Wrong! It's a crystal-thin sphere of blown sugar stuffed with buffalo cheese foam. Below are tomatoes done three different ways and basil pesto. The flavours are familiar, but the mouth feel is intense and the textures just splendid.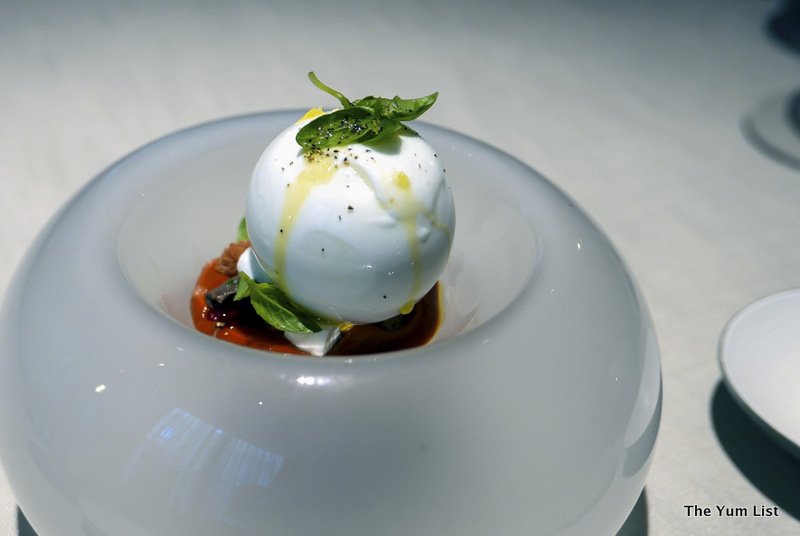 Cuttlefish "Diavola" Style
The first course, mashed potato and cuttlefish, sits beneath a shower of diavola powder with white asparagus slivers and watercress breaking the hue of red on top. The paprika seasoning, mildly spicy, furnishes a distinct taste of the south.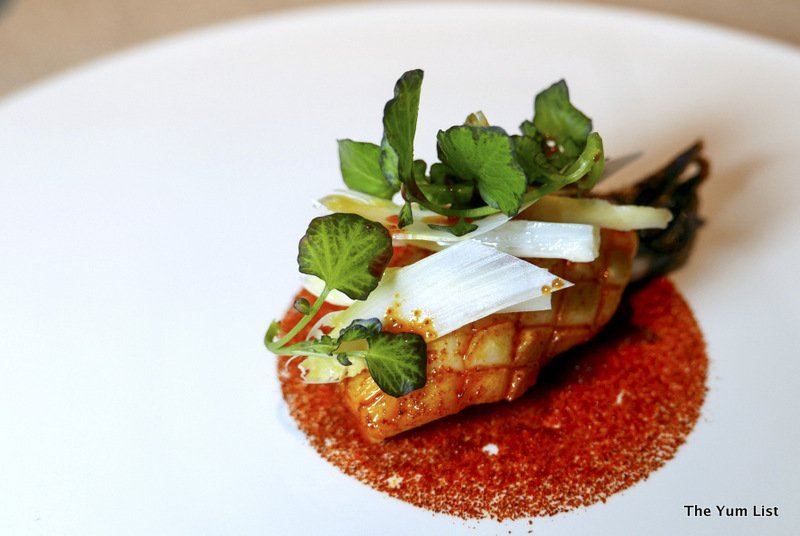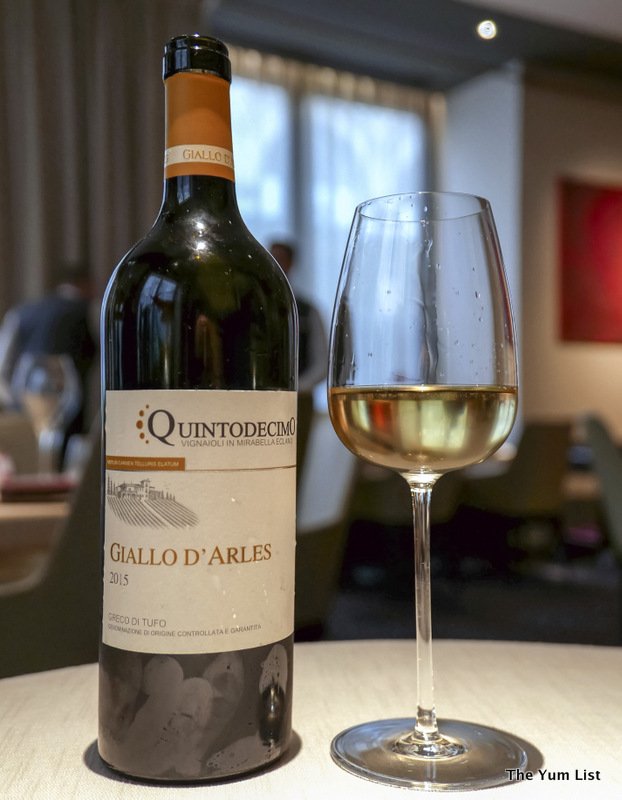 Selva Egg
The Selva Egg, or wild egg "Alla Purgatorio," was traditionally a dish of the poor. Onion, garlic, basil, olive oil and tomato are the base with the whites of the eggs apparently resembling souls floating around in the fiery purgatory represented by the red sauce. A thin wholemeal bread wafer crosses the top and it's recommended to use it to break the sous vide egg and spill the yolk, eventually mixing it all together. It's rich. Only a small portion is needed. For me it epitomises the flavours I associate with Italy.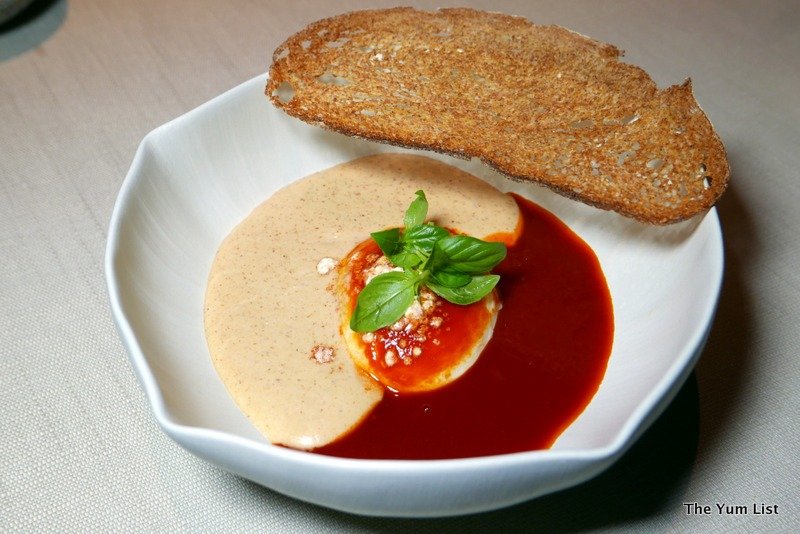 Carnaroli Rice Authentic "Riserva San Massimo"
The rice dish, risotto, is named North… and South because the rice (and traditional risotto recipe) comes from the north, but the flavours in this preparation hail from the south. Tomatoes, Provolone cheese, capers, oregano and black olives gift a richness and intensity not often associated with risotto. It's another serving, where only a little is required to fully satisfy. It's wonderfully smoky both on the nose and in the mouth, reminding me of food cooked over a campfire.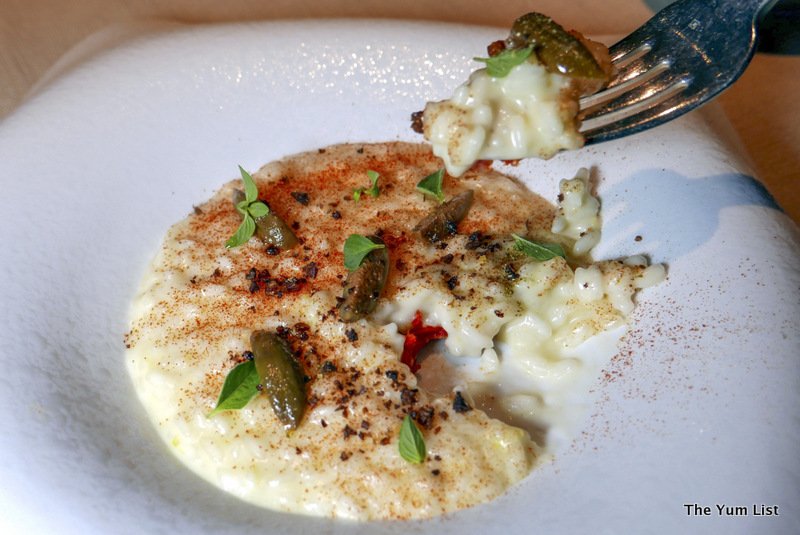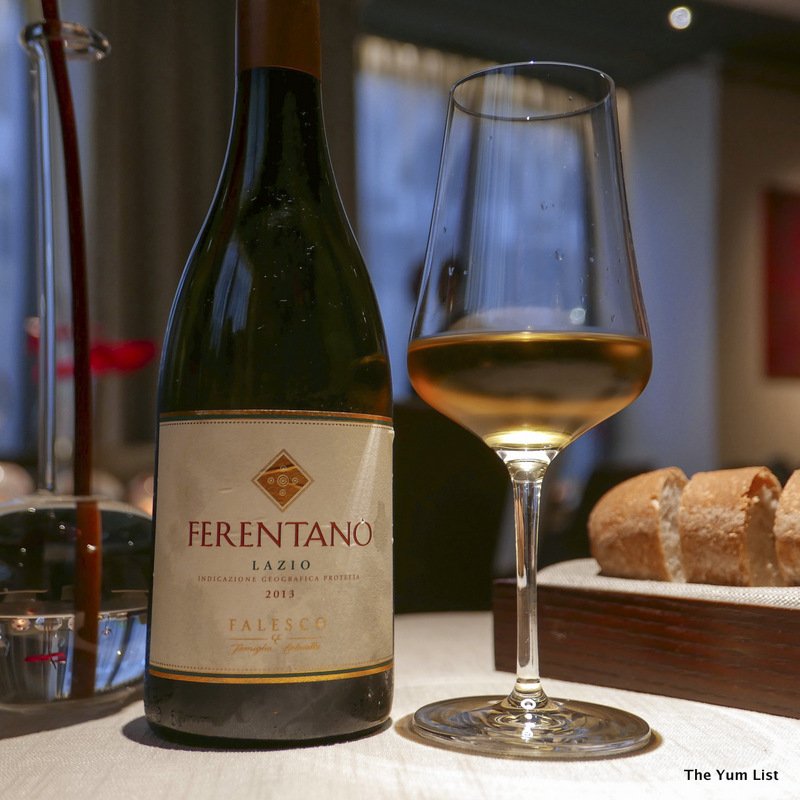 Tortelli Pasta
A beautiful plate holds two perfect cylinders of tortelli pasta. Smoked aubergine, octopus "Luciana style," black olives and calamint should be all taken in a single bite. It's another smoky dish, but this time sports more of the char from the grill rather than the smoke, as was the case in the previous course. The calamint lingers at the end just like a fine wine. I must see if I can find this ingredient when I return home to Asia.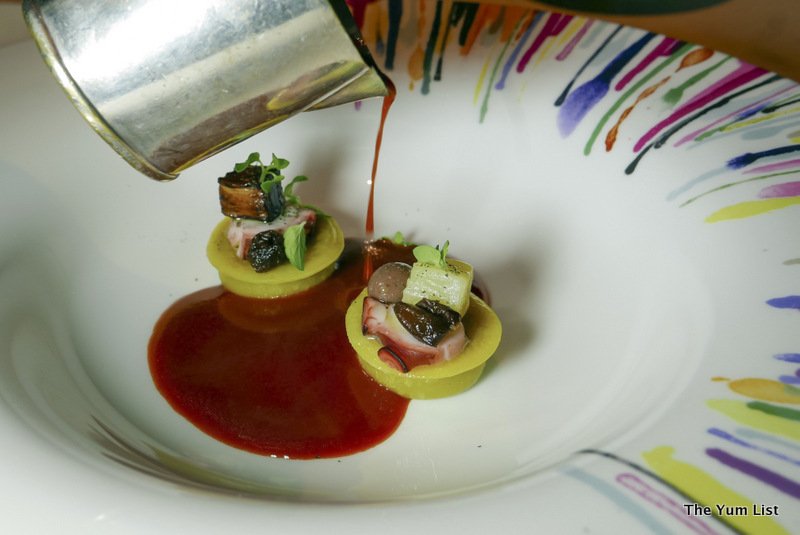 Salt Cod
A milky white square of cod is the star of the fish course. Cod fish oil and olive oil combine to make the cream, while a confit of tomato, sage, basil and green olives boost the flavours. Dehydrated "Pizzaiola" powder has been sifted in a circle on the base contributing a layer of taste and a pretty speckled visual effect.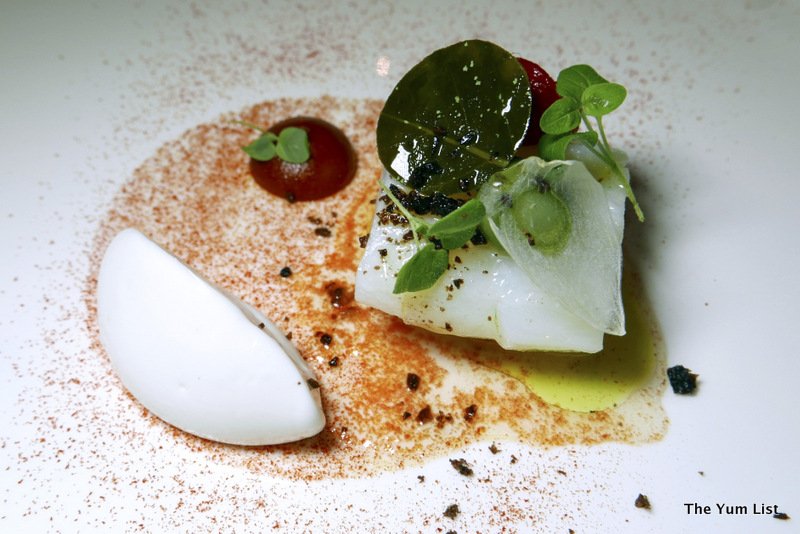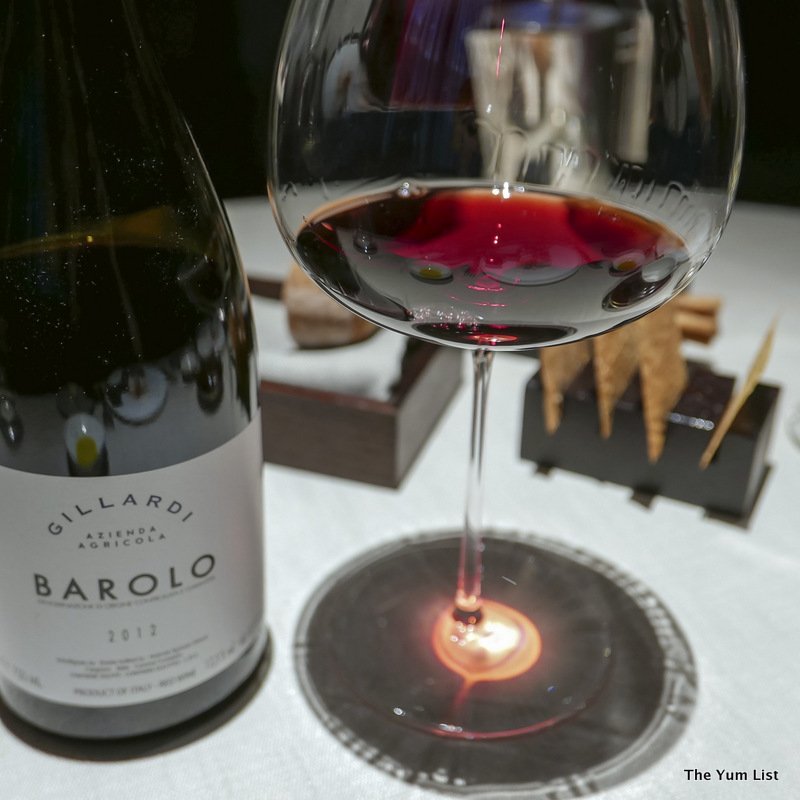 Lamb Shoulder
The main, a meaty lamb shoulder, is a tower of sensations. Immediately I feel comforted as it smells like home (I grew up in the Aussie countryside where lamb is a staple). As a hint to the expected tenderness of this recipe, the dish is served with only a fork and spoon (!). A tower of red and yellow peppers, lamb caramelised to the point of crunchiness on the exterior (but superbly moist within), puffed barley crispies and finally a tangle of micro greens (lemon balm) is surrounded by a moat of sticky lamb jus. This is enough all on its own, and after first forkfu, you might be tempted to ignore the mustard eggnog that accompanies it. But give it a go. The foam elevates the composition to a whole new level. Sip on the Barolo wine that pairs it, and presto, I'm in heaven.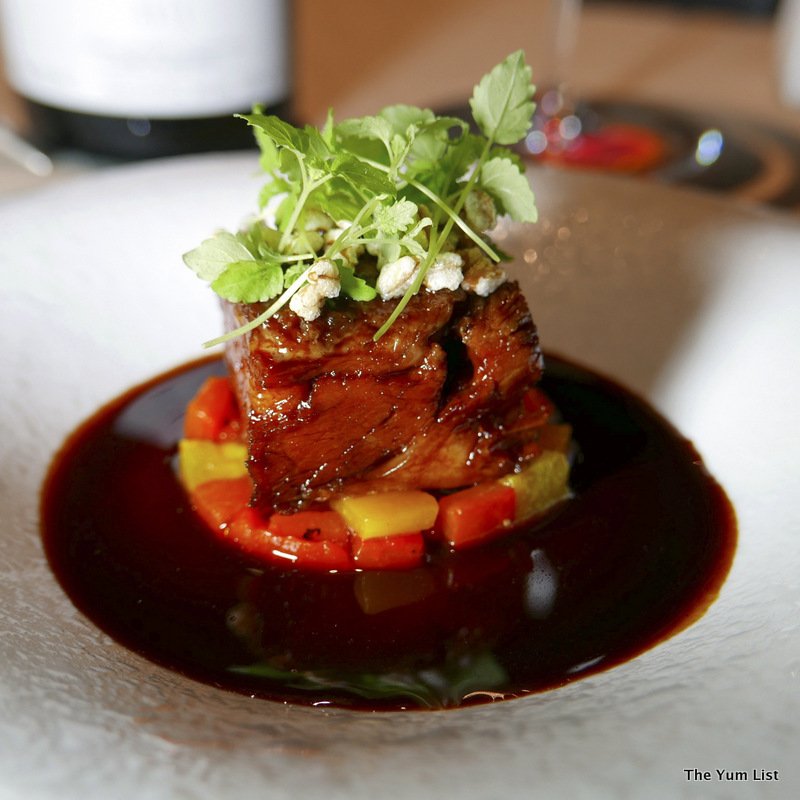 Pre-Dessert
I do love the fine dining trend of pre-desserts and the Lemon Sensation is made to impress. A crate of fresh citrus steams with dry ice as the backdrop to what resembles a half eggshell of lemon sorbet, lemon jelly and crunchy pieces of biscotti. Doing double duty, the pre-dessert with its tart cleanliness acts as both a warm-up to the finale, and also a palate cleanser, transitioning us unerringly to the climax.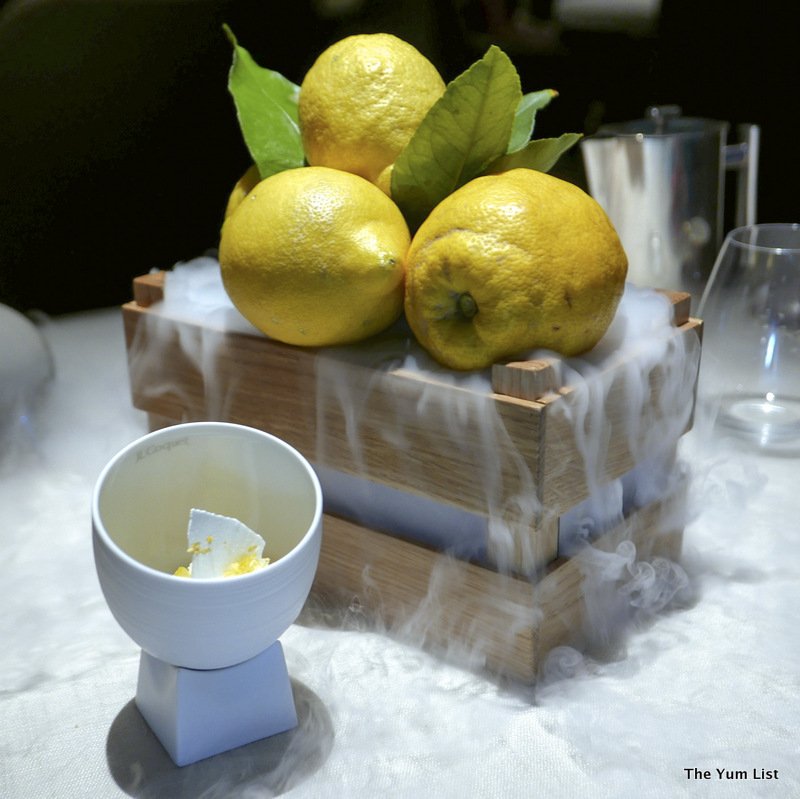 Dessert
Chef Aprea explains to me that cooking is a "transfer of emotions." "You must start with who you are, your memories. That's your foundation. The way is inside you, not outside. The more you travel, the more techniques you learn, but the essence comes from your core." In synchronous timing, dessert is delivered and we learn that this was created from a memory of Sunday lunch at home.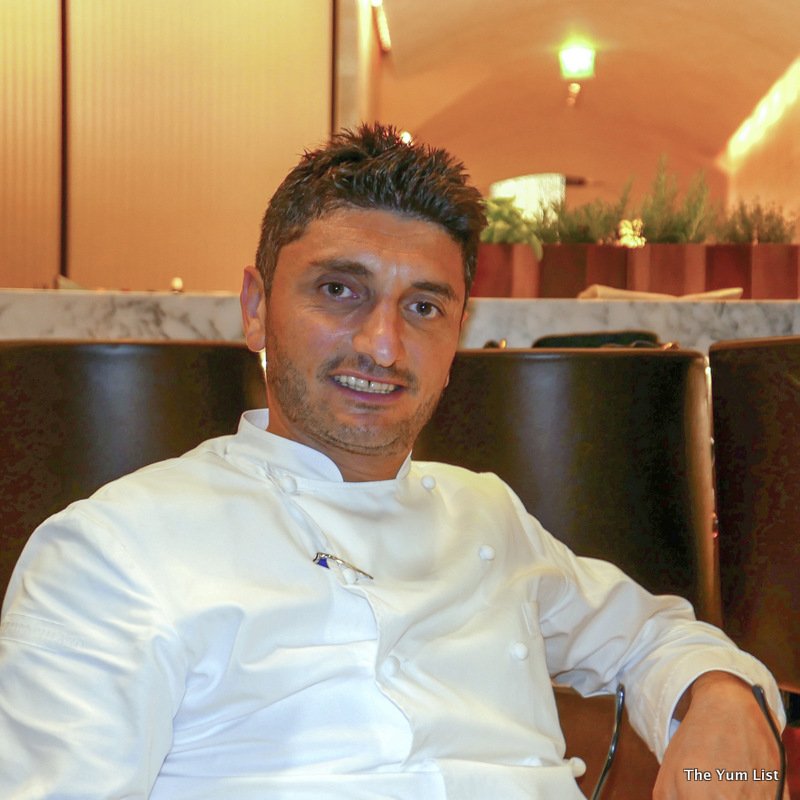 A semi-circle of ricotta cheese, meringue, Maraschino strawberries and calamint are showered with a strawberry soup as it's served. The dessert is sweet but fruity rather than sugary. I bet if you added a shot of vodka to the liquid and shook it over ice it would make a fantastic cocktail!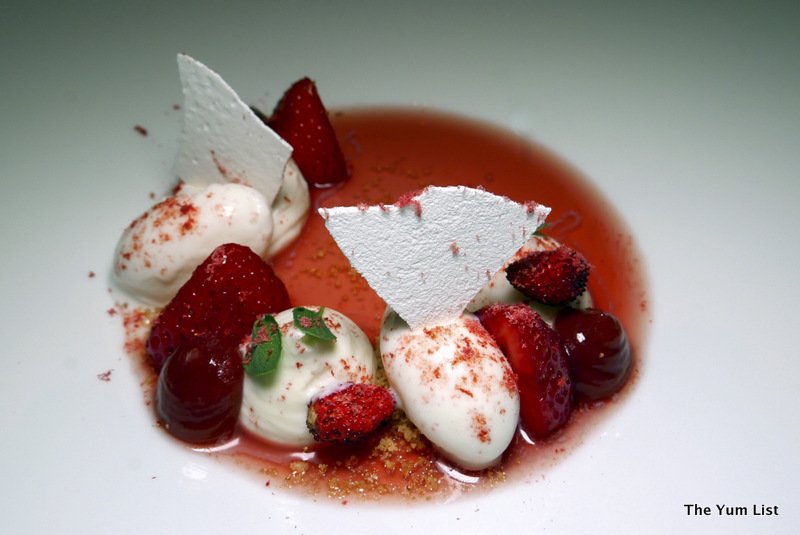 Instead, however, we're presented with something as equally tempting. A cone shaped glass of yellow liquid sits in a bowl of ice. As I eagerly await a detailed description, Michele (restaurant manager) laughs as he shrugs his shoulders and admits, "Ahh. It's limoncello. A delicious and traditional ending to an Italian meal."
Petit Fours
A trio of petite fours draws the experience to a close. Buffalo cannoli with raspberry is elegant with a balance of smoothness and tang. Spherical tiramisu is creamy and comforting, and the tartlets with violet cream have a crunchy centre and distinctly floral finish.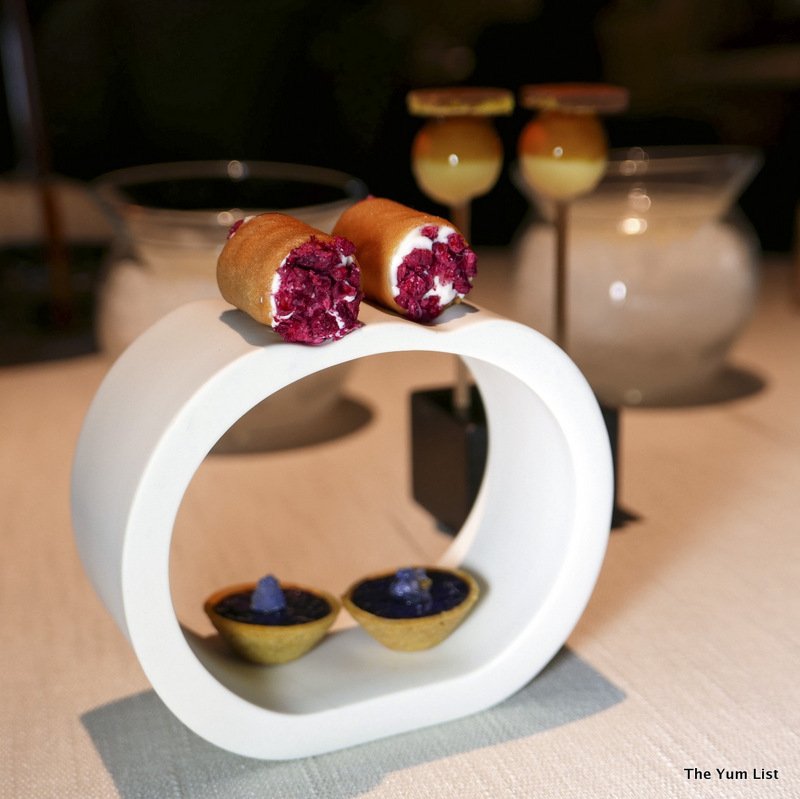 Chef Aprea describes the VUN concept as the "new frontier of Italian cuisine," and displays obvious passion for researching the stories behind the creation of tradition, while pushing the barriers to forge his own contemporary narrative. He ends our conversation with a final piece of advice. "Focus on what you do. Be who you are. Italy has 2000 years of culture behind it. Italians should cook Italian."
Reasons to visit: an education in the history of Italian cuisine (the wait staff are extraordinarily knowledgeable and passionate, all questions will be answered); intimate setting; expert wine pairings; a visit to the past through the lens of the future.
VUN Andrea Aprea
Via Silvio Pellico 3
Milan, Italy 20121
+39 02 8821 1234
[email protected]
https://milan.park.hyatt.com/corporate/restaurants/vun/en/vun-home.html