Words: Robin Pascucci     Photos: Monica Tindall
Magic happens when restaurant owners empower their chefs to take creative risks in the kitchen. And in the case of Barat, the magic that winds up on your plate also comes from a source that is healthy and socially responsible. Lingesh, Barat's magician in chief, showed us in one evening how a passion for responsible farming and cooking translates into vegetarian dishes that will inspire even the most stubborn meat-eaters to forget why they felt they needed to eat flesh. And with eighty percent of the menu locally produced and direct from farm to table with no middle-man, the meal will sit as nicely on your conscience as it does on your taste buds.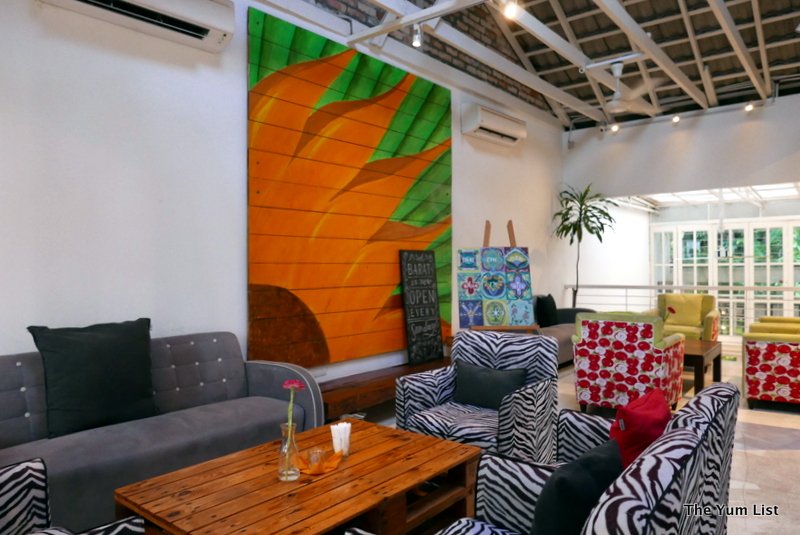 Barat Mediterranean – Socially Responsible Vegetarian Restaurant, Bangsar
The theme of social and environmental responsibility comes through in every aspect of Barat, starting with the décor. In the restaurant downstairs, simple white leather benches are topped with colorful wheat-straw cushions. The napkins are made of the same environmentally sound fabric. Upstairs in the bar, everything is up-cycled, from the train-trestle bench against the back wall to the "queen's chair" (yes, it looks like a throne) in the nook in the corner of the bar. The lighting during the day is natural, and the restaurant is cooled, whenever possible, with fans and natural air currents rather than air-conditioning. The whole thing is not only pleasing to the eye but also clearly supportive of Lingesh's dedication to environmental responsibility. And the simple, cozy décor encourages people to have a relaxed meal – one they "don't have to get dressed up for or speak softly over," as Lingesh says. The name of the restaurant, Barat, is Sanskrit for "union" – and he wants his food to bring people together.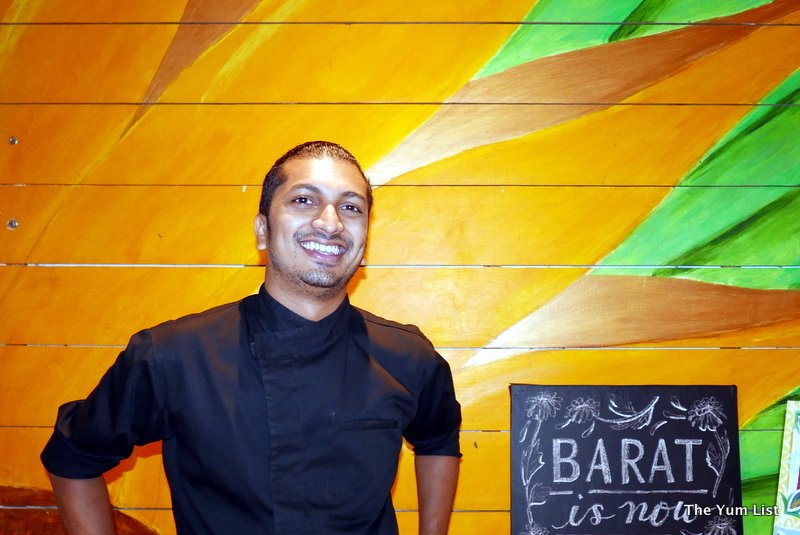 Drinks at Barat
So we settled in and got comfortable for the evening, helped along by Saj, Lingesh's "drinks man." Saj introduced us to both alcoholic and non-alcoholic drinks from the list of his creations. Though Saj can put together just about any concoction on demand just from a customer's taste preferences, we allowed him to make us the House Special (RM 35). This cocktail, made with vodka, Cointreau, Martini Rosso, and Malibu, hit just about every area of the tongue with a complexity of flavors – bitter, sour, and sweet. We then tried a healthy non-alcoholic drink from the menu – one that Lingesh has affectionately dubbed his "tummy trimmer" (RM 20). Like all of the juices, it has no water or sugar added. The flavors of all of the ingredients were unadulterated – pineapple, cucumber, green apple, celery, and parsley.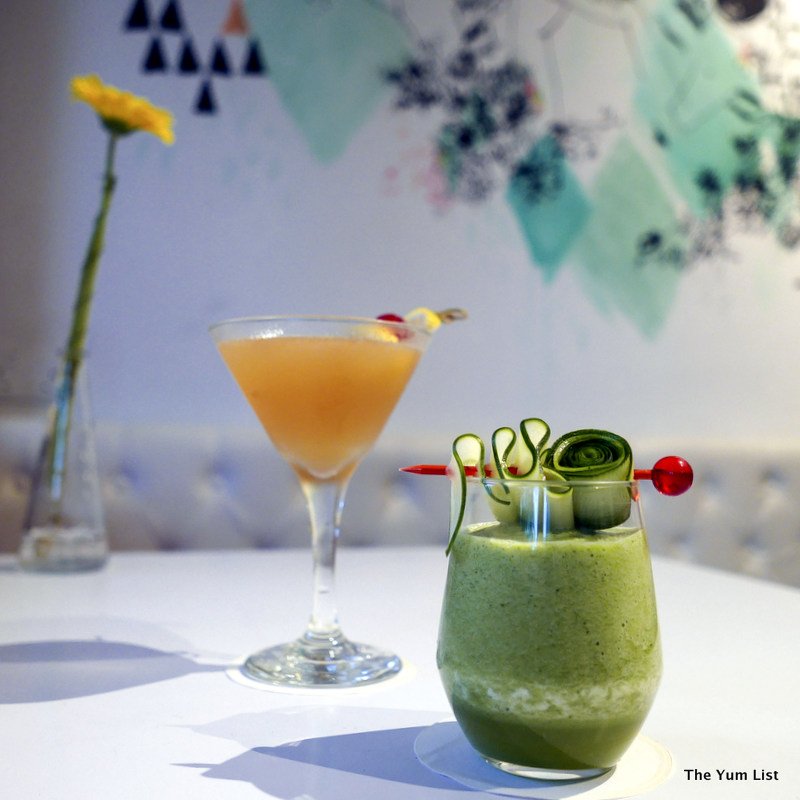 Organic Wine
In addition to the creative choices of cocktails and juices, Barat has an interesting variety of wines to choose from. In keeping with the environmentally responsible theme of the evening, we decided to try the organic choice, the Angove Shiraz Cabernet blend from South Australia (RM 120). A smooth wine with a plum and cherry finish, this wine complimented the Mediterranean dishes nicely. And like most of the items on the menu, it is produced responsibly and vegan-friendly.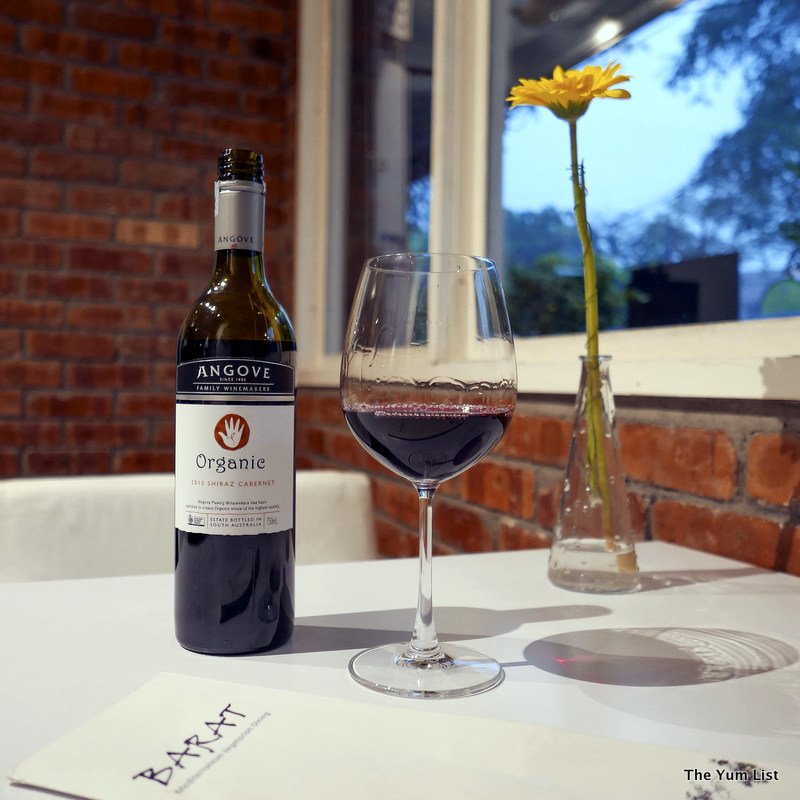 Soup
We then began to tackle the extensive food menu, starting with the soups. The Cauliflower with Blue Cheese and truffle oil (RM 20.90) was creamy and mellow, with the truffle oil taking some of the "bite" out of the blue cheese (Lingesh has been careful with blue cheese since he knows that it's not necessarily a favorite of locals – but it's one of his most-loved ingredients, so he finds ways to include it in dishes without letting it take over.). We then had the Roasted Pumpkin Soup Infused with Ginger (RM 19.90), made with two types of pumpkin – local and Japanese – and little strips of air-dried ginger for texture and spice. These soups were served with two types of house-baked bread and were both so flavorful I could have made a meal of them alone.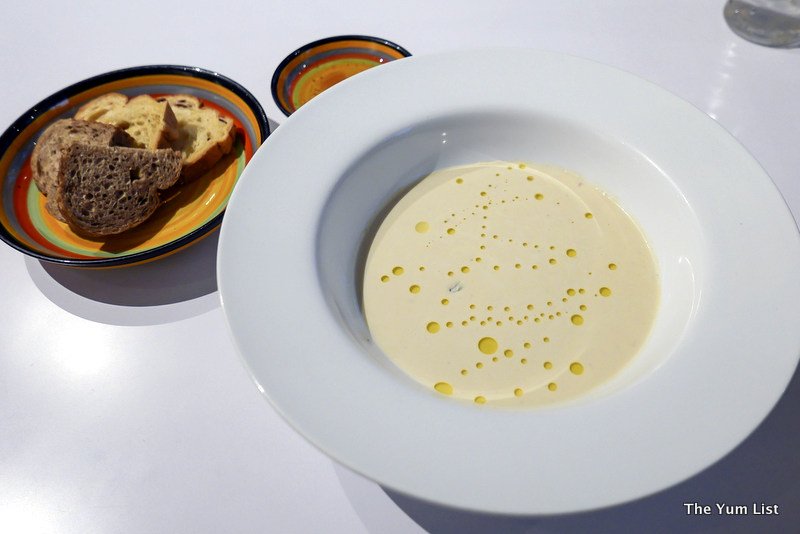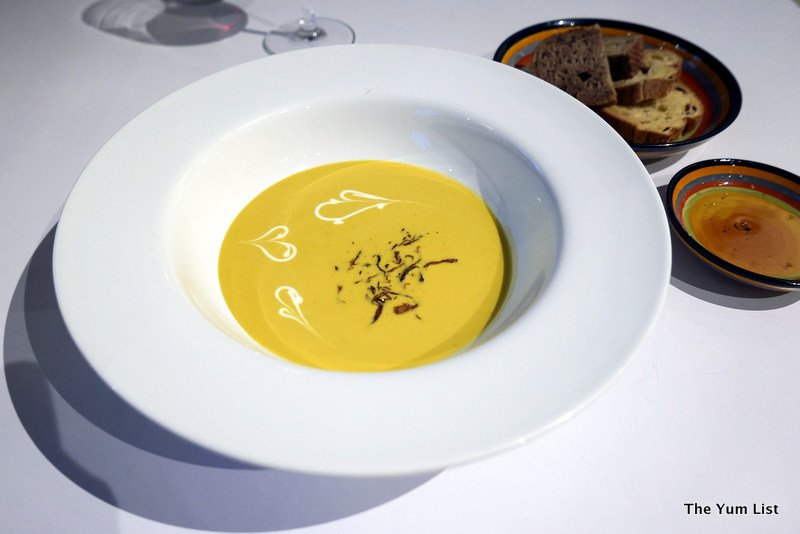 Bar Snacks
From the soups, we moved on to some of the tapas and bar snacks. We tried the home-made Bean Curd Stuffed with Black Fungus and infused with lemon grass (RM 21.90). This was served with mustard and a home-made, egg-free lemongrass mayonnaise on the side. The tofu was light and fluffy with a crispy breaded crust, and I loved the tangy mayonnaise as a dip for it.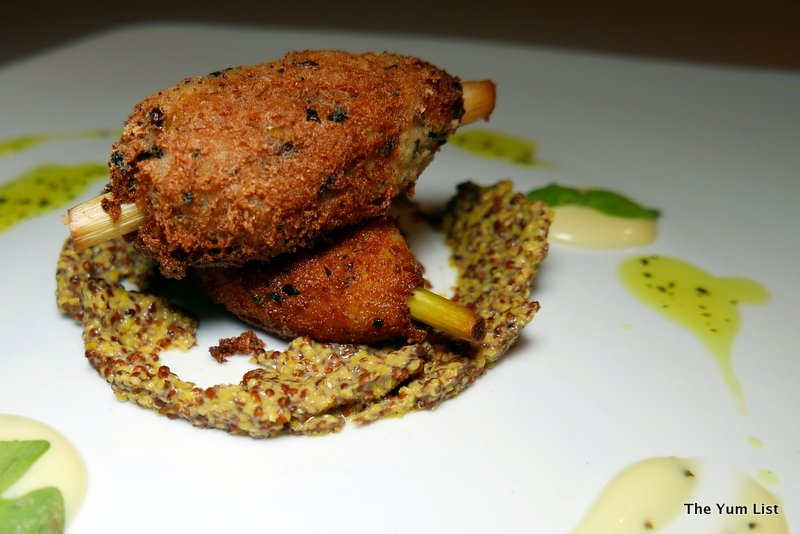 We also had the Mango Spring Rolls with rare Japanese mushrooms and home-made plum sauce (RM 17.90). These perfectly-textured rolls were not heavy or greasy like many spring rolls. The sweet sauce was perfect for dipping.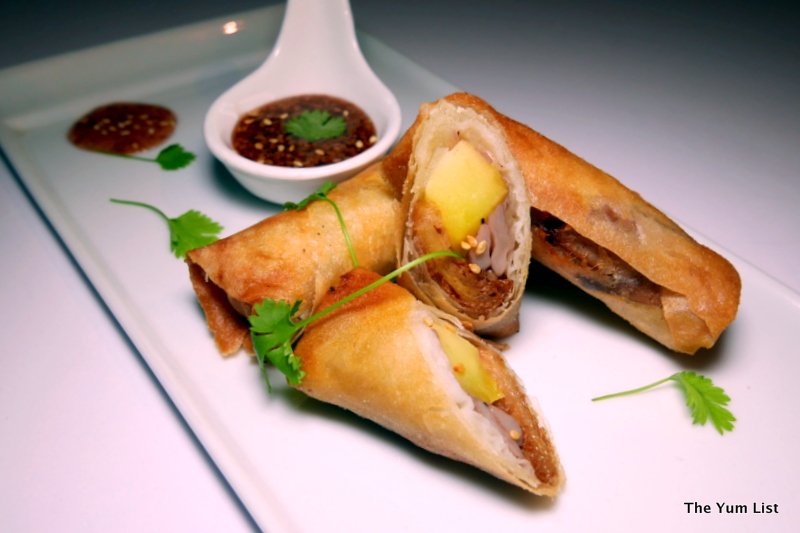 Finally, we had the bar favorite – the Jalapeno Poppers (RM 25.90). These were stuffed with a mix of cream cheese and goat cheese and fried in crispy breading, but again, not at all greasy. The peppers were flavorful but not spicy.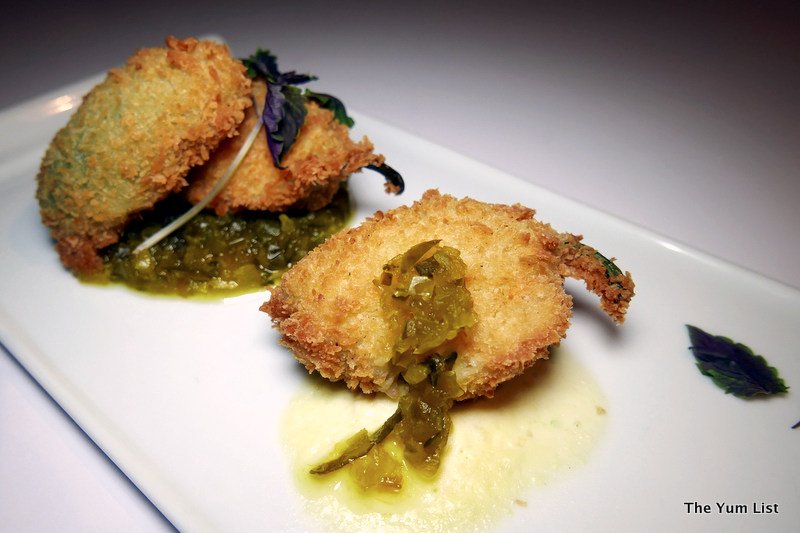 Something Heartier
Ready to try something hearty, we ventured into the main dishes. First, we dug into the potato-based Veggie Burger (RM 32.90), which was filling without being heavy. Again, even the roll was made in-house. It was served with crispy Mediterranean sweet potato chips. Anyone who believes that a vegetarian meal cannot fill them up needs to try this burger and get back to me.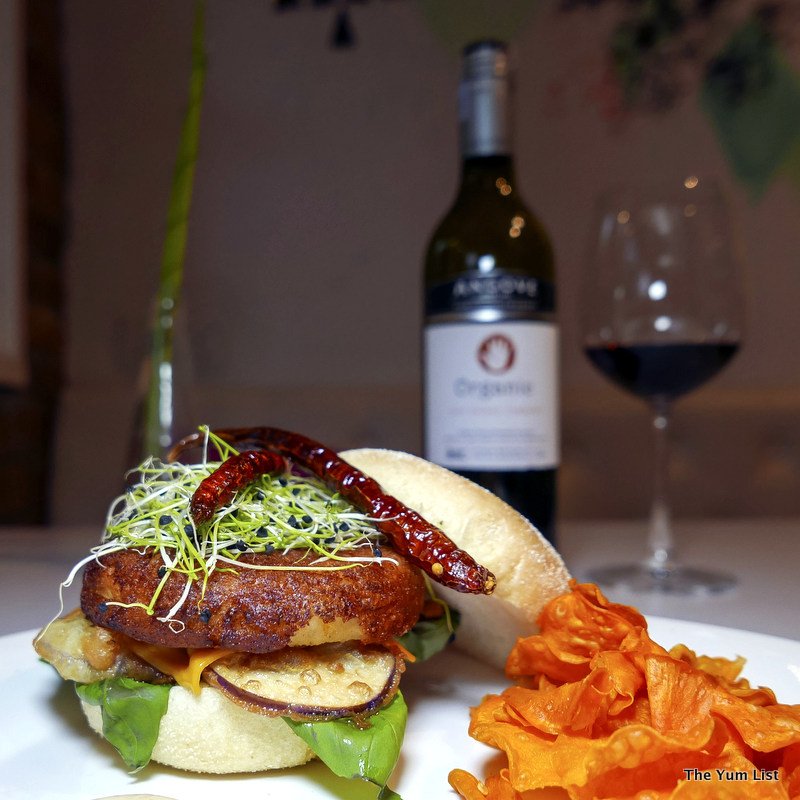 In keeping with the hearty comfort-food theme, we then tried the "Pink Pasta" (RM 33.90). This one is not on the menu, but it's a secret that all the regulars with kids know about. The perfectly-cooked al dente spaghetti is served with a creamy tomato sauce with meaty mushrooms and breaded cheese balls (that same light, fluffy mix in the stuffed Jalapenos). This dish has everything that kids love – the color, the spaghetti, and the cheese. And parents love that there are veggies hidden in the sauce that they can sneak into their kids.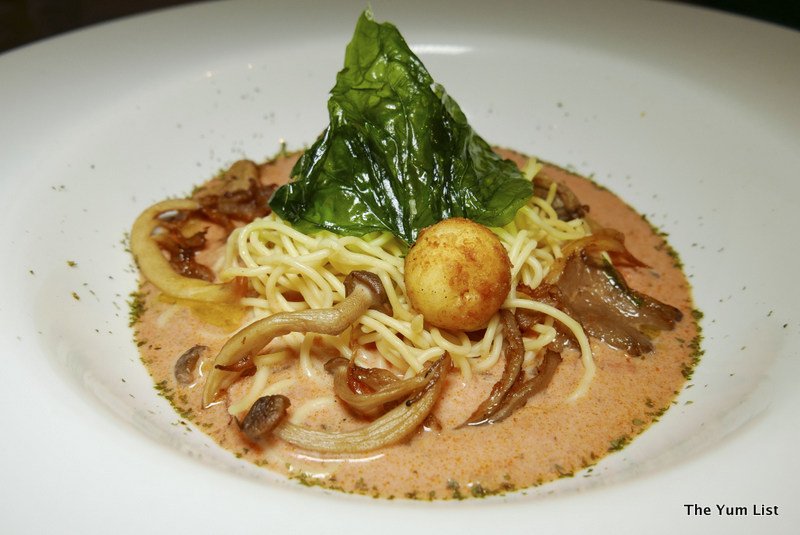 Our last main dish was the Basil Pesto Pasta with grilled zucchini and carrots (RM 30.90). Their unique pesto is made without nuts for people with nut allergies, and then toasted pine nuts can be added on top, as they were for us. This was a vibrantly colorful dish, with carrots and green and yellow zucchini, all still slightly crispy. When I was admiring the presentation, Lingesh pointed out that although the food looked nice, he was careful not to be pretentious. Everything he puts on a plate is edible – and meant to be eaten. We learned more about this when we got to the desserts… but more to come on that later… because as it turned out, we were nowhere near done sampling the savory dishes.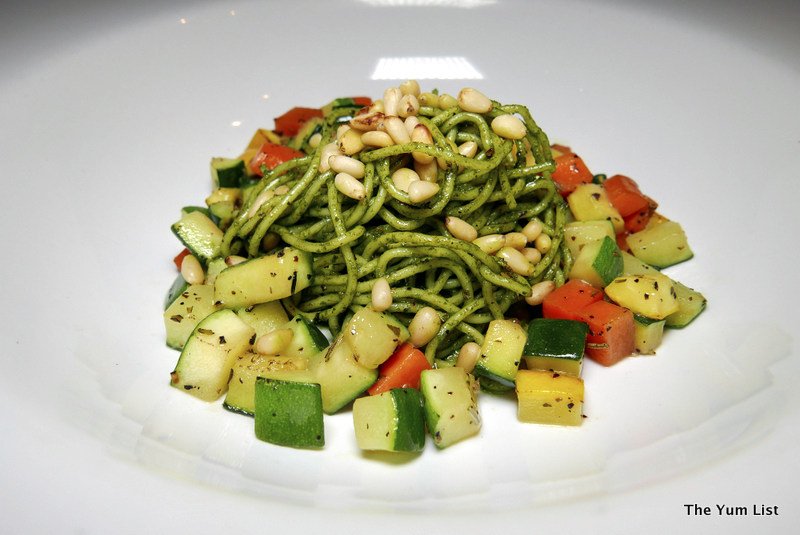 Barat Mediterranean's Degustation Menu
At this point, Lingesh wanted to give us a taste of his degustation menu (RM 125 for 11 courses). The Baby Arugula and Chard Salad had so many unique ingredients and flavors it's hard to know where to start describing it. The slightly bitter greens are set off by dehydrated blueberries (the dehydration makes them sweeter) and breaded and fried mandarin orange sections (just as sinful as they sound), and then it's all served with a nutty sesame seed dressing. Yum.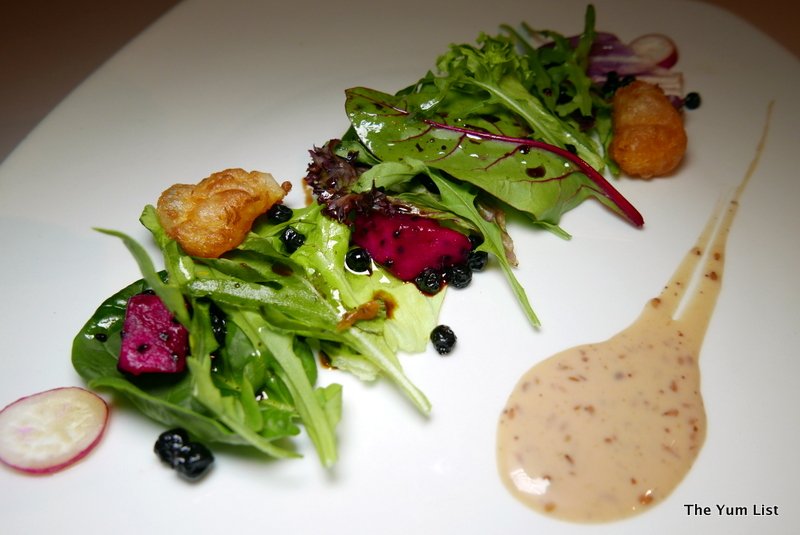 Following the salad, we moved on to a Tapas Sampler, with Patatas Bravas with flamed rosemary (not grilled, but flamed with a torch for a very particular flavor and aromatherapy) and a sauce for dipping made from slow-cooked tomatoes in red wine. Accompanying the patatas on this plate were Blue Cheese Sweet Peppers with Garlic in Herb Oil, and Roasted Romano with Prunes in Herb Oil. This platter was a creative palette of colors and flavors, from the sweetness of the prunes to the boldness of the blue cheese to the smokiness of the rosemary.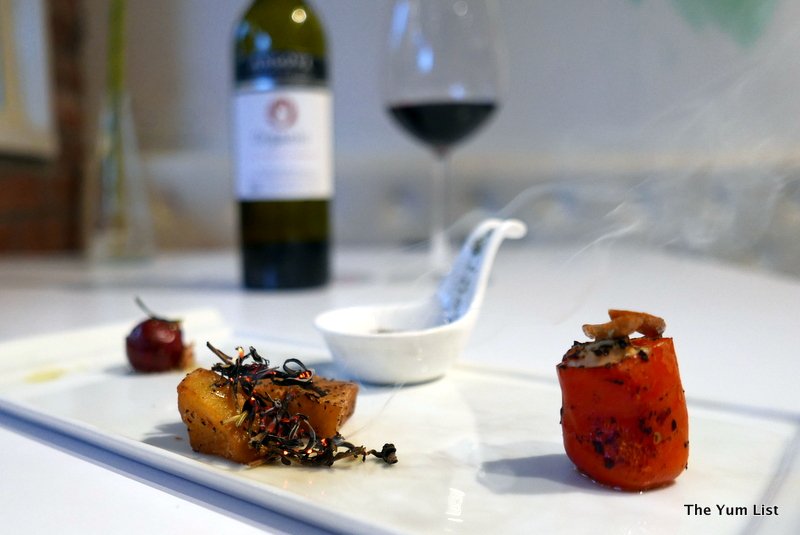 Still on the degustation menu, we moved on to Golden Fried Cheese with Spiced Jam. These light, fluffy balls of cheese were served with sweet apricot and pineapple jams. And then we tried one of the most complex flavors of the evening – Endives with seasonal berries and fresh pressed-rose vinaigrette. These were individual endive leaves with mulberries, blueberries, blackberries, chia seeds, and baby sprouts in a rose dressing that had none of the sticky sweetness of artificial rose flavoring. It was refreshing and crisp, the perfect palate-cleanser.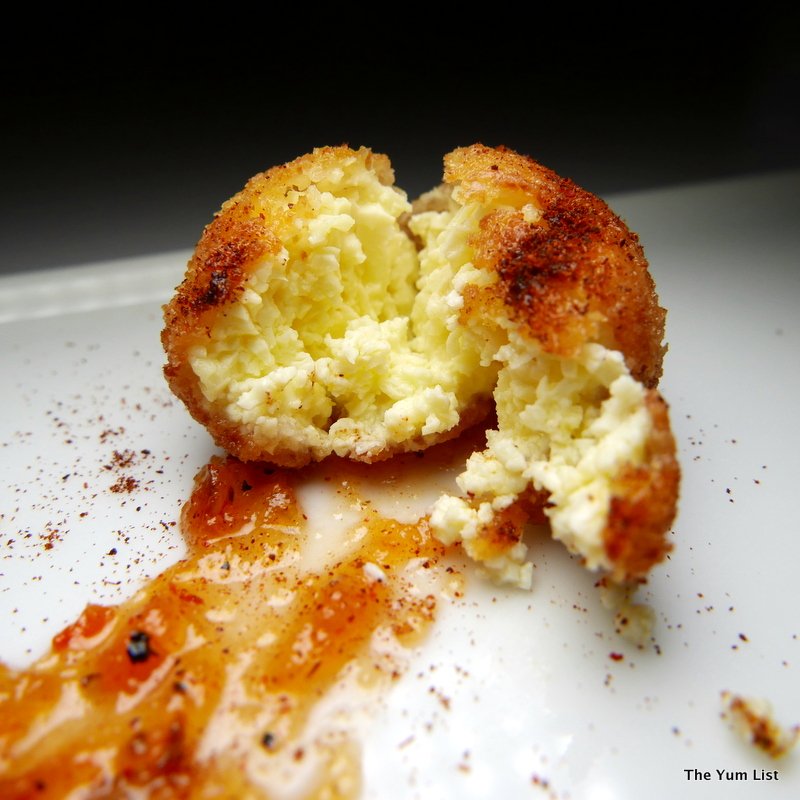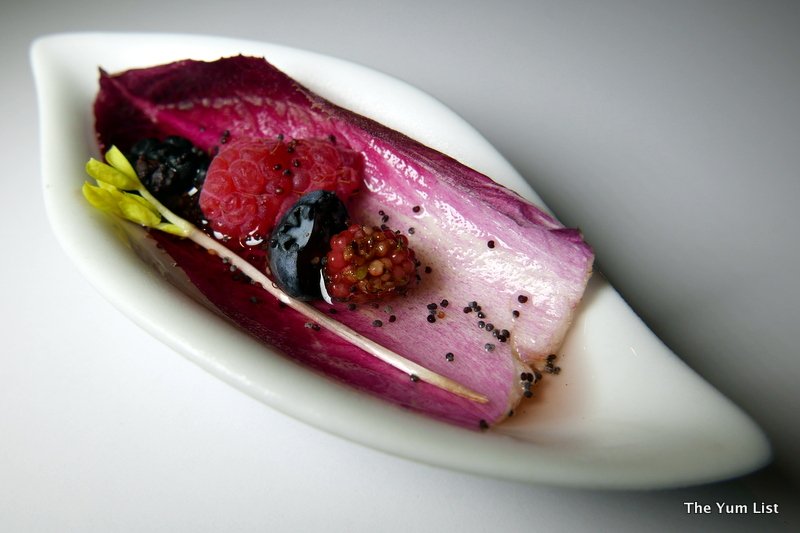 As we finished the sampling from the degustation menus, I was running out of room in my stomach and superlative adjectives in my notebook. Fortunately, the next dish was light – three different pestos on bite-sized treats. The first was the basil pesto on served on a light, non-greasy tempura aubergine. The second was a sundried tomato pesto served on a slice of Japanese cucumber. And the third was a capsicum pesto served on an eggless wafer (house-made, from scratch, because it is that important for Lingesh that everything is made without eggs). All three pestos were delectable, with their strong flavors balanced out by the mild foods on which they were served.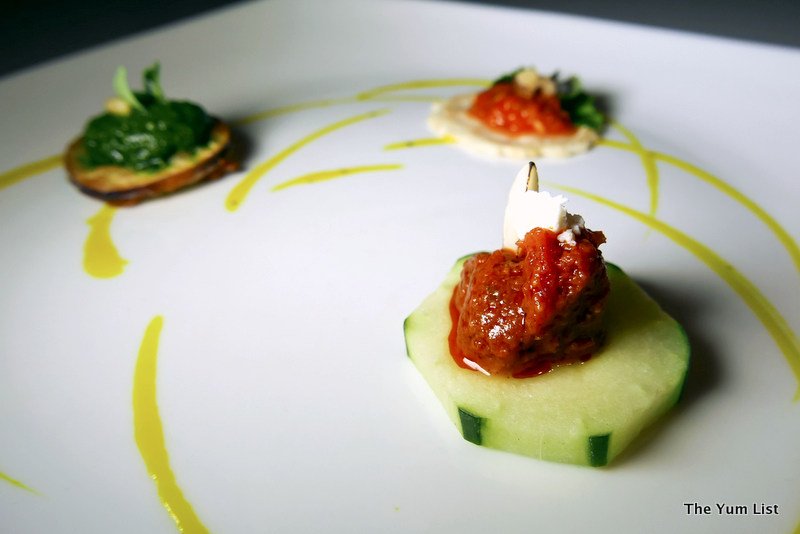 After the pestos, we had one last dish, a Pistachio Carbonara with sundried tomatoes. Another amazingly eggless dish, this carbonara is made with slowly roasted pistachios to bind the cream, giving it a unique slightly nutty flavor while keeping the creamy carbonara consistency. I wished I had enough of an appetite for a whole plate of this.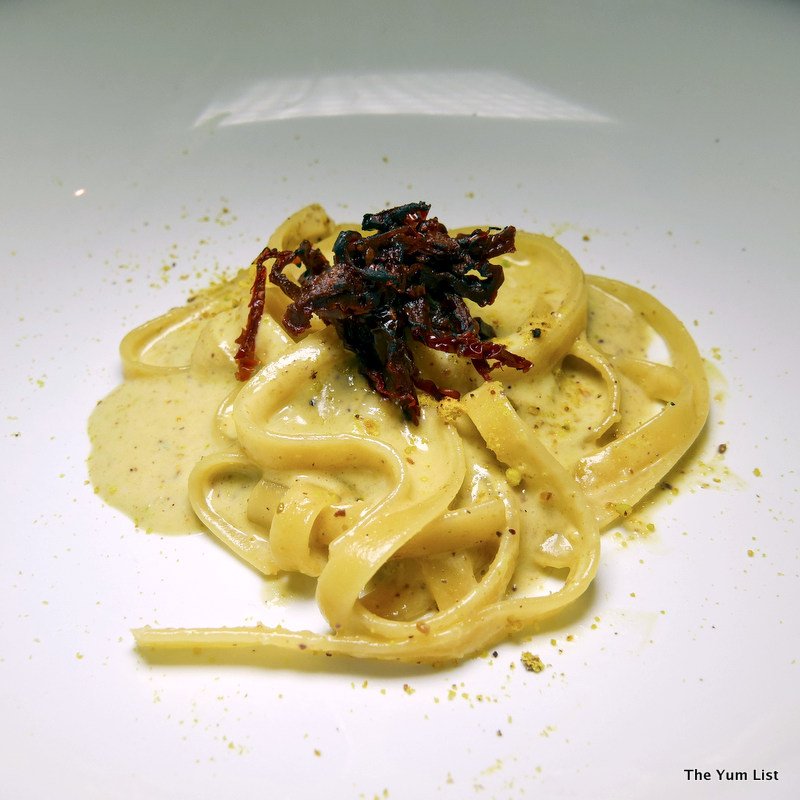 Dessert at Barat Mediterranean
The desserts on the menu change every two days, but we were fortunate enough to try the rich, gooey Chocolate Lava Cake with Vanilla Ice Cream (RM 28.90), and two ice creams (RM 14.90 each) Salted Caramel, and the Honey Lavender Ice Cream (my personal favorite). Everything on these beautiful dishes was edible, right down to the flowers and the pearls. The Salted Caramel was the best I've had, and the Honey Lavender was beyond impressive. I've been to places where they specialize in lavender ice cream and it still has that slight aftertaste of soap. This one was nothing but delicious.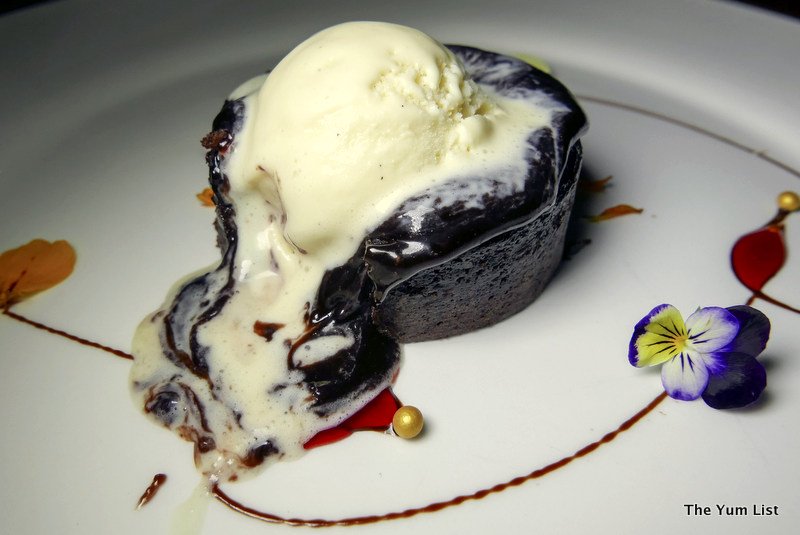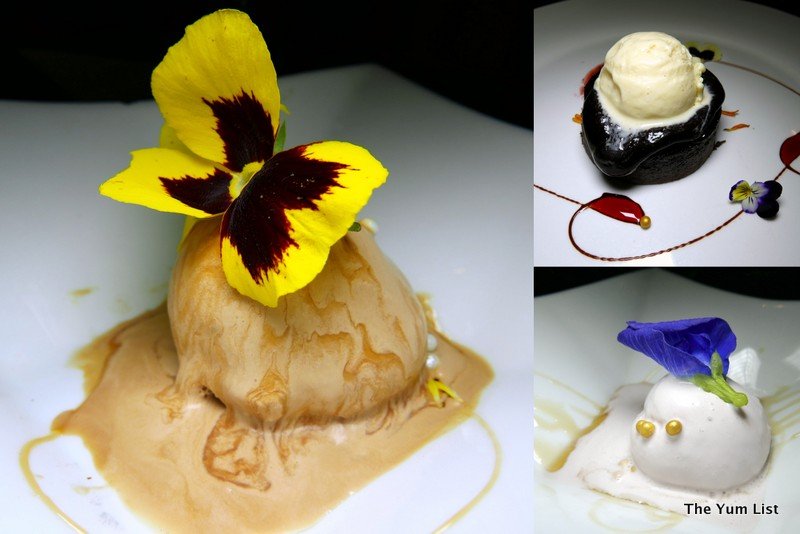 Tips For Your First Visit to Barat Mediterranean
If all of this food sounds overwhelming, Lingesh has some advice and reassurance. He recommends that if you are planning to try the degustation meal, you leave yourself at least two hours for it. And he reassures us that with the sharing-sized portions, the meal will not be overly filling. It's a good thing, too, because he is about to roll out a Sunday brunch which is sure to be a hit, but people will definitely need to leave themselves enough time to enjoy it properly.
Lingesh's passion and creativity are enough to keep people coming back to this restaurant again and again. His goal to "bring sexiness back to vegetarian food" has clearly been met. But he's not content to leave it at that. He doesn't want the sexiness of responsibly-farmed vegetarian food to be a trend, because eventually, trends go out of fashion. He wants his customers to genuinely care about where their food comes from and how it has been produced. I think if anyone is up to the challenge, he is.
Reasons to visit: the variety and creativity of all the dishes and the option to try everything in one sitting through the degustation menu. Keep an eye out for the Sunday brunch – definitely something to return for.
Barat Mediterranean
Vegetarian Restaurant Bangsar
17 Lorong Kurau
Taman Bukit Pantai
Bangsar 59100
Malaysia
+6 010 288 2654
https://barat.com.my/