Monica Tindall
Vowing to deliver "plated desserts, all things chocolate and hot food items that are reasonably priced," it's immediately clear that Upperhouse Kitchen & Dessert Bar in Bangsar is set to satisfy our sweet cravings and not leave too much of a dent in our wallets either.
On the first floor, just down from Alexis Bangsar, natural light streams in from the street-facing window, while the back is lit with colourful star-lamps. A black and white mosaic forms a butterfly making a striking feature wall. Dark bottles hold dried floral arrangements as table décor and the wall gardens hold picturesque blooms. All in, it's a pretty setting and an ideal location to indulge in a little (or a lot of) dessert.
While the menu boasts a number of very reasonably priced hot savoury dishes, we're here because chef Hester (in charge of pastries) has caught our attention with her extensive experience in some of the best kitchens in Australia and Singapore. In fact, a dear friend of mine, a well-reputed foodie and sommelier, gave his personal stamp of approval, and hence moved the café way up on The Yum List's to-visit list.
Drinks
Going with the current fermentation trend, (and possibly attempting to balance out all of that sugar!) Upperhouse Kitchen & Dessert Bar makes their own Kombucha and Kombucha Mocktails (RM11). Made from fermented black tea and sugar the beverages are rich in probiotics and said to boost the immune system. We try all three of the mocktails: Raspberry and Lemon; Lime, Ginger and Lemongrass; and Passionfruit and Mint (green tea base). They're bright and refreshing. The light tang (similar to that of natural yoghurt) balances the fruity sweetness. They're mildly effervescent and great thirst quenchers.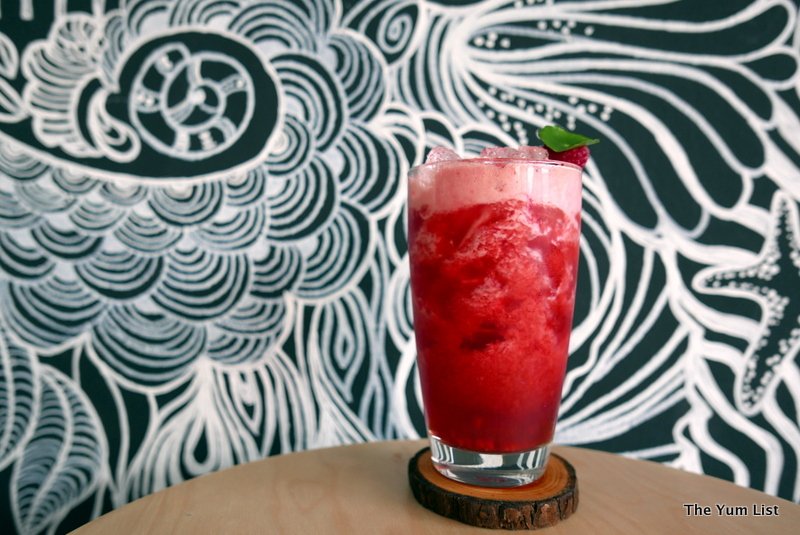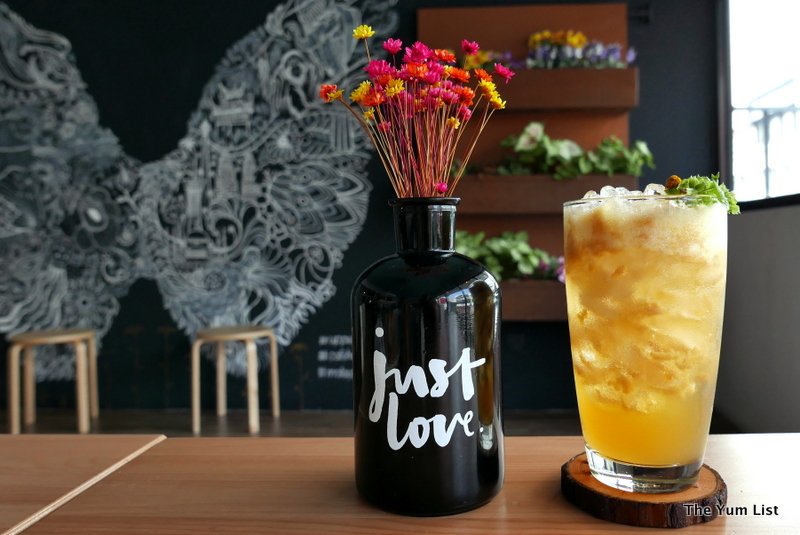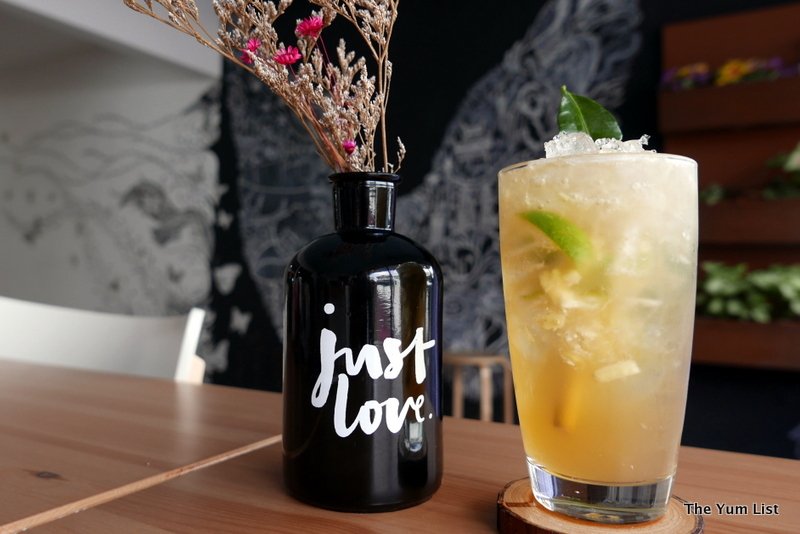 High Tea at Upperhouse Kitchen & Dessert Bar
The High Tea Set (RM65 for two people) is a great way to sample some of the cafes' best recipes. A top up of RM 10 adds in tea, hot chocolate or babycino in a cone for two. As we've just filled up on kombucha we don't sample any hot beverages today. Instead we tuck straight into the gourmet goodies.
The top layer is a pretty arrangement of mille-feuille, lavender pralines and exquisite chocolate and caramel macarons. The middle consists of: wonderfully moist chocolate cake with choc hazelnut mousse and raspberry jelly; trifle cups layered with chocolate soil, vanilla mousse, passionfruit sauce, vanilla crumbs and topped off with fresh mangoes and more vanilla mousse; and lastly, Aussie inspired raspberry chocolate banana bread topped with raspberry mousse. The bottom savoury plate is as equally interesting as the two sweeter levels. Cucumber smoked salmon and egg with fresh mango top a duo of baguette slices, while creamy mushrooms and crispy tempura oyster mushrooms top another set. But, our favourite of the savouries is the cacao ravioli with a mixed mushroom and cream cheese filling in a capsicum sauce – yum.
Bread sticks made of puff pastry dusted with paprika, Parmesan and olive oil, come in a glass on the side and make for crunchy nibbling in between sweets. It's a fine way to sample the larger menu without committing to a full plated dessert.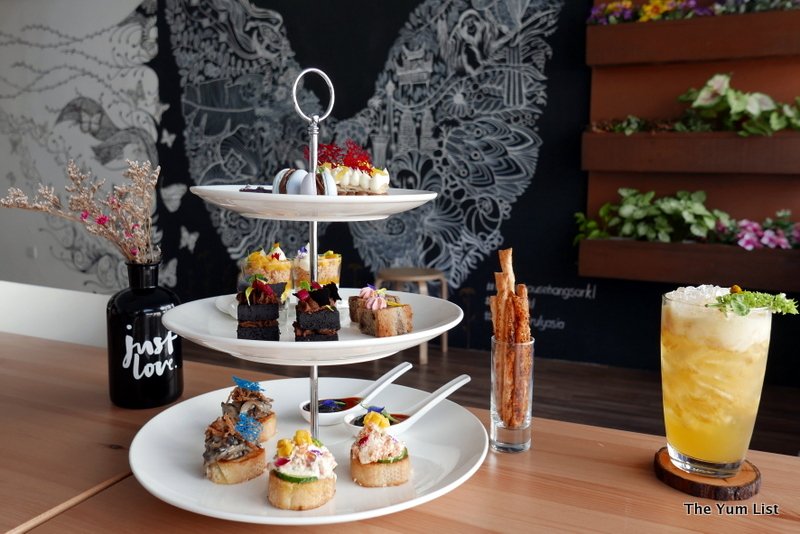 Plated Desserts at Upperhouse Kitchen & Dessert Bar
But, really, the real reason to visit Upperhouse Kitchen & Dessert Bar is to sample some of chef Hester's plated desserts. Graduating from light to heavy, the menu lays out our options from almost guilt-free satisfaction to utter how-many-miles-will-I-have-to-run-tomorrow decadence.
Apple
Simply titled, Apple (RM18) is a refreshing plate of hazelnut crumb, kafir lime leaf, apple and celery granita, fresh apple slices, cucumber shavings, chrysanthemum jelly, milk pudding gel and caramelized hazelnuts. Home grown wood sorrel acts both as garnish and palate refresher. This is the perfect choice following a heavy meal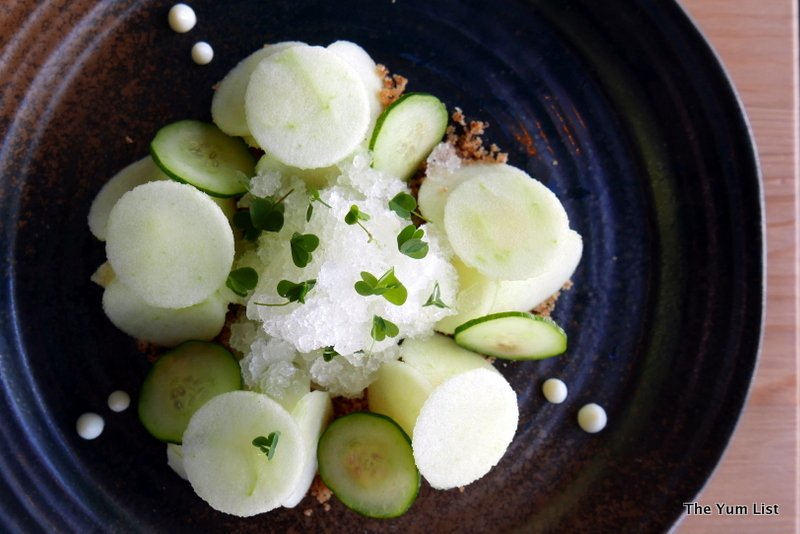 Strawberry
Another straight forwardly named dessert belying its complexity is Strawberry (RM24) presented as an elegant semi-circle on the plate. Cotton cakes (vanilla sponge cooked in the microwave making it really fluffy), fresh watermelon balls (infused with spiced sugar syrup), strawberry slices, hazelnut crumb, strawberry and raspberry sauce, freeze-dried strawberries, meringue sticks and vanilla cream are led in snake-like fashion from a vibrant head of strawberry sorbet. Basil oil and mint leaves further enhance its intricacies. While fresh, similar to the Apple, there's an added layer of flavour here, moving it up the intensity level just a notch.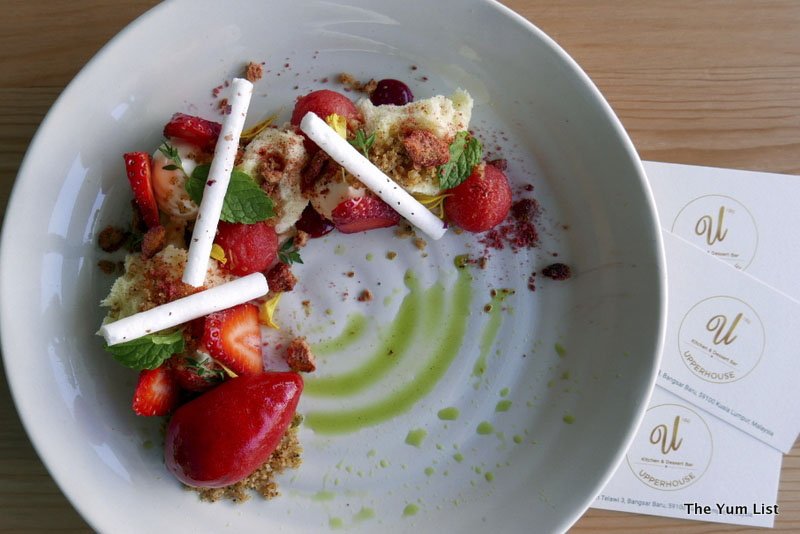 Carrot
Carrot (RM20) is chef Hester's rendition of a deconstructed carrot cake. My first thought is of Anna Polyviou from Master Chef Australia and the contestants who crumbled under pressure to perfect the creation. The only tears found at Upperhouse Kitchen & Dessert Bar, however, are those of sweet joy as Hester presents another perfectly balanced recipe. A careful arrangement of walnut pieces, Greek yoghurt parfait, raspberry tuile, small rounds of carrot cake, cinnamon gel, carroty jelly, sweet potato sauce, chocolate soil, burnt honey ice cream and honeycomb, are sprinkled with edible flowers and dill. I'm not running home to try to make this one myself but I will happily return to indulge in Carrot here again.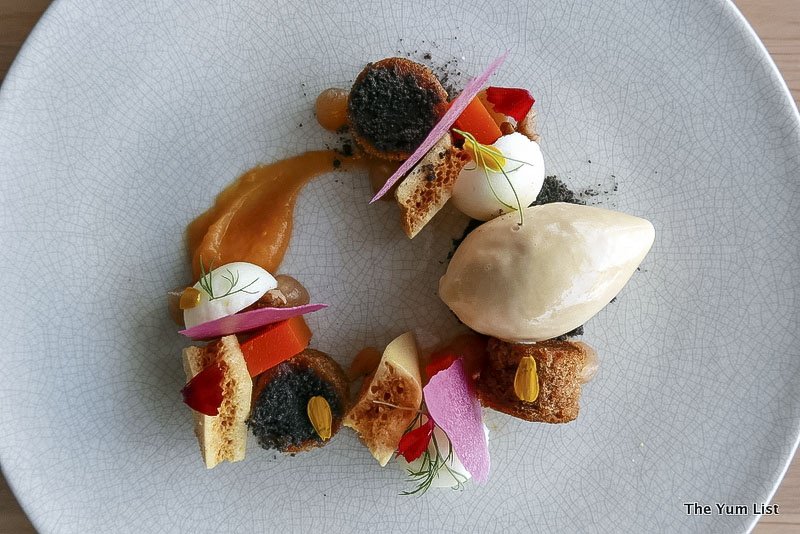 Lemon
Lemon meringue is a classic and one of my favourite desserts. I'm often surprised though by just how hard it is to find great renditions. Chef Hester offers a twist on tradition with Lemon (RM25) and, thankfully, provides me with a new location to indulge. The tart's base is made with two types of crumbs, vanilla and lavender. Coconut ice cream, meringue sticks with dessicated coconut, lemon rind gel, raspberry jelly, mini lavender macarons and of course a creamy tangy lemon curd are spread across the plate in an organised mess. While the parts are separated, it's best to scoop a little of each onto the spoon and enjoy them all in one mouthful.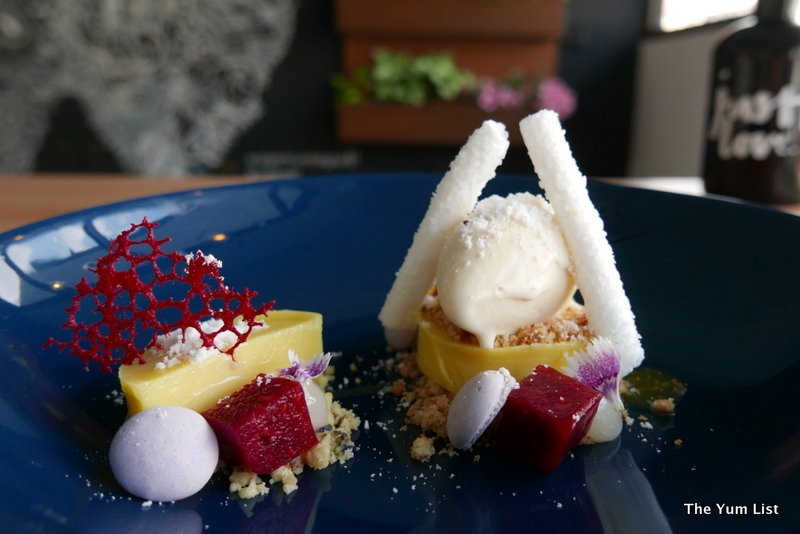 Mille-Feuille
The dessert that is making its rounds on Instagram is the Mille-Feuille (RM24). Seems Malaysians love a good creamy pastry – especially one that photographs beautifully. An almond cookie bases the centerpiece, followed by layers of spiced pineapple, milk chocolate and orange mousse, brittle sheets of puff pastry and vanilla mousse. The crown is showered with small pieces of fresh orange, deep red coral tuile and edible flower petals. While the block of layers is the main attraction, the side of chocolate soil and hay ice cream is equally as interesting. Hay? Yes, as in what horses eat! Chef Hester borrowed this idea from her experience in Restaurant André in Singapore, and as Restaurant André currently holds second place in Asia's 50 Best Restaurants, I'd say it's not a bad idea at all!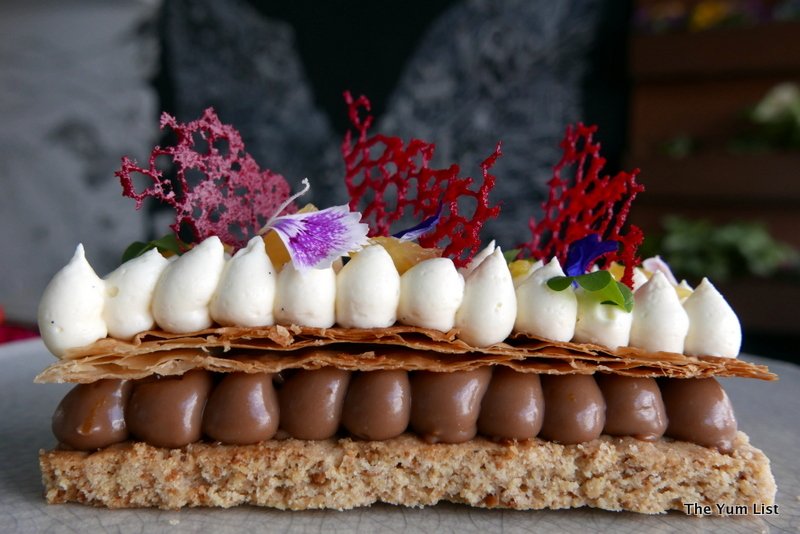 Textures of Chocolate
Our final dessert brings us to the peak of richness and indulgence. A perfect choice for chocolate lovers, Textures of Chocolate (RM25) is a dark moody artwork on the plate, tempting us to spoon in, again and again. Flexi chocolate made with 70% Callebaut (like a mousse but not as soft), chocolate cake, chocolate tuile, honeycomb, raspberry gel (kombucha berries give it a fermented taste), crystalized chocolate, toasted rice, burnt honey ice cream, rice crispies and chocolate soil gift multiple intensities in flavour and also in texture.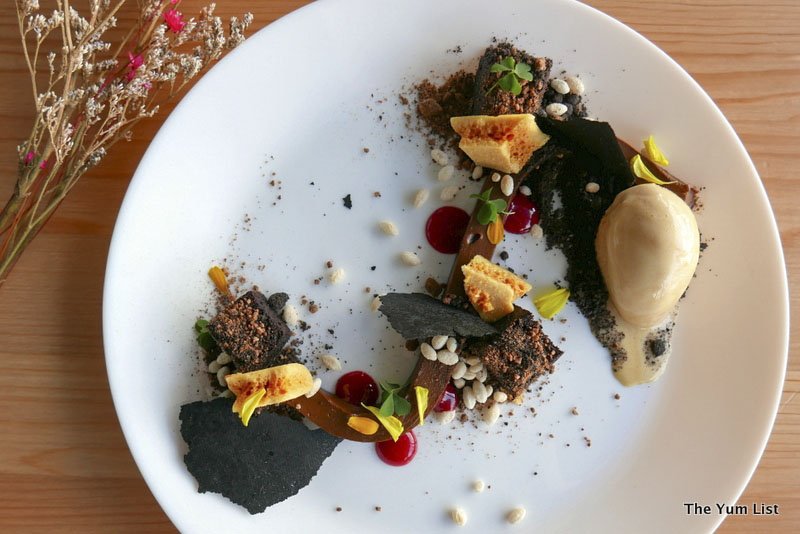 Kombucha and Reflection
We come full circle to our kombucha beginning with a shot to cleanse our palates (RM2 for a shot or RM10 for whisky bottle size). Contemplating the line-up we've sampled today, we conclude with conviction that chef Hester is an expert in playing with textures and balancing flavours. Each dish held interest not only visually but also in the palate. A true master of her craft, we recommend you head over to Upperhouse Kitchen & Bar in Bangsar and see just what plated desserts are all about.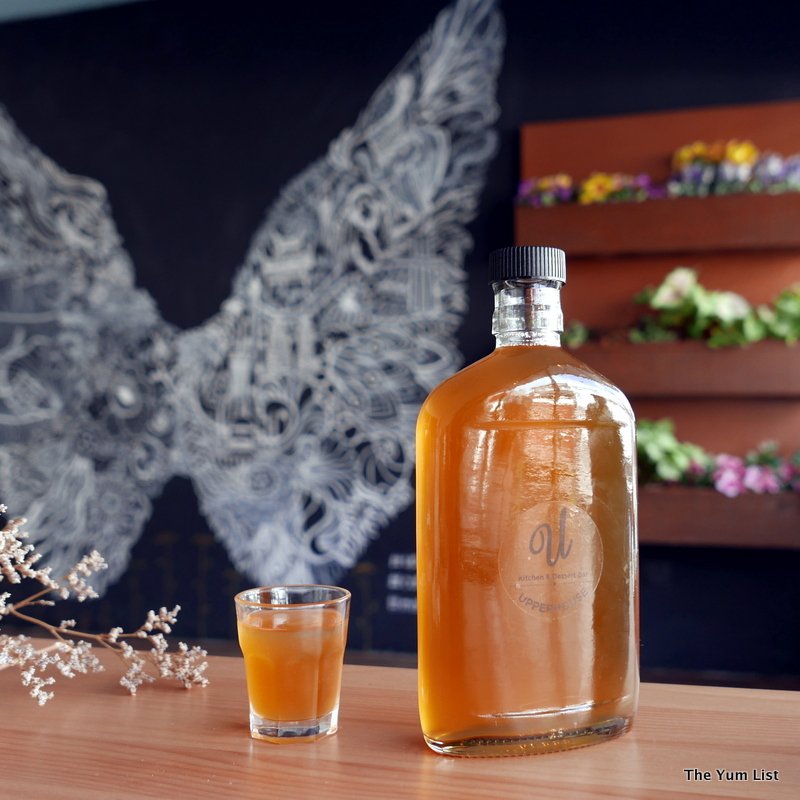 Reasons to visit: high tea is a good value way to have a peek at the menu before committing to a full plated dessert; Kombucha is yum; our personal favourites were the Strawberry (I tend to prefer fresh light endings and I love the tang of berries), and Mille-Feuille (hubby's pick – he's a sweet creamy guy to the core).
Upperhouse Kitchen & Dessert Bar
First Floor, 27A Jalan Telawi 3
Bangsar Baru
Kuala Lumpur, Malaysia
www.facebook.com/upperhousebangsarkl/
+6 011 2872 0083