Words: Craig J Selby   Photos: Monica Tindall
Nothing helps beat this hot weather like super-cold ice cream. A few of us from The Yum List recently had the chance to sample some awesome ice cream concoctions from one of Mont Kiara's newest outlets, Kind Kones. This vegan-friendly stall in the basement of 1 Mont Kiara offers an impressive range of ice creams and sorbets – each with a unique twist.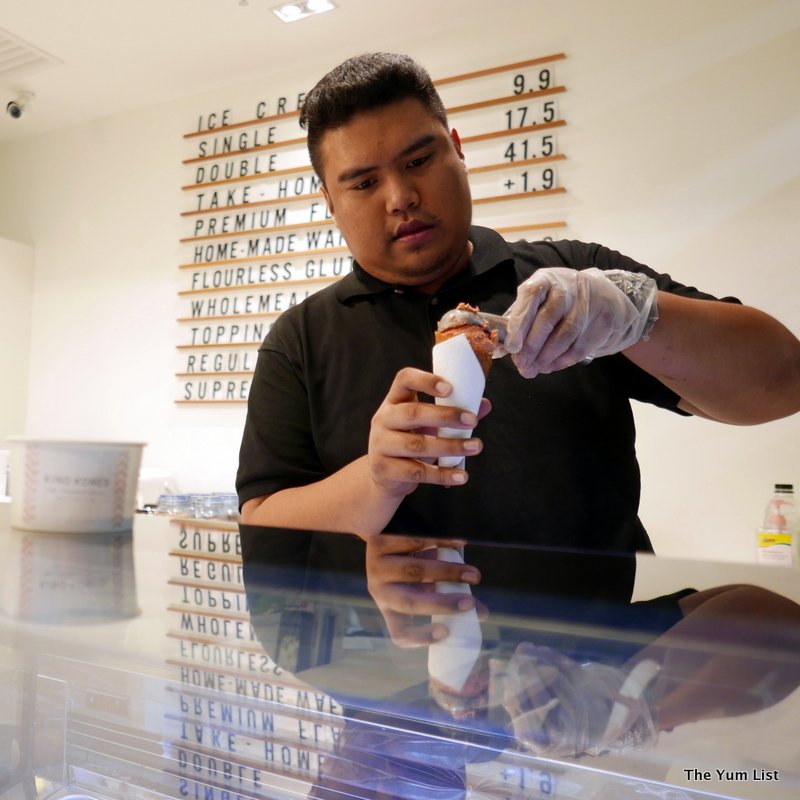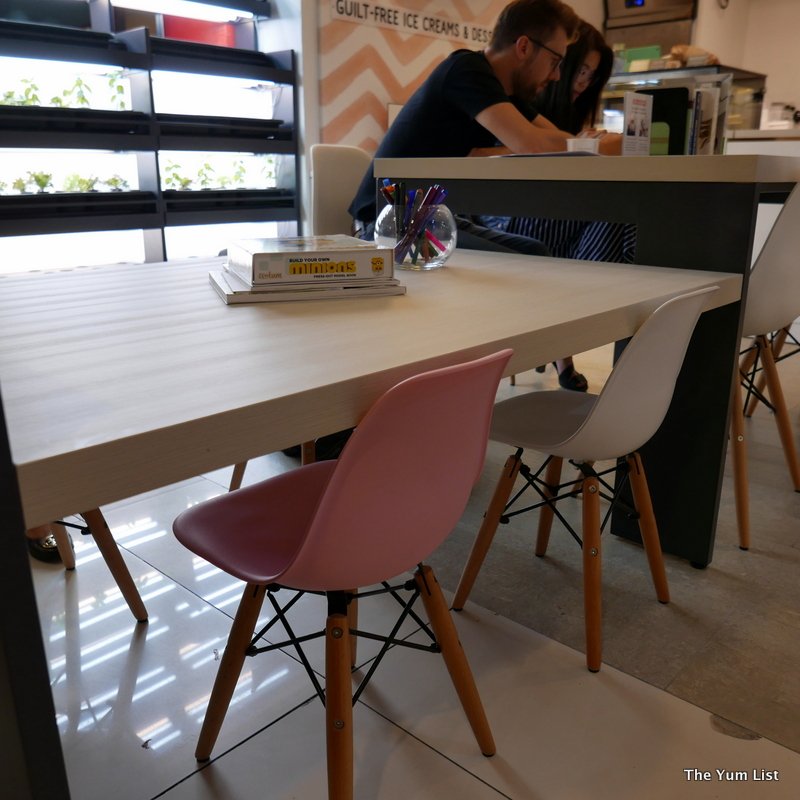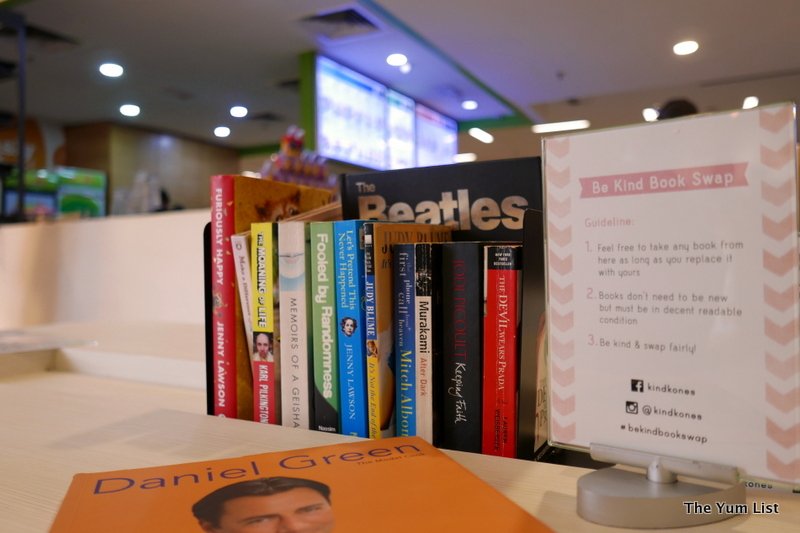 So one Saturday afternoon we bowled up to sample their fare – experiencing both traditional ice cream flavours, and a few local and regional surprises too.
Kind Kones guarantee a minimum of twelve flavours at any one time. Because each flavour is hand-crafted, and the team behind the concept love experimentation, these flavours rotate quite regularly. Which, for us, means more great flavours to experience.
In the pursuit of greatness and transparency, we explored all twelve flavours available today.
My personal favourite was their Vanilla. Often it's the simple and familiar which we are drawn to. But this one was a cashew vanilla milk, very smooth and creamy. Put simply, a very sophisticated vanilla ice cream that left me wanting more.
A popular choice at Kind Kones is their Cinnamon Toast ice cream. This one is coconut based and reminds me of the Dutch windmill cookies I used to get as a child. The cinnamon taste is not overpowering, but you definitely know it's there. Although it's not too sweet, I'd be hesitant to go for a second scoop in a single sitting. However, I'd come back to have this again.
If you like coffee, consider the Mocha Almond Chocolate Chip. A strong burnt coffee taste and aroma, this ice cream is super creamy, yet also has a rough nut texture to it as well. Clearly, this one will be a hit, and perhaps ice cream's answer to your morning coffee on a very hot day.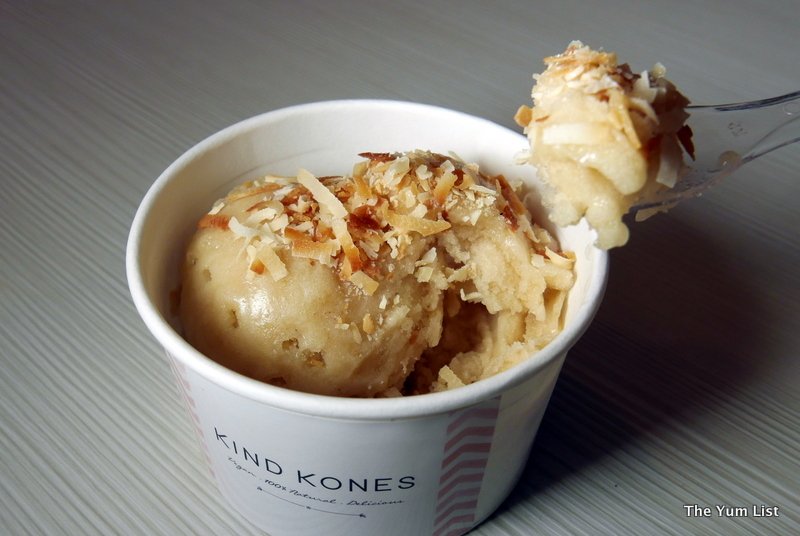 For a very Malaysian influence, try the Salted Gula Melaka. With a cashew base, this little gem was nice and creamy, and not too sweet. A couple of scoops of this makes for a great afternoon. Salted Chocolate offered a crunchy, strong flavour. Simultaneously sweet and salty, the chocolate chips added a familiar friend to the equation.
More typical flavours included Dark Chocolate, which was rich and deep in complexity, but not over the top; and Strawberry, a sorbet-styled ice cream incorporated with banana to ensure creaminess. The Strawberry was somewhat chewy, and the tartness of the berry hits the back of the palate.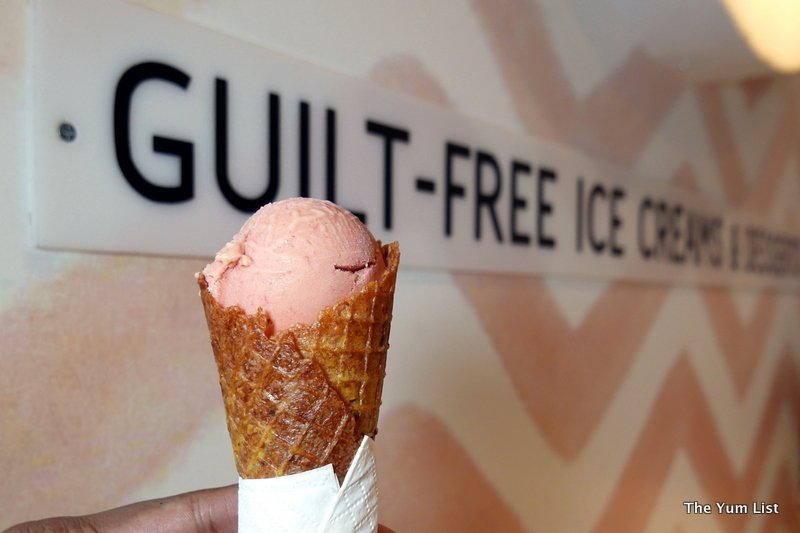 Sticking with the fruit theme, Kind Kones offer a mild and well-balanced soft Dragonfruit sorbet. Nice flavour, but the banana comes through on this one quite prominently. Refreshing though, and probably a great one for the kids. The Raspberry Mango left us with no doubt that this was mango-based. Rather sour, and quite sharp, it cuts through the flavours previously enjoyed. I'd have this walking around the mall quite comfortably – but beware its sour disposition might be a tad much for some. Not for me though. Likewise, the Lemon Lime sorbet was also quite distinctive in its sharpness. An intense and impactful flavour, perhaps best suited to the grown-up kids with more sophisticated taste buds. However, in a hot country like Malaysia, these lemon and lime flavours are not only refreshing, they permeate many culinary explorations, so this is a great scoop for any occasion.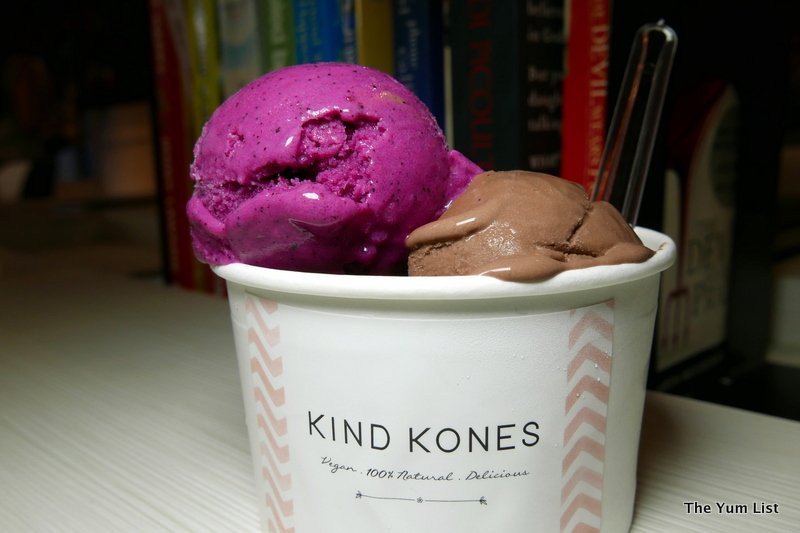 And for the more regional (Japan to be precise) flavours, try the Matcha (green tea) ice cream. Kind Kone's version was subtle and mild and didn't have the usual dry or burnt aftertaste. The Black Sesame is also popular (although, not to my preference) with its cashew base for creaminess and a lot of sesame for impact.
Given all these flavours, and the creators' enjoyment of exploring new flavour profiles, we are certainly going to see some innovative and fun combinations out of their kitchen.
Oh, … there's one thing I forgot – besides being vegan-friendly, Kind Kones is gluten-free too!
A healthy alternative where the ice cream's (except for cinnamon toast) are made from gluten-free ingredients; all ice cream's are chemical free with no additives or preservatives. Mostly coconut or nut-based, these ice creams ensure that everyone can enjoy great ice cream flavours. And they do taste great too! Cones come with a gluten-free option as well.
Ice cream can be purchased on-site by the scoop, in either cones or tubs, or by the pint for takeaway. Because of the all-natural ingredients, the ice creams have a shelf life of about one week for takeaway. But rest assured they are made fresh every day to give you maximum enjoyment.
Reasons to visit: gluten-free, dairy-free ice cream (and cones!); delicious flavours; our favourites were the dark chocolate, strawberry and lemon lime; Malaysia's first vegan, all-natural ice cream bar.
Kind Kones
LG-7, 1 Mont Kiara Mall
Mont Kiara, Malaysia
+6 03 2011 5313
Open daily 10 am to 10 pm