Monica Tindall
Common Man Coffee Roasters in TTDI is a café that I often recommend to friends wanting a "damn good cup of coffee" and a good range of delicious food to match. Really, truly, the coffee here is superb and it takes very little persuasion to get me to make the drive over to TTDI for return visits. This time the call came to try the new high tea (with coffee if you so choose) and so we set off to try out the latest offerings.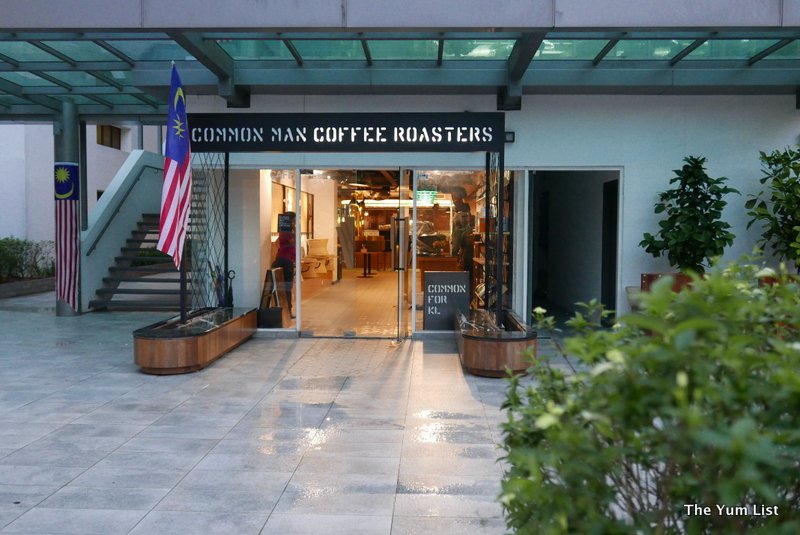 High Tea at Common Man Coffee Roasters, TTDI
"A high tea set for two (RM65++) that is anything but common," includes a prettily presented tray of house made savouries and sweets. A cup of espresso based coffee, brew of the day (free flow), or tea accompanies the set and low fat, full cream and soy milk are all options. The menu rotates with different recipes prepared according to what produce is at its best, so each time you visit you might see something new.
We try a good mix of dishes of both Asian and Western influence: Sisig (traditional Philippine minced chicken and liver cooked with vinegar) on crunchy grilled pita with lime mayonnaise; chicken sausage rolled in milk bread and chicken ham; and beef rendang empanadas deep fried until crisp making a perfect beer snack. The internationally themed high tea celebrates the diversity of the kitchen crew. Each team member gets a chance to propose an item and their colleagues, along with head chef Juay, decide on the final cut.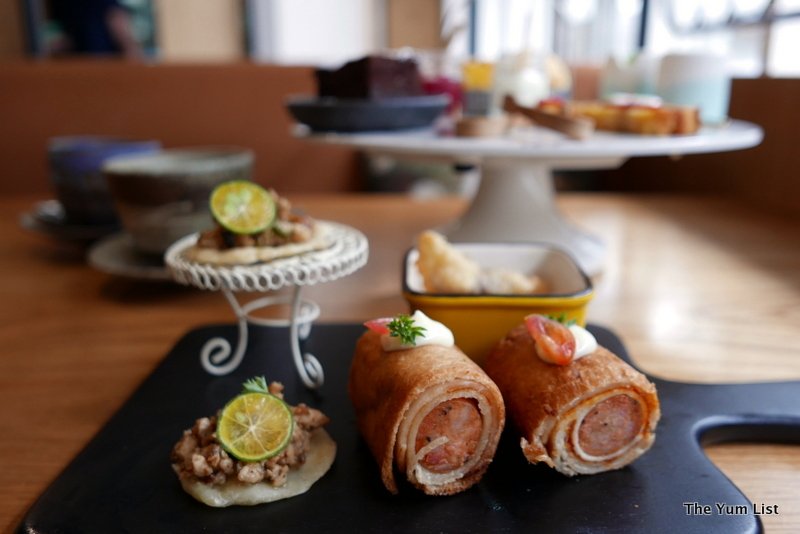 The sweets selection looks rather fantastic presented on a round marble-topped platter with mini tongs and golden spoons as utensils. Presentation of each bite is equally pleasing and we munch on: scones with jam and cream; lychee coconut cheesecake with chia seeds (hubby's fave); honey-oat biscuits on a stick like a lollipop; sweet corn bread with corn kernels clearly present and desiccated coconut topped with berries and cream (my most-liked); and a moist dense chocolate gateau sprinkled with icing sugar.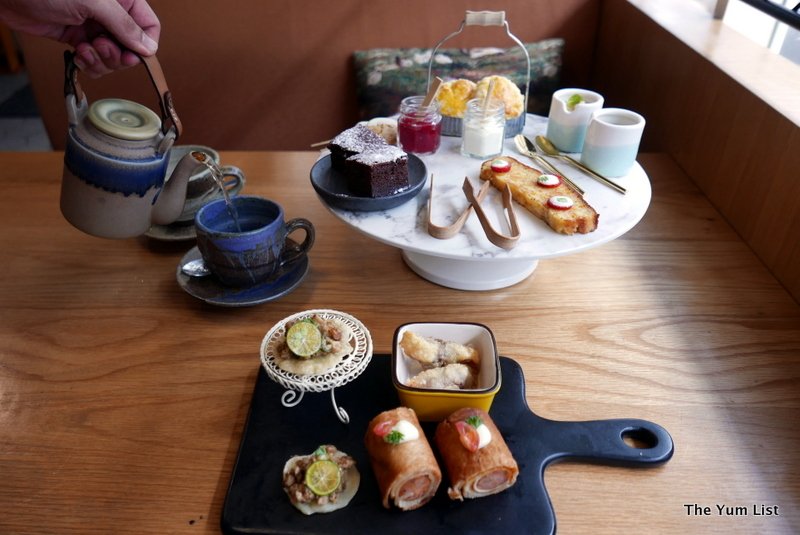 High Tea is served Monday to Friday from 2:30pm – 5:30pm, and Saturdays from 3:00 – 5:00pm. The tea set for two is priced at RM65++ and reservations are encouraged.
An afternoon nibble and a great cup of coffee is a wonderful way to pass some time at Common Man Coffee Roasters, but there's much more to explore.
Healthy Options
Besides a rather decadent café menu (some of the most sinful French toast we've come across), Common Man Coffee Roasters also caters to a variety of dietary desires. There are a number of vegetarian choices on the menu as well as a couple of gluten-free selections too.
Vegetarian
Getting the day off to a healthy and filling start is easy with the Common Man Veggie Wonderland (RM39). Two free-range organic eggs (done to your liking – scrambled, poached or fried), pan-fried halloumi, sautéed spinach, confit, cherry tomatoes, wild mushrooms, avocado, lemon and chili with artisanal wholemeal sourdough (really good) is a wholesome plate. It's big enough to share and will leave anyone who falsely believes that you can't get full without meat proven happily wrong.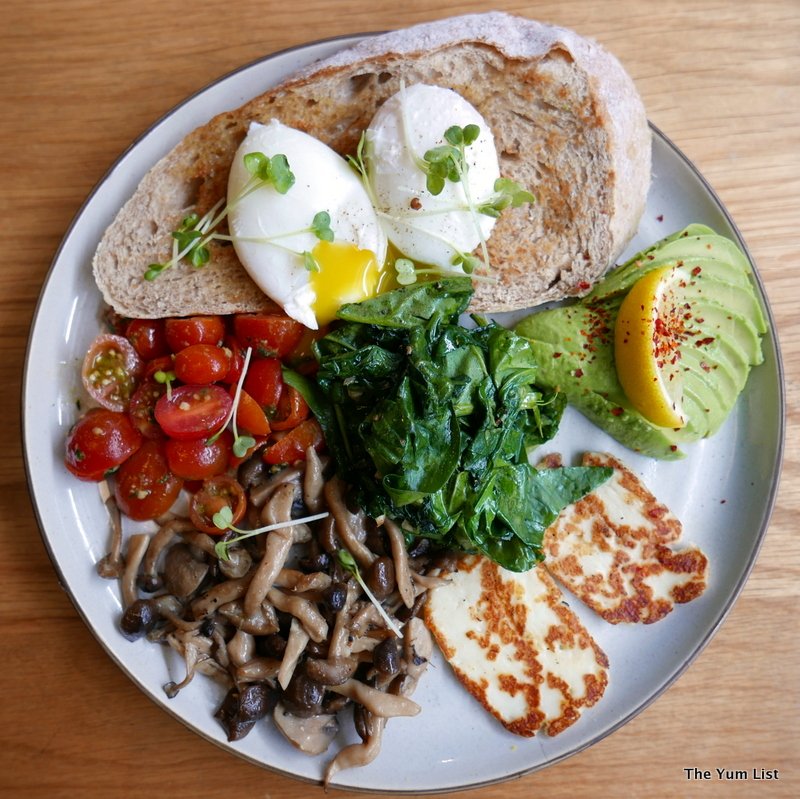 Quinoa Salad (RM27) comes with crispy grilled kumara, spinach, coriander, mint goat's cheese and honey-raisin yoghurt. You can add chicken (+ RM10) or prawns (+ RM12) for additional protein, but you should know that quinoa is one of the richest sources of protein available in the plant world (so those extras are really not necessary). Beetroot gives it an attractive natural red hue, and, cumin and black pepper boast a mild kick.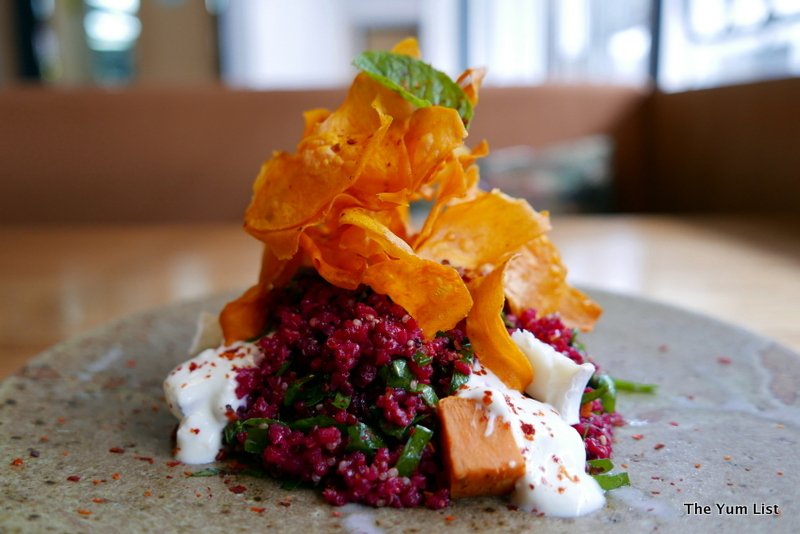 Gluten-free
Perhaps the star of the menu for both hubby and myself is the Grilled Juicy "Chilli" Boneless Chicken (RM39). It has been and remains to be one of my favourites since opening. It comes with a beautiful hash of crushed avocado salsa, frisse salad and caramelised lemon. Three very generous pieces of breast are tastily marinated in a mix of garlic, chilli and thyme, bashed to tenderize, marinated for 24 hours, and lastly semi-sous vide before grilling. It's a gluten-free option and probably fits a Paleo diet too.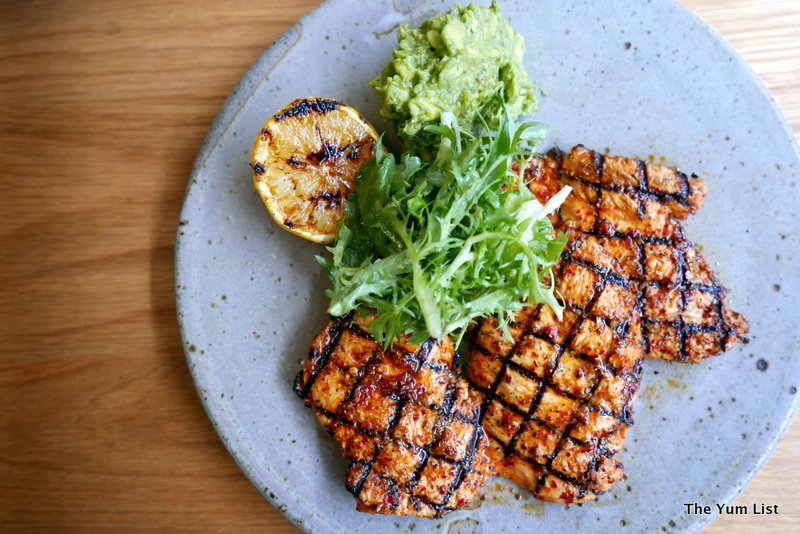 And, as mentioned before, there's much much more. Coffee cocktails count for the second much, in much much 😉
Coffee Cocktails (RM25)
The team at Common Man Coffee Roasters has gone through a long process of development aiming to create a balance between the two worlds of "pick me up" (coffee) and "calm me down" (alcohol). The primary focus remains on coffee, but alcohol is used to enhance the distinctive tastes of various single origins and blends. Barista trainer and account manager, Pablo, is insistent on confirming that CMCR is not trying to be a cocktail bar: the emphasis is on coffee, and mixers serve to enrich the beverage.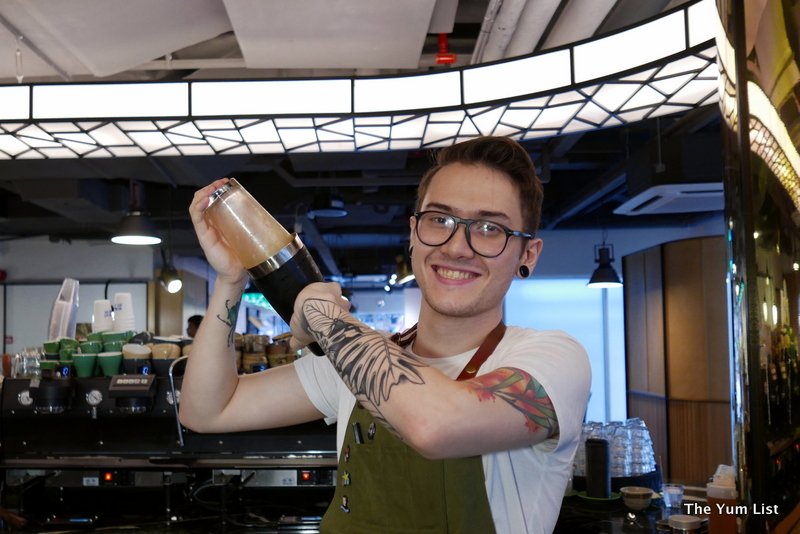 Cold Brew Negroni
Cold Brew Negroni, a twist on the classic, consists of equal parts gin, Campari and sweet red vermouth (Martini Rosso) with a full bodied cold brew single origin Ethiopian coffee. The coffee is lower in acidity, herbal, complex and a little dryer than some single origins we've tried. Served in an old fashioned rocks glass, the drink is poured over ice and garnished with a coil of orange peel. It's much softer than a Negroni, relatively balanced and smooth.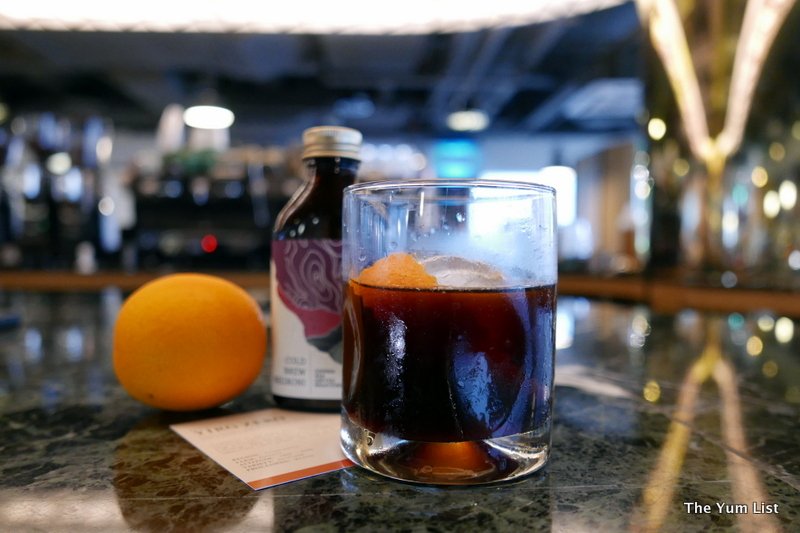 22 Martini
22 Martini (named after their street 22 Martin Rd where the original outlet in Singapore is located) is CMCR's take on an espresso martini. Vodka and Frangelico are shaken with a cold brew of 22 Martin coffee blend. Frangelico offers a nutty richness, which complements the espresso roast's tones of chocolate and nuts. Injected with nitrogen it has a nice frothy head and a gentle sprinkling of powdered chocolate provides adept adornment.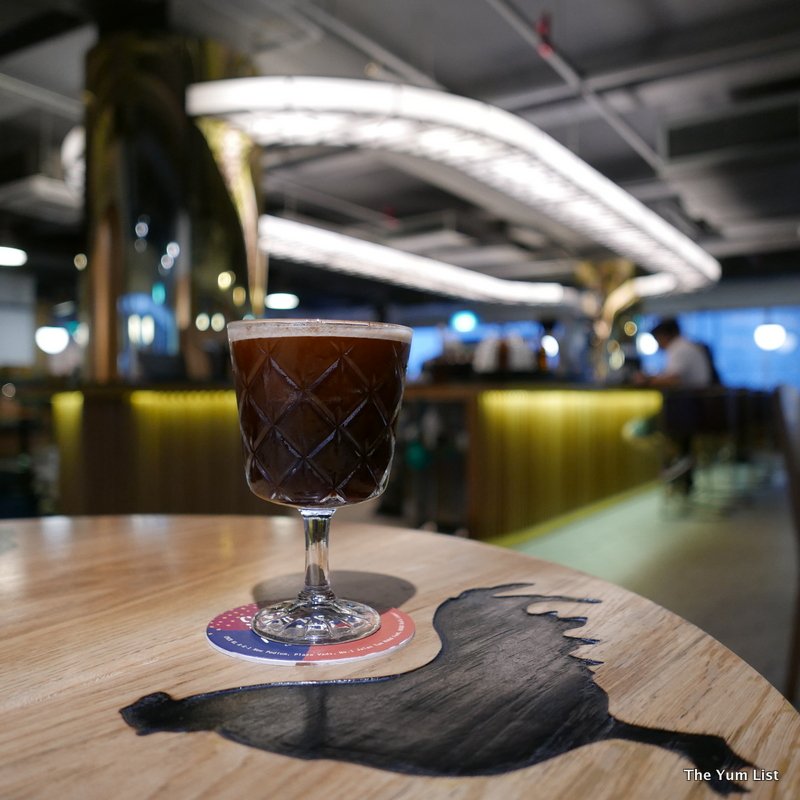 Besides the fact that you can now get two most treasured ingredients (coffee and alcohol) in one beverage, the additional good news is that the above two cocktails will also be available in bottle form so you can take some home with you.
Amaro Float
Lastly, Common Man Coffee Roaster's dessert cocktail comes in the form of an Amaro Float. The team were challenged to combine Fernet-Branca and coffee at a recent pop-up event and took on the challenge with so much success that they kept the recipe and added it to the regular menu at CMCR. The Italian liqueur has a strong herbal, minty flavour, but the rich, full of body of its Colombian coffee mate manages to balance it out quite deliciously. Gula Melaka appends a soft sweetness and freshly whisked cream covers the liquid. Presented in a whisky snifter, the cream is soft enough to allow a little of the liquid and a smear of the cream to be caught in every sip. It's short, cute, quirky and fun.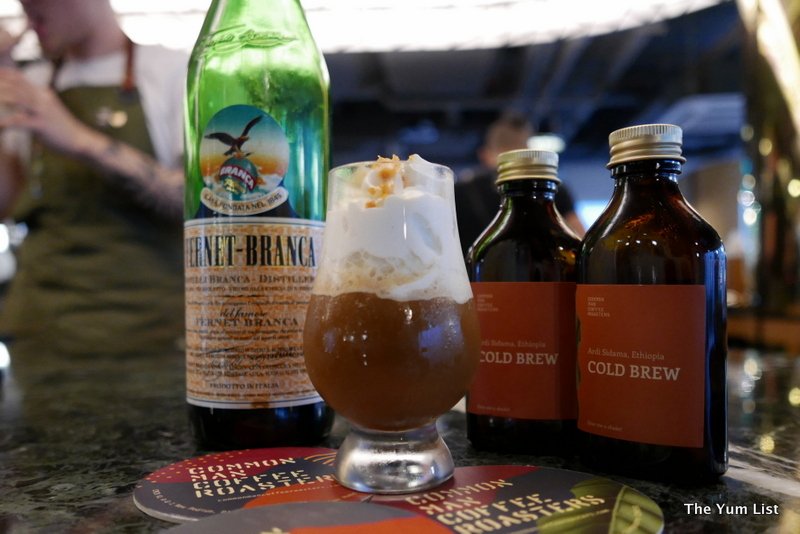 As alluded to earlier, the coffee is so good here that it's worth a trip to Common Man Coffee Roasters to satisfy your caffeine cravings alone. Add to that a tasty high tea, a fab food menu and some new coffee cocktails to try out, and you really should be scheduling a visit sooner rather than later.
Reasons to visit: EXCELLENT coffee; a fun high tea; large portions; good variety of both decadent and healthy food options on the menu.
Common Man Coffee Roasters
A-G-1 New Podium, Plaza Vads
1 Jalan Tun Mohd Fuad
TTDI, 6000 Kuala Lumpur
Malaysia
[email protected]
+6 03 7731 7095
commonmancoffeeroasters.com