Words: Margaret Elizabeth    Photos: Monica Tindall
Stepping into Cocott' my first words to Monica and Caning were, "Wow!" The restaurant glows with natural light from two glass walls, one of which leads to a covered terrace. As late afternoon turned into evening the interior lighting gently morphed the relaxed afternoon ambience into one of warm, casually stylish, bonhomie.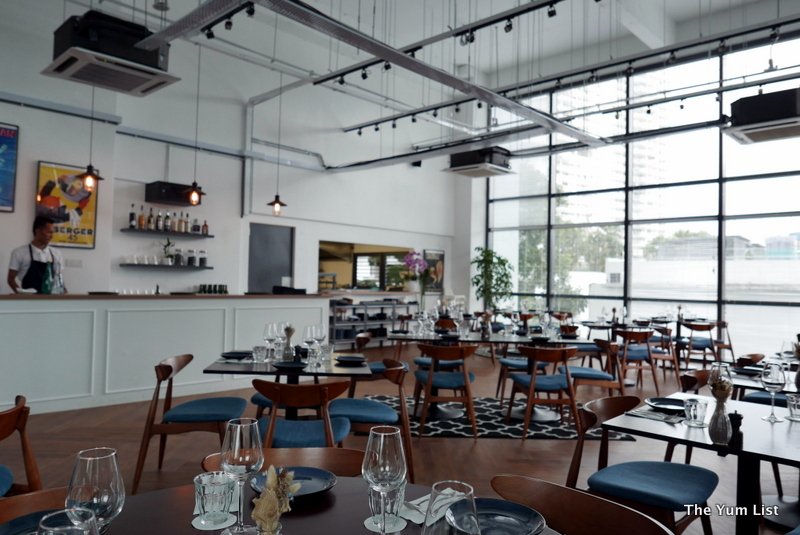 Seated within white walls and subtle pops of turquoise decor, we perused a pork-free menu that is designed for family, friends and sharing. Each dish is served in a cocotte, a cast iron cooking pot used for long slow cooking that results in rich, flavourful tastes. This is a restaurant that is serious about bringing people together over food so you will find single and double dish choices to facilitate sharing and extending the family budget. Two to three dishes per person is the recommended order.
Cocott' – The Concept
The concept of Cocott' and sharing is the creation of dashing young entrepreneur, Rui Yang Monico, Founder and Manager and Executive Chef Geoffroi Herin. This dynamic duo met in Geneva, through their mutual passion for French food. Seeking opportunity and sunshine, naturally, their thoughts turned to Malaysia, the ancestral home of Rui Yang's mother. Together they have over twenty years of hospitality and French culinary experience. The result is a selection of twenty-three dishes that appeal to Malaysian palates whilst remaining authentically French. As this is a sharing menu the dishes arrive in close succession so that you can pick and choose, chat and eat at a leisurely pace.
Drinks at Cocott'
Cocott' has an extensive drinks menu of quality teas, infusions, coffee, chocolate, cold drinks, aperitifs, cocktails, whiskey, wine, and sodas (see the online menu for individual prices). Still and sparkling Evian and Badoit mineral water are available (RM S 11 and L 17) but I recommend that you opt for filtered water (RM 2 and then free flow) as all the profits go to Helping Hands Penan NGO that emphasizes education and empowerment for women of Penan.
Mon and Caning imbibed an Excelsior 2015 Robertson (Glass RM/26 Bottle RM 131) a South African white wine from the Viognier grape. The wine has a stone fruit flavour with honey notes and pairs particularly well with our cheese dishes. My preference, though, is for red wines and I was very pleased with a full-bodied Lavila, 2014, Pays D'Oc, Cabernet Sauvignon (Glass RM 25/Bottle RM 125). The bouquet was rich and fruity and reminded me of blackcurrants. It paired well with all the savoury cocottes.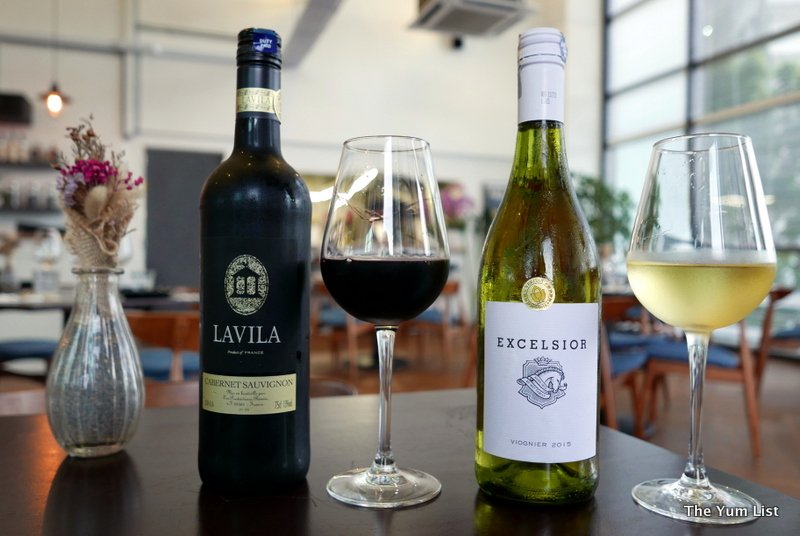 Bread
Our first taste was homemade, white bread baked and presented in a cocotte (first one is complimentary thereafter RM 5 per serve). The bread was light and crusty, reminiscent of French farmhouse loaf and I have to say that it looked soooo cute in the cast iron dish.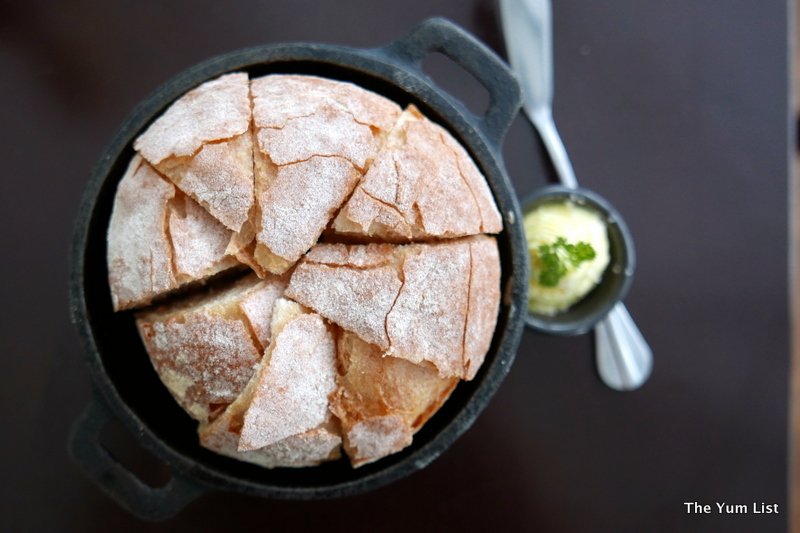 Starters at Cocott'
The intriguingly named Malakoff (RM 32) consisted of deep-fried, balls filled with raclette cheese, paired with onion and red wine chutney. A perfect contrast of flavours. Raclette is the cheese for melting. As I cut through a lightly crunchy ball a sensuous ooze of liquefied cheese, spilled out. Yum! Reputed to be a favourite food of the French Duke of Malakoff (complicated story) I would not be surprised if it will become a Malaysian favourite too.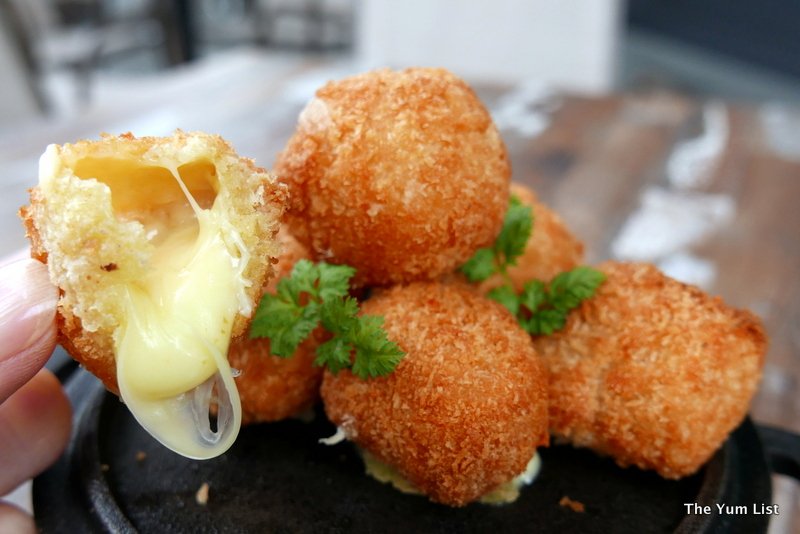 So, French restaurant and Pan Seared Foie Gras, mais oui (RM 45 single/ RM 83 double). This deliciously creamy, duck liver pate nestled in a cocotte with roasted apple and pomegranate, was as gorgeous as an impressionist painting. A glorious swirl of colours: sears of brown; taupe pate, hints of green and cream from the apple, studded through with ruby sparkles of pomegranate. I enjoyed the balance of textures in this dish as the softness of the pate melded into the semi-soft apple and the piquant squish of pomegranate.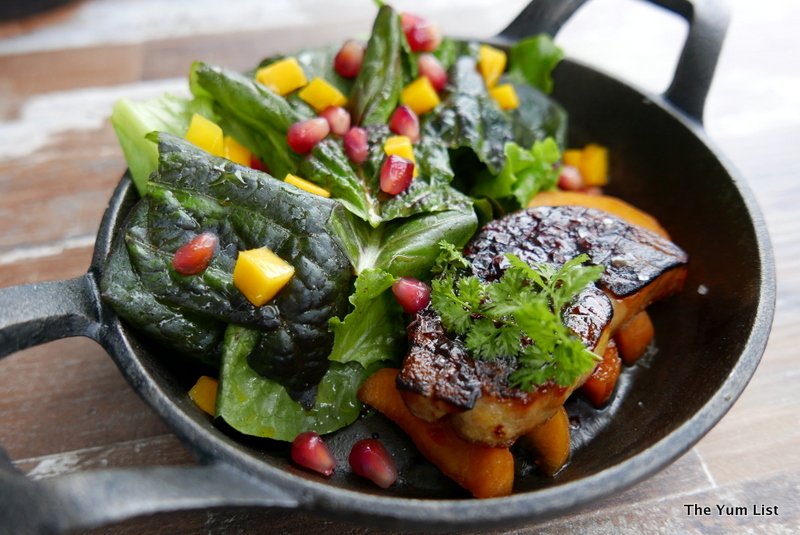 We were all surprised by how much we loved the Flame Cured Mackerel with cucumber and shallots dressing (RM 28). The flesh of the mackerel was plump and succulent with a light, clean and fresh taste. The flame curing created a crisp skin with a slightly smoky tang. The shallots in the dressing and the coolness of the cucumber added layers of complexity to the simplicity of the ingredients.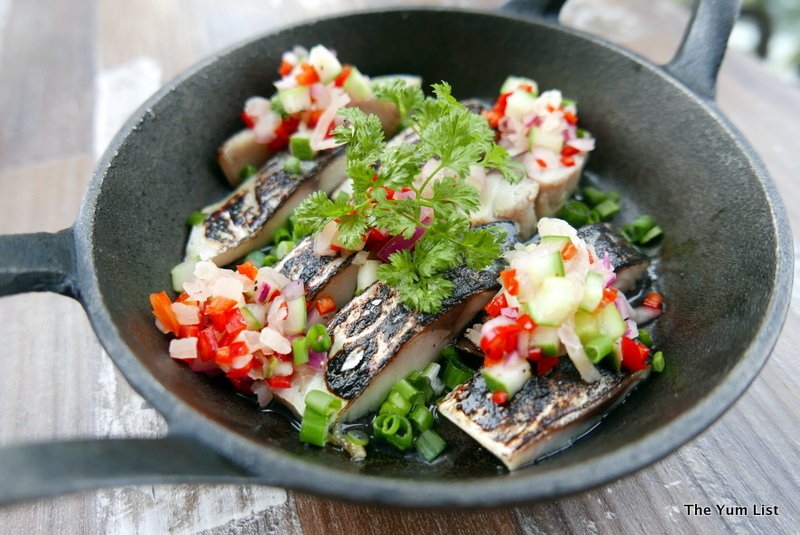 Mains at Cocott
Stewed Lamb Estouffade (RM 47 single/RM 89 double) is lamb braised in a cocotte with confit of cherry tomatoes, Kalamata olives, raisins and cashew nuts. Deceptively simple in concept, this dish is a masterful blend of acidic, salty, sweet and creamy tastes that form a sauce to perfectly complement the richness of lamb. The texture of the lamb hit the perfect mark of slow-cooked meat; braised to perfection yet retaining the integrity that is uniquely lamb.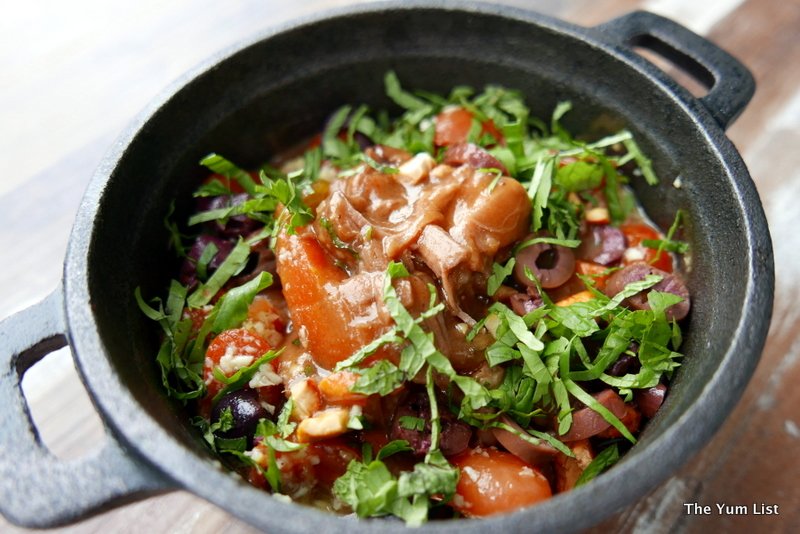 I am an adventurous eater yet time and time again I find that my favourites foods are still my favourite foods. Maybe that is why Boeuf Bourguignon (RM 48 single/RM 91 double), is so often called a classic French stew. The Bourguignon takes 24 hours to make and every second of that patient love for food shines through in the taste. The base vegetables, herbs and red wine stock slowly melded with beef juices into a delicious gravy that glistened with a tantalizingly crimson gloss. Removing the lid from this cocotte was an experience in itself as the waft of aromas hit our senses, intensifying the joy of this dish.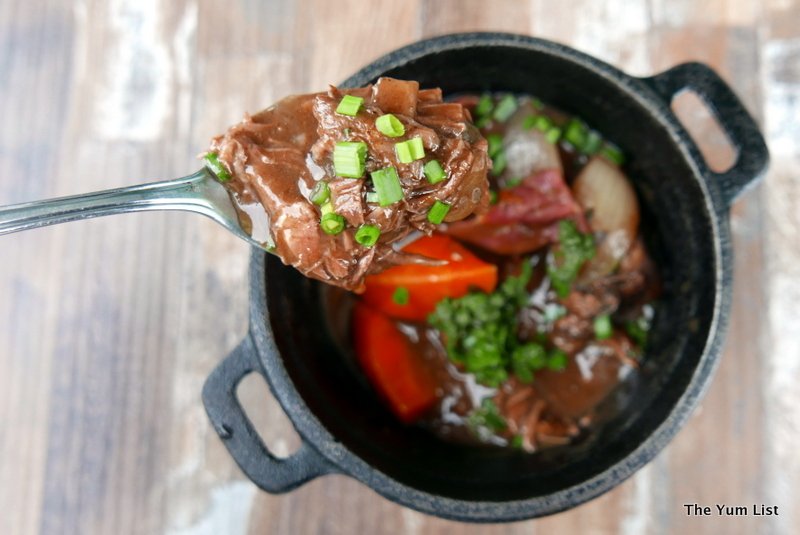 Fortunately, we saved some bread as it was a great accompaniment for Potato and Cheese Mousse (RM 24). I love to dip and mop up all the juices and that was exactly what the three of us did. The potato and cheese combo is a universal pairing because it is so good. In the cocotte the potatoes retained a soft firmness infused with fluffy, cheesy mousse. Together with ratatouille the potato and vegetable dish can form the basis of a traditional complete meal if that is something that you like. Personally, I enjoy a mix and match approach although I must admit that potatoes are always a winner with me.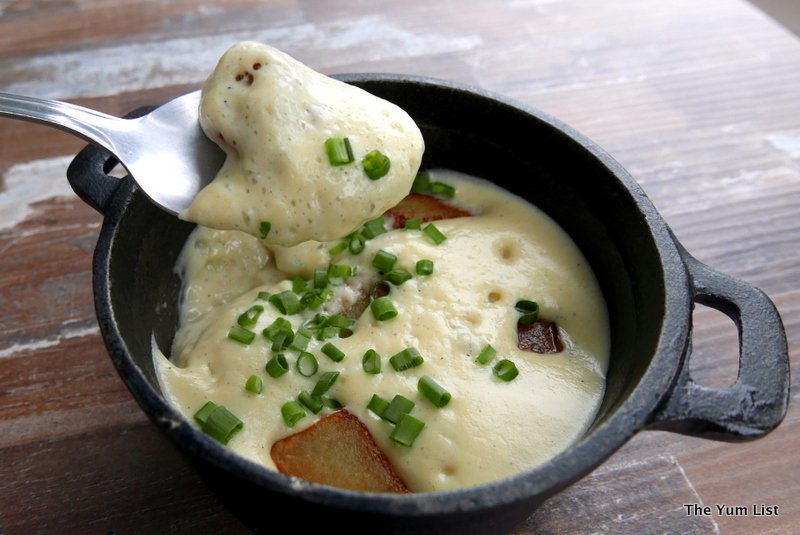 Ratatouille (RM 24) is a Provencal dish famed for the fragrant and flavourful, tomato sauce base that, a variety of vegetables are cooked in. The combination is a sum of parts greater than the whole. I love ratatouille and have been known to eat it all by itself. Once again the raising of the lid of the cocotte was an explosion of scents, including fresh basil that invited you to eat now and eat more. The olive garnish added that little something more to raise this above the average ratatouille.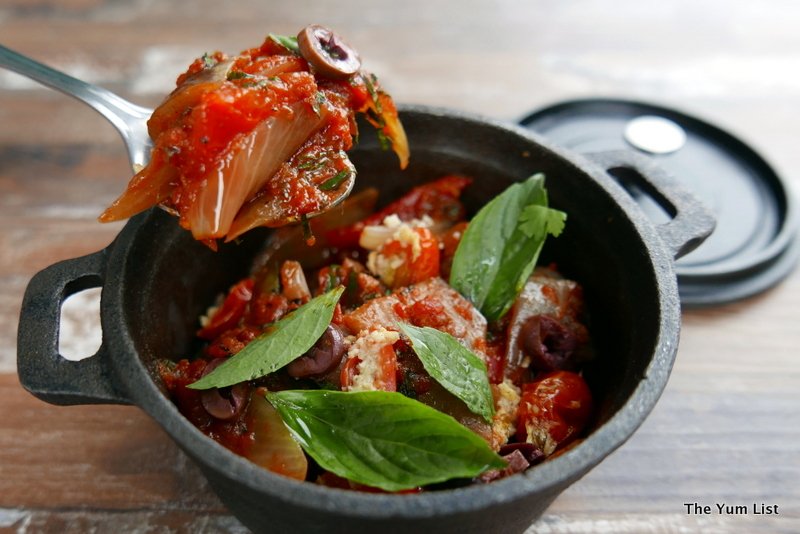 Dessert Tummies
When my children were small they used to tell me that their dinner tummies were full but their dessert tummies were not. Always a sucker for more food and my kids, that argument worked with me. By this stage in our meal Monica, Caning and I had full dinner tummies too and our thoughts were turning to our dessert tummies. We sampled two fabulous dessert cocottes.
Valrhona Chocolate and Raspberry Moelleux (RM 22) is the chocolate option to die for. As each cocotte is produced in the moment you will have to wait 15 minutes for this dessert to reach perfection. That perfection is a slightly crispy, chocolate crust around a molten chocolate centre. Add a silky, raspberry puree and melting homemade ice cream and I am sure you get the message!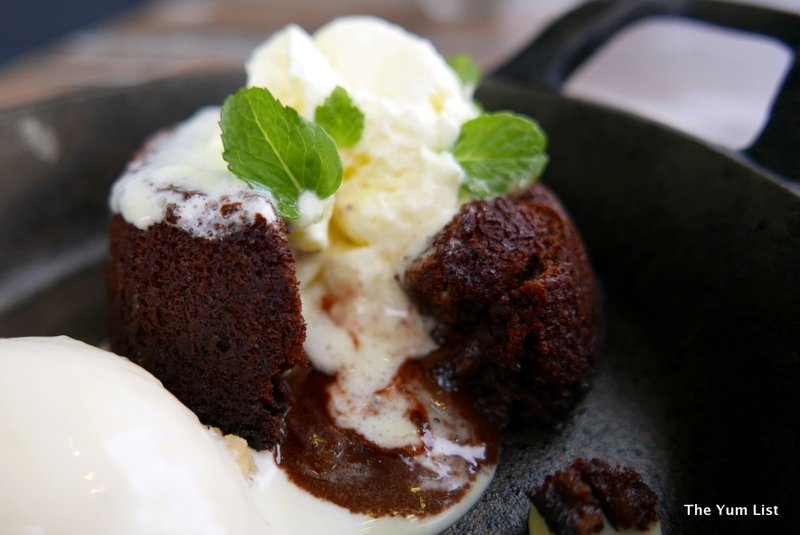 Mango Tatin (RM 20) is lightly roasted mango on a buttery, shortbread crumble with lime zest. The sweetness of the mango and the sour of the citrus from the lime zest worked well together and was lifted to another level by a buttery, hint of salty creaminess in the shortbread. I enjoyed the smooth texture of the mango alongside the crunch of shortbread.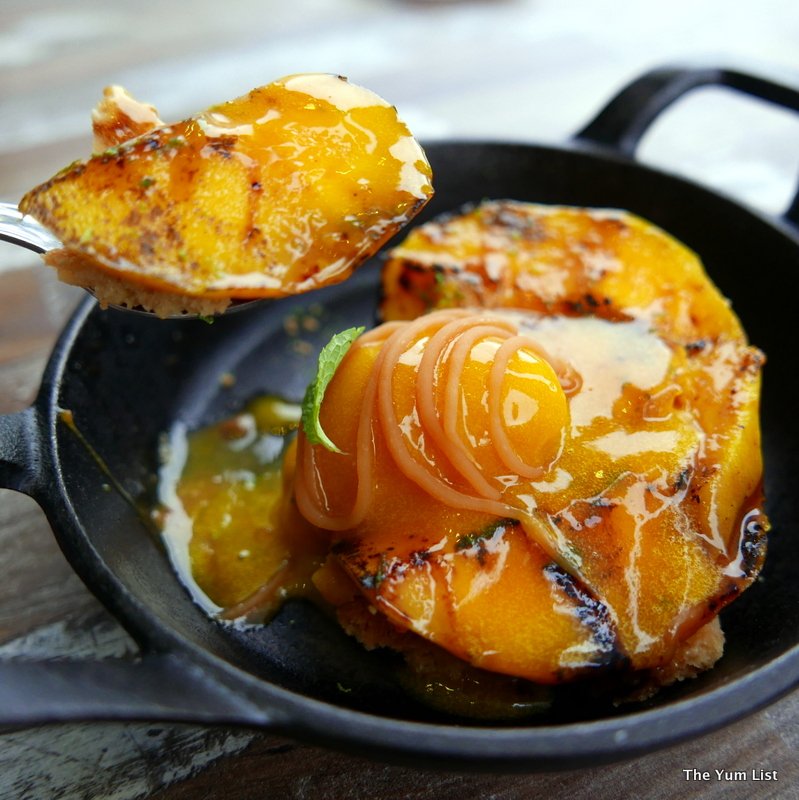 To round off our meals we chose Flat White (RM 11) and Café au Lait, French for latte, (RM 11). The coffees were made from 100% Arabica beans from Sumatra and Brazil and dark roasted by a specialty roaster in Penang producing a nutty, smooth coffee.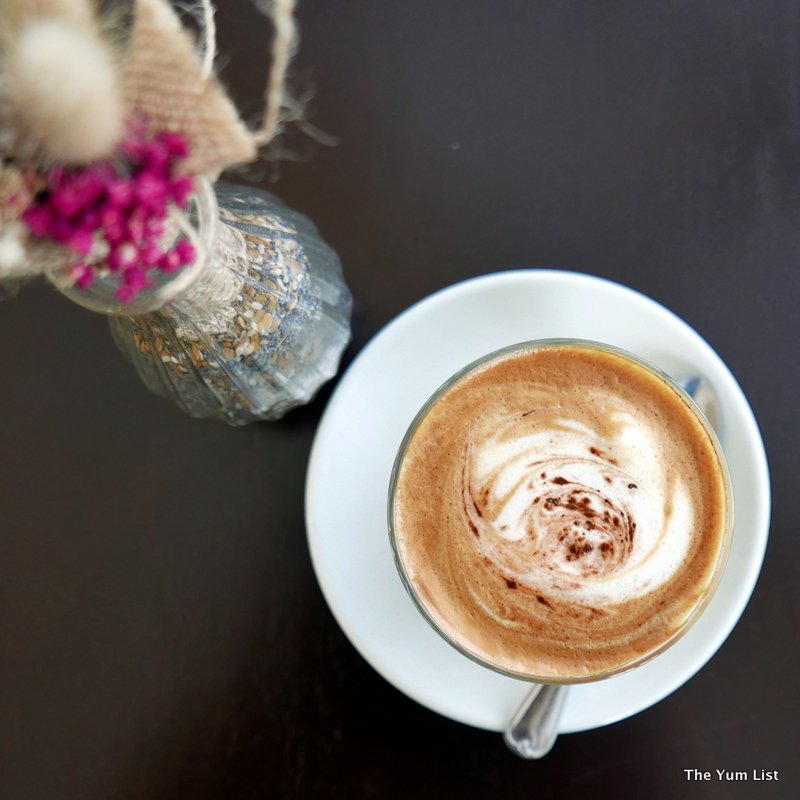 We closed the meal at Cocott' swirling the last of our wine as we continued to laugh and chat the evening away. Our dinner and dessert tummies were full and we were having a lot of fun; Rui Yang is an entertaining host. By this stage it was clear that the casual and shared concept of Cocott' absolutely works. This was not just a great meal. It was a happy experience around food with friends that definitely deserves repeating.
Reasons to visit Cocott': Can I say everything? I loved the relaxed way we all felt, the quality of each dish and the French red wine. For me this is eating out at its best as I got to eat so many dishes. On another note I like the family friendly way that diners can design a personal meal of less expensive items or select a double option serving. If I can't say everything, I stand by Boeuf Bourguignon, Potato and Cheese Mousse and Valrhona Chocolate and Raspberry Moelleux leisurely enjoyed with French red wine and friends.
Cocott'
Level 1, The Greens
Jalan Wan Kadir, TTDI
60000, Kuala Lumpur
Malaysia
+60 19 602 99 64
www.cocottkl.com