Monica Tindall
There's nothing that takes us back more to halycon days of a carefree past than beginning a decadent pampering session with a cocktail. And, that is exactly the way our afternoon begins at The Majestic Spa by Spa Village, Kuala Lumpur. Pimm's cocktail in hand, we're already starting to unwind, and I swear this is just as good a relaxant as a foot scrub any day.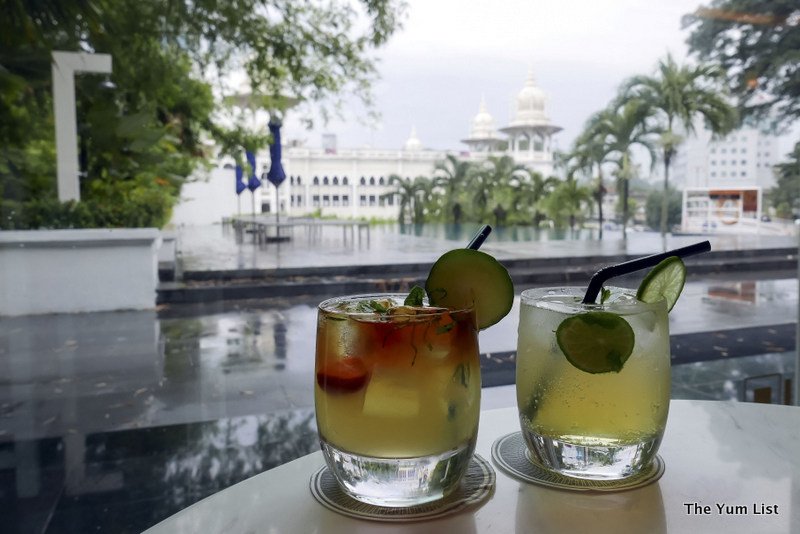 Rituals and Traditions
There is a foot scrub though. All treatments at The Majestic Spa by Spa Village begin with the pre-treatment ritual foot bath (and head massage). It's the rituals and traditions that make Spa Village one of the most respected brands in the country. The inherent practice of care that form the core conventions of Spa Village are customized to location but evident in every address.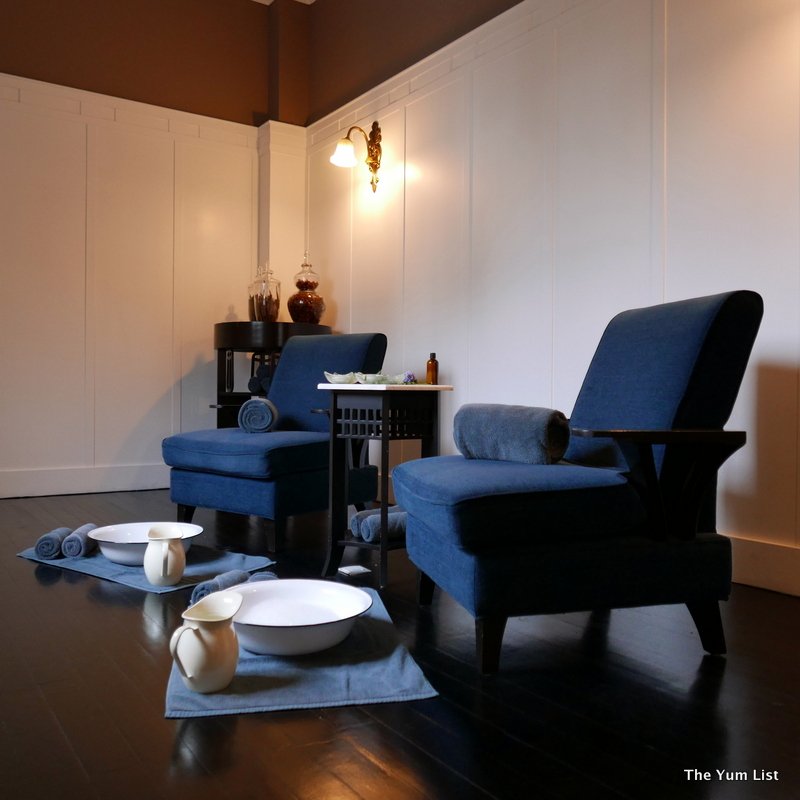 Malaya Golden Cheronese
Today we participate in one of The Majestic Spa by Spa Village's "experiences," the Malaya Golden Chersonese (2.5 hours RM1750 per couple, single RM875). Celebrating the legend of one of the most influential explorers and writers of her time, Isabella Lucy Bird, and her time in British Malaya, the session utilizes local blooms and fruits of which were given detailed study in accounts of her travels.
Following our welcome cocktail (mocktail and chamomile tea is also an option), we undress and robe up in the spacious change rooms. Mesh underwear (thank you, not those dreadful elasticized type that look like a baby's diaper) is provided as well as robes, towels, water and slippers. As mentioned above, all treatments are preceded with a footbath and head massage and we feel like VIPs in the stylish arm chairs with our feet being pampered by lavender and natural salts.
The His and Her session takes place in a spacious couples' room complete with claw-foot bathtub, private shower and toilet. Temperature can be controlled individually in each room (for many spas in the city this not possible because of central air-conditioning), and music is adjusted to preference. Massage beds are huge, another luxury for our long western bodies.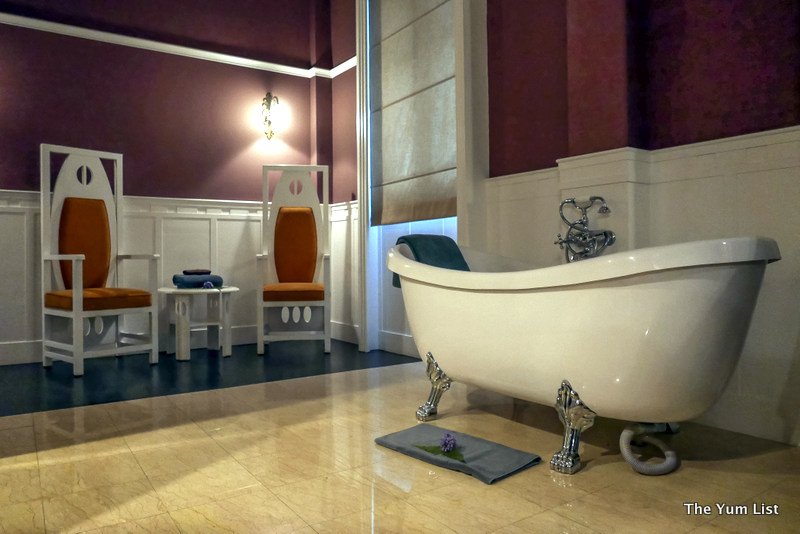 Hair Masque
We both begin with a banana honey hair masque. A soft delicious smell fills our noses as it's gently finger-combed through our locks. Our scalp gets extra attention and this is the point when I first doze off into an absolute state of calm.
Scrub, Bath and Steam
A papaya coconut scrub (luscious!) for me and a Malaya herbs scrub for hubby continues the session exfolitating our bodies from toe to shoulder. There's no chance that a single cell of dead skin is left, and just to make sure, it's followed by a lime blossom bath for me, and a herbal steam for him. Soaking, steaming, our skin feels nourished and smooth and when we exit, our dermis is perfectly primed to take full benefit of the oil massage that culminates the session.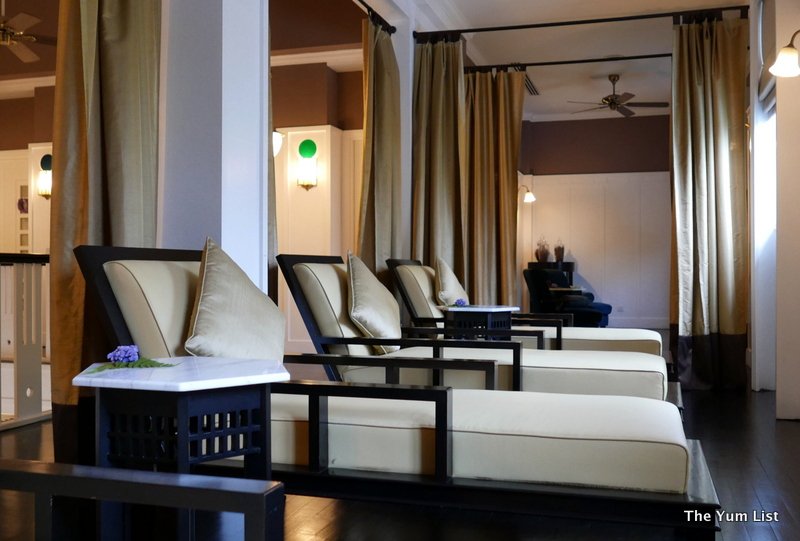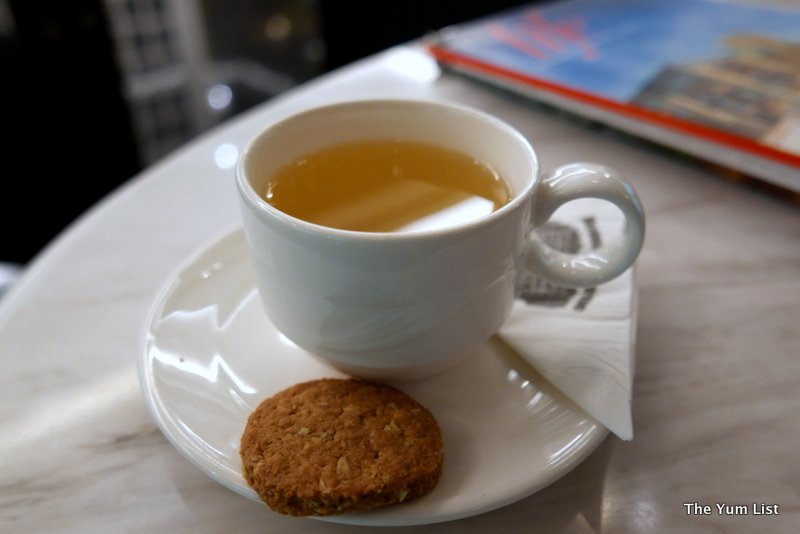 Massage
The natural aromatherapy oils used in the massage are superb allowing the expert hands of our masseuses to literally glide over the skin. For her, it's the Bunga Rampai oil and for him the East Indian Spice. Long strokes of the whole hand with varying pressure of the heal of the hands and fingers coax tired muscles back into life. Our therapists check in on our comfort levels throughout and ensure pressure on our spines is minimized with the positioning of cushions under our knees when supine and under our ankles when prone.
Although the treatment is two and a half hours, I suggest, to fully appreciate the facilities and take in the whole experience, you allow at least three hours. There's a relaxation lounge upstairs where you can sip tea and read magazines, and there are also steam facilities in both of the his and hers changing rooms.
A La Carte Treatments at The Majestic Spa by Spa Village
Besides some decadent packages there are also a handful of a la carte treatments encompassing a handful of massages and facials. Even when only taking on a single item you are treated to the whole pre and post spa experience, so it's a good way to sample the spa before committing to an indulgent half-day package.
Facial
The Classic European Facial (60 mins RM410) is one such listing and I'm impressed with the adaptability of the beautician. After my face is cleansed she analyses my skin's needs under a magnifying light stating what is going well for my skin and things she can work on today in the facial. The Kerstin Florian skin care range, which blends science and nature to produce result oriented products, is used in the a la carte facials. The range is broad and at the end I'm left with a checklist indicating the products that were made use of during the session. Not only are the gels, creams, oils, extracts and mask of obvious high quality, the technique of my beautician is first-rate.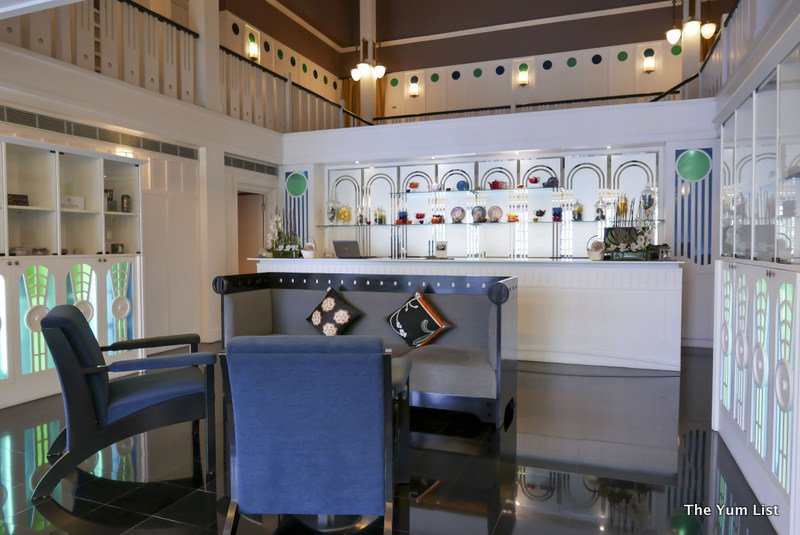 For indulgent packages and quality facials and massages, The Majestic Spa by Spa Village, Kuala Lumpur is an excellent choice.
Reasons to visit: purpose built facilities; one of the top luxury spa brands in Malaysia, and possibly the world; indulgent packages; quality a la carte treatments
The Majestic Spa by Spa Village
The Majestic Hotel Kuala Lumpur
5 Jalan Sultan Hishamuddin
50000 Kuala Lumpur
Malaysia
www.majestickl.com
+6 03 2785 8000
[email protected]
[email protected]