Botak Liquor Bar
Words: Shaun Humphries   Photos: Monica Tindall
Living inside the mall obsessed KL bubble can sometimes feel constricting and systematic. The same stores, the same crowds and the same fluorescent lighting quickly takes away my creative buzz. Thankfully, there are plenty of character spots all over the city, and whenever I visit a place that's unique, I take notice and enjoy it even more. Our recent visit to the newly opened Botak Liquor Bar was just such an experience.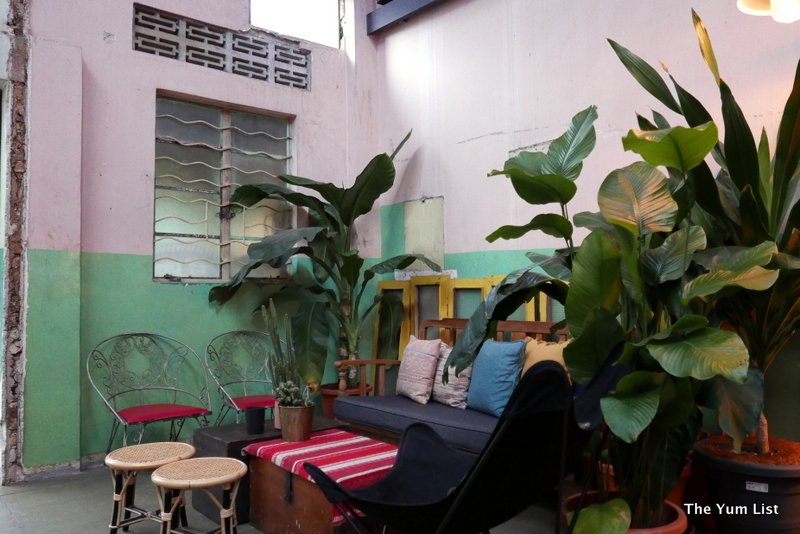 Botanical Bar in Chinatown
Situated in the heart of Chinatown on the first floor of a cleverly refurbished heritage building on Petaling Street, Botak invited us in with its exposed wood beams, rugged brick walls and generous amounts of natural light streaming in from the ceiling.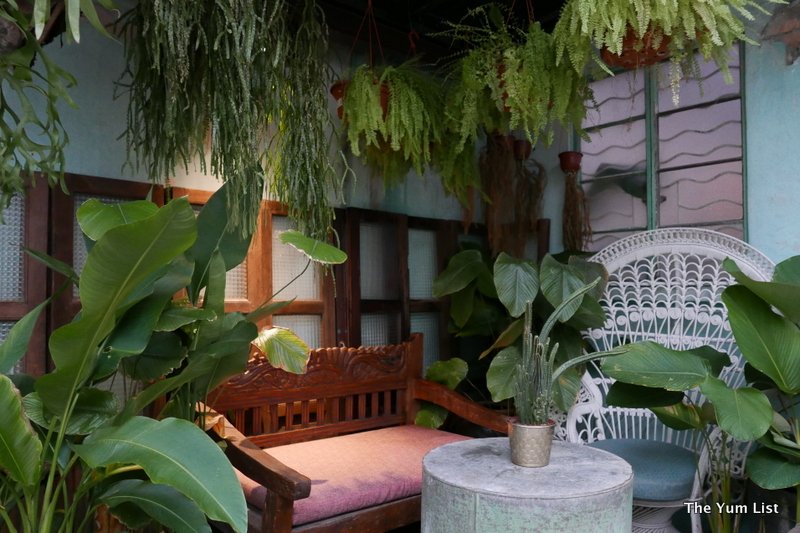 Greeted warmly by the bar's founder Shin (who also runs Cho Cha Foodstore on the ground floor) and bar consultant Rick, as well as their award-winning bartender Giri, we found out quickly that the character-rich environment also offered some pretty tasty alcoholic beverages.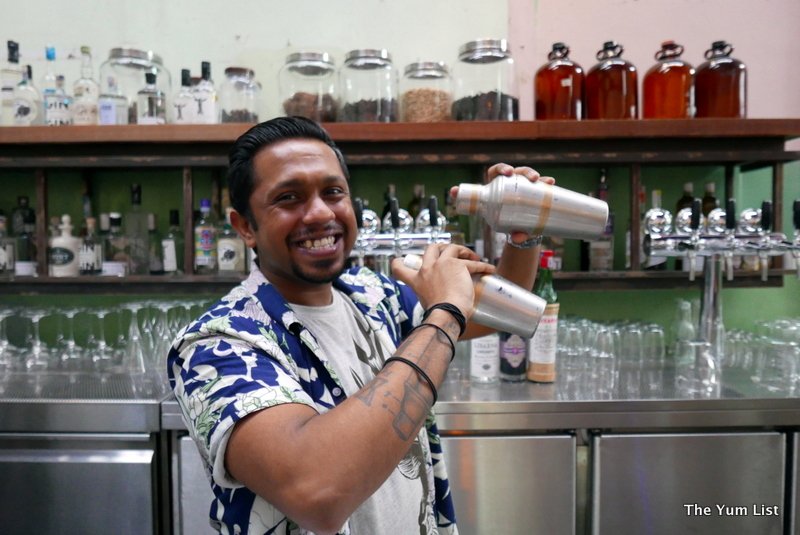 "We've tried to create a comfortable space with comfortable drinks – light, simple, straightforward and clean," explained Rick. "We only use clear spirits and whenever possible we incorporate ingredients that are organic and grown in Shin and (his wife) Penny's home garden."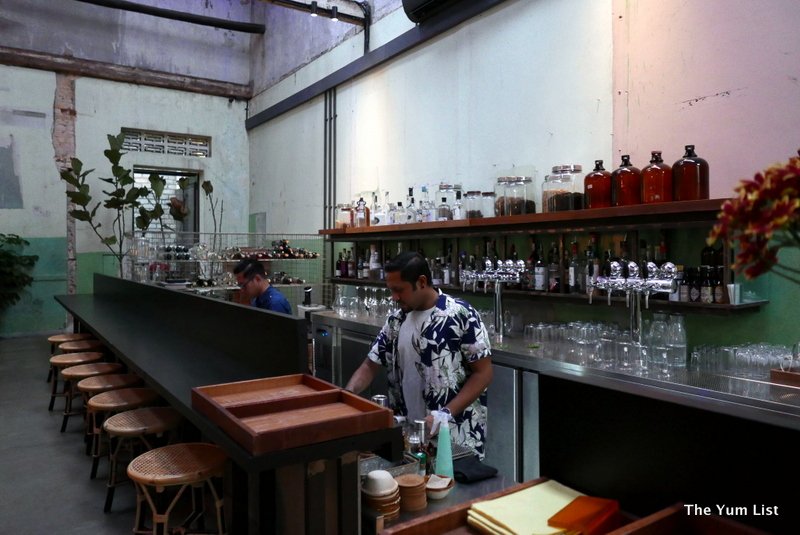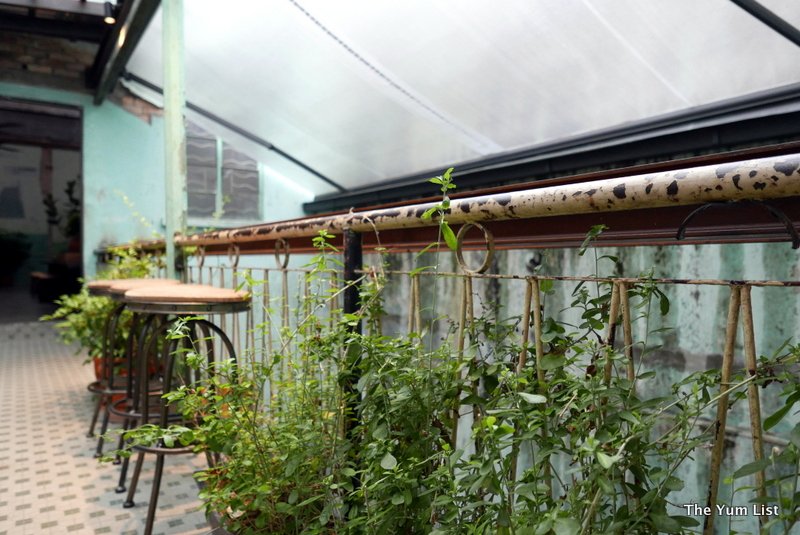 Glancing at the menu, I had to remind myself I was at a bar and not a botanical paradise. Incorporating a variety of fresh vegetables, fruits and flowers into their drinks (and never any of those cheap, fake syrups), I was ready to take a walk through their liquid garden.
Violet Dragonfruit
Our first cocktail of the rainy Thursday night (served on an actual leaf coaster), was Violet and Dragonfruit (RM42), which mixes grappa, violet liqueur, maraschino and lime creating a nice little purple potion with a slice of dragonfruit on top. Outstanding presentation in a tasty tall glass.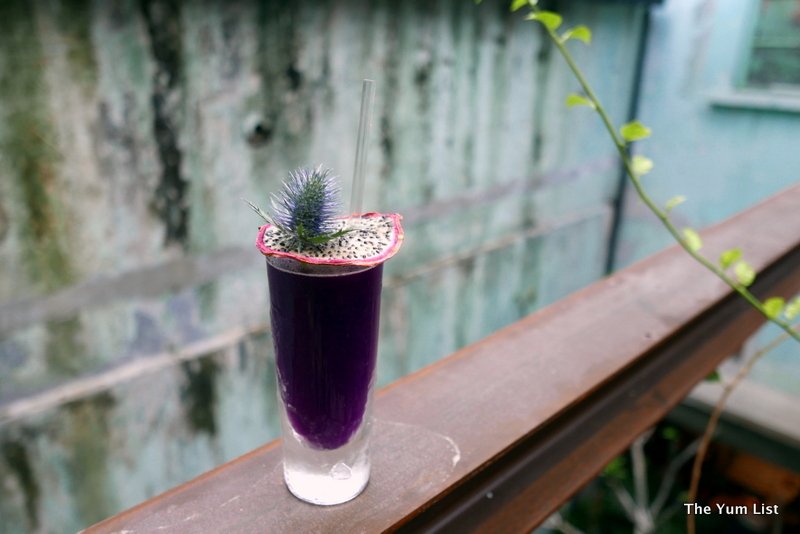 Jasmine and Tarragon
Up next was Jasmine and Tarragon (RM38), which featured gin, homemade jasmine cordial, tarragon, lemon bitters and fizz. One of four cocktails served from the tap, this one looked like a science experiment and was satisfyingly sweet.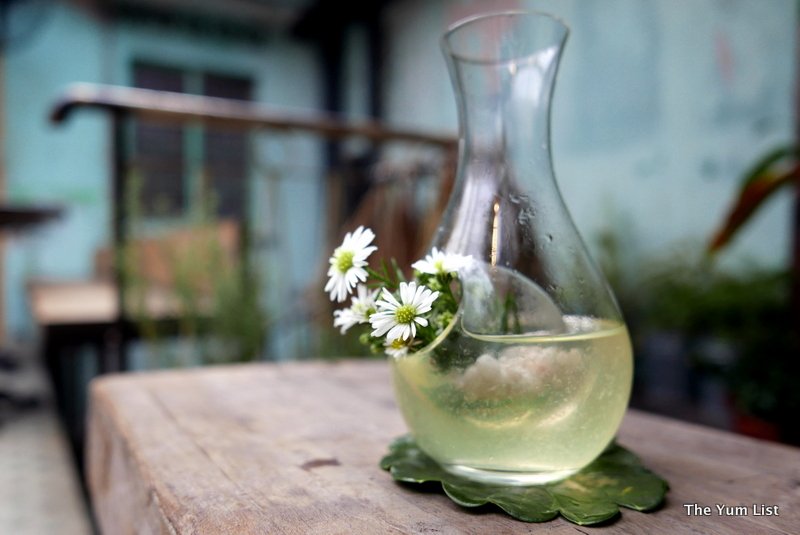 Elderflower and Sweet Peas
The manliest of the cocktails was served next. Elderflower and Sweet Peas (RM48) may not sound rugged, but made with un-aged, clear Irish whiskey, sweet peas, organic elderflower cordial and lemon served over top of a large cooling stone, this drink put hair on my chest. Savoury and delivering a nice kick, it was my favourite of the night.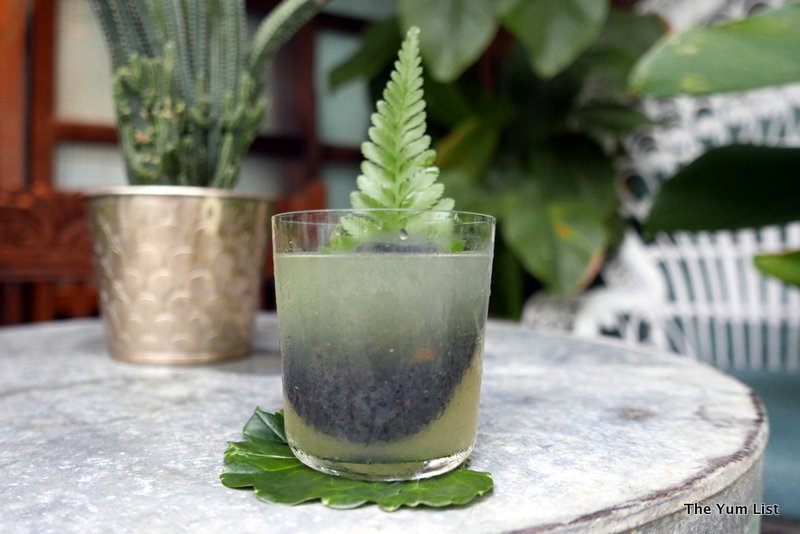 Papaya and Cuka
Another drink found on tap was the Papaya and Cuka (RM36), which is made with a light rum, papaya from Chin's farm and chili padi shrub, grated lemon zest and creole bitters. Pink and sweet, I could have guzzled these all night.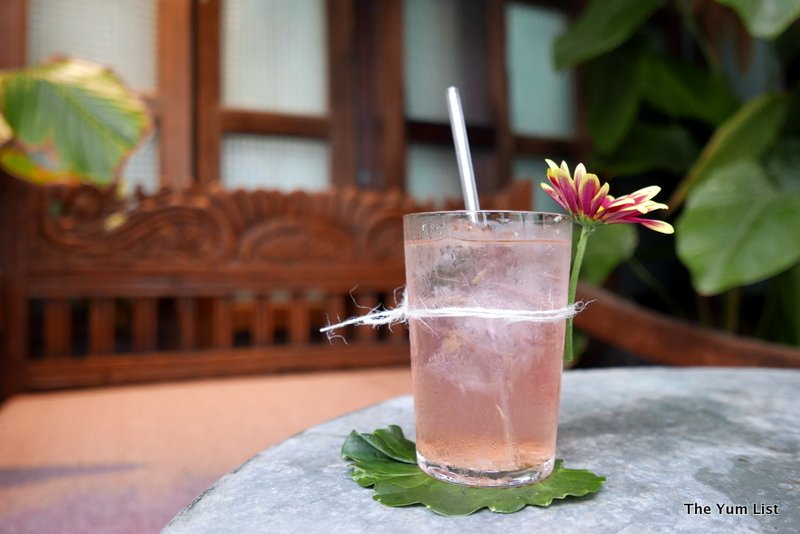 Bunga Kantan and Pumpkin
Our final cocktail creation was Bunga Kantan and Pumpkin (RM36) featuring pumpkin seed infused vodka, calamansi and homemade red ginger lily soda. Presenting like a generous serving of wine, I was refreshed and amused with every small, bubbly sip.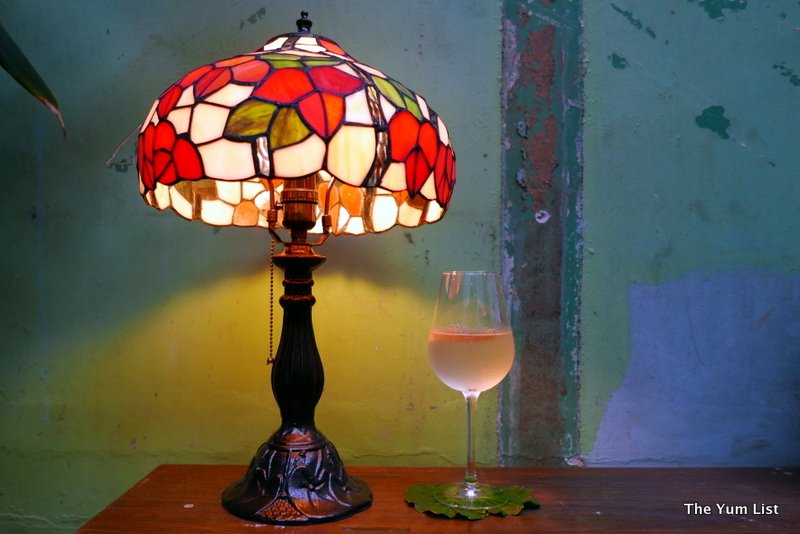 Bald Beverages
With the cocktails emptied, it was time for the straight goods, which really was fitting since the Malay meaning for Botak is bald. By stripping the drinks down to their original or bald selves, we were getting at the essence of the bar – simple, delicious and mind-tingling booze.
While we only tried a small sample of each one of Rick's imported gems, I did sip enough to know they all lived up to their uniqueness. And if I would have drank anymore, this review would have been lost in the abyss of a shot glass.
The Fair quinoa vodka (RM25) and Delord Blanche Armagnac (RM32) are both products of France and I think make an excellent choice for someone just getting into the Armagnac and vodka game. Both are easy to drink with just enough of a bite to know it's the good stuff. The Delors Blanche also provides a nice apple finish.
Personally flown in from Ireland, the Glendalough Wild Spring gin (RM32), which is smooth and clean, and the Glendalough Poiteen (RM36), which is a slightly salty, unaged whiskey, offer a different, welcome twist to the other gins and whiskeys available in Malaysia.
Our final two straight, pure (and bald) spirits were the Chase Oak Smoked Vodka (RM32), which smelled and tasted exactly like a nice gouda cheese and a Meteoro mescal (RM30) offering a light, clean introduction to the wide world of mescals and tequilas.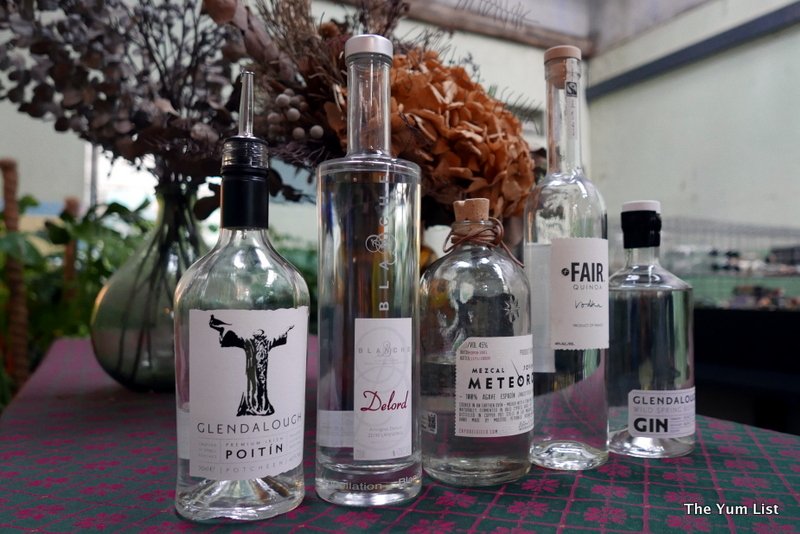 Build Your Own Cocktail at Botak Liquor Bar
With my head starting to spin, it was time to build our own cocktail (well actually Giri made it for us, but I think we picked the ingredients). Featuring 1.5 ounces of Pisco (RM26), a bottle of Three Cents Aegean Tonic (RM8), curry leaves (RM2) and starfruit (RM5), this was a refreshing, large beverage, which included actual stars inside the glass.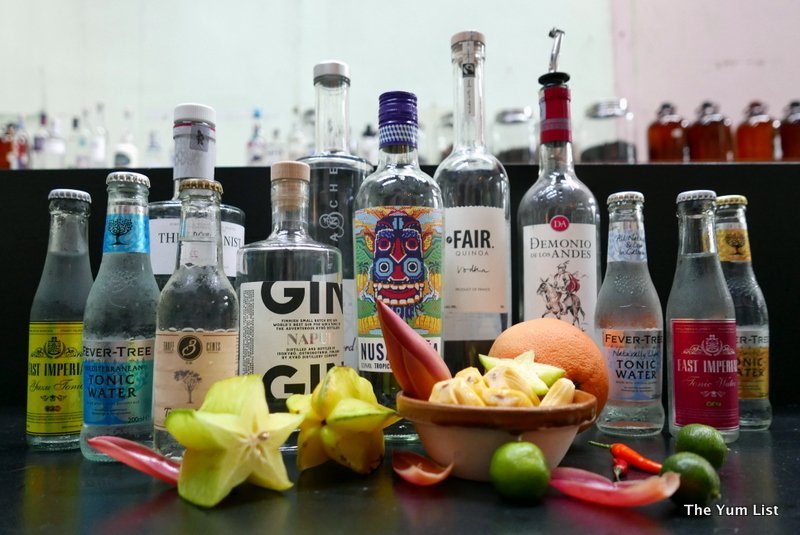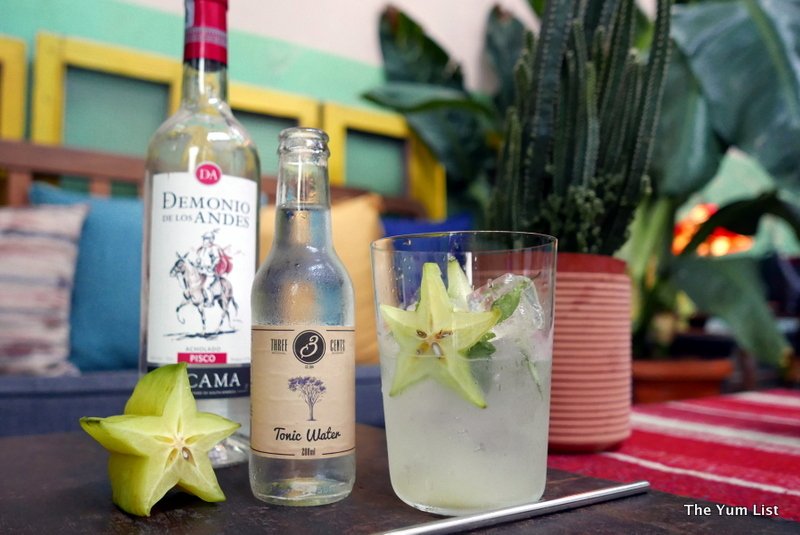 Alcohol-Free Cocktails
Paying respect to those folks not interested in alcohol, Rick has also designed a few mouthwatering alternatives, such us Nuts and Cinnamon (RM22), which is made with homemade nut milk, rice, oleo saccharum, pineapple and cinnamon. I thought it tasted exactly like a delicious rice pudding served over ice.
Also boasting several in-house sodas, we sampled the Papaya and Chili Padi (RM12). Smelling and tasting slightly spicy, the bubbles mixed with subtle hints of papaya and chili to make this very fun to drink – and also a great way to rehydrate before attempting to descend the spiral staircase on our way out.
After enjoying almost every drop of liquid in the bar, it was time to say goodbye to our gracious hosts and thank them for sharing their delicious imaginations with us.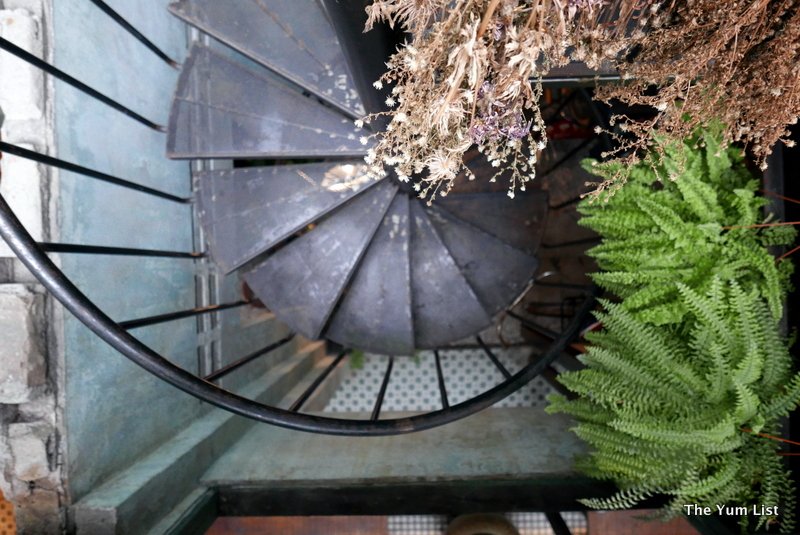 Botak Liquor Bar Opening Hours
Botak Liquor Bar is open 3 p.m. to 11 p.m. weekdays and 5 p.m. to 1 a.m. on weekends. A small snack menu will be introduced shortly.
Reasons to visit: A comfortable, laid back atmosphere where you could enjoy one drink with one friend or many drinks with many friends. The creative cocktails and spirits offer something very different on the KL bar scene and their attention to freshly grown and organic products should be applauded and enjoyed.
Botak Liquor Bar
1st Floor (above Chocha Foodstore)
156 Jalan Petaling
50000 Kuala Lumpur
Malaysia
+603 2022 1100

@BOTAKLiquor
Check out more of KL's bar scene here and stay up to date with the latest food and beverage happenings in KL here and here.