Words: Craig J Selby Photos: Monica Tindall
Way Yummy Yum Char at Way Modern Chinois
I have found bliss.
In the form of a little, light blue mound.
A mooncake to be exact.
Lavender-infused mooncake.
Possibly the most delightful morsel that has passed my tastebuds this year.
I might be biased. I don't do durian. I don't do nutty.
I like sweet, but subtle. And I love snowskin.
Sapphire is for me!
Anyhoo, there's a lot more to this story than a singular blue sweet (oops, I had two).
Way Modern Chinois Dim Sum Brunch
Way Modern Chinois (WMC), hiding just off the main road up from Semantan Station, is a great place to have our Chinese brunch favourites, but clearly with a spark of ingenuity to them. Their current special is a weekend all-you-can-eat yum char (locals call it dim sum) buffet – selecting a generous supply of select dishes from their menu. Bring two friends with you and this promotional menu is up for grabs at RM 39.90 per person –believe me, well worth it.
Covering all my favourite yum char items, WMC added depth by shaking up the flavours and presentation. If you're familiar with the yum char scene, then you'll know what I'm talking about. If you're new to the experience, then buckle up, and enjoy our journey.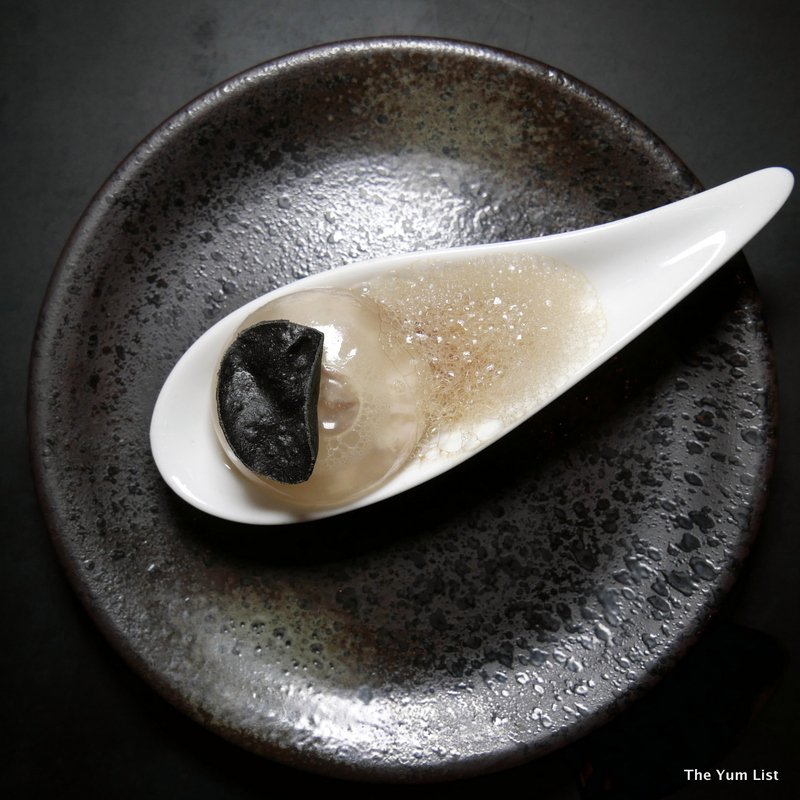 Typical of any yum char establishment worth its weight in gold would be their Shanghai Soup Dumplings. Soft little moneybags of hot soupy goodness, these little dumplings contain both herbed-minced meat and soup – the small amount of soup designed to ooze out at first bite. Today's ones are piping hot to the lips, and filled with a mild broth. Bringing this to yet another level were the Truffle Crab Soup Dumplings – same concept, but stronger flavour. Crab broth, surrounded by truffle-infused dumpling skin, offered short intense bursts of flavour.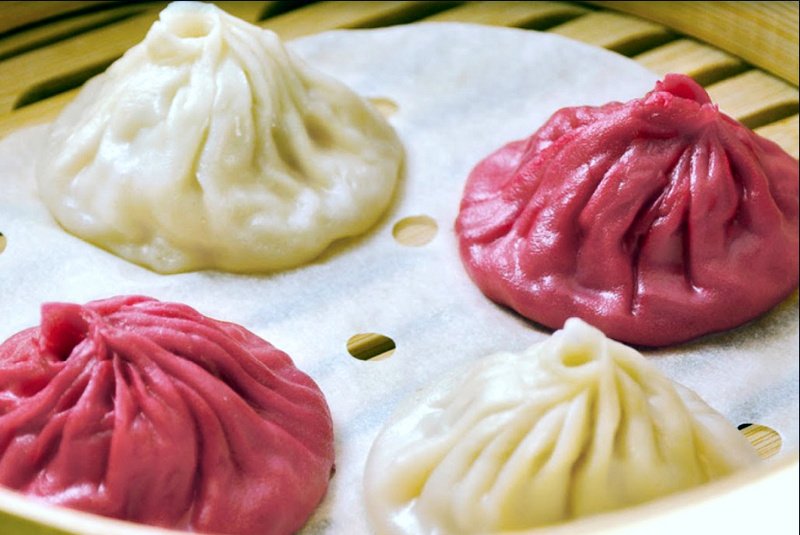 A trio of dumplings should be a favourite for anyone. Prawn dumplings with XO sauce are delicious parcels of prawn, deep-fried to golden brown, to be dipped in house special XO sauce. Crab Claw Dumplings are wrapped in a translucent rice pastry (which is much like a soft gel consistency when we bite into it). Delicious in flavour, quite mild, and great with added mayo or vinegar (each to their own preference with this one). Crab Roe Dumplings are soft and moist, with generous splatterings of juicy crab roe ready to burst with every mouthful.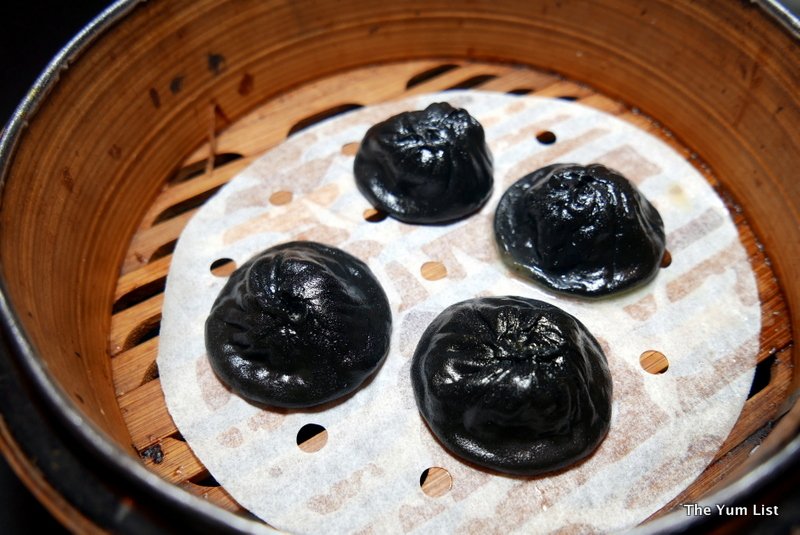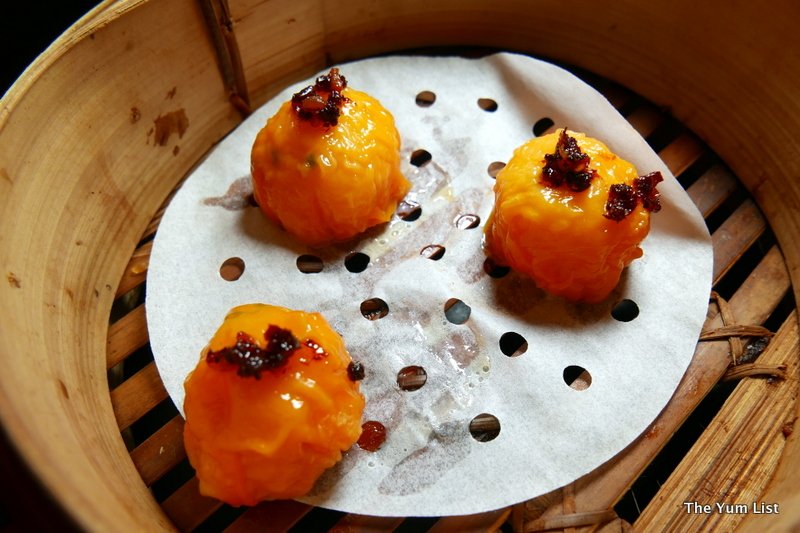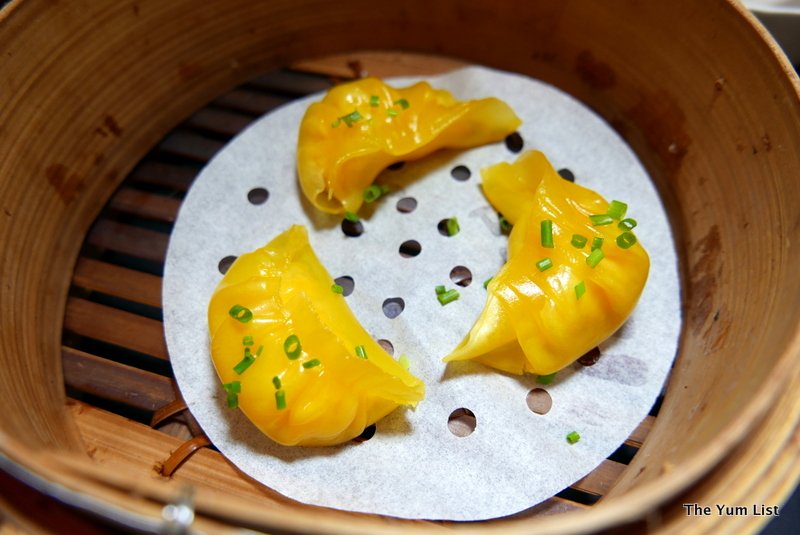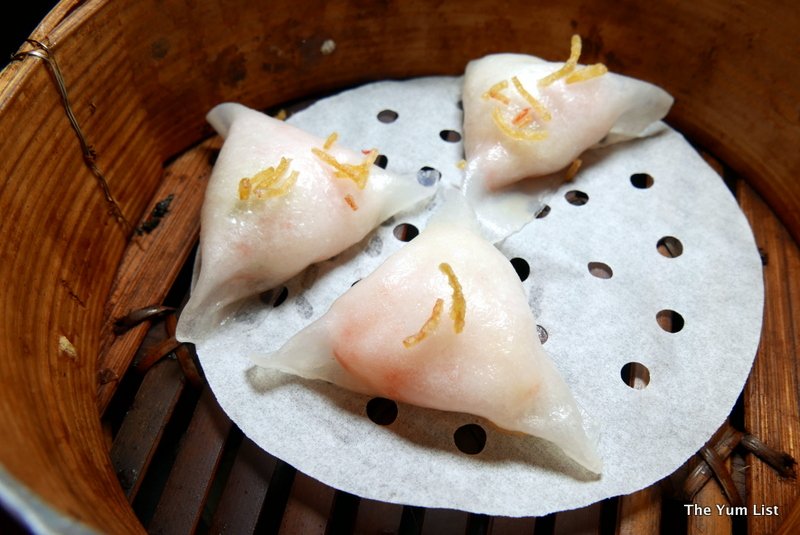 A much loved local favourite is fried 'carrot cake'. Technically, nothing to do with carrots, or cake for that matter; and is actually made from radish extract. At WMC they do a Pan Fried Radish Cake with XO Sauce. The "radish" should be tender and slightly moist, but perfection is when the outside has been nicely wok-charred to crispiness. This version had a great char, with burnt crispy pieces adding to the complexity of the dish.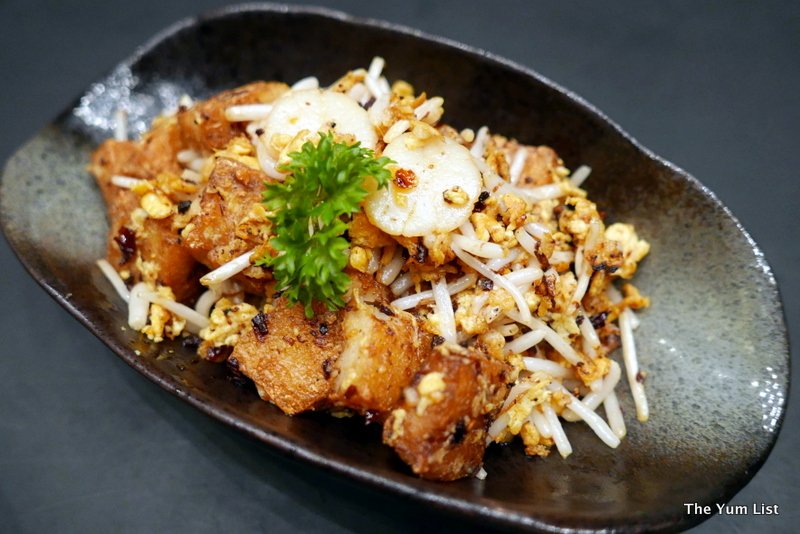 For me though, every time I hit a Malaysian yum char establishment, I want Chee Cheong Fun – wafer thin rice rolls stuffed with either BBQ pork pieces or prawn, or sometimes served plain with only a simple sweet soy sauce. WMC's interpretation of this dish is heavenly – crafting the rice rolls into a tight, compact cylinder, and then deep frying them to ensure crispiness on the outside, before smothering them in a spicy paste. Delicious! I'm hooked. I love the crunch from the deep-fry, the chili paste which packs a kick, but best of all, the soft rice roll still retains its tender flavor. Well done Chef!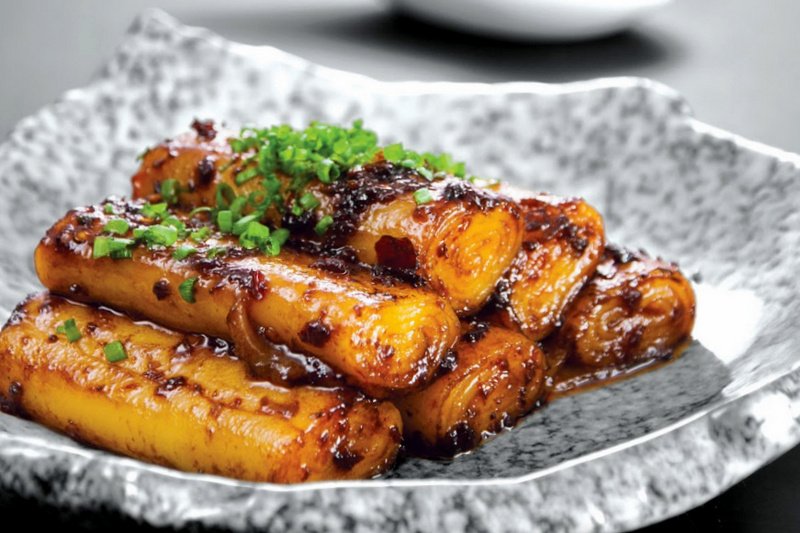 A lovely variation on classic Spring Rolls are to do them with Crispy Duck, adding both distinctive texture and flavour. Also on the menu, but perhaps for my personal preferences, less desirable, was the crispy bean curd skin roll. The taste was pleasant, but I've never been a fan on bean curd, so I little biased. However, for those who are die-hard fans, this one is rolled up, deep fried, and served with mayo.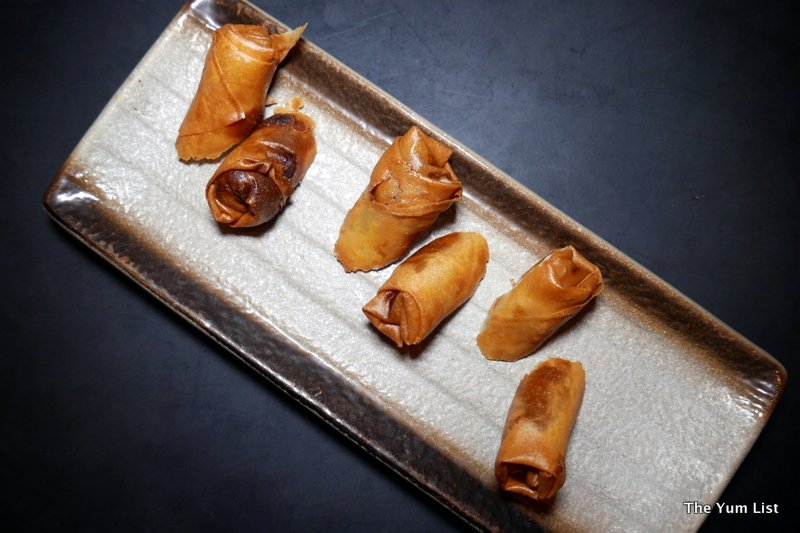 In addition to the yum char promotional menu, one can order off a more extensive al la carte menu too. Being a huge fan of dumplings, I wanted to sample the Sticky Rice Lamb Siew Mai – and glad of that decision I was. Typically siew mai are pork, and quite heavy bites. WMC lightened the dish, used lamb for sweetness, and mixed them with glutinous rice for a taste of salt. What a great reinvention of this everyday item.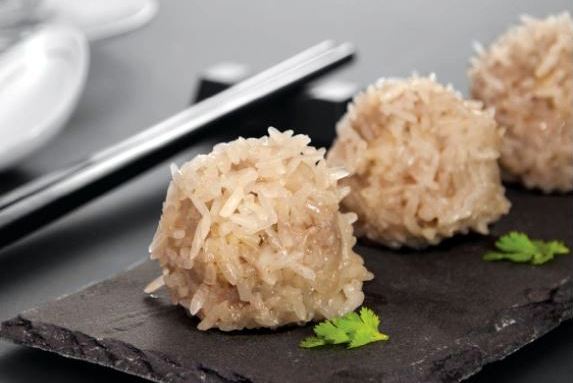 Mooncakes at Way Modern Chinois
Although independent from the yum char promotional menu, WMCs' mooncakes are certainly something to experience. Each of the four varieties has been hand-crafted to pay homage to precious jewels; these distinctive snowskin mooncakes are little jewels in themselves. Clearly, Sapphire (lavender with cream cheese and cranberry) struck a chord (I'm sure it will for you too); they also offer Onyx (black sesame, salted egg, and Thai tea), Topaz (Japanese yuzu with matcha and adzuki paste), and for the adventurous of us out there, Jade.
Jade is quintessentially Malaysian – soft pandan for the green hue, gula Melaka for a hit of sweet, and creamy durian for … well, impact. Absolutely a hit for durian lovers, and something that every expat should try at least once.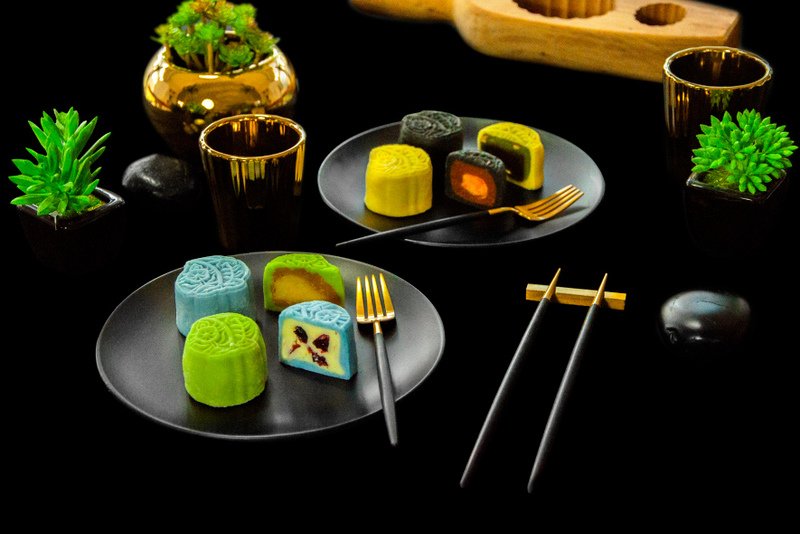 Mooncakes are currently available at RM 88 for a set of four.
We loved the menu, and finding a modern Chinese venue for weekend brunch is great. It's always fun exploring reinventions of classic dishes, and kudos to WMC for crafting such an enticing selection.
Reasons to visit Way Modern Chinois: Excellent value dim sum weekend brunch (only RM39.90); innovative yum char dishes; relaxed private atmosphere; Sapphire mooncake.
Way Modern Chinois
G-1, [email protected]
Jalan Changkat Semantan
50490 Damansara Heights
Kuala Lumpur, Malaysia
+6 03 2095 1118
http://way.com.my/