Monica Tindall
Shangri-La's Villingili Resort and Spa, Maldives takes a romantic dinner for two up a notch with their Dining by Design destination dinners. Limited only by your imagination, the resort team will set up a white clothed candlelit table just about anywhere you desire on the island and provide a team of wait staff and chef dedicated solely to satisfying your culinary cravings.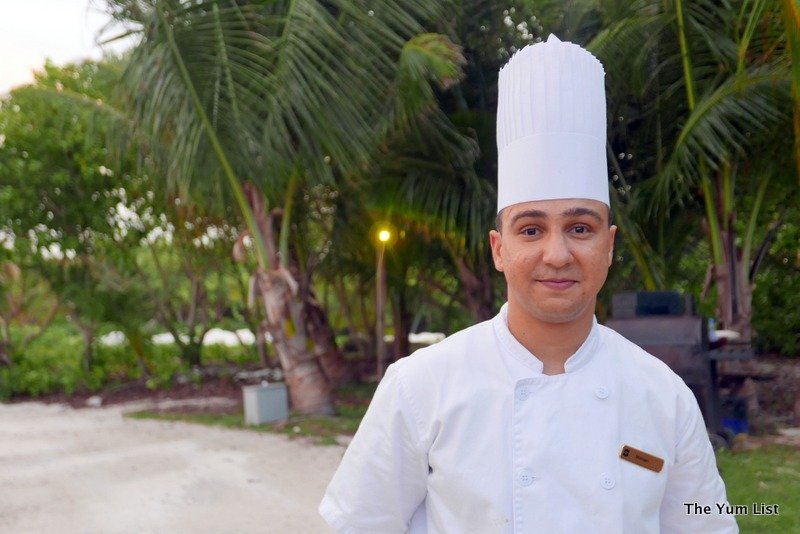 Maldives' Highest Peak
We can't resist dining on Maldives' highest peak, Mount Villingili, a whopping 5.1 metres above sea level (hee hee!). On the southern tip of the island, and within the country's only nine-hole golf course, a grassy hill is dressed with fine dining panache. Torches and globe lamps light a pathway to the crest and friendly wait staff oblige as we do a mini photo shoot before sitting down to eat.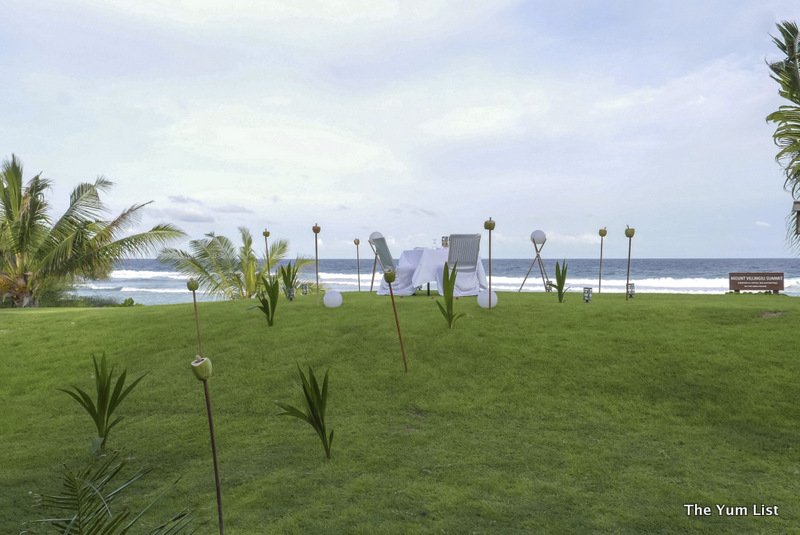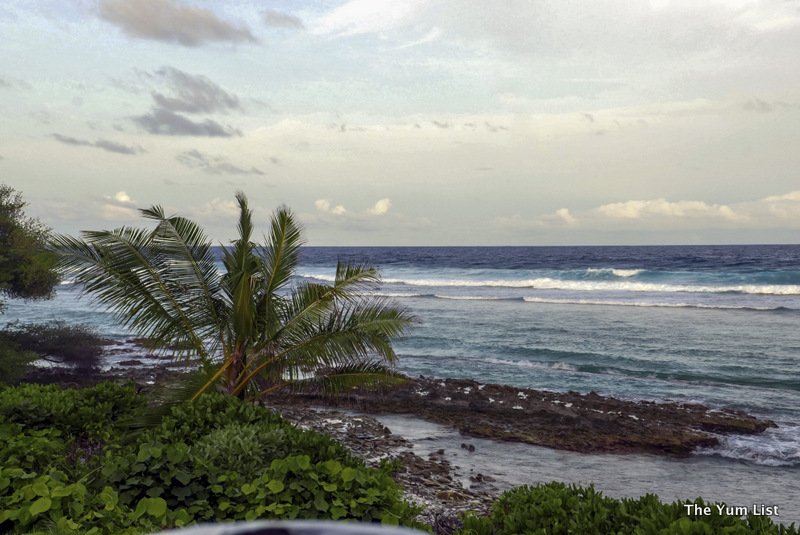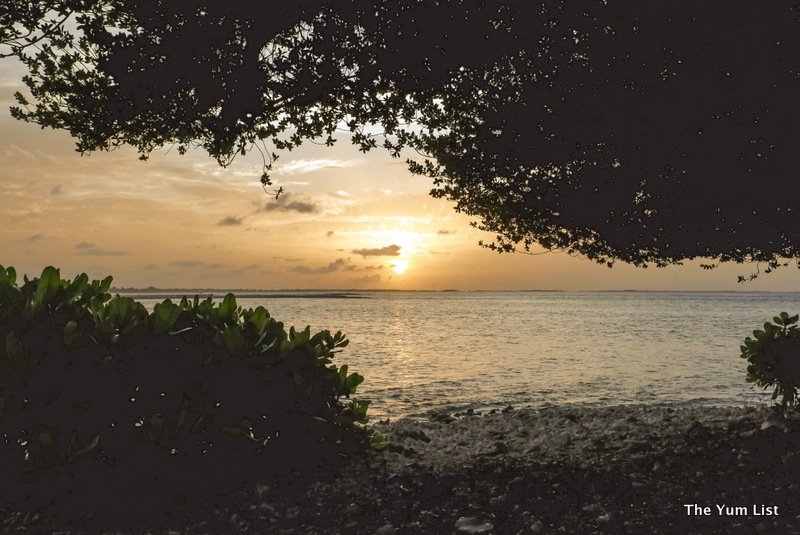 Guests can choose from a number of menus: seafood; Arabic; celebratory and Mediterranean. All feature a line up of salads, mains from the grill and desserts. The Celebratory, a mix of grilled seafood and meats takes hubby's fancy, so that's what we order.
Warm bread and water are on our table alongside some pretty floral adornment. And, when given the word, our starters come out soon after.
Starters
A seafood theme runs through the mini bowls of salads: smoked salmon and capers with mixed leaves, avocado and lemon dressing; blue swimmer crab mousse with mango and papaya salad; grilled calamari with green mango and coriander sauce; and lastly, our favourite, plump springy tiger prawns atop a miso mayonnaise and pickled cucumbers. All are fresh, and remind us of the stunning Maldivian waters that surround us.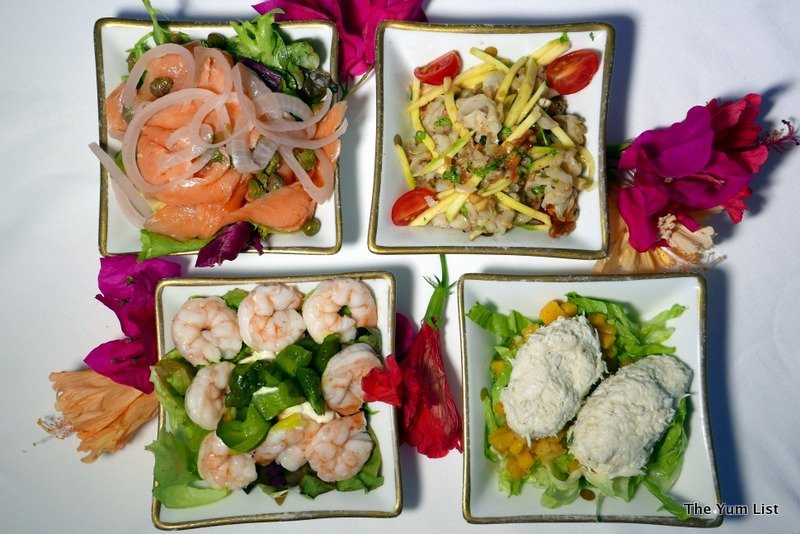 Mains
The searing of meat and smoke teases our noses and makes our mouths water as the mains are being freshly prepared by our Dining by Design chef. Hot off the grill an opulent platter of proteins has hubby drooling and me thinking that I won't need to eat any meat for a month! Premium Angus beef rib eye is deliciously charred around the edges and pink in middle. Grilled scampi are juicy with garlic butter and the white snapper that has been baked in foil is wonderfully moist and flaky. The grilled Maldivian lobster, however, is the star of the show. Red and charred, the meat is succulent with the smoky taste of the barbecue evident in the flesh.
Also just roasted are a colourful display of tomatoes, sweet peppers, zucchini, eggplant and basil, and a yummy herb baked potato with sour cream. A trio of sauces – lemon butter, barbecue and beef jus – is ready for addition as desired, but we barely touch them as the fresh produce needs nothing extra.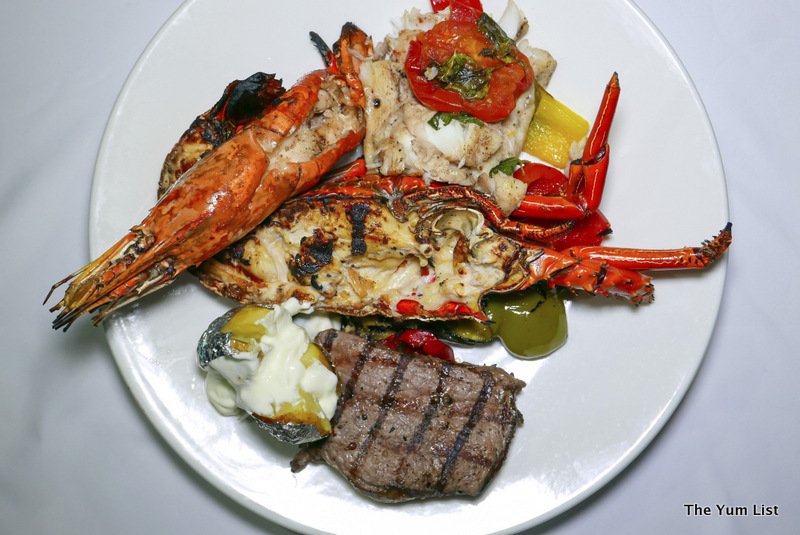 Dessert
Chocolate Five Ways is a luscious layering of mousse, cake, sauce, icing and chocolate adornment. The portion is large for its richness and we barely make it half way through. It's certainly a very generous serving and concludes our "meal on the hill" on a sweet note.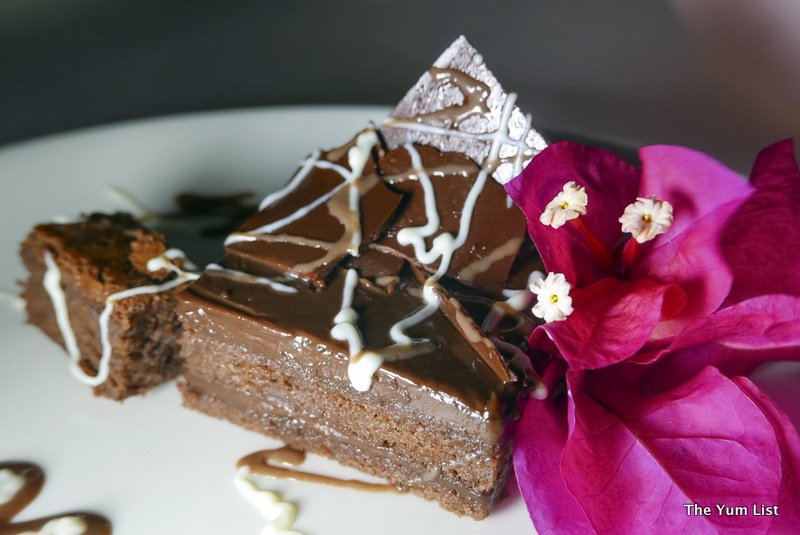 Shangri-La's Villingili Resort and Spa, Maldives
Villingili Island, Addu City 28019, Maldives
www.shangri-la.com/male/villingiliresort/
+960 689-7888