Words: Hannah Staley    Photos: Monica Tindall    Dance Moves: Caning
*** Sadly, La Mexicana is now closed.
Care for some Sake with your Tacos or Margaritas with your Sushi? If like me you answer with not only a 'yes' but a 'hell yes' then the newly revamped and rehoused partnership of La Mexicana (authentic Mexican) and Kobe (modern Japanese dining) along Jalan Ampang is a must visit.
La Mexicana Has Moved!
Regular readers of this site will be well aware that The Yum List team are big fans of both eateries. Fans don't always like change but upon entering I am bowled over not to mention extremely pleased that the welcoming vibrant and colourful atmosphere along with the excellent food and drinks menus remain. As I take in the fantastic outdoor space, generous seating area, swimming pool, beer garden and dance floor I immediately think P-A-R-T-Y. Uplifting salsa music plays in the background as Mon and Caning shimmy their way to our table. We tuck into Guacamole La Mexicana (RM28), La Mexicana's own classic Guacamole with homemade tortilla chips, and scour the drinks menu.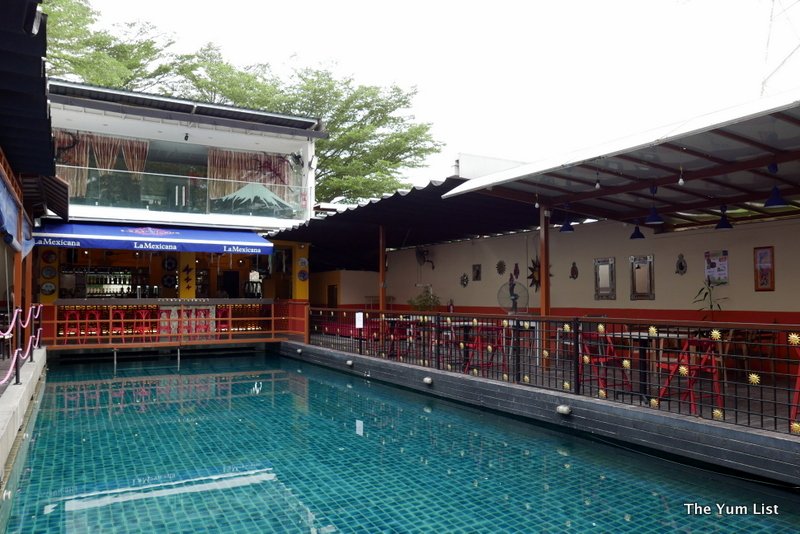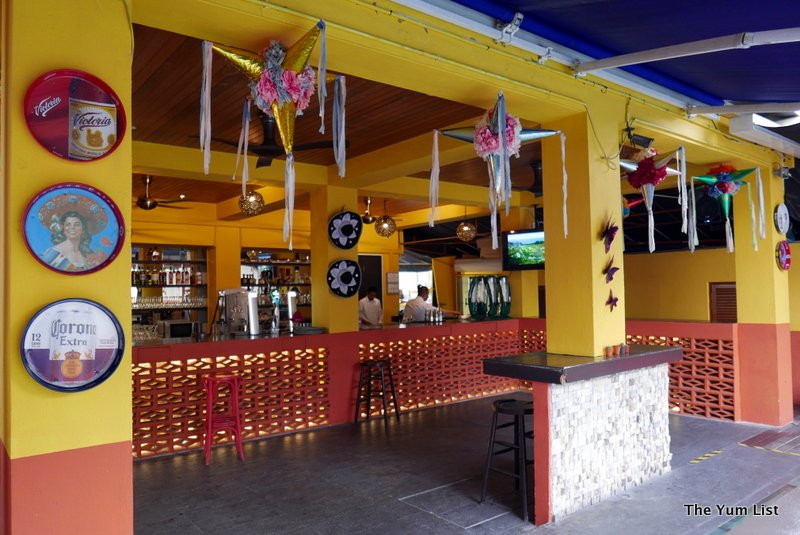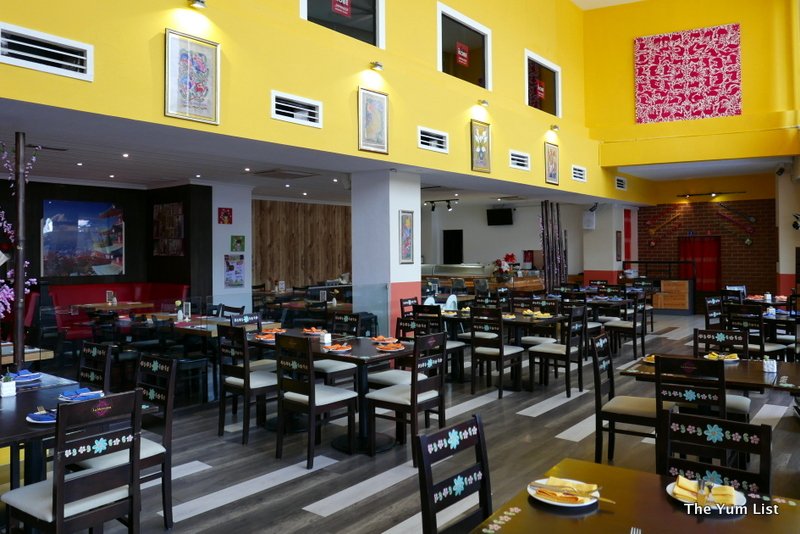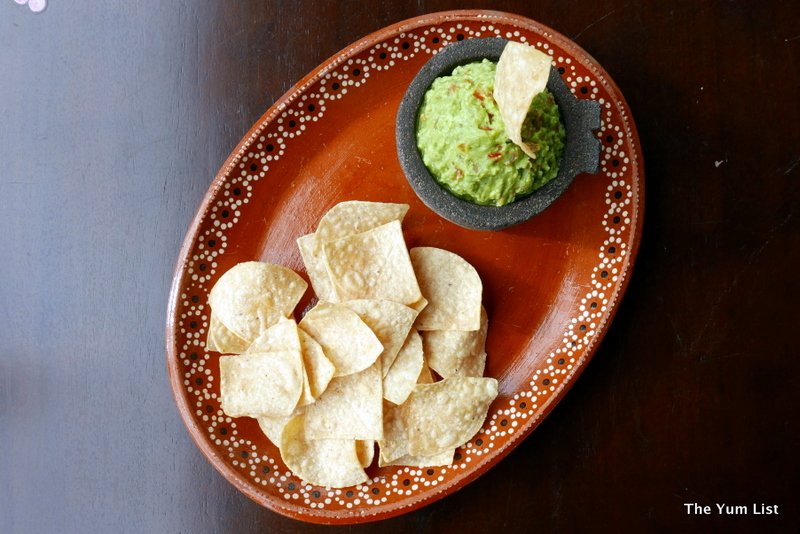 Margaritas at La Mexicana
Margaritas soon follow and we are treated to not one but four varieties: Classic, Passion Fruit, Roselle and Tamarind (RM30 to RM45), All freshly prepared on site, available frozen or on the rocks, and presented in glasses rimmed with chilli salt providing an extra bit of spice. The Classic is extremely refreshing and slips down a little too easily. The Passion Fruit is a colourful combo of tangy sweetness without a welcoming punch of alcohol. If your fancy is for something with a little extra kick opt for the Tamarind or if, like me, you want to try all four plan your visit between 5 pm and 8 pm for Happy Hour 🙂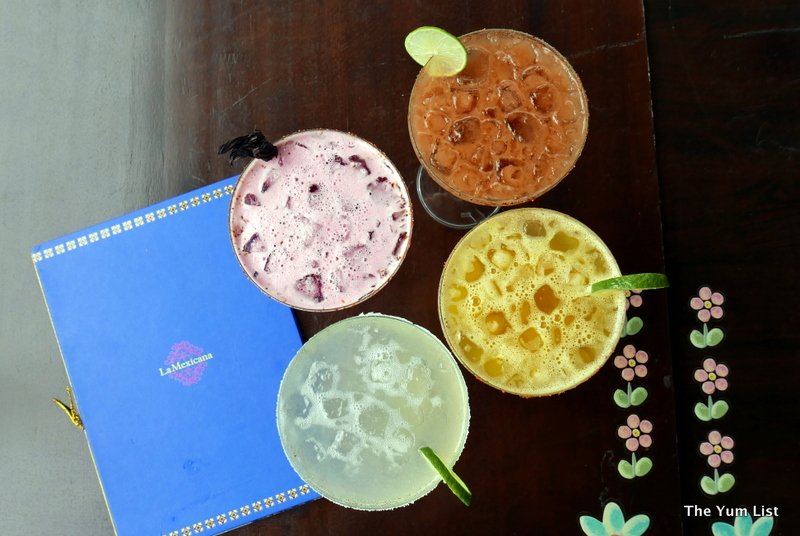 Tacos
I certainly feel happy as Tacos Carmela (RM27) arrive. Three corn tortillas stuffed with prawns in a special Chipotle chilli sauce, refried beans and avocado. The deliciously light tortillas are made in house with a tasty sauce that is on the spicy hot side.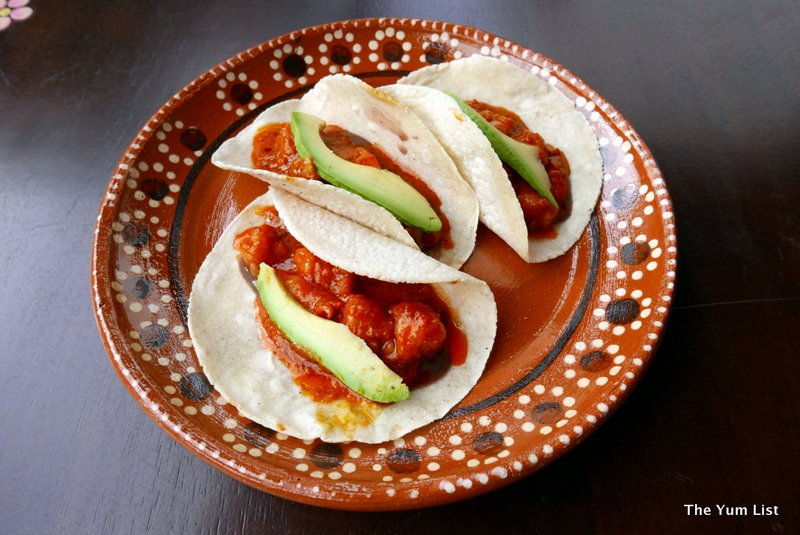 Sashimi
As a lover of seafood I'm delighted when the next dish arrives Matsu Sashimi (5 kinds of chef's selection RM88.90) featuring Prawn, Salmon Sashimi, Scallops and Red Snapper expertly presented nestled in shaved ice. The freshness is evident and the symphony of flavours play a merry tune on my taste buds. A great dish to share, it is well paired with Banshu Ichi, a dry sake served cold that is light on the palate and has a somewhat creamy aftertaste. Or, mix it up a little and try the Japanese sashimi with a Mexican margarita – a mixed marriage and fine outcome.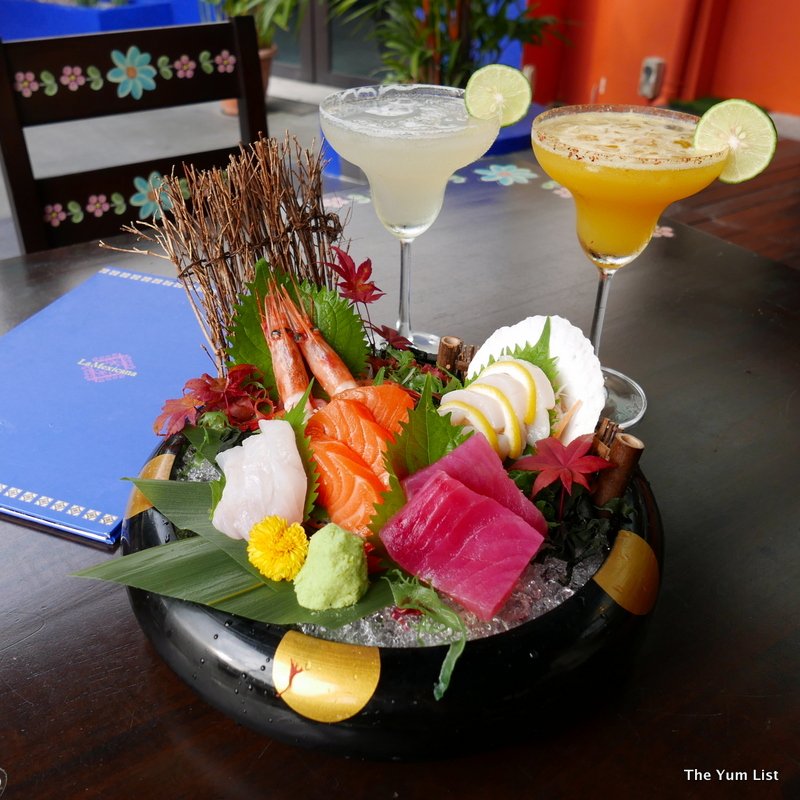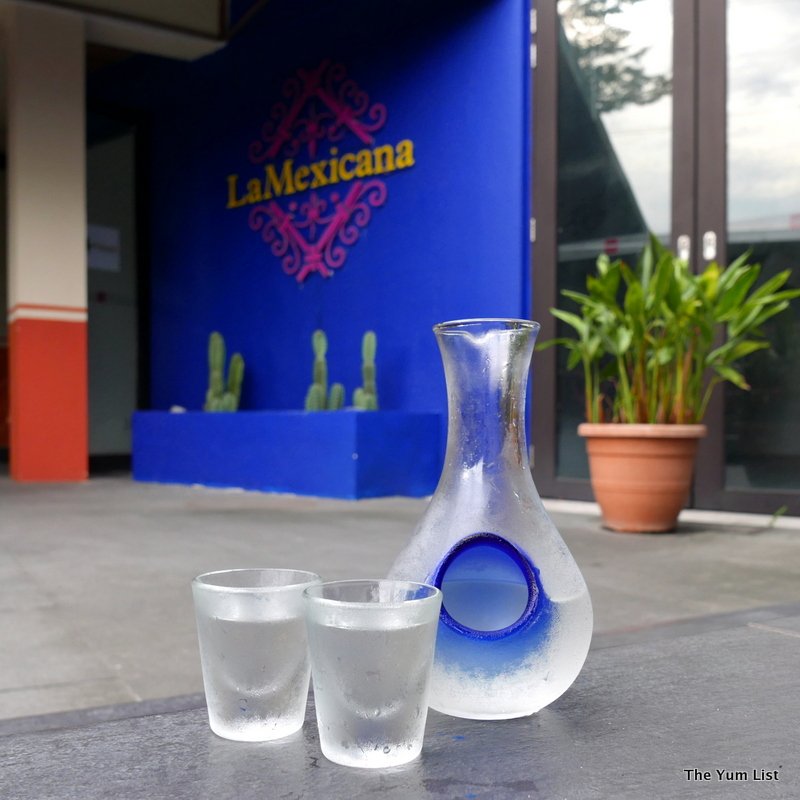 Teriyaki
Continuing our seafood adventure we try Surume Ika Teriyaki (RM 32.90). I'm starting to see a theme here, as the whole squid is served, making this another great dish for sharing. Nicely cooked it's deliciously tender. Its delicate flavours complement the bold sweet flavours from the thick sauce making it rather moreish.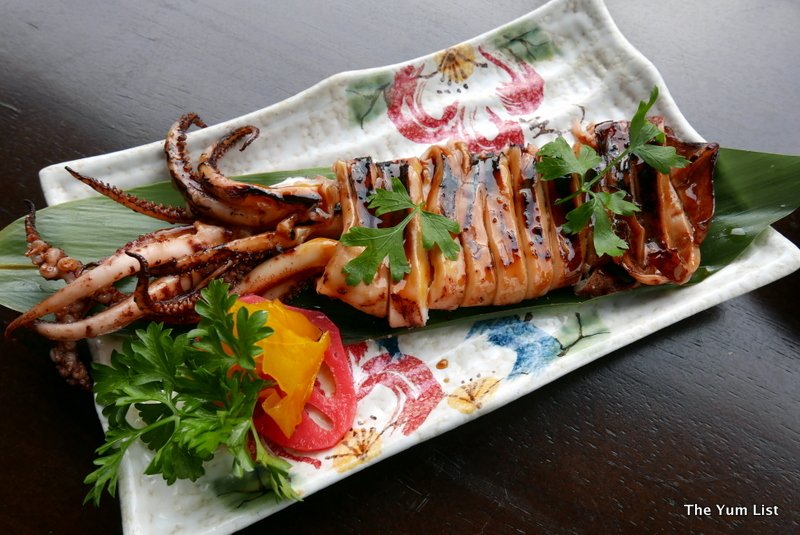 Mains
We are treated to not one but two stand out signature dishes: Filete Besame Mucho (RM85) from La Mexicana and Kobe Beef Shabu-Shabu (RM258.90 per 100g) from Kobe. The former is a generous portion of melt-in-the-mouth tender prime Australian fillet steak marinated in a delicious mix of spices, orange juice and honey cooked to order on a bed of corn tortilla with a sauce of Chile Chipotle and green tomatoes accompanied with slices of avocado and tomatoes. I have never thought to order a steak when out for Mexican but this dish combines all my favourite foods in one and cooked to perfection has convinced me otherwise.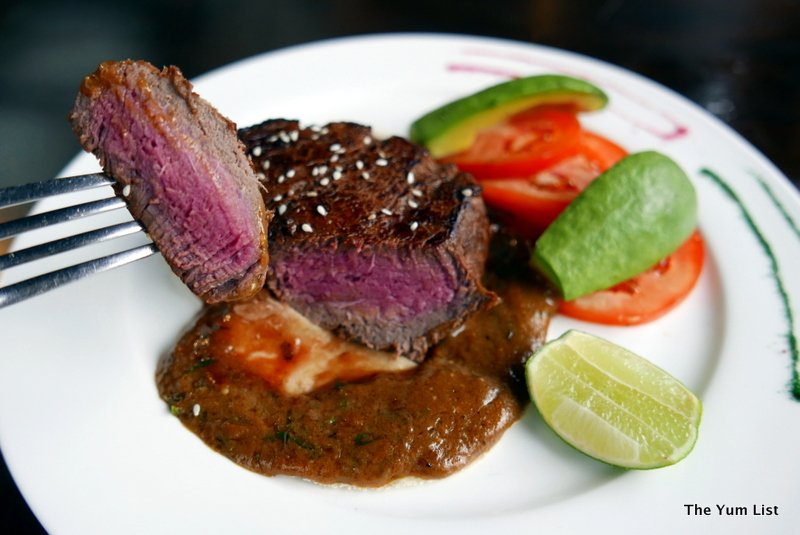 The Shabu-Shabu presents a traditional Japanese way to eat meat, vegetables and noodles via a communal pot of boiling water allowing everyone the chance to dip in. The dish gets its name from the sounds made when the foods hit the broth… swish-swish. Vegetables are added first to give the stock extra flavour followed by the thin strips of meat that you 'Shabu-Shabu' for approximately 10 seconds. I dip my meat into the accompanying sauces and note the impeccable quality and flavour due to its high degree of fat marbling and unique sweetness and aroma. The broth is light yet tasty having soaked up all the flavours of the meat and vegetables. A perfect and fun dish to enjoy with friends and family.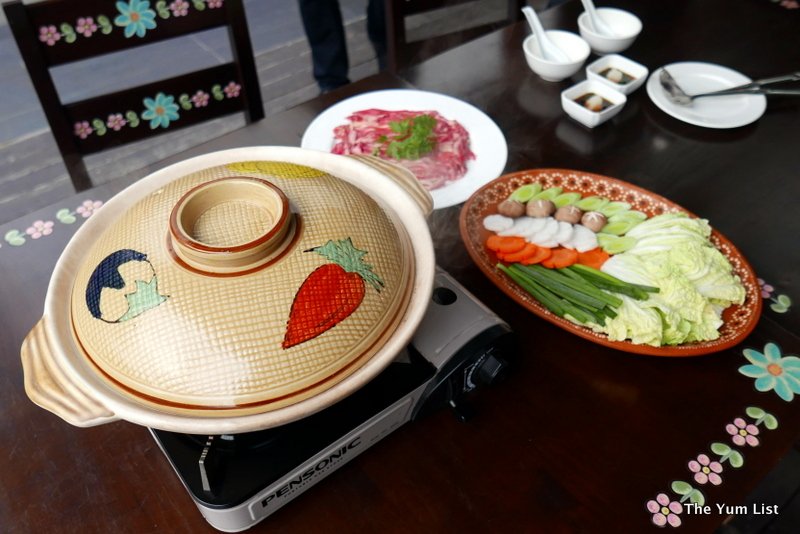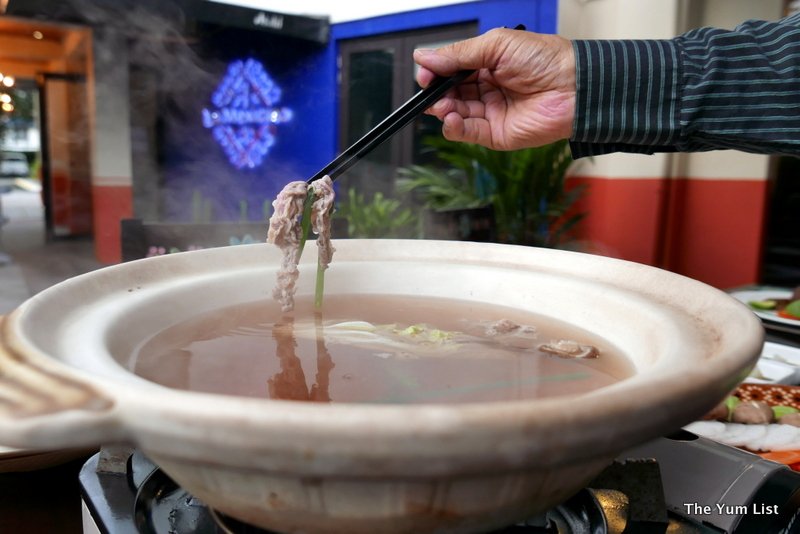 Light Bites
In a nice contrast to the main dishes just devoured we sample some smaller plates in the form of Amaeri Sushi (RM18.90), sweet prawns with wasabi rice, and wonderfully marinated sticky Chicken Wings (RM16.90) that are delicious on their own or great mates to the exquisite dishes and drinks sampled thus far.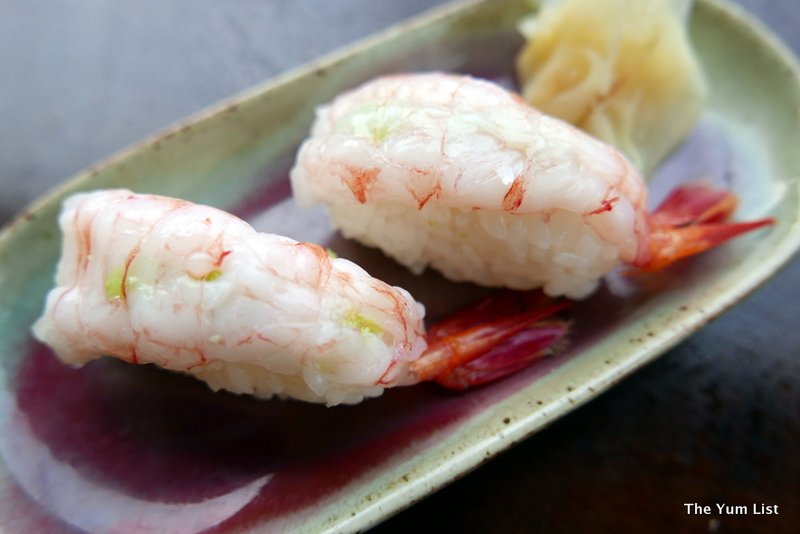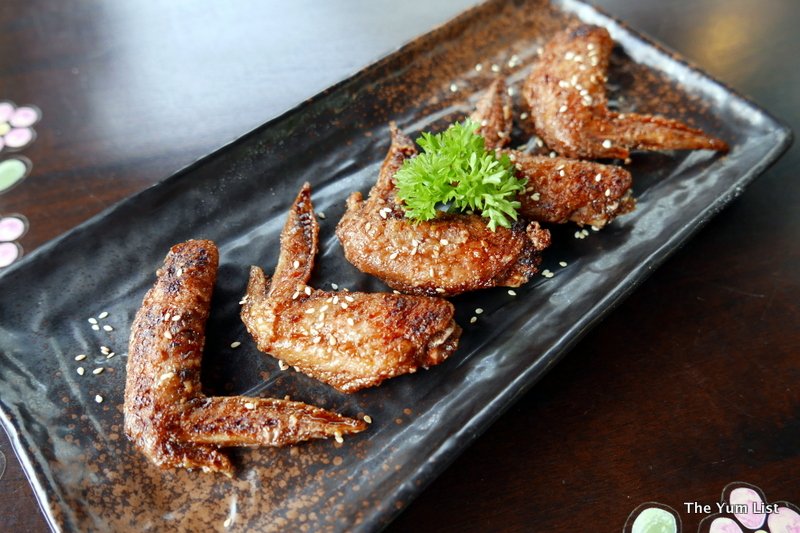 Desserts at La Mexicana
Despite our full bellies we are able to find room for dessert and are lucky enough to try two of La Mexicana's finest: Pastel De Tres Leches (RM28) and Crepas De Cajeta (RM27). The cake is soaked overnight in milk cream, evaporated milk and condensed milk resulting in a deliciously moist and sweet traditional cake topped with walnuts and peach slices – simply yummy.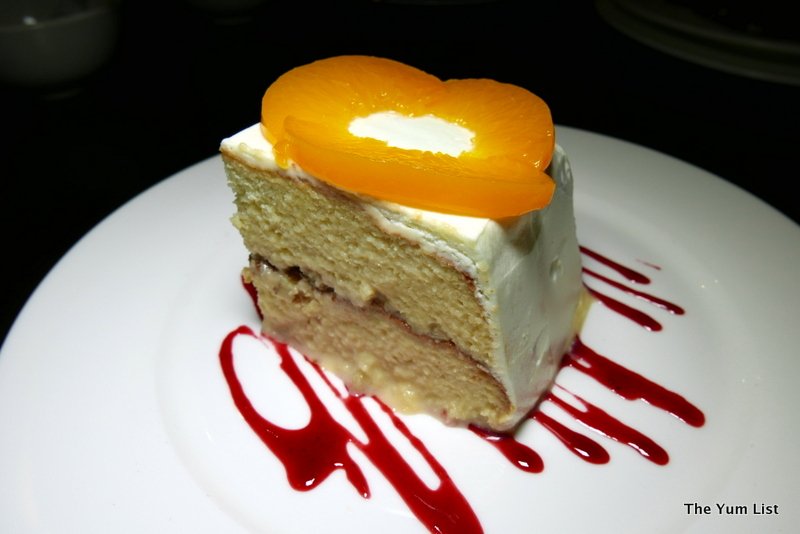 The finale sees crepes bathed in Cajeta sauce – a deliciously sweet, smooth burnt milk caramel. Every bite is special so it's no surprise when I'm told it's a house favourite. The perfect way to end a perfect evening I Cha-Cha my way home making a mental note to pack my swimwear and dancing shoes for my next visit and bring friends and family in tow.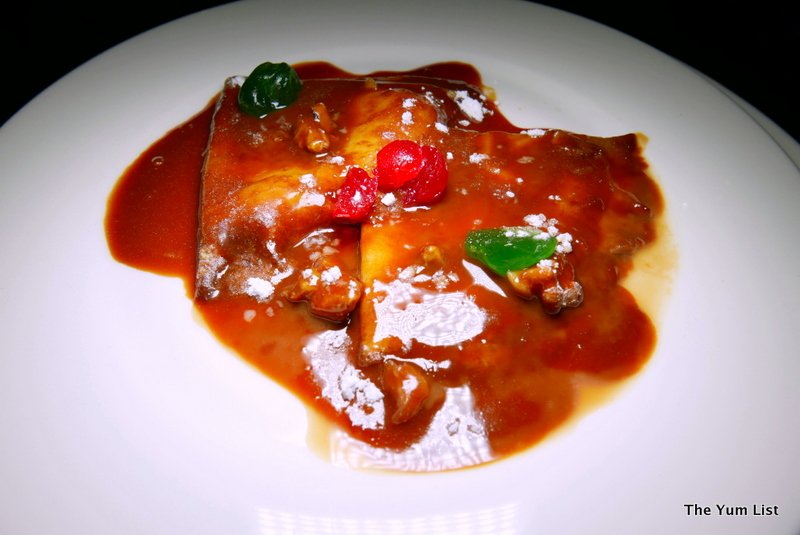 Reasons to visit: Welcoming party atmosphere and colourful decor, Authentic Mexican and Japanese dishes executed to perfection and great for sharing. Don't miss the Margaritas or Filete Besame Mucho. Best Margaritas in KL – and you can enjoy them two for the price of one during happy hours.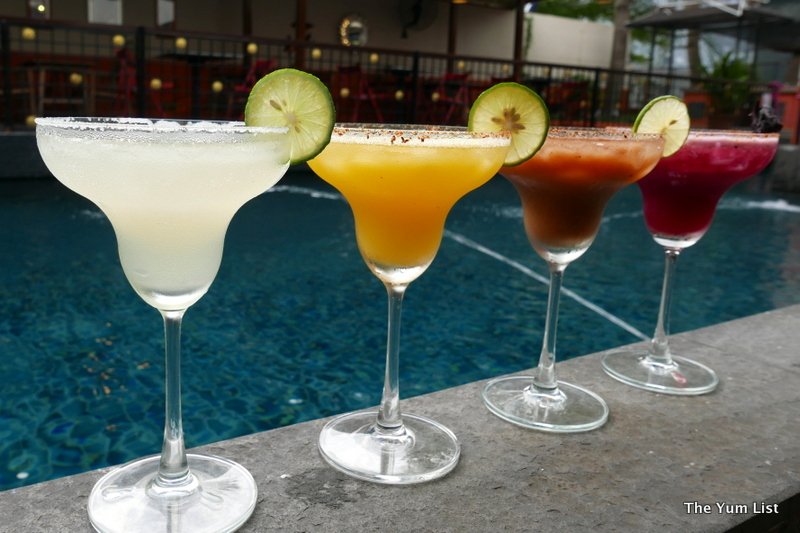 La Mexicana – Mexican Restaurant, & Kobe – Japanese Restaurant
347 Jalan Ampang
Desa Pahlawan
Kuala Lumpur, Malaysia
50450
+6 03 42666262
www.facebook.com/LaMexicanaKL/