Words: Shaun Humphries   Photos: Monica Tindall
I don't know much about rum. I know it can be spiced and I know some of the best comes from Central and South America – but beyond that I'm pretty much a rum rookie. That all came to an abrupt end on a recent balmy Friday evening during our visit to The Rum Bar KL. Opened in July and featuring over 250 different bottles of rum, I couldn't have picked a better place to start learning.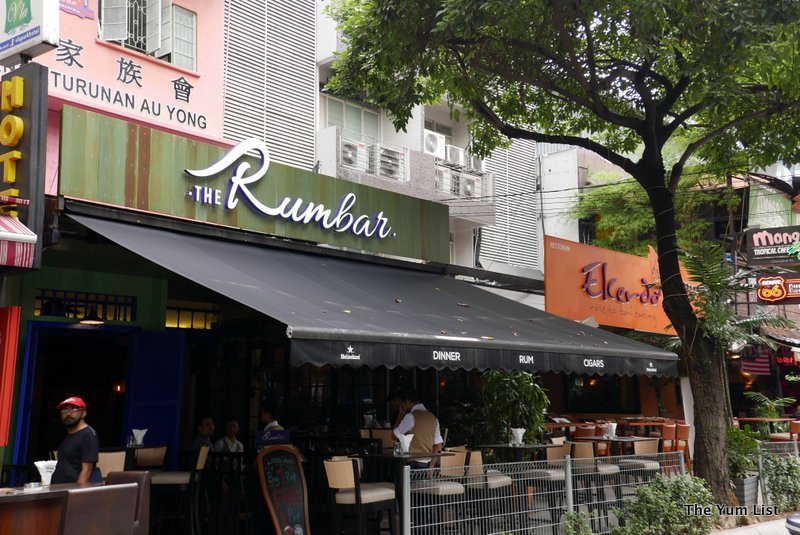 The Rum Bar KL
Offering a comfortable and breezy atmosphere, The Rum Bar KL is smack dab in the middle of Changkat and provides the perfect environment to sip on some tasty beverages. Greeted by several friendly employees, including bartender and lover of rum, Lewis, we immediately got down to business.
"Rum is a pretty new thing in Malaysia, so our goal is to educate and share all the great things that rum has to offer," said Lewis. "And it's always fun to have new drinks to try."
Rum Cocktails
We started our lesson with a few fun cocktails. First up was The Diplomat (RM48), which features a shot of Diplomatico Mantuano, a splash of Punt e Mes (an Italian vermouth), Port and Demerara syrup. This purple potion packs a nice punch, but it's not overpowering and I found it to be a dry, satisfying drink.
Also sampling from their Classic Cocktail selections, The Rum Bar Mojito (RM38), consists of Brugal Extra Dry, lime juice, sugar syrup, mint and homemade mint soda water. A very refreshing and cool mixture, I could have taken this down in one mighty suck through the straw.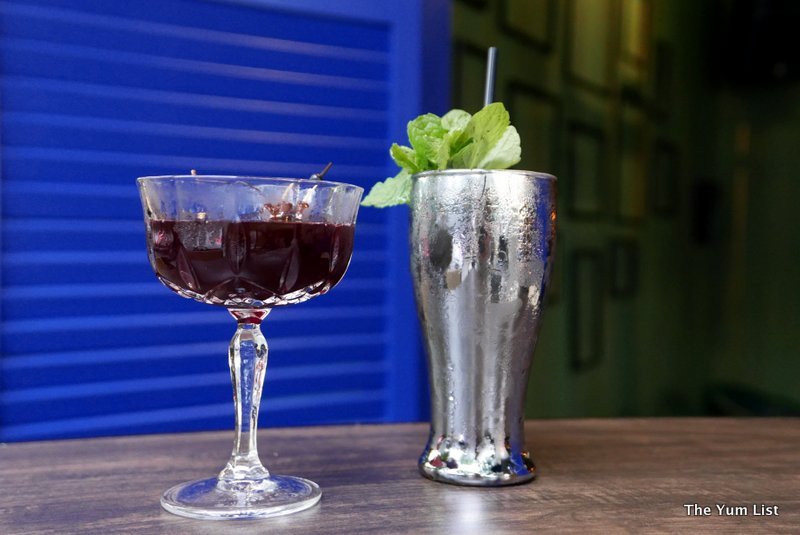 Oyster Shooters
Actually found on their food menu, the Rum Oyster Shooter (RM24), made with Bacardi rum, calamansi sorbet, Tabasco sauce and a hint of salt (made in the highlands of Sarawak), was our final mixed drink – and it was a doozy. Sweet, salty and spicy, this shot has it all including an oyster.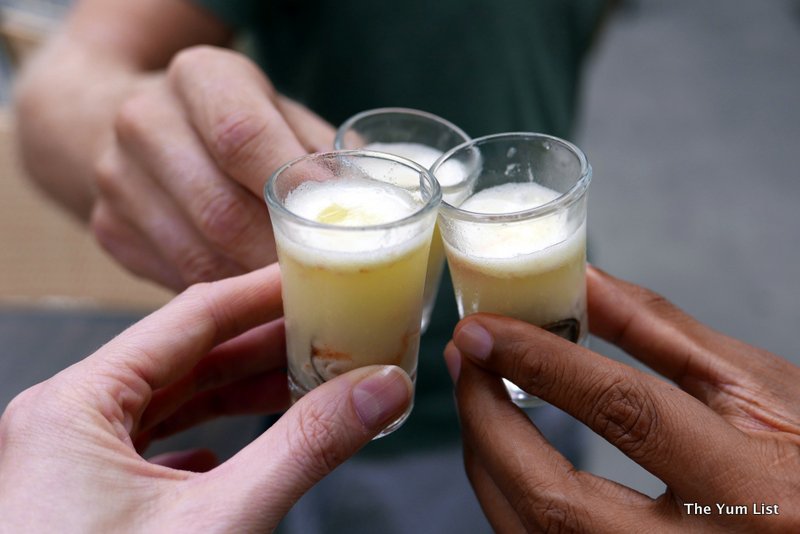 Rum Flights
With the mixed drinks and shooters down the hatch, it was time to get serious. Our first rum flight was called, "A Touch of French Romance" (RM95 for three half-ounces). Boasting rums that were rested and aged in a sophisticated French cask, we were promised "superior perfection" – and I think it was pretty darn close.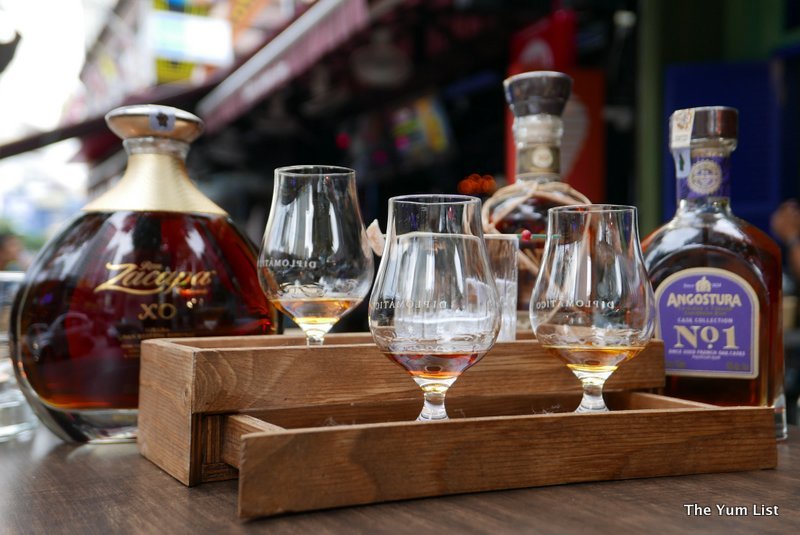 The Angostura No.1 French from Trinidad offered a macadamia and vanilla taste along with white peach and floral citrus. The finish was satisfyingly dry with lingering dried fruit. The Zacapa XO from Guatemala smelt a bit like leather, brown sugar and pipe tobacco and tasted like toffee and spicy oak with a warm finish in my throat. Our final bit of perfection was the Plantation XO 20th Anniversary from Barbados. With hints of guava, coconut and banana, I tasted vanilla and caramel all the way.
Our second flight was called "The Dead Man's Chest" (RM155 for five half-ounces) and offered the premium of premium rums on the menu. I was excited.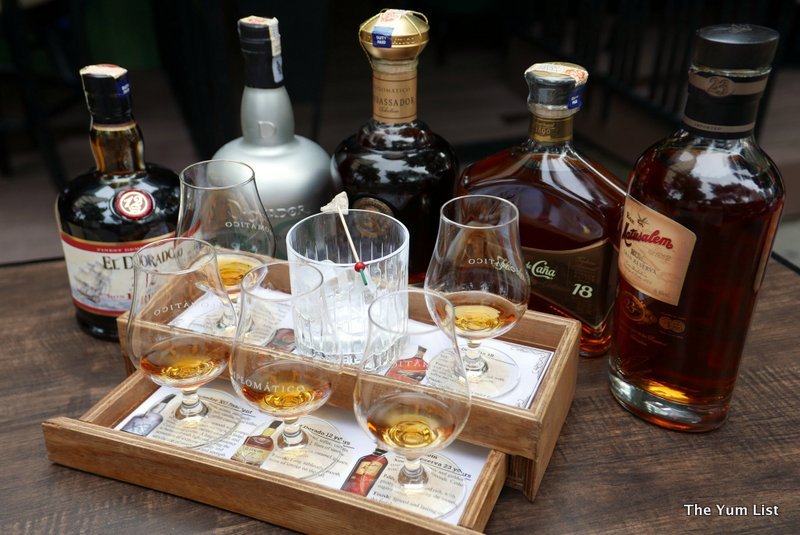 The Flor De Cana 18 from Nicaragua was full bodied and quite thick with dry oak, some cocoa, spices and toffee. This one tingled all the way down. The Matusalem Gran Reserva 23 from Dominican Republic smelled of fresh honey and golden syrup. Creamy and rich, this had plenty of fruit tastes joining the sweet, sugary notes.
The third sample was the El Dorado 12 from Guyana and was perhaps my favourite. Offering smells of sweet toffee and vanilla, the taste centred around cocoa, caramel and prunes. Finishing long and sublimely smooth, this was a beauty. The Dictador XO Insolent from Colombia had a hypnotic aroma of roasted honey, pure vanilla and mature oak. Extremely smooth with a range of exquisite flavours starting with fudge, vanilla and Colombian coffee, this rum provided a long, rich finish.
Our final delicious nectar of the South American gods was the Diplomatico Ambassador from Venezuela. Carrying smells of raisins, apricots and brown sugar, I tasted cinnamon, caramelised bananas and caramel for a very satisfying finish.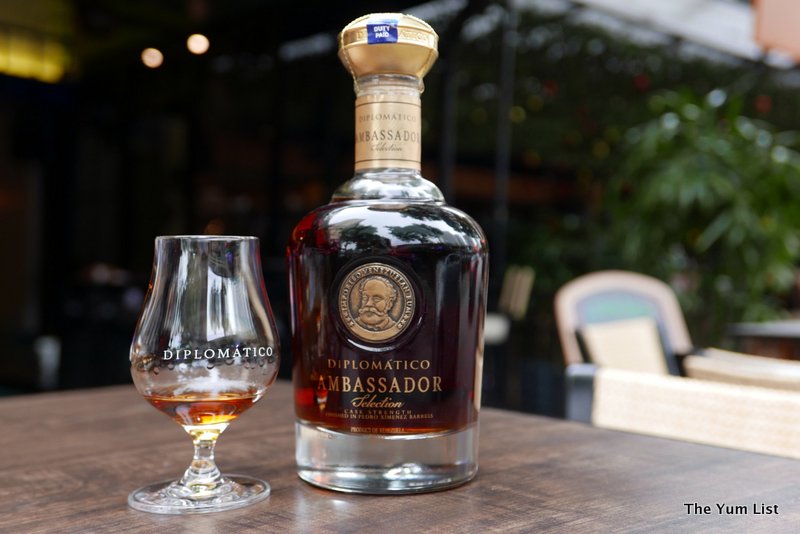 Spanish Rum
Not quite finished with our rum fix, we were then served one of bartender Lewis's newly discovered rums from Spain – a Dos Maderas 5 + 5 Pedro Ximenez (RM62 for 35ml). This double-aged, dark amber rum offered delicate hints of raisins, fig and vanilla, which made it a great way to finish our rum journey.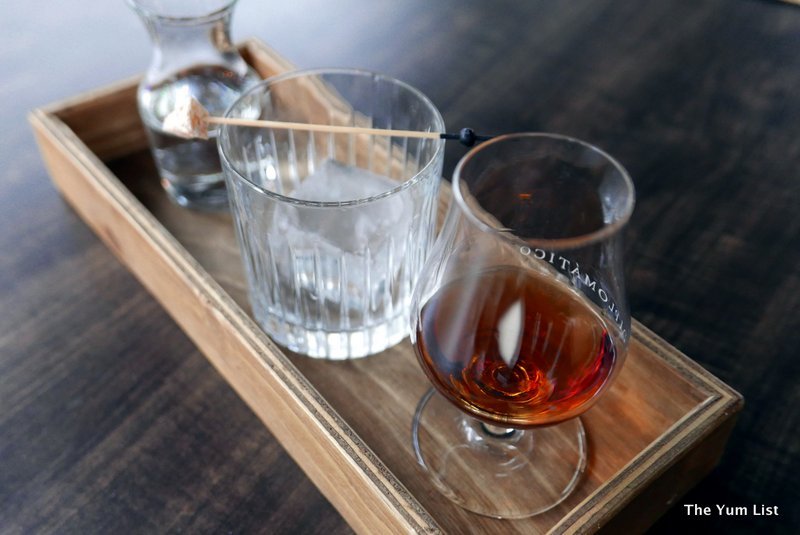 Of course like any quality establishment, The Rum Bar KL also serves up grub. But, not your every day, run of the mill pub food. We're talking high quality, delicious fare – which made me very happy.
Starters
Offering ingredients specially brought in from Borneo, we first dove into the Escargots with Bone Marrow Butter (RM32) served alongside a touch of serunding tuhau (wild ginger from Sabah), bits of Spanish bacon and homemade sour dough bread. A great complement to the rums, we slurped up every last bit of this dip-able dish.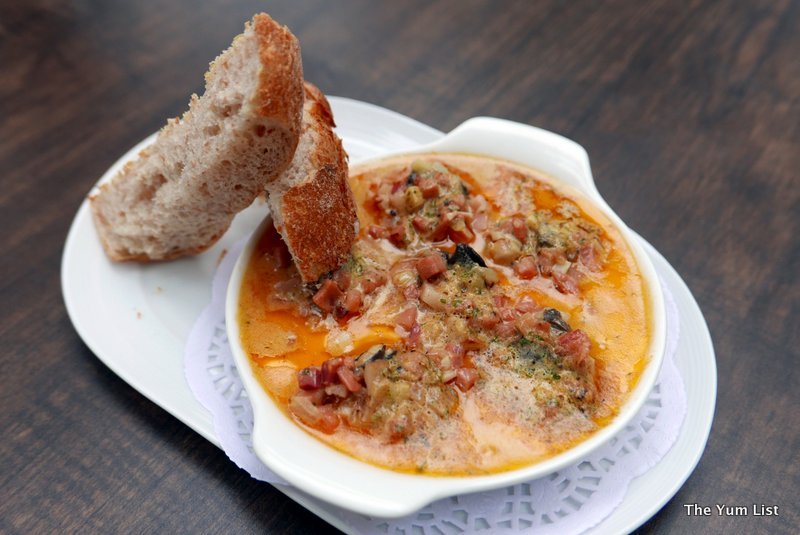 Next up was the Goose and Pork Liver Pate Brioche (RM28) served with a moscato jelly that tasted a bit like root beer to me. Light and fresh, the brioche is a good choice if you're just up for a snack.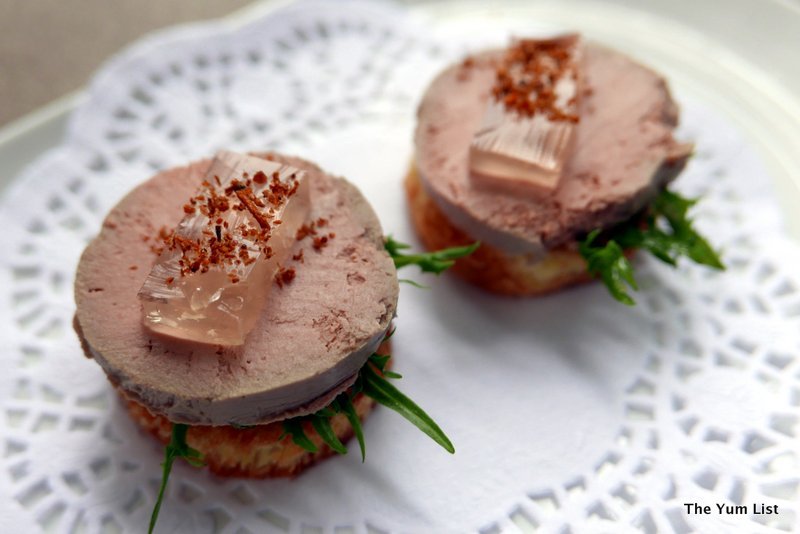 Something Fishy
The Red Snapper Ceviche (RM28) served with a fruit and fennel salad and pickled tuhau offered both salty and sweet at the same time, and was not to be confused with a generous piece (150g) of Red Snapper (RM58) served with Bario barley risotto, Sabah lobster, capsicum cream and ulam Béchamel (white sauce) – a filling meal definitely by itself.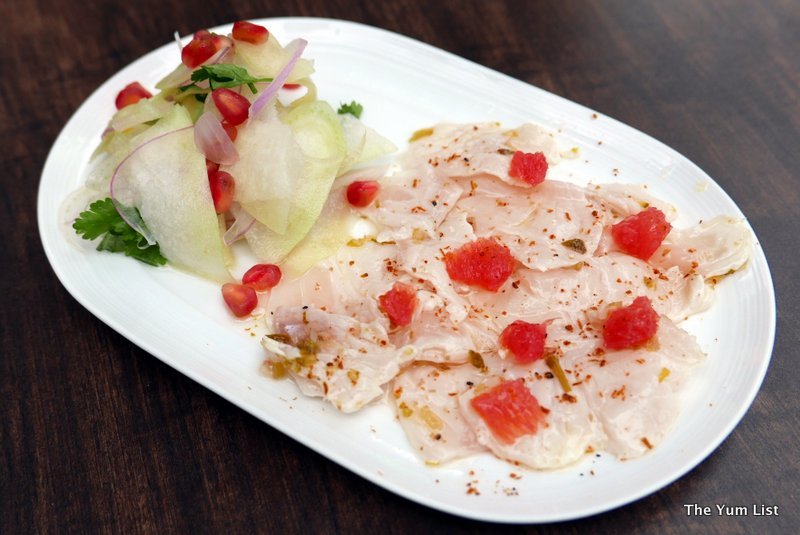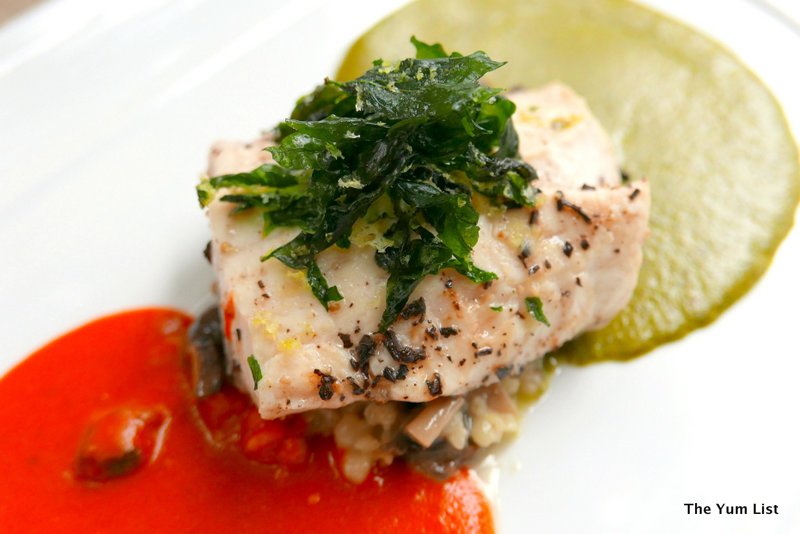 Something Heavier
Our final, and my favourite, menu item was called "A Special Treat" (RM65), which featured a plump Iberico free-range farmer sausage alongside pan-fried goose liver, truffled mash and onion gravy. A great accompaniment to the rums, this dish left my belly warm and happy.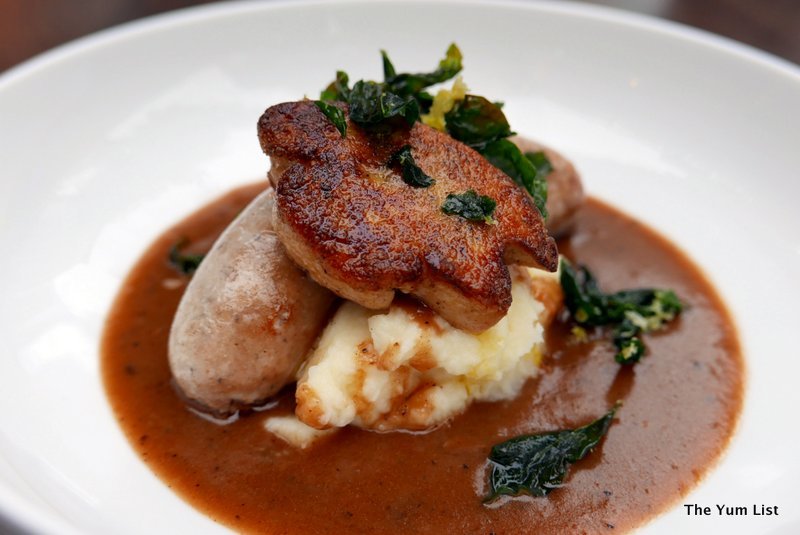 Dessert
To end the meal, we enjoyed a large piece of Banoffee Pie (RM24) infused with spiced rum and featuring a light and flaky crust. Offering just enough sweetness, the pie lasted less than 60 seconds before it vanished from the plate.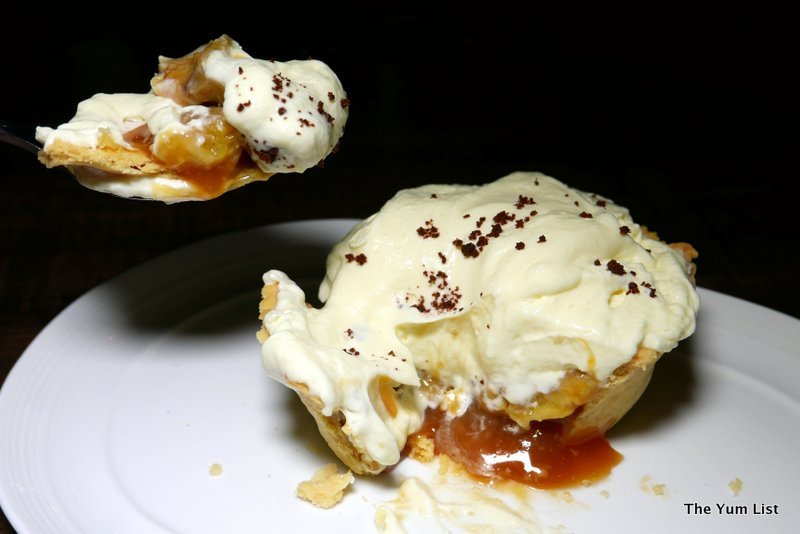 With all the food and drink gone and a solid first rum lesson under my belt, it was time to say goodbye and share my new knowledge with the rest of the Friday night Changkat crowd.
Reasons to visit: A comprehensive selection of premium rum and creative, fun cocktails enjoyed in an atmosphere that feels like the Caribbean and is guided by friendly, knowledgeable employees. The food is also outstanding and worth a visit even if you're not a drinker.
The Rum Bar KL
47 Changkat Bukit Bintang
50200 Kuala Lumpur
Malaysia
+6 03 2110 3678

www.therumbarkl.com
[email protected]