Words: Claire Matheson    Photos: Monica Tindall
Of All the Gin Joints in All the World: Pahit Gin Bar's Education in Gin
I have a confession to make. I've never really understood the fascination with gin.
There, I said it. I realise it's social suicide to admit this publically as everyone seems to rave at length about this magical spirit. Excitement often borders on questlike when people discuss the mythical search for the best gin bar in town. It's almost akin to the Holy Grail. Meanwhile, I just don't understand what all the fuss is about.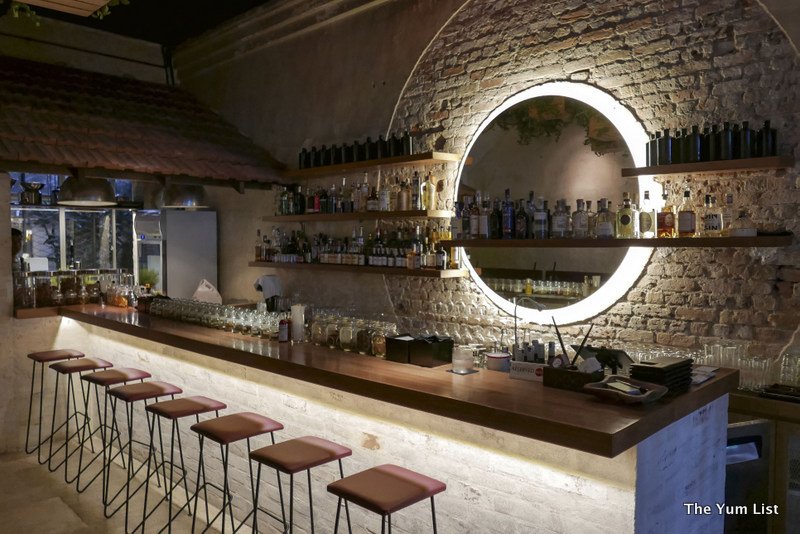 CK Kho – The Man Behind Pahit
As it turns out, there was no need to fear becoming a social pariah. All I needed was a proper education! And the best person to provide such a learning experience is none other than one of KL's most respected bartenders – C.K. Kho, the brains behind Bangsar's famed Coley, named for the world's first famed female bartender and the Head Bartender at the London Savoy during the 1900s-1920s: Ada 'Coley' Coleman.
C.K.'s own experience with gin started with glasses of Bombay Sapphire topped off with Sprite lemonade in his youth, resulting in huge hangovers and a similar belief that he wasn't a fan of gin. It wasn't until an introduction to Spanish and European gins awakened a realisation of the malleability and finesse of the spirit that he sought to open a dedicated gin bar in KL and pass on his knowledge in the art of gin drinking.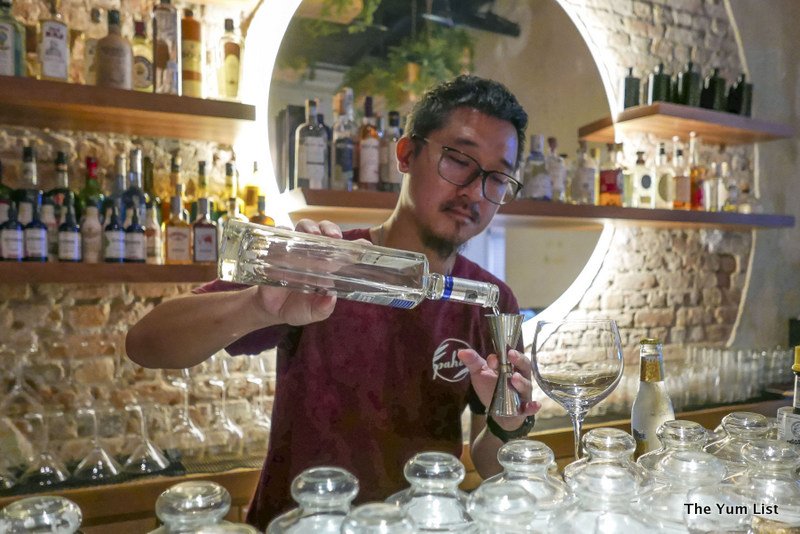 Pahit – Location
Tucked away in a quiet backstreet of Bukit Bintang is a charming Malaysian shoplot dating back to the 1920s. Pahit Gin Bar is beautifully refurbished with a slight industrial feel. Stripped back walls reveal exposed brick hidden beneath layers of paint, each one telling a different history. The decor of wrought iron and wood furniture is illuminated by natural light cascading through the shuttered doors and windows, further accented by mirrors, soft lighting and rustic planter boxes of indoor plants hanging from the ceiling. A back hallway takes you down a wonderland of hidden nooks and private hangouts, with the traditional enclosed indoor courtyard.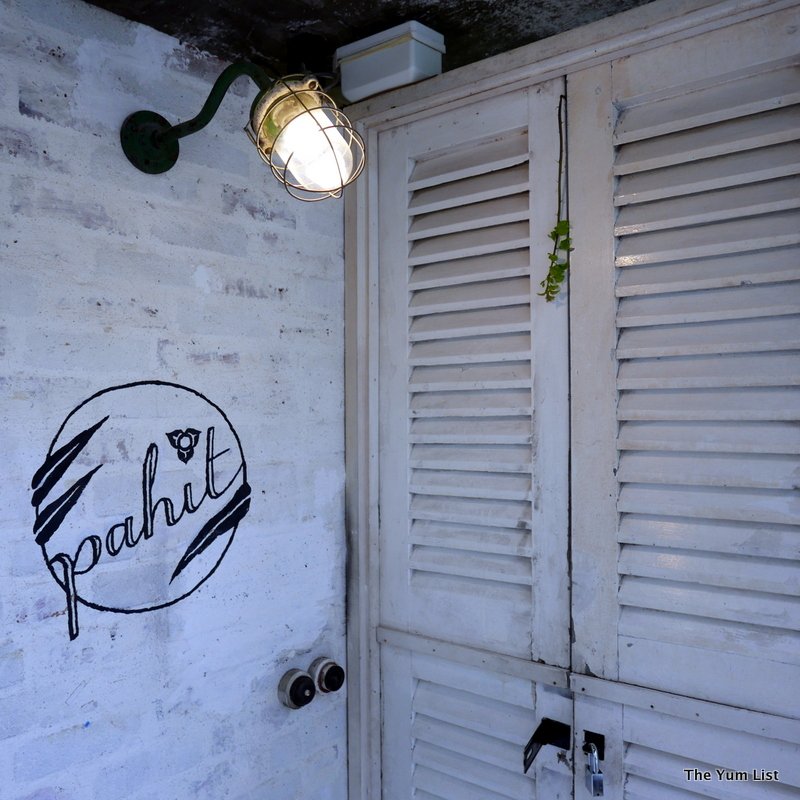 The best seat in the house is ironically, outside in the front courtyard where comfortable rattan armchairs are scattered invitingly around the brick paved exterior, the historical colonial era appeal offset by a jazzy retro turquoise neon sign. Book ahead if you want prime position as Friday and Saturday night are usually standing room only throughout.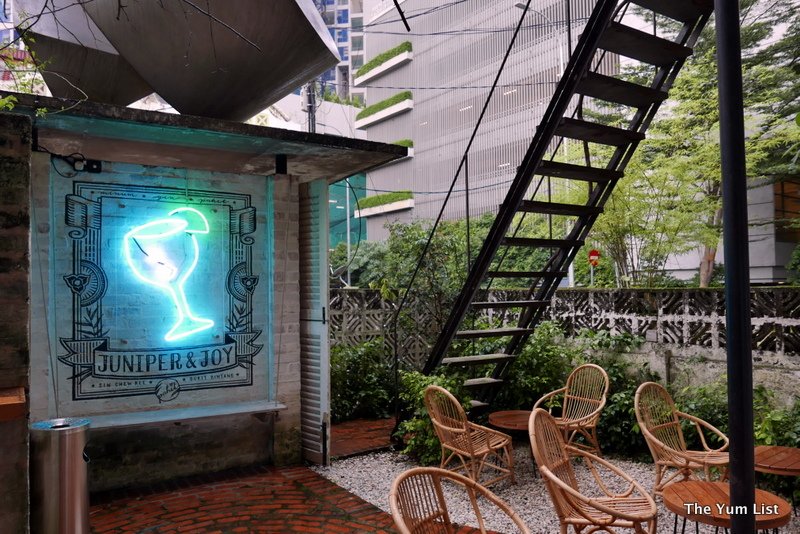 Infused Gins
C.K. begins our lesson with three infused gins – each produced through the infusion of fruit in a sous vide process so that the alcohol doesn't evaporate. Infused flavours are subtle, light and incredibly easy to drink. The first is a lychee and ginger flower mix, the slight sweetness of the lychee counteracting any bitterness of the gin, with a playful sharpness of ginger. The second infusion combines the faint tang of pineapple with the headiness of basil for a full rounded flavour. This one reminds me of my Nana's punch – tropical with the sophistication of fresh herbs. The third one is the crowd-pleasing Fruit Gin & Tonic – calamansi and assam boi gin topped up with tonic. Its comforting blend tastes like Christmas. Chatting as we sipped, we discovered the saltiness of the assam boi develops over time. What was good before is now spectacular.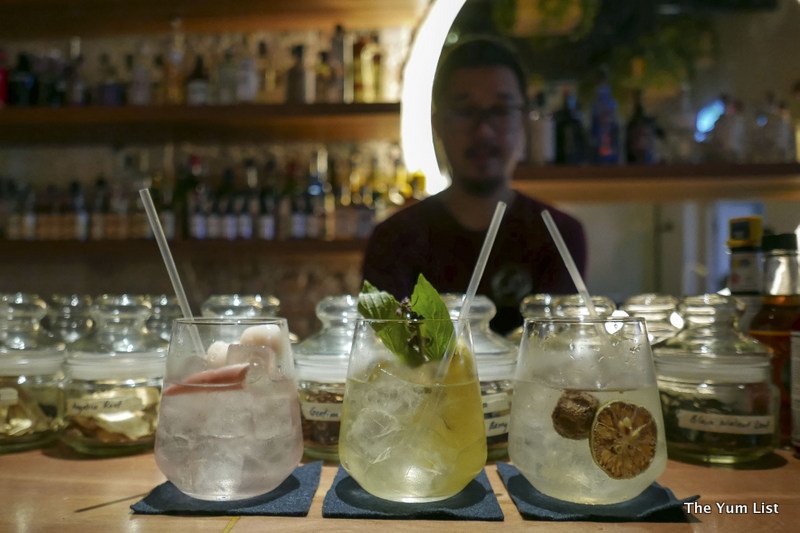 Huge Selection of Gin
Pahit (meaning bitter) serve a wide array and usually have between 70 and 80 types of gin on site at any one time, largely hailing from France, Italy and Spain. Originally carrying strong flavours of juniper berries, newer varieties are moulding medleys of new accents to the clean gin base. C.K. asks if we are ready for the tasting proper. I am about to learn that gin can be tasted much in the same way as wine, with aromas developing and deepening with aeration, revealing their personalities in layers over time. Each bottle has completely unique characteristics.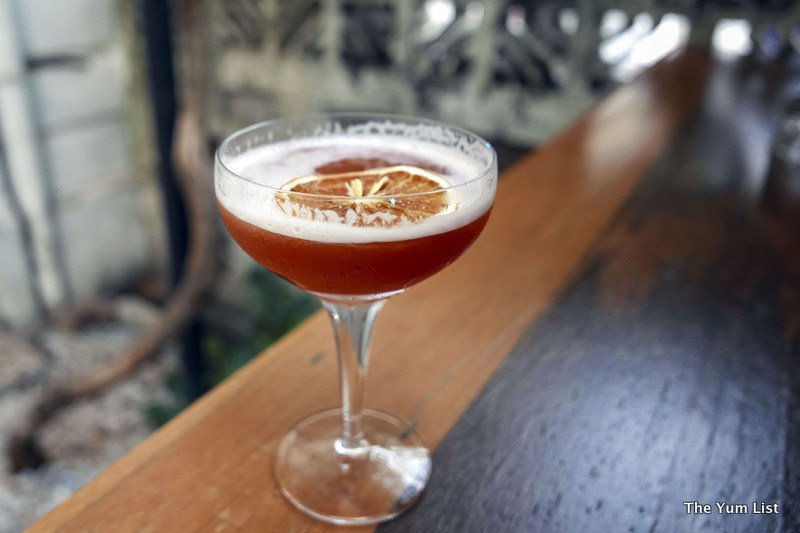 Traditional Gin
Our session is divided into traditionally made and barrel-aged gins, and we start with the clean, refreshing lightness of the traditional 'London Dry style'. The Bols Genever, made in Amsterdam, has a very smooth, classic, botanical taste with a little bit of malt on the palate. A younger blend, there is also a hint of pepper. The Fords has very distinct notes of juniper, with strong floral and citrus aromas which you should breathe in before sipping. This is gorgeous and a little bit feminine. The Gin Mare Mediterranean Gin is really something special. Distilled from olives, thyme, rosemary and basil, each herb can be clearly picked. Very smooth and savoury, it combines the best flavours of Italy and Spain and makes me hungry for olives!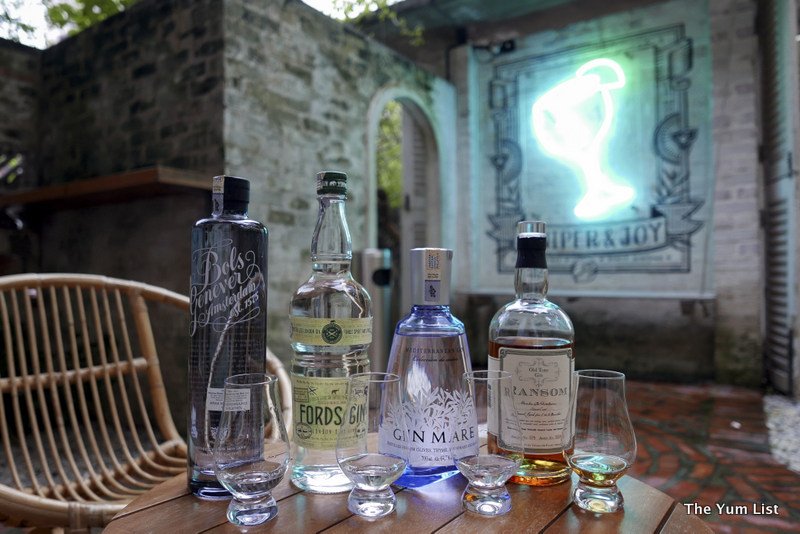 Jumping the divide between the two categories is the Old Tom Gin blend from the Oregon based Ransom artisan distillery and is a good 'go-between' the two categories. Made from malted barley and corn, it is aged between three and six months in wine barrels, carrying strong tones of juniper, orange and lemon, with a complex array of herb undertones: coriander seeds, cardamom pods and angelica root, making it all-at-once smooth yet sharp with a long finish on the palate.
Barrel-Aged Gin
From the full barrel aged category, we taste four bottles which are all darker, the wood softening and adding depth to the flavours. The Citadelle Reserve Gin from France has a total of twenty-two (yes, really) botanical notes, ranging from the ever present juniper and more common almond, to the more unique cardamom and liquorice, to the rarer violet, cassia and cinnamon, and the downright surprising additions of yuzu and fennel. Yet all these competing flavours seem to work together flawlessly, leaving you salivating.
Rogue's Pink Spruce Gin tastes exactly how it sounds – like Oregon Spruce Pine Trees. The Platinum award winner is heavily infused with cucumber and has a comforting burn down the back of the throat. The West Winds hails from the Margaret River in Australia and completely captures the taste of my homeland. With wormwood, strawberry gum, river mint and wattle seed, like any eucalypt blend it heads straight up your nose and fills your sinuses with the clear, fresh scent of Australian herbs. Softer, yet well-rounded and mature. The St George Dry Rye Reposado Gin is the powerhouse of today's tasting. Aged for a year and a half in French and American casks, it hits your palate early and with strength. It has a nose that develops after aeration and is a good choice one for the whisky drinkers looking to experiment with a bolder gin.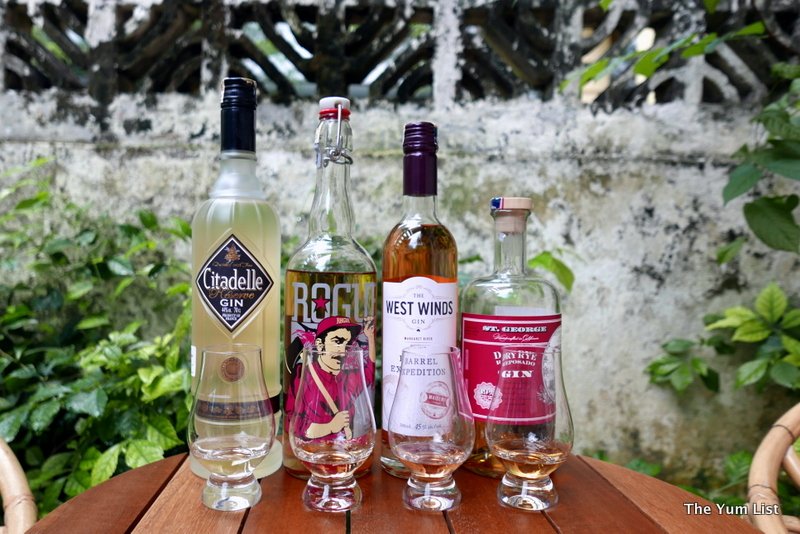 Japanese Gin
For a final exultation in the tasting, C.K. pulls out a bottle of Ki No Bi from The Kyoto Distillery. A dry gin with floral rose notes, its name translates to 'The beauty of the seasons'. Distilled from a rice wine spirit without any of the sharpness, sweet yuzu is beautifully layered with hinoki cypress woodchips, sansho pepper and gyokuro tea. Gins seem to delightfully capture the essence of their origin and this is the perfect example. It is Japan in a bottle.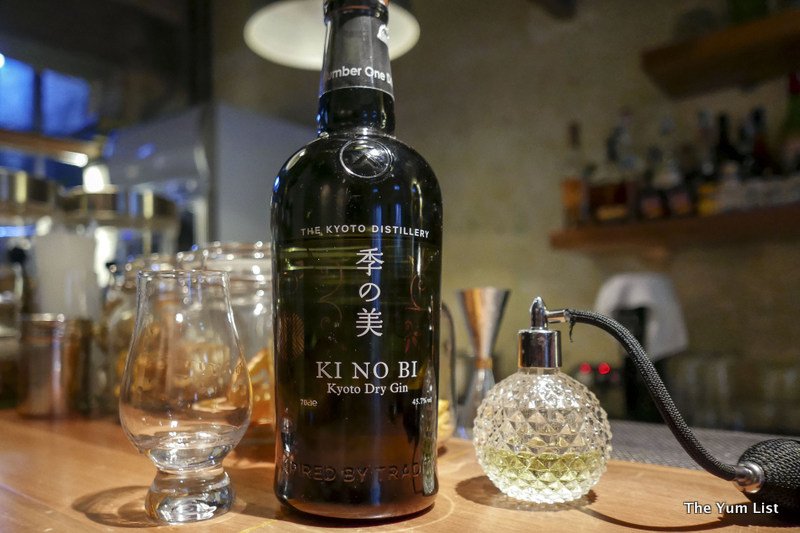 Martini Flight – Gin Through The Ages
In a final flourish, C.K. produces his 'Martini in Flight' – a lesson in Martinis throughout the ages. Beginning with the older version, slightly more vermouth is added to the gin base to make a slightly sweeter, more palatable and balanced cocktail. The middle version, drunk through the 1950s and 60s is still a bit sweet but with more bite. While the modern version, in a nod to James Bond's shaken not stirred preference, makes me wince. Powerful, sharp and dry, it is for those with a high tolerance for liquor. The juxtaposition of the three is startling. Not only have I been lacking in a proper education in gin all these years, I've been ordering Martinis incorrectly as well. We whole-heartedly agree with C.K., extra dry is not the best way to drink your gin. The 50s and 60s win this round.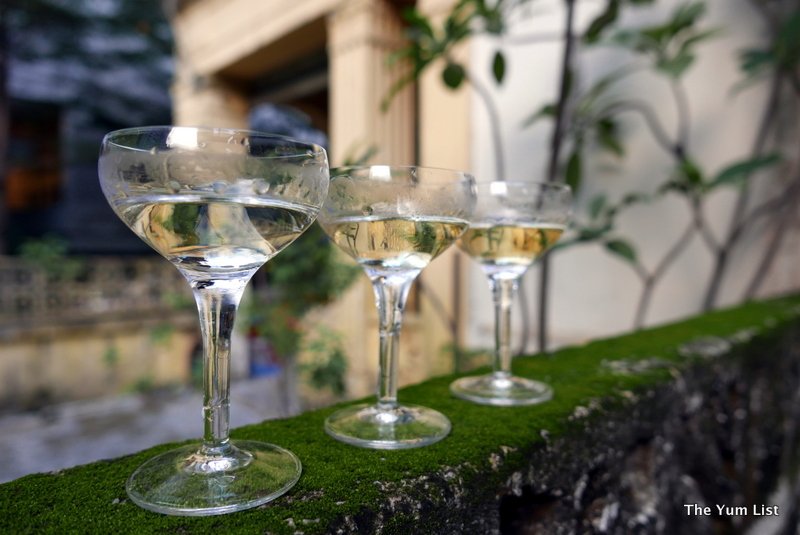 Of all the Gin joints, in all the towns in all the world, you should walk into this one. But be aware, no food is served on the premises, so you will need to come with an already full stomach, or plan to adjourn for dinner before returning later in the evening! Pahit is closed on Mondays and open from 5 pm all other days. Parking is very limited, but the decision not to drive will prove a good one. Infused gins are priced at RM26 each, and all other gins range in price and availability depending on method and origin.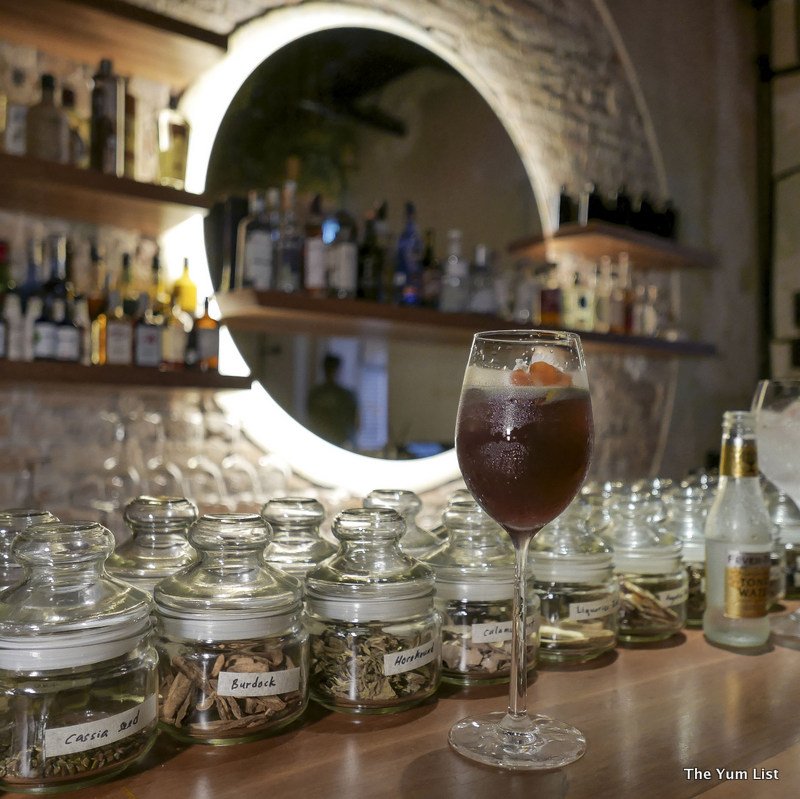 Reasons to visit: The calamansi and assam boi infused gin is sensational, while fingers of Fords Gin and the West Winds are a great choice. Personally, the olive and rosemary savoury notes of the Gin Mare and the tea and floral tones of the Ki No Bi are spectacular choices. Gin tasting flights based on label and also time are awesome. Very cool setting.
Pahit, Gin Bar
3 Jalan Sin Chew Kee
Kuala Lumpur, Malaysia
+6 03 2110 0776
www.facebook.com/barpahit/