Words: Claire Matheson    Photos: Monica Tindall
This was it. My golden ticket. My Willy Wonka Chocolate Factory, Veruca Salt "I want it now!" moment. That invitation I'd been waiting and hoping for a long time to receive. The email from my editor Monica read "Do you have the time and the liver?". I didn't have either, to be honest, but every adventure requires a first step and this was a door worth going through.
Ultimate Cocktail Tour KL
What, you may ask, was this big event? Why, none other than the Ultimate Cocktail Tour hosted by the KL Bar Awards. A sneak peek backstage pass for judges, hosts and a select group of media preceding the week-long celebration of the awards proper. Only a very small number of invitations were given out, and I was going. To say I was excited was a masterpiece of understatement.
The Bar Awards KL
The coveted Bar Awards are an awards festival seeking to "bring people together to celebrate achievement and excellence within the bar community (and to get a little drunk)." Their purpose is to build recognition and awareness of the best bars and bartenders in the Food and Beverage (F&B) Industry as voted on by a panel of industry experts.  Founded by Tron Young in Singapore in 2014, The Bar Awards now host annual awards in Singapore, Hong Kong, Bangkok and Kuala Lumpur. While very familiar to the who's who of bartending in KL, most people in the general public may not know of their existence. But when industry people can't stop talking about certain bartenders and their skills, the rest of us need to sit up and pay attention, clear our calendars, and start making plans.
So through the rabbit hole I eagerly tumbled. The brief was to congregate at Coley in Bangsar for our first stop of the evening. After this point, Tron would gleefully take us on our magical mystery bus tour, with finalists being revealed along the way. Having just recently undertaken a lesson in gin drinking at Pahit by the master himself, C.K., I was keen to explore his more established and well-known bar Coley, named for Ada "Coley" Coleman, the world's first famed female bartender. Utterly charming the vintage feel echoes through every detail: laminate countertops, retro fabric bar stools and wall-paper, crystal glasses, with sustainable metal straw stirrers for your drink. The drinks are the stars of the show, and have their own spotlights to illuminate the production process.
My attention was drawn to the curious display of accumulated Angostura Bitters bottles adorning the top shelf of the bar. If the rumours are to be believed, there is a tradition born in Malaysia among bartenders that has since spread around the world involving this spirit. I will let those in the profession educate you on the ritual, although I will comment that the display is something tantamount to Coley lighting a beacon in their window to welcome their fellow counterparts; an imperceptible gentleman's tip of the hat to those in the know. I meet bartenders Caden and Loco and the latter immediately handed me a Gin and Coconut (RM20) made from Beefeater gin, coconut water, fresh coconut shavings and lime peel. Fresh and light, the natural sweetness of the coconut offsets the slight bitterness of the gin. I think this will become my new go-to.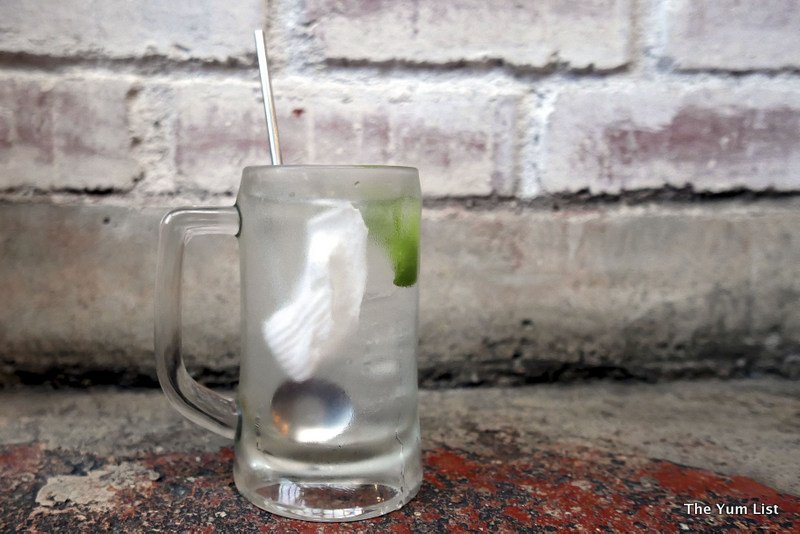 Having polished off my Gin and Coconut far too easily, I sought Loco out for drink number two. He surprised me with a Truffle and Jade (RM42) from Coley's signature series: truffle infused vodka, sweet basil muddled throughout, foamy egg whites and a garnish of pink peppercorns floating in a basil leaf boat. Basil is not often chosen as a cocktail garnish, let alone key ingredient, yet has the unerring ability to always take an everyday flavour to sensational levels.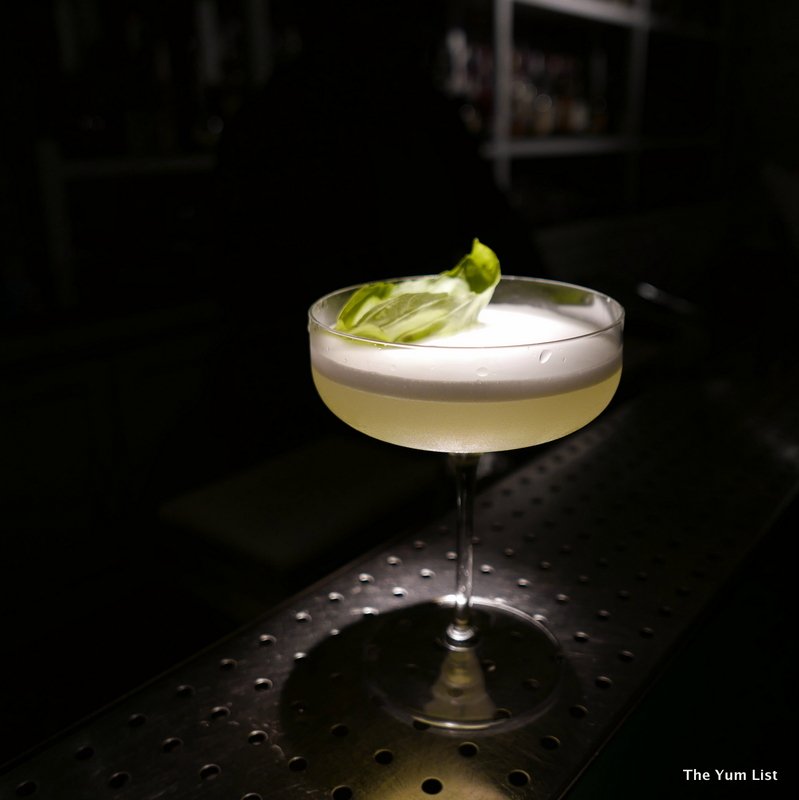 As our first stop of the evening, Coley was serving dinner. A wise choice on the organisers' parts. To line our stomachs we were treated to an informal buffet to ward against the onslaught of alcohol to come. Lightly fried calamari and chicken strips with a Malaysian spice medley batter, fresh tomato salad with parsley and a balsamic dressing atop a range of locally grown varietals and a creamy warm mango potato salad were served first. Then, after we'd practically licked our plates clean we were treated to round two: Mexican shredded beef on crispy corn tortilla, button mushrooms in a light butter sauce, and one of the best chilli and tomato seafood stews I've ever tasted, full of mussels, squid, fish, onion and potato, with fresh crusty bread for mopping up the extra sauce. Both delicious and filling.
The People Behind The Bar Awards KL
Between mouthfuls, I chatted with hosts Tron, Angel Ng and Kuok Meng-Chao as well as a number of KL's media elite. One of my first reviews for The Yum List was of Angel's PS150 Bar in Petaling Street, and she was exactly as I remember, dry, laconic and enviably bad-ass. Having worked exceptionally hard to carve out her highly-regarded success in the industry, she spoke candidly of her recent exploits and ventures to come. Watch this one ladies and gentlemen. She has big plans for global domination. Any who know her would expect nothing less. Meng was introduced to me as the man behind Smith St Taps in Chinatown, Singapore – an innovative conversion of a hole in the wall hawker market space into one of the best craft beer on tap locations in South East Asia. Quiet yet cheeky, his entrepreneurial skills are nicely balanced with an intelligence and humour. Next time you're South of the border, make sure you pay him a visit. Lastly, our fearless leader Tron, a man whose current enterprise is based around facilitating South East Asia's biggest cocktail parties. Chatty, bubbly and infectiously fun, it is no wonder that Tron has been able to bring together the best bartenders in the region to become one big family under the guise of shared achievement and friendly, elevating competition. His influence continues to expand ever outwards.
One For The Road
After watching Loco and Caden adeptly make a number of equally impressive cocktails, we decided we had time for one final round before our tour bus came to whisk us off like a pumpkin coach into the night. I skimmed the menu and saw it. It called to me. The Paradise Lost (RM52): floral and fruity Ford's Gin, Strawberry and Ginger Spritz, topped off with Torresella Prosecco and slices of dried strawberry. There wasn't an ingredient I could fault. Personally, I prefer dry Champagne and sparkling based cocktails over any other, but this had the added benefit of having one of my most oft-chosen gins and was also pink. It was my nirvana.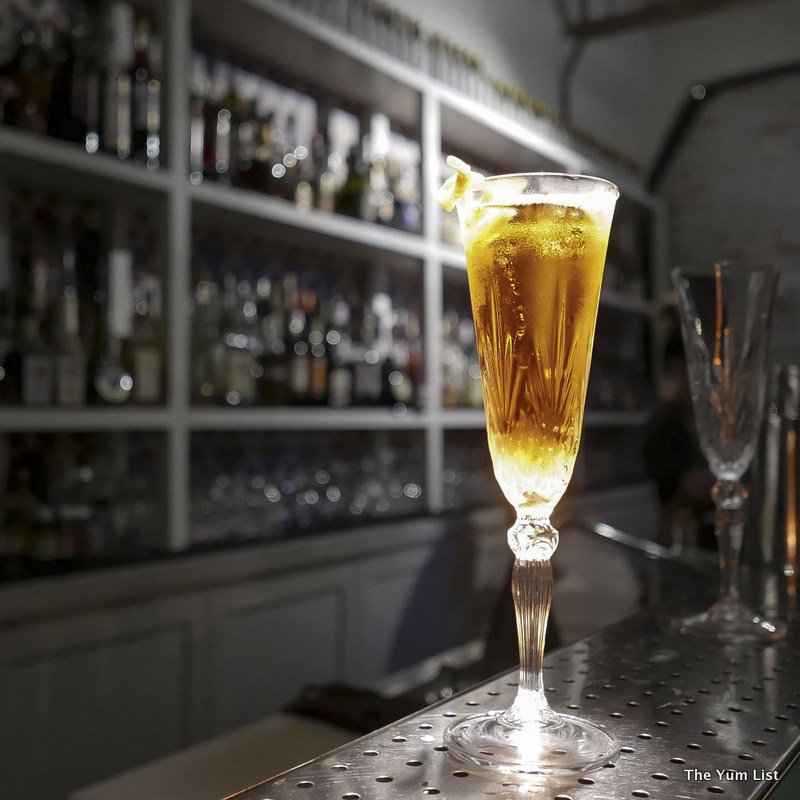 The Booze Bus
Just like that it was time to move on. Saying farewell to CK and his crew, we all piled onto the bus at Tron's behest, where we were treated to trivia with prizes of Campari miniatures. I can't say I fared too well on the cocktail based questions against much more skilled competitors, but I can say that my knowledge of Star Wars, Harry Potter and various other pop culture scored me quite the collection of bottles. Yes please, and thank you very much!
Birch
Stop two for the evening was revealed as none other than Birch at DC Mall. The hottest new address in town, Birch is a relative newcomer to the KL food and drink scene having only been open seven weeks. Venue manager Matt and international noteworthy bartenders Imran and Yomo would be looking after us tonight. With sultry lighting and a forest of living planter boxes surrounding the bar and hanging from the ceiling, the decor is designed to impress.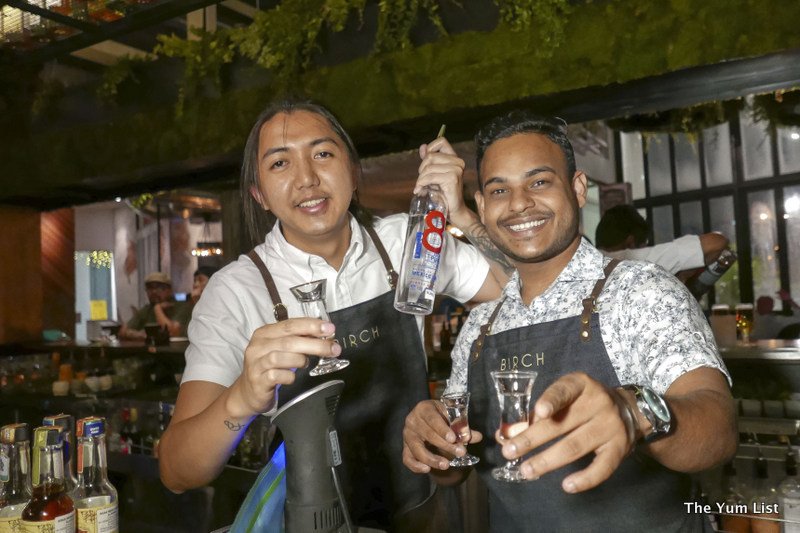 Imran and Yoma were hard at work preparing a range of signature cocktails for us. Birch's cocktail menu makes fine sport of twisting classic American spirits and drinks with pun-tastic well-suited names. The Pina Clearada (RM38) was served first, and looks like you're drinking a James Bond martini when you're actually quaffing an 80s tiki-style cocktail. With clarified ingredients taking much of the guilt out of this pleasure, the base is Plantation Three Star Rum combining methods from Jamaica, Barbados and Trinidad. Coconut oil is used instead of coconut milk or cream, and the pineapple comes from Birch's own in-house homemade pineapple cordial, which on its own tastes so pure and true to flavour you can drink it straight. Packed with intense flavour and with a dry, unsweetened finish, we definitely recommend this as first pick of the Birch menu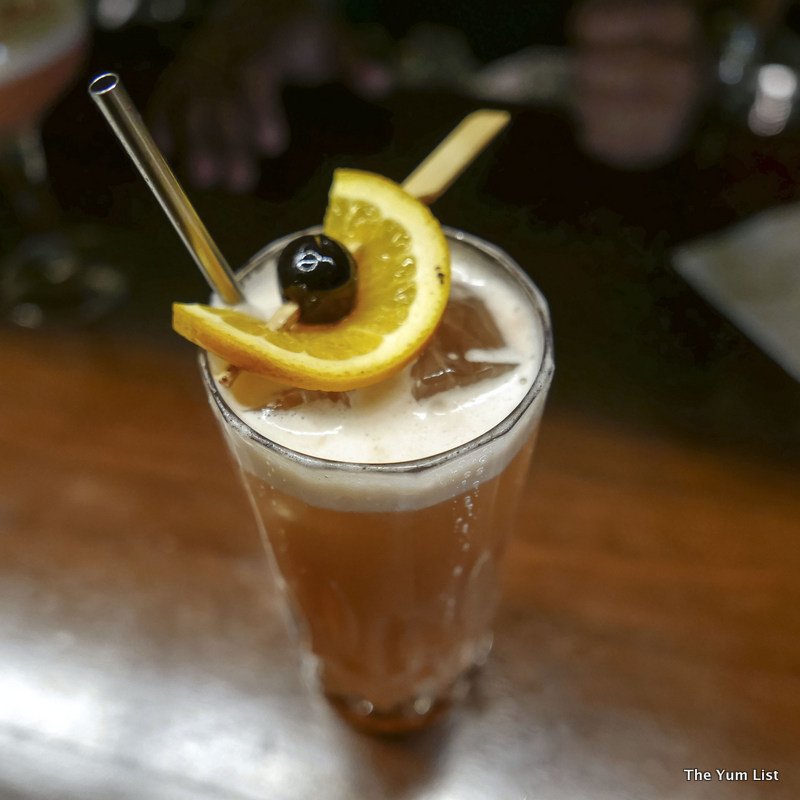 You can almost taste the pink in the Pisco Biscuit (RM45), which combines Waqar Pisco with revival Applejack, feathery egg white, some politely tart lemon and Angostura Bitters, and Grenadine. The spicy, sweet and salty Beyond Sunrise (RM38) is based on Ocho Tequila Blanco, with multi-layered citrus flavours of orange, lemon and unexpected Japanese yuzu, a pinch of sea salt, and a dash of another of Birch's homemade in-house concoctions – a smokey BBQ inspired chipotle, Port and pomegranate reduction.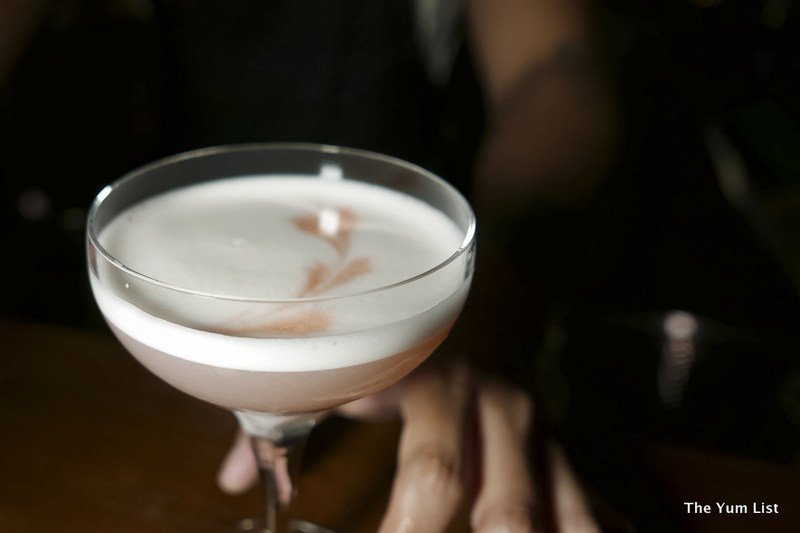 Matt describes our next drink as a "bourbon and coke smashed together with an old-fashioned", which sounds like a pretty good collaboration. The Whisky and Coke Fashioned (RM35) is a drink to sit over and appreciate, preferably after dinner. Smooth and supple at first with a warm tingle that builds. It is a much more pleasant experience than the traditional napalm-down-the-throat burning sensation of a bourbon and coke. These four cocktails are all intensely full-flavoured, so we ask Yomo for something lighter and easy to drink after work on a hot day. He poured us an Iced Tea-quila (RM38) and Matt explained its inspiration, painting a picture of grandmas in the deep south, swinging in porch rocking chairs and sipping iced tea, but with the addition of tequila for some firepower.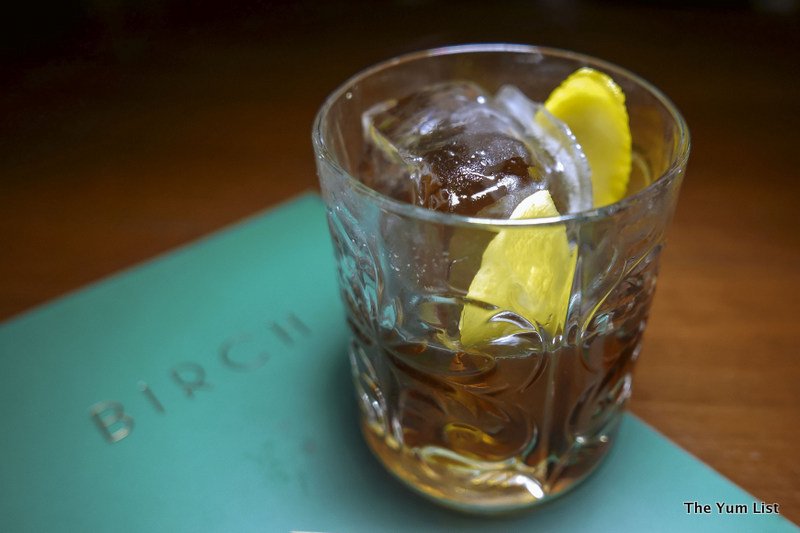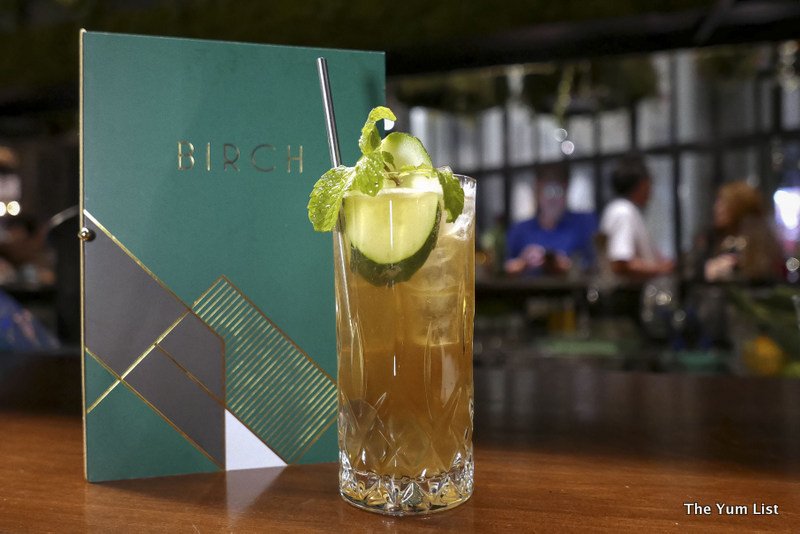 Jack Rose
We leave Birch charmed by the atmosphere, our thirsts sated. But now it's time for stop number three, which is at Jack Rose at Damansara Heights. Buried deep in the basement of the Wisma E&C building, an illuminated neon rose adorns the door and the strains of classic Rolling Stones pumping through a vinyl stereo system dispels any ideas that this is in any way a speakeasy, a dirty word at Jack Rose. They had me right there and then. It has been a long time since I have walked into a bar and fallen completely in love at first sound. This was my kind of place, a little bit divey but in all the right ways, with soul and grit. If that wasn't enough, their menu is a series of cartoons featuring plays and puns on literary greats, including Shakespeare, Hemingway, Kafka, Bulgakov, Lee and Capote, and even Lennon and Indiana Jones for those not so well versed. The menu was hand drawn by Bernard Caleo, a close friend of head bartender Callan C. Green, who says his greatest compliment was a customer who once asked him "Your menu's not for stupid people is it?", to which Callan replied with a grin "Well they can look at the pictures." Hailing from Melbourne, Callan has won numerous awards around South East Asia, including winning the Asian division and coming second in the 2016 worldwide leaderboard for the Ultimate Bartender Championships. Callan owns Jack Rose along with James Estes and is also one of the partners of Wholly Spirits – a boutique spirit distributor.

The sweet and bitter Orphelia (RM25++) is served first and represents the confused state of drinking where you imbibe too much, become distracted, and forget that you were supposed to order food, descending from sanity into insanity. Aperitif Romano, in-house specialty grapefruit cordial and soda make this an uncomplicated, invigorating starter. Led Zeppelin comes on the stereo as the infamous Jack Rose wings are brought out, crispy, covered in sticky sweet chilli sauce and with a blue cheese dipping sauce, they are an enlightening experience, and the neon 'Hot Wings & Dreams' sign behind the bar makes complete sense. We wash them down with the signature Jack Rose (RM39-49++ dependent on proof) the cocktail behind the bar's name. Invented in 1910 it was made famous by Ernest Hemingway's 1926 novel 'The Sun Also Rises'. The applejack base, or chill-filtered brandy distilled from apples, is mixed with lemon and grenadine. Simplistically beautiful. I am loathed to leave as Fleetwood Mac starts to play.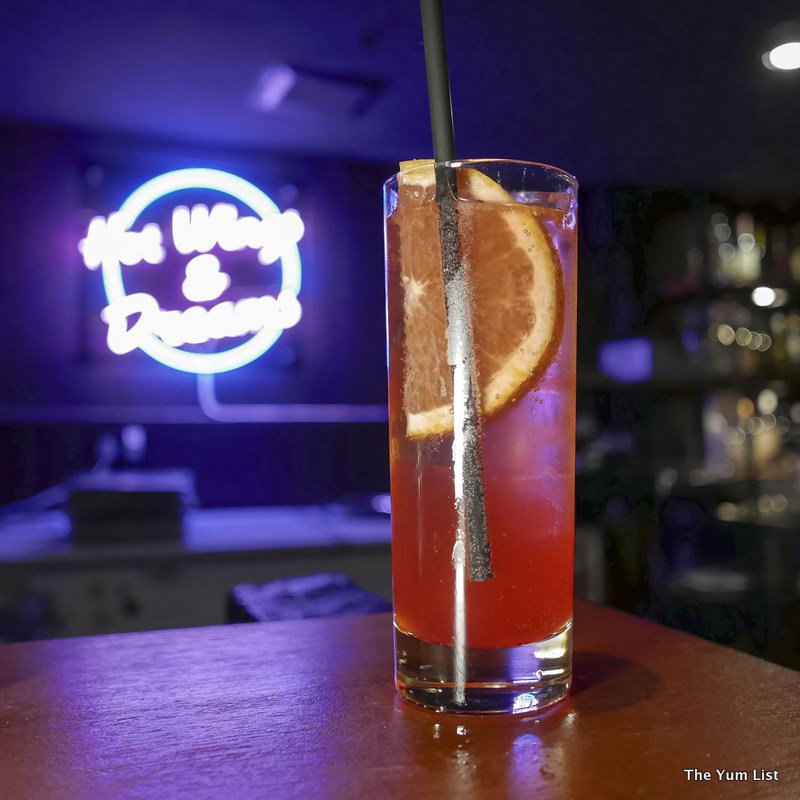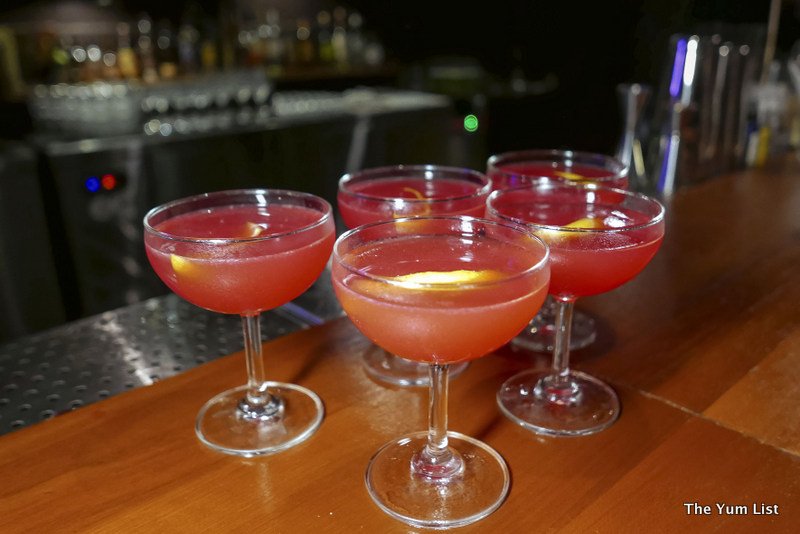 Skullduggery
Our final stop of the evening on the official tour was Skullduggery at Plaza Damansara (also not a speakeasy) where we watch Ana and Abel shake their stuff behind the bar. The decor here really is sensational, a mix of gothic steampunk, pirate panache, with a bit of day of the dead glam thrown in for equal measure. The pressed tin ceilings and model train line circling the bar are particularly quirky.

We are each invited to make a selection from The Skulls Classic Cocktails list – a snapshot of their menu (all priced RM45++). While we enjoy watching these two put on a show creating our choices (Ana is particularly fond of a bit of spontaneous karaoke), we are invited to partake of a glass of freshly made free-flowing apple pie punch. With a dark rum base, apple cider liqueur from France, oleo saccharum syrup made from the muddled combination of lemon rind oil and sugar, and apple cider topped with slices of green apple, the forthcoming cocktails will have a hard task beating this punch. The oleo saccharum, something of a lost art from last century, is a particularly nice touch and reminds me of lemon meringue pie or lemon butter.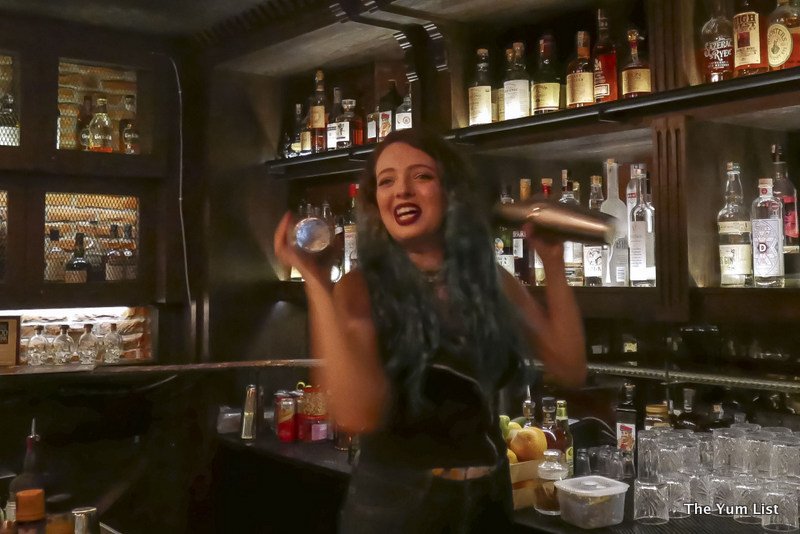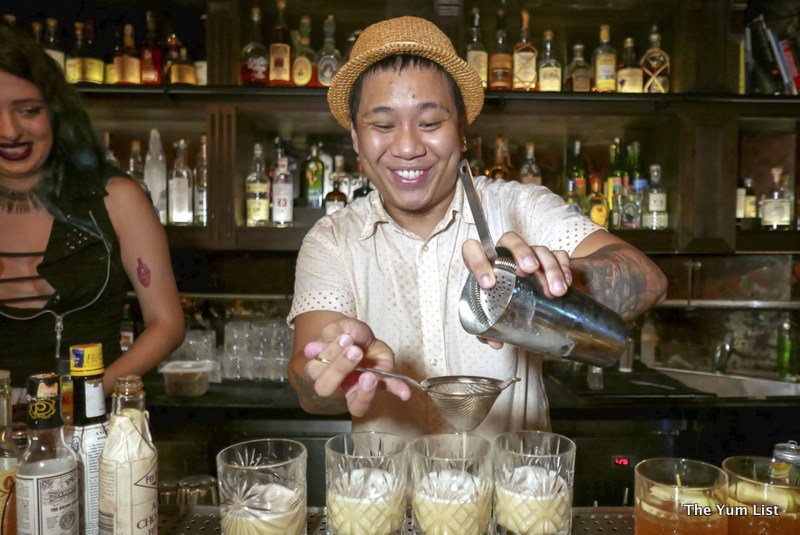 The Banana 4 Dayz is cloudy, sweet and bitter with a wafting undertone of banana and nutmeg adding to the rum and lime. Not overpowering but just strong enough to make you catch your breath, I catch a peculiar smokey flavour in the back of my throat. Guessing paprika or possibly chipotle, Ade informs me it is actually the banana which is muddled to release the juices and sugars and boiled down to a caramelised syrup. The Peanut Butter Jelly Time has Ana launching into American skipping rhymes. Peanut butter, jelly, egg white and possible "good times" are added to the rye base, leaving you with a creamy, tart and smooth finish.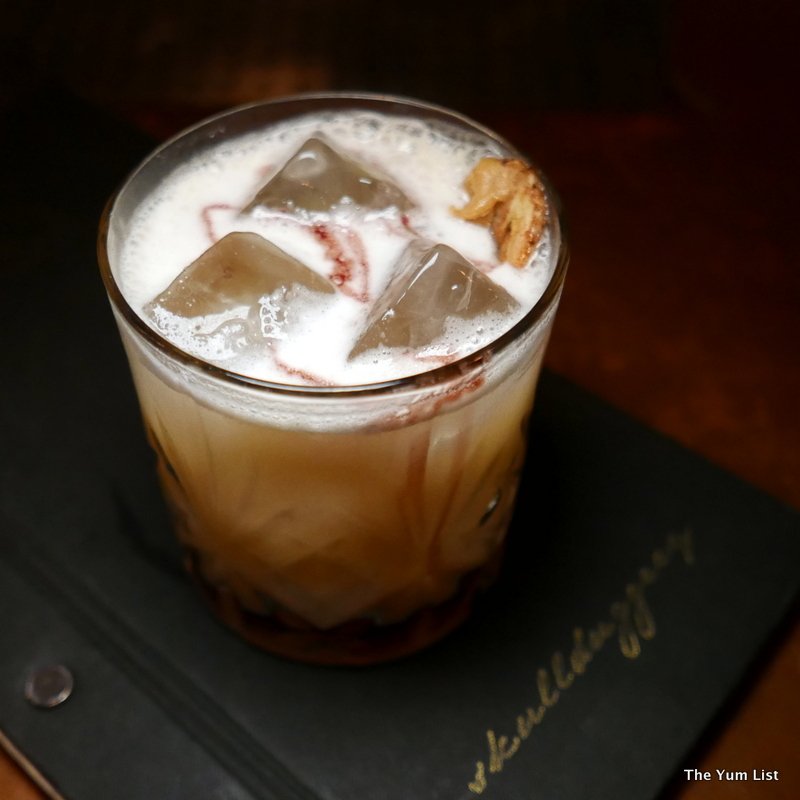 It was around this time that my handwritten notes descended into madness and illegibility. An unofficial fifth stop, at Jungle Bird, shall therefore remain… sealed. Some secrets and mystery have to be maintained after all.
The Bar Awards KL Events
This year's KL Bar Awards will officially start with an Opening Party on Thursday the 19th of October (with a pre-drinks kick-off on Wednesday the 18th, because the organisers are the sort of people to who have 'birthmonths' rather than birthdays) the drinking continues throughout the week with multiple festivities in many, many locations, culminating in The Bar Awards Party on Sunday the 22nd (with obligatory after party of course). The final events are reserved for the F&B industry only and are closed to the public, however, you can catch many of the other events around town during the week. Check The Bar Awards Facebook page for details as there are simply too many to list here. I also recommend using their list of Top 10 featured bars and bartenders honoured by this year's awards as a simple checklist for where to go on your next nights out. Note that I use 'nights' in the plural rather than the singular – you will need to pace yourself!
The KL Bar Awards 2017 Ultimate Cocktail Tour, was just that, ultimate. We throw down the gauntlet for you to recreate this epic undertaking for yourselves, though warn you not to accept this challenge lightly. It is designed to test the mettle of even the most hardened and practised drinkers. Kuala Lumpur has produced some truly exceptional bar talent; a reflection of a city that comes alive after dark. In the words of Hemingway, "Don't bother with churches, government buildings or city squares; if you want to know about a culture, spend a night in its bars."