Words: Claire Matheson    Photos: Monica Tindall
Hummus Where the Heart Is – An Infatuation with Lebanese Cuisine
Why is it that Mediterranean cuisines always produce the very best comfort foods? Rich in flavour with the simplicity of wholesome, fresh ingredients, made with centuries-old methods and recipes handed down generation after generation. Mediterranean cuisines are the ones we turn to for gratification, particularly when the daily messes and stresses of our lives make us crave satisfaction and happiness!
While Italian pizza and pasta, and Greek moussaka, spanakopita and baklava are well-known favourites for many, the equally delicious Lebanese foods are often overlooked and harder to find in Kuala Lumpur, but Byblos Lebanese restaurant at TREC KL serves the Levantine cuisine exactly as it is made in Beirut. Coming from Australia, where large Lebanese communities exist in every major city, comfort food such as falafels with hummus, tabbouleh, and lamb kafta dipped in baba ganoush are much-loved mainstays, all accompanied by a mandatory bowl of olives of course!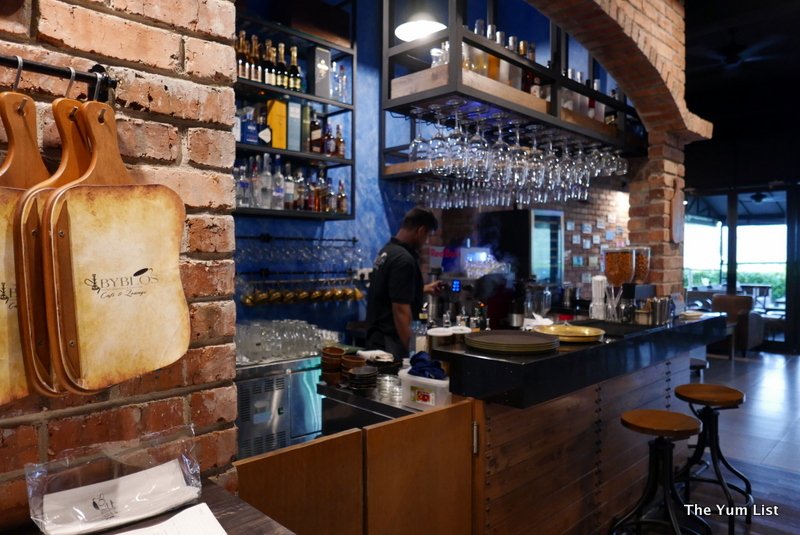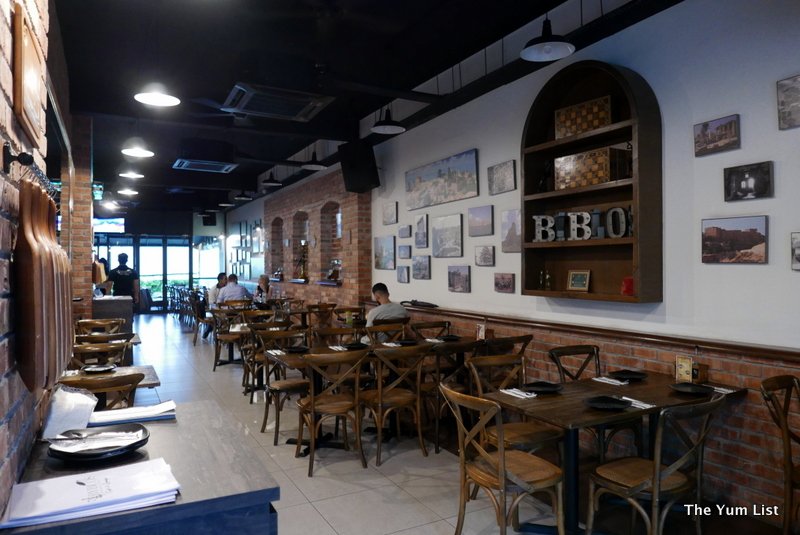 Lebanon's diverse history is the reason their food is so incredibly good. Occupied by the Romans, the Ottoman Turks and even the French for different periods, each of these disparate cultures brought with them their food traditions. Lebanon became a big, bubbling pot of some of the world's best foods, adding localised ingredients to create their cultural identity through taste. Unlike other Middle Eastern cuisines, there are faint Italian, Greek, Turkish and French influences, producing Levantine mezze dishes with their own highly unique twist and flavour.
Personally, I find there's nothing better after a long day at work, when you come home exhausted and can't be bothered cooking, than serving yourself up a giant heaping of flatbread with labneh, pouring yourself a generous glass of wine, turning on Netflix and perfecting your groove in the couch. I highly recommend it!
For the nights when you simply want to gorge yourself on really good fare and give in to the endless encouragement to continue eating until you are full to the brim (a constant in all Mediterranean meals) then a visit to Byblos is in order. Walking through the door we are immediately greeted by manager Shady Chamoun, who likes to greet his guests with a very warm welcome. While the restaurant is beautifully appointed with a combination of traditional and modern touches, you feel as if you are stepping directly into Shady's home to attend a family meal. I have a feeling I am going to be leaving very well fed tonight! One of the biggest draw-cards of the restaurant is the stunning views out over the golf course, which can be appreciated either from large wooden tables with rustic farmhouse chairs inside or from comfy outdoor dining lounges.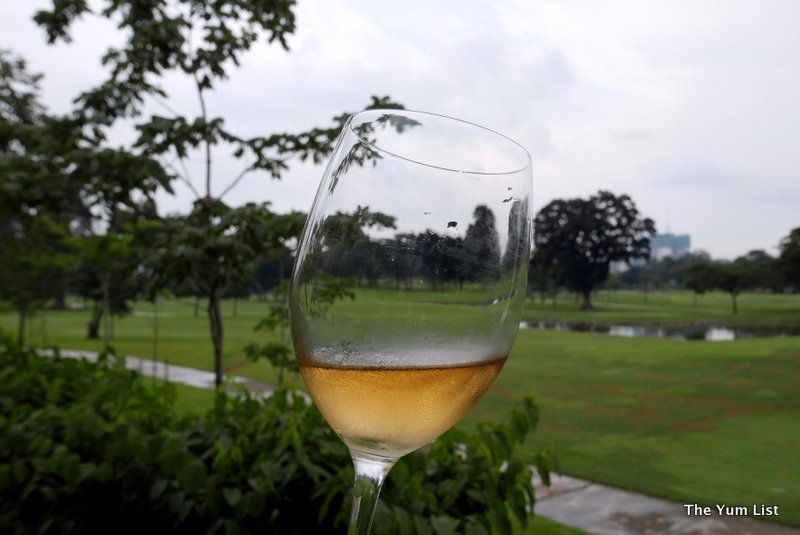 Shady asks me if I'd like to try a glass of Arak (RM30 per glass, RM100 for a quarter carafe, RM190 for a half carafe, and RM350 for a bottle), a traditional unsweetened Lebanese anise flavoured drink distilled from grapes. The colourless spirit is mixed with water, becoming cloudy. Softer and less pungent than other Mediterranean anise drinks such as ouzo, absinthe or Sambuca, it is cooling and easy to drink. Shady explains that it is usually drunk by men during a meal while the women tend to drink wine, but adds that many women have started to take up the tradition. We utter cries of "Kesak!" – or 'cheers!' in Lebanese, and dig into a bowl of cri cri coated peanuts, a wonderfully salty accompaniment.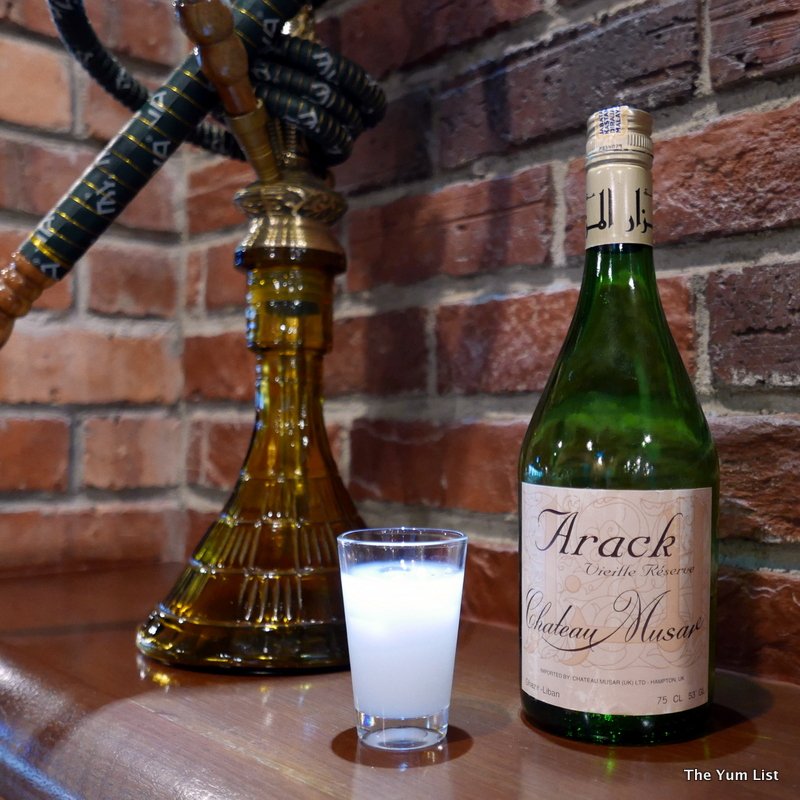 To accompany the food we also open a bottle of organic Lebanese 2014 Musar Jeune, a Viognier, Vermentino, Chardonnay blend. Crisp and darker in colour, with more body than your average fruity wines, it has a well-rounded mix of pears, apricots, pineapples and floral notes with a hint of basil.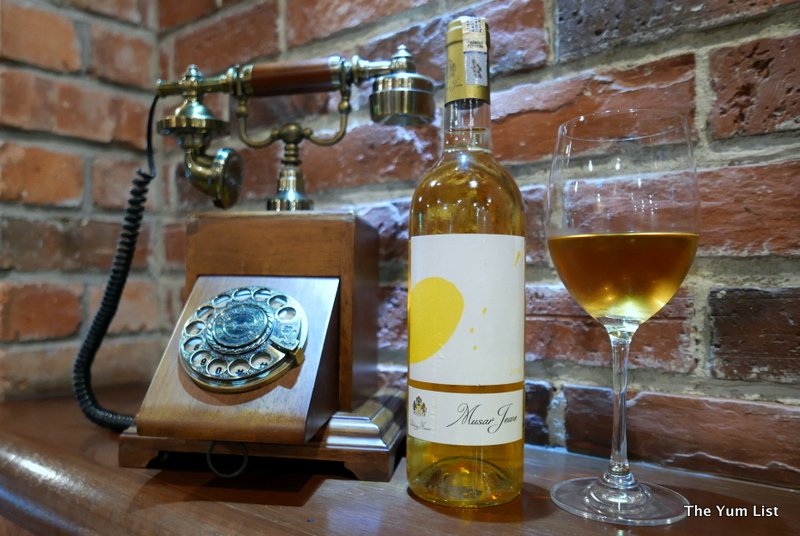 Palm-sized puffs of airy Lebanese bread appear on the table, with their own little oil-fired hot plate to warm them immediately before eating. Bowls of creamy and tangy labneh (RM17) – a cream cheese made from strained yoghurt, like an elevated form of Greek yoghurt; a thyme and olive oil dipping sauce and an array of marinated olives complete the plate. The bread is fresh, soft and doughy, melting in your mouth, without the heavy feeling that usually accompanies bread. They quickly run out and are replaced by larger ones, inflated to look like golden pillows of air.  Bowls of dips and accompaniments are added, including thick, smooth and creamy hummus (RM17), moutabel (RM17) – a baba ganoush style dip with tahini and lemon juice, tabbouleh (RM29) – a small, light salad of finely chopped parsley, tomatoes, onions, mint, burgul wheat (also known as bourghul or bulgur), olive oil and lemon, and warak enab bil zeit (RM20) – or grapevine leaves stuffed with al dente rice, tomato and parsley. Each dish is incredibly fresh, with high-quality ingredients either shipped from Lebanon or sourced locally.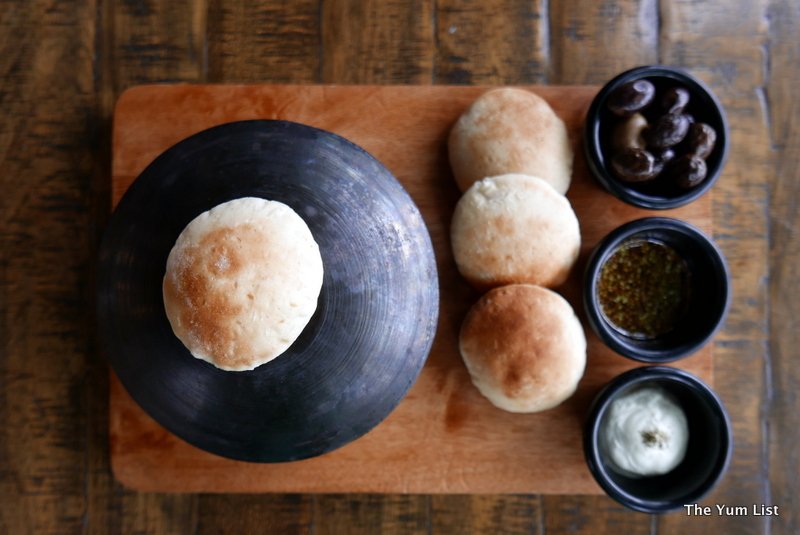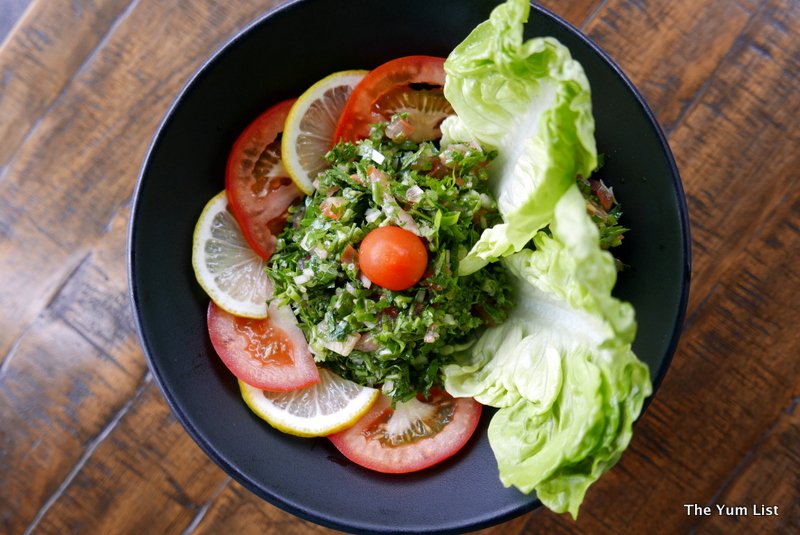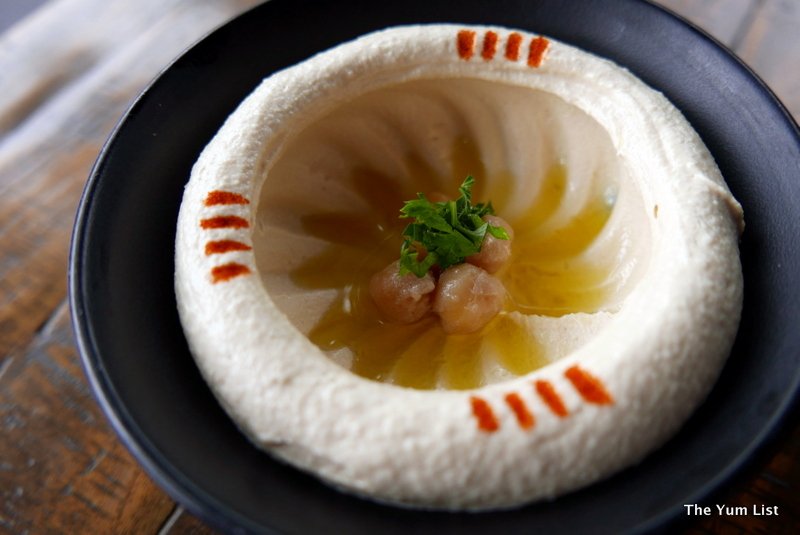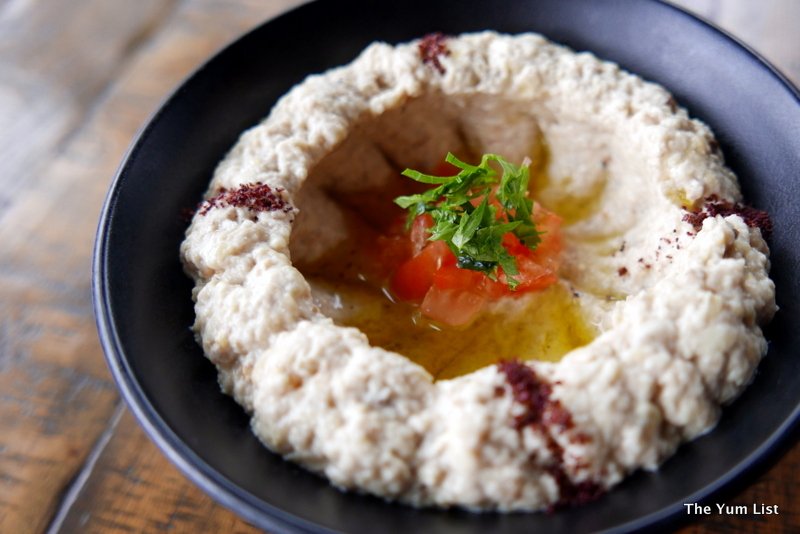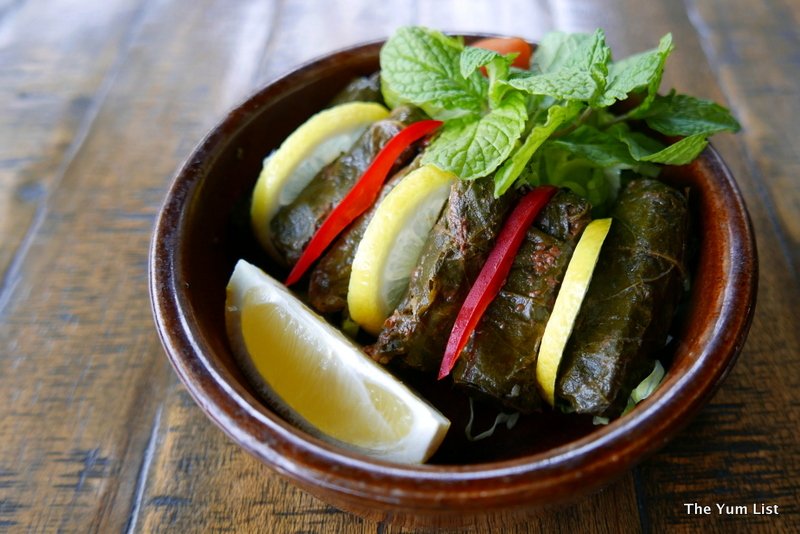 Always on the search for a great falafel, I am not disappointed by Byblos' in-house recipe (RM21). A mix of ground chickpeas and traditional herbs rolled and deep-fried, they are a vegetarian option where you won't miss the meat. Byblos have managed to achieve a light, fluffy centre in theirs, with lashings of garlic and a sprinkling of sesame seeds, beautifully displayed amid petal-like pickled, salty turnip slices. If you are new to Lebanese food, these are a good place to start. Shady also provides us with some pastries made with olive oil blended pastry. The cheese rolls (RM20) include a centre of six kinds of cheese. There aren't many problems in life that can't be solved with cheese, and it's no surprise that the casein protein makes cheese a key ingredient in all the world's most addictive foods. We're definitely not complaining and the cheese rolls disappear quickly. The Spinach fatayer (RM20) are also impossible to put down, with a cumin, sumac, spinach, onion and lemon filling presented in precious little pastry triangles. A basket of thick cut crispy fries (RM9) are also irresistible.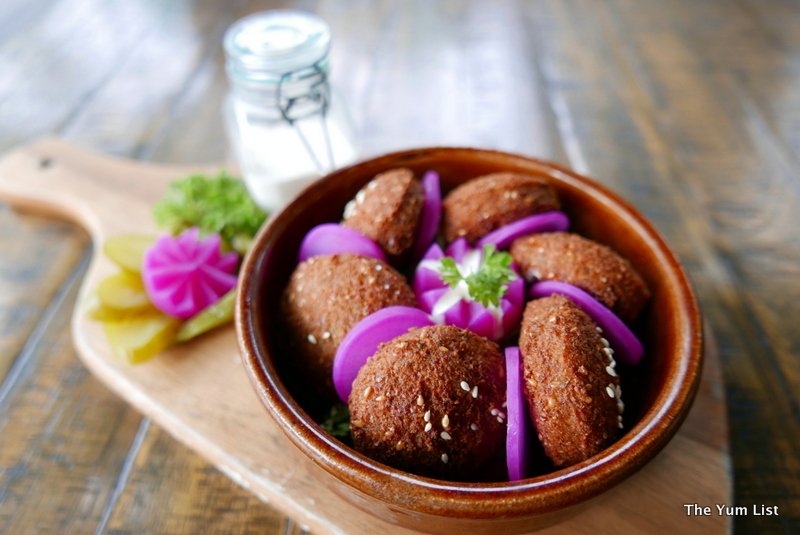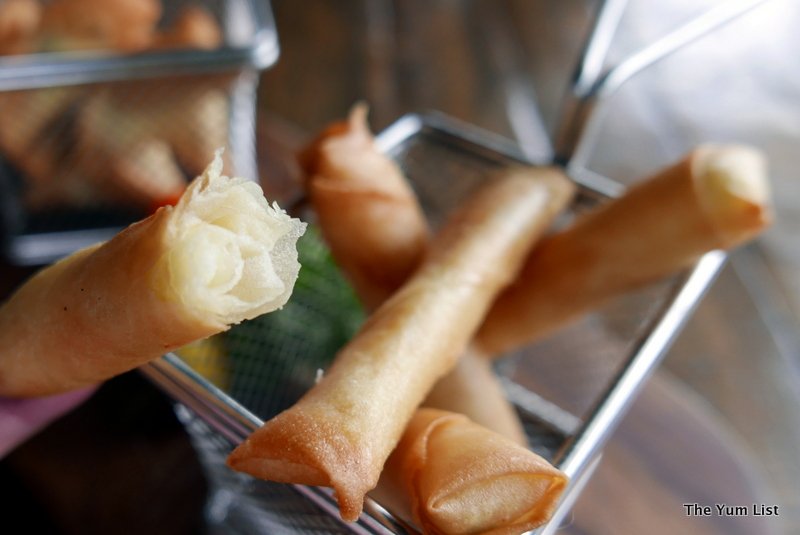 While I am a huge fan of sashimi and I do prefer my steaks on the rare side, I have never tried nayyeh, or raw minced meat, a Lebanese mezze speciality. We try the kibbeh nayyeh (RM36), which is (very fresh) raw minced lamb mixed with burgul wheat and an assortment of spices, served with olive oil, raw sliced green onions, fresh mint leaves and a divine garlic paste. A little apprehensive, we are all incredulous. The meat is purer, richer and more true to flavour, and the raw garlic paste, blended with ice and sunflower oil, has a similar texture and feel to ice cream. Shady recommends trying a mouthful of lamb, garlic paste and mint together. The combined taste is extraordinary.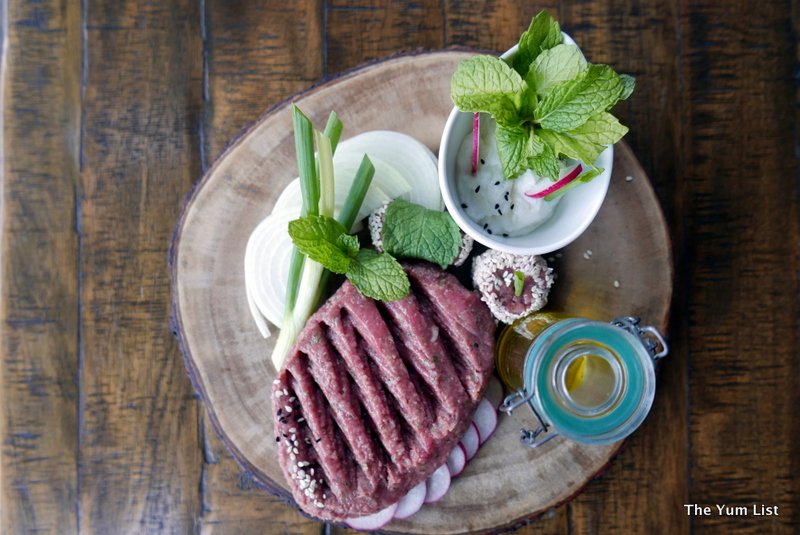 My stomach is already rebelling against my waistband when the main meal is served. A mixed grill (RM56) of three kinds of meat skewers: grilled beef tenderloin, marinated chicken breast, and minced lamb, are packed on a wooden serving platter groaning with warm flatbreads, pickled turnips and cucumbers, raw onion salad, chilli peppers, tomatoes and another bowl of creamy garlic paste. It's been a while since I last ate chargrilled red meat, and the rich, juicy flavours are captivating in their subtle herb medley. A bowl of batata harra (RM15) is stacked among the feast, the little cubes of potato crusted with a coating of chilli powder, garlic and coriander. Finally, a chicken tawouk (RM24), is added to the multitude of plates. Similar to a shish kebab, grilled marinated chicken is slathered with garlic sauce, crunchy pickles, Lebanese coleslaw and wrapped with a heaping of fries in a soft flatbread wrap. It seems it's not only the Brits and the Aussies who are fond of a chip butty or chip sanga. Putting fries on sandwiches is a universal language.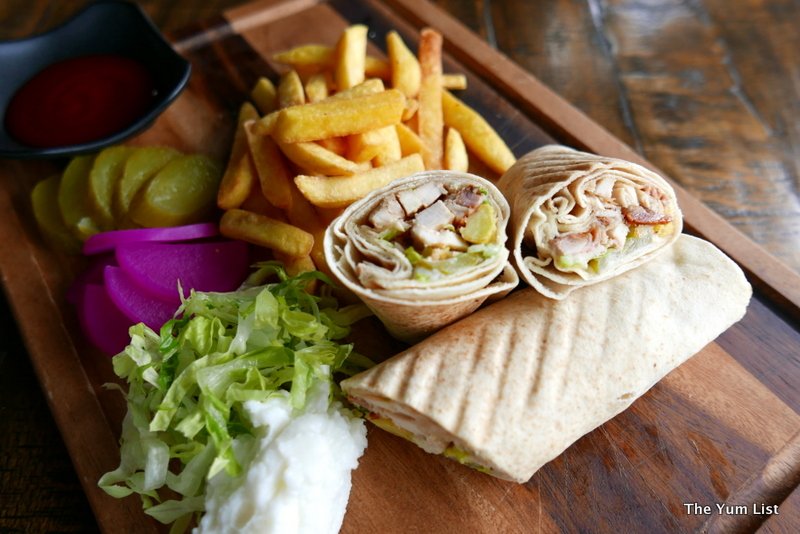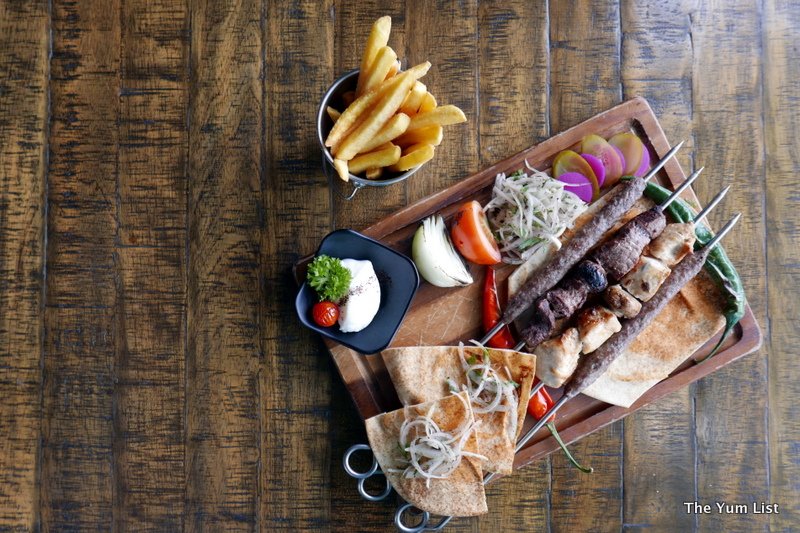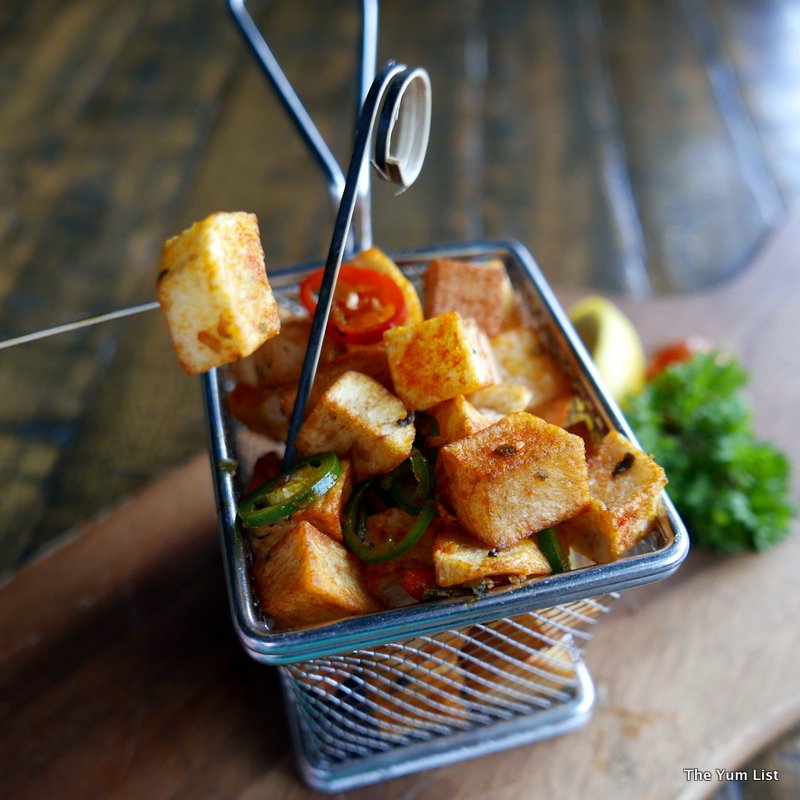 With over-extended stomachs, none of us know how we're going to fit dessert in. Shady brings out a trio of rice puddings, or riz bi haleeb (RM19), made from sugar, milk and rose water, available in three toppings: cashew nuts, honey with banana, and a cocoa-rich chocolate and raisin. There is also a platter of rahat el halkoum, or Turkish delight (RM19) with honey and rose water. A childhood favourite for many, it pairs beautifully with the fragrant, silky Lebanese coffee (RM10/cup, RM15/pot), which is easy to drink without sugar or milk, lacking the bitterness of other Middle Eastern blends. An offering of halva rounds out our extensive meal, small slices of a biscuity-nougat like texture, with nutty tahini and crystalised sugar.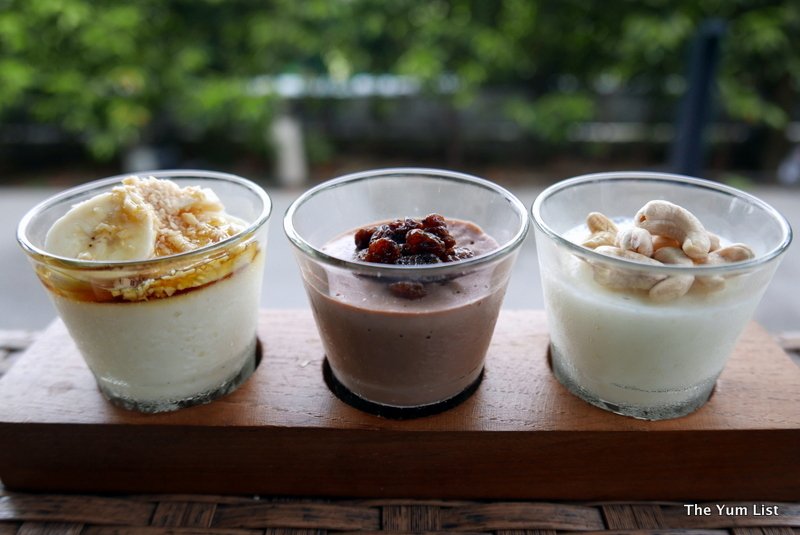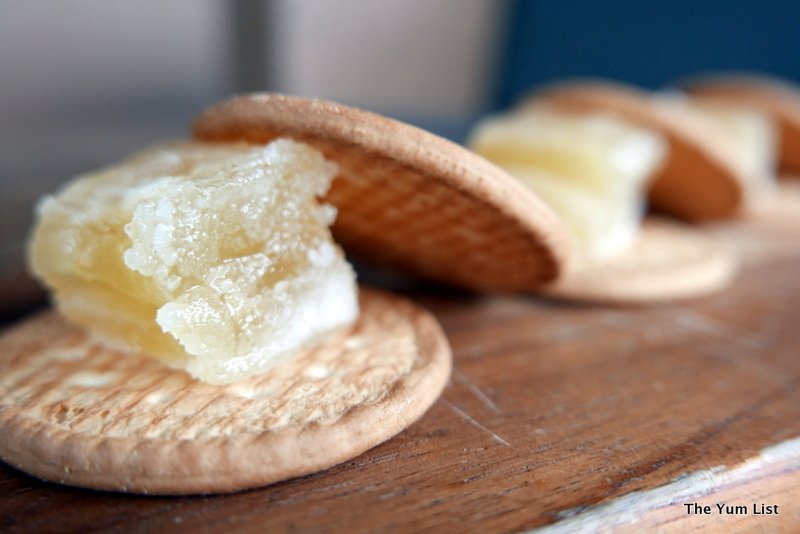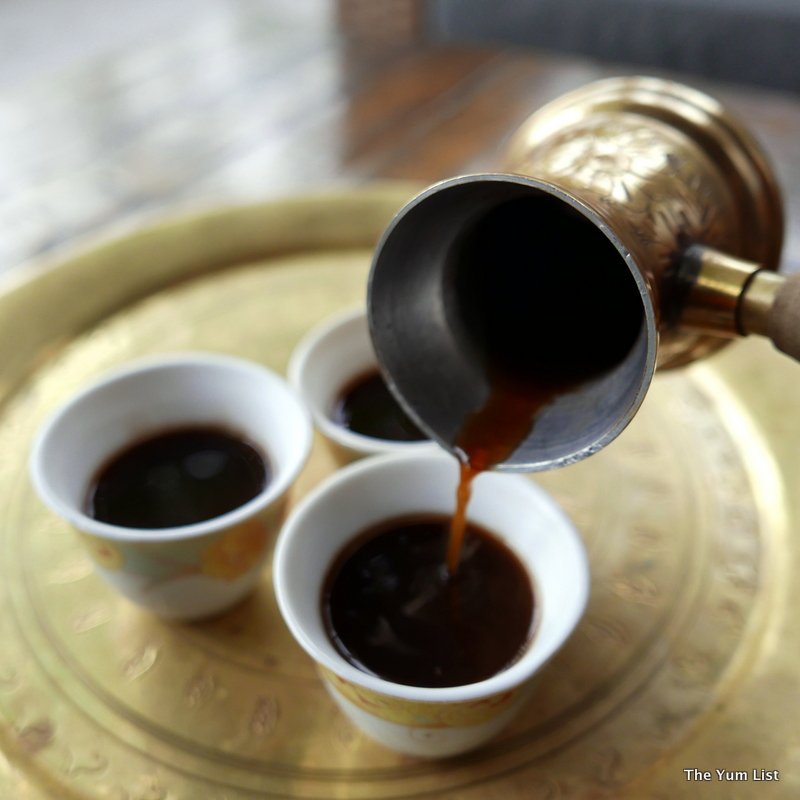 Apart from a wide range of traditional and modern coffees and teas, Byblos also has a selection of beers, spirits, cocktails and their flavoured shishas menu is nothing short of extensive. From 11 pm on Friday and Saturday nights they have a belly dancer and singer performing and are open until 3 am. They also do catering and cooking classes upon arrangement. Regardless of your time and reason for visiting, it is best you come dressed in loose-fitting clothes!
Reasons to visit Byblos Lebanese Restaurant: Feast yourself silly on a range of mezze platters, including traditional dips with bread, fatayers, falafels and anything with lamb. Simply good food, traditionally made, with very reasonable prices. For the adventurous souls try the nayyeh with garlic paste and wash it all down with some Arak. Kesah!
Byblos Cafe and Lounge
Byblos Lebanese Restaurant @ TREC KL
H-G-05 The Hive
TREC KL
Jalan Tun Razak
54000 Kuala Lumpur
Malaysia
+6 03 2110 0460
www.facebook.com/byblos.my
Opening Hours Byblos Lebanese Restaurant
Daily from 10 am until the wee hours of the morning.
Kitchen closes on a weekday at 2:30 am (!!!) and 3:30 am Friday and Saturday evenings (Saturday & Sunday mornings).