Monica Tindall
Keeping things simple, Café 5 is named after its number on the street in Pudu. Surrounded by Chinese shop houses, mechanics and bric-a-brac stores, this corner café is a fun find, and THE place to visit in KL for the most delicious waffles in the city.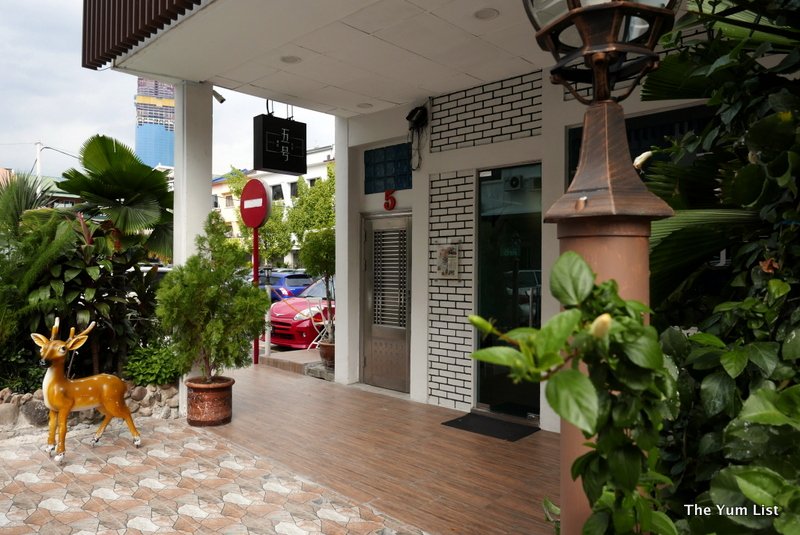 Owner, Trent Ho, fell in love with waffles during chilly winters in Melbourne. Admiring the fantastic aromas tickling the cool July air and the hot steam rising from waffle irons bringing warmth to onlookers, the idea grew to share this passion with fellow Malaysians. Two years of extensive research and trial and error saw him master the traditional waffle recipe, and it's the results of this labour of love that is today shared at Café 5 in Ho's perfected recipe for Belgian Liege waffles.
Belgian Liege waffles are made in the traditional "slow" method with a brioche dough and yeast left to ferment for 20 hours. The result is a more natural texture, flavour and aroma than what is often the case with the more commercial waffles found on the market. Pearl sugar is imported from Belgian gifting the waffle its nicely caramelized outer layer and soft sweetness to the edge.
Waffles at Café 5
Both sweet and savoury dishes are made upon order, baked fresh and topped seconds before being delivered to the table. Close to a dozen recipes are on offer and we try four of the best sellers.
Savoury Waffles
The most straightforward item on the menu, Aromatic Butter (RM10), is a great way to begin allowing us to fully appreciate the texture of the waffle. It's simply accompanied by a thick knob of butter mixed with herbs and spices that melts seductively onto the thick warm stack. Superb!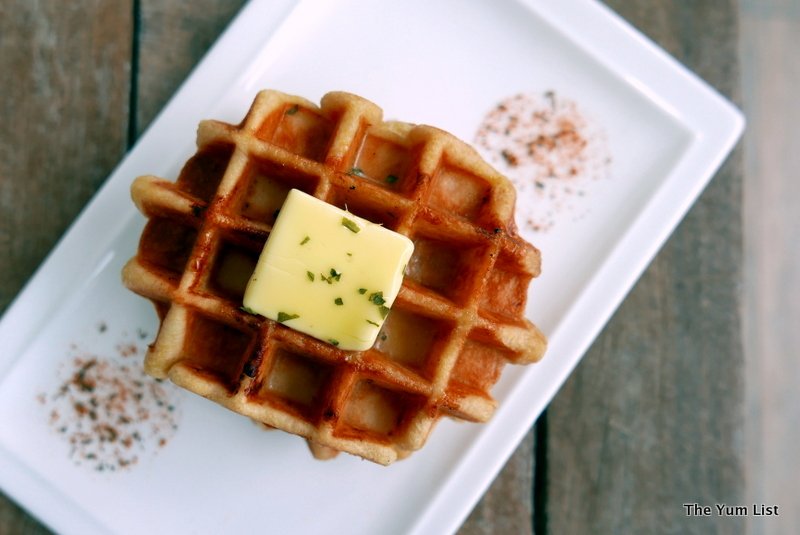 When Ho was first dreaming up the concept for this café, the very first recipe he created was the Murakami (RM15). Inspired by happy times eating soba and so on in Japanese restaurants in Melbourne he brought the pleasure of all of his favourite condiments to crest the top. Japanese mayonnaise is first criss-crossed on the crown along with a shower of spices. The waffle is then drizzled with takoyaki sauce and flamed with a hand torch. A mountain of bonito flakes sews up the finish with a luxurious touch. This too is absolutely scrumptious.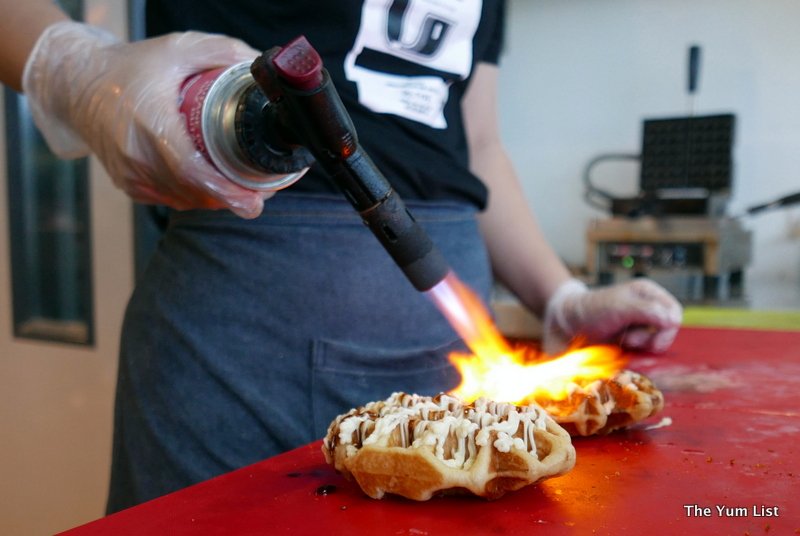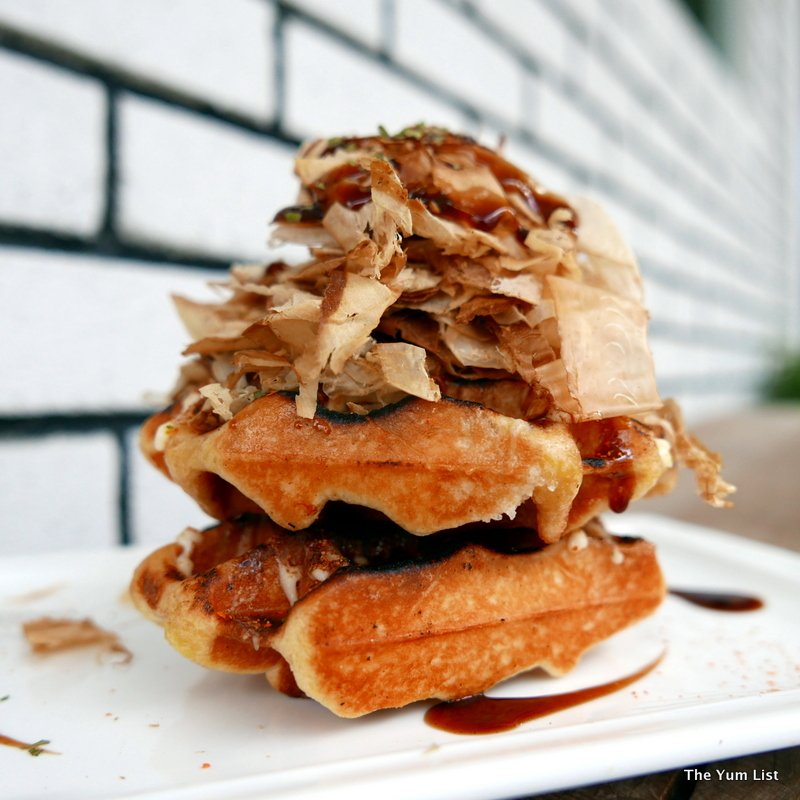 Sweet Waffles
PB Bunk (RM15), sees the good old favourite combination of chocolate, peanut butter and banana as topping. The peanut butter is from a local supplier with no sugar or preservatives added. The made-from-scratch ingredients are fully appreciated in the density of texture and this turns out to be a very filling number.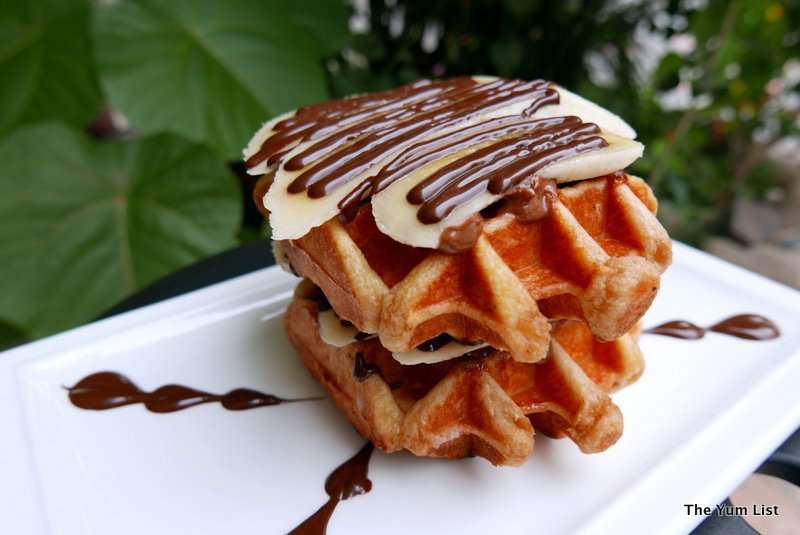 Who could resist the Willy Wonka (ideal for sharing between 3-4 pax RM38)? Not me! This wonderful platter is ideal pickings for a group of friends or family. A warm Belgium chocolate fondue for dipping is surrounded by three plain waffles, just toasted marshmallows, strawberries, bananas and three scoops of homemade ice cream of your choice. The ice cream is rich, creamy and fabulous. Amongst the traditional flavours of Chocolate and French Vanilla, there are also a couple of adventurous choices such as Salted Egg Yolk with Curry Leaf and Hojicha with Shredded Dark Chocolate. The former is not near as strong as it sounds. Surprisingly, it's quite balanced and we actually finish the enormous scoop. The latter is equally as enticing, but hubby, who is always a sucker for sweet and creamy, thinks you can't beat the original, vanilla.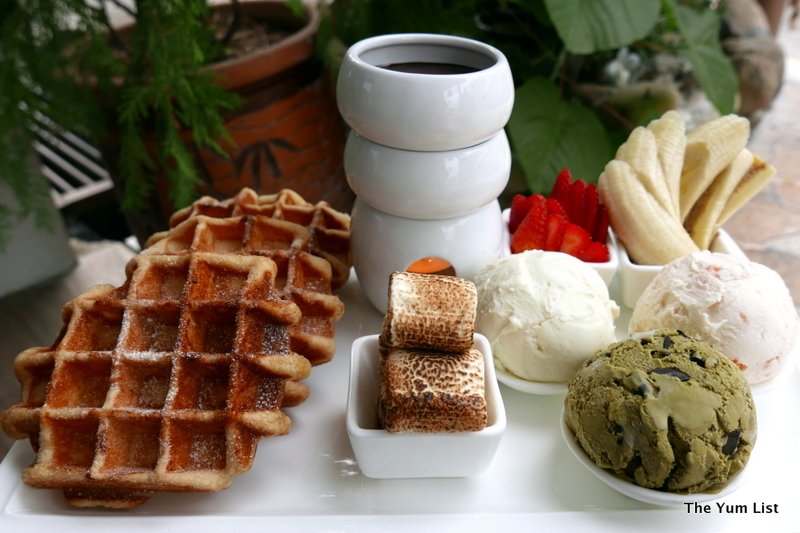 Drinks
Locally Roasted Coffee Beans
Coffee is the focus of the drinks menu and a pleasant medium-roast blend of Brazil Mountain Mogiana and Guatemala SHB Huehuetenango sides on the chocolaty, nutty end of the scale. It goes well with milk and should please most latte lovers. Our Caffe Latte (RM10) is skillfully frothed, and the Ice Cube Coffee (RM13) is an enticing option for a hot afternoon. A faint sweetness is found in the ice cubes due to the inclusion of a small amount of gula Melaka. Customers can add milk to their liking.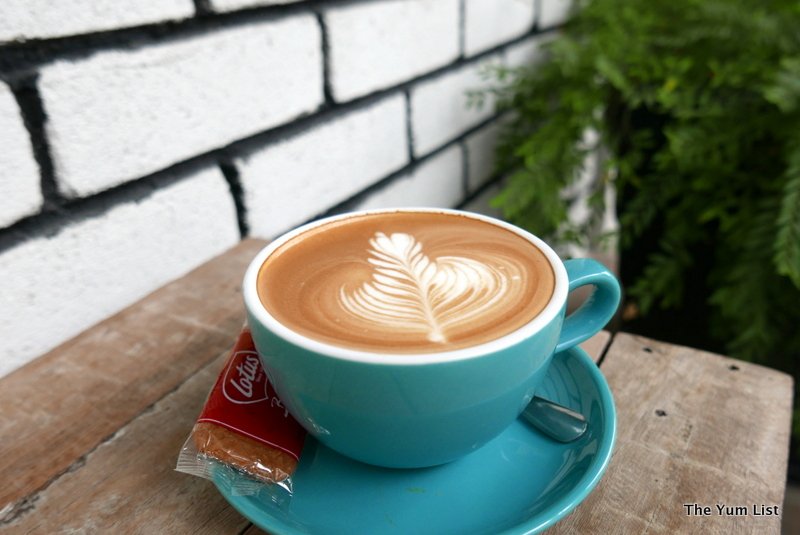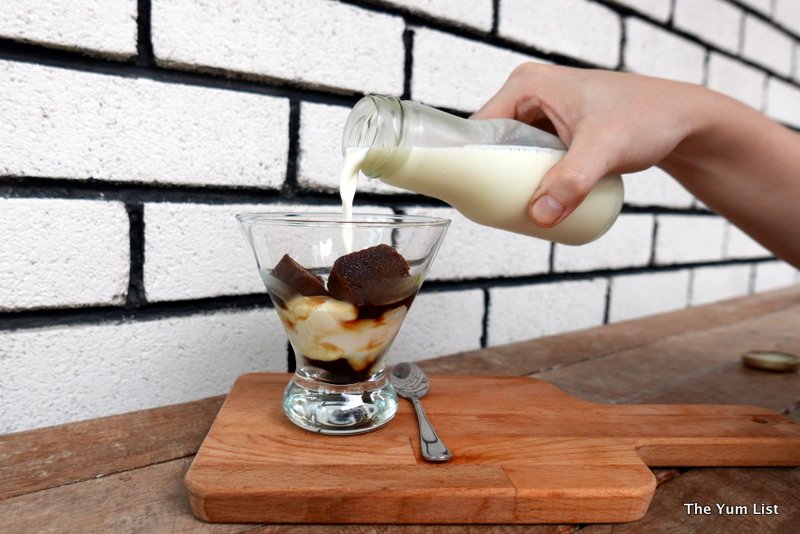 Milkshakes
Made with their homemade ice-cream, fresh milk, and the flavour component, milkshakes at Café 5 contain no artificial flavourings or preservatives. Trent recommends the Mango Milkshake (RM15) as a popular pick, and we can add our vote to its approval ratings: it's thick, creamy and fruity.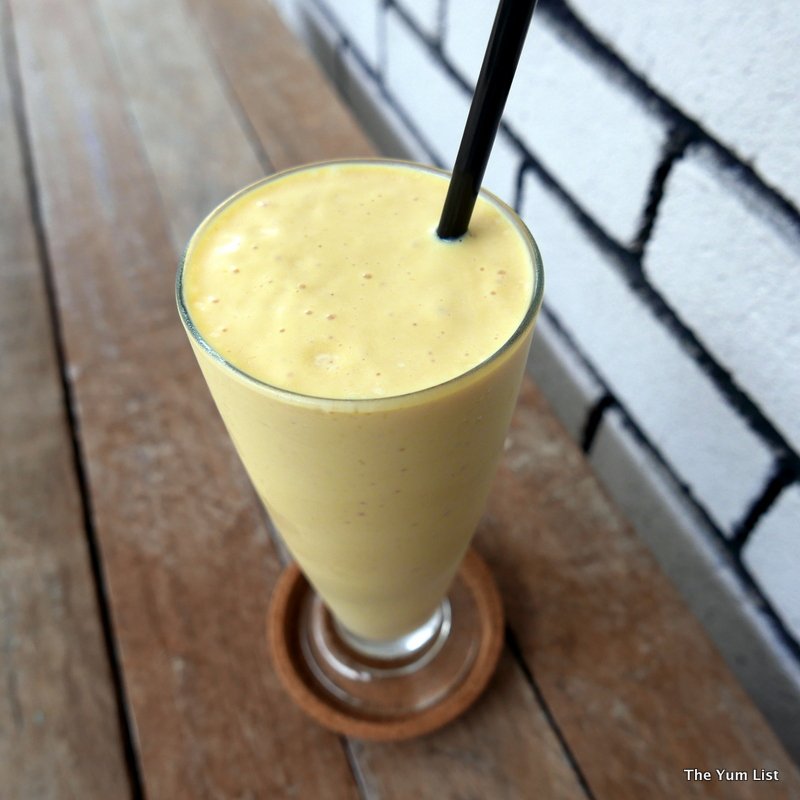 Ho's spirit for the café warmly permeates the setting, service and food, and this is a big call, but I venture to say, that Café 5 is serving up THE best waffles in Kuala Lumpur. I invite you to prove me wrong.
Reasons to visit Café 5: possibly the best waffles in Kuala Lumpur.
Café 5
5, Lengkungan Brunei
Pudu, 55100 Kuala Lumpur
Wilayah Persekutuan Kuala Lumpur
Malaysia
+60 18-215 9935
www.facebook.com/Cafe5pudu/