Words: Linnea Welker      Photos: Monica Tindall
We arrived at Svago on a lovely sunny afternoon to be greeted by Spanish Chef Basilio and Svago's friendly servers. Chef Basilio's passion for his new menu was clear as he enthusiastically described the evolution of the menu and the choices of ingredients and flavour combinations. We were even more pleased when his delicious dishes started to arrive at our table.
Svago Revamped
As we sampled the diverse range of beautifully plated dishes, we learned that Svago houses three concepts in one restaurant. First, there is the casual restaurant menu downstairs where people can enjoy pizza, pasta, and cocktails while in the welcoming outside seating area facing the fountains at KLCC. Second, there is an upstairs lounge that has an in-house DJ that starts spinning every evening at 7 pm. The semi-fine dining section, where we enjoyed our afternoon, is on the inviting second level with views of the KL skyline. We were fortunate to visit Svago while they were preparing to roll out their new menu in October 2017 and try some of Chef Basilio's creations.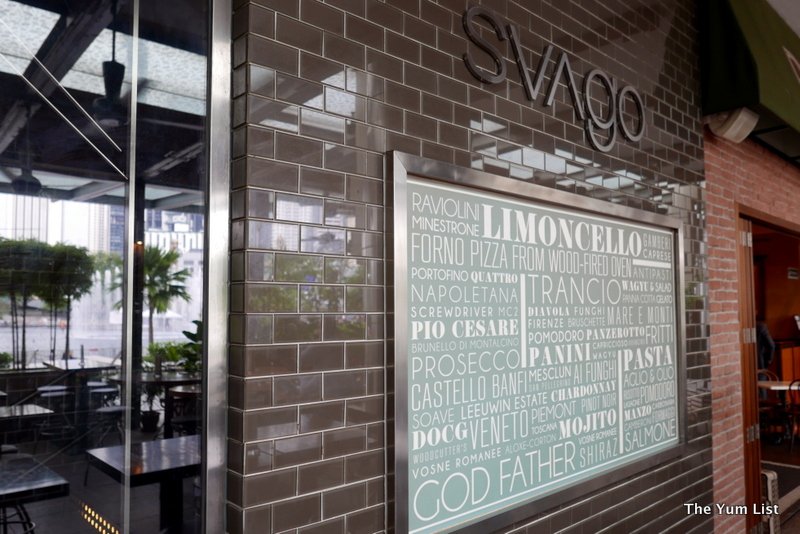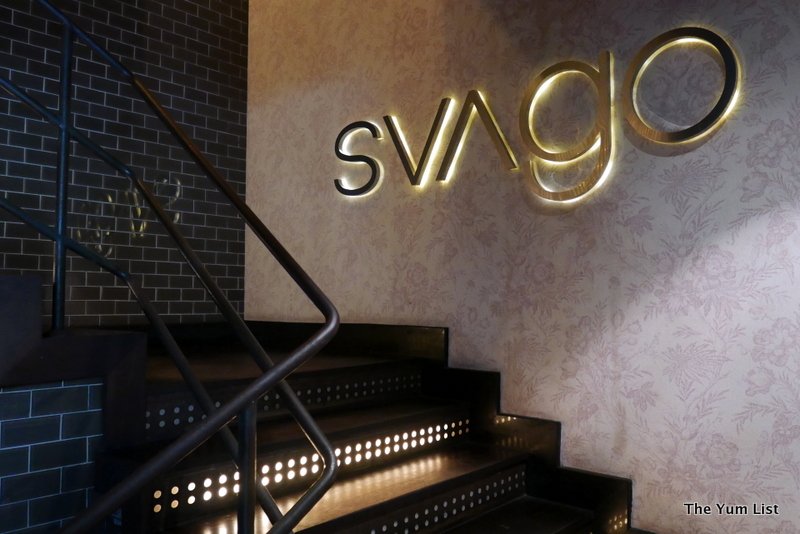 Tapas
The first dish we tasted was the Coco Catalana (RM21.80), a fresh locally baked flatbread served with anchovies and vegetables (tomato, red pepper). The butteriness was perfectly matched with the saltiness of the anchovies, which consequently stimulated the urge for a glass of prosecco. It was beautifully presented on gray slate with dollops of basil mayonnaise.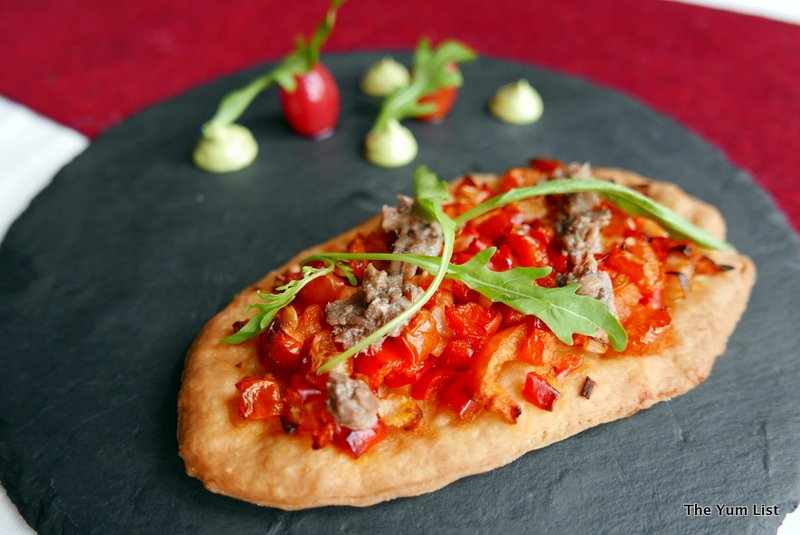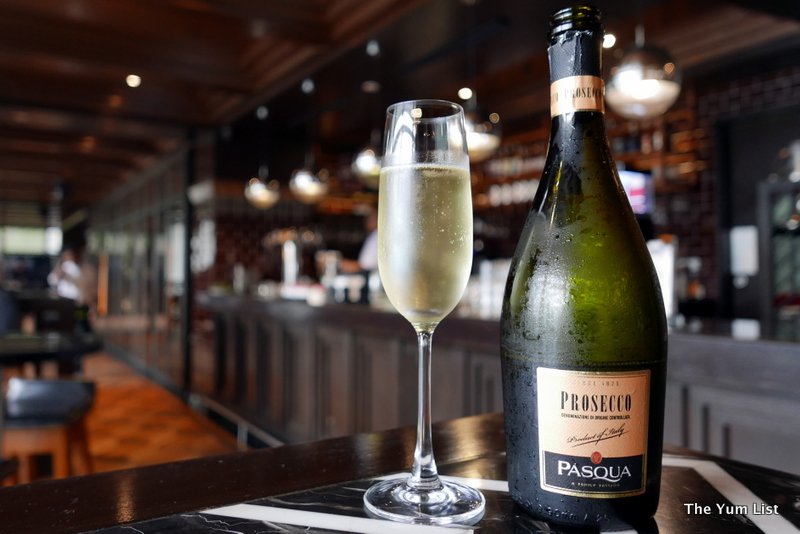 Beef
The next dish to arrive at our table (with our newly poured glasses of prosecco) was the fabulous Beef Tenderloin with Truffle Risotto and Rosemary Honey Sauce (RM111.95, add foie gras RM42.65). The savory truffle risotto complimented the tender cut of meat, which was grilled to perfection. The slight hint of sweet is a nice surprise as is the follow-up of a rosemary finish. In discussing this dish, my sister, who was visiting from New York said, "This is something that your sister will think about when she's home – 10,000 miles away!"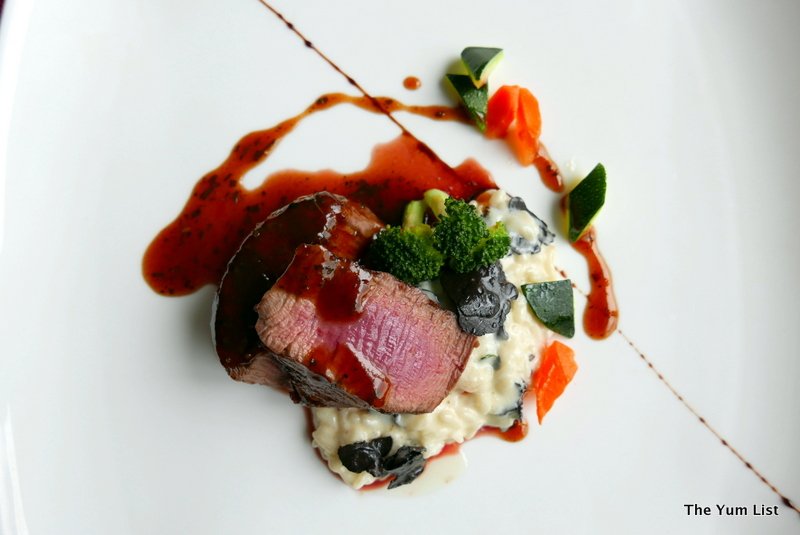 Breakfast
Our taste buds were again delighted at the next dish, the Carbonara Breakfast (RM20.80). Baking an egg with beef bacon and mozzarella cheese provides the perfect blend of hearty and fulfilling for the hungry diner – rich satisfying deliciousness.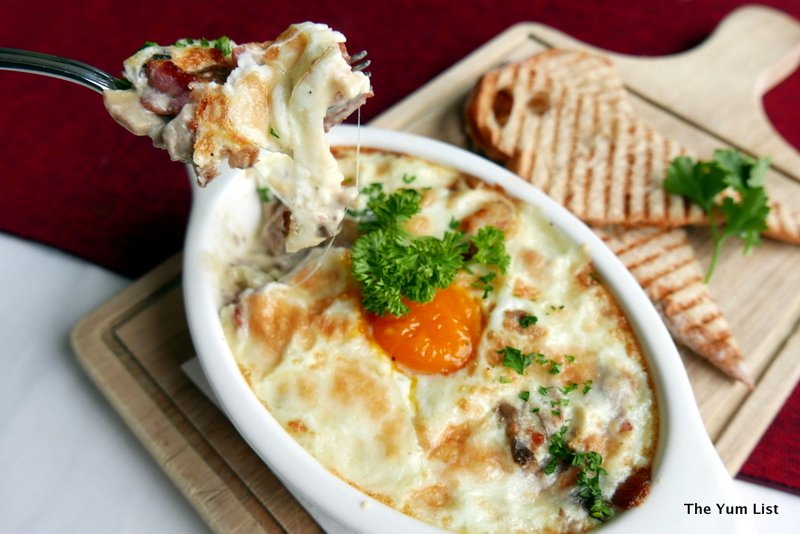 Salad
The Caprese Salad on Flatbread (RM24.50) reminds one of the intricate flavors of Italy. Tomato, rocket, pesto, and mozzarella cheese toasted on thin, delicious garlic flatbread. Fresh and cooling with the anis push from the basil pesto, it was the perfect preface to the hearty Sea Bass entree.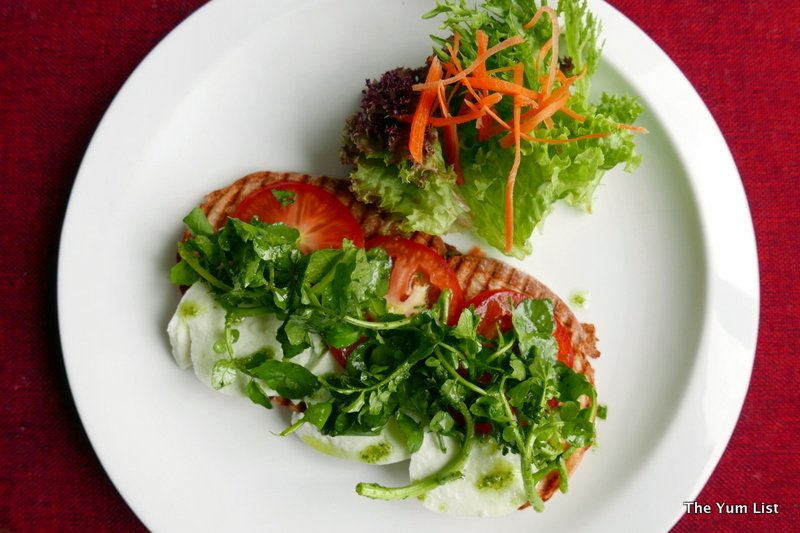 Fish
The Pan Seared Chilean Sea Bass (RM58) with ratatouille was beautifully presented and very welcomed at our tasting table. The smooth flavor of the fish counterbalances the pungent ratatouille to create a melange of incredible flavours. The Atlantic seabass fillet was thick, yet moist and buttery.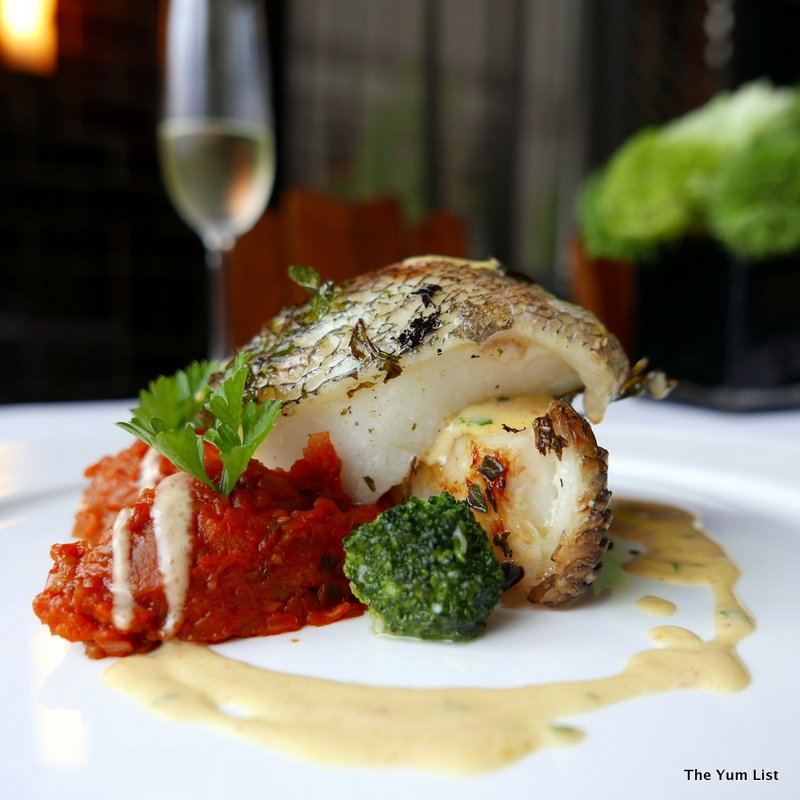 Drinks at Svago
We were delighted to try some specialities from the wine and cocktail menu while enjoying our feast of flavours. The Chardonnay, a Bicicleta Vina Cono Sur from Chile (glass RM34.10, bottle RM169.10) is a fresh, young tasting wine, well balanced with citrus aromas and mineral undertones. The Merlot, also a Bicicleta Vina Cono Sur from Chile (glass RM34.10, bottle RM169.10), offered a dark flavour of black fruit with hints of soft oak. A very nice compliment to a savory feast at Svago. For cocktails, we tasted the cool blend of fruity flavours in both a Cosmopolitan and a Sex on the Beach (RM30.70). The drink menu included cold-pressed juices (RM17.05), imported Italian fruit sodas (RM14.70), iced blended coffees (RM16.85), and mocktails as well as alcoholic drinks including wine, beer, and various other cocktails.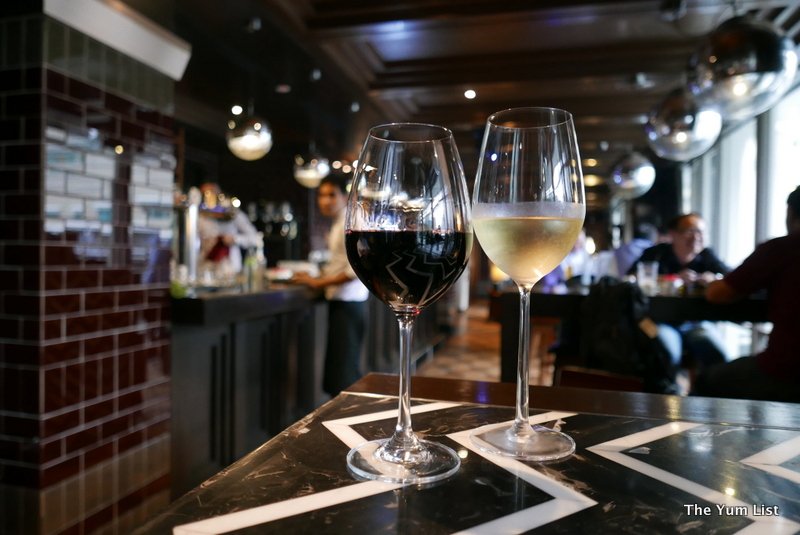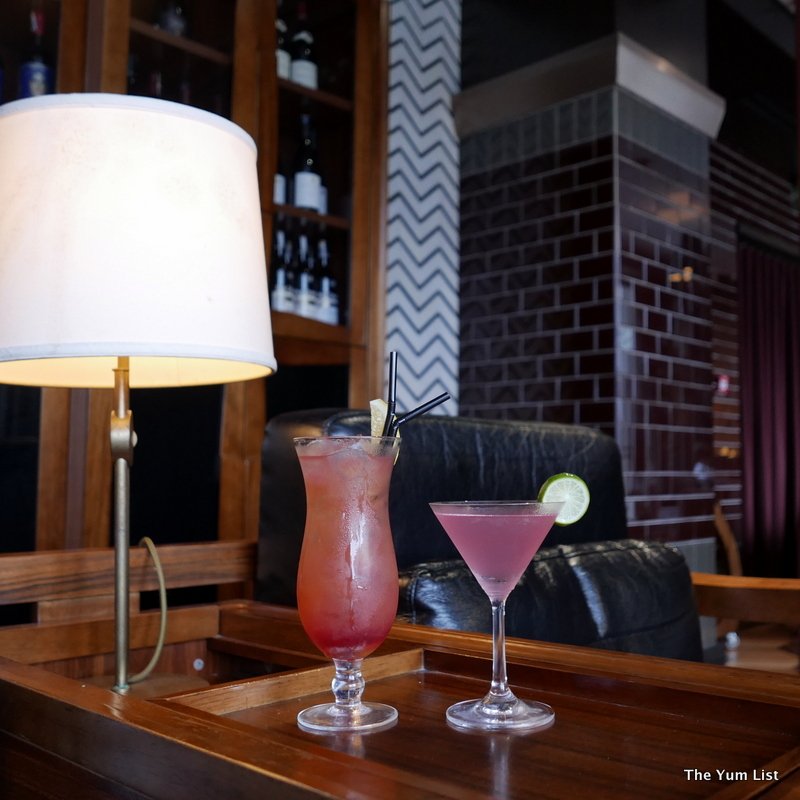 Croquetas
Next, the whimsical perfectly crispy Croquetas (RM18.80) arrived to tease our tastebuds. The thin, crispy outer bite was the perfect introduction to the chicken, fish, or mushroom filling. Beautifully arranged on a serving slate.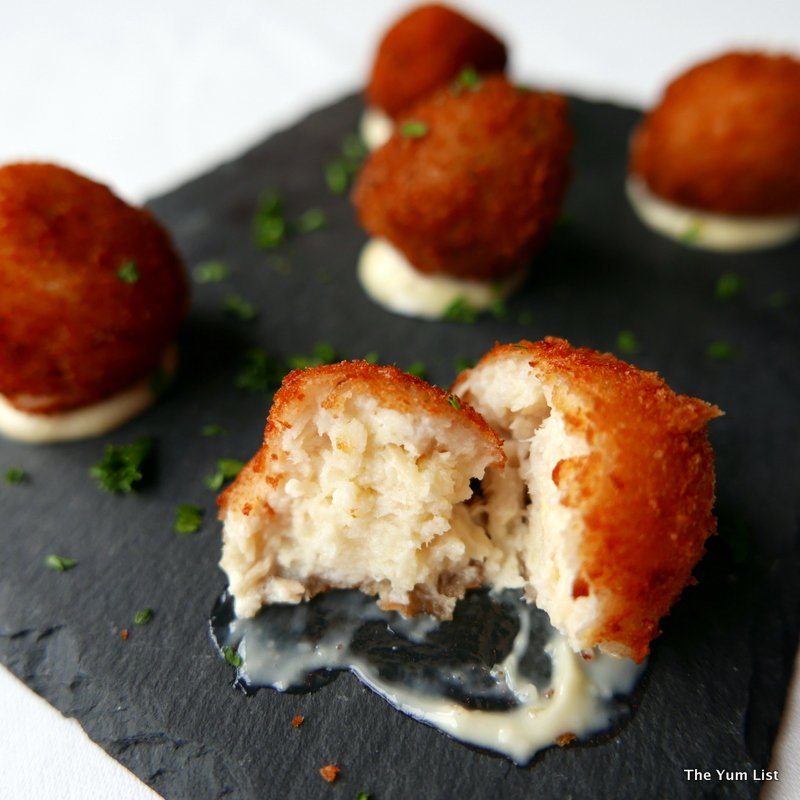 Carpaccio
"Fantastico!" remarked Monica when she tasted the Beef Carpaccio. This intriguing and elegant dish included the various flavours of beef, prawns, truffle powder, samerol (salmon roe), foie gras, and rocket. It was complex, yet refined as the ingredients that are delicious separately all came together to form the tantalizing "sea and mountain," as Chef Basilio called it.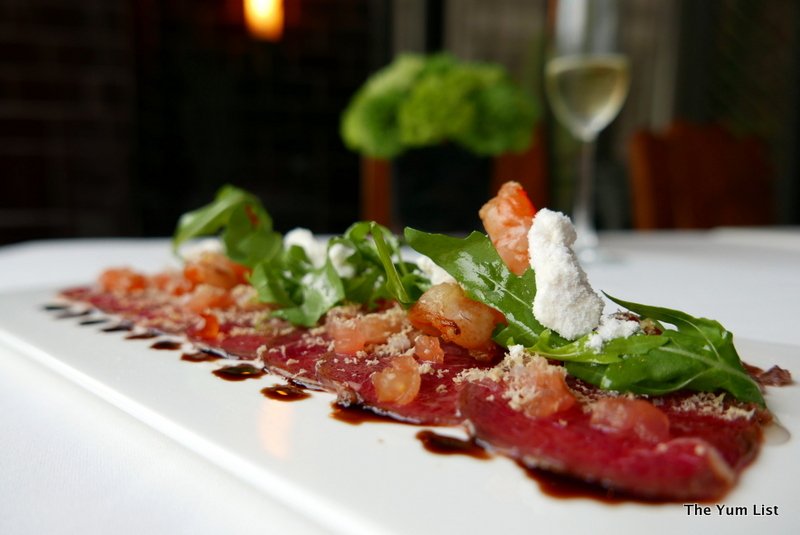 French Toast
Lastly, we completed our dining experience with the beautifully presented French Toast (RM24.50). The locally baked bread was 'frenched' and served with berries, honey, and mascarpone cream with a delightful, slightly bitter berry jam. Our perfectly brewed coffees were the ideal complement to the sweet finale of our afternoon at Svago.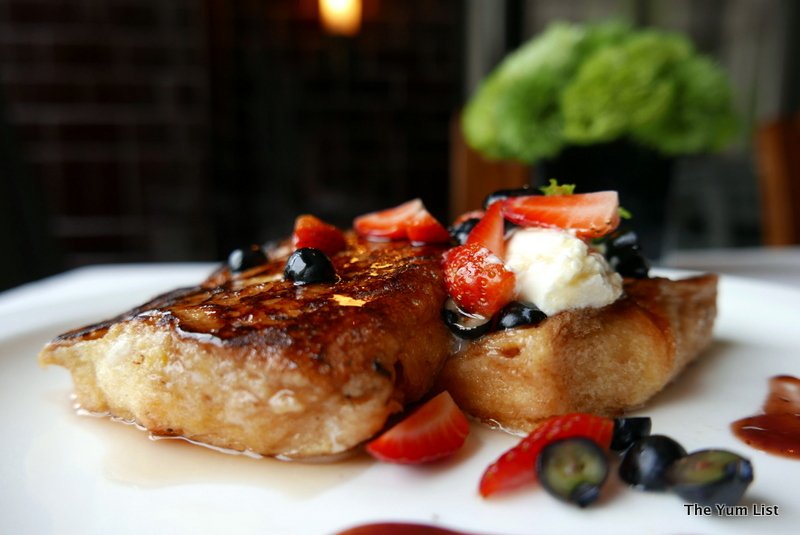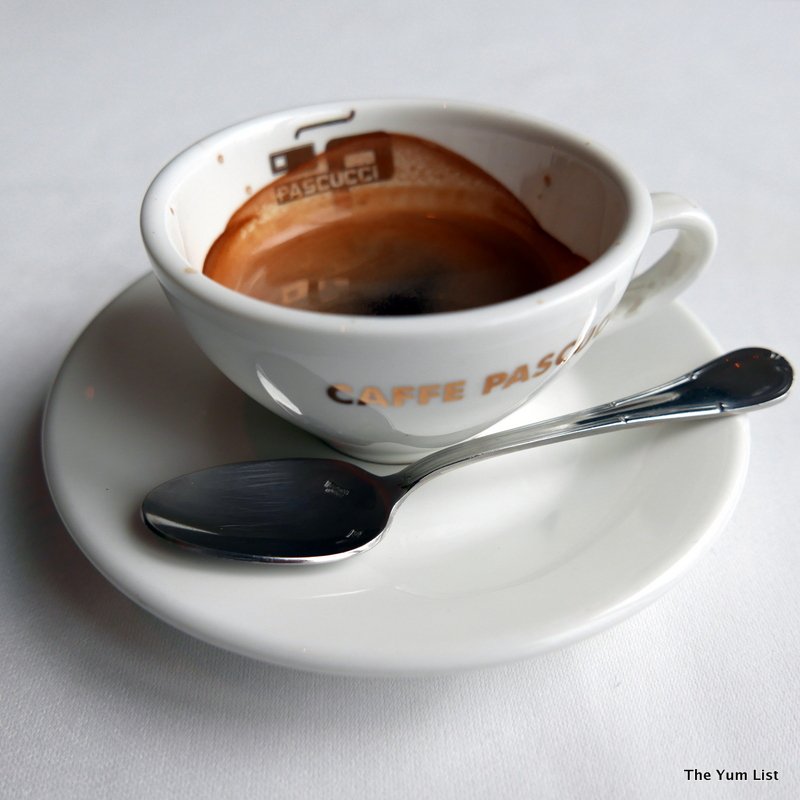 We truly enjoyed our culinary experience at Svago and look forward to enjoying the new menu!
Reasons to visit: great variety of dishes to satisfy cravings across the day from breakfast, to lunch, to light bites and dinner; a great spot for happy hour with views of the park; don't miss ordering the Croquetas, Pan-seared Sea Bass, and the Beef Tenderloin with Truffle Risotto and Rosemary Honey Sauce.
Svago, Spanish Italian Restaurant, KLCC
Lot 136 First Floor
(entrance from Limoncello below)
Suria KLCC
Kuala Lumpur
Malaysia
+603 2163 0188
[email protected]
www.out2dine.com.my
www.facebook.com/svago.klcc