Monica Tindall
One of the hottest food and beverage openings over the last year has been The Table on the fourth floor of ISETAN – The Japan Store. This group of stylish dining restaurants has consistently wowed guests with Michelin-starred chefs, the best cheesecake in the city, a number of specialty kitchens and a bar. On the ground floor, however, along with the supermarket, are yet more gourmet options. On this visit, we explore some of the of eat-in counters providing high-quality Japanese cuisine in a more casual and fast-paced setting.
Shoya
We begin with Shoya, the sushi and sashimi specialist. A circular seating area provides a direct look into the kitchen and we watch with fascination at how skillfully sashimi is cut and sushi is rolled upon our order. It's all done and delivered by the chef himself, which makes it easy to quiz him over any unknown ingredients.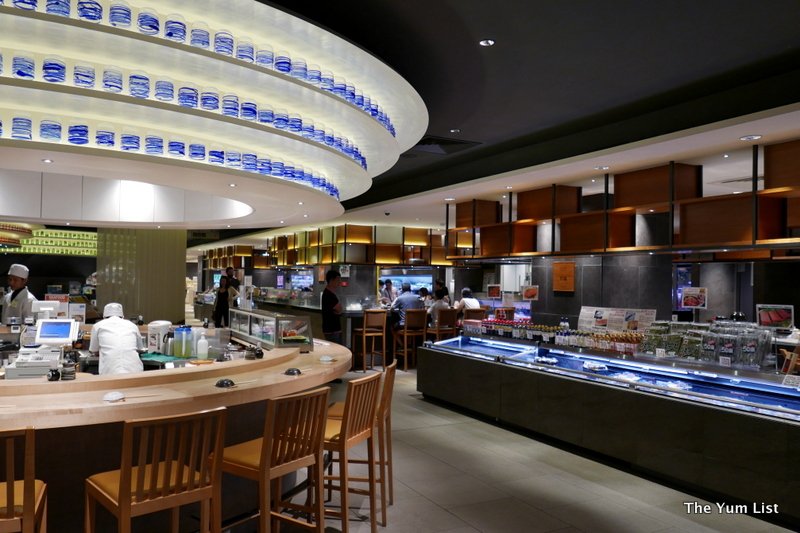 Our first dish, is a beautiful Special Salmon Don (RM38). Chewy sushi rice, cooked and seasoned to perfection, is topped with soft pink strips of fresh salmon, flaky pieces of seared salmon and garnished with salmon roe. Miso soup accompanies all meals and the offering here is not merely the broth alone but it's filled with generous chunks of tofu and seaweed. This is pretty Instagram material, but is also a delight to eat.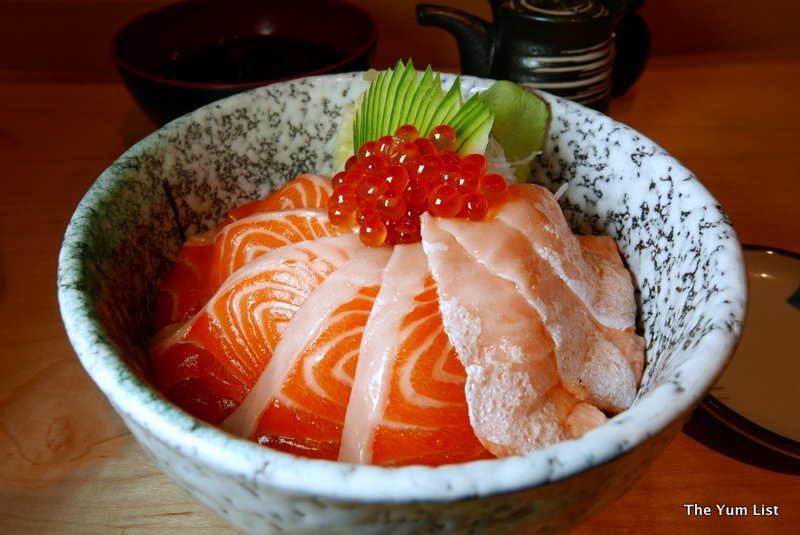 You must eat sushi here and a great order for those who have trouble choosing like me is the Mixed Nigiri Sushi (RM35). Depending on the season, different sea creatures are available, and today we savour salmon belly, red tuna, yellowtail, Hokkaido scallop, tobiko (roe) and tamago (sweet folded omelette). All are superbly fresh with the fish all neatly cut across the diagonal at just the right thickness to provide substance yet melt-in-the-mouth tenderness.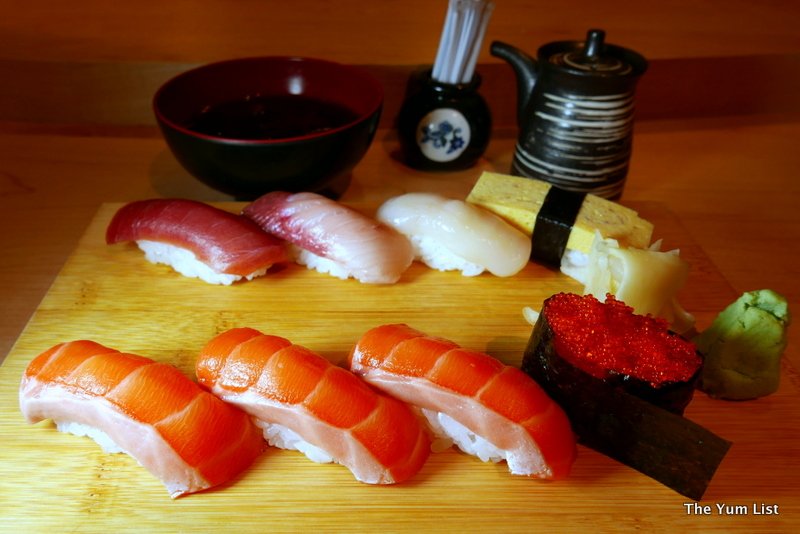 Sobaya Shige, Japanese Noodles
Owned by the same group as Shoya, is Sobaya Shige, which specializes in soba and udon noodles. All noodles are proudly made from scratch in-house and the process can even be viewed through the glass-windowed kitchen. The choices are simple and noodles can be ordered hot or cold with various additions.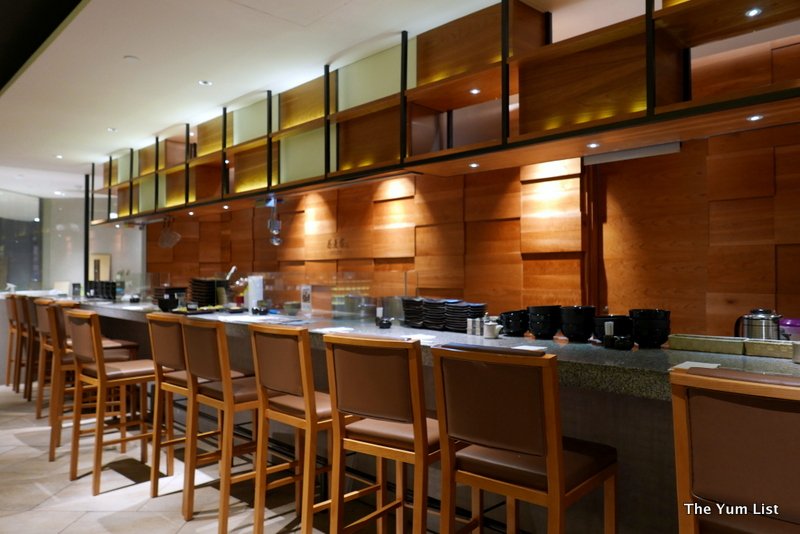 Duck Udon comes highly recommended (RM30 a la carte or RM35.50 a set including chuka wakame, marinated seaweed, and inari age, sushi inside a tofu skin). A broth of kelp, mackerel and bonito make a rich base and tasty seared duck breast, soft chicken mince balls, seaweed, spring onions and leek compose a hearty dish. The udon has the perfect level of bite and pliability and have soaked up the flavour of the broth splendidly.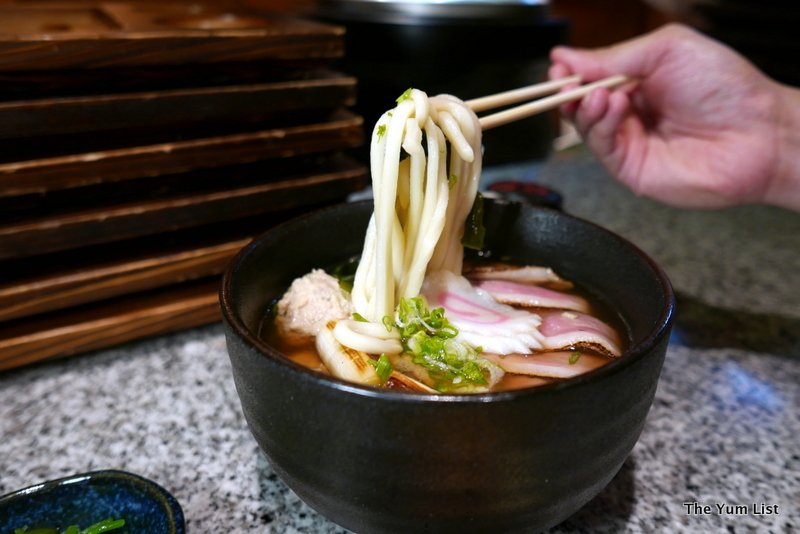 Cha Soba with Ebiten (RM28) can be eaten hot or cold and comes with a tempura prawn. The traditional buckwheat noodles are given a green tinge with matcha and served on a bamboo mat. The tempura prawn is succulent and meaty within and fried in a puffy crispy coat.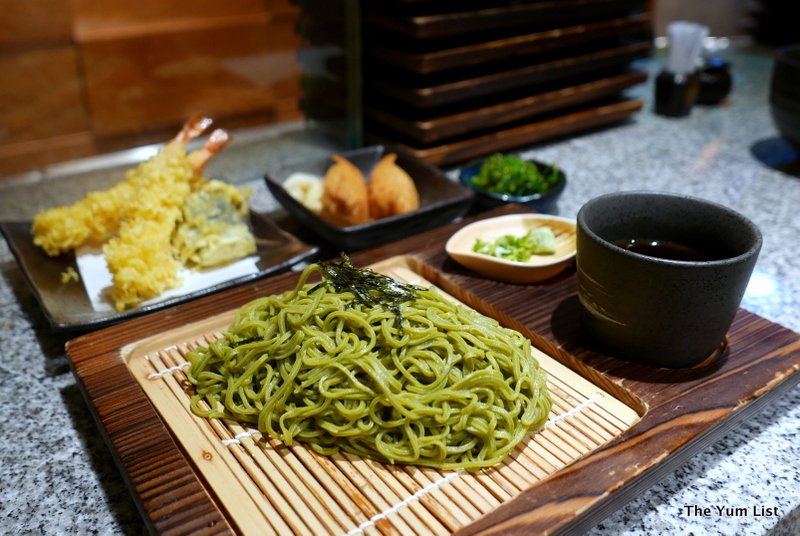 Ginza Hageten
Moving on in intensity and away from the heart-healthy dishes we started with, we check out Ginza Hageten. This is the counter to pull up a stool at if you're a tempura fan. Everything is made fresh to order and we've been impressed so far to find this as the third counter with a Japanese chef working the kitchen.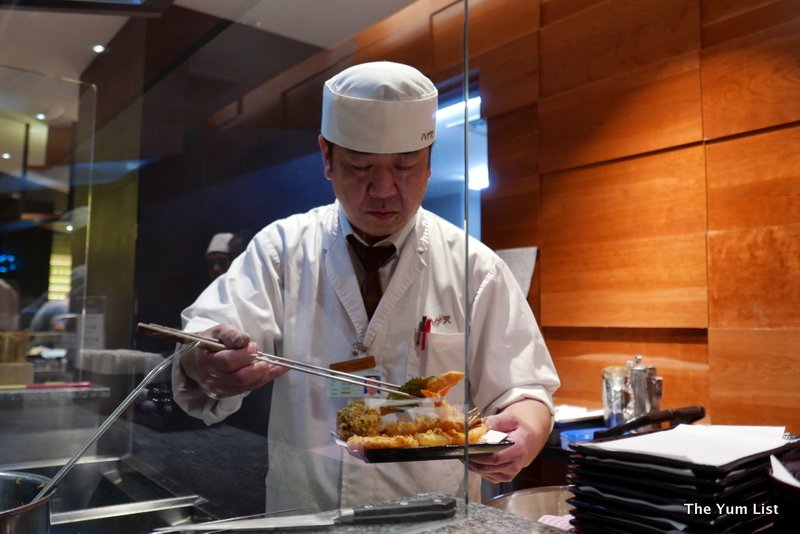 The sets here are popular lunch and dinner meals, and we try sets number two and six: Rice Topped with Special Tempura (RM44) and Special Hageten Set (RM48). The former features a bowl of two shrimp, two vegetables, one fish, one piece of chicken and one egg, all done tempura style. On the side, there's rice, Japanese miso soup Japanese pickles and salad. The latter is composed of two shrimp, two vegetables, two fish and a special Hageten shrimp mixed with vegetable tempura. Wrapped around the mackerel is a shiso leaf serving to soften the strong flavour of the fish. The sides are the same with the addition of chawanmushi (a deliciously smooth) savoury steamed egg custard and salad (made of white radish, tomato, kyuri, corn kernels, and bonito flakes).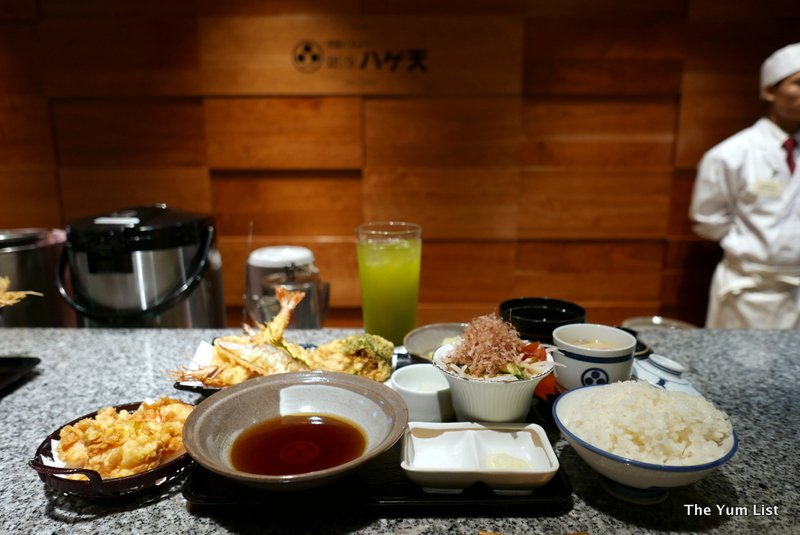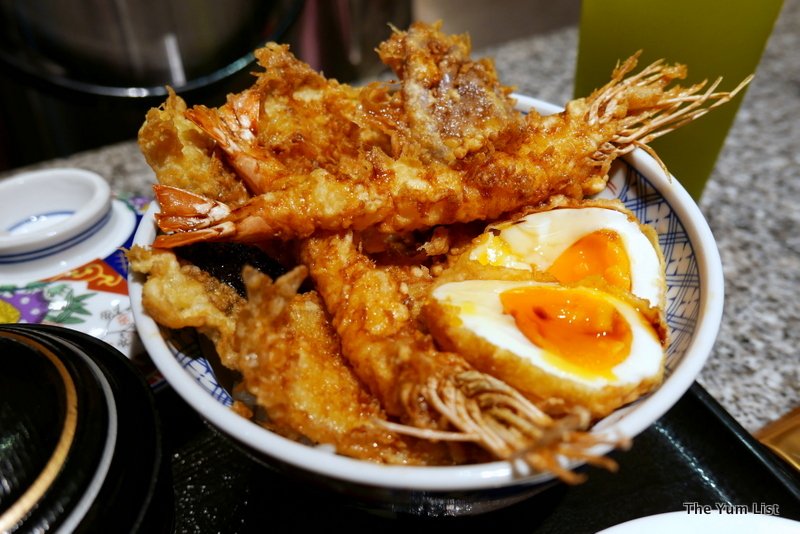 Additionally, and one of this week's specials, the Kushi Age of sweet potato (RM5), shrimp (RM9) and wagyu beef (RM9) is superbly crisp. Ours is served with the chefs' original Worcestershire sauce blend, which is tangy, sweet and savoury, and a fantastic companion to the fried snacks. Yum!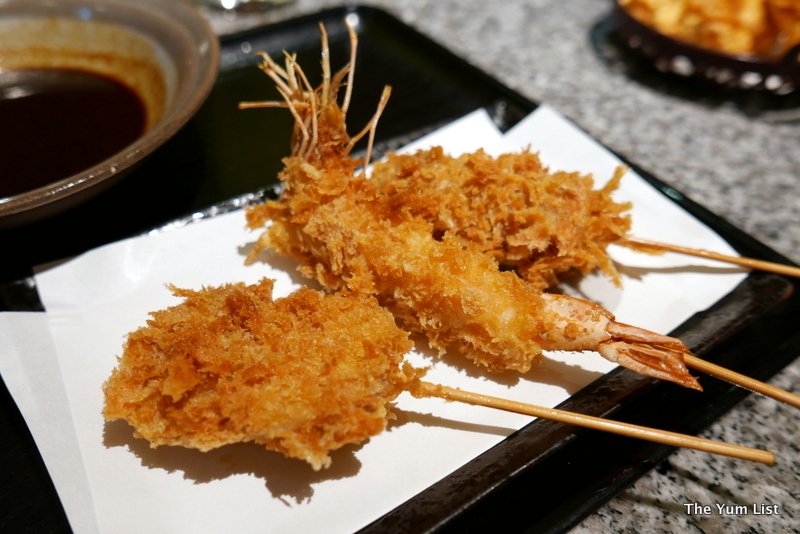 Dashi Dining Saya
Last, but certainly not least, we move on to Dashi Dining Saya, which is spread across two counters – an eat-in area and a deli, grab-a-quick-bite-on-the-go section. Dashi is the stock and foundation of many Japanese soups. It's a key ingredient and very important to master in the Japanese kitchen. The team at Dashi Dining Saya are proud of their stock, spending many hours perfecting the precise recipe which is served at ISETAN – The Japan Store. Not only is dashi a core component of Japanese cuisine, but we also learn that it's a popular remedy (or prevention) for a hangover. Many gentlemen drink the dashi soup with rice after an evening out before going to bed and swear by its power.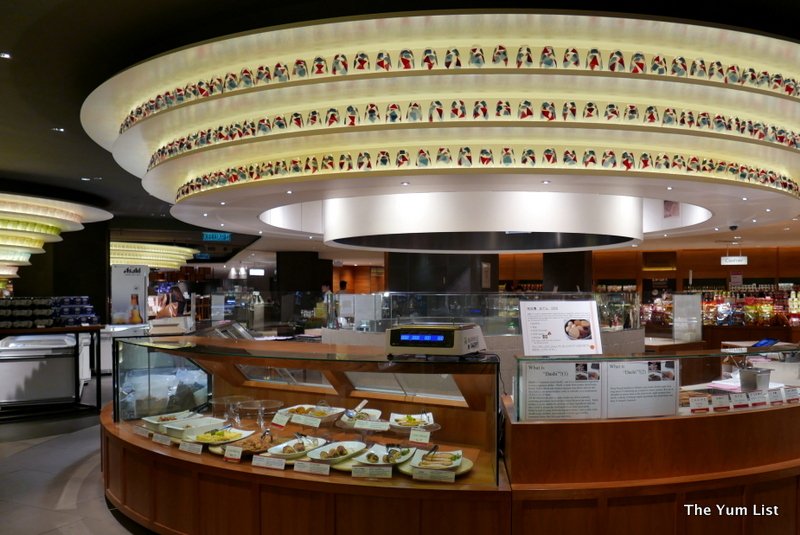 Nabeyaki Udon bowls are the specialty here and we try a couple of the favourites: Beef Nabeyaki Udon (RM22) and the Clam Miso Nabeyaki Udon (RM20). Orders placed, things get exciting when mini gas stovetops are placed on the counter with cast iron pots brimming with ingredients on top. Once switched on cooking time is about three minutes and we're told that the bubbling broth has proved a popular shot amongst Instagrammers and those who allow their cameras to eat first.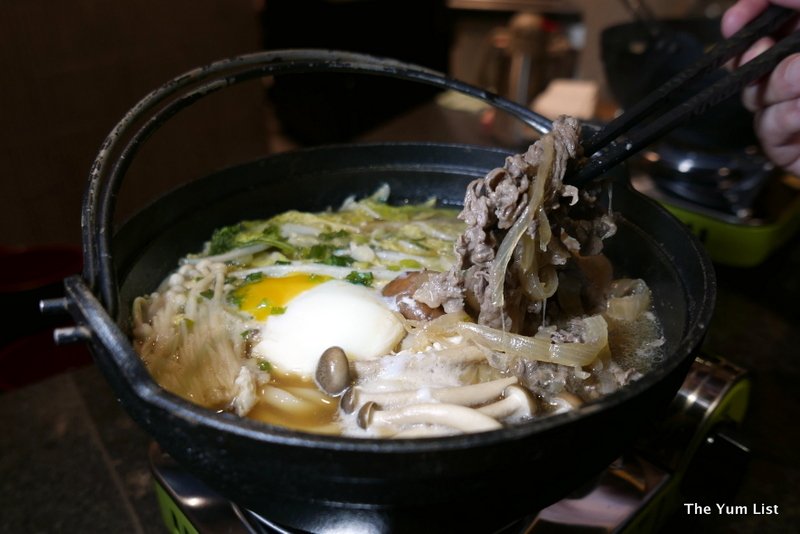 Inside both pots are shimeji mushrooms, shitake mushrooms, enoki mushrooms, Chinese cabbage, miso soup, and udon noodles. The clam pot comes with four pieces of clams, is garnished with spring onions and is the slightly more savoury of the two. The beef holds sliced beef loin and an onsen egg, and the soy sauce soup is somewhat more complex, with a bit of sweetness from the soy and caramelized onions. Both are delicious and, although the portion is large, we soon find our spoons hitting the bottom not letting a single drop go to waste.
Backing up the menu are a number of rice bowls and the Teriyaki Chicken Rice Don Set (RM18.50) is a best seller. Those wonderfully chewy short grains of Japanese rice provide a bed for tasty strips of teriyaki chicken, which is topped off with ginger, sesame and green onions. It's highly satisfying and we like it so much that we request another to take home for our lunch the following day.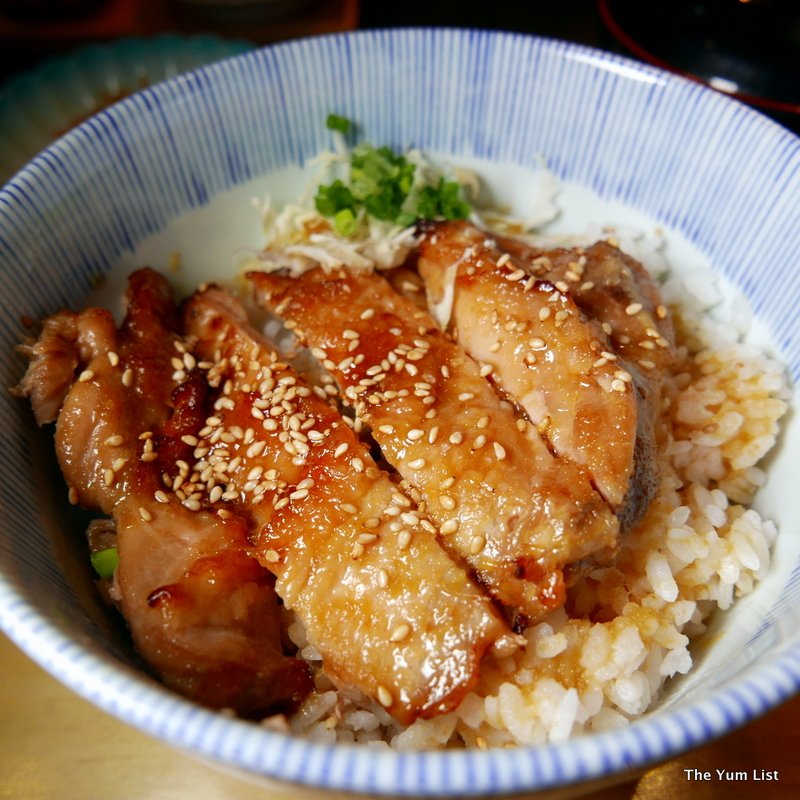 There sure is a lot to try at the eat-in counters of ISETAN – The Japan Store. We've only just scraped the surface with our visit to these four outlets today. We've already scoped out a craft beer joint and a sake bar too – stay tuned for more on those as we promise to return.
Reasons to visit: high-quality authentic Japanese cuisine at affordable prices.
ISETAN – The Japan Store
LOT 10 Shopping Centre
50 Jalan Sultan Ismail,
50250 Kuala Lumpur, Malaysia