Monica Tindall
THE place for all-day breakfast in Singapore is Wild Honey. Formed out of the simple love of the morning meal, Wild Honey, open since 2009, has become an institution in Singapore. Acknowledging limitless possibilities and drawing inspiration from around the world, the menu promises something for every palate with a common thread of generous portions and reasonable prices interlinking them all.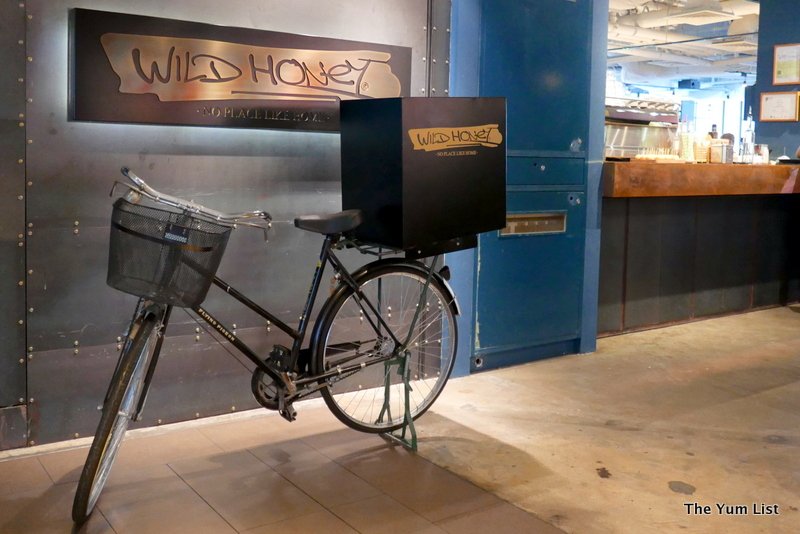 Now with two outlets in Singapore and one in Kuala Lumpur, we're dining today at the original address in Mandarin Gallery (well, as close to it as possible, they've since expanded to a shop adjacent to the original as they grew so big!). Taking advantage of its third-floor corner lot, windows stream natural light with lush treetops providing attractive green views. A variety of lounges, tables and shared communal benches gift a variety of seating. Standing lamps, vases of fresh flowers, patterned cushions and upholstery, and wooden bookshelves brush the café with a warm, homely feel.
Wild Honey Singapore Menu
Long lines are a common scene on weekends and I'm not sure if it's for a table or the lip-smacking balls of Brazilian Bread ($6) that they give away to appease hunger pangs while waiting in the line. They're warm, cheeeeesy, addictive mouthfuls of lusciousness. Seriously, I challenge you to eat only one.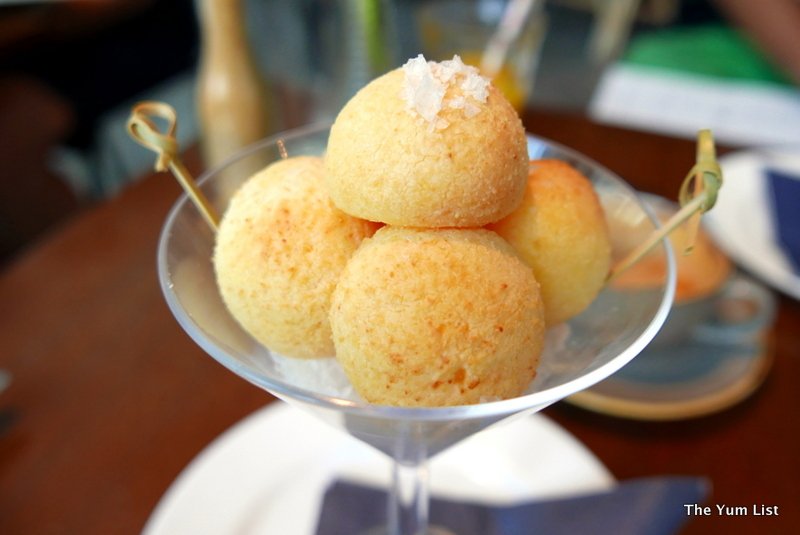 The menu is set across two pages making it easy to see the range of offerings at a glance. The all-day breakfast menu is divided into sections of meat, fish, vegetarian, sweet and something lighter. To serve you well, we try something from each section. Besides the categories already on the menu, gluten-free and dairy-free preferences can be catered for throughout.
Coffee at Wild Honey Singapore
Good coffee is an essential for us in rating a brekkie spot, and Wild Honey make their brew just as seriously as we consume it. A local roaster, Common Man Roasters, provides the beans and the blend for espresso-based milk beverages is a contemporary light roast with a sour finish. Coffee connoisseurs should be pleased.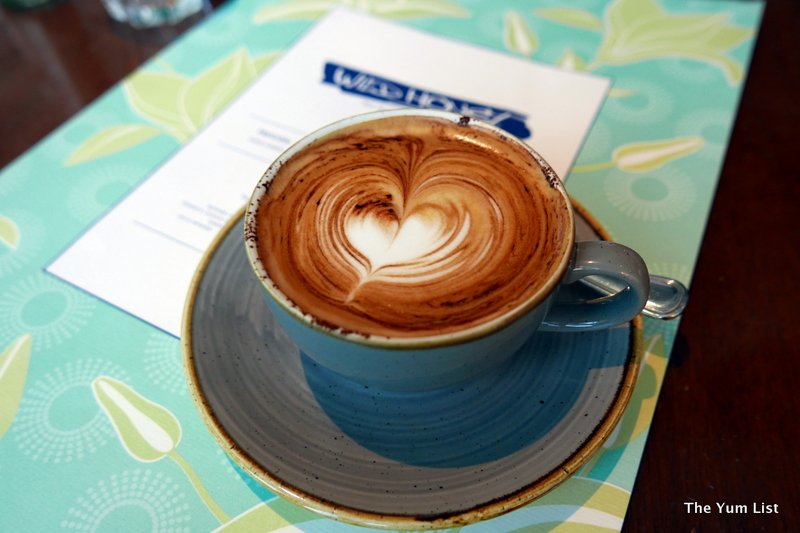 Meat
Hubby insists on starting in the meat section so the European ($23), Wild Honey's take on eggs benedict, is where we begin. Two superbly poached eggs (the white cooked through and the yolk just cooked on the edges and runny in the middle) sit atop sautéed mushrooms wrapped with Italian prosciutto. It comes on their signature brioche, which is fluffy and buttery, and the whole thing is drizzled with a slightly tangy and creamy Hollandaise sauce.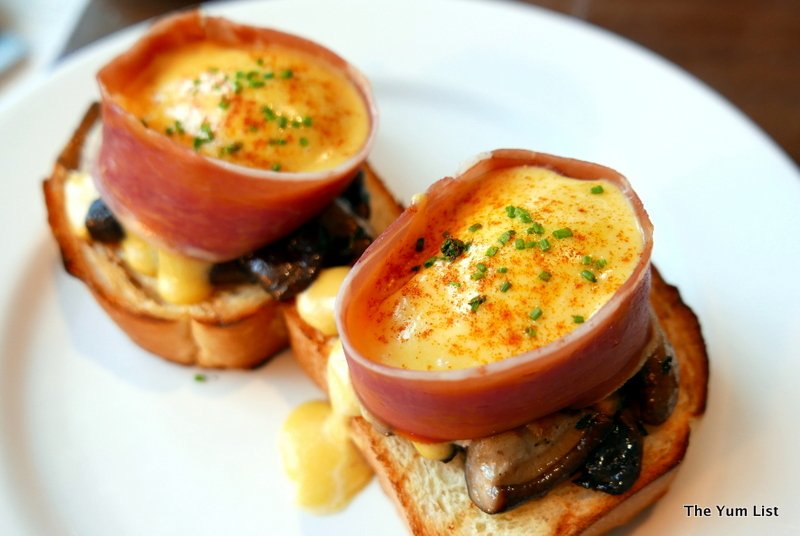 Fish
We move onto something fishy with the Scandinavian ($30), which is also a gluten-free option. Done medium (you can also request well-done if you prefer your fish cooked all the way through), a plump wedge of salmon lies on a bed of potato rosti. Fantastically-giant spears of crisp, tender green asparagus and beautifully-red vine tomatoes balance out the plate and a lush spooning of Hollandaise sauce moistens it all.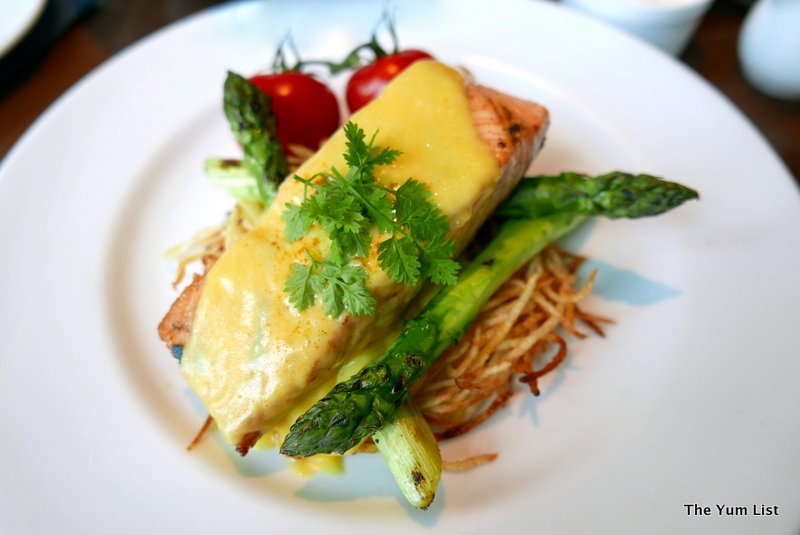 Vegetarian
There's a half dozen vegetarian options (not including the lighter options on the cereals, fruits and bread section) with a good variety of flavours from around the world. We satisfy our Latin cravings with the Mexican ($20), which is a hearty combo of a burrito with scrambled eggs, breakfast potatoes, chunky vegetables and black beans. A spicy red Chimayo sauce, guacamole and sour cream come on the side. Que rico!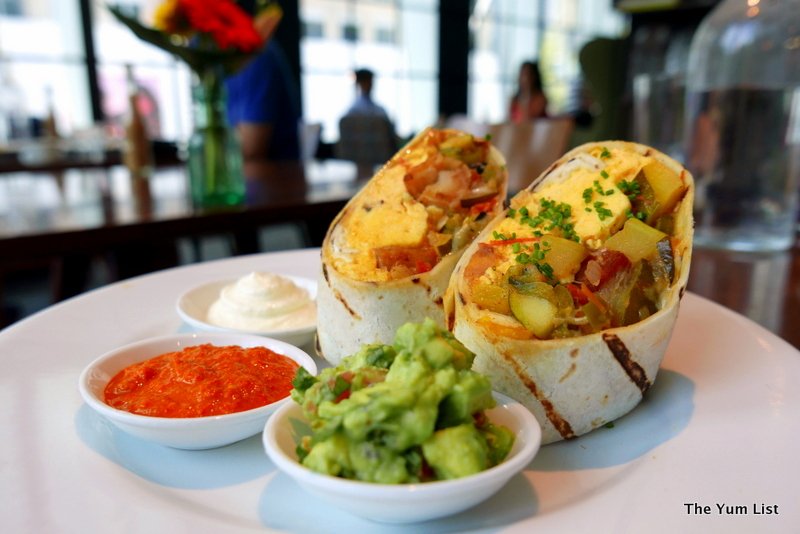 Sweet
I'm in heaven with Wild Honey's version of French toast, the Sweet Morning ($20). Made with thick airy slices of brioche, the middle is stuffed with grilled mango. Yum! To top off the decadence, vanilla bean mascarpone, maple syrup and hibiscus-berry compote can be added at will.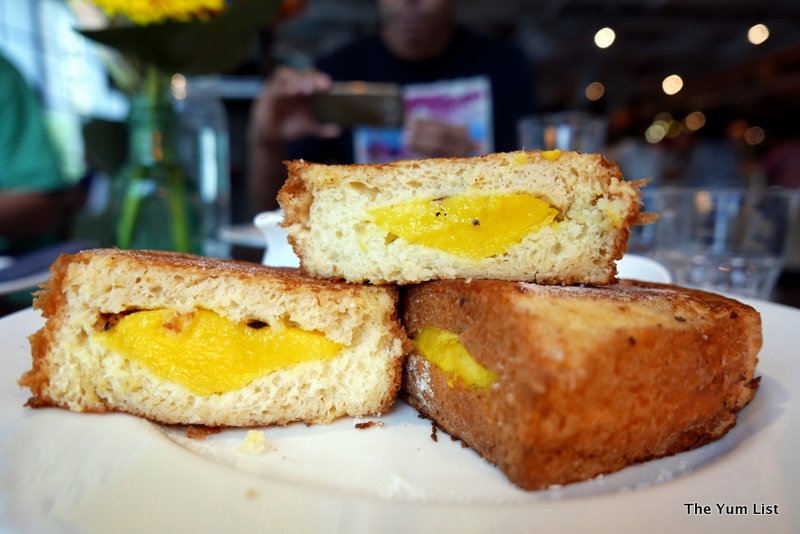 Cereals, Fruits, Yoghurt, Breads
The cereals, fruits, yoghurt and breads component of the menu offers some lighter options perfect for a quick bite or as a substantial side to support a main. Exotic Fruit Salad ($15) is gluten-free, and can also be made dairy-free if you so choose. Vanilla yoghurt and a berry sauce are sweet creamy inclusions but the real star here is the variety of fruits. Blackberries, raspberries and strawberries are in generous proportions. Backed up with mango and apple it's a far cry from the over-used melon we see on too many menus in this region.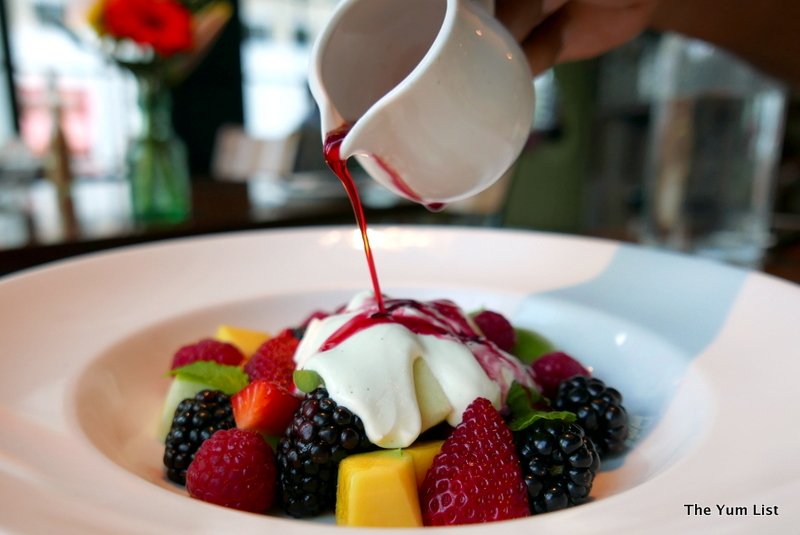 It would be easy to continue here for a few more hours sipping on coffee, nibbling on the remains of our hearty morning feast and enjoying the free Wi-Fi, but with tummies completely sated, Singapore calls and we're off to hit the streets.
Reasons to visit: huge portions and value-for-money brekkies; excellent variety including meaty, fishy, vegetarian, gluten-free and dairy-free options; great coffee; vibrant setting; and oh, those ooey-gooey-cheesy Brazilian Bread balls!
Wild Honey Singapore
Mandarin Gallery
333A Orchard Road
"03-02 Mandarin Gallery
Singapore 238897
+65 6235 3900
wildhoney.com.sg