Words: Chris Moore    Photos: Monica Tindall
After a decade in Asia, I've had my eyes opened by many new experiences within a wide variety of cultural norms. One observation I've made is that themed bars are accepted: actually, they seem to be perceived as downright awesome by the bulk of the public. Take the Hobbit House in Boracay or The Drunken Leprechaun in Bangkok as examples. With this in mind, when I took the assignment to visit Jack Rose Kuala Lumpur in Bukit Damansara, I fully expected to walk into a Titanic-shaped bar complete with large murals of Jack and Rose 'flying' off the bow of a boat or floating in frigid water with an endless cycle of Celine Dion being played far too loud in far too cramped a space for any sane-minded individual.
What I found couldn't have been further from this image. Take your vision of a 1950's diner, complete with checkerboard floors, flat top grill, and neon signs, turn down the lights, turn up the old-school hip hop and rock, and add dark wood furnishings – there you have my first impression of Jack Rose. Jack Rose is the type of bar where you could expect to run into Hemingway drinking the bar's namesake beverage as he embraces the task of finding the climax to, maybe, The Sun Also Rises.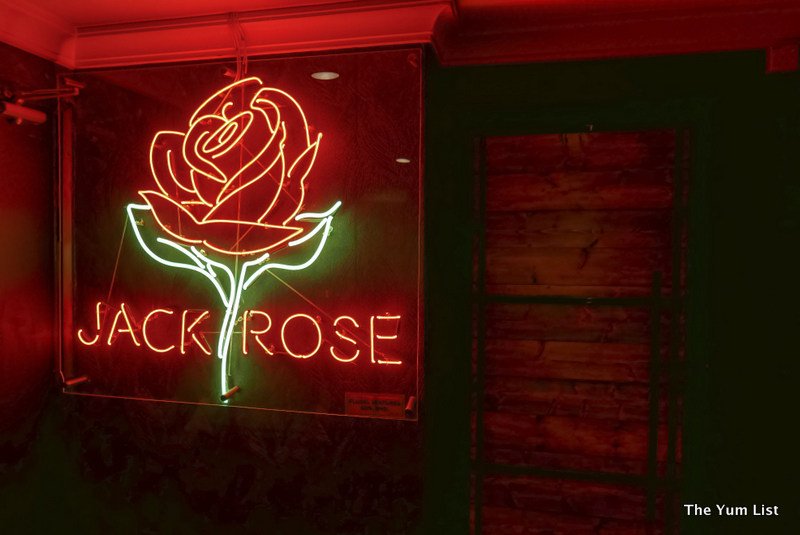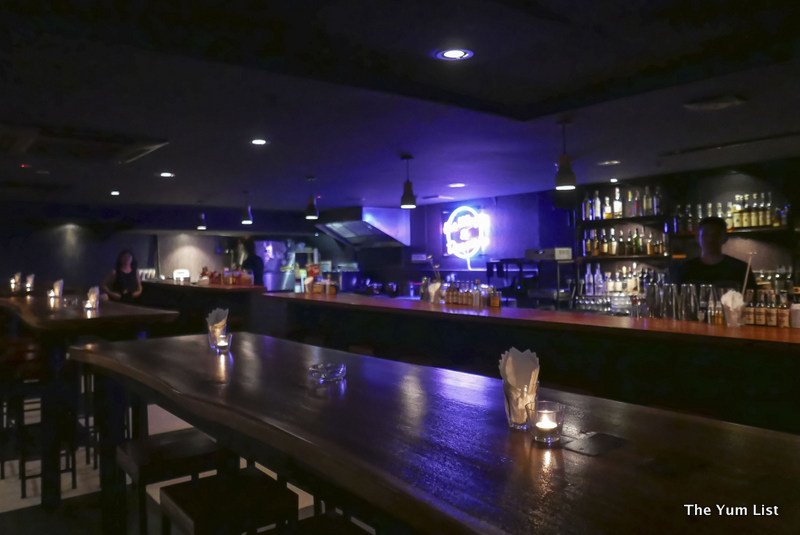 Not to be confused with a speakeasy (as there is nothing being hidden here), Jack Rose is a new cocktail bar in the Damansara Heights neighbourhood that is located in the basement of the building directly behind KLSMC. Opened only four months ago, Jack Rose is the brainchild of owners Callan, James, and Mishkat who shared a collective vision for Jack Rose as being a place where you can come as you are, be it after a day of work or for some late-night drinks, and enjoy a selection of cocktails that are not designed to be covered in a heap of useless garnish but rather to knock your socks off in terms of flavour and design. Most of the drinks on the menu are creations from Callan's imagination: a man who has made a name for himself in the region as a mastermind of mixology. He has built a menu for Jack Rose where each drink emphasizes the quality of the spirit that goes into the concoction.
Drinks at Jack Rose Kuala Lumpur
The Ophelia (RM25) is a brilliantly refreshing combination of an Italian bitters known as Apertivo Rinomato combined with a house made grapefruit cordial and soda water. The fresh cocktail offers incredibly fruity flavours balanced with a hint of tartness from the cordial. Bubbly, light, and refreshing – the Ophelia is the perfect cocktail to enjoy on a long summer night, or any other time of the day or year for that matter.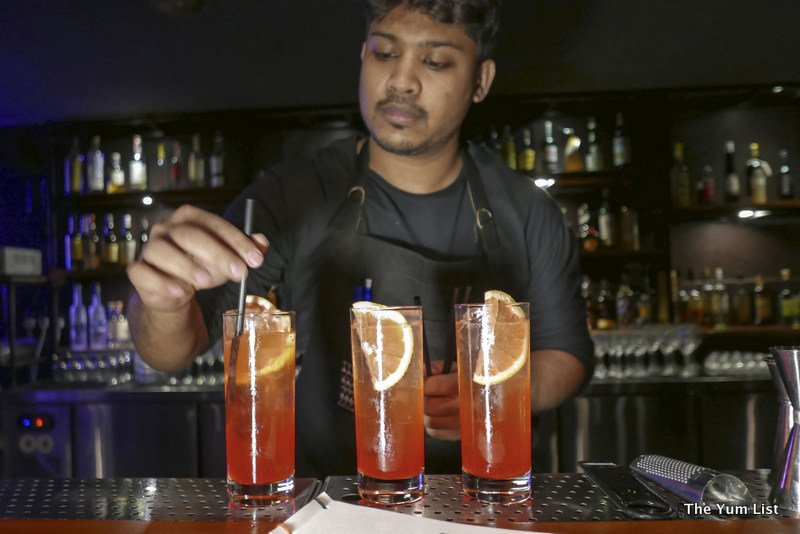 The namesake cocktail, popularized in Hemingway's The Sun Also Rises, the Jack Rose is offered in two variations. The 100 proof (RM49) is made with 100% pure apple brandy, whereas the 80 proof (RM39) is constructed with an apple brandy that is cut by the manufacturer with a touch of whiskey and sugar. I'd say go for the 100 proof as Jack Rose is the only bar in all of Asia to possess the 100% brandy. No matter which you choose, the combination of Laird's AppleJack, fresh squeezed lemon juice, and house made grenadine produce a cocktail that is bursting with flavours of sweet apple on the tip of the tongue and tart lemon at the back of the palate. This Jack Rose is magnificent. So magnificent in fact that it's no wonder Hemingway wrote about the thing! The minimalistic lemon twist garnish perfectly accompanies the drink, as the appearance comes across as so elegant and classy, yet the liquid definitely delivers a punch to the mouth.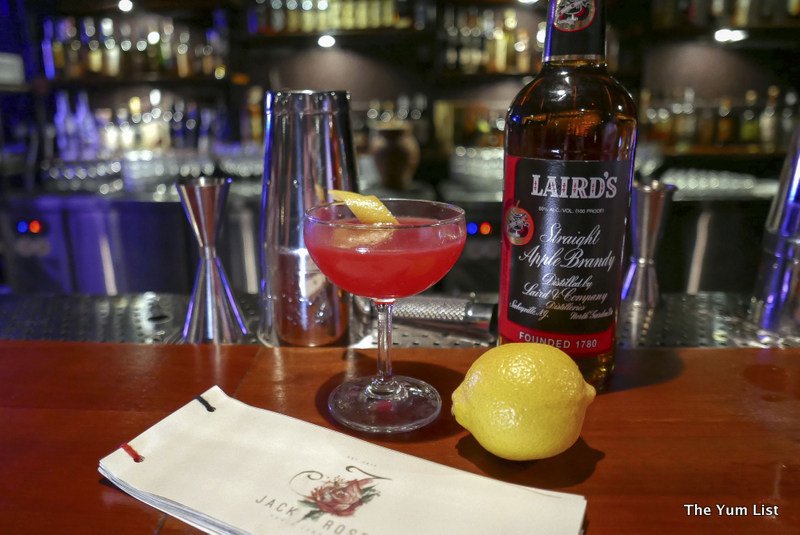 The St Germain Des Pres (RM39) is a brilliantly spicy gin based concoction made with Ford's Gin, St Germain (elderflower and citrus infused French bitters), fresh lime, and cucumber juice, egg whites, and chilli bitters. A shaken cocktail, the frothy head is elegantly floated with a slice of fresh cucumber – but the liquid that lies beneath is far from dignified. The first reaction is the marvellous quality of the gin and the aromatics of the herbs and berries that are balanced perfectly by the citrus notes of the bitters. Before long though, a wave of spice overtakes the senses and leaves a tingle and warmth that is unparalleled with anything I've ever tried. The gin is powerful, but the drink is out of this world.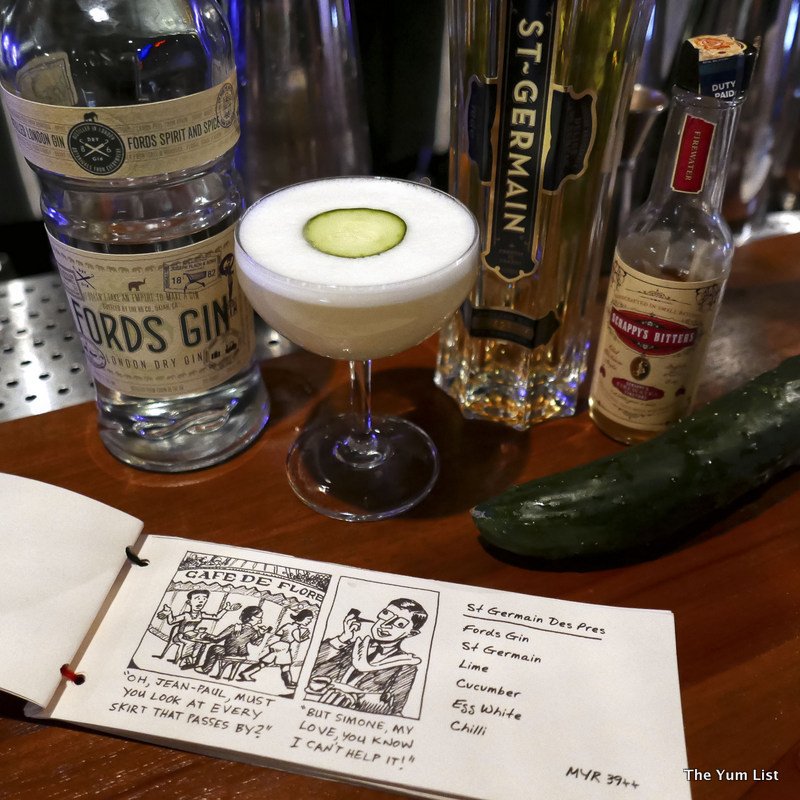 One of Callan's signature drinks, Give Peas a Chance (RM39), is an impressive cocktail made with snow pea infused vodka, Junmai sake, fresh lemon juice, and a dash of salt and pepper. Served over a glass of ice and escorted to the consumer with a garnish of a single fresh snow pea, one can't help but identify how the sweetness and nuttiness of the snow peas and sake are flawlessly cut by the tartness of the lemon. But why salt and pepper you ask? Because Callan is a genius when it comes to drinks and the salt and pepper accentuate the green citrusy flavours of the cocktail by adding a layer of complexity to this spectacular drink.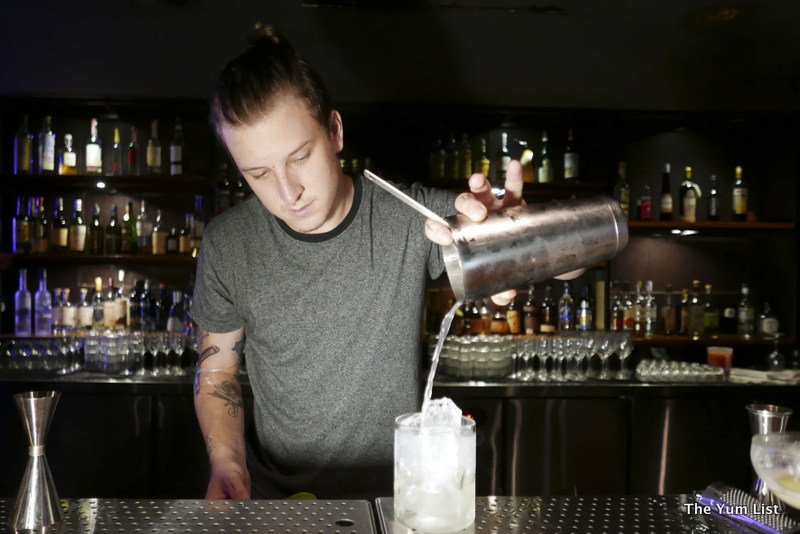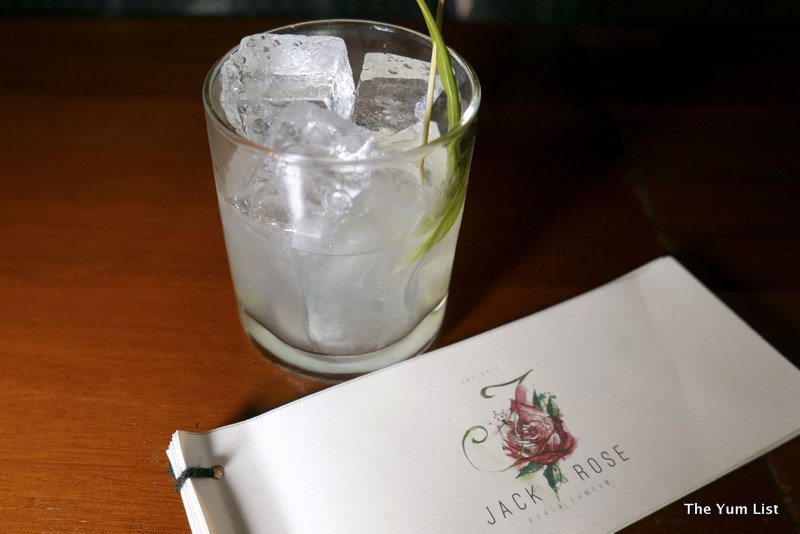 Food at Jack Rose Kuala Lumpur
The food menu is influenced by western cultures and is intended to offer limited selections of high quality food. This isn't your place for a sit down, five-course dining event; instead think food that is meant to be eaten with your hands and leaves you thinking WOW!
Uncle Nate's Buffalo Wings (RM29 – Half Dozen, RM49 – Dozen) are unlike anything I've ever found in Malaysia. Served with the house made bleu cheese dressing and celery sticks, these super moist wings offer the crunch and crispiness that you want on the exterior of the perfect buffalo wing and are covered in a spicy yet flavourful house made buffalo sauce. The spice on the nose will instantly remind you of all those wings you've ever gone to Hooter's for (DISCLAIMER – one only ever goes to Hooter's for the wings).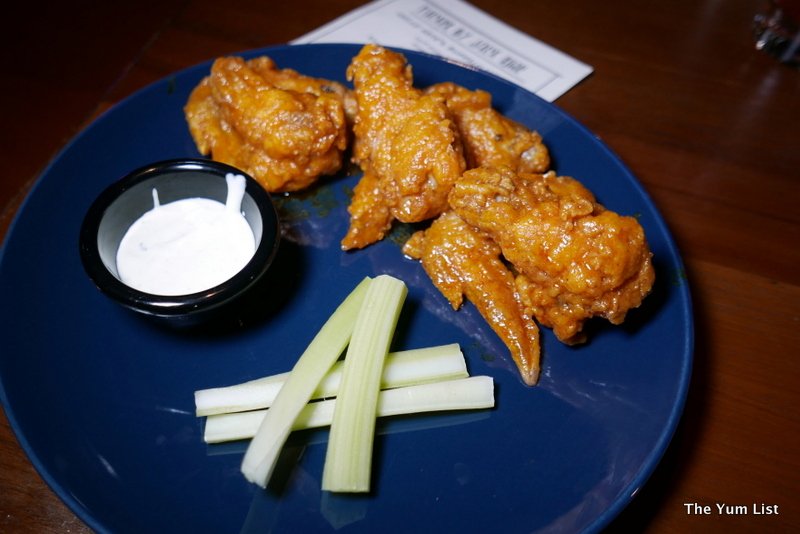 Moving down the menu and continuing with the handheld food theme, the Jack Rose Burger (RM29) is a massively thick patty cooked to medium rare perfection. Don't underestimate the size of this thing, as this is two-handed burger that doesn't bastardize the pure Australian beef by cooking it any longer than needed. It's not covered in an abundance of spices or seasonings (although you do get your standard offerings of lettuce and tomato) but what sets this burger apart from others is the smothering of gloriously creamy Manchego cheese and caramelized onions. (DISCLAIMER 2.0 – this burger is so fantastic I'd go as far as saying it's one of the best burgers I've eaten in KL).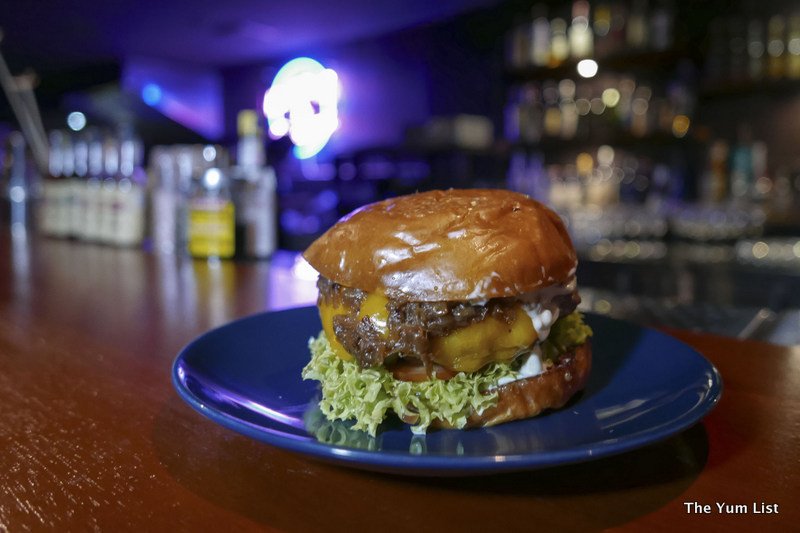 If something a touch more ethnic interests you, Tito's Tacos (RM18) is a great option. Two soft corn tortillas are filled with glorious tender slow cooked beef, vegetables, and fresh made guacamole, and then covered in a delightfully fresh pico de gallo. The slow cooking process provides a ton of flavour, where as the freshness of the pico balances the rich flavours of the beef. This is an incredible set of tacos, and for those that want it spicy, Jack Rose has a selection of hot sauces from around the world to add the heat you desire.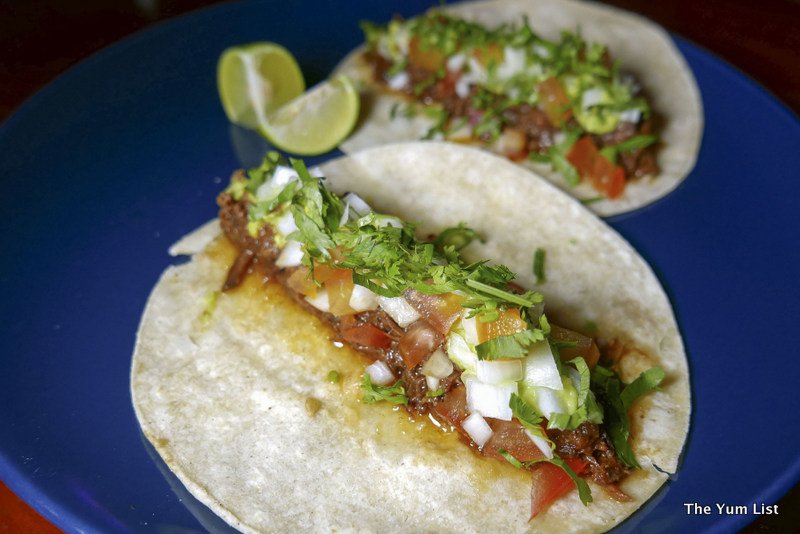 The Soft Shell Crab Burger (RM29) is an offering that mirrors the Jack Rose burger in both taste and construction, as it's equally as good as its gastronomic predecessor. A whole soft shell crab is deep fried and placed lovingly between a buttery roll that is covered in a fantastic lime aioli. This creates a dish that as a whole is the perfect combination of textures and flavours. The crunch of the batter is a thing of beauty and the tanginess of the aioli pairs perfectly with the creaminess of the crab and bread. (DISCLAIMER 3.0 – this is the single best soft-shelled crab burger I've ever eaten).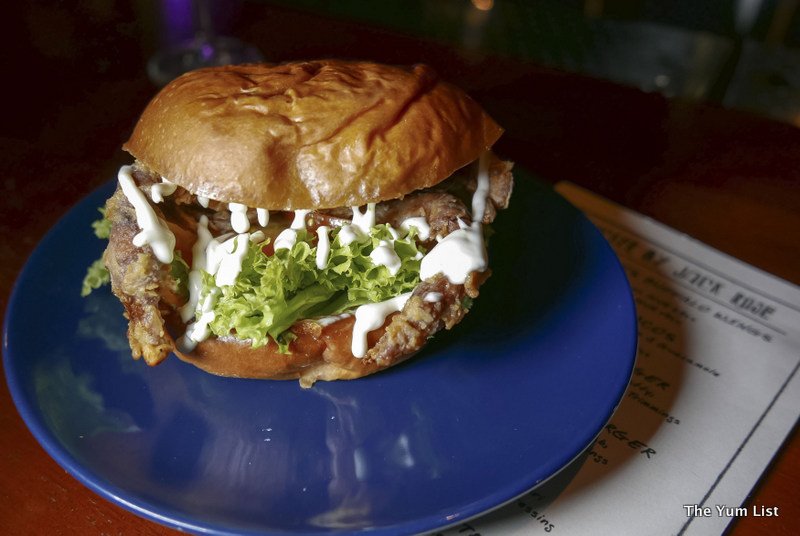 For any cocktail aficionado or culinary connoisseur, or anyone in training for these roles, Jack Rose is a must visit. Be it watching bartenders Callan or Golam sling drinks, enjoying the satirical cartoons that adorn every cocktail recipe, listening to the vinyl being spun on the sound system, or devouring some of the incredible menu options Jack Rose is exactly what Callan, James, and Mishkat set out for it to be: a place to have fun while enjoying high quality food and drink.
Reasons to visit: the Jack Rose and Give Peas a Chance cocktails; Jack Rose and Soft Shell Crab burgers; cool and contemporary decor; welcoming environment.
Jack Rose Kuala Lumpur
B1, Wisma E&C
Lorong Dungun Kiri, Damansara Heights
50490, Kuala Lumpur
Malaysia
+60 3 2011 0682
[email protected]
www.jackrosekl.com