Words: Robin Cherry   Photos: Monica Tindall
With its sleek, mid-century furniture and large picture windows, BAIT's new outpost at The Intermark is classy, cool, and comfortable. A light board that says "Well Hi Gorgeous" lets you know that it doesn't take itself too seriously — except for the food which is fabulous and a good value to boot.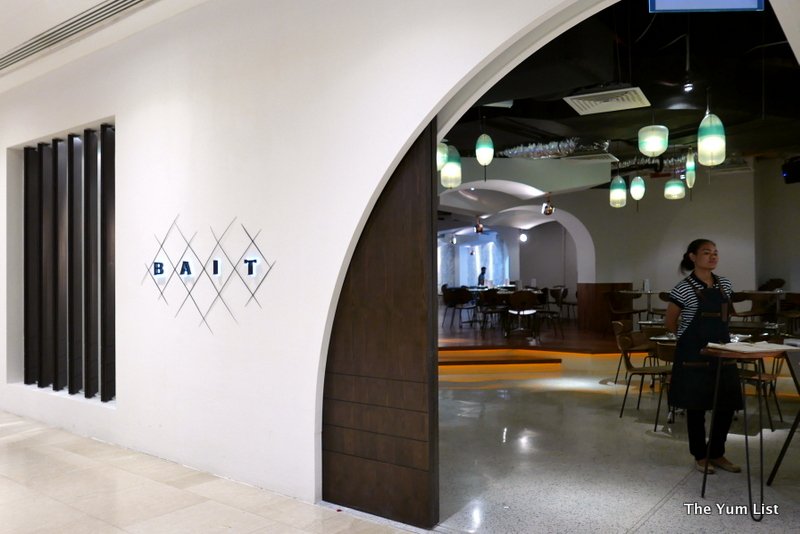 BAIT Intermark
BAIT's first restaurant, in Bangsar, was created by two friends who lamented the lack of seafood restaurants in Kuala Lumpur. They created BAIT to serve fresh seafood and oysters in a simple yet robust style that highlights the fresh flavors of the ocean's bounty. With a posh cocktail menu, a well-priced wine list, and live music, the restaurant built a loyal following. Building on their success, BAIT has expanded to The Intermark Mall which is located in the heart of the city, making it an ideal destination for both office workers and visitors to KL (it's just downstairs from the Doubletree by Hilton Hotel). Unlike the Bangsar location which is only open in the evenings, BAIT Intermark opens at 10 AM and serves until 10 PM.
Drinks at BAIT Intermark
The bar serves classic cocktails as well as a variety of refreshing Pimm's-based drinks. BAIT also has Tiger and Guinness on draft as well as a well-curated, reasonably-priced list of wines by the glass and bottle. For a limited time, you can purchase a white or black cup of Vittoria coffee from Australia for only RM 6 and during Happy Hour (4-6 PM), you can buy two mugs of Tiger draft for RM 10.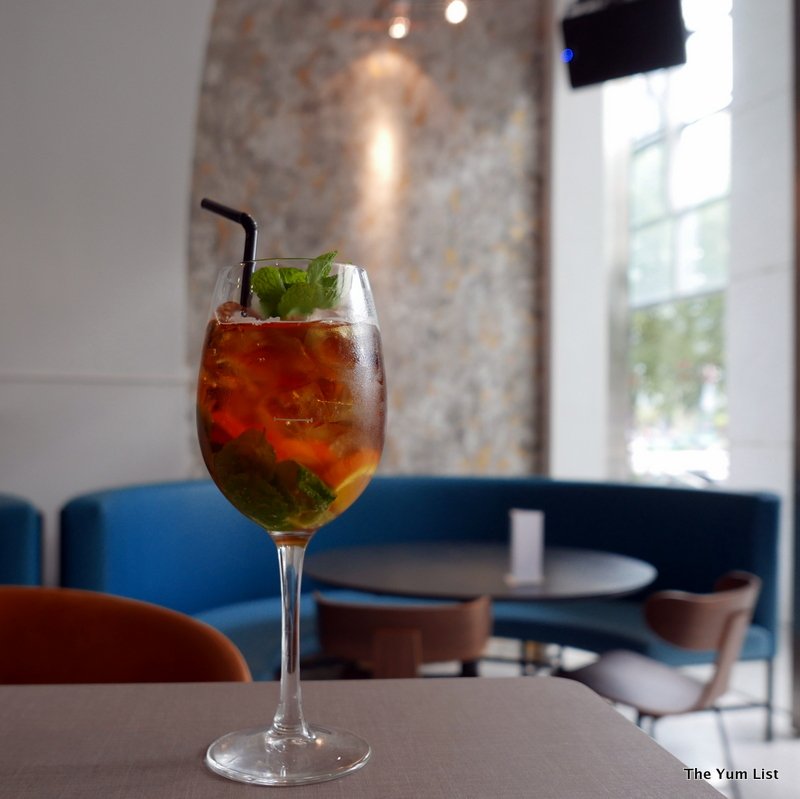 Customer Driven Menu
Chef Logan Lopez didn't want to impose a chef-driven menu on his customers so he solicited their input. The result is a wide-ranging menu with a strong Mediterranean influence that showcases local herbs and produce. Highlights include flavorful dishes from Lebanon, Spain, and Italy.
Small Plates
The large selection of small plates that we tasted included a blissfully smoky Eggplant Maghmor (RM 16), a robust Lebanese dish prepared with chickpeas in a thick, tomato ragout. It was nicely spiced with garlic and onions and topped with silky hummus. From Spain, tender paella-stuffed Baby Squid (RM 28) were served with a mild, slightly-sweet paprika sauce. The Stuffed Lamb (RM 30) — nicely charred ground lamb served in a piquillo pepper with a balsamic glaze and a sauce made from a surprisingly compatible collection of ingredients including Cava (Spanish sparkling wine) and blue cheese. With four healthy portions of lamb, the filling dish could easily be a light main course and is a fantastic value. The succulent grilled Prawn & Mango Salad (RM 26) was served on a bed of crisp, spicy watercress topped with a tangy honey-mustard dressing.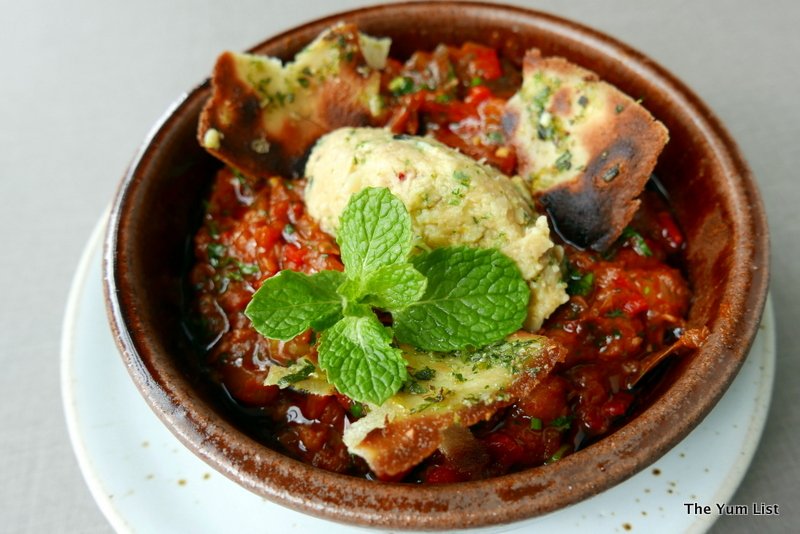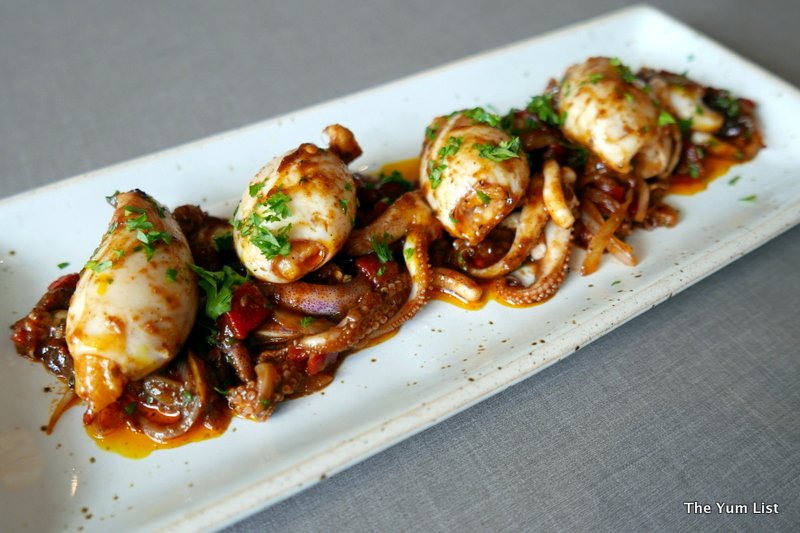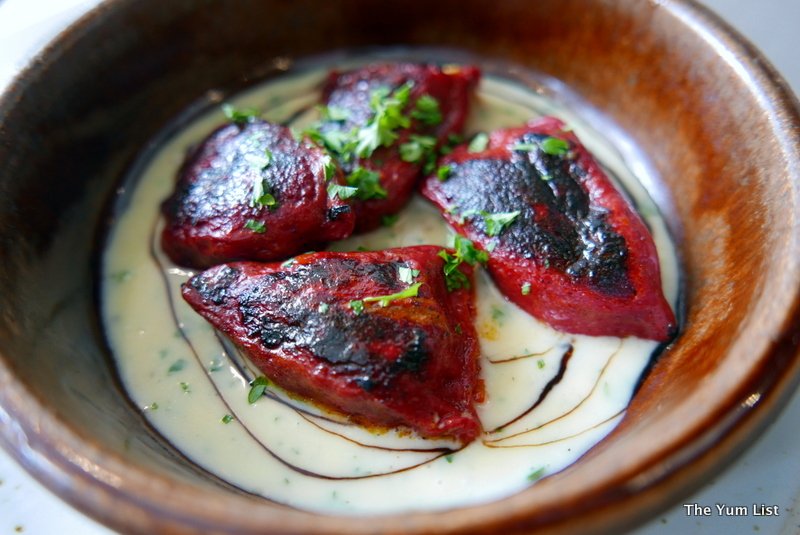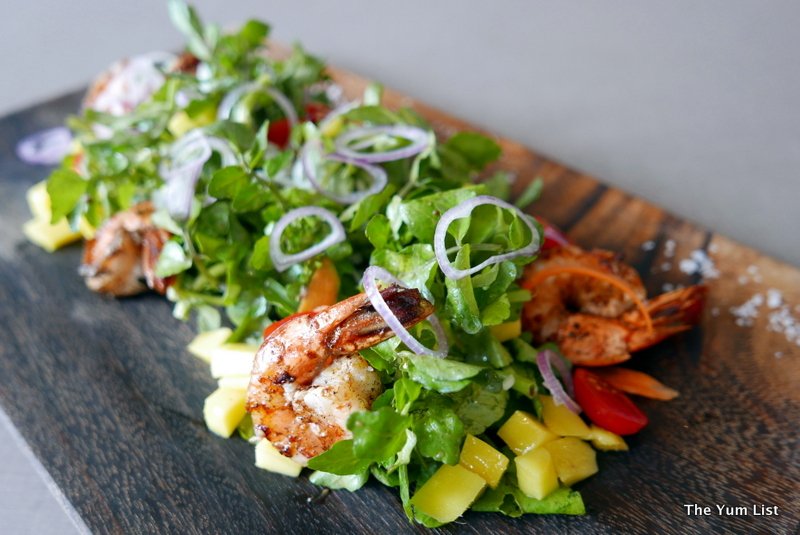 Soup – A Must Order at BAIT Intermark
One of Chef Logan's best dishes is a spectacular Wild Mushroom Soup (RM 25). While he called it a homemade riff on "everyone's first experience with mushroom soup — Campbell's Cream of Mushroom" — that's like calling Veuve Clicquot a bit of an upgrade on Welch's Grape Juice. Eight different wild mushrooms, carrots, and celery are added to an olive oil emulsion which is augmented with a subtle white wine-infused Parmesan foam. I can say without hesitation that this lightly creamy and earthy mushroom soup is one of the best mushroom soups I have ever eaten and I refuse to leave KL without having it (at least) one more time.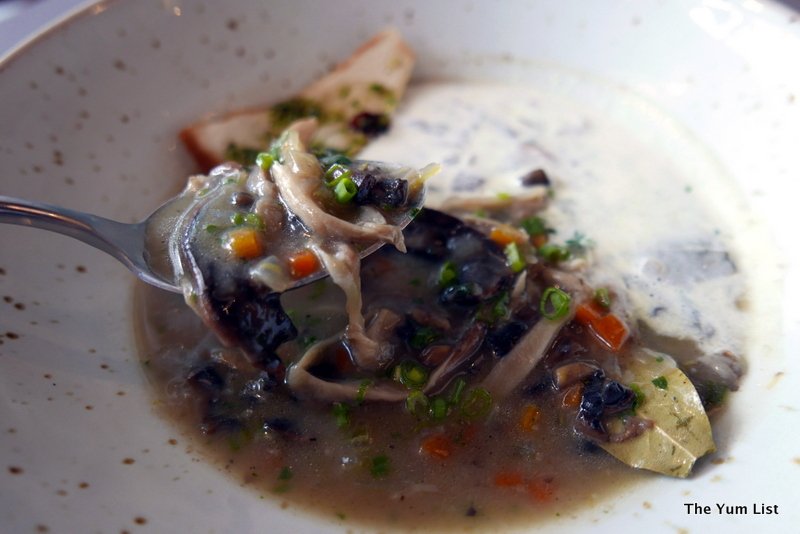 Mains
Main dishes highlight Paella and Fruits of the Sea but carnivores have several options including a Wagyu Beef Burger (RM 59) and Duck Confit (RM 55). There's a selection of two paella main dishes; we ordered (and loved) the Paella Negra (RM 75) made with Spanish rice, sweet piquillo peppers, shrimp, and cuttlefish in a zucchini, eggplant, and fresh squid ink sauce. The dish's subtle flavors come alive with a punch from the zesty garlic mayonnaise. Seafood offerings include a crispy Fish & Chips (RM 48-49) in which the three fish options: Australian Mulloway, Dutch Sole Filet, and Blue Cod Filet are twice-friend in a tempura beer batter (A non-alcoholic version is also available). The crispy chips are made from sweet potatoes.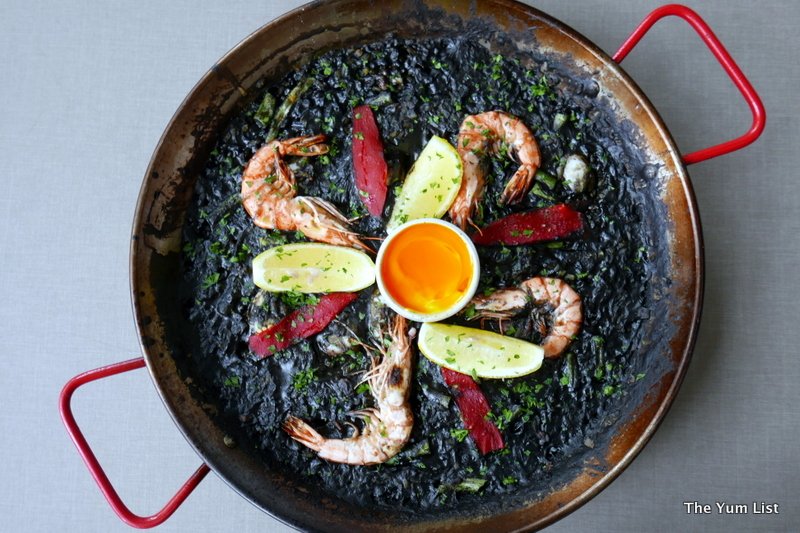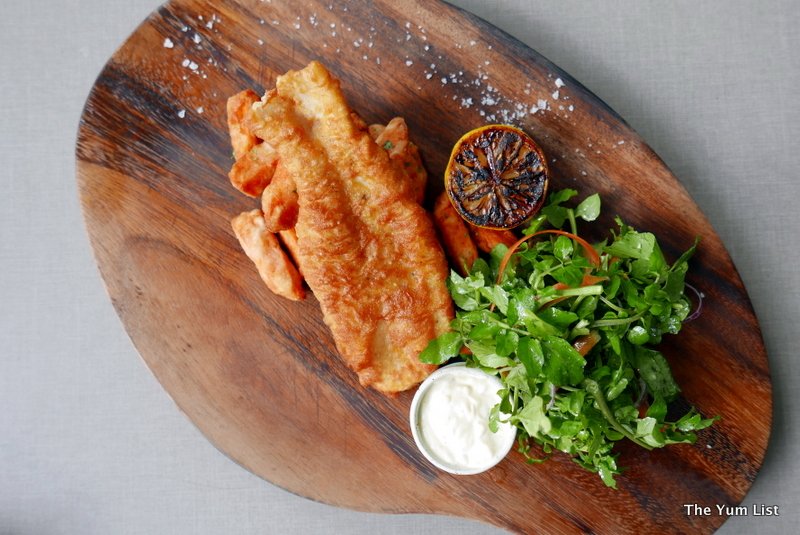 Fresh Pasta
The kitchen prepares its own pasta and the Truffle Ravioli (RM 69) is filled with mushrooms, ricotta and sage and topped with smoked duck bits, Parmesan foam and sautéed Chinese broccoli. The crisp broccoli contrasts nicely with the perfectly-cooked al dente pasta. In the near future, diners will be able to purchase the kitchen's homemade pasta to take home. It will cost 100 RM for 100g – good value I think.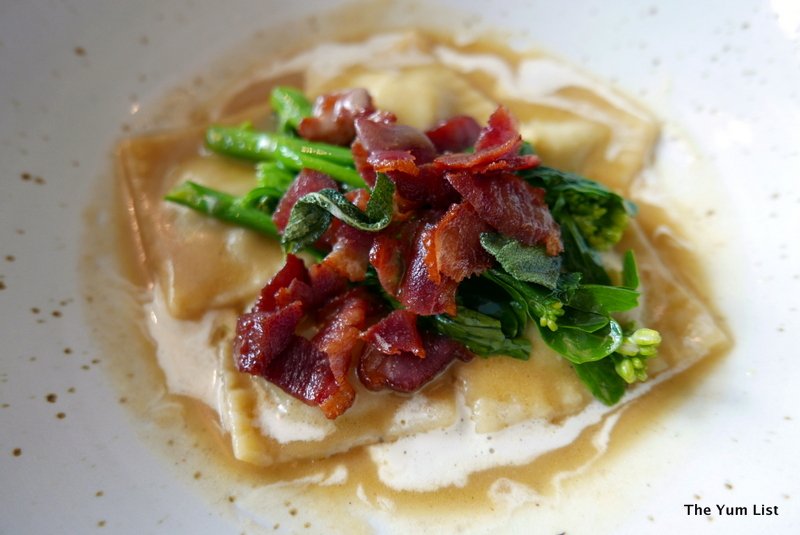 Cheese Platter
We finished our meal with the wonderful Cheese Platter (RM 39) – gorgonzola, Parmesan, and Tête de Moine – served on a wooden plank with crackers, dried fruit and fruit preserves. Tête de Moine, a pungent, 8th-century Swiss cheese, is usually sliced using a specially-designed Girolle that shaves the cheese into paper-thin rosettes. Guests are invited to spin the Girolle three times to create their own delectable rosettes.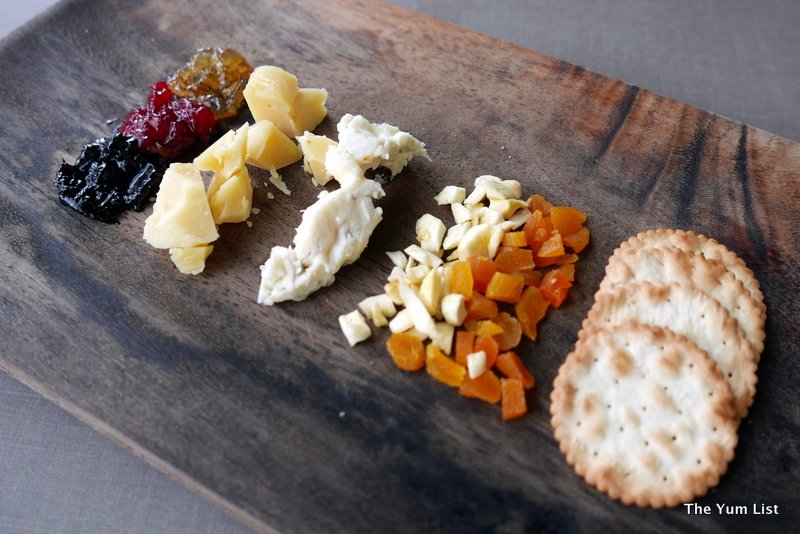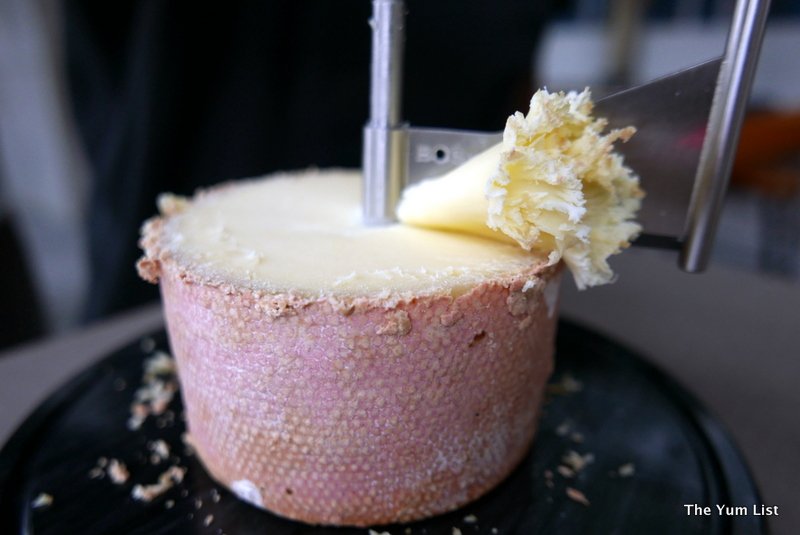 What's Coming Up at BAIT Intermark
The restaurant's gelato machine is slated to arrive at the end of November but until then, BAIT offers three flavors of gelato (Belgian Dark Chocolate, Coconut & Gula Melaka, and White Chocolate) and an Indian Mango Sorbet (RM 10). Future plans also include an oyster bar serving varieties from France, Ireland, and Tasmania. BAIT also showcases live music and if you have some vintage vinyl records, bring them in for a spin.
Reasons to visit: cheery environment – don't let the dark mall entrance throw you off – be sure to walk all the way in to enjoy the natural light and stylish, yet casual setting; don't miss ordering the Eggplant Maghmor, Stuffed Lamb, and Wild Mushroom Soup; look forward to fresh pasta also soon available for retail purchase.
BAIT Intermark
LOT G-19, Ground Floor
The Intermark Mall
348 Jalan Tun Razak
Kuala Lumpur 50400
+603 – 21811268
[email protected]
www.baitkl.com