Monica Tindall
Residing in the eye-catching Ilham Tower, Element Kuala Lumpur is one of the city's first "green" hotels with stunning views, a central location and a contemporary lifestyle hub that enhances both short and longer duration stays.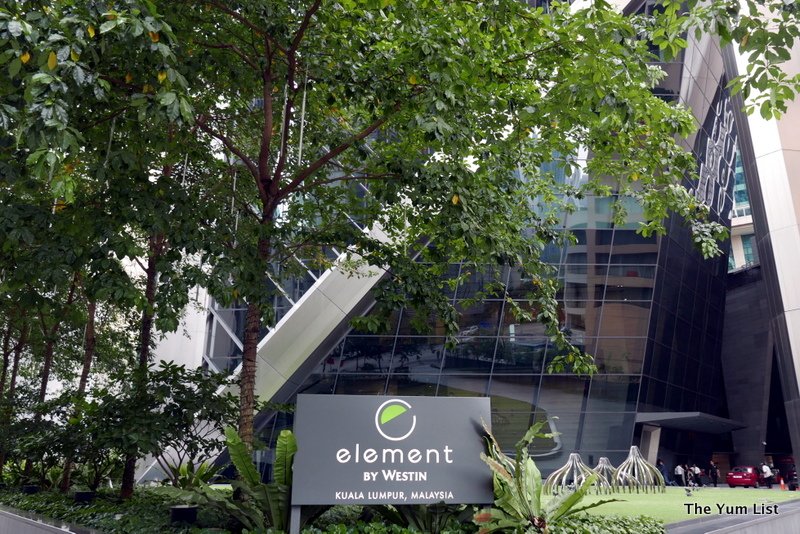 Location
With KLCC, its convention centre and park less than a 10-minute walk away, Ampang Park LRT on the corner (2–minute walk), and some of KL's most renowned cafes, restaurants and bars just across the road (in Troika) the location offers centrality and convenience. Ease of access to public transport and the ability to walk to shopping, dining and entertainment, supports sustainable transport choices, which leads to the most unique feature of the hotel, its environmentally-responsible design.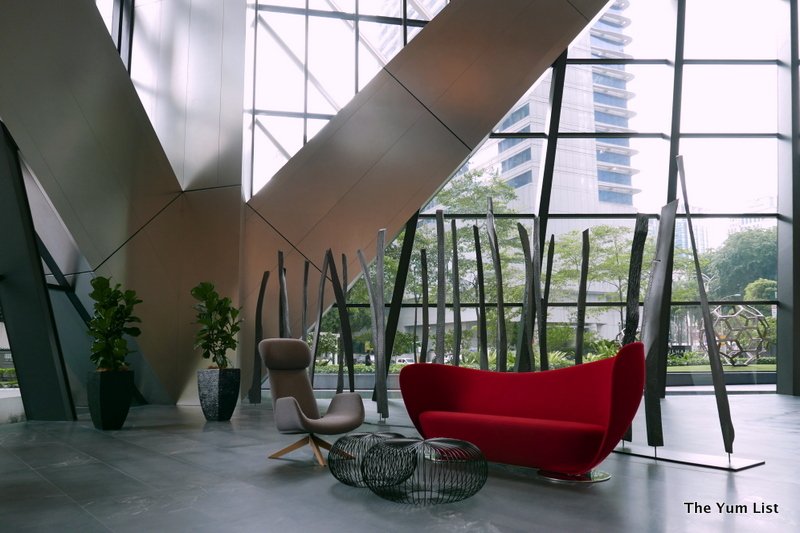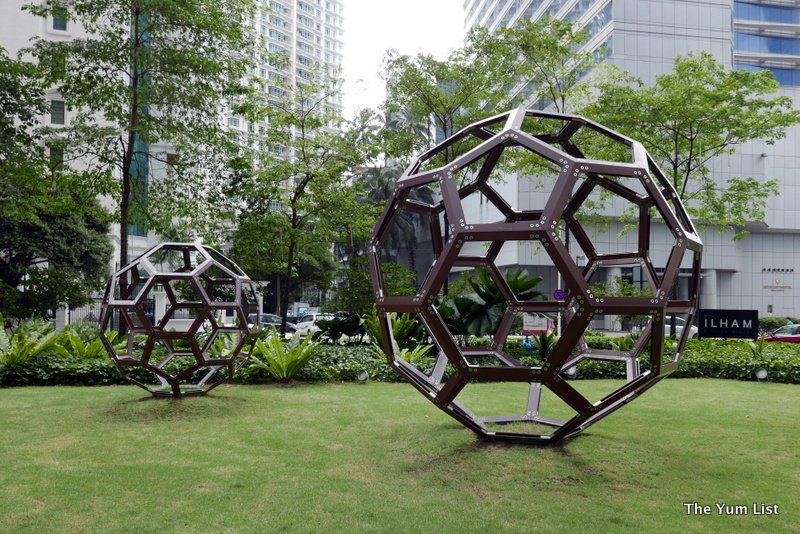 Green Building Index
Certified with the Green Building Index (GBI), the structure boasts eco-friendly design with natural light, open spaces and breathtaking 360 degree views of the KL skyline. Grand applause is well-deserved as Element Kuala Lumpur is the first hotel in the city to completely do away with plastic water bottles! With an NSF Certified Filtered Tap Water system in every room (making drinking water of better quality than what's actually found in many plastic bottles), they have greatly reduced their impact on the earth in the elimination of plastic waste. This is seen further in the use of refillable pump bottles for shampoo and body wash in the shower, again dramatically lowering the pervasiveness of disposable plastic.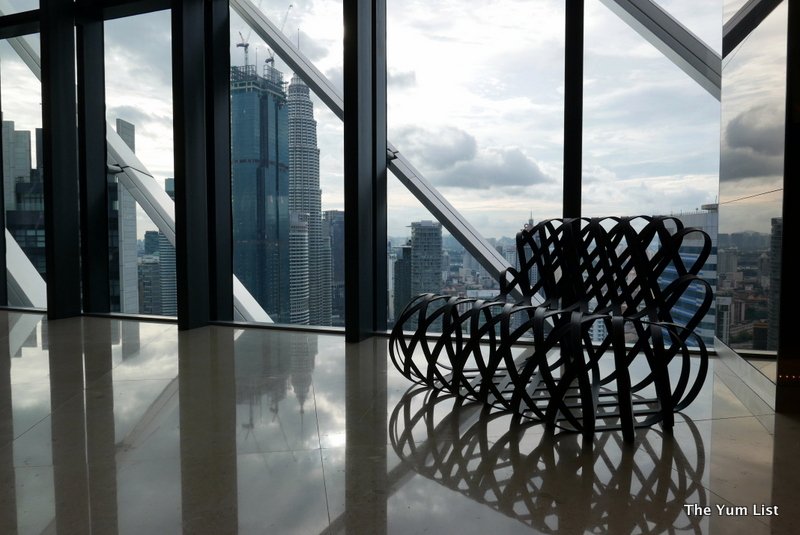 Art
Not a drop of style has been lost, however, in the implementation. In fact, It's clear from the moment we arrive that the owners of the property are serious art aficionados (so much so, they run a gallery on the 5th floor – worth checking out). There are original pieces on every wall mostly sourced from local artists. From the ground floor, to the reception and every level's elevator lobby there's something to pause to contemplate.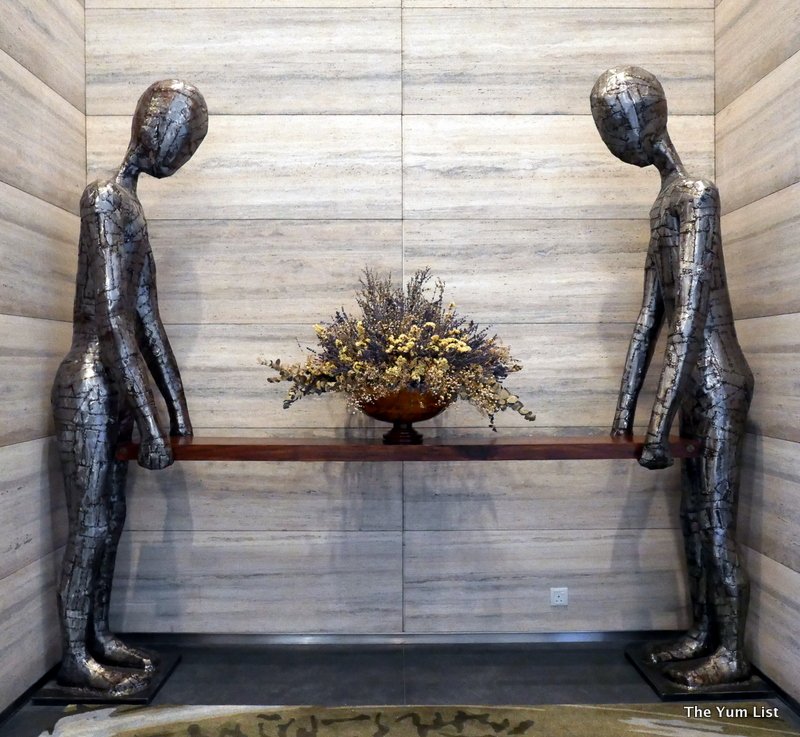 The one piece that really captures our inspiration though is a fantastic work by Claudia Bueno, a light and shadow artist from Venezuela. Life Resilient, the installation piece that hangs almost in place of a chandelier in the lobby, is a tribute to Malaysia's extensive flora and beautiful under-ocean life. A series of lights ebb and flow changing the focus on the network and giving a sense of life and movement.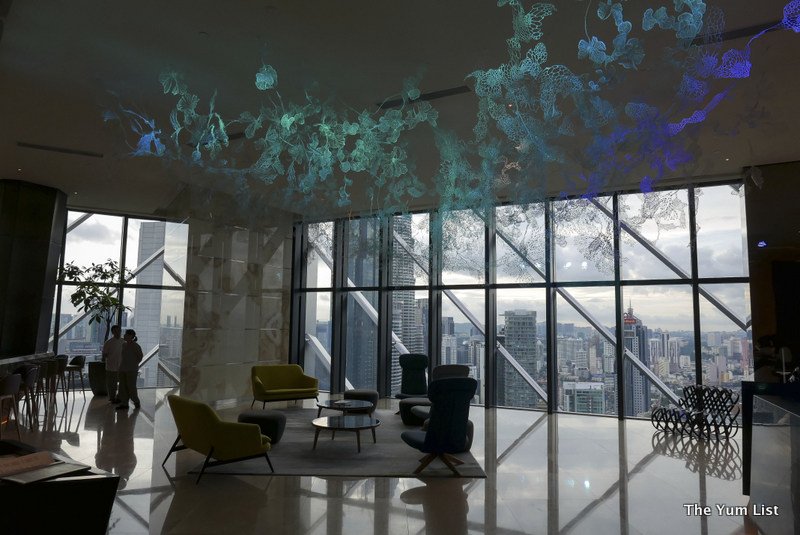 Rooms
Visually pleasing aesthetics carry through to the rooms, which are sleek in cool calming greys and whites with splatterings of colour in wall adornment. Hubby is immediately impressed with the quality of the screen on the 49" TV but I'm drawn to the outlook over the city skyline. Studio rooms are the most common with a sleek interior and 38 – 40 square metres of space, but one, two and three-bedroom accommodation is also available.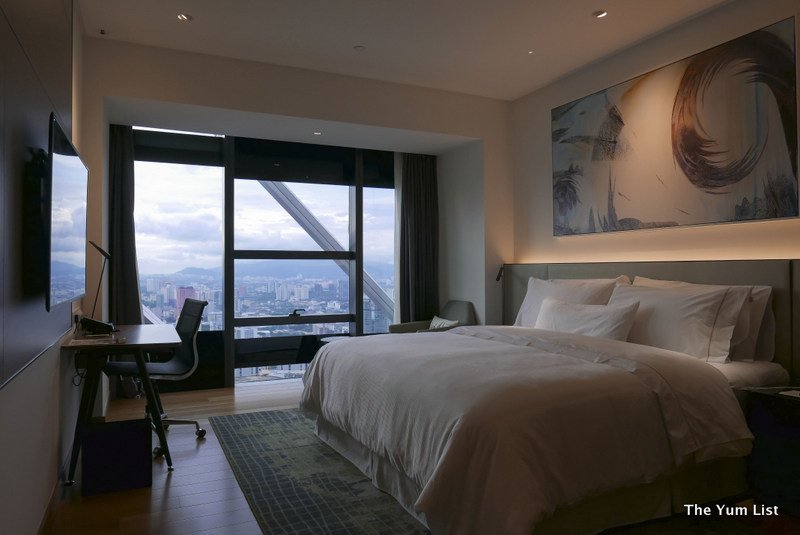 Much appreciated in the studio room is the kitchenette fit with microwave, sink and empty mini-fridge. In larger rooms, a hot plate, full-sized refrigerator and washer-dryer are fixtures! Additionally, studio room guests also have access to an on-site laundry – possibly another first for Kuala Lumpur hotels.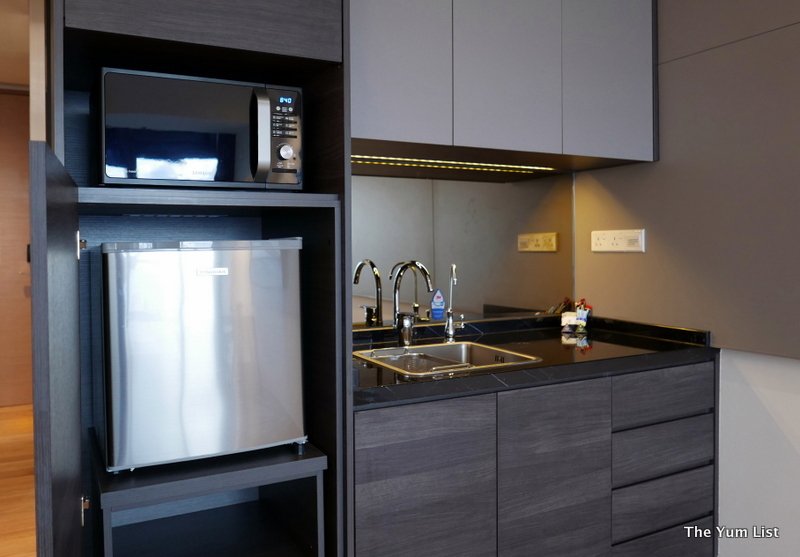 Taking direction from The Westin hotels, Element Kuala Lumpur features Signature Heavenly Beds with "10 layers of pure comfort" ensuring a sumptuously sound night's sleep. Bathrooms are pleasing too with immediate hot water and high pressure streaming on demand.
"Fast & Free WiFi" is what is advertised and fast and free is what we get. From the gym and pool, lobby and restaurant and, of course, in our room we have unlimited connection.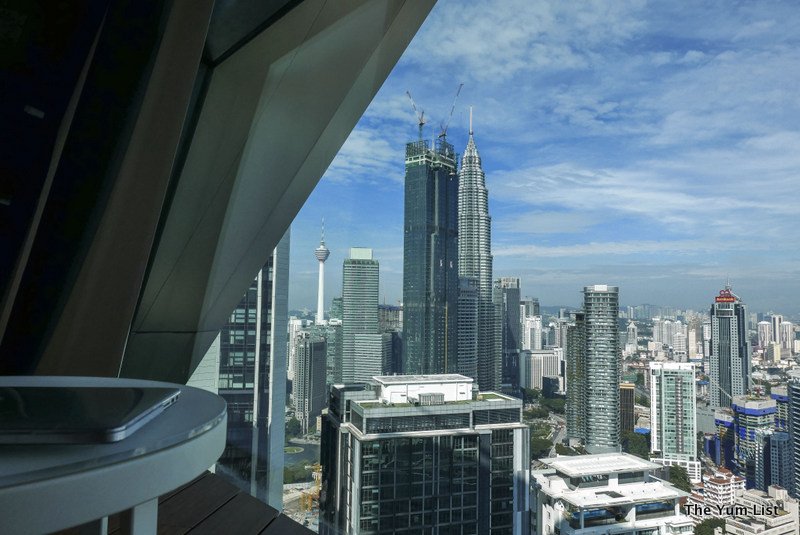 Food and Beverage
Food and beverage options are kept simple with a single restaurant serving the hotel, Trace. Named for the philosophy of knowing the source of all ingredients and attempts to find local, ethical suppliers, the kitchen cooks up a mix of western and Asian recipes, with some fusion and molecular techniques dispersed across the menu adding interest without going overboard. Almost 270-degree panoramas of the city are accessed by floor to ceiling windows, and the atmosphere changes throughout the day with the natural cycle of light.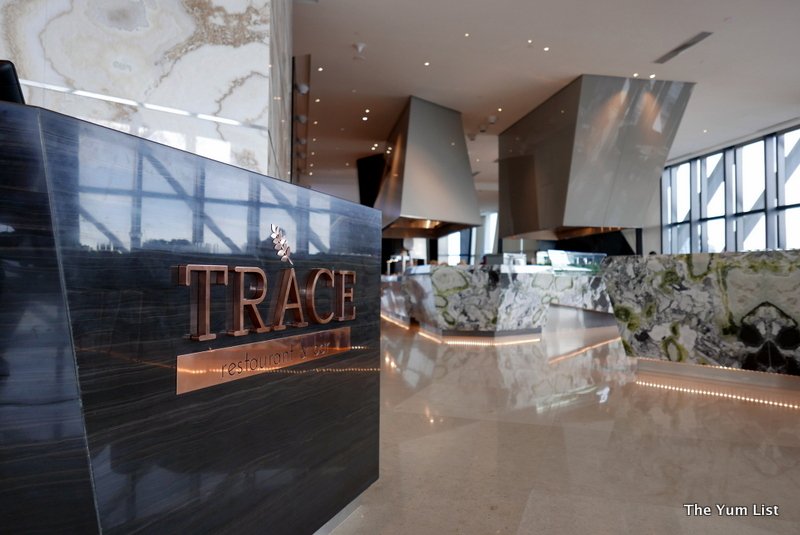 Considering the quality of the food and the vistas, prices are reasonable with set daily lunch and dinner specials making dining very affordable. Additionally, guests staying in the hotel receive a 30% discount on meals at Trace. Various drinks specials and happy hours make sundowners with friends or family very competitive with what's on offer around the city centre. For a complete review of the restaurant and recommendations on must-order dishes follow this link.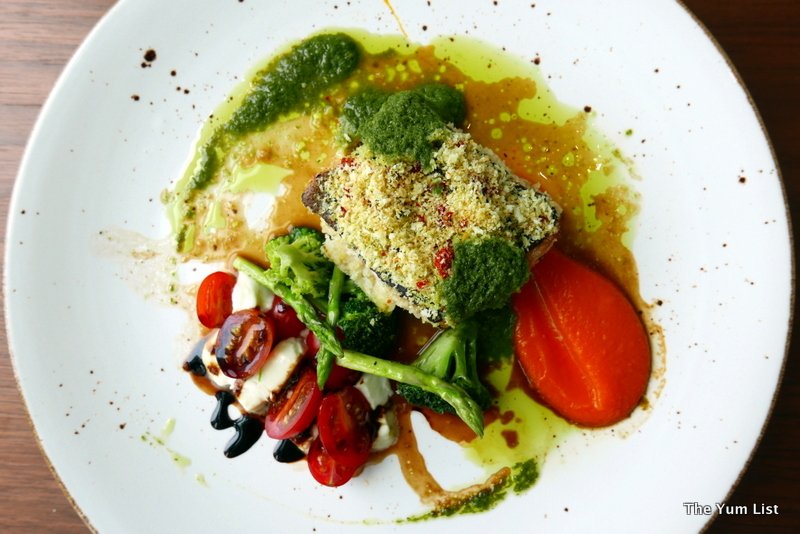 A buffet breakfast is included in many room packages and there's the usual spread of western and local, hot and cold favourites. Highlights are the freshly baked croissants and 63-degree eggs, and I have mentioned the views already?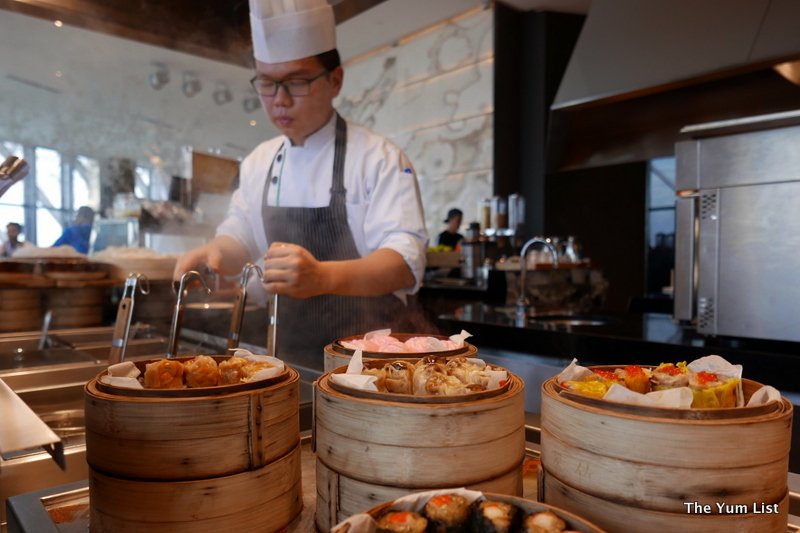 Also factored into the room package for guests staying during the week (Monday to Thursday) is an evening reception from 5:30 pm to 7:00 pm where canapes and drinks are served. It's much like club benefits, without the club. Don't worry too much about over indulging though as Element Kuala Lumpur provides a number of activities to detox.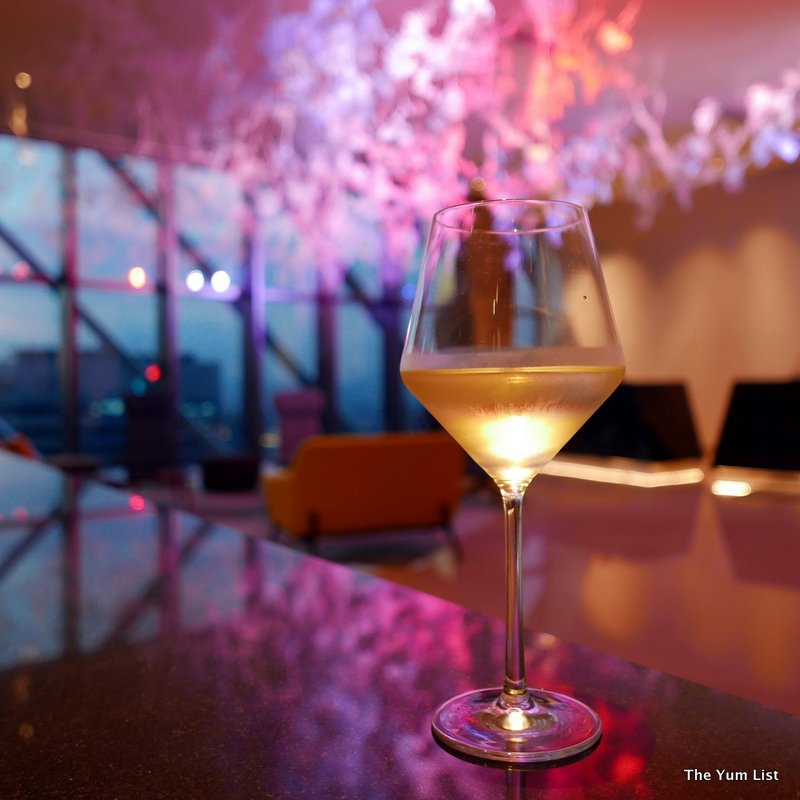 Wellness at Element Kuala Lumpur
The 39th floor is known as the wellness floor inclusive of a saline (less chemicals – better for people and the earth) pool, gymnasium, aerobics room and soon-to-be-opened spa. The infinity pool is not only spectacular because it edges right up to the floor to ceiling glass windows gifting the feel of swimming in the sky, but also because of an artwork by Yusof Ghani which tiles the floor of the pool and is only seen in its entirety via the mirrored ceiling above.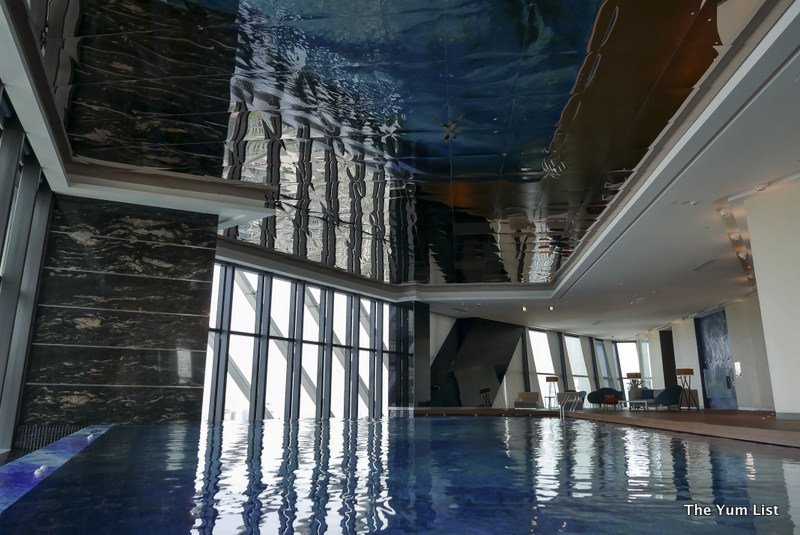 Compact, yet sufficient, the 24-hour (thank you!) fitness room is made appear much more spacious due to enormous windows and mirrored walls. Each cardio machine is fit with state of the art screens, but with panoramas of the Melawati Ridges directly in view, there are much better sights to behold.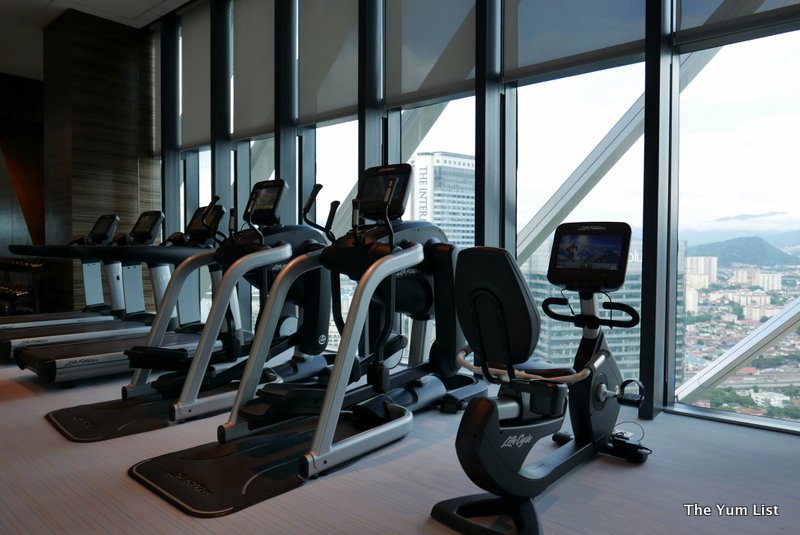 Currently yoga and Kangoo Jumps (classes using mobile rebound shoes which enable you to have fun bouncing like a 'roo while reducing impact on joints) are complementary to in-house guests. Outside guests are welcome too for a price of RM45 per person and that includes a RM15 dining credit for Trace, the restaurant on the 40th floor.
Supporting the activity program are complimentary bikes for use around the city. Kuala Lumpur is not yet provisioned to make cycling a pleasant activity during the busy work week, however, on weekends, and especially during KL's Car-Free Mornings happening between 7 am and 9 am on the first and third Sundays of every month, an outing on a bike can be rather enjoyable.
Element Kuala Lumpur is much more than a hotel, it's a lifestyle concept and with its green design and efforts towards sustainable practices, it's a property well worth supporting.
Reasons to stay in Element Kuala Lumpur: no plastic water bottles (a concerted effort towards a better future despite the disgraceful grumblings of a few guests wanting plastic); great art pieces, central location, creative and reasonably priced restaurant, free yoga and Kangoo Jumps classes, convenience with in-room kitchenette and either in-room or on-site laundry facilities.
Element Kuala Lumpur
lham Tower
8 Jln Binjai
50450 Kuala Lumpur
Federal Territory of Kuala Lumpur
Malaysia
+6 03 2771 3388
www.elementkualalumpur.com