Words: Heather Onderick    Photos: Monica Tindall
Walking into Tatsu is a pretty ethereal experience. The charcoal grey interior is immediately calming. The ambiance is tranquil, with Joan Miro looking Japanese character paintings lining the walls, and floor-to-ceiling windows overlook a central garden and water feature. An open sushi kitchen greets us as we walk into the restaurant and a glass display showcases temptations for our wine connoisseurs. The scene warmly invites us in to sit down, take a deep breath and get ready to enjoy an aesthetically pleasing and richly satisfying meal.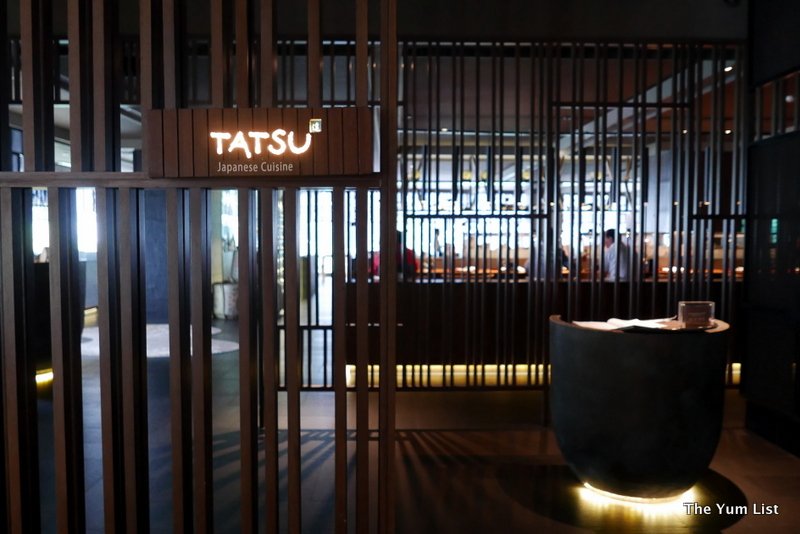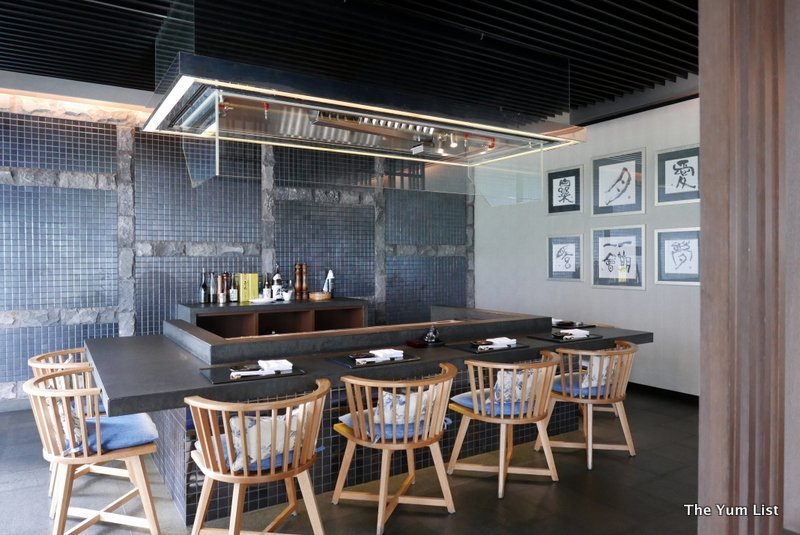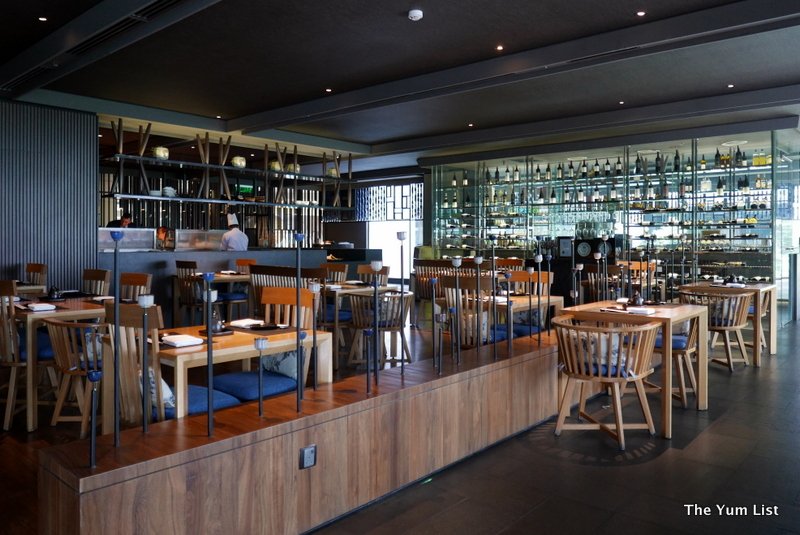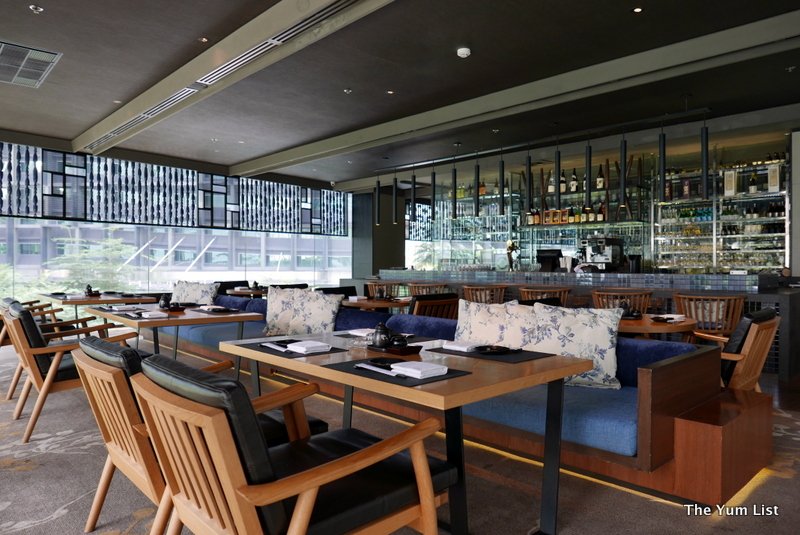 Dine With Me at Tatsu
Tatsu, the InterContinental Kuala Lumpur's Japanese restaurant, is offering a Dine with Me menu, which features four courses and is based on a French concept called table d'hote, which offers multi-course meals for a fixed price. In this case, the menu offers four courses: a sashimi selection, a seafood platter, a meat platter and finally, dessert, for a very reasonable RM888, which will easily feed four people (five of us dined happily and all went away with full tummies). A botanic iced or hot green tea is also included in the price. The extensive choices make this a great meal to indulge in with your family or perhaps a double date with your favorite friends.
Sashimi at Tatsu
Coming out on a hill of ice with a smoking fountain, multi-shades of pink, pearly whites and coral colored fish are eye-catching and enticing. The sashimi selection with beautifully cut, thick slices of seafood includes tuna, kanpachi (yellowtail), salmon, hotate (scallops) and live akagai (a species of squid). To complement the cool, lush pieces of fish, are delicious grilled oysters with mayonnaise and cheese – warm, creamy and well-textured with various layers of complexity. If you need a little rice with your fish, don't fear, there are some generous servings of ikura (roe), avocado, uni (sea urchin) and anago sushi (eel). To top it off, a bowl of hamaguri miso soup in an autumnal globe perpetuates the calm and warms our palates.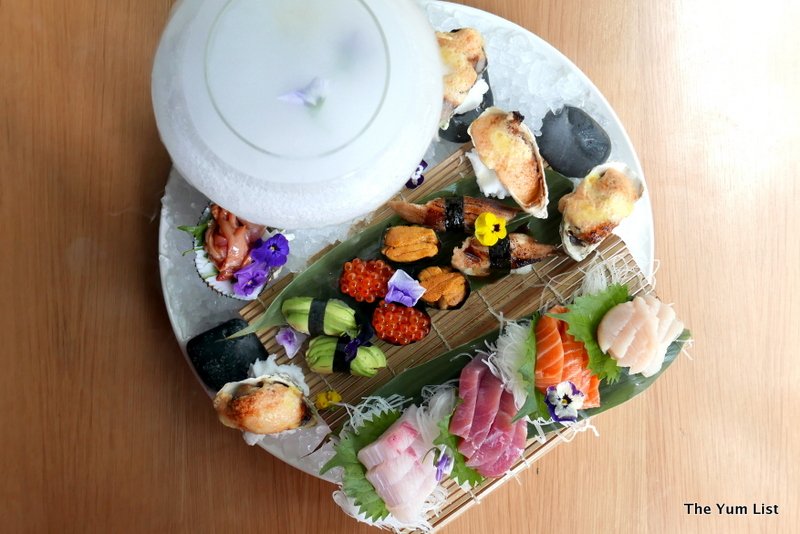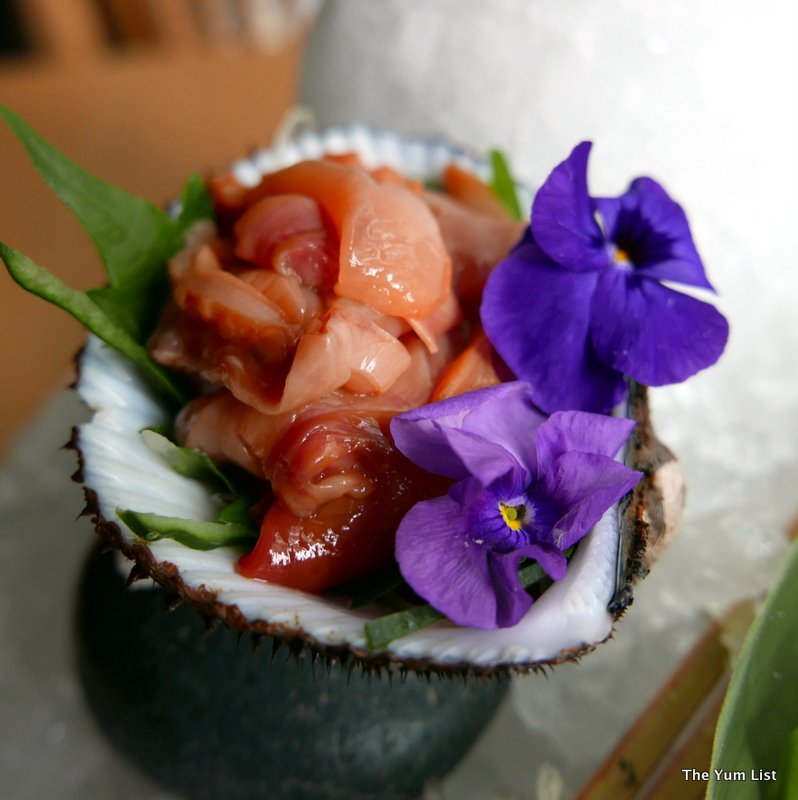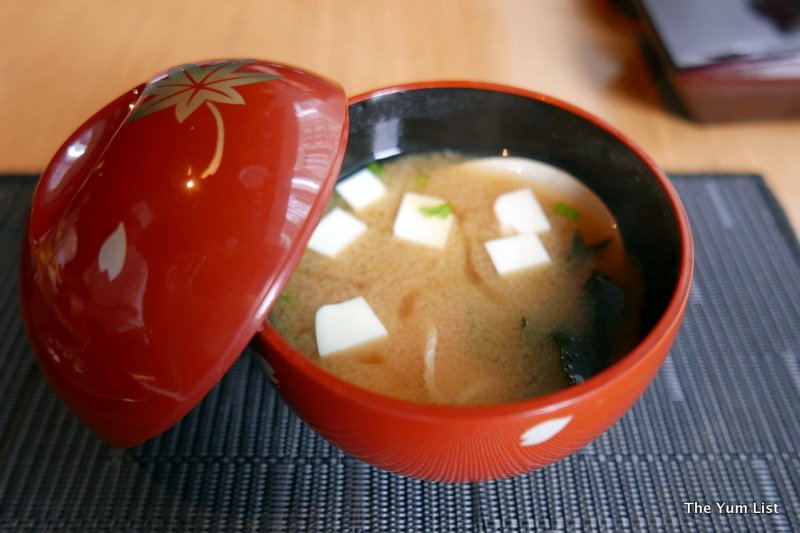 Seafood Platter
A seafood platter follows and again is visually pleasing with a generous spread of ocean creatures grilled and tempura style. One of the highlights of this plate is the unagi shiro sakamushi, which is grilled eel that is later steamed with sake. It's light and buttery on the palate – a real treat. There is also tarabayaki, or grilled king crab, that tastes as if it has been just pulled out of the sea. And for those who want something warm and satisfying the sake shioyaki and teriyaki salmon are real comforters. For those seeking something more adventurous, the shirao, or icefish, is cooked together with herbs in a tempura batter, and some veggies, broccoli, yamaimo (yam) and asparagus, done in a light, airy tempura balance out the course.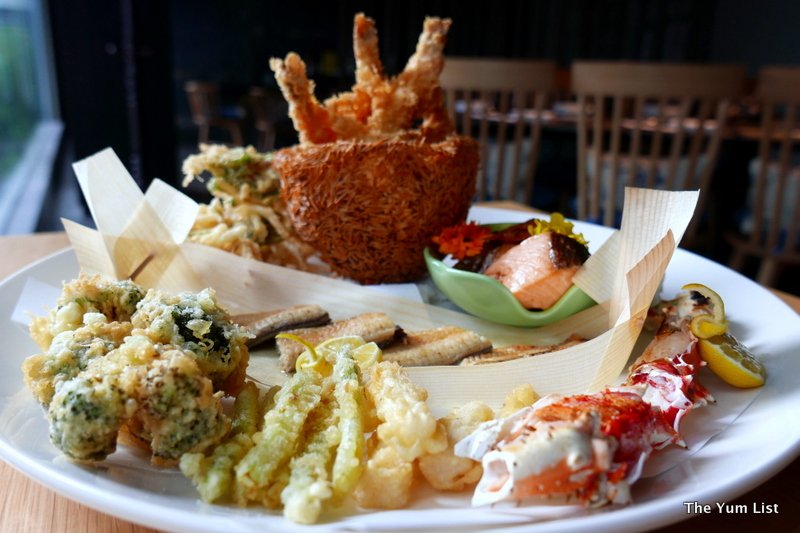 Meat Platter
The next course features traditional Japanese barbecue, with a small ceramic grill sizzling away on delivery. The wagyu sumiyak beef cooked over imported Japanese charcoal is melt-in-your mouth goodness and a touch of Himalayan salt takes it to the next level. This meaty platter truly has something for everyone. For the chicken fan, a grilled honey chicken with sudachi is a tasty bite. If you like lamb, the lamb teppanyaki is lush – pink on the inside, tender and tasty, sprinkled with green tea flakes and smothered in cheddar cheese for extra richness. On the side, rolls of stewed aigamo (duck) and crisp julienne carrots, radish and cucumber, along with bacon wrapped fried potato, are bite-sized skewers perfect for popping in the mouth in between conversation. But the real show stopper here is the stewed beef cheek with red wine – so soft, it disappears ever so sweetly in the mouth.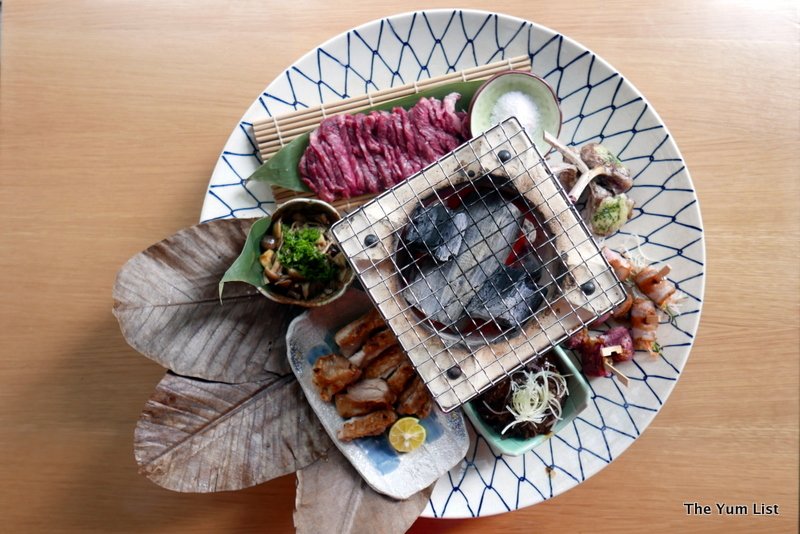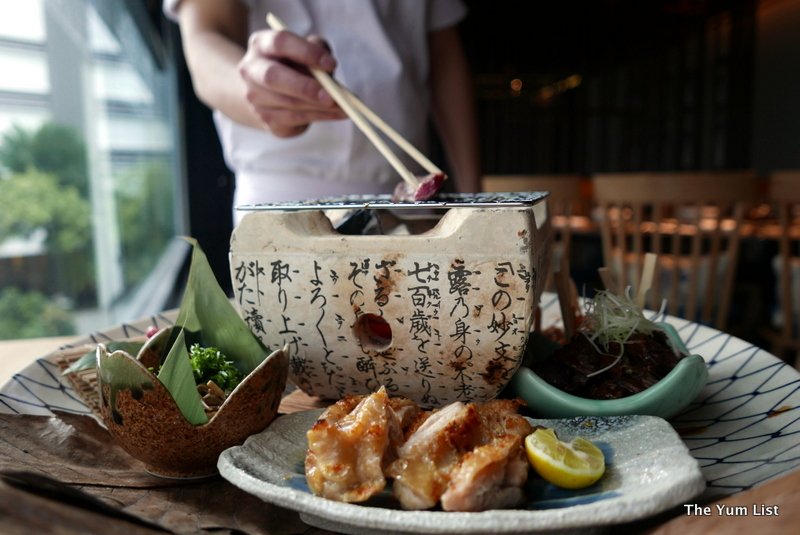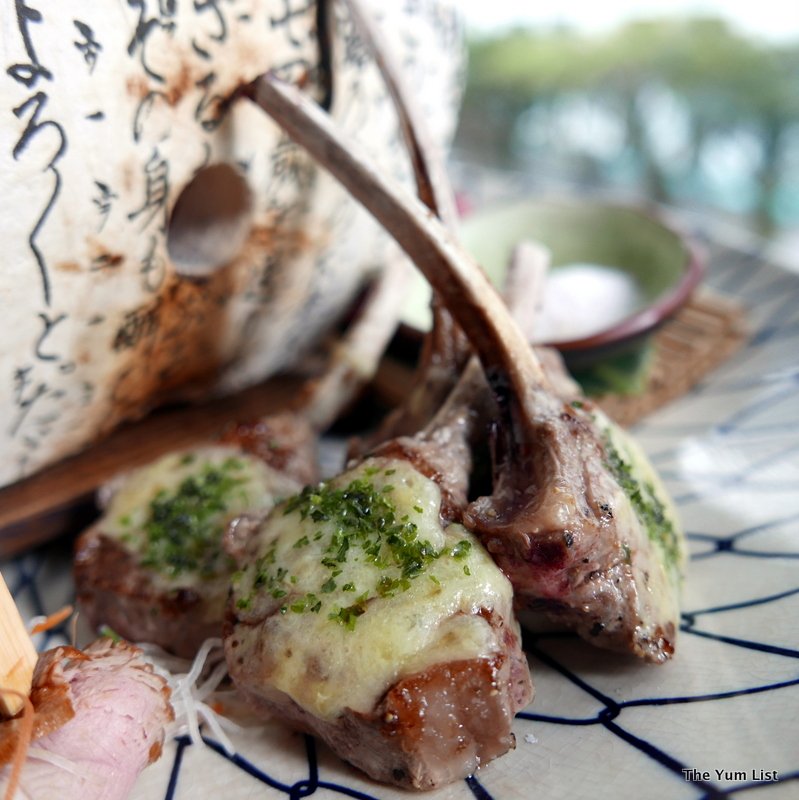 Sweets at Tatsu
At this point, dessert might not seem possible but that all changes when the final display of gourmet seduction arrives. Ice cream, berries, mochi and souffle are arranged in a tantalising exhibit of Japanese tradition and contemporary creation. A bamboo leaf holds a pretty trail of springy mochi filled with black sesame, red bean and pandan pastes. A mountain of luscious green tea ice-cream is held in a crispy wafer basket and contrasted in both colour and flavour with ruby-red strawberries. Lastly, petite in size, but not in wow-factor, is the Grand Marnier ice soufflé. Elegant ceramics cradle an aerated and creamy modern take on a classic. A touch of yuzu, a drop of liqueur and a rim of caramelized crumble on this fantastic chilled soufflé complete the meal with elegance and finesse.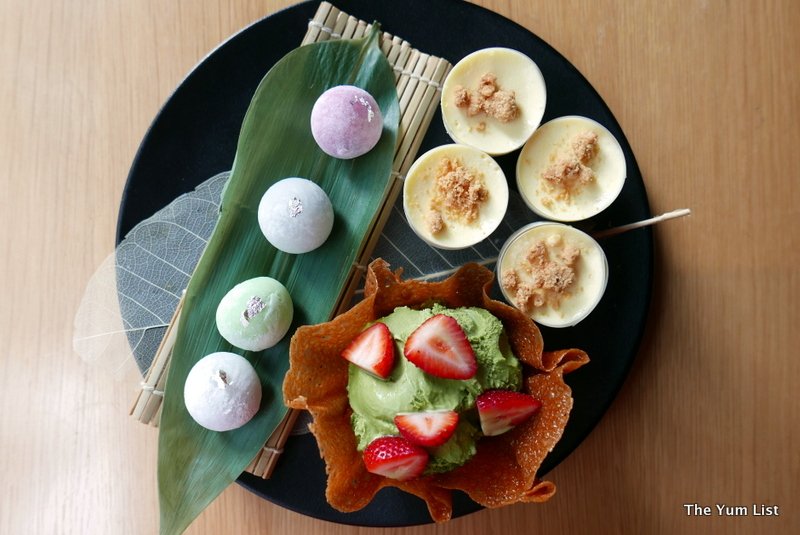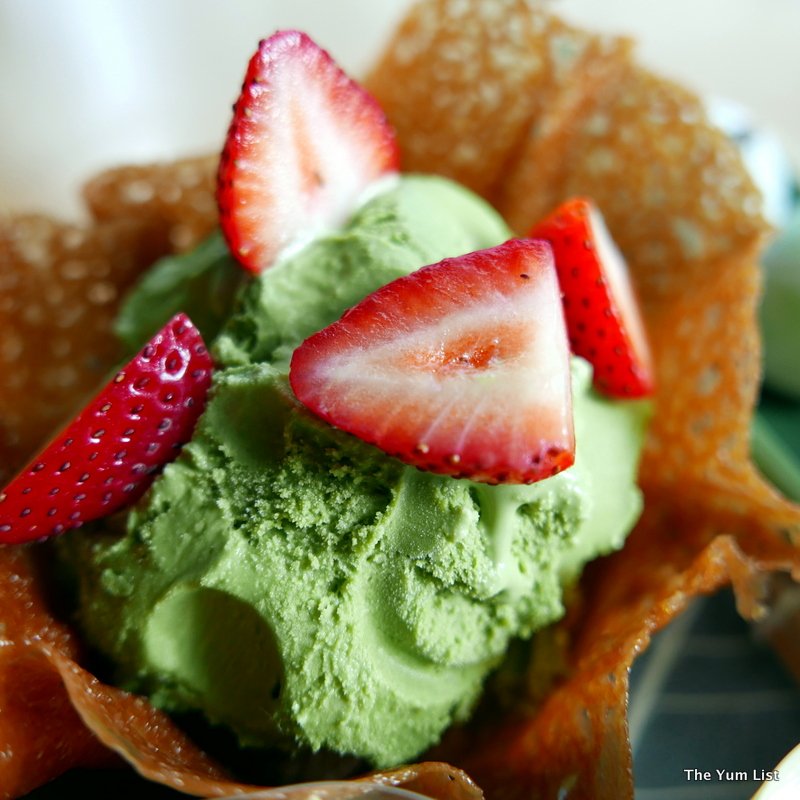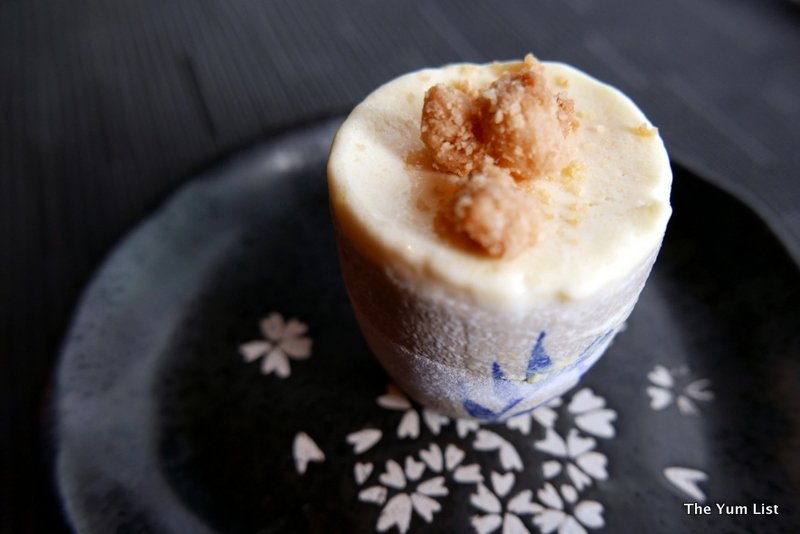 Reasons to visit: good value considering the quantity and quality of ingredients and the masterful presentation and execution of each course; highlights are the stunning sashimi platter, the melt-in-the-mouth wagyu and beef cheek, and the elegant Grand Marnier iced soufflé.
Tatsu Japanese Restaurant
InterContinental Kuala Lumpur
165, Jalan Ampang,
55000 Kuala Lumpur, Malaysia
+60 32782 6118
kualalumpur.intercontinental.com