Monica Tindall
Magnificent skyline vistas are the immediate attraction of the the 40th floor restaurant, Trace Restaurant and Bar, at Element Kuala Lumpur. Views are soon a mere distraction, however, as we quickly learn that the kitchen team here are serious about bringing a refreshing new addition to the hotel restaurant scene in the city. As such, food rapidly switches our attention. Reminding us more of a contemporary independent restaurant than a hotel outlet, presentation is artful, portions are generous and perhaps the most differentiating factor – prices are reasonable.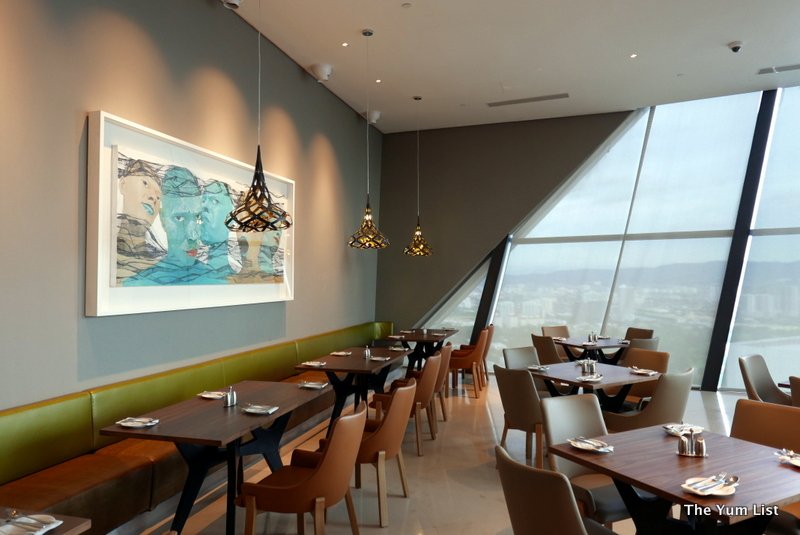 Trace Restaurant & Bar
So named because of the care given in attempting to source local ingredients, the team at Trace, place high importance on the origin of produce with concerted efforts to find the majority from local suppliers. Over the duration of a weekend staycation we have a chance to try a number of dishes across the menu and highlight our favourites below.
Drinks at Trace Restaurant & Bar
Lunch and dinner begin with farmers' loaf, still warm from the oven, served on a chopping board with house-made pineapple chutney and olive oil and balsamic for dipping. It's great munching while contemplating the drinks list. Currently the offerings are pretty decent with a number of wines, all sorts of bottom-shelf spirits, a number of single-malt and blended whiskies, and a handful of classic cocktails and mocktails.
Sixteen wines are available by the glass and mostly come from Italy and France with a couple of New Zealanders making the cut. A tick for the bar is the use of nice wine glasses differentiated for sparkling, white and red, and too served at an appropriate temperature for each varietal. Over the duration of our stay I do my best to sample the wines by the glass (all in the best interests of you my dear readers) and narrow my recommendations down to two top picks; a Sav Blanc and a Nebbiolo. The Featherdrop Hill Sauvignon Blanc (RM38) is a typical expression for this region with a bouquet of passionfruit and grapefruit, and nicely crisp in the palate. The Ricossa Barbaresco DOCG (RM38) is just lovely with red berry aromas tickling the nose and its medium body makes it a versatile food mate. Fruit, spice and mild tannins are beautifully balanced. Its flexibility is showcased in its positive play with both the ribs and the chicken (from the Sharing is Caring menu – more on that later).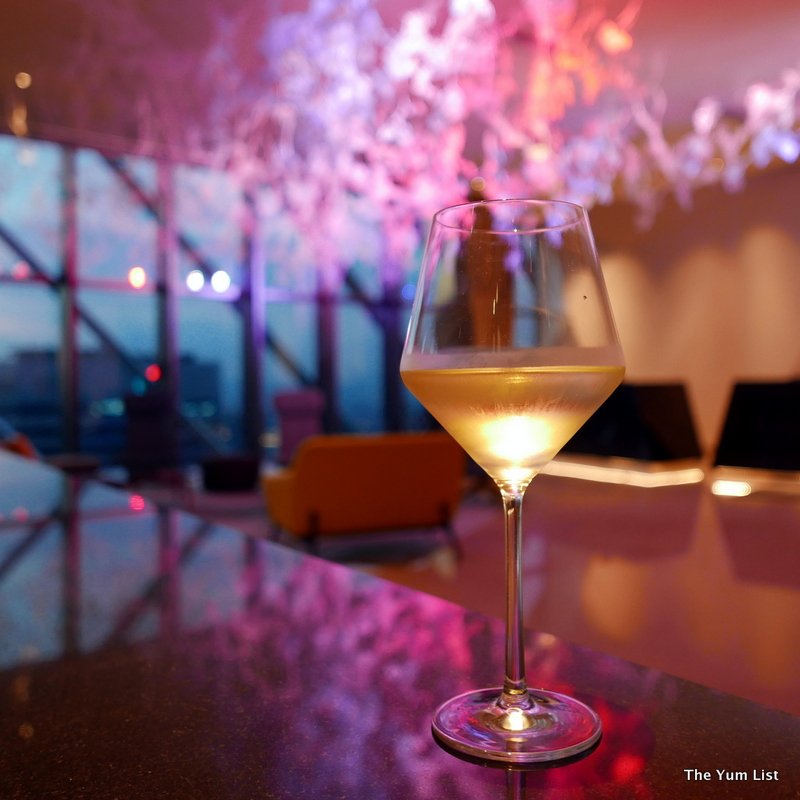 Trace Healthy Salad (lunch menu)
Packed with superfoods, the Live Well Salad (RM28) is my idea of a perfect lunch. Pickled beets, buffalo mozzarella, orange segments, tomatoes, candied walnuts, edamame beans, berries, peaches and croutons are all sensuously drizzled with a mango emulsion – fruity and very pleasing.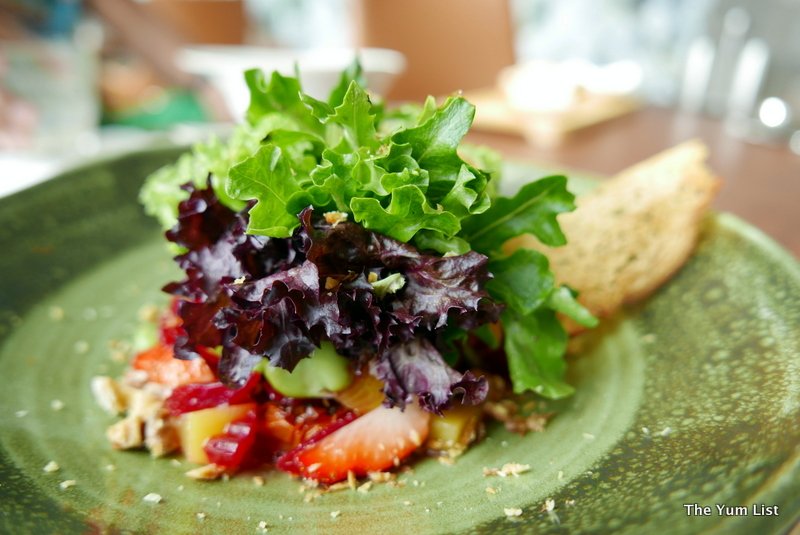 In Between
The Tuscan Style Chicken Soup (RM18) appeals to hubby's sensitivities. A hearty soup brims with chicken pieces, with kale, cannellini beans and potatoes as support. All I hear out of hubby as he clinks his spoon to the very bottom is, "Mmmm. Comforting."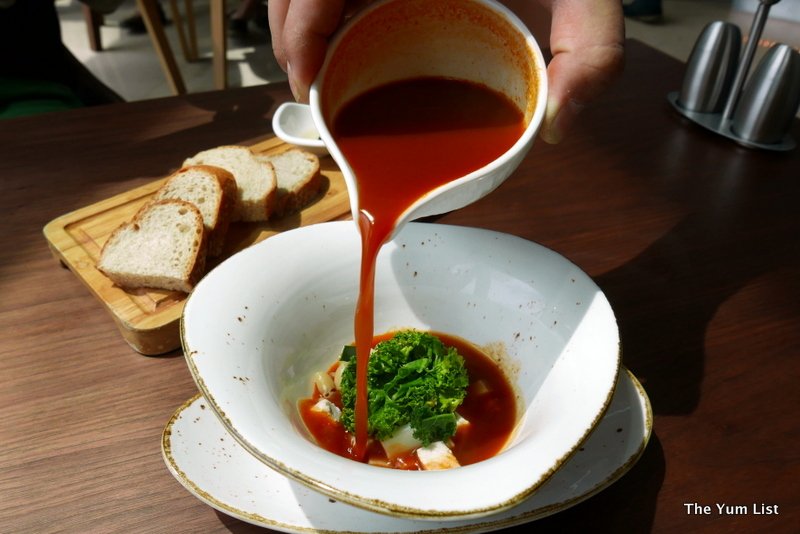 Semi-dried tomatoes and olives crust a plump glistening fish steak of Alaskan Black Cod (RM105). Carrot puree, caprese salad, cilantro-green chili sauce and basil oil are fine accompaniment and this one has me murmuring signs of appreciation along with hubby.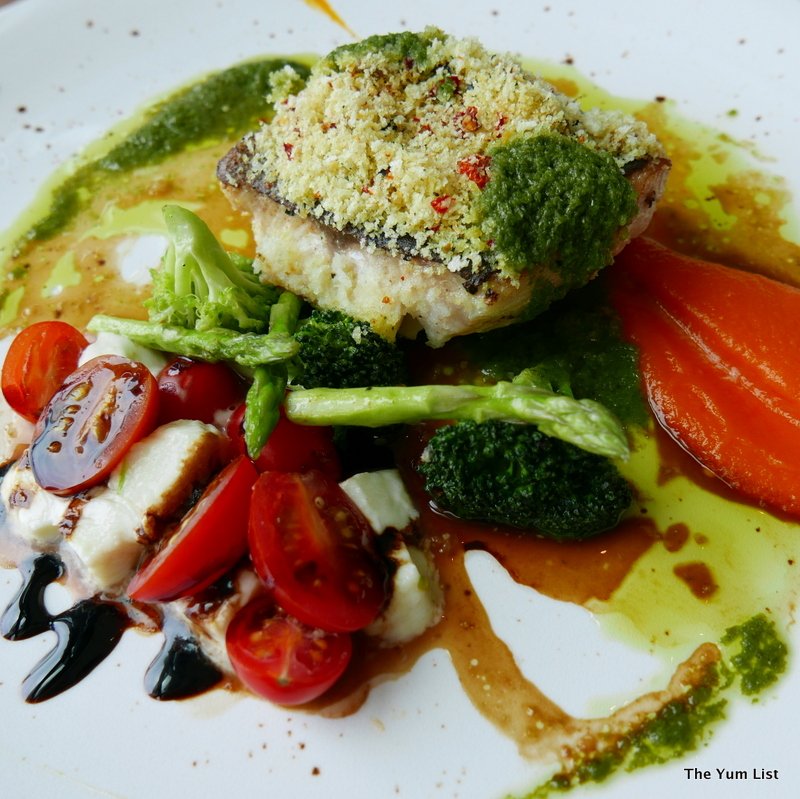 Live Well
The impressive looking Caprese Balloon (RM32) is a unique serving with guacamole puree, roasted Roma tomatoes, arugula, caramelized baby onions and balsamic glaze. Not only does it look amazeballs with a giant balloon of cheese just waiting to be popped, but the flavours are nicely balanced too. It's a great dish and I'd order this again in a snap (preferably at lunch next time though to capture a better pic).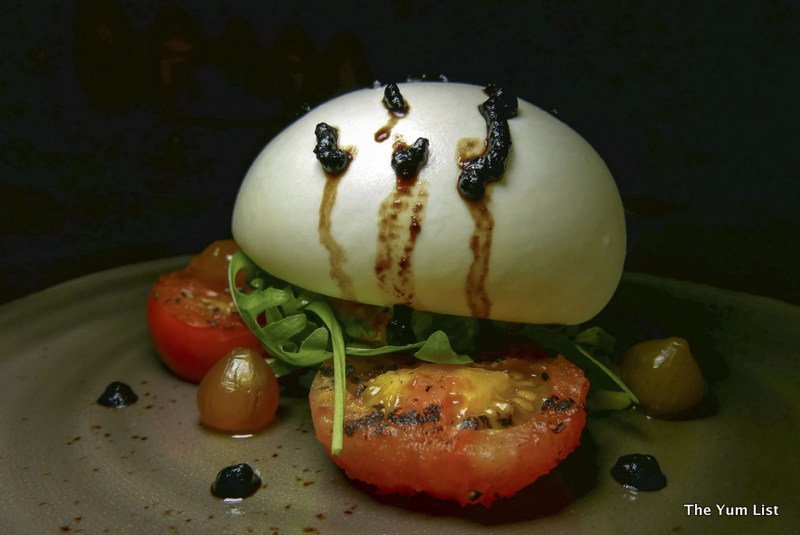 Smoked Loch Fyne Salmon (RM42) is not your ordinary smoked fish dish. Presented on a black slate, a buckwheat blini topped with prawns, sour cream, chives, balsamic pearl and mango-hazelnut dressing sits at one end. On the other tip lies a jar of salmon marinated in pickled beetroot juice with shaved fennel, red radish slaw and hazelnut powder all soaking up the flavours of smoked apple woodchips. It's a brilliant dish, and another I'd happily request seconds of.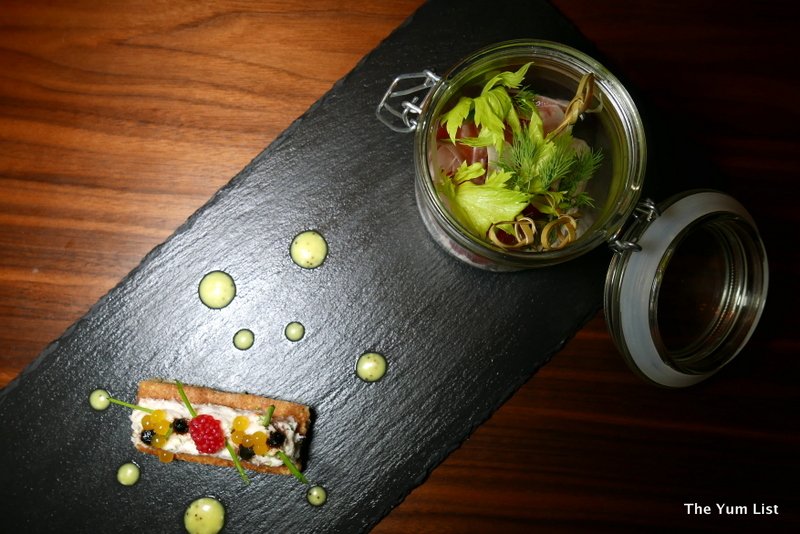 Sharing is Caring
Attempting to reduce food wastage, Element Kuala Lumpur only offers a buffet at breakfast: lunch and dinner are both a la carte. To compensate for the Malaysian love of sharing, the Sharing is Caring section of the menu provides larger portions (suitable for 2 – 3 pax) that are perfect for enjoying with a group of family or friends.
36-Hour Vacuum Cooked Short Rib Beef (500gm RM155) is one such monster. Succulent ribs have been hickory smoked and come with an uncommon pairing of vegetable crudites and salsa picante. The sides work well though serving to lighten up the richness of the beef.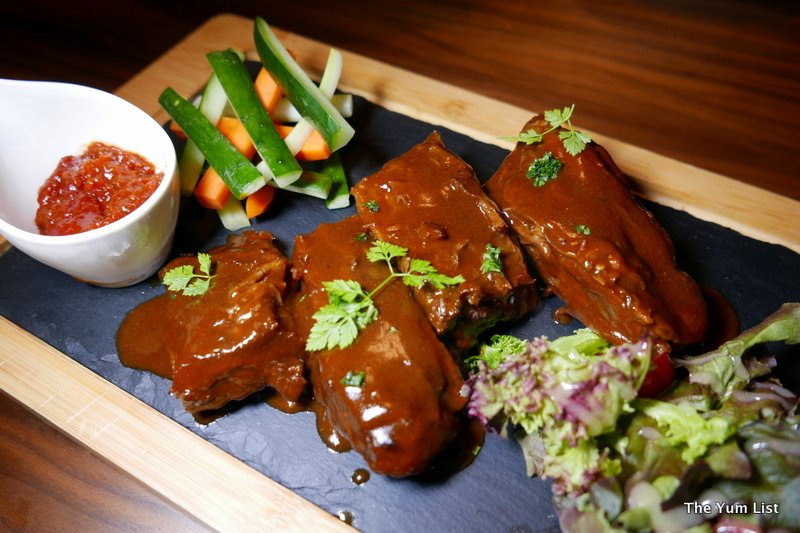 Sous Vide Baby Chicken (RM54) is another plate for division amongst companions. Garlic boursin and basil pesto baby chicken galantine, turkey ham hasselback potato gratin, asparagus spears, and mushrooms in a rich chasseur sauce makes a fine plate.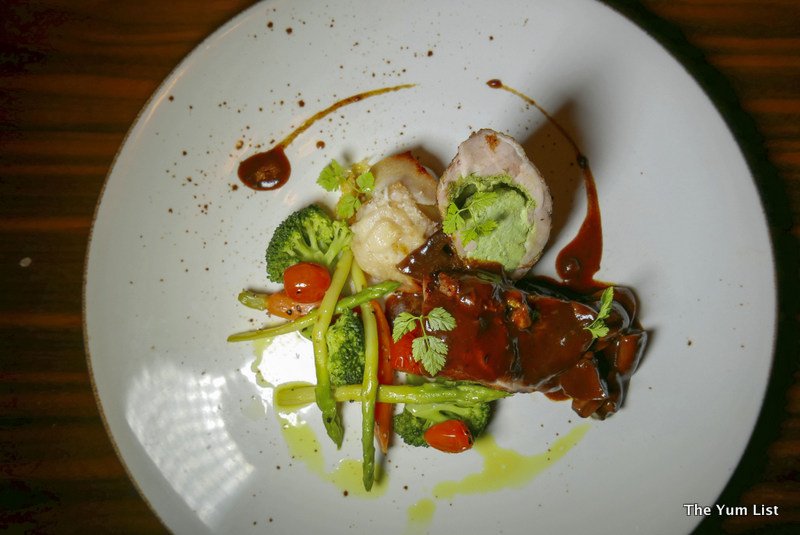 One more beast on the menu is the whopping serving of Certified Angus Sirloin 120 days Grain-Fed (400gm RM168). Cooked to request, the meat is dry rubbed with Asian spices and served with a basket of cheesy cauliflower croquettes on the side. A tarragon béarnaise does well with both the meat and side.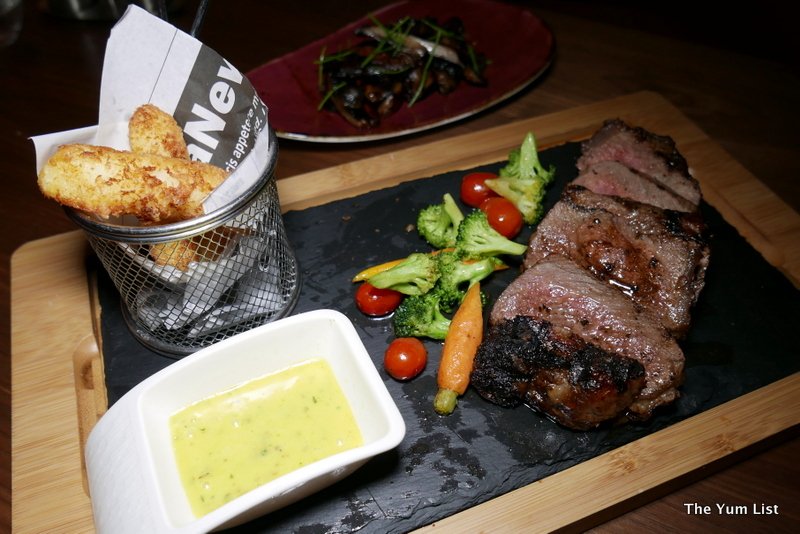 Side Accompaniments can really bulk up the Sharing is Caring plates making them suitable for more than the two to three people suggested. The Soy Glazed Portobello (RM18) takes our fancy and proves as equally enchanting in the palate as was imagined.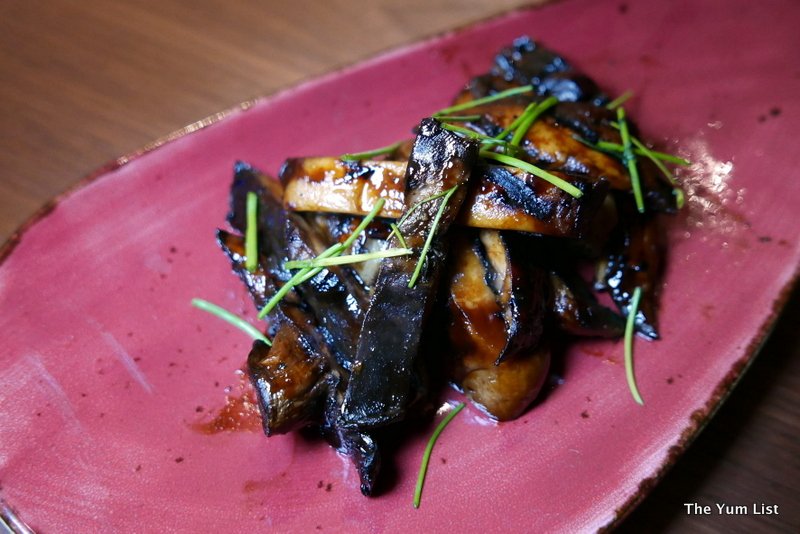 Sweets at Trace Restaurant & Bar
Freshly baked, the Exotic Fruit Lava Carrot Cake (RM26) is a uniquely light take on the usually rich chocolate fondant. Filled with mango passionfruit sauce, upon breakage the ooze spills decadently from the dome. You still get the drama of the flowing lava but not the heaviness – perfect!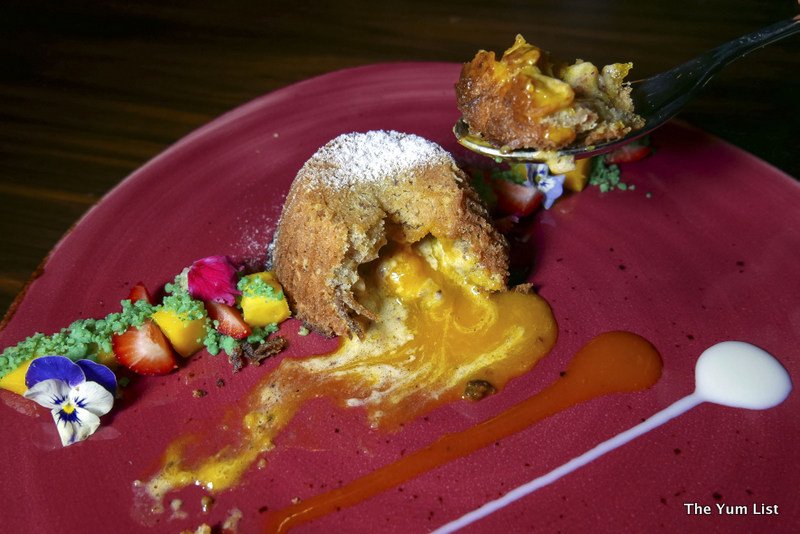 Our top pick from the desserts menu is undoubtedly the Carrot Lava Cake, but the baked Ricotta Cheese Cake (RM28) is also deserving of a second look. Two rectangular prisms of dense, mildly sweet cheese are dotted with glittery house made sauces with a few spoons of nutty granola around the edges jazzing up the texture.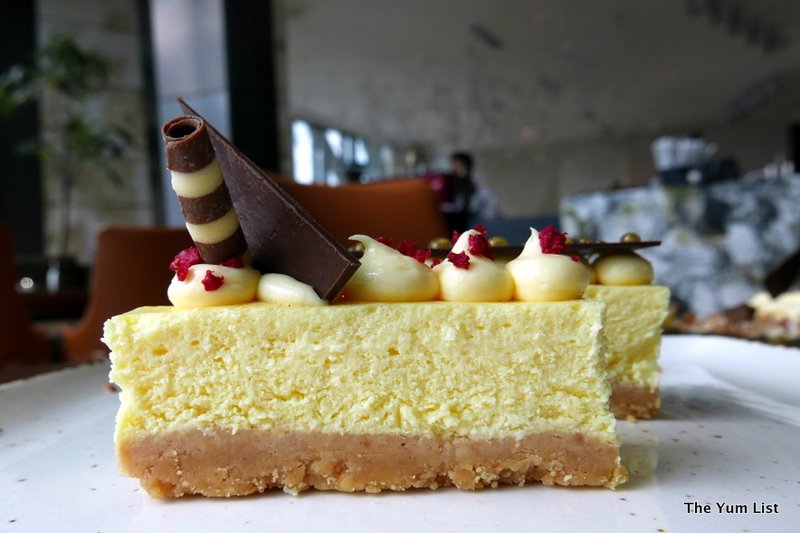 There are lots of dishes to try at Trace Restaurant and Bar at Element Kuala Lumpur and the menu is continually evolving. The chefs even note that if you have a particular craving for something that's not on the menu, but they have ingredients (and time) to make it, they're happy to cater to requests.
Reasons to visit Trace Restaurant & Bar: stunning views; don't miss the Caprese Balloon, Smoked Loch Fyne Salmon, 36-Hour Vacuum Cooked Short Rib Beef and the Exotic Fruit Lava Carrot Cake.
Trace Restaurant & Bar
Element Kuala Lumpur
lham Tower
8 Jln Binjai
50450 Kuala Lumpur
Federal Territory of Kuala Lumpur
Malaysia
+6 03 2771 3388
www.elementkualalumpur.com