Monica Tindall
I have to admit that I don't know a lot about Egyptian food – enough to know better than to lump it altogether under the one theme "Arabic," but not enough to name a single traditional dish. I can see, though, that's all about to change with today's dining experience at Tut's Egyptian Eatery: before I even browse the menu I'm engaged by the paper placemats on my table, each telling a different story behind a dish, Egyptian ingredients and even a bit of history about King Tut himself.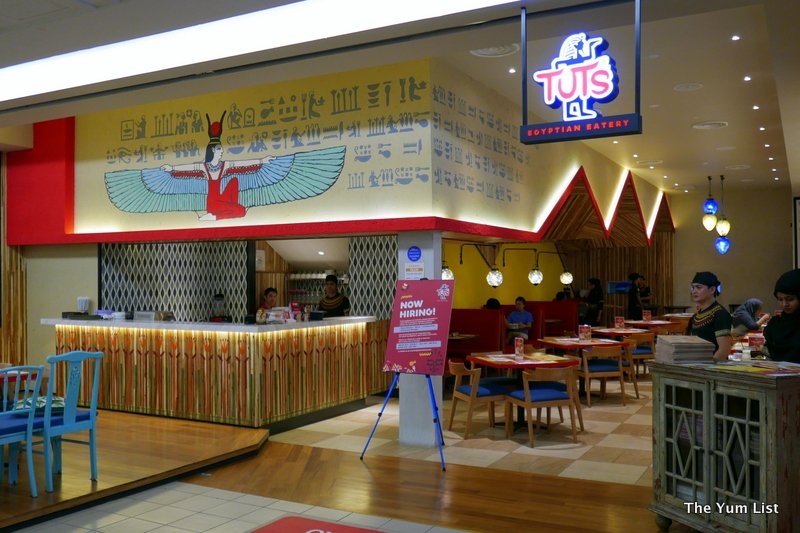 An Interesting Fact
One of the first things I learn is that when King Tutankhamun's tomb was discovered nearly perfectly intact in 1922, 5398 items were found together with him in the tomb. The list, including masks, thrones, bows, trumpets, underwear and so on, took over 10 years to catalogue! One of the most fascinating items found inside was a dagger made from a meteorite – literally an "out of this world" blade dubbed a "gift from the gods in the sky!"
My education continues with with rich tales of intrigue accompanying many a dish.
Starters at Tut's Egyptian Eatery
The first story tells that the Molokhia Minced Leaf Stew (RM9.90 vegetarian) is said to be thousands of years old! Also known as nalta jute, the molokhia leaves are so authentic to Egypt that they don't grow anywhere else in the world and hence are flown in. (The team tries to source ingredients locally in most cases though). Similar in appearance to mint and in flavour to spinach, the leaves are spiced with garlic, coriander, cumin, black pepper and a touch of butter making a uniquely delicious stew. The narrative goes that the plant was found so stimulating in the past that a former Egyptian ruler, Al-Haim bi Amr Allah, once banned the plant! Eaten with Egyptian rice, it's a must order.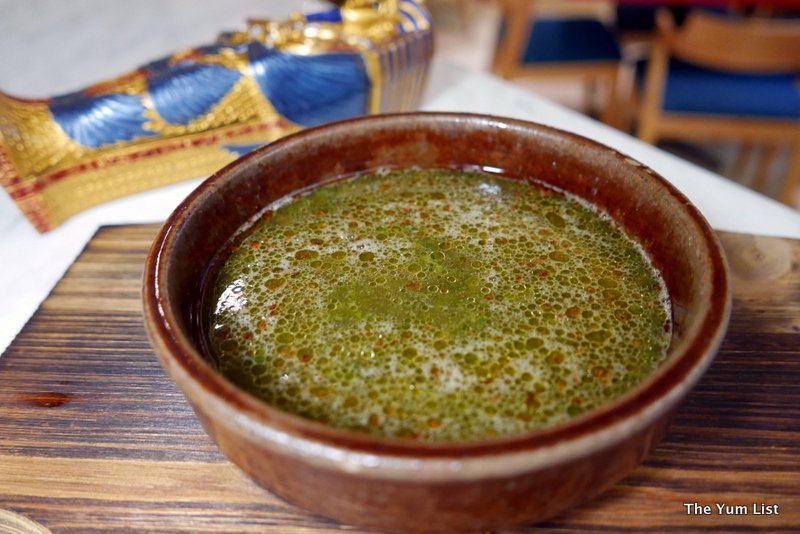 Horus BBQ Chicken Wings (RM10.20 4 pieces) are likened to the falcon hero of ancient Egypt with their exotic seasoning and tender flesh. Barbecue sauce comes with the wings, but it's not really necessary as they're flavourful all on their own.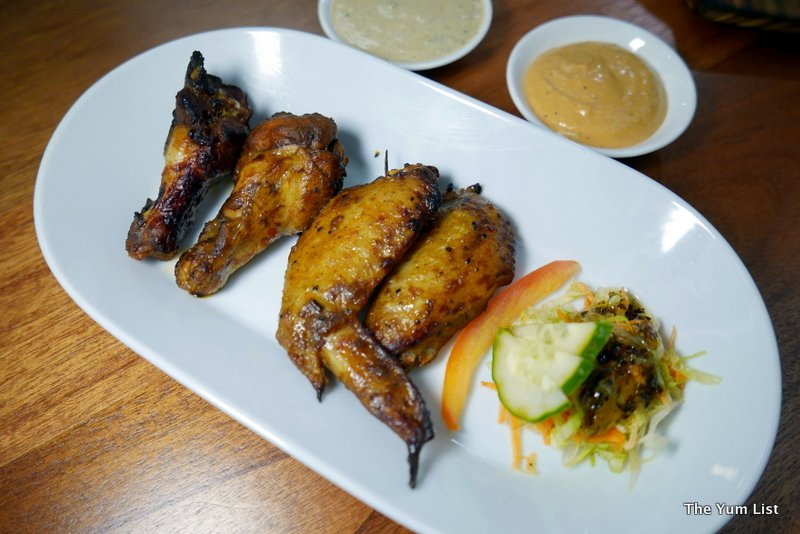 Mains at Tut's Egyptian Eatery
Another vegetarian dish, Koshari Mixed Grain Bowl (RM14.30) is said to be a dish of the poor. Packing all of-the-carbs in a single bowl – macaroni, lentils, mee hoon, rice, fried onion, and chickpeas – the recipe fills every last tummy pocket without the need for meat. Tomato sauce, chili sauce, chickpeas, lentils and fried onions come in extra containers on the side for adding at will. It's very good, but we don't manage to finish the entire bowl so look forward to a second round at home later this evening.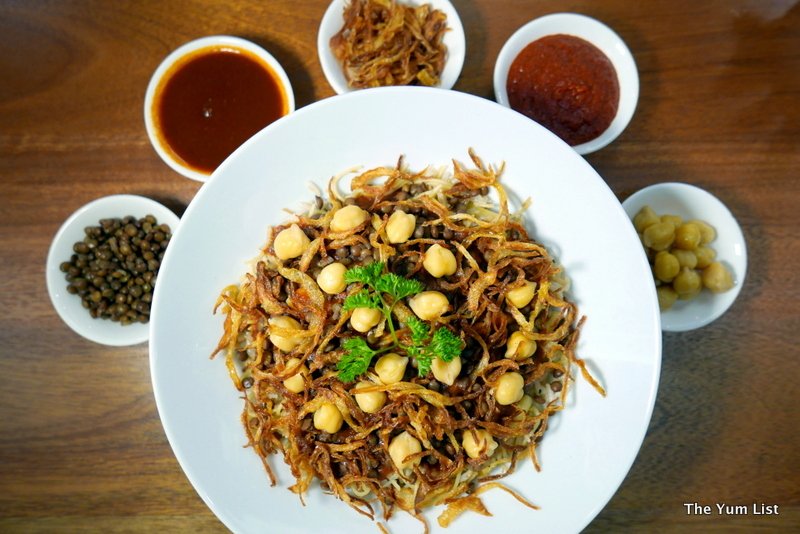 Ranked number one as the most-liked dish in customer research, Herbal Hot Plate Chicken with Baked Rice (choice of rice, veggies, or both) features poultry that has been slowed grilled on a hot plate "as if cooked by the Egyptian sun" and seasoned with a secret blend of herbs. It's one of those dishes that immediately speaks "comfort food" – we can see why it's a hit.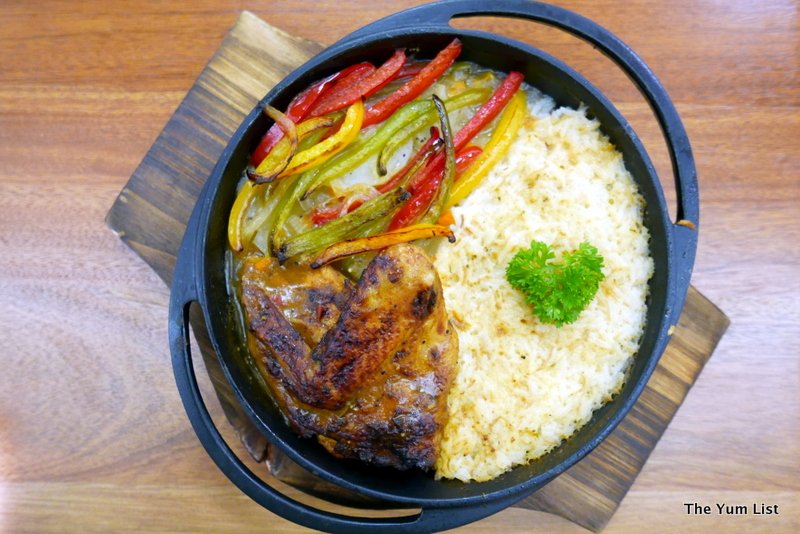 Seeking something a little healthier, the RA Roast Chicken (RM16.30 quarter including one side) fits the bill. Marinated for 24 hours and available in both traditional herby seasoning or spicy, the roast chicken is simple, yet satisfying.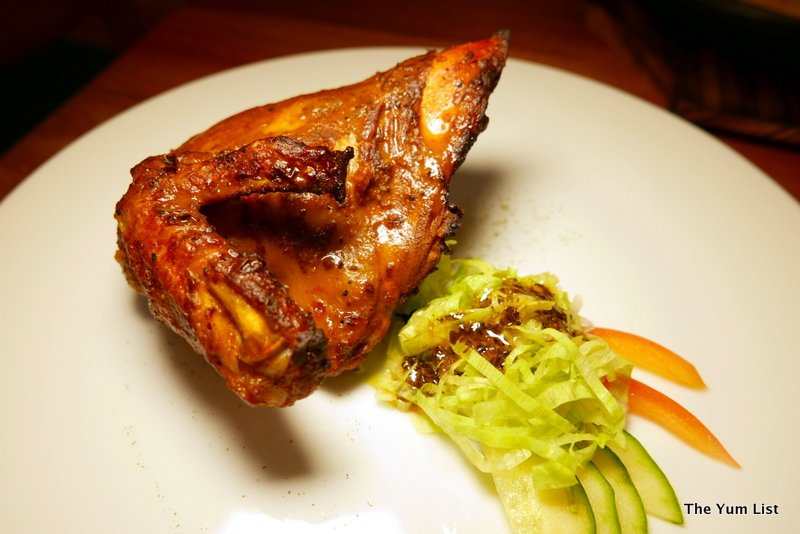 Hawaoshi Baked Meat Foldover (Lamb + 1 side RM18.80) with tahini sauce is traditionally eaten with beef, but now the Egyptians are saying that the Malaysian version with lamb is even better. Toasted slices of baladi (Egyptian bread), which has been baked in their central kitchen, wraps around the moist lamb in a tight pocket. Add a touch of tahini sauce and we've got one mouth-watering bite.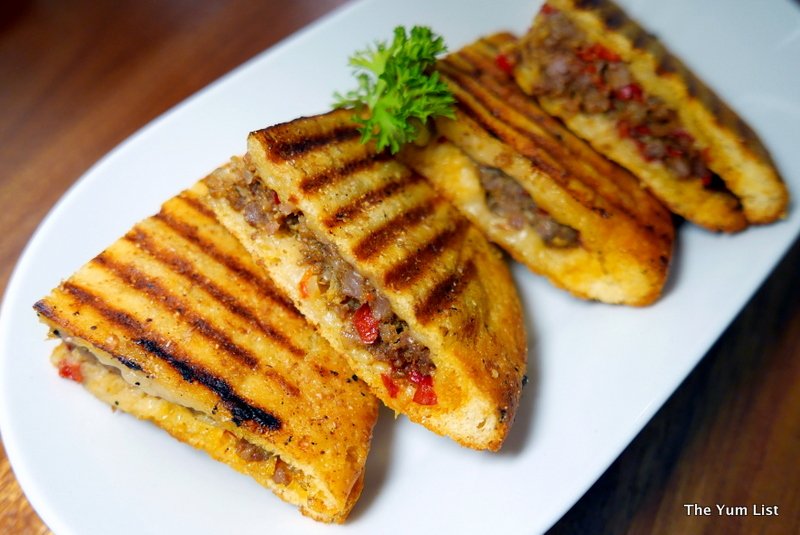 Sides at Tut's Egyptian Eatery
Various dishes and sets come with a side dish of your choice and you can also order extra from the menu. Garlic Tomato Salad (RM4.50) is a great option when you want something lighter and cleansing. The best-selling sides though are Tut's Dynasty Fries (RM4.50) breaded with herbs and deep-fried, and Sweet Potato Fries (RM4.50). Five sauces can be chosen from as you please: cheesy, nutty, barbecue, chili and tahini.You know I have healthy taste buds though, so tomatoes are my top pick.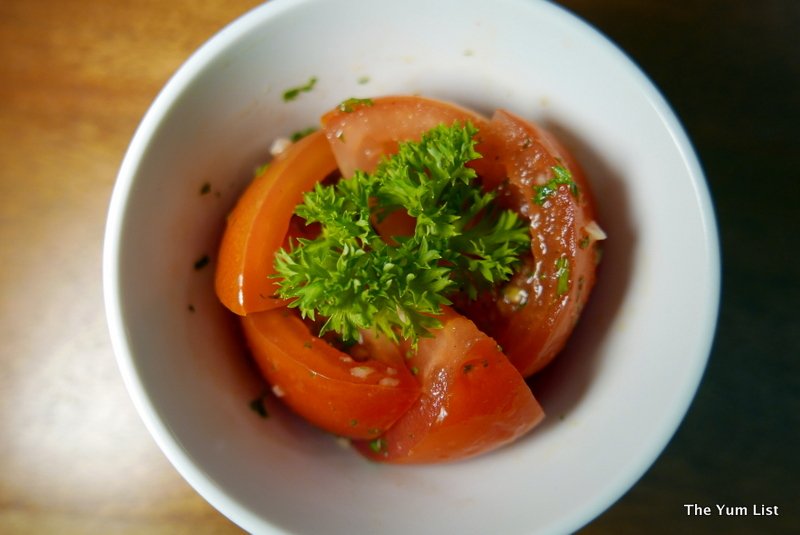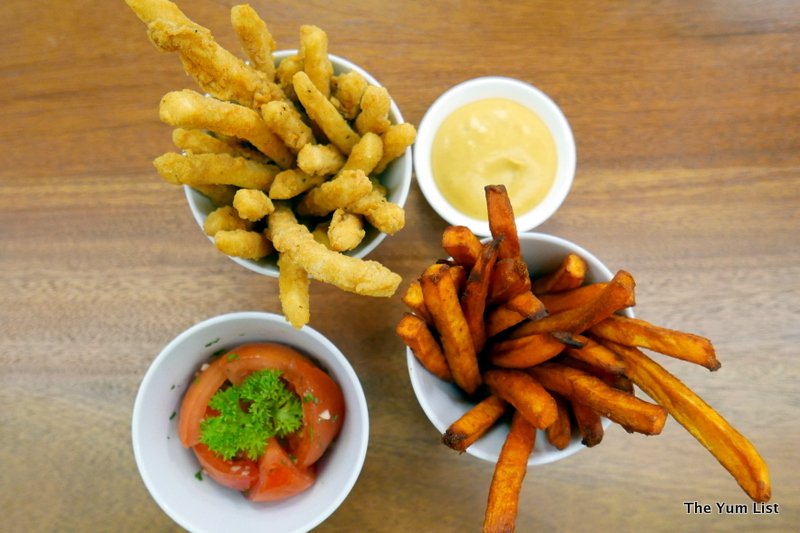 Egyptian Desserts
Desserts at Tut's Egyptian Eatery are familiar and comforting and confirm a thread that links many cuisines from around the world. Rice and bread puddings seem to pop up in numerous permutations across the globe and it would appear that Egyptian sweets join the circle of friendship too.
Both Roz B Laban Creamy Delight (RM6.85), a milky vanilla scented rice pudding, and the Om Ali Bread Pudding (RM9.80) have hubby touting affirmations of his mother's cooking and these Egyptian delights at the same time. The Om Ali Bread Pudding also carries with it a captivating plot of betrayal, rivalry and death and in the end celebration of success through the creation and sharing of this dessert with the peoples of the kingdom.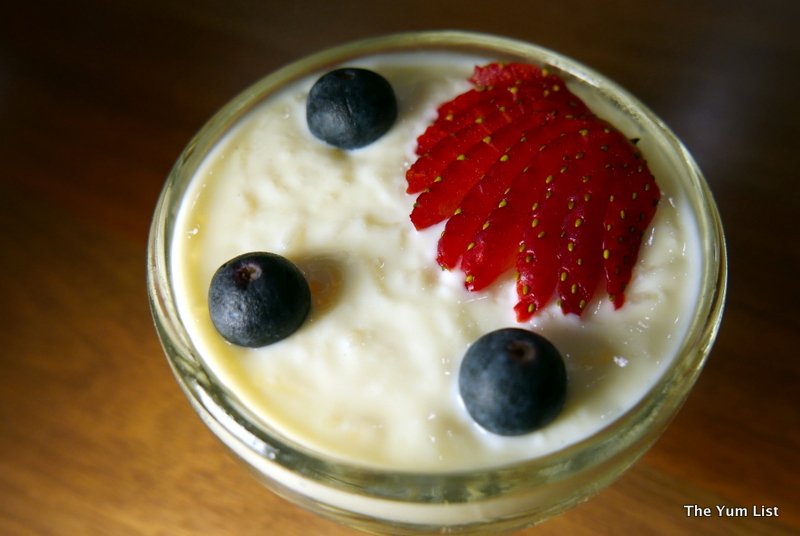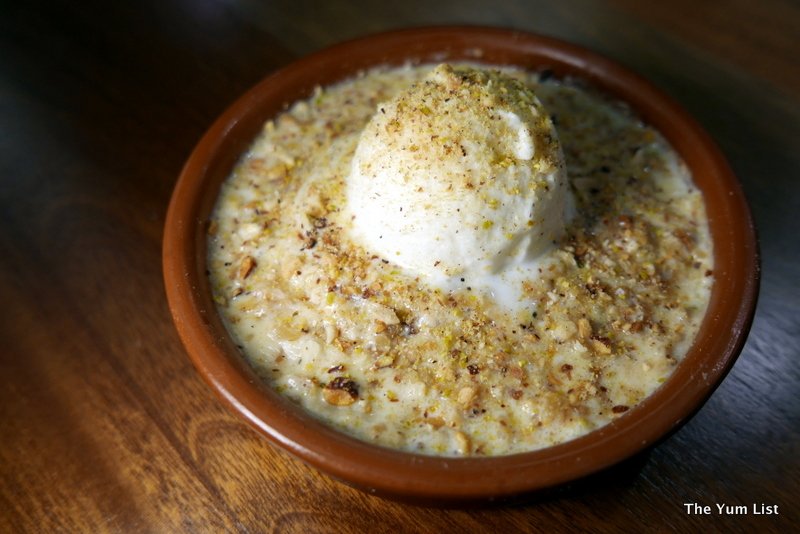 Drinks
Egyptian Lemon Mint (RM), Sobya Milk (RM7.50) and Tropical Tamarind (RM7.50) are recommended as the three most traditional drinks on the list. The first, is an interesting combo mixing citrus and dairy. Milk, sour lemon and sharp sweet mint make a memorable and refreshing beverage. I know before we've even had the first sip of the Sobya that hubby is going to start mmmming his gratification with the coconutty finish. The last offers just the right punch from the perfectly ripe tamarind fruit to cleanse palates and satisfy with a gently sweet conclusion.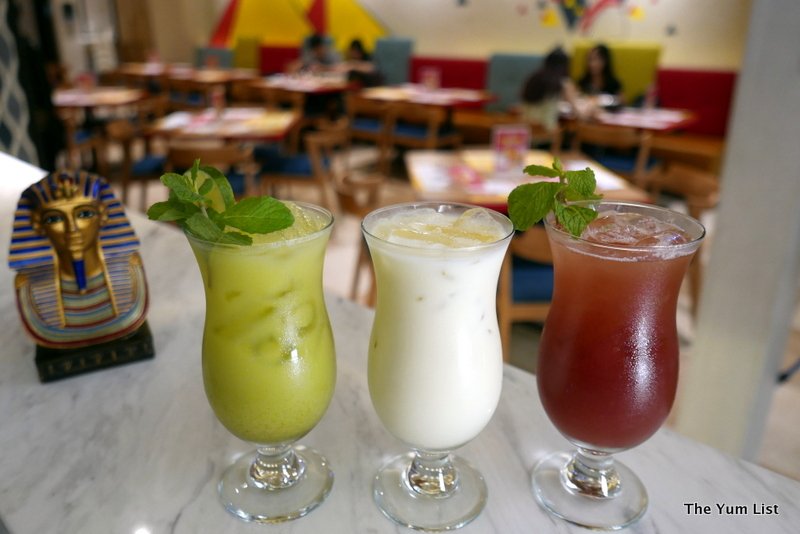 Reasons to visit Tut's Egyptian Eatery: a chance to try authentic Egyptian cuisine (a first I believe in Kuala Lumpur); affordable pricing; our top picks are the Molokhia Minced Leaf Stew, Koshari Mixed Grain Bowl, Herbal Hot Plate Chicken with Baked Rice and Om Ali Bread Pudding.
Tut's Egyptian Eatery
LG333A 1 Utama Shopping Centre
New Wing, Rainforest (near the Oval Concourse)
+6 03 7688 4597
www.tutsegyptianeatery.com.my