Monica Tindall
When the general manager of a hotel is a former chef (and an exceptional one at that – previously heading restaurants awarded with coveted Aussie Chef Hats), you can pretty much guarantee that the guy he hires to lead the kitchen is going to have to be worth his weight in truffles. Ben Faker takes on this role as executive chef at the Azerai Luang Prabang and is no lightweight himself. Coming from the position of sous chef at the 3 Hatted, The Bridge Room in Sydney, Chef Ben brings to Azerai Bistro a contemporary menu, which evolves with the seasons.
Chef Ben works directly with farmers and foragers assuring guests the freshest of ingredients and refashions the menu seasonally to take advantage of such. At Azerai Bistro we witness cutting edge cooking techniques molded to enhance local produce, maximize on flavours and simple, yet attractive presentation of recipes (yes to Instagrammable plating).
Before we get to that though, a cocktail in the upstairs bar seems an appropriate way to begin.
Azerai Bar
The bar at the top of the spiral staircase looks inviting with its neat row of bar stools and warm pendant lights backed by a glowing wall display of bottled spirits. Lounges provide alternative seating as does a covered balcony. The patio, looking down over the road yet providing a comfortable separation with its first floor elevation, makes a private vantage point from which to watch the happenings of Luang Prabang slowly roll by.
As with the food menu, the cocktail selection makes use of the countryside's bounty. Phet Luang Prabang ($7) made with gin, lime juice, chili, cucumber, muscovado and mint is served in a martini glass and has an addictive pinch to the profile that leaves my lips tingling. Hubby highly recommends the Kaffir Lime Lemonade ($7), composed of gin, kaffir lime, leaves, lemongrass, lime juice and tonic water, as a refreshing drink. The Asian Peach ($7), which is a simple mix of vodka, peach schnapps and mango puree, is mildly sweet and tropical. And, white rum, Thai basil, lime juice, brown sugar and rock salt make up the Basil Daiquiri ($7), a clean fresh twist on the classic. Bar snacks of sweet potato chips and peanuts with lemongrass, kaffir lime leaves and salt complement the local theme, and with every nibble encourage us to drink a little more.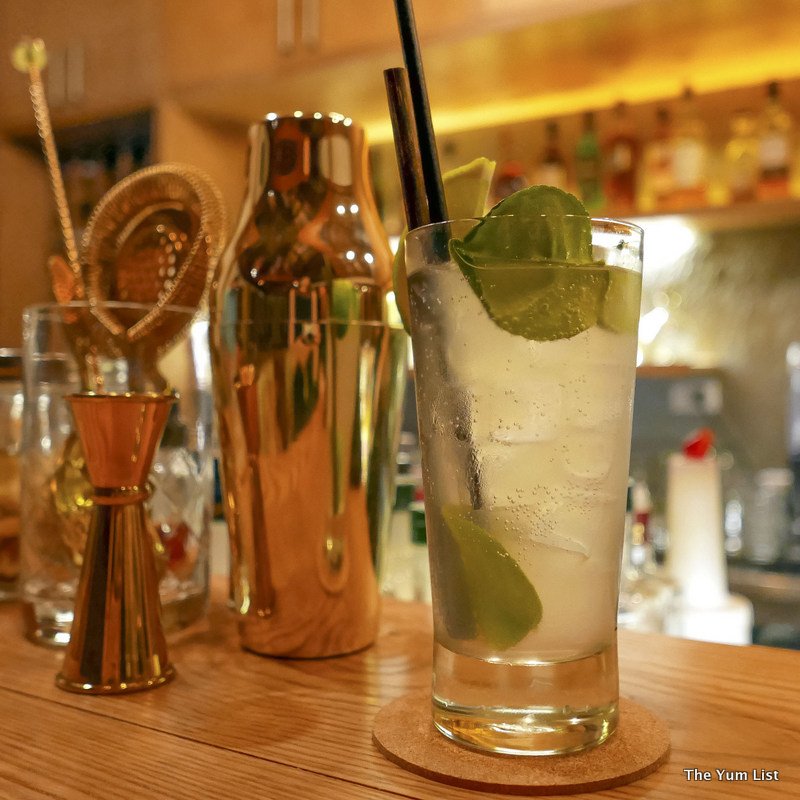 Carrying on for another couple of rounds would be easy to do, but there's food to be tried and a kitchen that might close if we don't watch the time, so back downstairs we head.
Azerai Bistro
Chef Ben speaks with passion when describing the concept behind Azerai Bistro. "Seasonal. Produce driven. Minimal imports. Frequent local market visits. Inspiration from the seasons. European and modernist cooking techniques. Latest kitchen technologies. Custom made charcoal grill. Regular specials to highlight things that are only available for a short period. Relationships with local farmers…" he speaks rapid-fire and I barely do justice to his gusto in recording all that he has to convey.
Phew! I need a glass of wine to contemplate it all as chef heads back to the kitchen to put substance to his philosophy. Fortunately, one is already being poured. Straw yellow in hue, with flowers and fruit on the nose, followed by citrus and herbs in the mouth, this Batasiolo Chardonnay Langhe Gresy, Italy, 2013 ($71) makes a fine aperitif. It continues with decent structure and ends nicely balanced. It's quite quaffable on its own but plays well with our food that's on its way.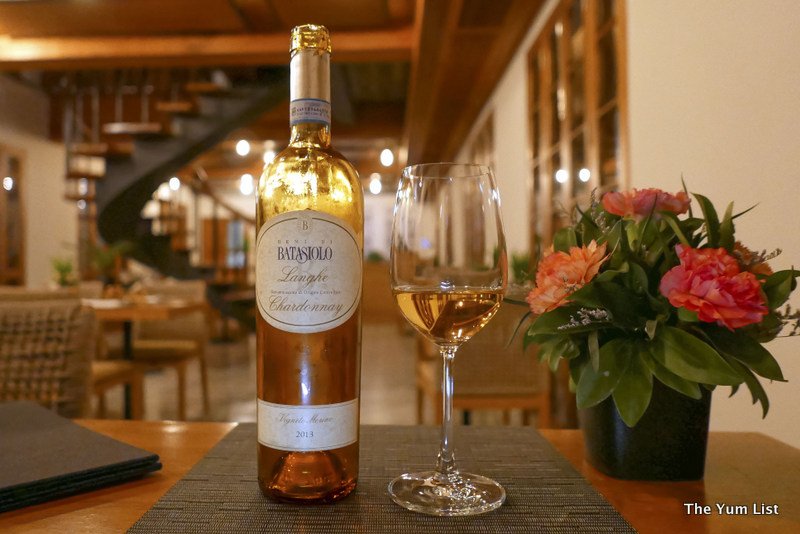 Tapas at Azerai Bistro
Grilled Organic Spiced Carrots ($8) with buffalo mozzarella, toasted almonds and burnt orange dressing (grilled orange that's been burnt and juiced) with puree of carrots is a beautiful recipe both to the eye and to the palate. Edible flowers and rosella sprouts (grown 10 minutes outside of town) adorn the dish and puffed job tears (adlay millet – a nutritious, tasty and plump gluten-free grain) provides additional bite. It's wonderfully balanced with nutty, herby and a little bit of bitter presented in creamy, crunchy and crispy textures.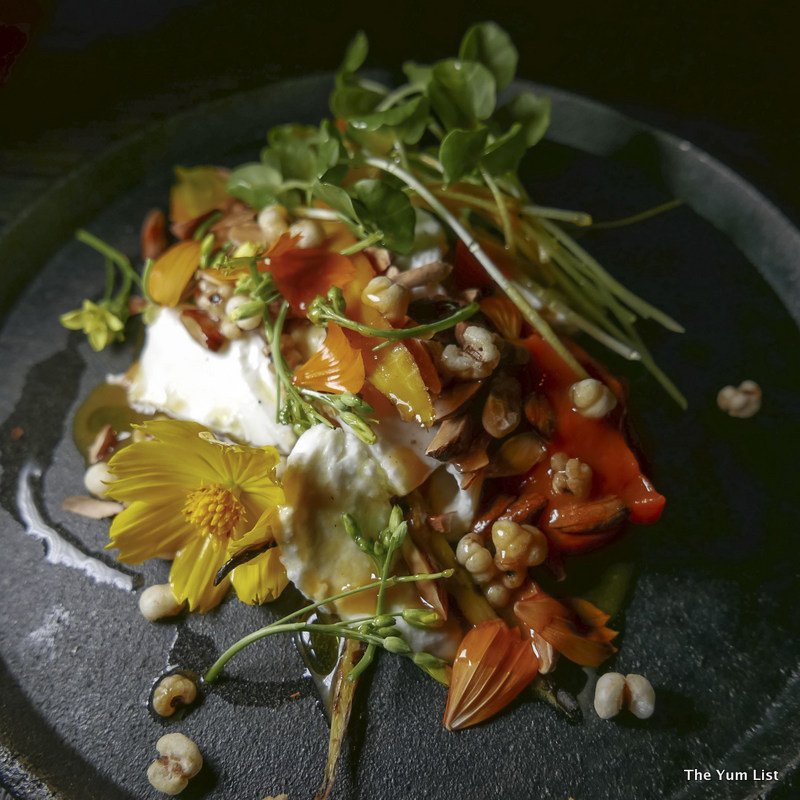 Croquettes ($4) with scorched corn and ham are fabulous. A thin crispy bread crumb casing holds velvety béchamel of sweet corn and cured shoulder ham. A delicious cream of corn moistens it all. I challenge you to eat just one.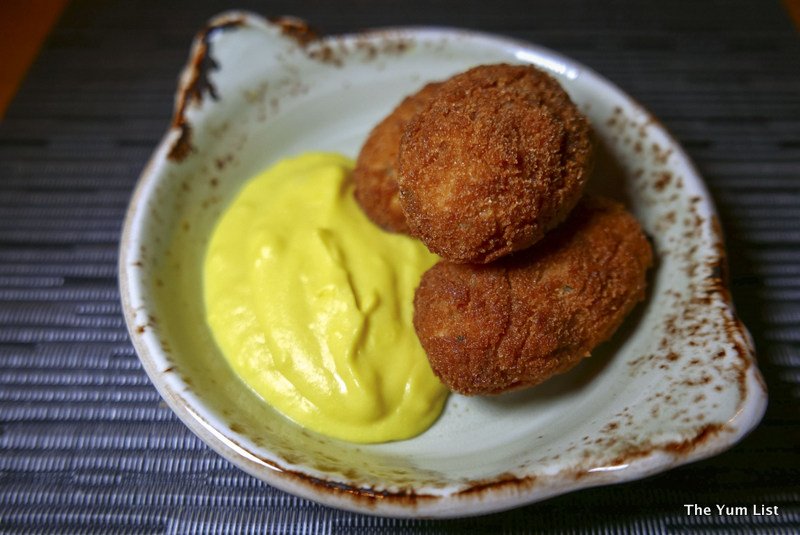 Entrees
Lime Cured Talapia ($7) with Lao sesame, pickled young ginger, spring onions and cucumber is a local version of ceviche. A drizzle of Lao cold-pressed sesame oil presents an earthy flavour and wafer-thin rice crackers make perfect scoops for the deliciously marinated fish. It's light and tasty and another dish that you won't want to share.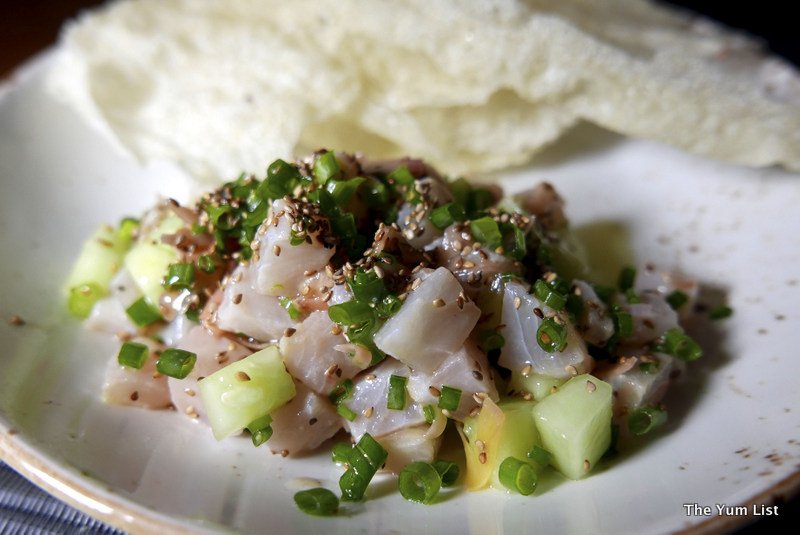 Pressed Pork Knuckle Terrine ($8) comes with a green mango chutney and pickled local squash. Pickling is a common form of preservation in Laos cuisine and this particular plate showcases traditional French techniques with the complement of local ingredients. Lavosh bread triangles provide crunchy beds for the spread.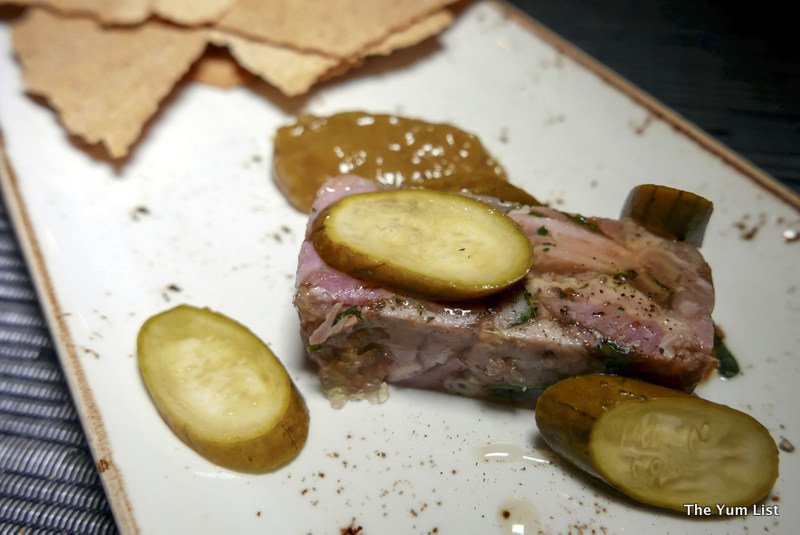 Mains at Azerai Bistro
Grilled River Fish ($12) is a vibrant plate with scorched corn, lime, green chili, basil, pickled red onion and a cream of corn. The fish is moist and flaky and the condiments play on the sweeter side of the seesaw, appealing to both of our palates.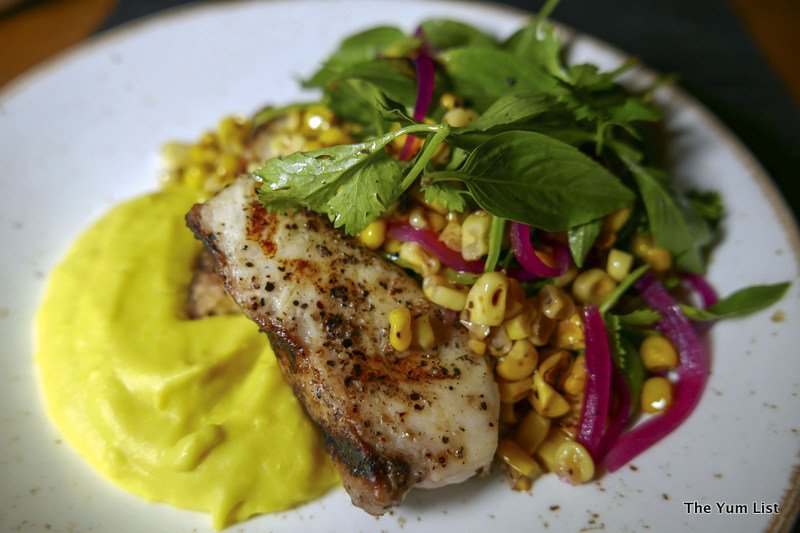 Charred Pork Belly ($12) is the perfect contrast between decadently rich, and light and refreshing. The fatty flavourful meat is balanced with cabbage pickle, water apple and mint. A little scoop of this and a little scoop of that… yum!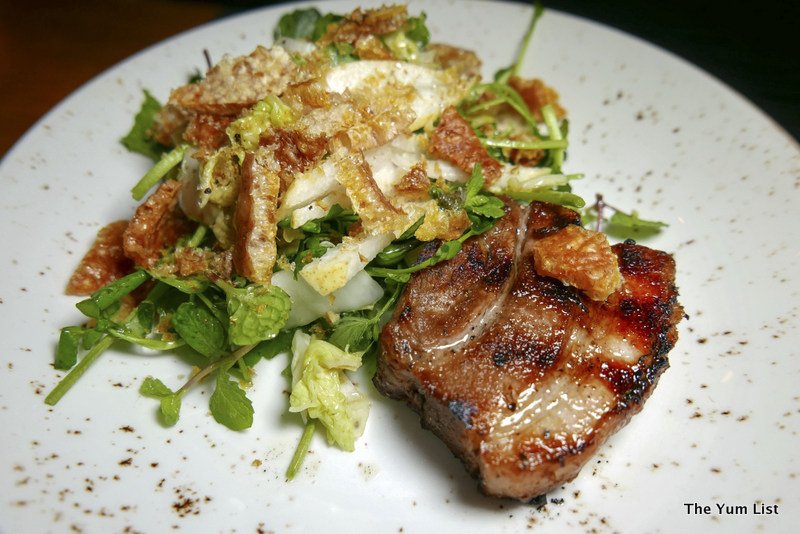 Dessert
Whatever you do, don't leave without trying dessert. Chef presents Pineapple Cheesecake ($6) somewhat deconstructed in style. Generous shavings of pressed pineapple provide some tartness, a peanut shortbread gifts a nutty crunch and whipped cream cheese makes a light ending.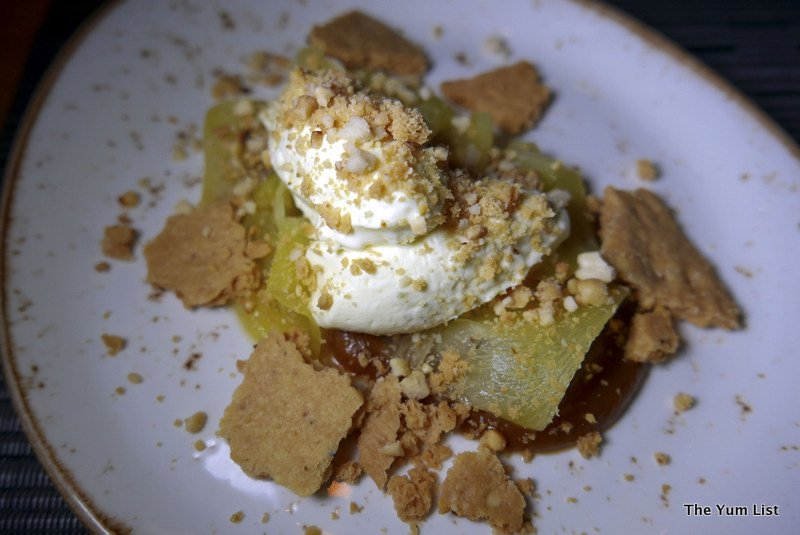 Dark Chocolate Mousse ($6) is another exemplar of an optimal marriage of European technique with local flare. An aerated mousse plays well with crisp red sticky rice and luxuriously creamy coconut ice cream. It would be too hard to choose one of these desserts over the other, so I suggest ordering both.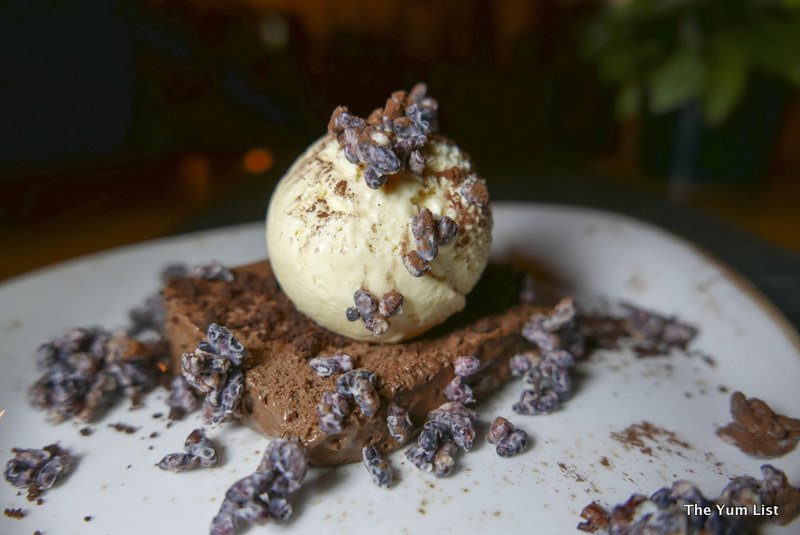 Don't expect though, to find these exact dishes when you visit Azerai Bistro. They might be on the menu and they might not. That's the exciting thing about the line-up – it's seasonal and it flows with what produce is at its best. Whatever you order, however, I guarantee that if Chef Ben is in the kitchen, it's going to be scrumptious.
Reasons to visit: lovely setting in the beautiful Azerai Luang Prabang hotel; nice bar; contemporary cooking techniques celebrating local produce.
Azerai Bistro
Azerai Luang Prabang
Azerai Setthathirath Road
Hua Xieng Village
Luang Prabang
LAO PDR 06000
+856 71 262333
[email protected]
www.azerai.com