Monica Tindall
Ask any foodie residing in Luang Prabang who are the chefs to follow in the growing food and beverage industry, and Chef Somsack's name is bound to come up in every conversation. A native to Laos, Chef Somsack moved to Switzerland in his early 20s to study the culinary arts and there stayed refining his skills and soaking up European cooking techniques to bring back home a decade later. He now showcases his innovative recipes integrating what he learned in Europe with unique Lao produce, including insect protein, in his Blue Lagoon Restaurant.
Insect Menu
You read right. Insects!
Chef Somsack says that insects are the future of food. With overpopulation and the dramatic loss of arable land, forward-thinking countries are already exploring what the Laotian's have known for years: those six-legged creatures are a rich source of nutrients and protein. In Switzerland, for example, Chef tells that you can find insect products in the supermarket. But before you start having creepy-crawly nightmares, it's not your straight up, bug on a stick that you find in the local market; rather they're fused into European recipes. Chef Somsak describes it as a gentle introduction to the idea. For example, he uses ant eggs to add crunch in soup and grasshopper as a paste on tagliatelle.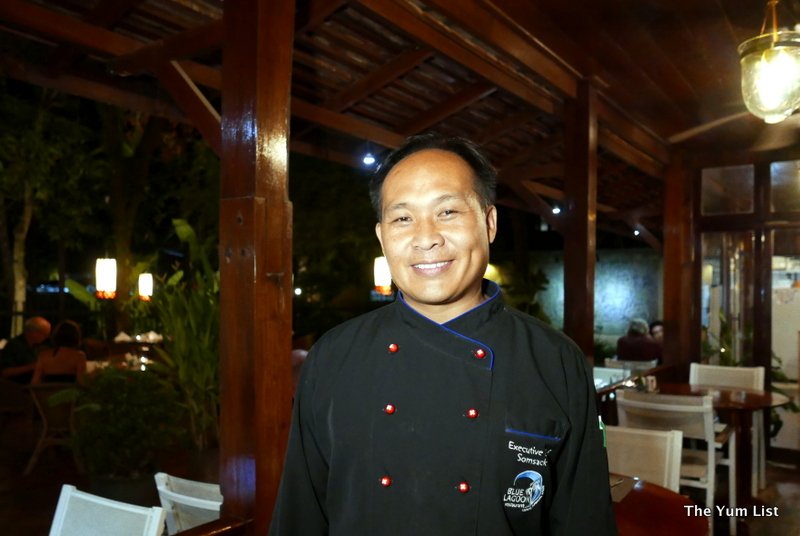 European Cuisine
There's more to Chef Somsack's cuisine though than insects; this is just a small portion of the menu. "The menu is like a bible, but it's all special," says chef. He quotes his international clients from all corners of the globe as reason for having a huge range of dishes. Chef Somsack draws an analogy between his style of cuisine and an egg, "an egg is white on the outside and yellow in the middle, just like my food appears European but has Asian inside." He uses his fine European cooking skills but tries as much as possible to source ingredients locally. We sample from both the insect and European menu, but first, let me tell you how to get to Blue Lagoon Restaurant.
Location
Just off the main drag of Luang Prabang, we find an unassuming side alley. Families are cooking on the street and children run between houses. Following the signs to the Blue Lagoon Restaurant we turn left at the end and the entrance opens up to another world. An outdoor bar on our left, cocktail tables and lounges under trees on our right, and further in romantic lantern-lit tables with nothing but the starry sky above. A glass-walled room provides alternative air-conditioned comfort and we can't help but feel that Chef Somsack has created his own petite garden of Eden.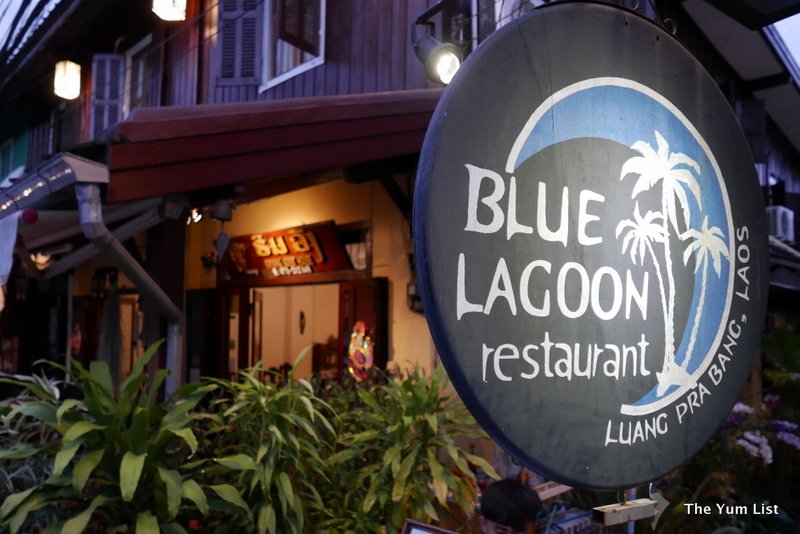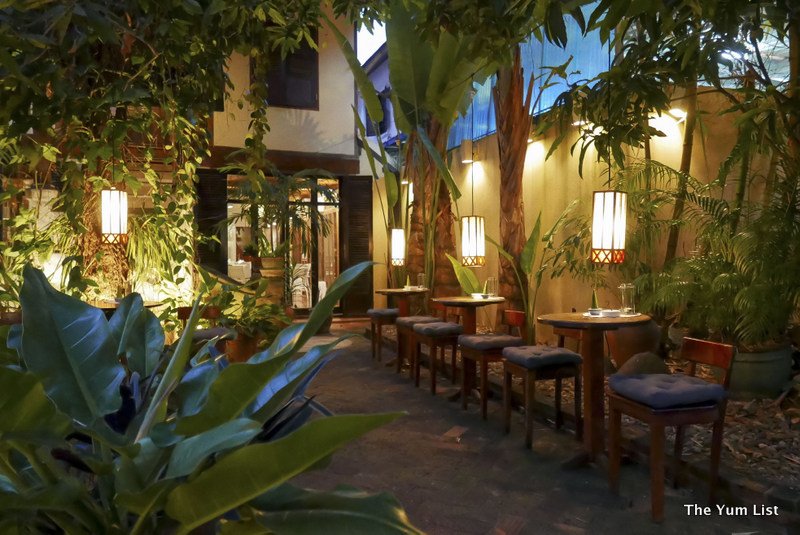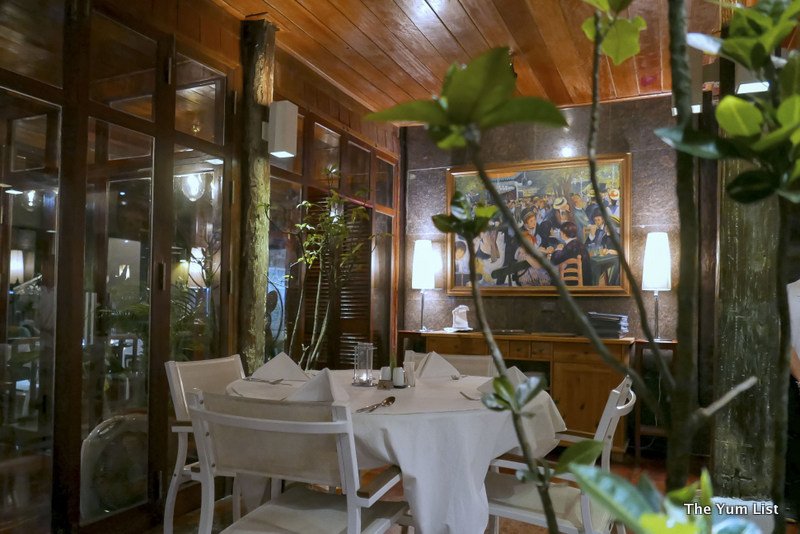 Drinks
The wine list holds a number of labels from around the world, with a couple by the glass all served in nice Riedel glasses. I go with a Sauvignon Blanc, by Robertson from South Africa (Kip 42 000). It has notes of just-mowed grass, apple and capsicum in the bouquet and follows with a decent structure and crisp finish. Blue Lagoon (Kip 61 000), a classic cocktail that just so happens to have the same name as the restaurant, is hubby's choice. Vodka, Blue Curacao, tonic and lime make a refreshing drink that is attractively blue.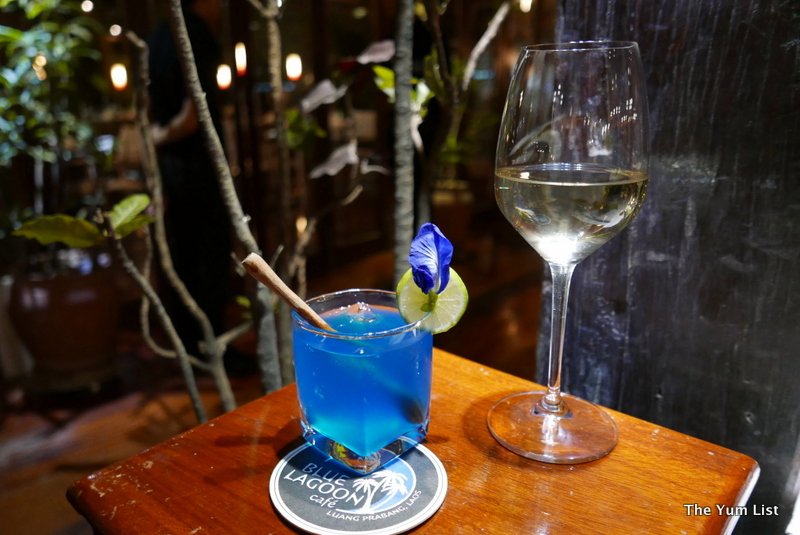 Amuse Bouche
We don't jump straight into the insect menu. First, there's an amuse bouche, a coriander soup, and a basket of warm bread. After chef's introduction though, I'm wondering if the delicious wild coriander cream that I'm sipping is thickened with insects. Meanwhile, hubby is telling me that the butter has insect feet. Even after the waitstaff have assured him that the strands he's seeing are just herbs, he continues to have doubts. "Oh wow, very tasty that butter," he nods, as if confirming his presumptions.
Insect Dishes at Blue Lagoon Restaurant
Black Ant Egg Coconut Soup (Kip 46 000) presents a soup of coconut milk with a touch of tamarind breaking the smoothness and providing a seductive sour note to the base. Things get exciting with the addition of little crispy bags of black ant eggs. A slight crunch, a creamy soup and a delicious tang – it's an incredible combination and if I didn't have the slight trepidation of the unknown, I would say it's something I'd order every single visit to Blue Lagoon Restaurant.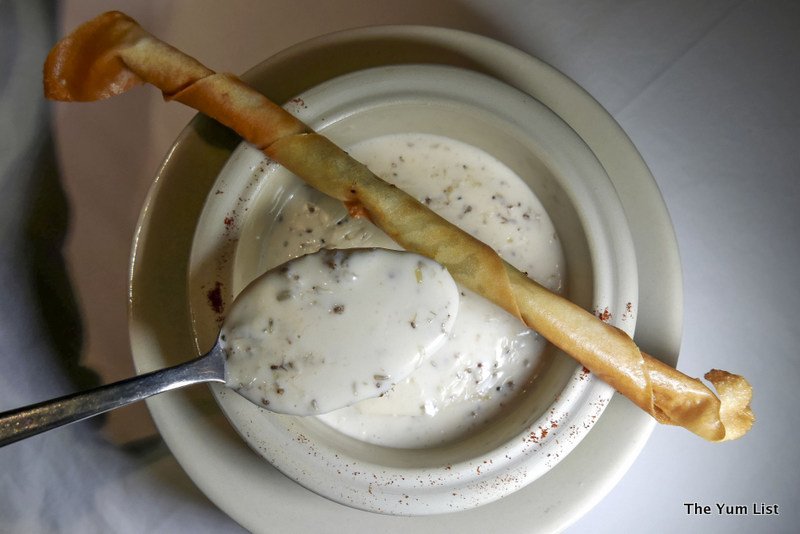 Cubes of fresh tuna and cucumber are the foundation of the Red Ant Egg Salad or "East Meets West" (Kip 58 000). Ant eggs and caviar season the plate alongside a fine basil pesto dressing. It's attractively layered with green, red, white and black and the freshness of the ingredients remind me of a poke bowl. The ant eggs are the elongated white ovals on top with a creamy and slightly sour flavour profile. Chef explains that the ant eggs are steamed lightly – a method that maintains the texture.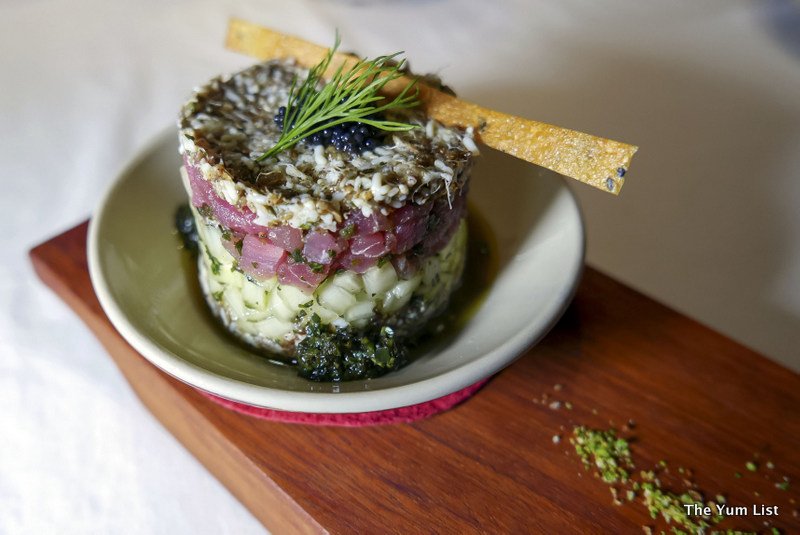 The duo of insect dishes we try are spectacular creations. We would not have known their secret ingredient if they'd been served blind. We might not turn entomophagous as a result, but our gentle introduction has made us reconsider insects as a viable source of nutrients for the future.
Original Luang Prabang Dishes
To introduce guests to Lao cuisine, chef provides a plate of four different tapas on one tasting plate in the Luang Prabang Specialties (Kip 133 000). Chicken larb, Mekong perch filet mok, pork sausage and orlam beef. Luang Prabang has a few different types of pork sausage – sweet, fatty and herbal. Chef's choice is meatier and herbal, which he says suits the palates of foreigners. Strong lemongrass flavours come through working well with the meat. Mok is fish with a lot of dill, skin of chilli, lemongrass, kaffir leaves, a little bit of rice, wrapped in banana leaf and steamed – a healthy choice. Orlam, a beef stew, based with lemongrass, cherry eggplants, mushroom, rice, mint, dill, basil and pepperwood is unique to this area and a great companion to pink sticky rice we have on the side. You can find different types of larb in Laos, but tonight we try chicken – minced with coriander, spring onion, banana and lemon –and this again makes a great friend for the rice.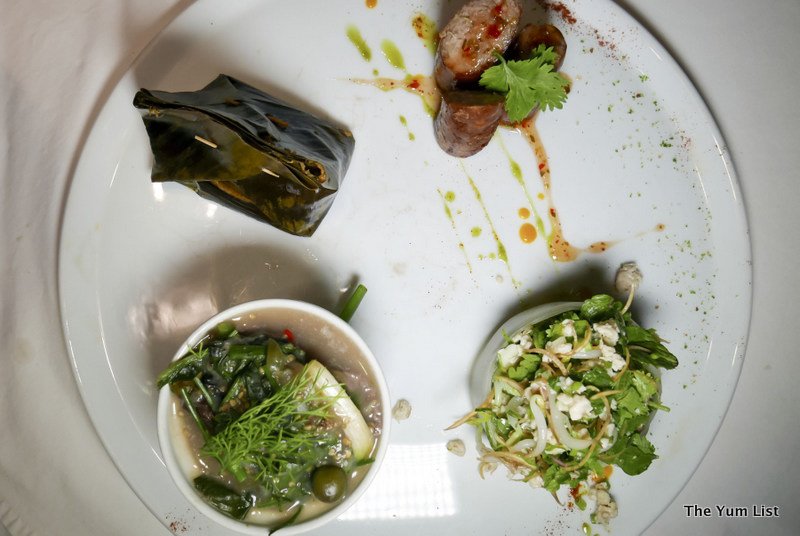 Chef Somsack says that Loa food is all about the herbs and this comes through in the Chopped Pork Loin in Beetle Nut Leaf with Fried Rice (Kip 128 000). The lemongrass sauce is prepared by cooking and reducing the herb, blending it and mixing it with cream. The minced pork is packed with more than two handfuls of different types of herbs. To finish it off, it's wrapped in betel leaves (not the variety that makes your teeth turn black) and then deep-fried. The sauce is fabulous. I'd like a bottle of this to take home please.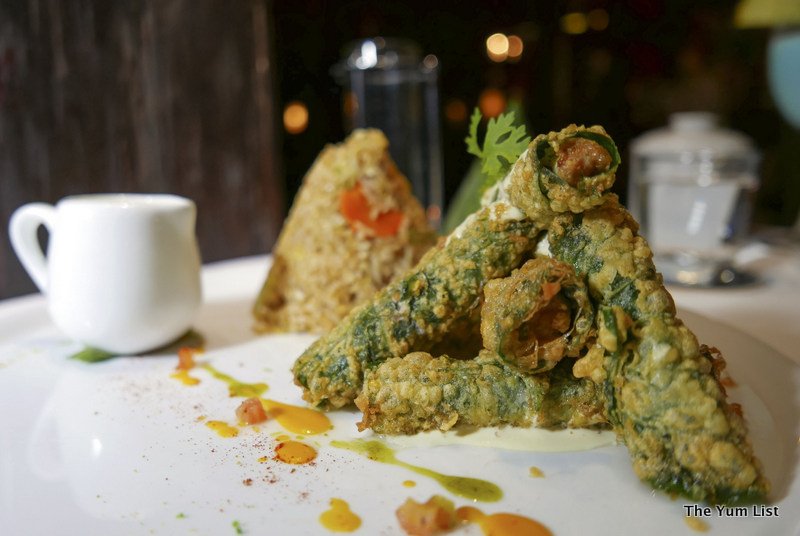 Desserts at Blue Lagoon Restaurant
Most desserts are relatively light; perfectly suited to end a heavy meal with just a bite of sweetness. The standouts are, not only home-made but hand-made sorbet in a variety of flavours (Kip 20 000 per scoop). Champagne, lemongrass and raspberry sorbets and coconut ice cream are our choices and each sport the natural flavours of their namesake. The coconut is creamy and the other three nicely icy and tart.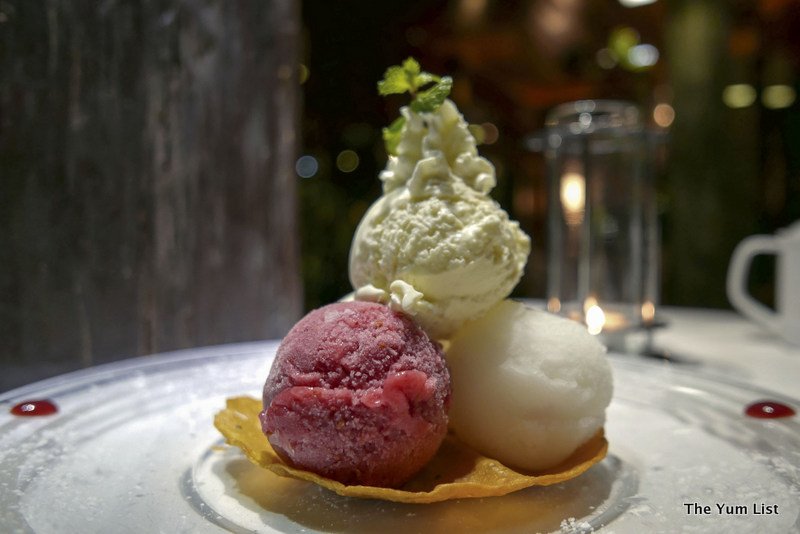 As we finish up the meal we hear of chef's future plans of a seven-course insect degustation menu and hopes of setting up a local food tour for foreigners wanting to get a real taste of Laos. Whatever it is that chef moves forward with I'm sure he'll be successful and he's guaranteed to have us as repeat customers.
Reasons to visit: the insect menu!; beautiful garden setting; fine service; a taste of Laos; but also comfort European food for those needing a reminder of home.