Monica Tindall
Along the Nam Khan river in the town centre, Tamarind Restaurant and Cooking School showcases popular Laos dishes including some local Luang Prabang specialties. Opened since 2005, the restaurant has become a staple for travelers wanting not only a taste of authentic Laos cuisine, but also for home chefs wanting to learn how to prepare it.
We're short on time so don't sign up for the cooking school (although we've heard positive reviews), but do stop in for lunch. For newbies to the region, the best introduction is a sampler platter or set menu, and as this is our first day in the city, that's the route we take.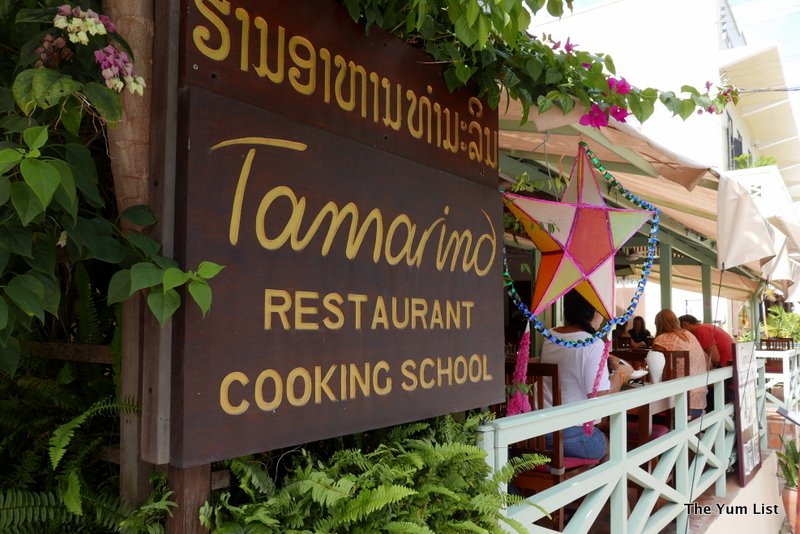 Soup at Tamarind Restaurant
Chunky Bamboo and Vegetable Soup (Gaeng Nor Mai) is a big serving for two people. Packed with young bamboo shoots, a medley of local vegetables including cow's ear mushroom, pea eggplant (a little bitter), baby pumpkin, and many kinds of herbs such as spring onions and lemongrass, this soup oozes the "next superfood trend." The dark green coloured broth is made by pounding yanang (looks like a mango leaf) with the mortar and pestle then boiling it with bamboo to make a rich flavourful broth.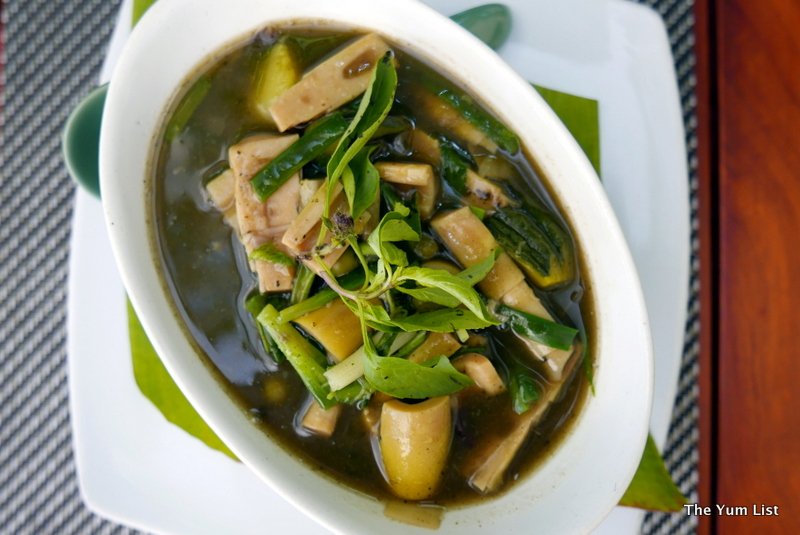 Platter of Laos Specialties, Tamarind Restaurant
An enticing platter of Laos specialties would make fine finger food with a chilled glass of Beer Lao, overlooking the river at sunset. But first, a quick lesson on eating like a local.
Sticky rice is a staple and is found just about with every meal (or sometimes even as the meal itself). The proper way to eat sticky rice is by taking a small amount with the fingers on your right hand. You roll it into a ball in the palm of your hand, and when you're ready to eat, you pass the ball to your fingertips and use the thumb to push your chosen dip onto the ball. Although the grains stick to each other, they surprisingly don't cling to the skin.
It's recommended to begin with the dips starting with the non-spicy to the spiciest. First, try the Jeow Mak Len a type of fresh tomato sauce, that's a little bit sweet and a little bit sour (hubby's fave). Next, the Jeow Mak Keua, a smoky eggplant dip is creamy and holds a distinct flavour from the charcoal (my pick). Lastly, Jeow Bong, a spicy sweet chili paste, is native to Luang Prabang, and made from chili powder, garlic, fish sauce and water buffalo skin.
Moving on from the dips, the Khai Pene, dried river weed vegetable sheets with tomato, garlic and sesame, are something I imagine replacing popcorn with at the cinema. They're savoury, flaky and addictive. When the river weed is in season it's eaten fresh. To preserve the green, however, for consumption all year long, the leaves are stone ground, topped with seasonings and let sun dry for a few days before being deep fried.
Packets of Khai Pene are something we see being sold in the morning market, and another common sight is that of sausages hanging on strings. Pork sausages or Sai Oua Luang Prabang sausages are made from pork, spring onions, shallots, garlic and soya sauce: tasty items indeed. Up there with the sausages on the tastiness-metre, Sinh Savanh, dried buffalo meat, resembles jerky with its sweet chewiness.
Lastly, Oua Si Khai, stuffed lemongrass with chicken, kaffir lime and coriander that has been dowsed in an egg batter and deep fried, is meant to be eaten with the hands. First, break apart the lemongrass shell and pull the chicken pieces out, dipping them in the lime and peanut sauce before devouring.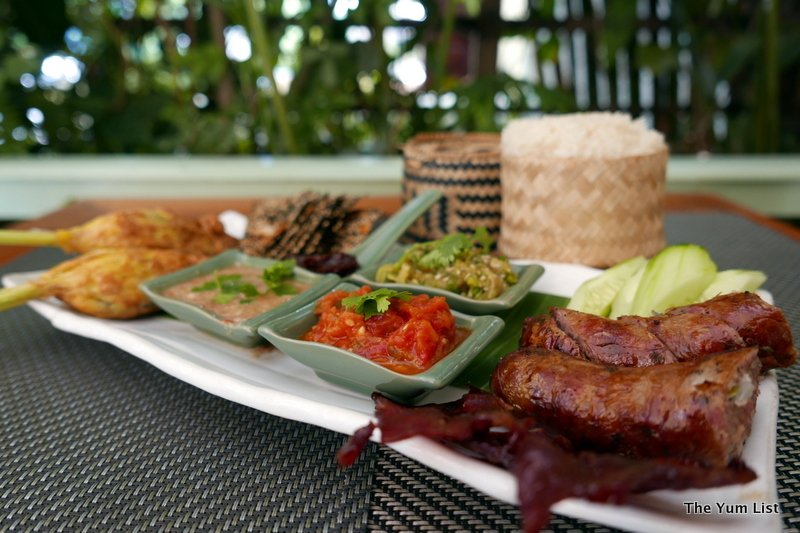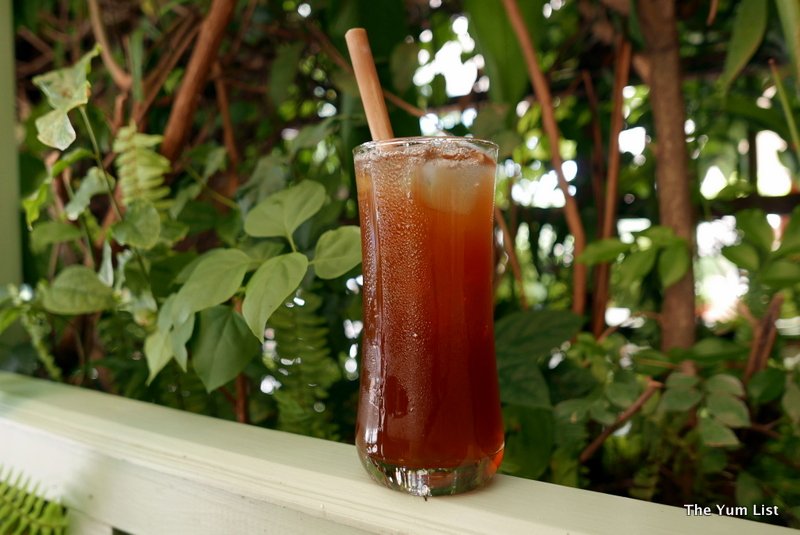 Dessert at Tamarind Restaurant
After such indulgence, a seasonal fruit plate is a welcome ending. Guava, passion fruit, dragon fruit, rambutan and longan are all fresh, sourced that very morning from the market.
A sweeter alternative though is the Khao Gam, purple sticky rice cooked with coconut milk, sugar and a little salt. Topped with fresh coconut, sesame seeds and sided with tamarind sauce, diners can formulate their own just-right mix of sweet, sour and salty.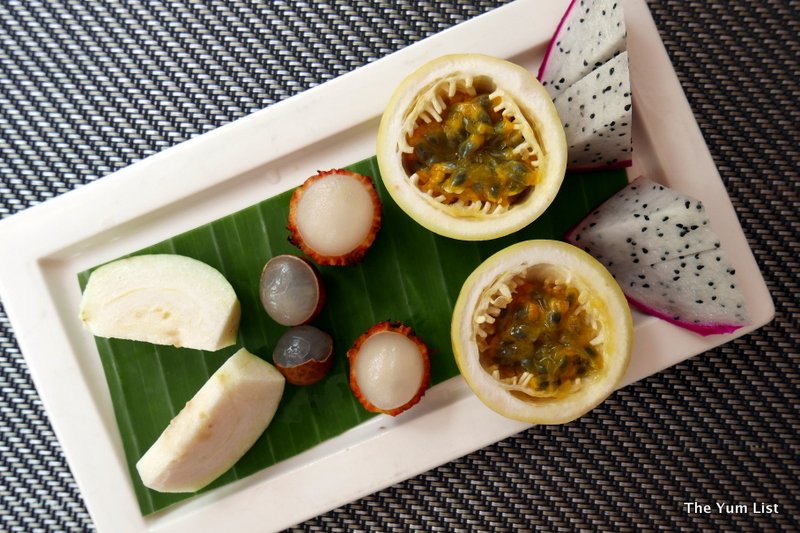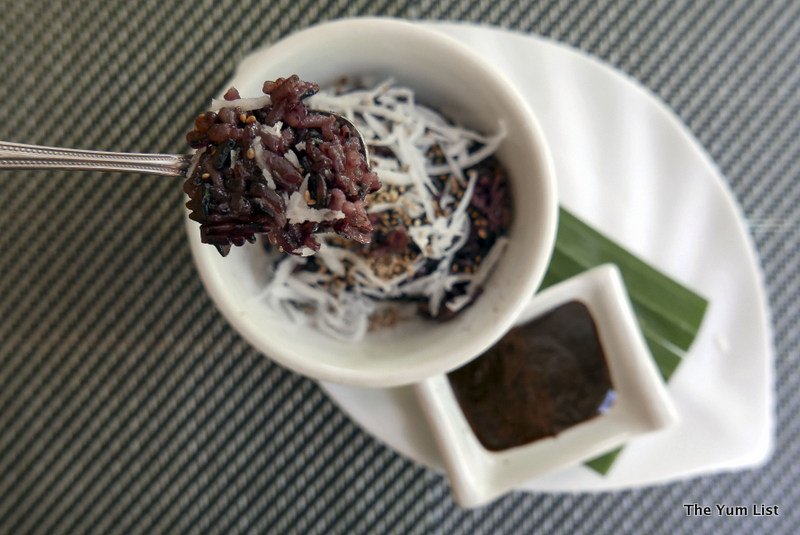 Laos Coffee
Besides a chilled Beer Lao, the local coffee brew is something that must be tried while in Luang Prabang. A thick beverage, it's dripped through a cloth and poured over condensed milk. The sweetened milk sits in the bottom of the glass and I advise to first sip the coffee unadulterated before stirring gently for a soft sweetness or vigorously for a saccharine mouthful.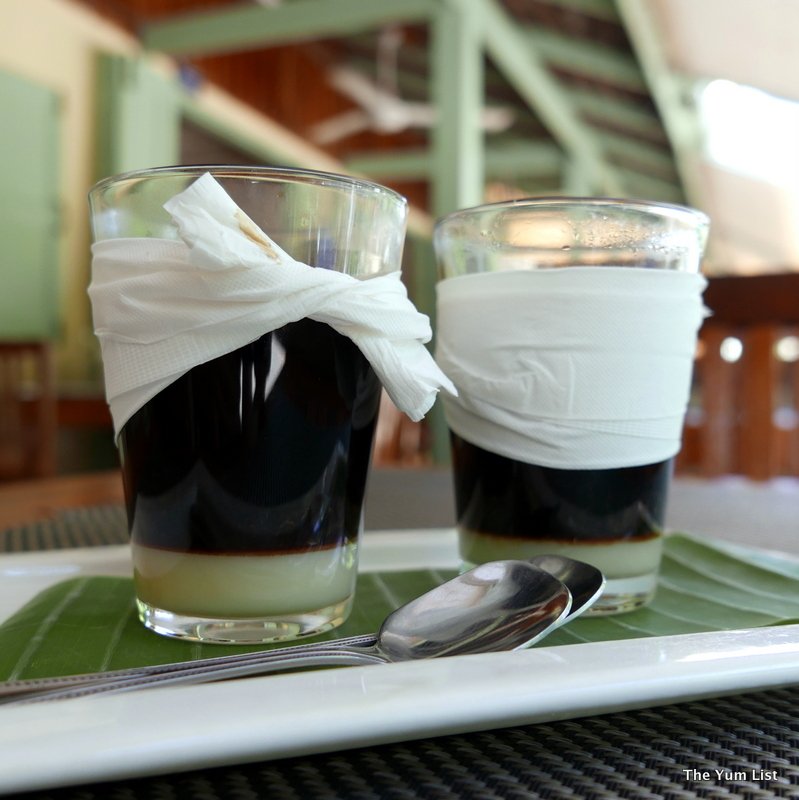 Tamarind Restaurant in Luang Prabang is a great spot to try local food in a clean environment and if you like the flavours, you can follow-up with a booking at their cooking school to learn how to make some dishes yourself.
Reasons to visit: a great way to try authentic Laos and Luang Prabang cuisine in a hygienic and peaceful setting; during the day the best table is on the shaded verandah, but in the late afternoon and evenings, a table on the river bank is most charming.
Tamarind Restaurant
Ban Vat Sene (near The Apsara hotel)
Luang Prabang, Laos
(071)213128
www.tamarindlaos.com
Lunch 11 am – 4pm
Dinner 5:30pm – 9:30pm
Closed on Sundays
*Reservations are highly recommended for high season (November to March) and also for big groups for lunch.