Words: Chris Moore    Photos: Monica Tindall
Genius is defined in the Oxford English Dictionary as "an exceptionally intelligent person or one with exceptional skill in a particular area of activity" and imaginative is "having or showing creativity or inventiveness." In my humble opinion, Chef Ryan Clift, of the celebrated Tippling Club in Singapore, is an imaginative genius in the culinary world.
Imaginative Genius
As an experimental amateur chef, it is fairly easy to follow a recipe while adding a tweak here or there to personalize a dish so that it becomes a little more your own. However, to have the ability to invent a dish – to creatively envision something and present this idea as an edible, and even more significantly, to create a divinely palatable product – is a skill possessed by only a minute number of chefs. Take for example tom yum. On its own, tom yum is a delicious meal that exquisitely profiles the flavours of lemongrass, coriander, galangal, and lime. To preserve those characteristics of taste and present them not in liquid form, as is the norm, but to imaginatively transform them into a light and airy mousse paired with crispy tempura coriander leaves and stalks are simply ingenious. A dish such as this is no longer tom yum but rather something innovative and unique. The flavours are familiar, but the concept is completely new. It is this approach to the culinary arts that makes Ryan Clift an imaginative genius in the kitchen.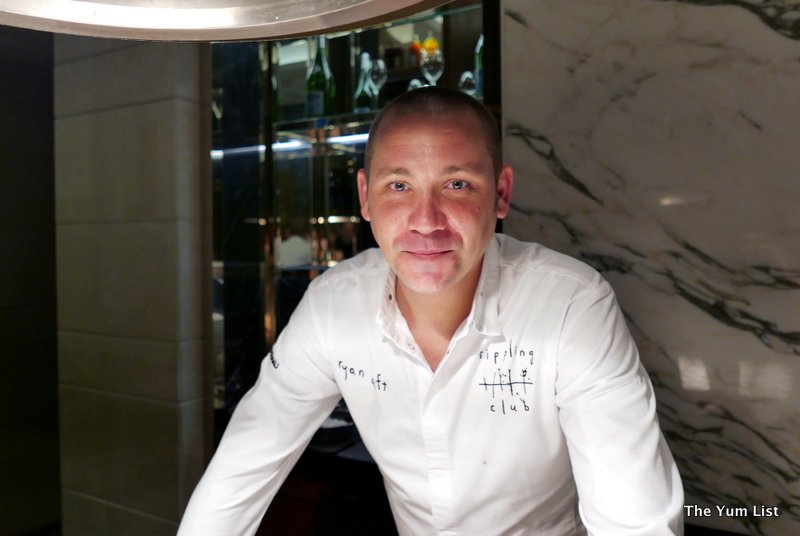 Hennessy Malaysia
Thanks to the incredible support of the people at Hennessy Malaysia, The Brasserie in the St. Regis of Kuala Lumpur hosted chef Ryan Clift for a three-day culinary extravaganza: a multi-course meal highlighting Chef Ryan's imagination and creativity paired with purposefully selected variations of Hennessy.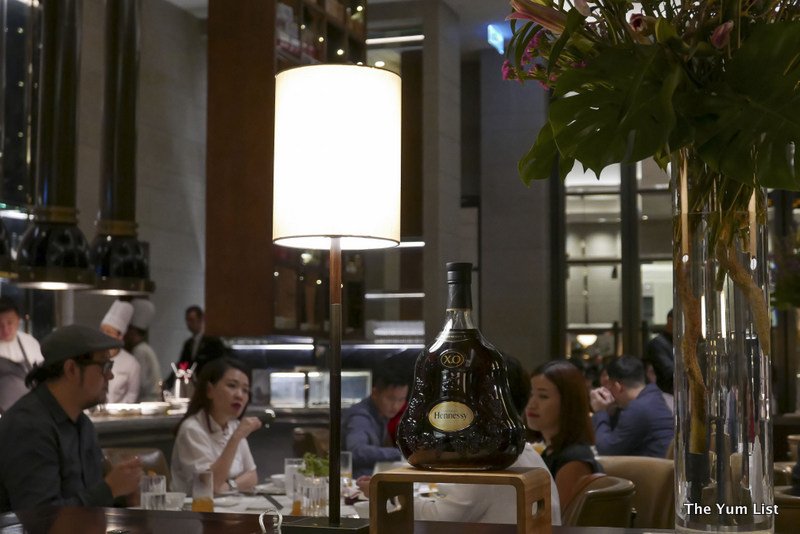 Snacks
The start of the evening is a 'snacks' course that is anything but a snack. The aforementioned tom yum mousse is elegantly presented beside charred peppers and a house-made dipping sauce that utilizes ashes from the burnt skins of capsicum. The flavour and aromas of smoke fill the palate without in any way becoming overpowering, while a delicious Hennessy VSOP Highball with flavours of passion fruit and citrus pair brilliantly with the smoky character of the food. The combination of flavours and textures is a sign of what the rest of the night has in store.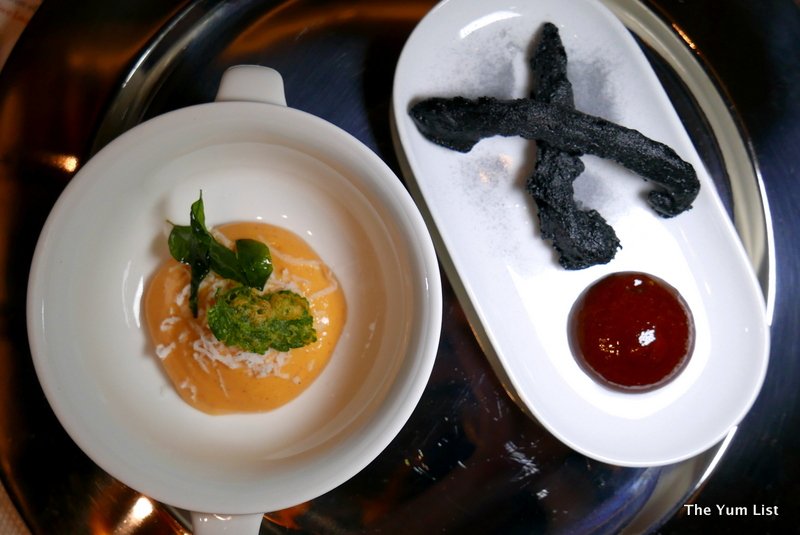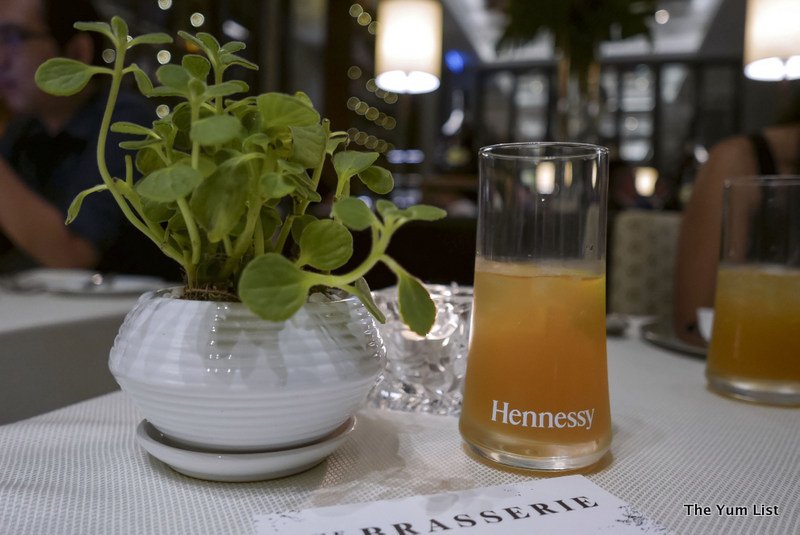 Beetroot Installation
From an artistic perspective, the second course of the night is a masterpiece. A beautiful presentation of beetroot puree and horseradish cream is fanned along the bottom of the plate and topped with a deep crimson red fillet of ocean trout that's been slowly brined in beet juice and Balinese sea salt. Various forms of beet, both raw and cooked, add a layer of sweetness to the brined fish, and a single ox tongue ravioli, encased not in a shell of rolled pasta but rather a slice of roasted beetroot, rests atop the fish. The collection of colours would be hard to replicate in paint and seems impossible to recreate with food.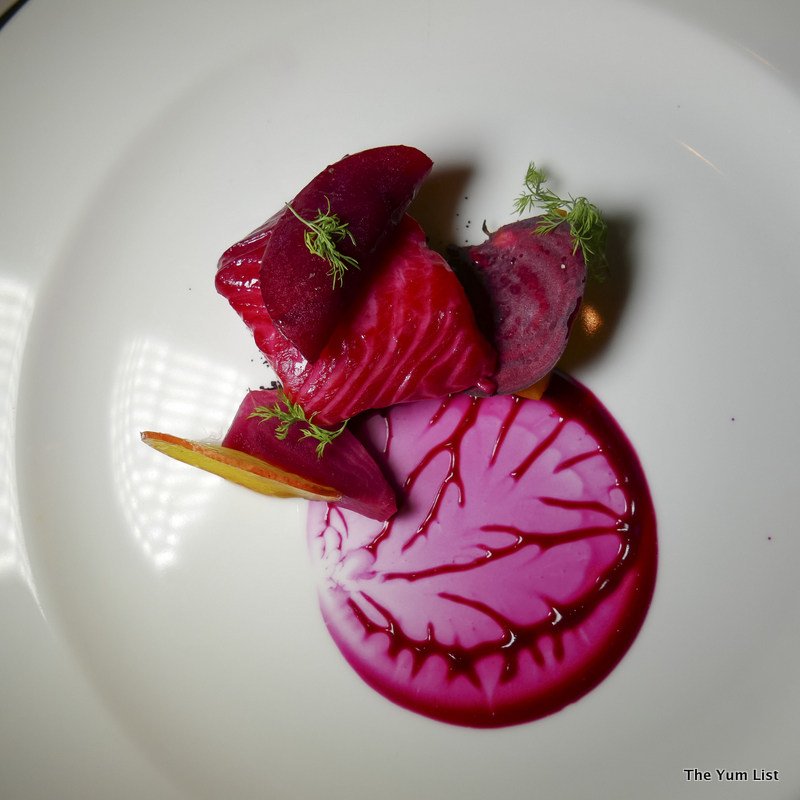 Soup
Taking inspiration from the kitchen of his youth, Chef Ryan utilizes his mother's recipe for a garlic and white wine soup and transforms a childhood memory and into an innovative new dish. Roasted leek and potatoes swim in a broth of wine and garlic and are topped with a scientifically brilliant sheet of parsley chlorophyll. The herbal notes of the parsley and the edible flowers cut into the depth of flavours produced by the rich broth. The soup is bold and powerful and is an absolutely spectacular display of taste and artistry.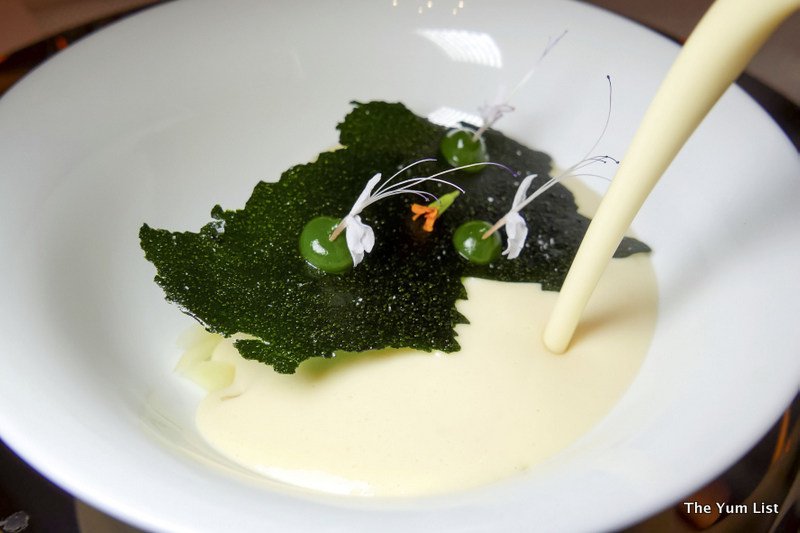 Turbot
Complementing beautifully with the boldness of the previous course are the buttery and fresh flavours of wild turbot, faux risotto, and watercress. A poached fillet of turbot is laid upon a pool of watercress emulsion and harmonized with a bed of squid, lobster, and scallops: all cooked to resemble the texture of a risotto. The creativity in producing a dish that looks and feels like risotto but is absent of a single grain of Arborio rice is exactly what you'd expect from a man with Chef Ryan's imagination.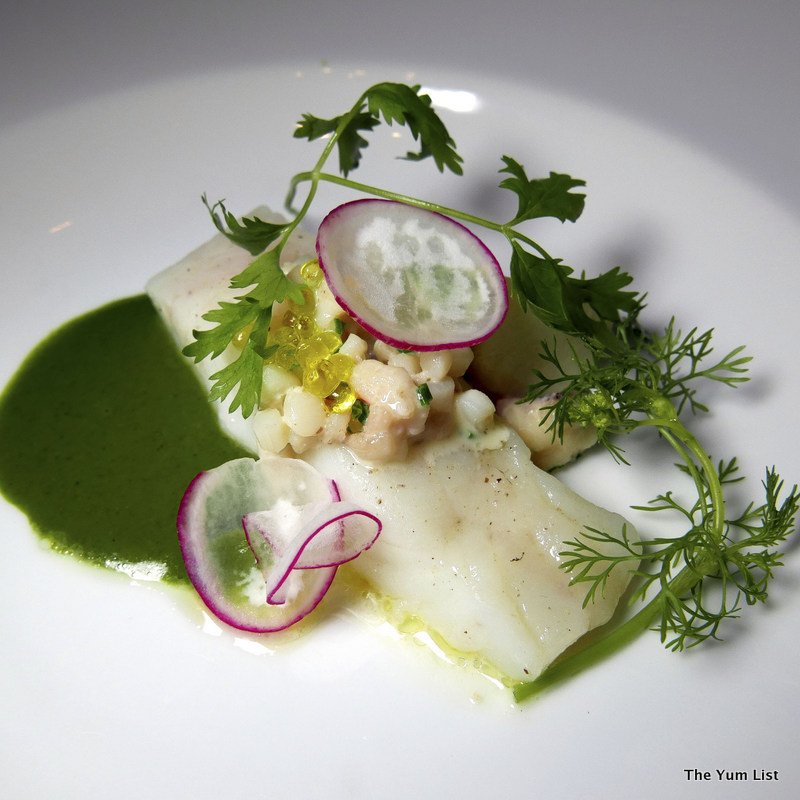 Toriyama Wagyu
Chef Ryan definitely saved the best for last with his final entree offering. Cut from his own stock of Toriyama Wagyu in Japan, an exquisitely marbled slab of beef that is creamy, rich and cooked to a perfect medium rare that allows the fat to render down is downright magnificent. The flavours of umami are accentuated by a sweet and acidic Japanese fruit tomato and a delectable horseradish burrata, which is then topped with a divine slice of Wagyu ham. The plate is elegant and sensational – by far the best beef dish I've had in a long while.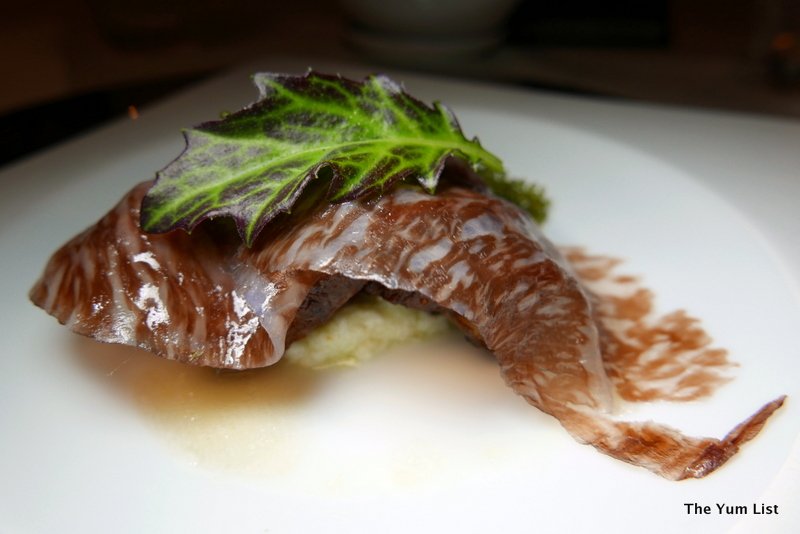 Dessert by Ryan Clift
The final offerings of the night epitomize the connection between culinary science and passion as Chef Ryan seeks to elevate the senses of those sampling his cuisine. The first of two dessert courses, Sweet Treats, is an innovative and brilliant creation intended to elicit sensations of another world. A glorious mandarin and madras curry truffle is served alongside a pill jar that contains tiny morsels of freeze-dried strawberry cheesecake. The flavour profiles of the dish are exactly what they were intended to be – out of this world.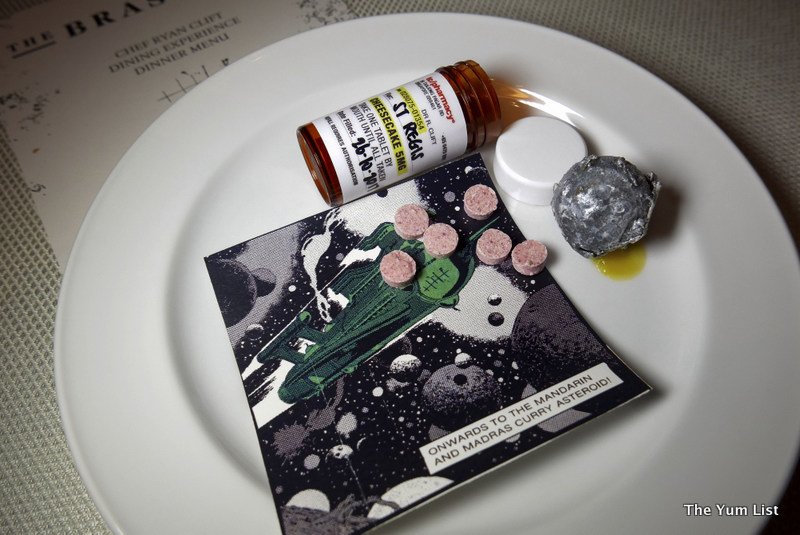 The second of the dessert dishes takes a relatively basic ingredient – coconut – and transforms the simplicity of this singular ingredient into a host of unique offerings. Textures of Coconut, served alongside a Coco Loco cocktail of Hennessy and coconut cream, profile the tropical flavour in: freeze-dried segments that melt in your mouth when consumed, a fresh coconut sorbet topped with a squeeze of fresh lime juice for the perfect balance of sweet and sour, a toasted coconut marshmallow intended to transport you to those nights spent around a campfire, and a delicate and creamy coconut tapioca. The creativity that inspires Chef Ryan to take a simple ingredient and transform it into a host of new flavours and formats is ingenious.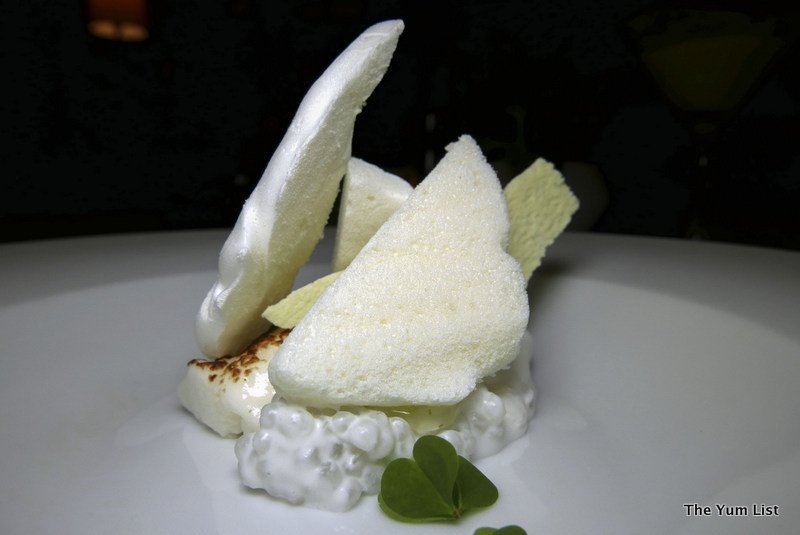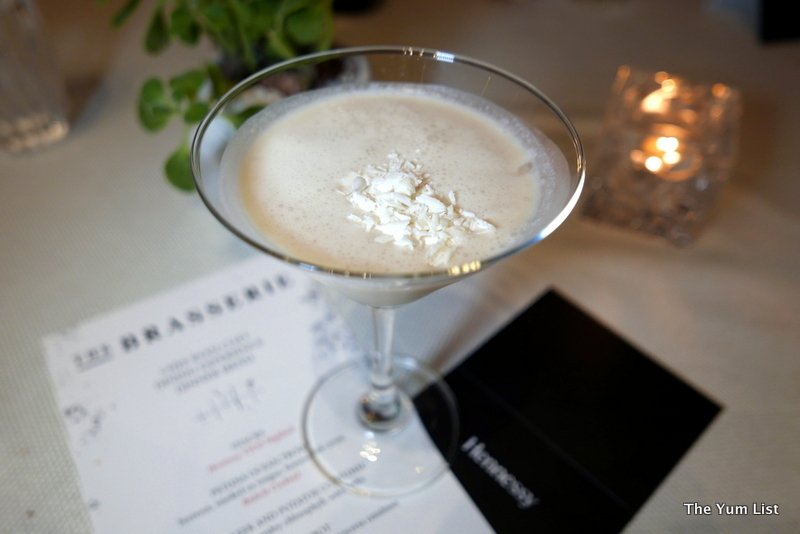 Culinary Bliss
In the hours spent talking with Chef Ryan and sampling some of his magical culinary delights, one thing became very clear to me: he takes immense pride in being able to create culinary bliss. His attention to detail, coupled with his vivid imagination, and his ability to transform flavours into artistic and delectable plates make Chef Ryan's meals extremely memorable, which is exactly what he wants and exactly what this meal accomplished!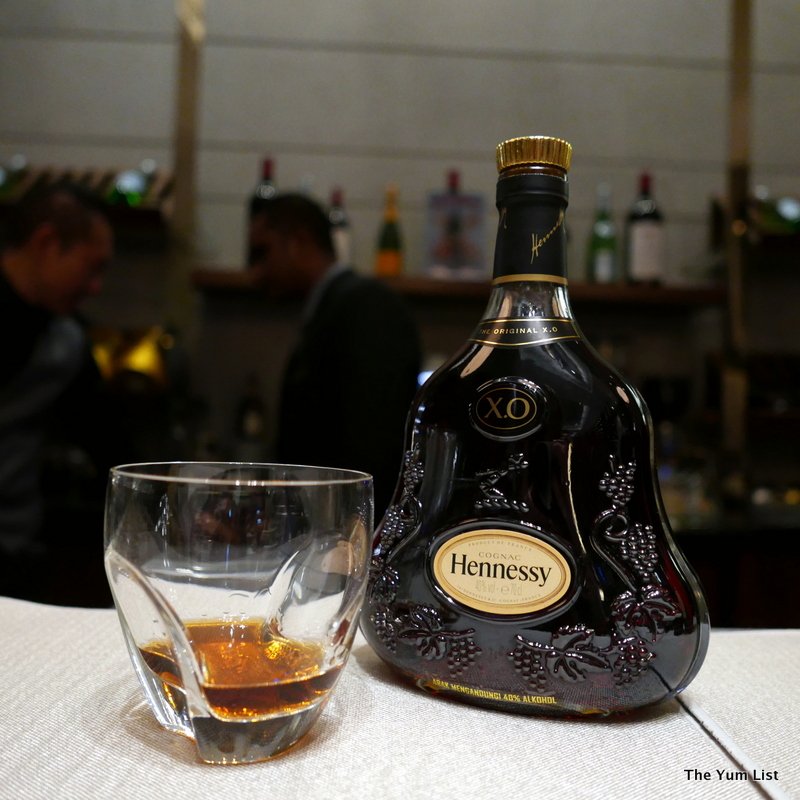 Thanks to Hennessy and St. Regis Kuala Lumpur for making this magnificent tasting possible.