Words: Heather Onderick   Photos: Monica Tindall
Walking into the breezy light space of Skillet @ 163 always energizes me.  I can see the chefs working like clock gears in the kitchen. Each action is precise and affects another action; working in harmony they never become out of sync. From the newly renovated Veuve Cliquot library balcony on the upper floor, you get the perfect birdseye view, watching the magic of Chef Raymond Tham's kitchen unfold.  Each chef has a role and we're hard pressed to find anyone not contributing to the vibrant and satisfying plates.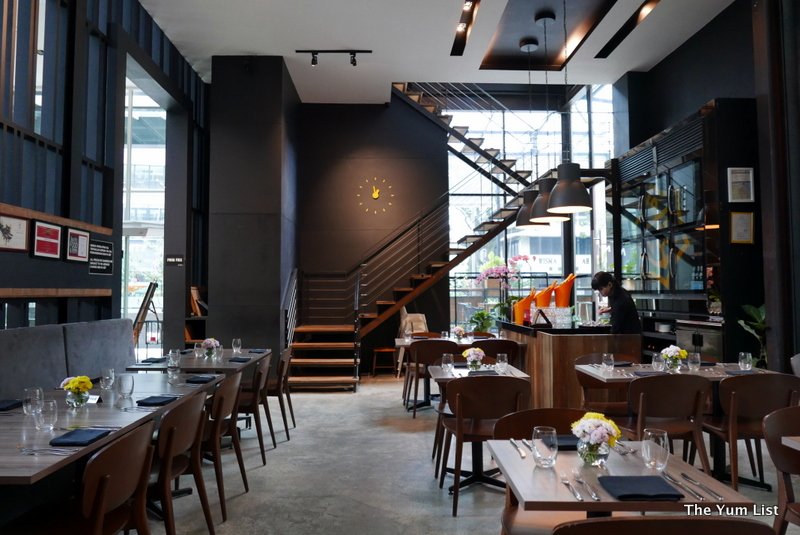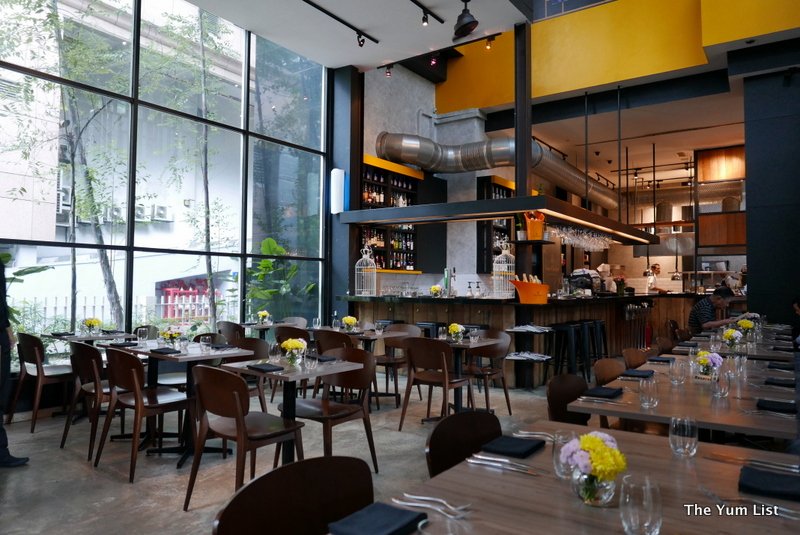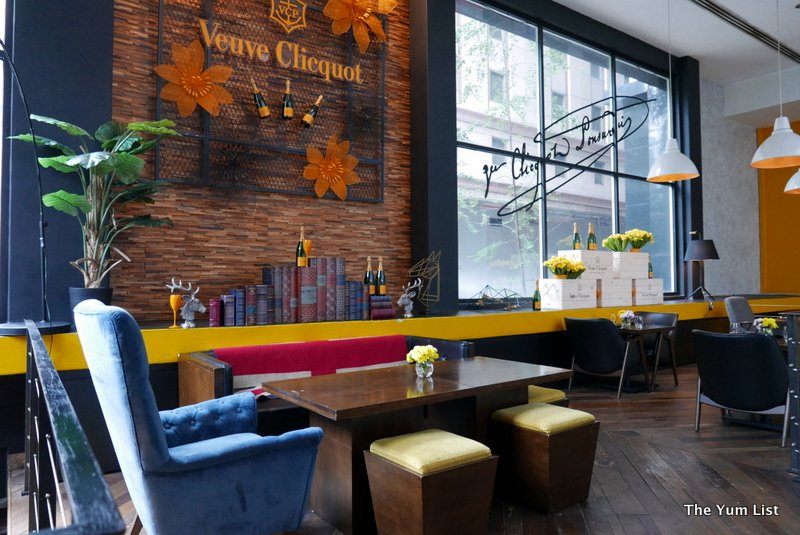 Skillet @ 163
Skillet @163 is located in the heart of KL on the ground floor of Fraser Place, making it a prime destination for a business lunch or a lingering dinner. This month, Chef Raymond presents a new lunch menu. Diverging from the initial carbonara and gourmet burger options originally designed to capture the midweek lunch crowd, Chef Raymond lifts the lunch menu to mirror the dinner recipes he has become famed for – contemporary and European cooking techniques using Malaysian ingredients. The two-course menu is priced at a reasonable RM 55; the three-course menu is priced at RM 70.  Both can be paired with a glass of Champagne and wine for RM 80 more.  Finally, if you are feeling like getting a bigger picture of Chef's vision, you can try the Degustation menu, available both at lunch and dinner, for RM 138.
Bubbly Beginning
We start off with a crisp glass of bubbly to lighten us up on this Sunday morning.  In order to get a sampling of all the menu's beauty we sample a number of plates from the various set menus.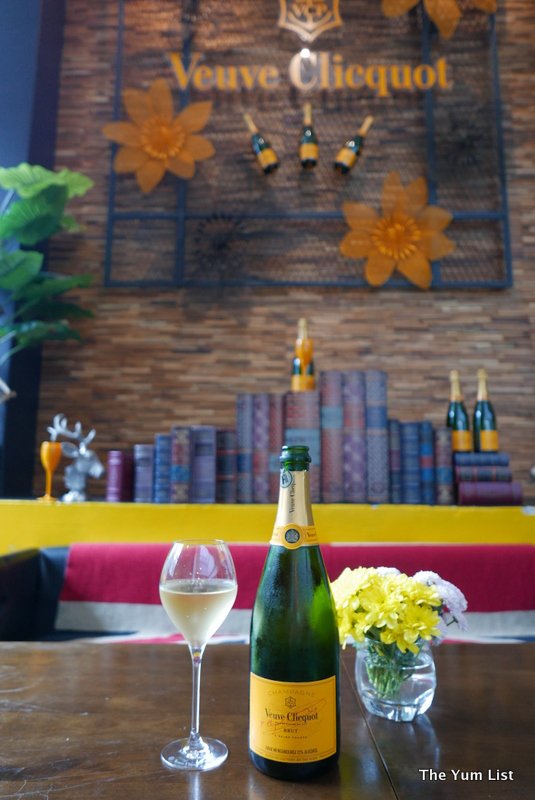 Scallop
The efficient and knowledgeable staff never miss a beat and bring out the first plate: Scallop, which consists of pan-seared scallops, with pickled cauliflower and salmon roe (ikura). This is a wonderfully artistic plate and there is a slight touch of citrus that balances the salty teardrops of salmon roe over the plump scallops. All in all, paired with the Champagne, it's a light way to refresh our palates before the more complex dishes arrive.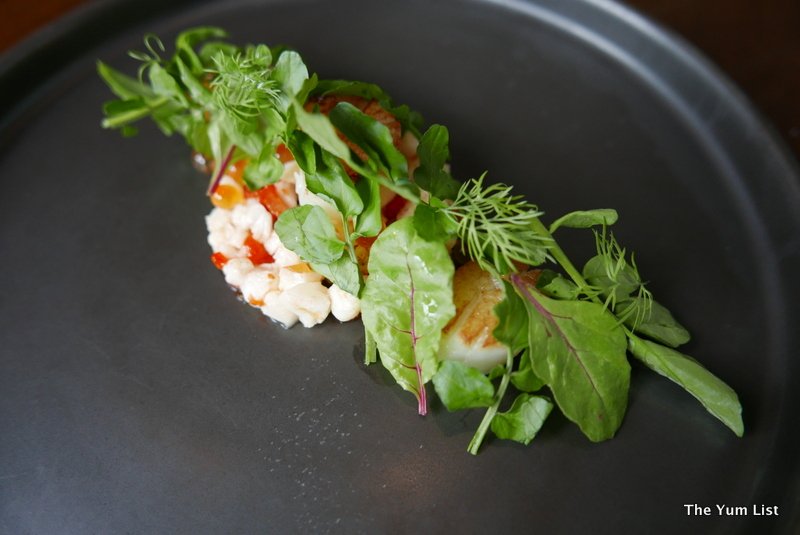 In some parts of the world, autumn is upon us, and Chef Raymond's ode to that season comes in the form of Cabbage: chargrilled cabbage, served with a tart pineapple compote, and a deep fried shrimp crumble for crunch, this plate builds in complexity with its multi-layered textures and flavors.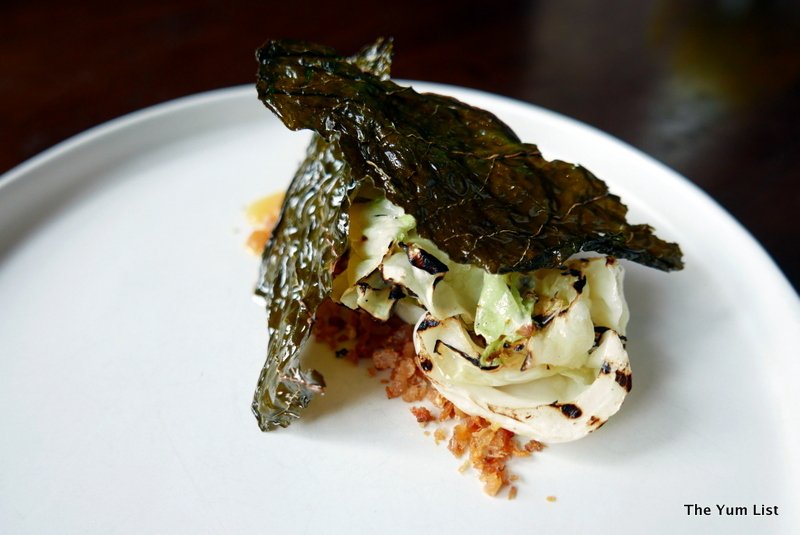 Mushroom
There is a clear balance of earth, water, fire and air to Chef Raymond's food. His next dish is earthy and pungent: Mushroom. The kitchen team at Skillet @ 163 has a definite knack for their mushroom dishes. This one features lightly fried eryngii mushroom with a soft boiled egg. These two isolated dishes are brought harmoniously together as they are piled over an earthy irresistible truffle soil. Once again, thoughtful attention has been paid to the textures in this plate and this one is a must-order. To top it off, it's wisely paired with a German Mosel-Riesling 2013, by Sybille Kuntz, that's soft and has buttered pineapple nuances, complementing the mushrooms and our next fish dish too.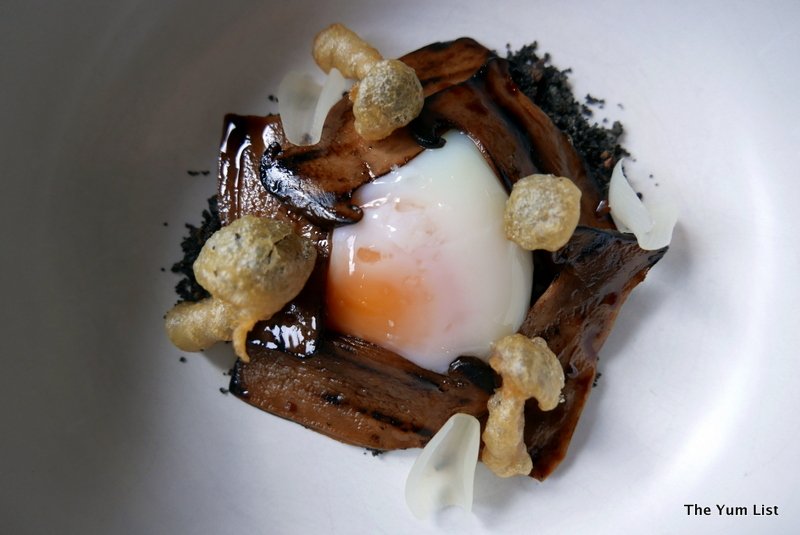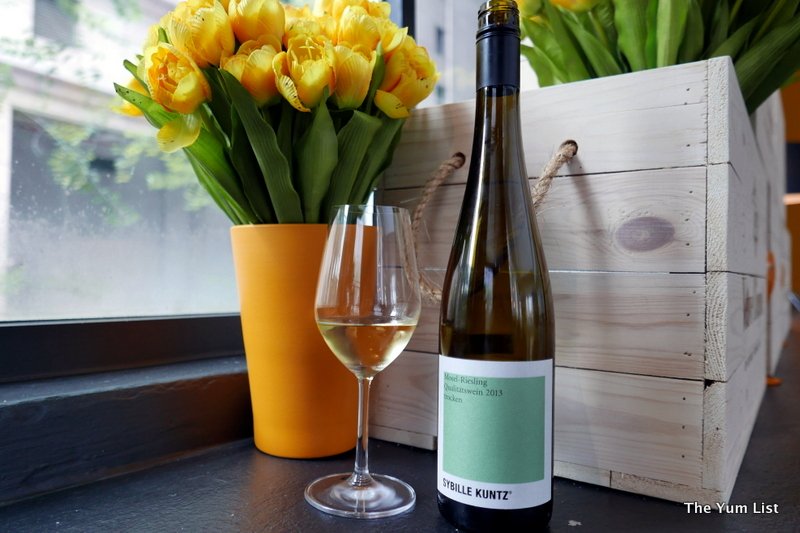 Barramundi
Skillet @ 163 tries to source locally as much as possible and try out new recipes on food lovers like us. The Crumbled Pistachio-coated Barramundi comes from off the coast of Port Dickson.  Cooked so that the fish melted gently on our tongues, this dish includes a citrus reduction, ground pistachios and confit potatoes, making it tropical, warming and another strong match with the Mosel-Riesling.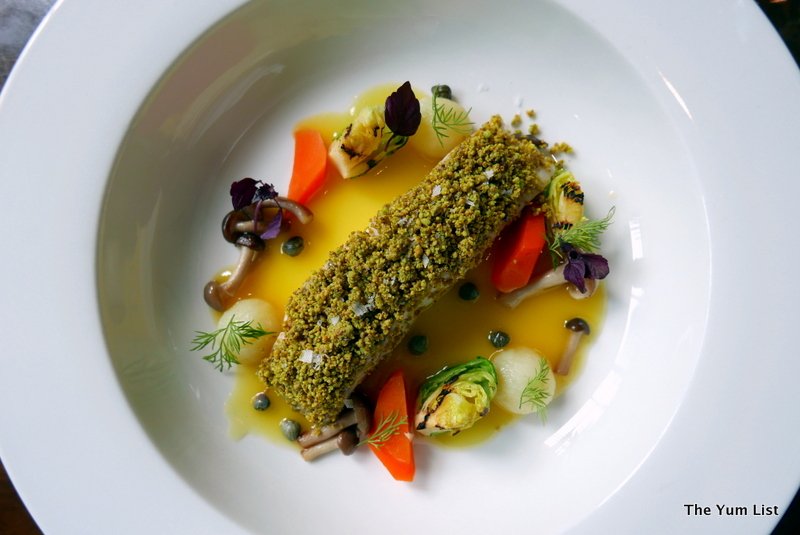 Beef
From sea to prairie, we next move onto Bourguignon Inspired 36 Hours Wagyu Beef Cheeks. Stewed for 36 hours, and soaked in a sweet almost plum sweet stew, this lush dish is enhanced by the side of lo bak, beef sausage flavored with Chinese 5-spice. This dish is a true East meets West success story. A Cotes du Rhone was purposefully coupled with this dish as a light option as chef didn't want to make his customers too cozy with a big red and not be able to go back to work.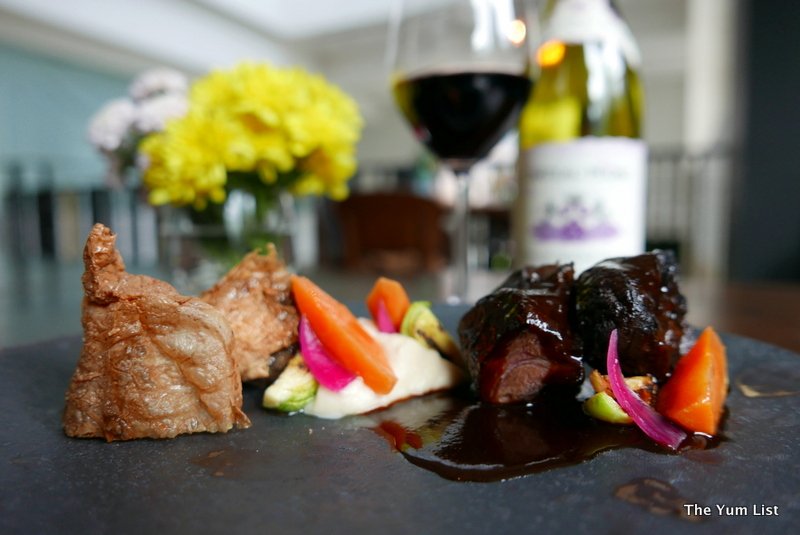 Lamb
An alternative to beef, there's also a lamb option, Pan Seared Australian Lamb Loin, served with bak kut teh foam, roasted garlic presents a beautiful pomegranate red tenderness.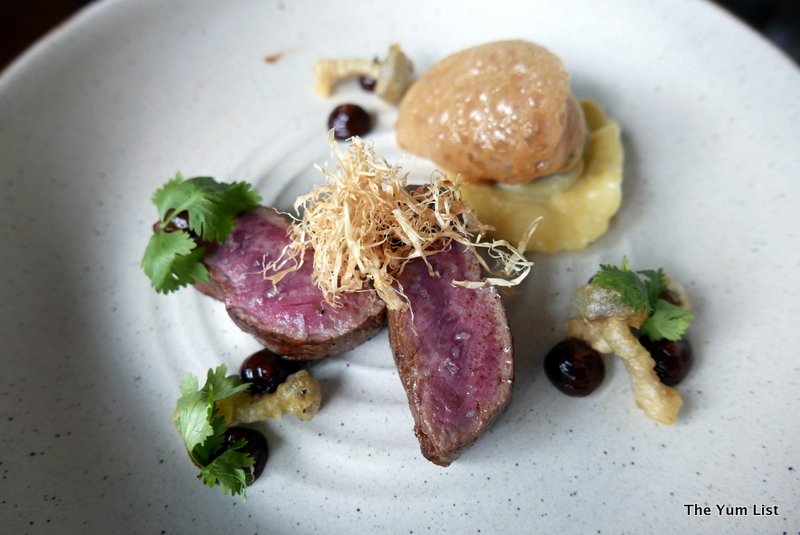 French Cheese
Feeling like I have been on a voyage across multiple continents, Chef Raymond takes us back to Europe for a reminder of simple pleasures. The plate of Unpasteurised Cheeses is a great way to finish the meal if you are still hungry at the end. The plate includes Brie, Roquefort, Comte, as well as homemade sourdough bread, black olive bread and a sweet, tart prune compote.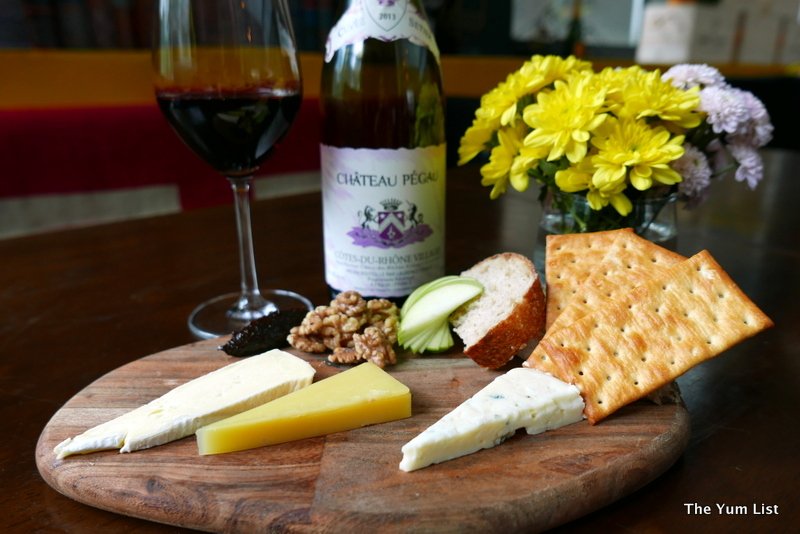 Desserts at Skillet @ 163
A trip to Skillet @ 163 is not complete without dessert. The assemblage never cease to amaze me.  First out, is a Peach and Jasmine Granite with White Chocolate Mousse.  It is refreshing, a little perfumey and super light and our three spoons devoured it in seconds. The final touch, a chilled Peanut Butter Mousse comes with caramelized banana, black sesame and lotus crisps.  Those who appreciate salted caramel will appreciate this unique twist on a sweet and savory combination.  Not to miss, there is always a dessert I will surrender to and this is one of them.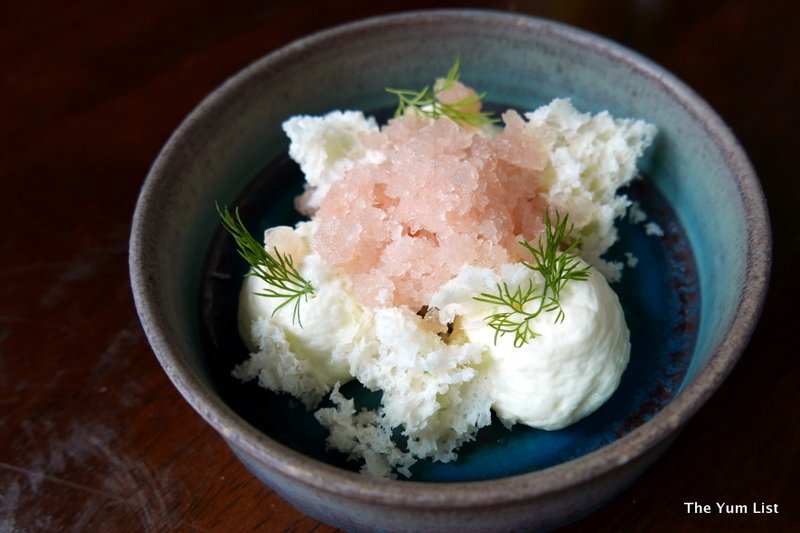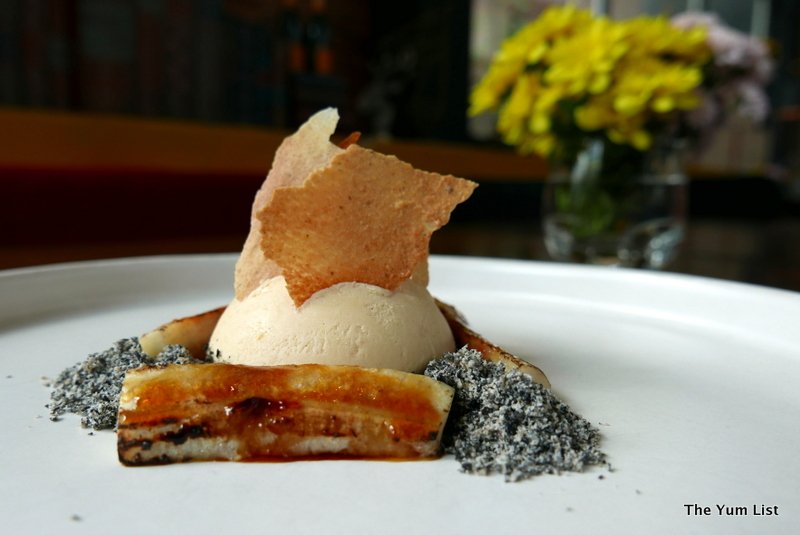 Chef Raymond's new menu shows the evolution of his restaurant's journey.  Because of the quality of service and food, Skillet @ 163 has been a KL favorite for dinner since its opening.  Raymond's dinner crowd has influence and has created a demand for a similar lunch menu, which has potential to lift the level of business dining around the city.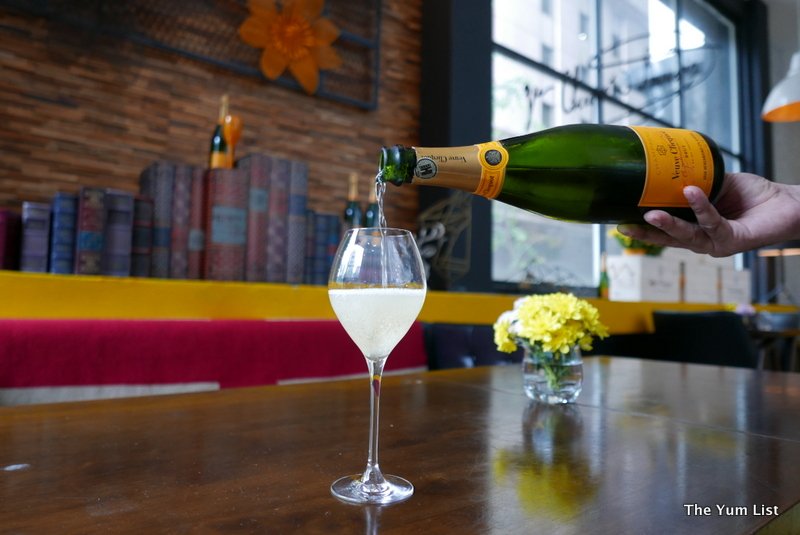 Reasons to visit: In general a contemporary yet casual setting with recipes that never fail to impress. Don't miss the textural blend revealed in the Mushroom or the Peanut Butter Mousse.
Skillet @163
Fraser Place
Jalan Perak
Kuala Lumpur, Malaysia
+60 3-2181 2426
www.facebook.com/skilletat163
Operating Hours: 11:30am -10:00pm