Monica Tindall
"Adults-only", "bar" and "sunset" were the only three words needed to make Horizon at The Ritz-Carlton, Langkawi our first stop on our weekend visit to the island.
Then there's the blurb about the classical elements of Ancient Greece (earth, water, air, fire and aether), a tempting menu of cocktails using local ingredients, and a simple, yet delicious Thai menu – it really wasn't a hard decision.
The bar sits perched on a hill and terraces down from the glass-walled indoor bar, to an outdoor patio, bar that "floats" over the sea, and an infinity pool that seems to spill over to the water's surface and join the skyline at the same time. It's a magnificent spot, and even if you're not staying at the hotel, I suggest making a visit. The chill music and cool vibe reminds me very much of one of the rock bars on the cliffs of Uluwatu in Bali.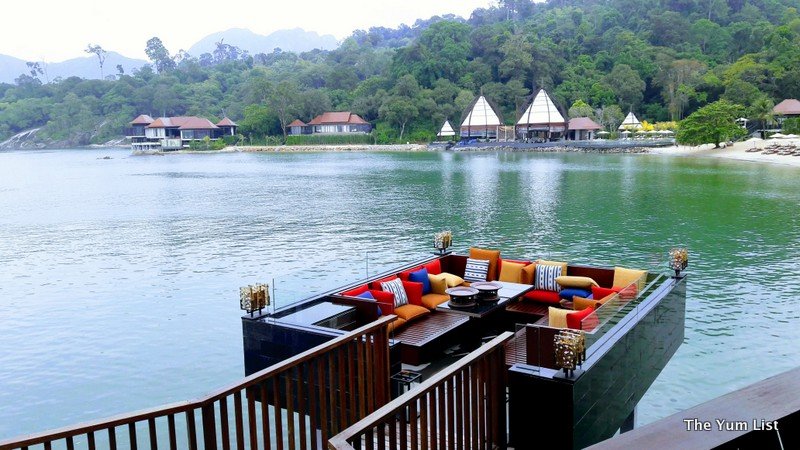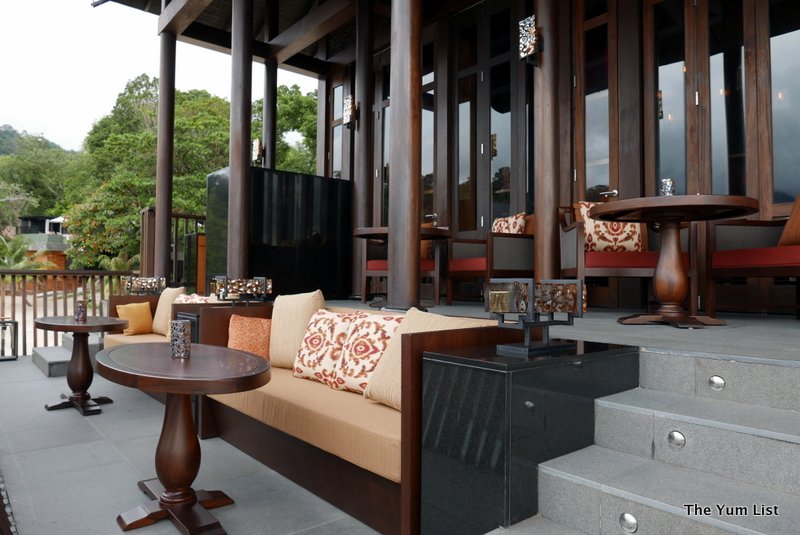 Cocktails at Horizon
The house cocktails are inspired by Miguel Fernandez, the bar manager of Ozone Bar at The Ritz-Carlton, Hong Kong, and focus on showcasing the flavours of Langkawi.
I think the correct way to begin is with The Hornbill, the Horizon's signature. Vodka infused with star anis and cinnamon is shaken with Campari, triple sec and tangerine, pineapple and calamansi juices. My bartender, Khimpee tells that, while he thinks all of their cocktails are good, he likes to recommend this one to people who like to take photos. It's presented on a stand bedded with turf and enclosed in a birdcage. Khimpee smiles as he says he particularly enjoys preparing this one for couples as he puts two birds in the one cage.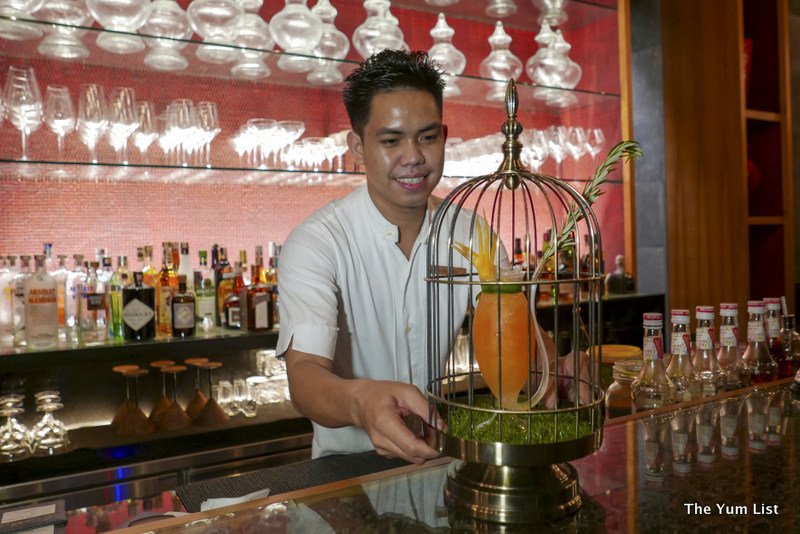 The Shore (RM90) is another interesting number, this time with gin infused with seaweed. Blue Curacao also gets an infusion – kaffir – and they're both mixed with lime juice, poured into a martini glass and topped off with salty lecithin-foam. Served in a wooden "glass" with the "sea foaming" over the top, the drink makes for a good photo. The balance of savoury and fruity keeps things interesting in the mouth.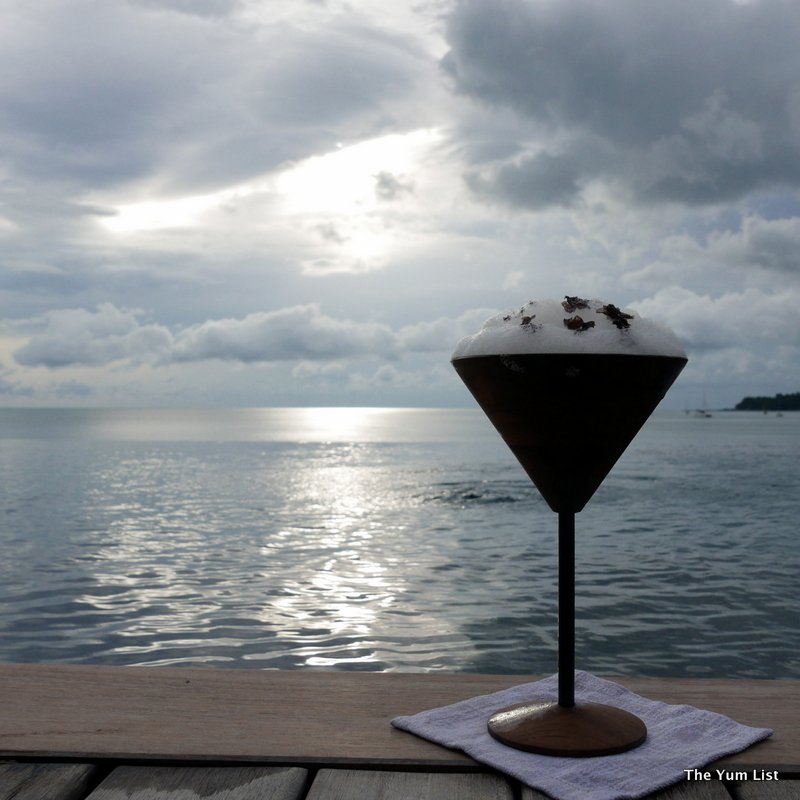 The signature cocktails are supported by a list of classics, a comprehensive list of spirits, a handful of beers and a decent wine list with varietals from across the globe ranging in price from RM150 to RM9000 per bottle. Close to 20 wines are available by the glass and there's even two very nice wines made accessible in single servings with the Coravin technology (a tiny needle thin device that allows wine to be extracted through the cork without the remainder coming in contact with air and hence, preserving its contents); Chateau Talbot 4eme Grand Cru Classe, Saint-Julien, Bordeaux, France (RM230 glass) and the Tenuta dell'Ornellaia, Bolgheri DOC Superiore from Tuscan, Italy (RM500 glass).
The Ritz-Carlton has recently taken on Barons de Rothschild as their house Champagne and sell both the Brut and Rose by glass. We find the Reserve Ritz Rose, Reims, France (RM120 glass), perfect sunset sipping. It's vibrant with hints of red fruits and citrus flavours, is nicely balanced, and the more we drink the more complex we find it. It's a beauty. You should give it a try.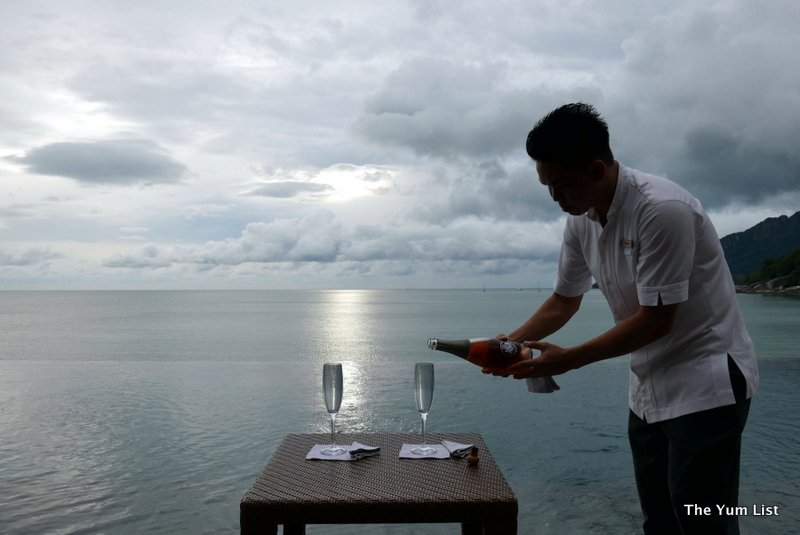 Thai Inspired Cuisine
Appetizers
You don't have to only drink to enjoy the stunning views, you can also grab something off the Thai inspired menu. The first thing I notice when it's time to eat is the beautiful crockery. We've heard rumours that every single piece has been handmade. Some are made locally. Others are crafted in Bali with clay from Langkawi. That's dedication to supporting the community!
I'm off to a fresh start with Som Tam (RM50), a shredded green papaya salad boosted with long beans, chili, peanuts, tomatoes, shrimp and lime jus. The prawns are plump and cooked flawlessly, and the overall profile is clean and delicious.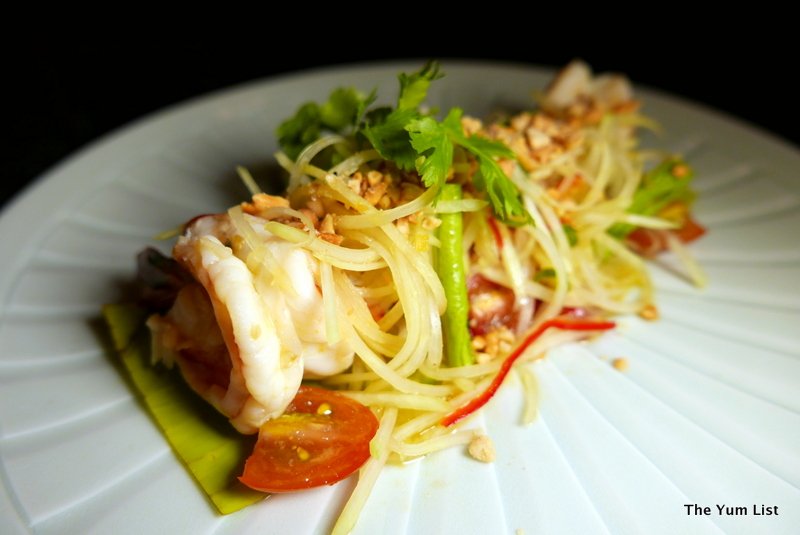 Hubby is spice aversive, but as the menu is Thai, just about every dish has chili. Explaining his dilemma to the waiter, the chef is soon brought out and is flexible and willing to prepare something off menu to suit. Crispy sesame coated balls of chicken and herbs are topped with shavings of fresh veg and partnered with herb and tomato mayonnaise. From the mmms and ahhs and "this would go great with a chilled beer" calls enthusiastically shot out of hubby's mouth, I'm guessing they're a hit.
Curry
Kung Pad Phong Ga Ree (RM98) is one of chef's specialties. A yellow curry is packed with those same beautiful prawns from the Andaman sea found in my starter. We learn that the fishermen come daily with their catch and the chef greets them personally on the beach to select the takeaways for his kitchen. A creamy, rich curry also holds baby eggplant and cherry tomatoes. We soak up every last drop of the sauce with the side of jasmine rice that accompanies the plate.
Fish at Horizon
When by the sea you can just about guarantee that hubby's order is going to be fried fish and the Pla Lat (RM98) suits his tastes perfectly. Crispy Andaman snapper come with three sauces – pineapple, Thai basil and curry leaf – so there's no need to make too many decisions as he can have all three. The portion is generous; we estimate the entire fish is in the bowl. It's been deep-fried, remaining moist and flaky within, with a crisp outer coating – superb!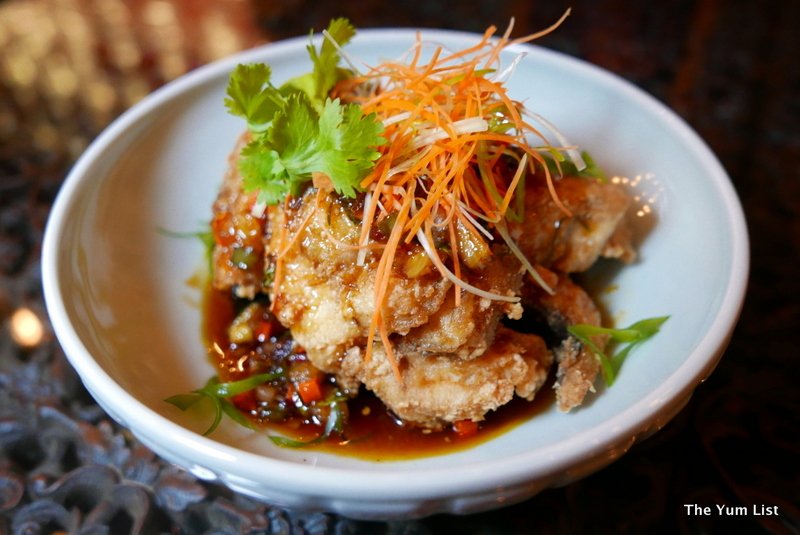 Sweets
Who can resist mango sticky rice? Definitely not me! Khao Niao Mamuang (RM38) is a must. The traditional sticky rice with sweet and tart Thai mango and coconut sauce is topped off with a creamy scoop of vanilla ice cream. Yum!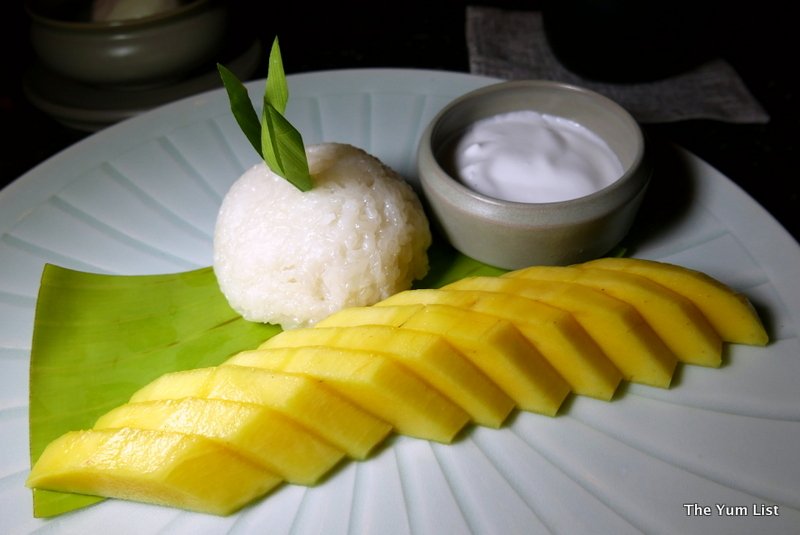 Reasons to visit: stunning views; chilled setting; must try The Hornbill; great fresh Thai menu with particularly luscious seafood options.
Horizon, Bar & Thai Restaurant
The Ritz-Carlton, Langkawi
199 Jalan Pantai Kok
Kampung Teluk Nibong
07000 Langkawi, Kedah
Malaysia
+604 952 4888
www.ritzcarlton.com/en/hotels/malaysia/langkawi