Little National Hotel, Barton
Words: Jane Speechley          Images: Little National Hotel
While much of the international attention on Canberra recently has focused on the revitalised district of Braddon near the city's centre, smart travellers won't overlook the urban suburb of Barton, where you can stay and play in peace and comfort.
Barton is located less than 10 minutes' drive from Canberra International Airport and around 7 minutes' drive from the city centre.
During the week, Barton is a hub for business travellers and office workers from the surrounding buildings, a feature that helps maintain its profile as a particularly clean and safe location (in what is generally a very clean and safe city).
However, the Barton area is also the home of many of Canberra's high-profile national attractions – including the National Gallery of Australia, National Portrait Gallery, and Museum of Australian Democracy at Old Parliament House (in fact, the suburb is named after Australia's first Prime Minister, Sir Edmund Barton).
This makes it the ideal base for visitors interested in tourism, history, culture and the arts.
Tucked in neatly among these iconic structures is the Little National Hotel, a striking building that rose up out of the dust of one the region's few remaining vacant sites.
The foyer is filled with light, and is compact but very sophisticated.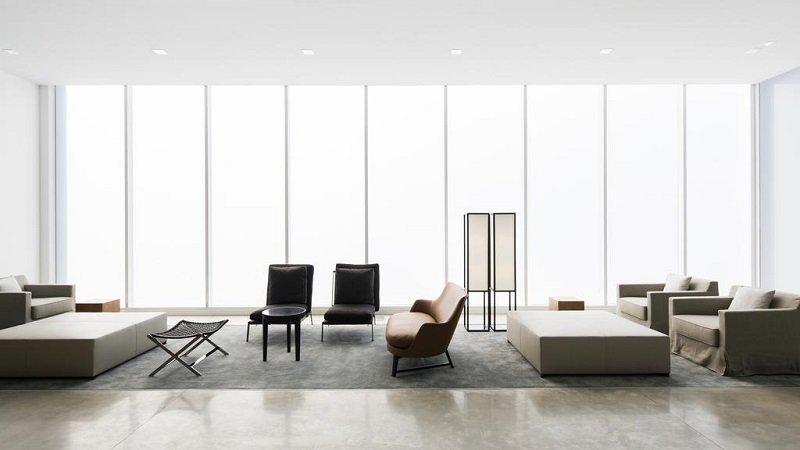 Visitors may feel a touch of Scandinavian style, with gleaming marble-esque tiles and minimalist furniture contrasted against a splendid display of fragrant white flowers, lush greenery and aromatherapy accessories.
Expect to be greeted by incredibly warm and enthusiastic staff, whose attention to detail really made the experience for me.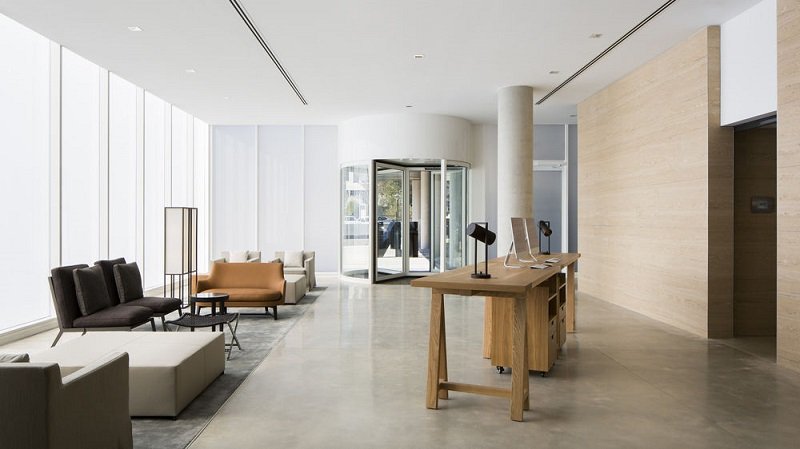 With such a stunning entrance setting the tone, it's clear the Little National Hotel is very much a place for adults.
For example, each of the 120 rooms is very similar, and definitely designed for couples or singles.
At around 17 square metres each, you'll find them a little cosy if you were planning to bring the kids.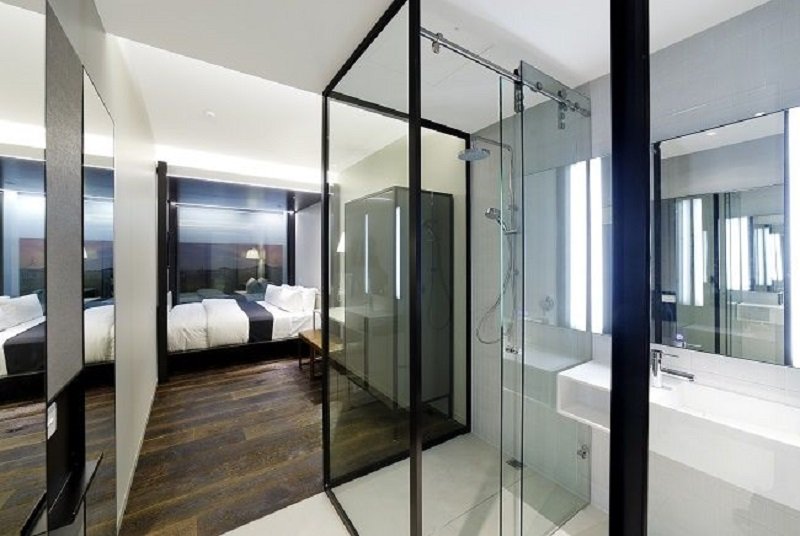 A key highlight of the hotel are the widely-praised beds: super-king sized, they're around 20cms larger than a regular king-sized bed.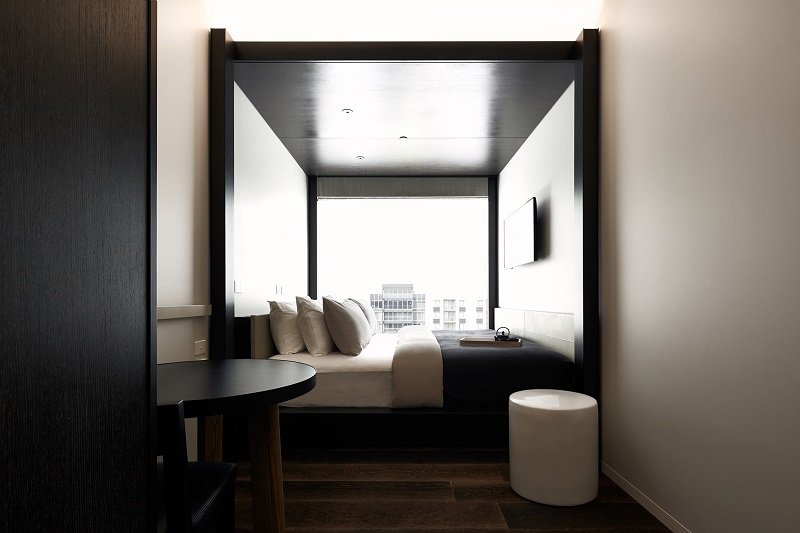 They're also nestled right up against the enormous glass windows, on a raised palette of dark timber, with the in-room TV at your feet.
So you can enjoy the full view while dozing in bed or watching one of the wide-selection of in-house movies in luxurious comfort.
Bathrooms are also minimalist but feature stylish monochromatic tiles and chrome fittings as well as thick white towels, and good-quality Arpelle toiletries.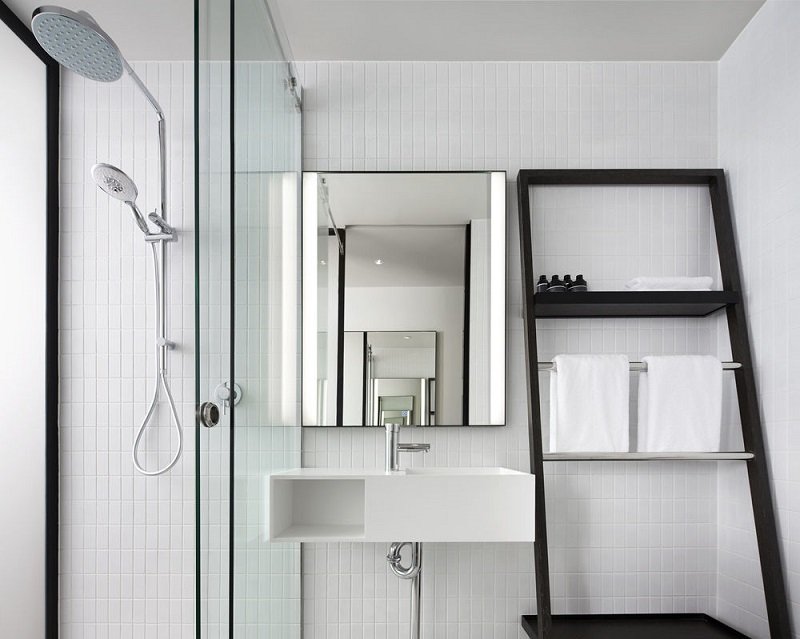 As you might expect, opening the door to the dark-wood wardrobe reveals a soft white robe and slippers that are complimentary for your use during your stay.
Every floor of the hotel is decorated with high-quality works of art, many of which use paper sculpture and carefully-targeted light to create pieces that are playful and enchanting.
The Little National Hotel is Barton also has, what I must say is, possibly the most beautiful hotel business centre I've seen.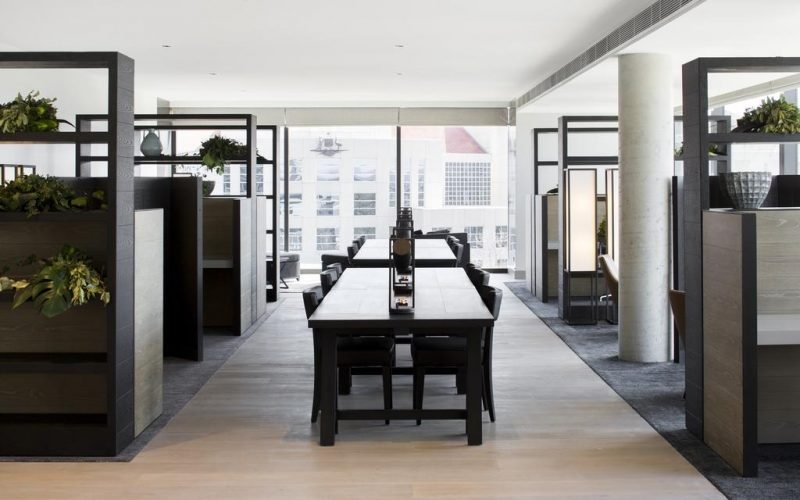 Grandly proportioned, it's called 'The Library' and is divided into private cubicles and common spaces.
Populated with dark wood furniture, moody lighting, earthen homewares and bursts of bright greenery – it's said that many locals come to stay just so they can work among the business facilities in peace and quiet.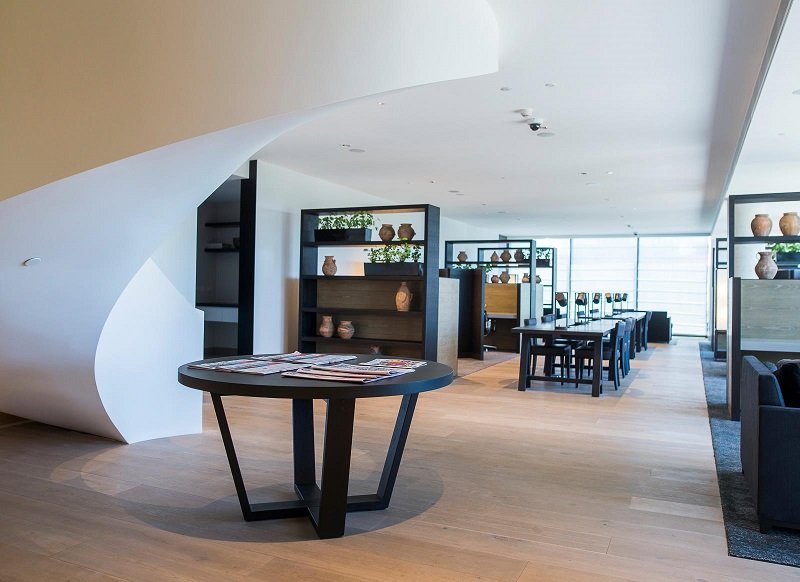 When the work is done and it's time to play, follow the sparkling white lights up the spiral staircase to find The Lounge and bar just upstairs.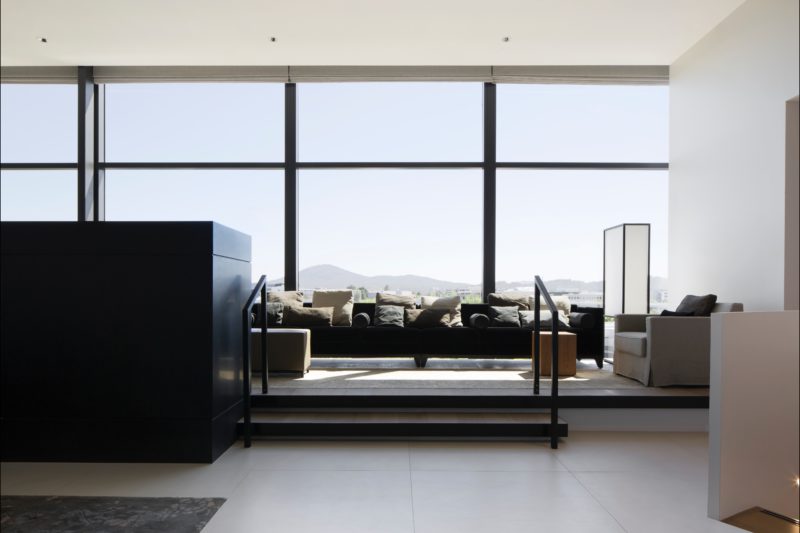 Ambient fireplaces in the cooler months, incredible views over the city, and plush seating all year round – this is a place where you'll want to linger and explore the menu of local and imported wines, beers, ciders, liqueurs and indulgent cocktails.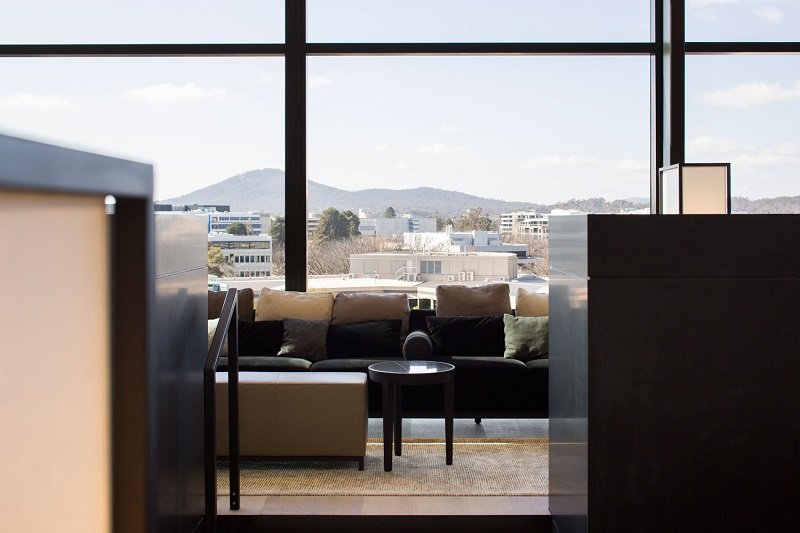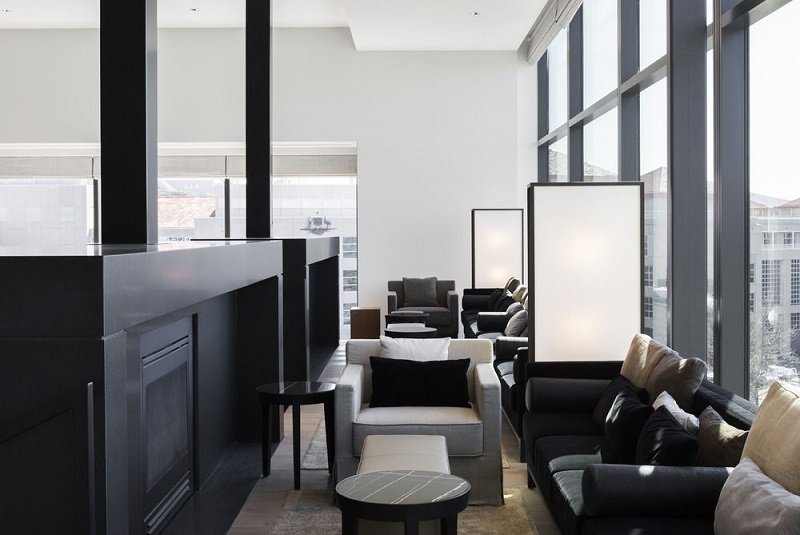 The Little National is owned by the Doma Group of hotels, and forms part of a precinct that includes the Hotel Realm and Burbury Hotel across the road, as well as the nearby historic 1920's Brassey Hotel.
Facilities at the Little National are deliberately minimalist to maintain a degree of affordability among these prestigious surrounds; however guests have full access to the luxury amenities of the Realm precinct, including the 25m indoor lap pool as well as gym and health club, day spas, hair salon, restaurants and cafes.
For example, a special offer during my overnight stay means I receive a 25% discount voucher to spend at the Hale Day Spa – it's valid for 6 months after my stay, and I can choose a steam room or sauna experience, or another treatment from the comprehensive menu of massages, therapies, wraps and facials.
This clever partnership also means that the provided breakfast is a step above your average hotel buffet experience.
The two-minute walk across the road brings you to the lauded Buvette Bistro and Wine Bar, where the staff applies their knowledge and skill in French cuisine to put on a special breakfast spread for hotel guests.
All the usual breakfast elements are here, but with a few extra touches that show the attention to quality.
Think top-quality croissants, charcuterie plates, home-made baked beans, espresso coffee, and an impressive range of gluten-free treats as well as excellent service.
Overall, Barton might be considered a microcosm of the evolution of Canberra itself.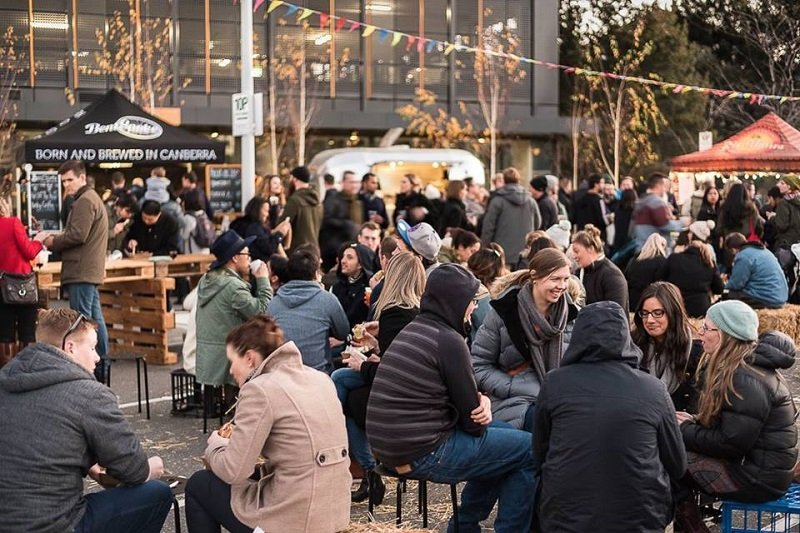 Built on a foundation of well-known architectural icons, important art and cultural institutions and political history, it's now moving to embrace a younger and hipper vibe with cool bars, restaurants, funky events and nightlife.
And this evolution is epitomised in the Little National Hotel. Hurry and visit now, so you can say you were there before it got *really* cool.
Reasons to stay: Perfect for an adult-only getaway or 'staycation'. A relatively undiscovered part of Canberra that's uber-hip but still quiet and far from the madding crowds.
Little National Hotel
21 National Circuit
Barton ACT 2600
Canberra
Australia
+61 2 6188 3200
www.littlenationalhotel.com.au
<iframe src="https://www.google.com/maps/embed?pb=!1m18!1m12!1m3!1d3255.798330324676!2d149.1297216151479!3d-35.310992180282305!2m3!1f0!2f0!3f0!3m2!1i1024!2i768!4f13.1!3m3!1m2!1s0x6b164ce164cd865d%3A0xaaf7d2b00b89df41!2sLittle+National+Hotel+Canberra!5e0!3m2!1sen!2sau!4v1509840495396″ width="600″ height="450″ frameborder="0″ style="border:0″ allowfullscreen></iframe>