Words: Alison Brand   Photos: Monica Tindall
Calling all ex-Brits, future Brits, current Brits, anyone who knows a Brit or simply all those who are up for a top-notch British dining experience… there is a new player in town who is sure to satisfy your British senses in all the right ways!
W1 Dining and Cocktails is a recently opened British styled restaurant and bar on Jalan Telawi 2, Bangsar Baru. Straight away you get the sense that whoever is running the show has a great eye for detail and knows how to create that important balance of relaxed yet sophisticated ambiance, as well as quality food and beverage choices that go hand-in-hand with the contemporary British dining scene.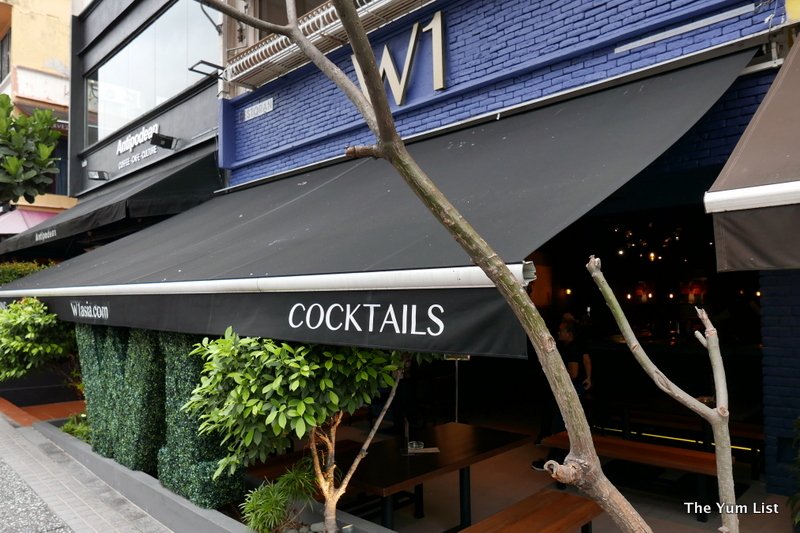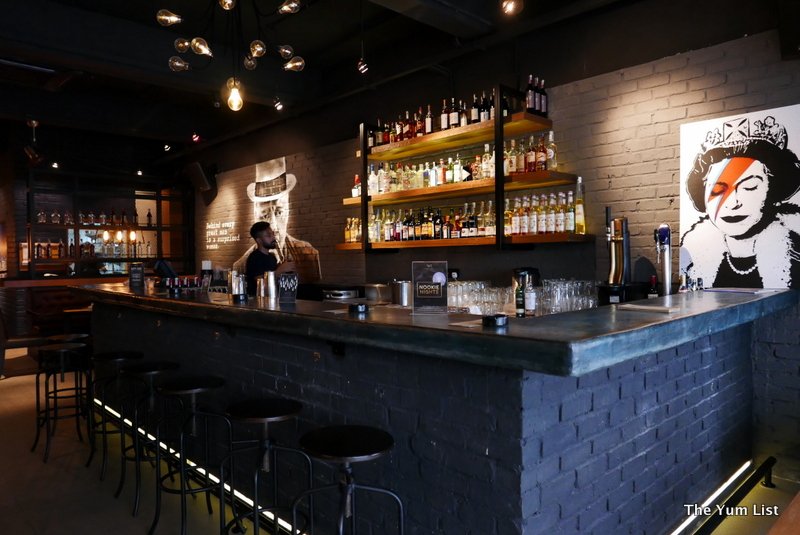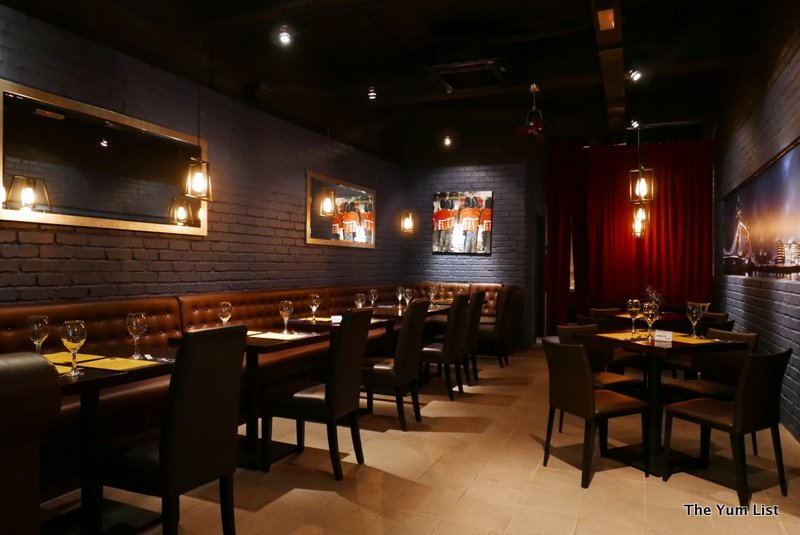 The decor overall both inside and out sets the mood for understated glamour. Muted palette brick painted walls combined with cleanly styled timber furnishings set the perfect backdrop for the artwork (… all British of course) that pops off the walls thanks to the lighting plan throughout the space. Banksy was a clear standout, as was the larger than life portrait of Winston Churchill. There were also several bespoke pieces commissioned for the owner/manager by an artist friend in Britain, giving the feeling that you could just step straight out onto the sidewalk of central SoHo. The name 'W1' is in fact a direct reference to the W1 postal code of inner London, famous for its array of contemporary dining options.
As suspected, the owner/manager is indeed a true-blue British boy. Danny Thompson grew up immersed in the restaurant business, with his family running a successful group of establishments in London. His long running experience in the business (both in Britain and 17 years in KL, having previously run 'twenty.one' amongst other successful businesses) shows, and his skill for combining great ambiance with top-quality food and beverage options is immediately apparent as soon as we set eyes on the menus.
We decided to sit in the outside area, which even though still early in the evening was really pleasant due to the awnings and overhead fans doing a great job of keeping us cool. The delivery of some chilled drinks directly from John and Toufiq behind the bar didn't hurt either!
First up arrived the Gilbert and Sullivan (RM37) which was a fine mix of Tanqueray gin and lemon, with a discernible hint of vanilla, crowned with a couple of Juniper berries and a cleverly placed bitters 'W1' on the frothy top. Delicious!
Of course you cannot go to a British establishment on a warm Malaysian evening without experiencing some refreshment courtesy of a Pimms No 1 Cup (RM25). This was simply a glass full of fruity summer zest, with the distinctive Pimms flavour quintessential to the British experience, and enough fresh fruit to convince yourself that you need another one, purely for health reasons of course…
Next was an Aperol Spritz (RM35) which was initially a little off the British radar, however made perfect sense once it was discovered that this vividly orange hued Italian aperitif made from Aperol, Prosecco and soda is, in fact, one of the most fashionable summer cocktails currently loved by Brits. Bottoms up I say!!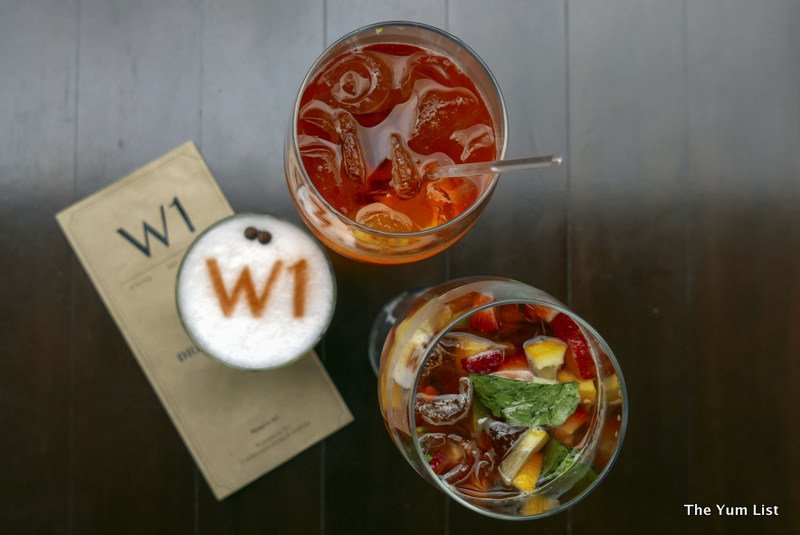 Food was definitely required next, and we were all ready to embrace the mantra at W1 that 'sharing is caring', in that the meals that come out from either the 'small plate' or 'big plate' section of the menu are easily shared amongst all guests at the table, meaning more variety for everyone and less waste. And as if on cue, out came a selection from both sections of the menu.
From the small plate menu we were treated to several dishes. The dark mauve Beetroot Spaghetti with feta cheese mouse and dried mushrooms (RM16) served up the summery flavours of beetroot and combined them with a light, creamy feta mouse and piquant dried mushrooms on top. 'Jiaozi' Duck Dumplings with black vinegar mushroom xo sauce (RM16) was a prime example of chef Chong's talent for putting a contemporary asian twist on traditional British fare. These delicate looking dumplings were generously filled with melt-in-your mouth duck, having just the right amount of seasoned kick to awaken the tastebuds.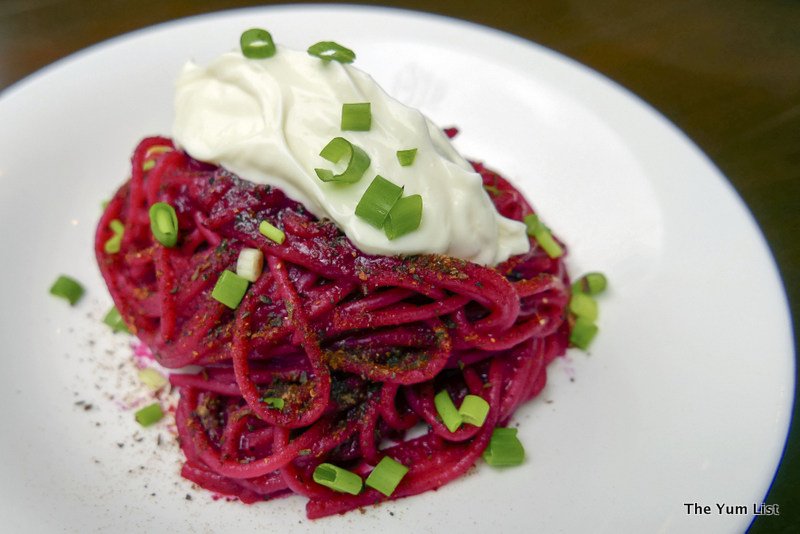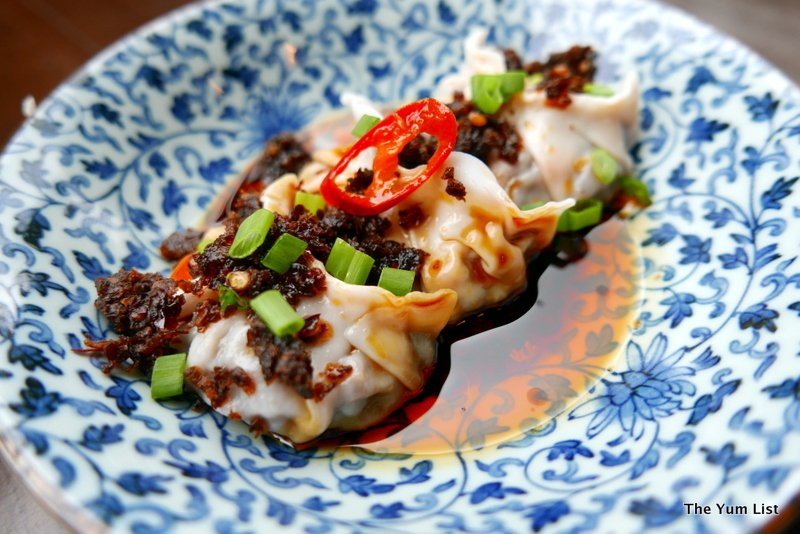 Next was a signature British dish – W1 Scotch Egg (RM16), a soft boiled egg surrounded with warm Australian beef crust, served with curried aioli and pickled red onions. This was a plate of contrasts, with the soft egg combining with the golden crunch of the outer crust, and the creamy curried aioli a firm nod to the Indian influence on British cuisine over the past century. The Prawn Cocktail with avocado, puffy rice, Sriracha aioli and a side of prawn wonton skins (RM25) was another combination of varied tastes and textures on one plate. The prawns were accompanied by cubes of creamy avocado, crunchy puffy rice, golden prawn wantons, all tied together with a definite chilli undercurrent.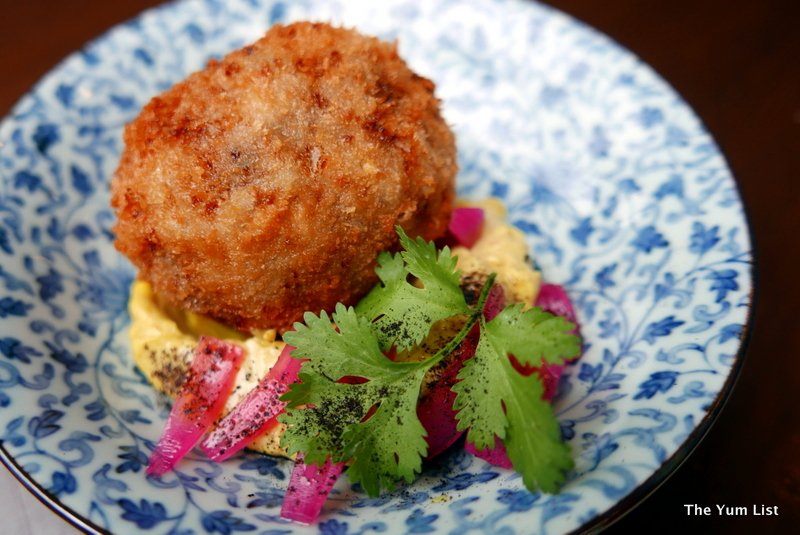 We were then treated to another selection of drinks which included chilled glasses of bubbly Prosecco (RM38) and the crisp Anakena (Chile) Sauvignon Blanc (RM25). There was also a Breakfast Martini featuring Tanqueray gin, orange marmalade and lemon juice (RM30) that would be a top incentive for anyone struggling to get out of bed! All were a great accompaniment for the next round of food, this time from the 'big plates' menu.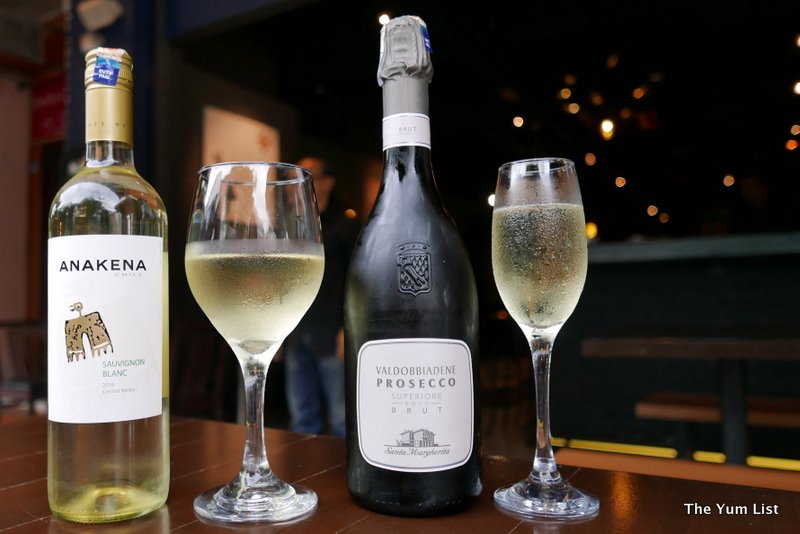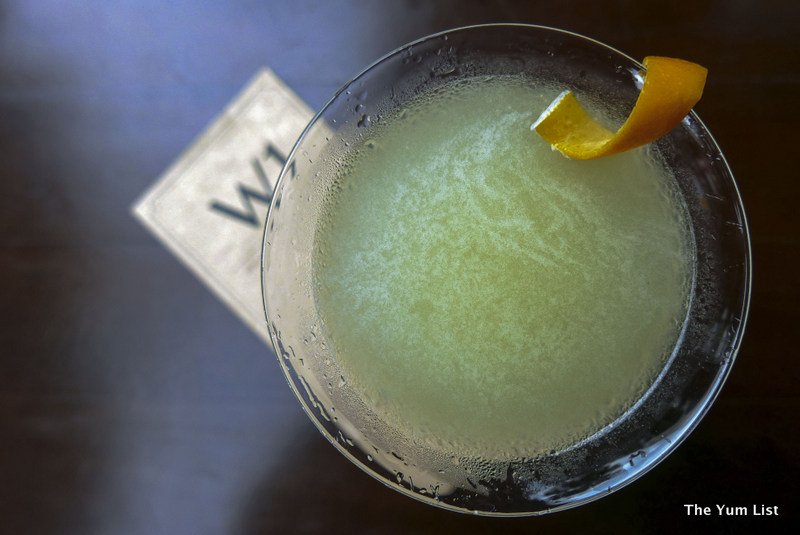 The first to hit the table was the Fish and Chips, crispy battered Seabass, fat English chips and mushy peas (RM38). This was another signature Brit dish, which was definitely one of the stars of the show. Chef Chong sources only the best quality succulent Australian Seabass and serves it in a light batter. Accompanied with classic mushy peas, fat chips and lemon wedges, it was definitely a winner. Following this was the Pie and Mash, a creamy chicken pie with mashed potato and herb liquor gravy baby (RM32). This was filled to the brim with filling and flavour, all encased in a buttery shortcrust pastry.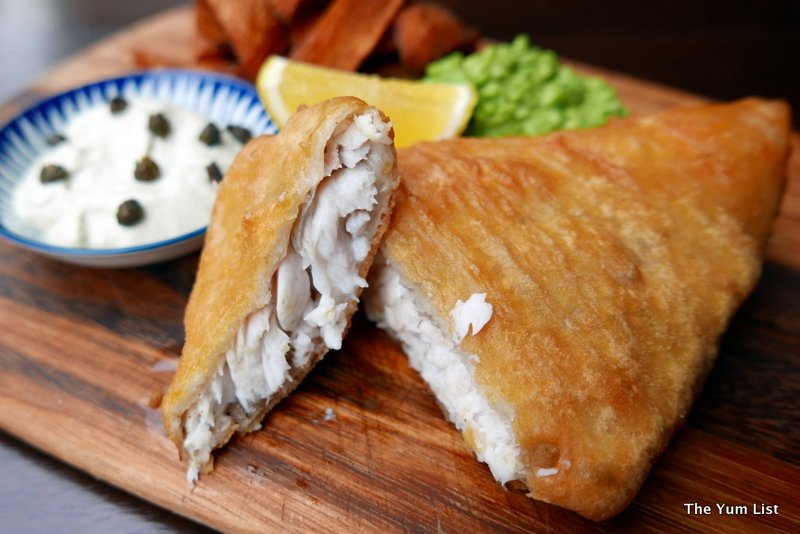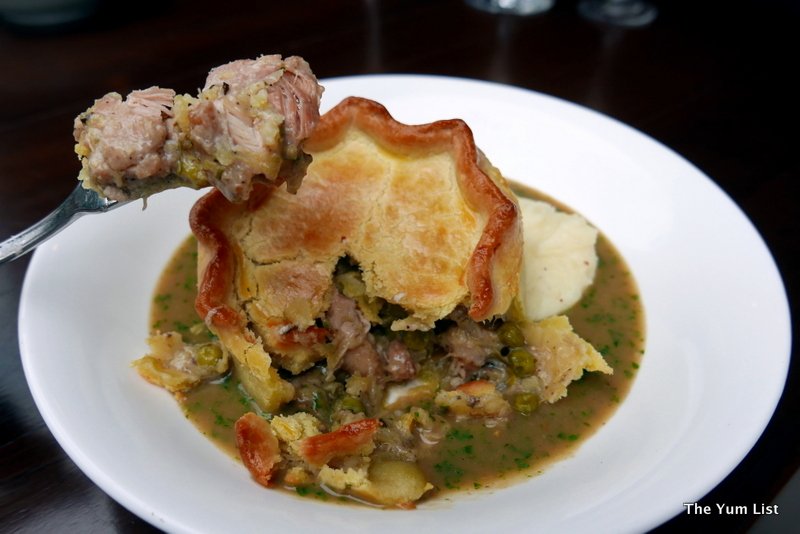 Just when we thought we had reached our limits, out came dessert in the form of a Sticky Cola Pudding (RM20), a new angle on the traditional sticky date, served with chocolate caramel sauce and vanilla ice cream.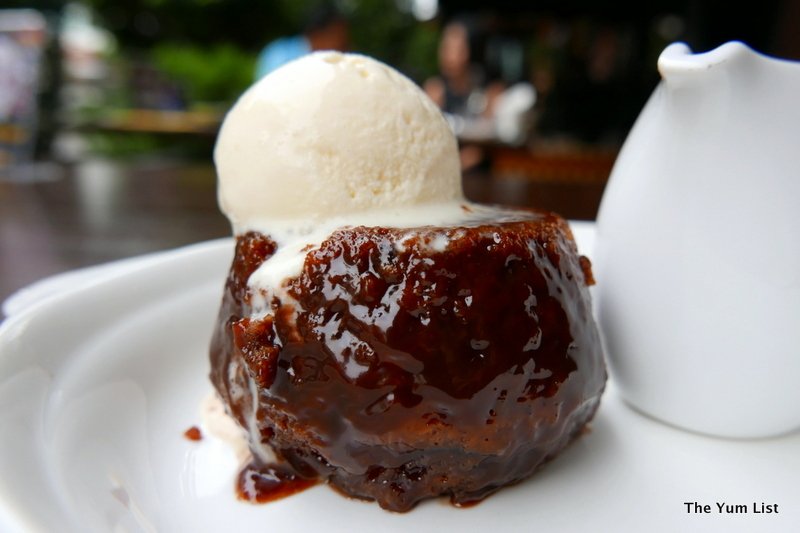 Reasons to visit: Quite simply, the reasons to head down to W1 include top quality taste, excellent service and reasonable prices, all set amidst a great atmosphere. However if you needed more, special events are held each week, including: 'BYOB' Tuesdays with free corkage on wine and bubbly; 'Nookie Nights' on Wednesday 10pm – 1am with complimentary W1 ladies cocktails; 'Fri-nally' Fridays with happy-hours from 5-8pm; and 'Bubble and Squeak' from 2pm on Sundays, with a pet-friendly space on the terrace included so nobody has to miss out on the fun!
W1 Dining and Cocktails
22, Jalan Telawi 2
Bangsar Baru, 59100
Kuala Lumpur
+6 016 221 6512
www.facebook.com/W1asia