Monica Tindall
The only restaurant in Laos on the Secret Tables list, Manda de Laos is a true hidden gem. Located on what appears to be a poor urban street with motorbikes putting by and kids playing on the street, a garden lined entrance opens up to a hidden paradise. A terraced open dining area cascades down to a lily-filled pond. A wooden walkway winds over the water leading to other tropical-greenery concealed tables and a menu of Laotian family cuisine is backed up by a thoughtful drinks list.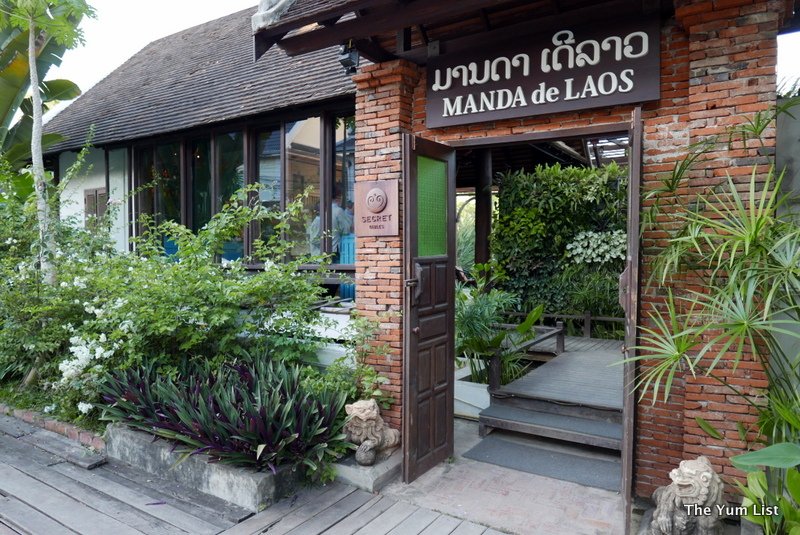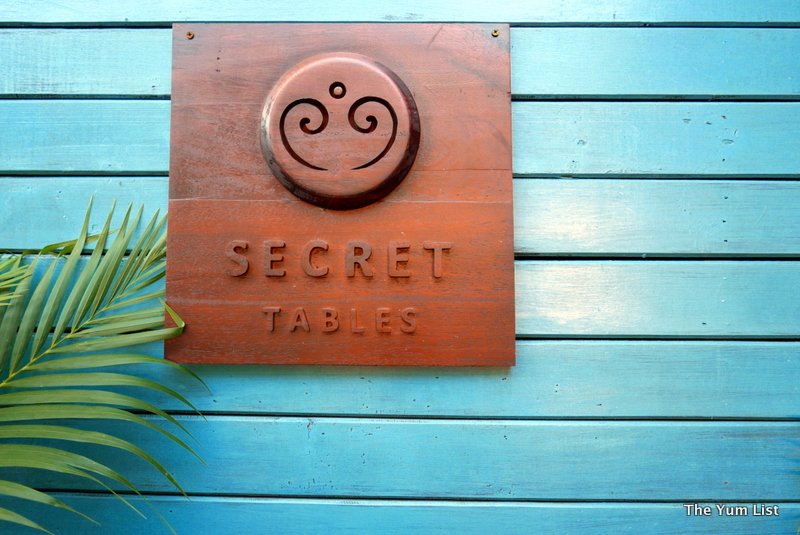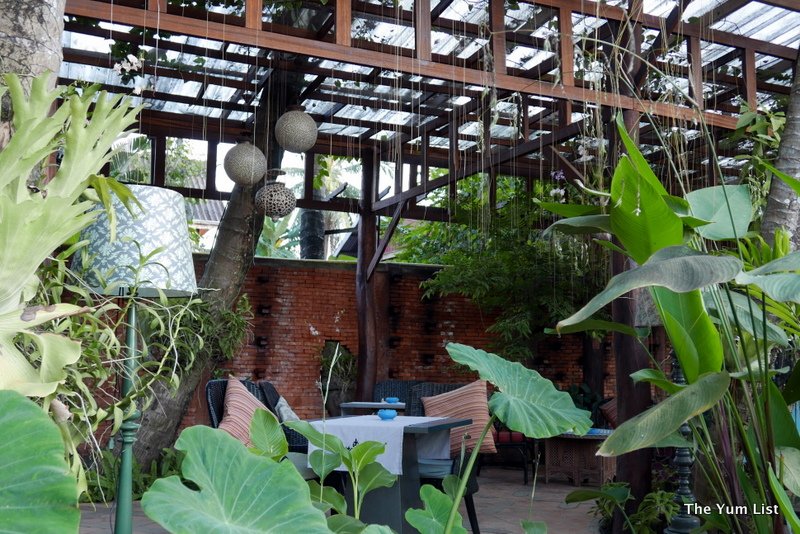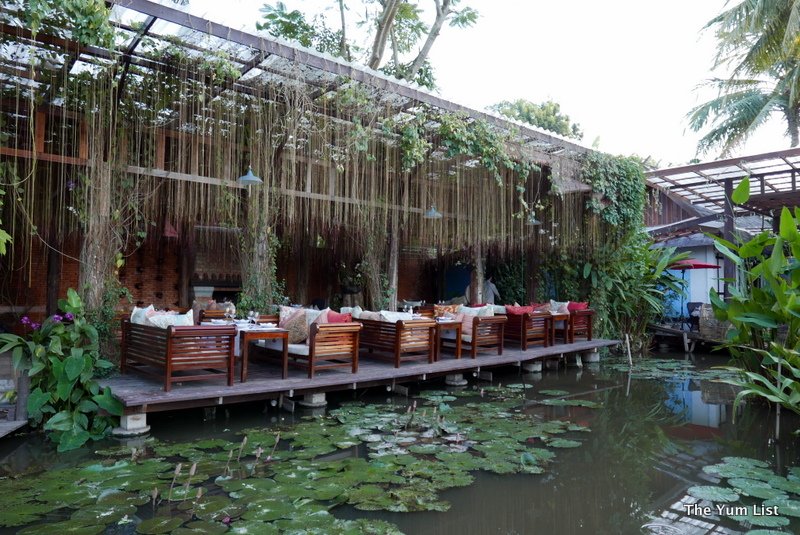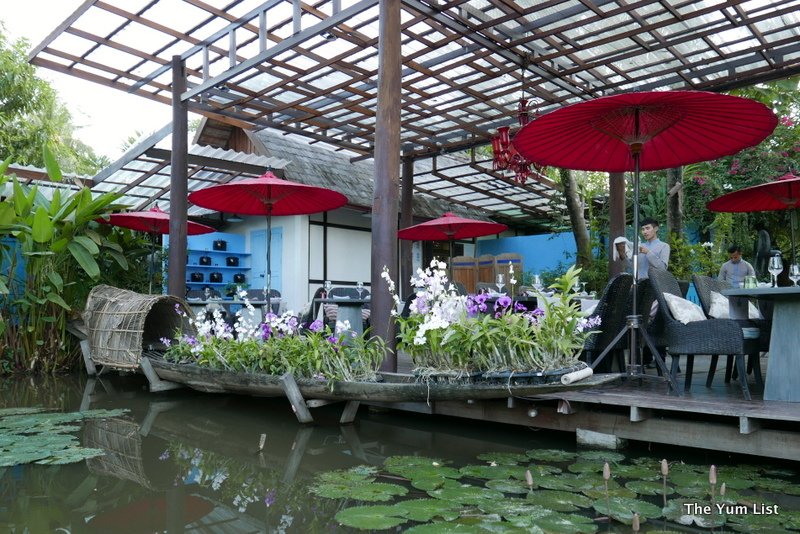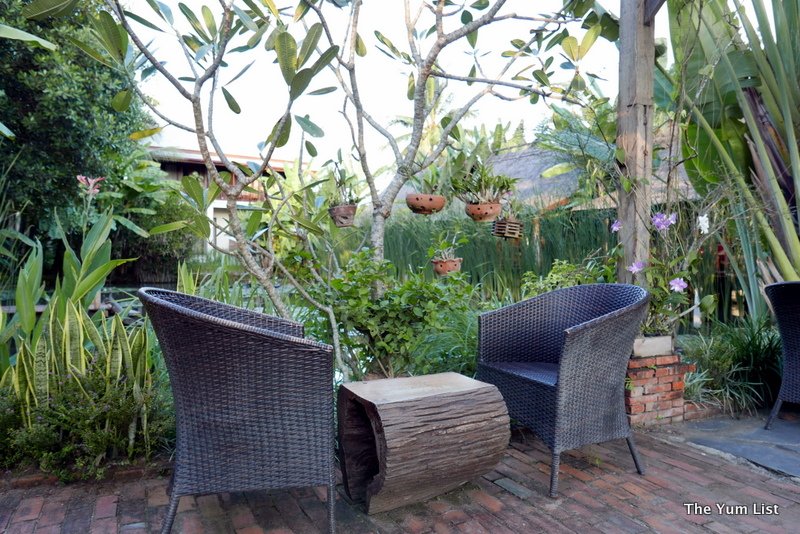 Signature Cocktails at Manda de Laos
Arriving as the sun is setting we see it appropriate for a sundowner and choose from the signature cocktails list – classics with a Laotian twist. Our favourite is the Laojito (Kip 80 000) made with Champa Kao Vodka (from Laos), lemongrass, kaffir lime, lime juice, syrup and brown sugar. Running a close second though is the Laos Parinha (Kip 80 000), again with the local Champa Kao Vodka, and muddled with cucumber, lime and sawtooth coriander. A rim of ground rice provides a unique twist, and unlike the usual sugar or salt rims, the rice doesn't interfere too much with the flavour, but rather gives it a solid base.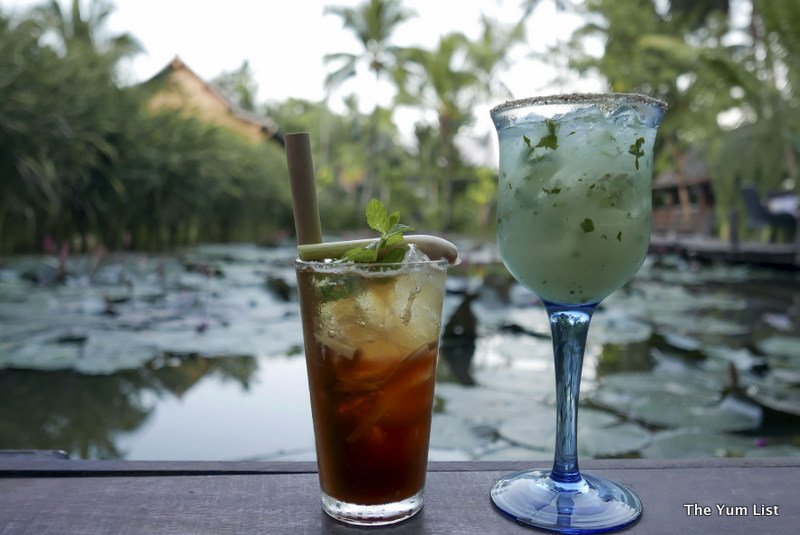 Wine
A compact but quality wine list supports the beverage menu with wines from France, Australia and New Zealand dominating the menu. I order us a rose, the Tavel Beaurevoir, M. Chapoutier (Kip 72 000) 2014 Grenache, Rhone, France for its versatility. Our feast encompasses vegetables, fish, poultry and meat, spicy and mild, textured and smooth, and this "typical Tavel style rose with fresh and spicy aromas" is powerful enough to hold its own alongside some of the stronger dishes on the menu, but friendly enough to not overpower the more subtle recipes.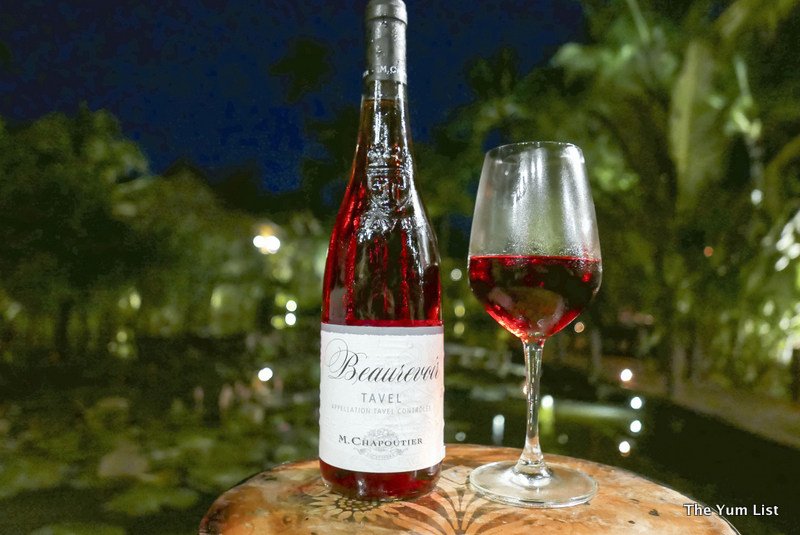 Manda de Laos Signature Tasting Menu
The best plan of attack for your first visit to Manda de Laos is to order the signature tasting menu (Kip 420 000 for 2 people) that allows you a taste of a number of dishes in small portions. On your return visit, and you will want to return, you'll be able to order your favourites already having sampled a good variety. Although, we liked the tasting line-up so much, that we would be tempted to order it again to save the pain of actually having to make a decision.
Amuse Bouche
A polished cross-section of a tree trunk holds an Amuse bouche of sticky rice mousse, lemongrass, dill and crispy pork skin. A vibrant betel leaf is provided as wrapper and guests are encouraged to add (or not) the peanuts at will. It's a mouthful of yum and does the job of whetting our appetites for what's to come.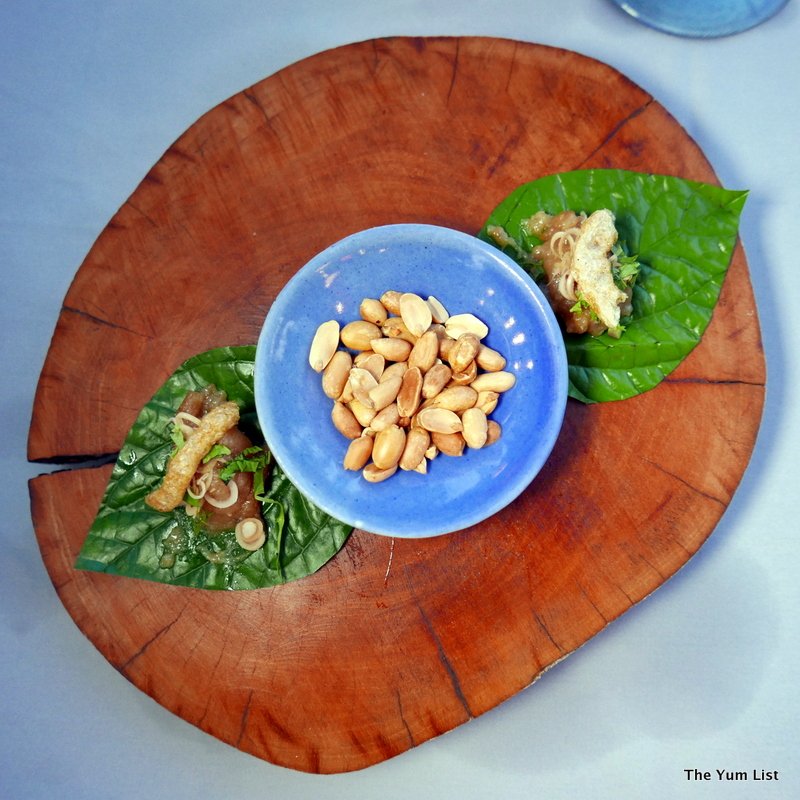 Platter of Laotian Starters
An elevated wooden board of Lao bites makes a beautiful starter. Laap Poo Ping, Charcoal Pork Balls, are skewered on a stick of lemongrass and mixed with coriander, spring onions and Jim Jaew dip – very tasty. Neam Jeun, Crispy Spring Rolls, are packed with shredded vegetables, glass noodles and mushrooms. The crunchy case holds a moist nucleus – perfect. Marinated chicken wings are not on the menu, but are tender and flavourful. We could wrap our lips around these and suck the meat off any number of them without pause. Lastly, Ping Kai, Lao Style Fish Salad, is held in a cone of leaves atop a woven basket. This Lao style shredded fish salad is mixed with shallots, crispy garlic, lemongrass, chili, mint leaves, coriander and ground rice.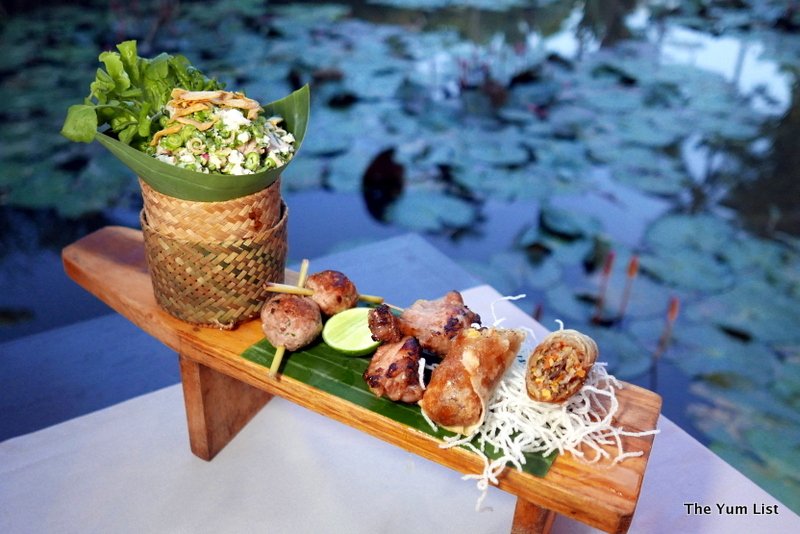 Mains at Manda de Laos
In family-Laotian style, all mains are served at the same time. Or Lam Kai – Lao chicken stew -is packed with green veggies, and is smoky with roasted eggplant and the sakan wood used for cooking. Pieces of wood are still in the soup, not to be eaten, but interesting to see this key component as sometimes it's removed for foreigners before serving. Steamed fish marinated with dill in banana leaf, the Mok Pa, Steamed Fish Hormak Style, is a fresh and healthy mix of loveliness. Buffalo is a prized dish in Laos, so it's no surprise that the Ping Sin, Buffalo Steak, is a star amongst the mains. Buffalo steak slices are barbecued with kaffir lime leaves, galangal and crispy garlic. Tasty! And, making sure that no protein goes without a part in the play, Ping Dook Moo, Pork Spare Ribs is the final piece in the jig-saw and cliché- stimulating – tender, succulent, fall-off-the-bone goodness. A jungle honey glaze gifts a sweet stickiness to the ribs and a herb salad balances the richness.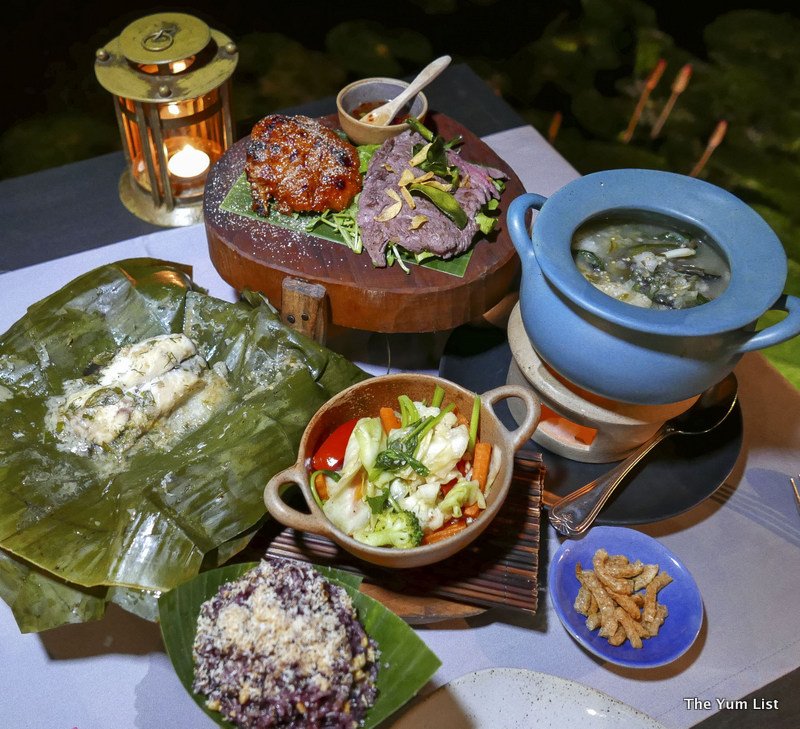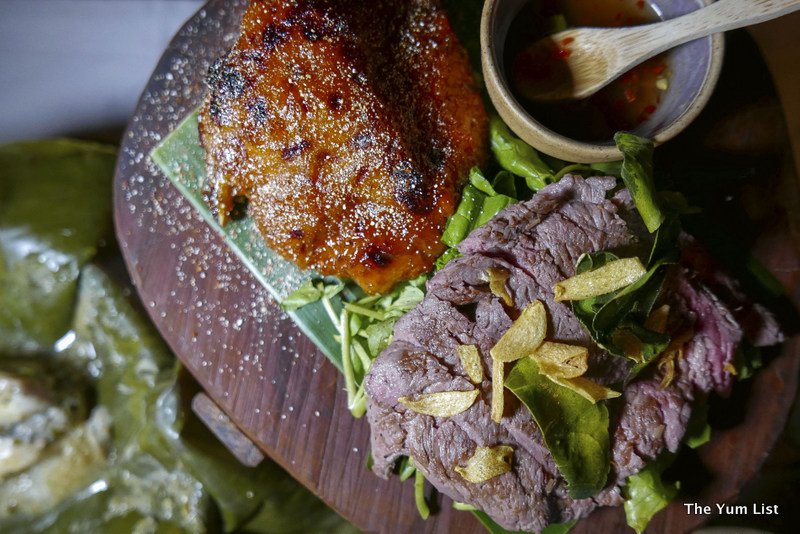 Sides
Pak, Stir-fried Seasonal Vegetables are wok-fried with soy sauce and balance out the proteins, while the Khoa Khati, Crunchy Coconut Rice, ensures we stick to tradition with the coloured sticky rice side dish. I especially enjoy the toasty rice together with the sweet sticky ribs.
Dessert
When it's time for dessert two huge portions of Choux Kuay, Choux Banana, are presented. Hubby makes a show of denying the second plate claiming that we can share one. But, truly, who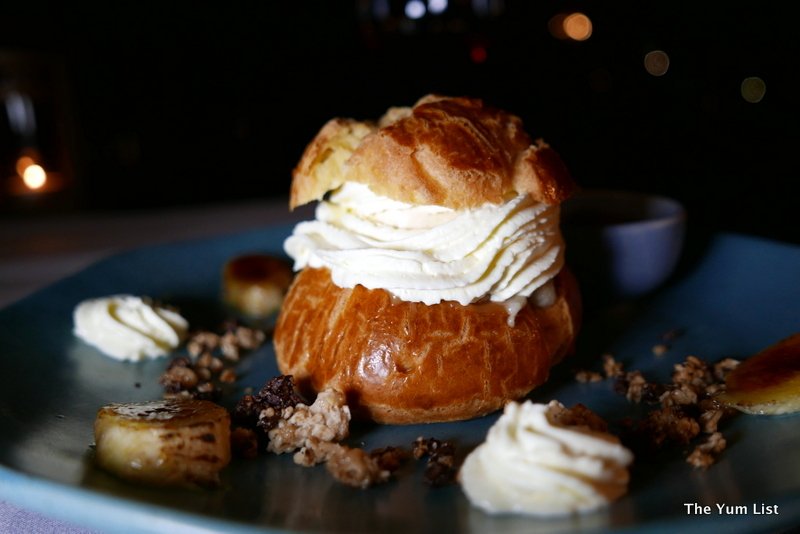 are we kidding? It's choux pastry with cream: hubby salivates at its arrival – there's no chance I'll get more than a spoon once he's started. Fortunately, the waiter insists that two have already been prepared so I get a go at the pastry tower stuffed with vanilla ice cream and cream. Breaking up the texture are caramelized bananas, and to ensure every sweet taste bud is satisfied there's chocolate sauce on the side to drizzle on at will.
While the meal might be over, there's no need to hurry. Manda de Laos is made for lingering. The drink list is still available, the air coming off the lily pond cools the skin. and the night is still young…
Reasons to visit: magical setting; perfect for date night, but also frequented by friends and families; the Manda de Laos tasting menu is a faultless place to begin.
Manda de Laos – Family Laotian Cuisine
Unit 1 Ban That Luang
10 Norrassan Road
Luang Prabang, 06000
Laos PDR
www.mandadeloas.com
+856 (0)71 253 923