Words: Chris Moore  Photos: Monica Tindall
With the revitalization of The Row in Kuala Lumpur, a host of chic and neo-traditional dining options have slowly begun to emerge in the heart of the city. One such venture is 2OX: a contemporary French bistro designed to elicit the feeling of dining in a typical Parisian café. The spacious and inviting interior of 2OX is filled with heaps of natural light, and the brightness provides a scene that is both classy and elegant yet also casual and friendly.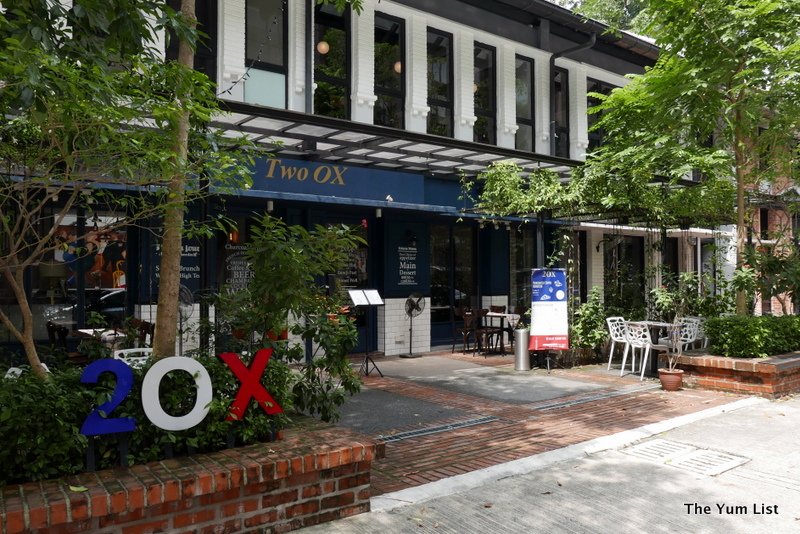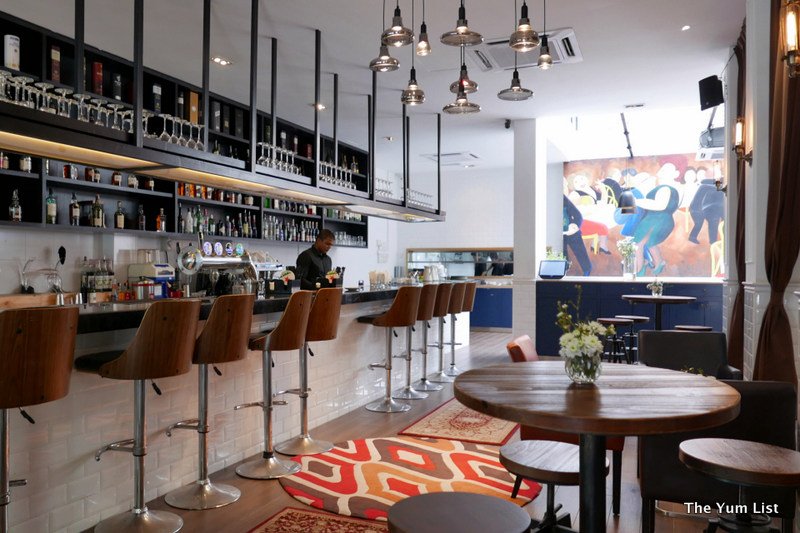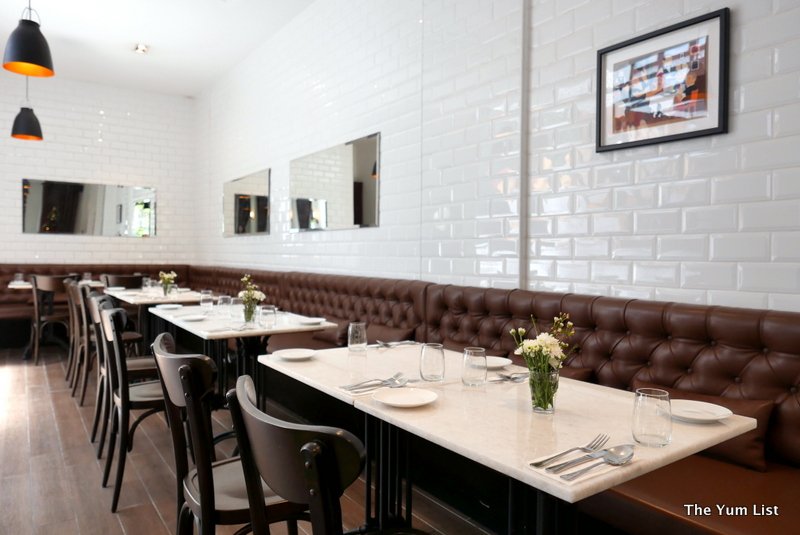 20X's Weekend Brunch Beverages
Classically trained in French cuisine, Chef Phillippe is putting his own spin on French classics and giving guests a combination of both an authentic and unique culinary experience. One such combination is 2OX's new Raclette Weekend Brunch (RM89/person) where guests are able to customize their meal from a diverse list of hot and cold options. Paired with a glass of house red, white, or sparkling wine, this brunch is a perfect way to begin a Saturday or Sunday morning.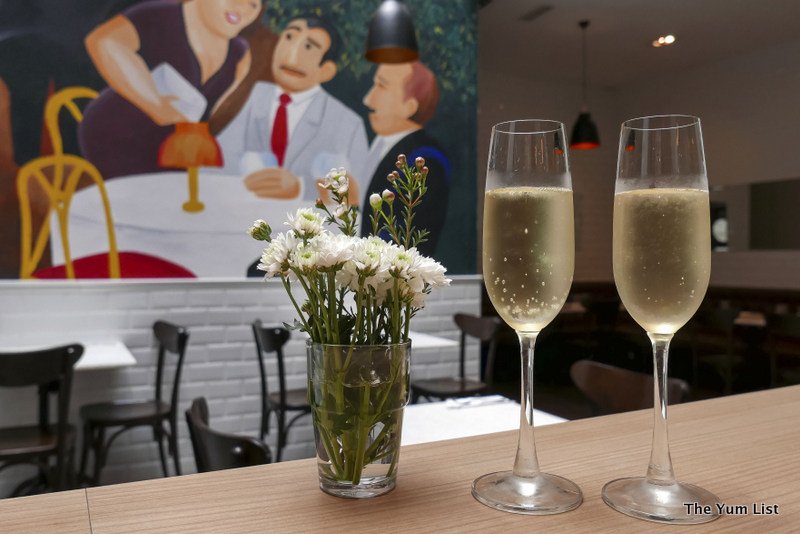 Raclette – Weekend Brunch at 2OX
For the weekend brunch, patrons choose a total of four items – and the best part is that your personalized meal is served to you without ever having to worry about burning yourself on molten cheese as you receive your items smothered in a hot and creamy mass of raclette that is ready to eat.
Served with fresh bread, mixed salad greens, and homemade pickles that are an impeccable balance of sweet and tart, guests can choose between: Roasted New Potatoes that are flawlessly cooked to a perfect tenderness; Potato Dauphinoise; Grilled Asparagus that is caramelized beautifully yet still maintains a great deal of crunch; Steamed Baby Green Beans that are both sweet and delicious; Turkey Ham that has a striking resemblance to mortadella in both taste and texture; Pan Roasted Beef Strip Loin that is pounded thin and roasted to provide a great exterior crust; and Poached Egg that has a brilliantly yellow soft yolk. The saltiness of the cheese accentuates the sugary flavours of the fresh vegetables, while the beef strip loin coated in melted cheese is like the most glorious and grown-up version of a cheeseburger – no mustard or ketchup required!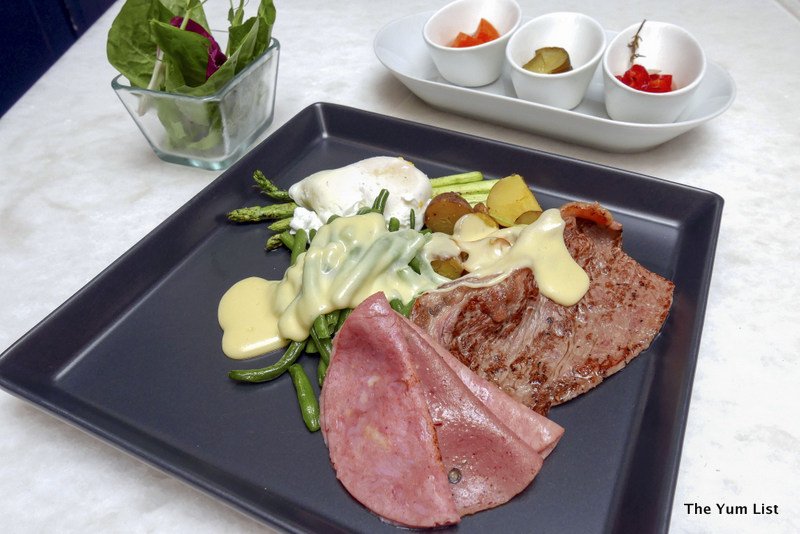 Dessert at 2OX
To finish the meal, the Raclette Weekend Brunch is served with a Dessert Trio that is a marvellous sampling of three classical French pastries all served on a single plate. The Opera Cake is light and moist, layering almond sponge cake between chocolate ganache and buttercream, while the fresh lemon flavours in the Lemon Madeleine balance perfectly with an espresso or a cup of tea. The most remarkable of the trio, however, is the house-made Macaron, which is both light and chewy. Though my experience consisted of a raspberry macaron, there is no telling which flavour you will get to enjoy as Chef Phillippe changes the flavour profile weekly.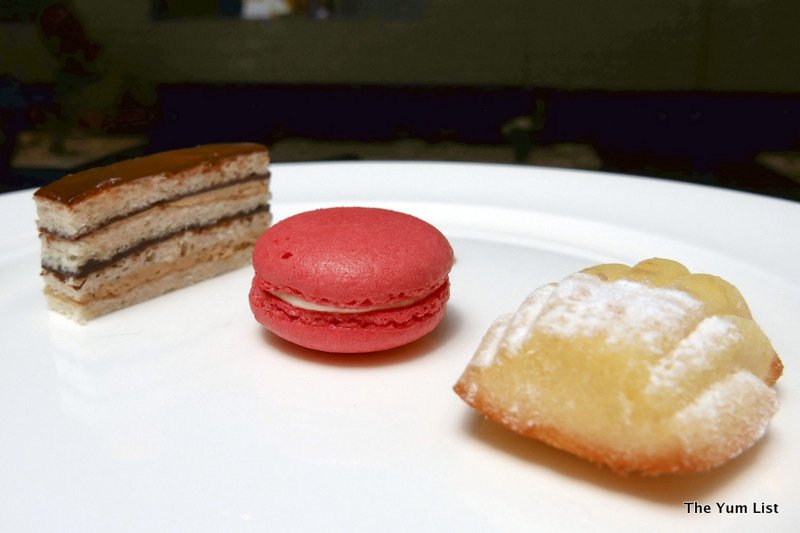 Chef Phillippe's newest menu offering is designed to leave customers satisfied but without the overwhelming feeling of gluttonous over-consumption. The portion served is just the right amount to fuel you for the day, and the casual warm environment in which it is served is the perfect beginning to any weekend day.
Reasons to visit: bright and warm environment; great service; the macarons are spectacular.
2OX French Bistro
54G & 56G Jalan Doraisamy
50300 Kuala Lumpur
Malaysia
+60 3 2692 2233
www.two-ox.com