Words: Claire Matheson    Photos: Monica Tindall
Wine and food are the ultimate partnership. They each bring very different qualities to the table, but when well matched they bring out the best in each other, accentuating the other's better qualities whilst diminishing any flaws.
If you're a wine lover like me, then there's no better night out than a wine paired dinner. Preferably, of course, with a range of exceptional fine wines accompanied by a menu of fresh, high quality and interesting ingredients. To complement and draw out the flavour notes of any wine, the partnering meal needs to be designed by someone well versed in the profile, growing region, palate and vineyard varietals of each individual bottle. Only when the essence of a wine is known, can you design a meal to suit. I shudder to think of the mismatched alternative, although I'm sure everyone has a bad first date story that would equate!
For those living in Kuala Lumpur, wine paired dinners of note are not exactly commonplace, with only a few worthy offerings happening every couple of months, and usually costing an arm and a leg to attend. Enter C.K. of C Wine and Bites, who came into his field of fine wine importing in quite an organic fashion. Originally an accountant, C.K. used to, and still does, spend his holidays touring vineyards around the world, bringing back bottles of wine for friends and family members from his travels. He quickly realised there was a market for quality wine importation in Malaysia, particularly from small growers, and has been a favoured stockist to KL's highest echelon of restaurants and hotels for many years.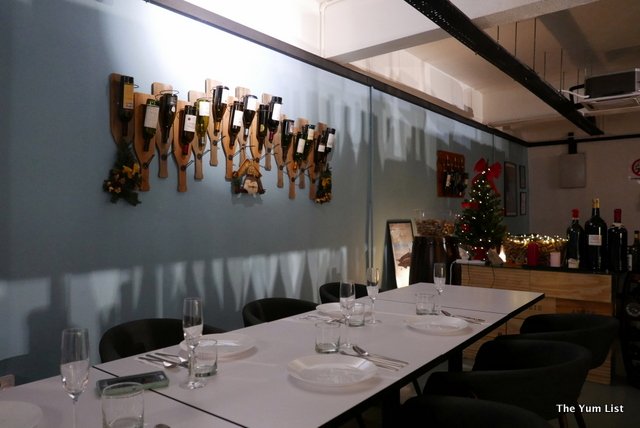 Finally, C.K. has had the chance to open his doors to the public, and C Wine and Bites offers double the treats. Either stop off on your way home to pick up a top-shelf bottle from the world's best producers, or, if it's been a long day and you don't have the skills or the energy to create your own wine paired masterpiece plating, simply dine in and drink your chosen bottle in the cozy surrounds along with a selection from his mouthwatering menu. While the food offerings are limited, like the wines they are well chosen, and better still, can be further supplemented with Farm to Plate's full menu options, conveniently located downstairs. The surrounds are unpretentious, with clean lines and touches of texture in wool, wood and natural fibres. It feels as though you have been invited into C.K.'s home for a drink around the family dinner table.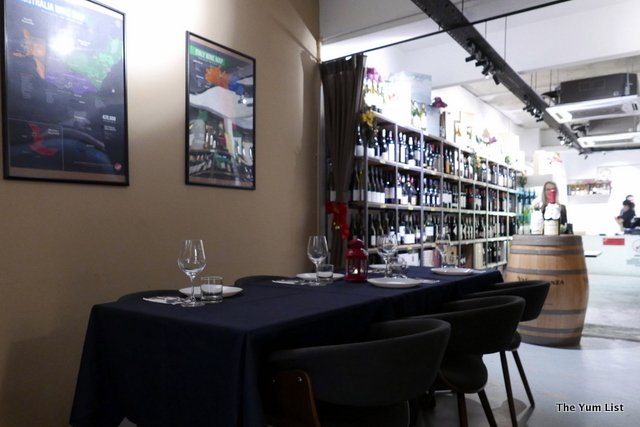 The wine shop section of the restaurant is beautifully organised, with shelves separated into old and new world producers, then sorted by region and finally shelved into price points, making all your favourite labels easy to find. Most of the bottles sold are those you won't find available for retail purchase anywhere else in KL, and are from small producer vineyards C.K. has visited personally and labels that he stands by and believes in. I must say I am impressed by his choices. I am used to drinking very high-quality wine, particularly when it comes to bold reds and dry whites produced in the Barossa, Eden and Clare Valleys, and the Coonawarra and Yarra regions of Australia. I often find myself in wine stores in KL cringing at the Australian offerings lining the shelves, knowing many of the brands sold in Malaysia are those that fellow Aussie's simply wouldn't touch given the choice. At C Wine and Bites quality is paramount to C.K.'s selections, and there literally isn't a bad drop in the house.
Adding to his Australian collection of Yalumba, Henshke, Two Hands and Jim Barry (all of which I most definitely recommend!) are beautifully crisp and clear New Zealand whites and pinot noirs from Misha's and Petit Clos. Other worthy names I spied include Terra Mater and Apaltagua from Chile, De Toren, The Goose and Boschendal from South Africa, La Rioja Alta and Finca Feroes from Spain, as well as Duchessa Lia, Ascheri Barolo, Regolo Sartori and Dogajolo from Italy. The huge variety from France are too numerous to mention but include a wide range from Sancerre in the Loire, Saint-Estephe in Bordeaux, Côte d'Or in Bourgogne, Margaux and Épernay in Champagne among others. There is also a little fridge with some preferred cheese and ham cold cuts on offer.
We begin our evening with a bottle of Champagne because this is how all the best evenings should start. C.K. pulls out a bottle of the Charles Ellner 'Carte Blanche' Brut (RM284) from Épernay, France. Champagne from this region tends to have a higher mix of Chardonnay grapes, and this one blends at 70% Chardonnay and 30% Pinot Noir, giving it a fuller body and slightly more yeastiness while maintaining a brighter, nuttier finish. Not as dry as other bruts, it is buttery and creamy, yet clean.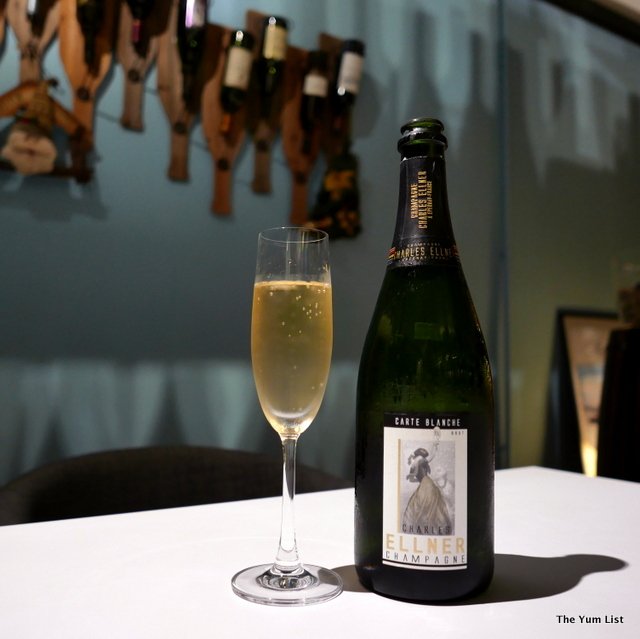 Two small plates of thinly sliced, toasted fresh baguettes arrive (RM15 each), the first one topped with sweet sun-dried tomatoes and tasty cheddar cheese melted to perfection, and the second with full and plump Japanese king mushrooms grilled with olive oil and drizzled with truffle oil, bursting with roasted juices. A sort of gourmet toastie, they are exactly what you want to snack on after a long day at work, and sit delightfully against the effervescent, crisp bubbles.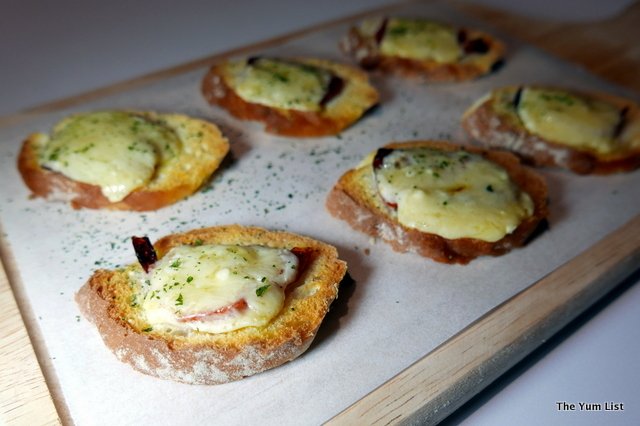 C.K. chats about the increasing local appetite for drinking wine, with people starting to switch from beers and hard liquor because of the more sophisticated lifestyle offered by a culture of wine sipping. However, regional palettes are still quite narrow and there is an overwhelming desire for overly sweet whites. But if there's one rule every wine drinker should follow, it's drink what you love! While I am a firm believer in trying new things, I, like everyone, have my firm favourites that I prefer to return to. This is why wine tasting nights are so much fun. They allow you to taste-test a broader range you would not normally choose from, whilst at the same time solidifying your love for your favourites. C.K. regularly holds wine tasting nights on the balcony at C Wine and Bites, usually paired with a whole roasted pig and wholesome pasta dishes. He also offers industry masterclasses and training events and has supplemented his own education with a recently completed sake sommelier course, with plans to add a small number of sakes to his shelves soon.
Our second wine of the evening is the smooth and refined Chateau Roubine Cotes de Provence 'La Vie en Rose' Rosé (RM146) from France. Not as dark or pungent as a typical rosé, this one has a lighter, softer layering of melon and floral rose petals, topped with a slight smokey tone and lacking acidity. This is the wine you need to drink by the pool on a Sunday afternoon whilst nibbling on a cheese platter. To pair, C.K. has chosen his Norwegian salmon steaks, crusted in a faint herb rub for crunch, only just cooked through, so that it flakes under the fork. Fresh and succulent, it comes with a small side salad and the house tartare sauce.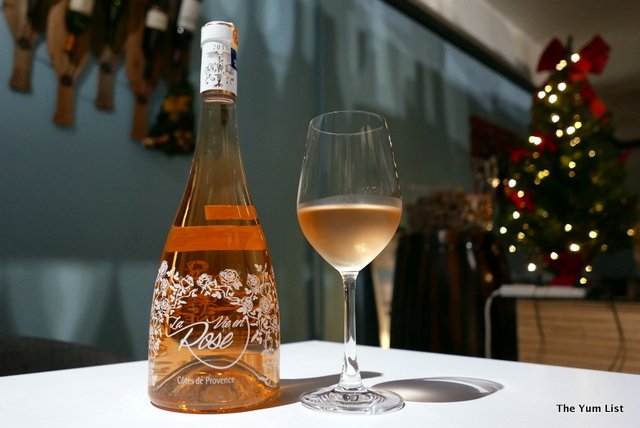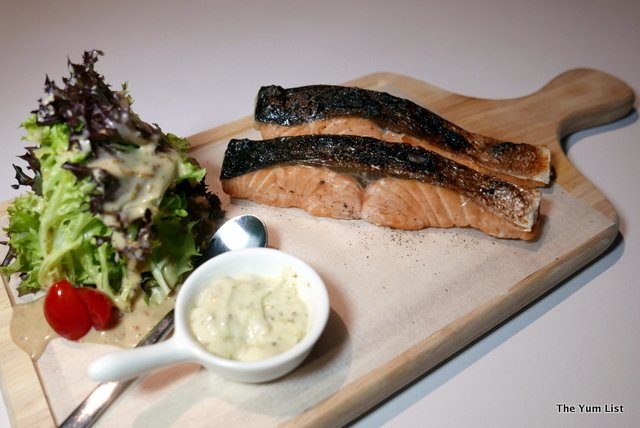 Breaking with the 'white meats, white wine' tradition, we try the Spicy Chicken Wings (RM20), and the Spiced Iberico Pork Skewers (RM43) with the rosé. Usually C.K. recommends a dry riesling to accompany spicy foods and curries, but any light white or delicate rosé will match well. Basted in a slow marinade of cajun powder and chilli, the smoky wings are fabulously mouth tingling and would also go down very nicely with a decent craft beer. The lean and tender skewers are served with a rainbow of capsicum, adding a luscious crunch to the nutty charcoal flavour of the Spanish pork.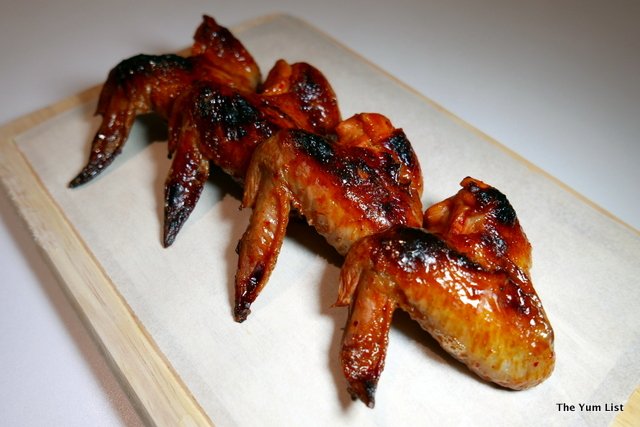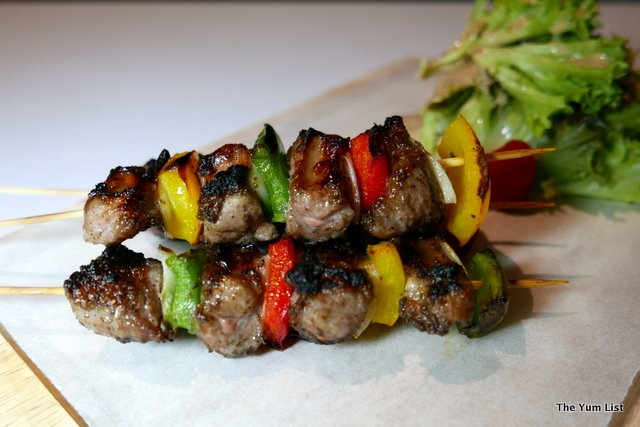 Switching to reds, we open a bottle of Misha's Vineyard 'The High Note' Pinot Noir from Central Otago in New Zealand (RM233). With a cooler climate, New Zealand produces a lot of great pinots, a varietal that is generally much fussier to grow. A low yield vineyard, Misha's lies at low latitudes and their winters are icy and snowy, with contrasting hot summers. Their Pinot Noir has a stunning bouquet of deep rich plums, cinnamon and a hint of chocolate. Unerringly smooth with a long finish, it is full, dark and fruity yet somehow graceful. Try this if you're a fan of merlot but looking for something more polished and genteel.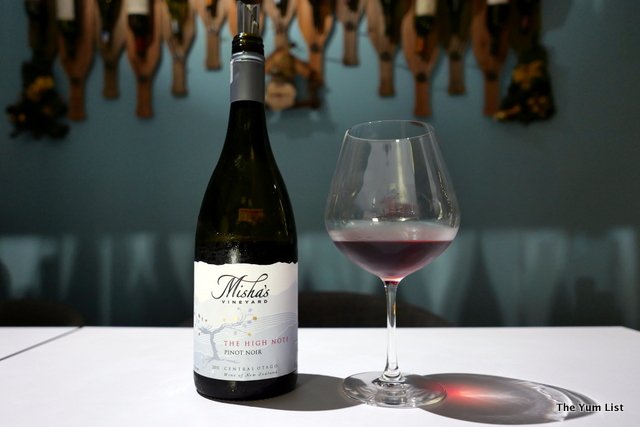 With fuller bodied wines come fuller bodied meats, and we try the Rack of Lamb (RM53) with the tangy and tart house mint sauce. Grilled with a light dusting of salt and pepper to seal in the juices and cooked medium with a touch of pink, it superbly offsets the richness of the wine. If you prefer beef over the gamier taste of lamb, we recommend ordering the US Prime Rib-Eye (RM179). Grain fed with a good proportion of marbled fat and topped with dried garlic chips, the steak dissolves in the mouth with a sublime texture, pulling apart at the gentlest touch. Weighing in at 350g, the serve is generous and would easily feed two alongside a shared bottle of your preferred rich red. Both red meat dishes come with a side salad and need to be ordered ahead of time for proper preparation.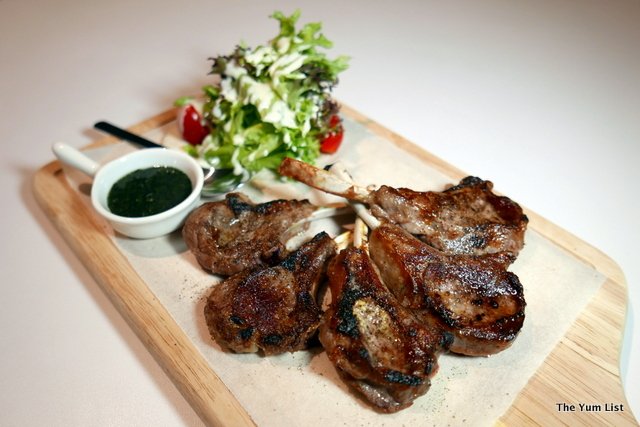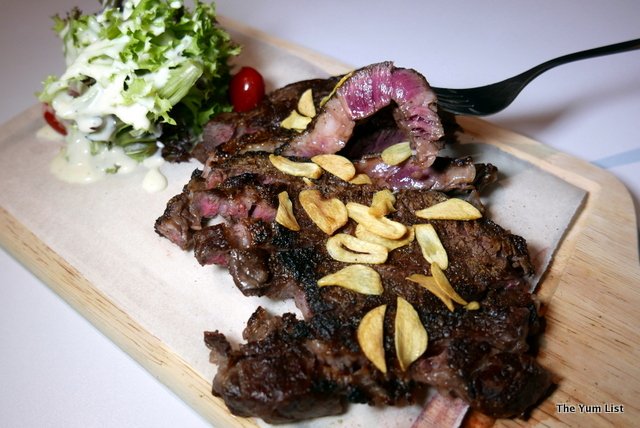 Our final wine of the night is the single vineyard Casarena Jamilla's Vineyard Perdriel Malbec (RM254) from Argentina and barrelled for 15 months, which C.K. decants for aeration. Bold and full with an initially strong berry nose, it cultivates into a polished, velvety finished. Mellow with a shorter palate, it is entirely easy to drink. This is a wine to sit over and appreciate, and a cheese platter and good conversation allow you to do just that. Semi-soft buttery Danish Havarti (RM22), savoury and hard Emmentaler hard cheese (RM17) and creamy, almost spreadable Castello camembert (RM16) are rounded out with dried apricots, slices of crisp green apple, smoked almonds and crackers.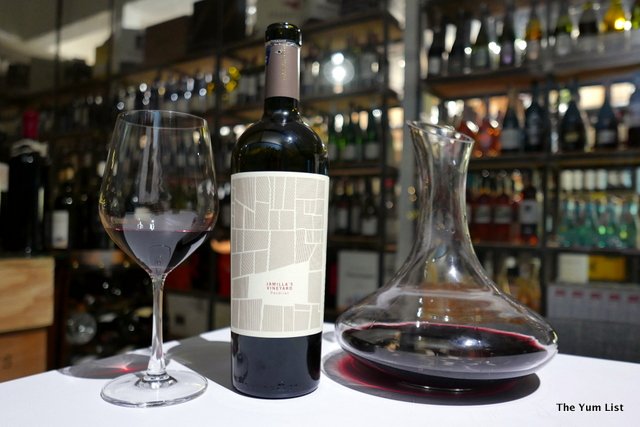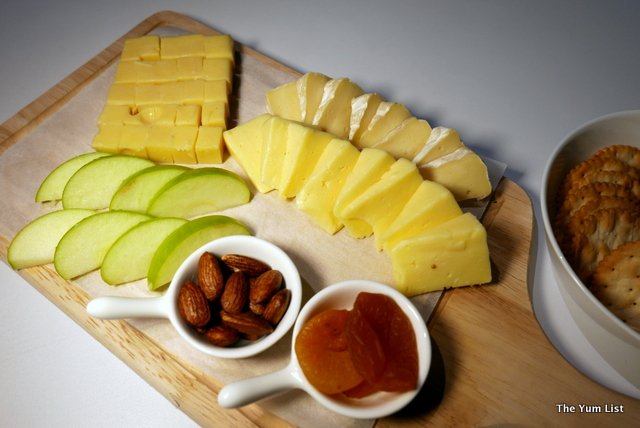 Of the four wines we tried at C Wine and Bites, all are exclusively imported by C.K. and he has new wines coming in regularly, so check in store for updates and new releases. Bottles are the same price regardless of your decision to dine in or take away. If you are new to wine, or need some assistance making a selection, the staff are well versed in both their viticulture knowledge and their customer service, appearing quietly by your side when needed, and melting into the background at all other times. The next time you have a special occasion to celebrate, or are simply in need of a reliably decent drop on a regular basis, make sure you stop into C Wine and Bites and introduce yourself. You never know when you need a good partnership from the matchmaker himself.
Reasons to visit: A good selection of fine wines all in one place, with simple well-matched food that will enhance the best qualities in your glass.
C Wine and Bites
4A Jalan SS 20/10
Damansara Kim
47400 Petaling Jaya
Malaysia
+6 012 893 0000
www.facebook.com/cwineandbites