Words: Alison Brand   Photos: Monica Tindall
Entering the world of The China Bar KL is like venturing into old East meets new East, with a large pinch of the Subcontinent and Malay Peninsula thrown in for excellent taste and good measure. If you are in the market for first-class cocktails, top quality bar food and an atmosphere that makes you want to stay for more than just a few more of everything that's on offer, then The China Bar KL in The Hive at TREC needs to be on your list of places to visit right now. The China Bar KL is the latest version of the already renowned establishment with the same alias originating in Hong Kong. There are in fact three China Bars in the oriental city that never sleeps, due to the high demand for exactly what they deliver – state of the art cocktails, fabulous food, great service and an atmosphere that exudes class.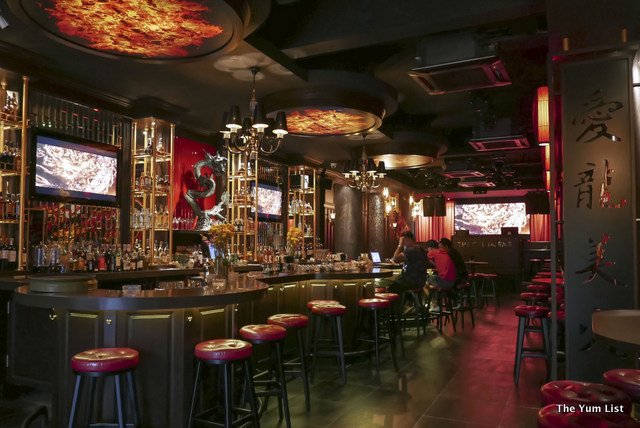 After arriving we were received with friendly greetings by Vijay and Shyam, the directors and driving force behind this latest venture. After chatting a short time it becomes clear where the Indian, Nepalese and Malay flavours that feature throughout the food and drinks menu have originated from. Vijay hails from India, and Shyam (already well known for his famous MoMo King restaurant in KL) brings the Nepalese flavours to the table. Together with general manager Emana, they have combined forces to produce a new and unique concept with their latest food and beverage establishment.
The design of The China Bar KL is a counter-balance of features from ancient and modern, with classical and eclectic concepts that connect the new age of Chinese nightlife and modernism with the elegant traditional Chinese philosophies and ways of life. The colour palette of elegantly dark moody tones is broken up by quintessentially Chinese red features. Dragons and Chinese lanterns feature prominently as pillars of traditional Chinese symbolism, set against the backdrop of elegant dark tan leather lounges, gorgeous fresh flower displays, on-point lighting and a chilled set of cool tunes filtering throughout the entire space. A DJ desk and dance floor at the rear of the interior space hint to the fact that later in the evening things liven up dramatically. Attention to important details has certainly been made, and the result is making me want to sit back, relax and drink a fabulous cocktail or three…
Smoked Popcorn Old Fashioned
And before anyone could start to say 'fabulous…', out came a creation that appeared more like a modern work of art than a beverage to be consumed. Sitting before us was something that looked like it belonged on the set of a Harry Potter movie. Sitting on a tiny wooden stool was an upturned glass bell jar, filled with white smoke and magically glowing from within. Reluctant to disturb the creation before us, we slowly removed the glass jar to reveal a gold-rimmed tumbler glass accommodating a perfectly formed whiskey ball of ice with a purple orchid flower adorning the top, the glow cleverly provided by a small LED light placed underneath. This, ladies and gentlemen, was the 'Smoked Popcorn Old Fashioned' (RM40.88), composed of a faultless blend of whiskey, popcorn syrup and aromatic bitters. Let's just say that things started off with an impressive opening scene!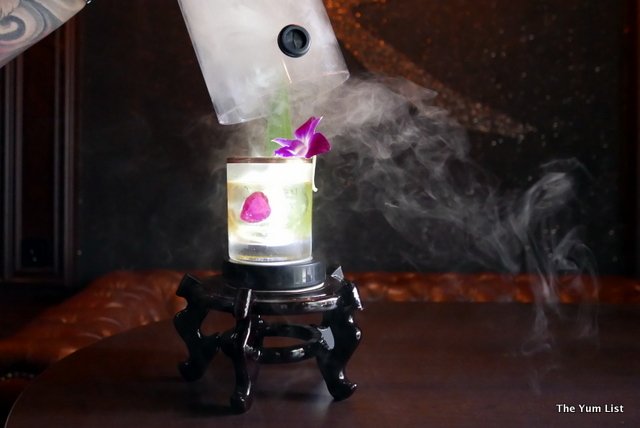 Osmanthus Breeze
Next was the 'Osmanthus Breeze' (RM40.88), which looked as though we were about to enjoy a take-out Chinese noodle meal. Brilliantly presented in a gorgeous cardboard container with chopsticks placed across the top, this cocktail was an impeccably balanced mix of Opihr gin, osmanthus syrup, apple juice and citrus. This was a noodle box like no other, filled instead with delicately flavoured tropical nectar… way better than any noodles I must say!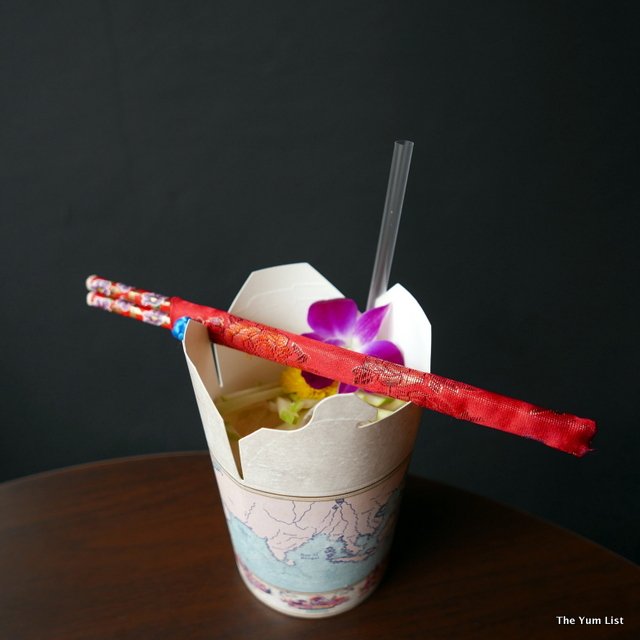 The Basil Yoghurt Cocktail
'The Basil Yoghurt Cocktail' (RM40.88) was presented in a gorgeous fine China vase, filled to the brim with rum, basil, strawberry, yoghurt liqueur and citrus, mixed and poured over crushed ice. The taste was delicate and smooth while also being tangy and tingly at the same time – absolutely delicious!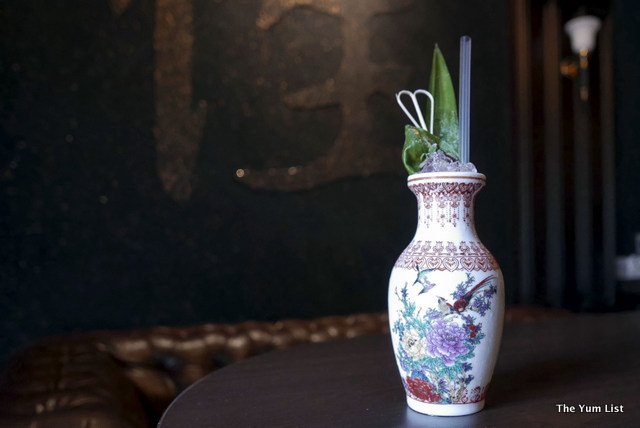 By now we were wondering who was responsible for the creations we were experiencing. It turns out that the management knew exactly who they wanted behind the bar, and that was Erik Fiza, the award-winning Malaysian mixologist with extensive experience in several top-rated establishments in KL. Erik is renowned for his skills in creating perfectly balanced uniquely tasting cocktails, and he is certainly living up to expectations with his latest syndicate of winners.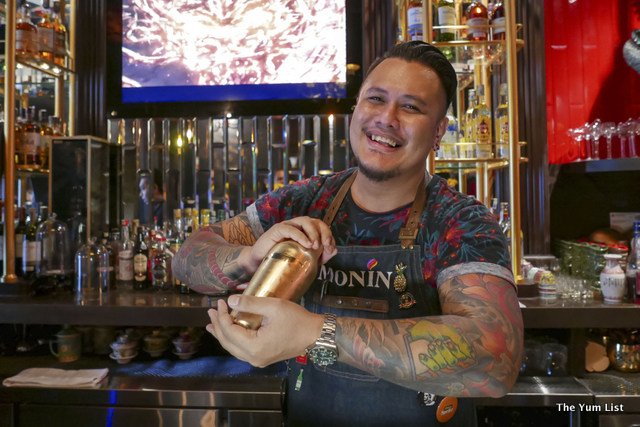 Food at The China Bar KL
Of course, you cannot be expected to seriously enjoy more than a few first-class cocktails without some fabulous food to keep those hunger blues away, and again we were in for a treat. Even though the cocktails we had been loving had been the undisputed stars of the show, the food was a serious standout as well, and provided the perfect accompaniment to the total experience.
The Smoked Duck Salad (RM18.00) arrived from the kitchen, made of succulent sliced roasted duck breast, sherry ginger dressing, segmented orange, with a mixed salad topped with toasted walnuts, which hit the spot straight away. The arrival of a large bowl of homemade Sweet Potato Fries with Vinegar Ketchup (RM12) hit the table and was immediately declared a winner, acting also as the ideal match for the tender Spicy Grilled Chicken Wings (RM15).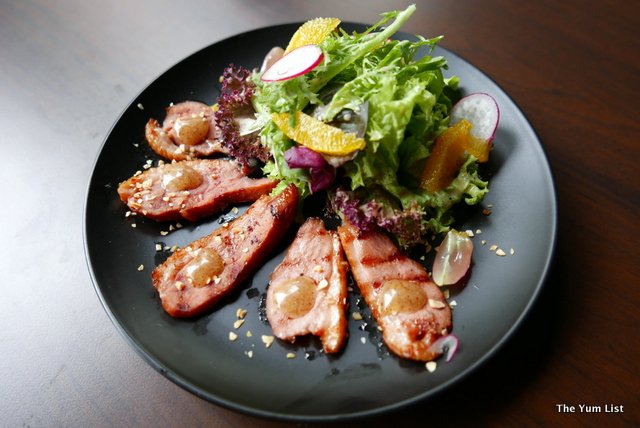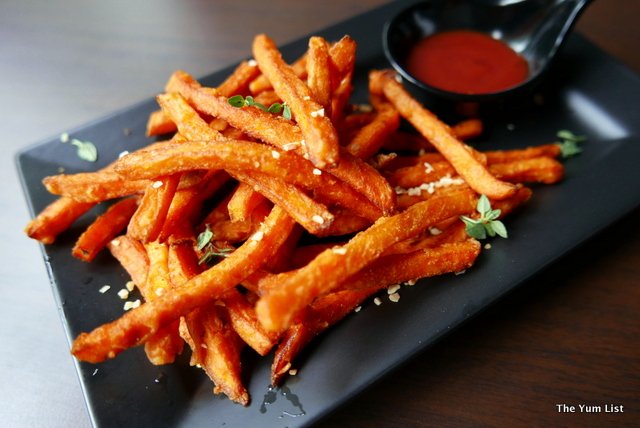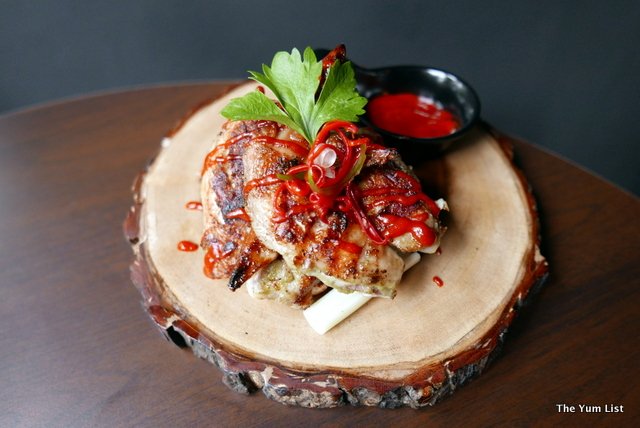 We were then treated to two versions of renowned Nepalese Curry MoMo's – Chicken Laksa (RM17) and Chicken Tom Yam (RM17). These handmade Nepalese stuffed dumplings were filled with marinated minced chicken and served with curry laksa gravy. The second plate of MoMo's was served Tom Yam style, and all were gone in record time, testament to the quality and flavour belonging to each dish. The final fare to be tasted was the Mutton Sekuwa (RM25), with minced lamb, onion, chillies, coriander, herbs and homemade mint sauce. Again we were not disappointed, with the lamb and mint combination proving to always be a popular one.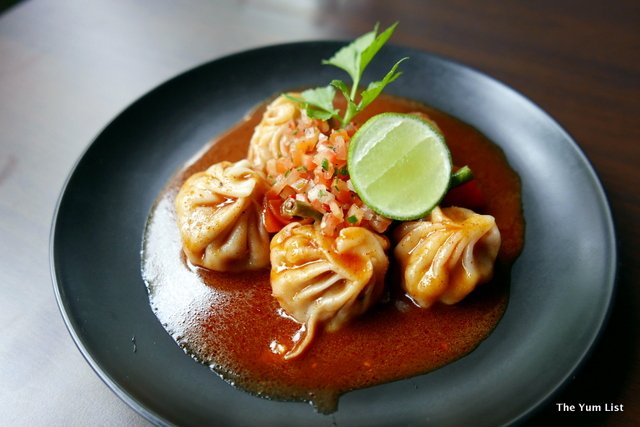 The China Bar
Feeling satisfied after enjoying some fabulous cuisine from the kitchen, we were definitely ready for the next round of cocktails. Erik had obviously been busy behind the bar, as another signature creation arrived looking like perfection on a summer's evening. 'The China Bar' (RM40.88) was invented from rosemary, vodka, citrus and watermelon foam served in a stemmed glass and looked pretty as a picture. Tasting like a fine balance of watermelon fruitiness with a hint of rose, this drink was a firm crowd pleaser.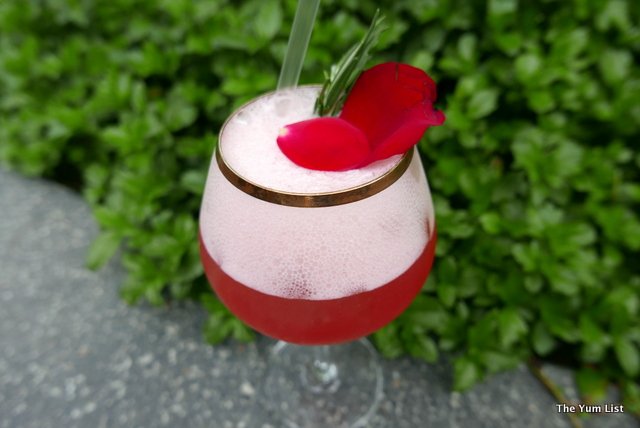 Junglebird
Next, the famous 'Junglebird' (RM40.88) was set down and it was immediately clear to see why this drink, a Malaysian original, is gaining cult status. Created with spiced rum, Campari, citrus, pineapple juice and applewood smoke, it was served in one of the most distinctive glasses you could imagine, looking indeed like a bird standing on a tall glass stem. The taste was like no other, a smooth balance between the rum and Campari, with the pineapple giving a zing and the applewood smoke bringing it all together.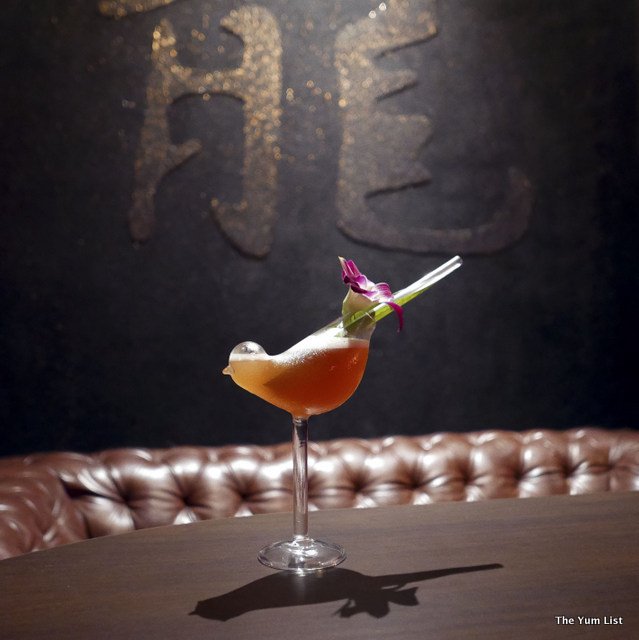 The Erik
'The Erik' (RM40.88) was the final serving of the evening. This signature cocktail was the creative mix that earned the Winning Cocktail at the 2000 Asian Bar Competition in Singapore. Conceived by Erik himself, we are left wondering how so many unique flavours can be combined with such balance, which explains why he is so in demand by the industry right now. Vodka, cili padi, kaffir lime leaves and passion fruit are mixed and served in a gorgeous China bowl, with a bright red chilli to top things off. Flavours are swirling and my brain is thinking how have I never experienced this before? This was certainly a fitting grand finale to what had been a fabulous evening of perfectly presented glittering cocktails, fine food and chic Oriental atmosphere.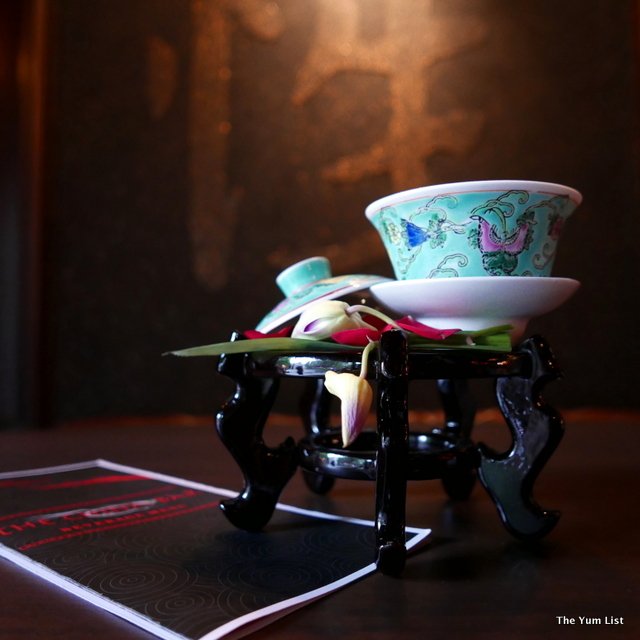 Reasons to visit: Without a doubt, the cocktails are one of the top reasons to go to The China Bar KL, however, the entire drinks menu is extensive and offers a superb range of beverages, including gin, vodka and whiskey from all over the globe. If you want a drinks and food experience designed by a team who knows exactly what they're doing to provide a top-shelf time, this is the place for you!
The China Bar KL
The Hive @ TREC
436 Jalan Tun Razak
Kuala Lumpur
@thechinabarkl
+6 017 635 6525
www.facebook.com/thechinabarkl