Words: Chris Moore    Photos: Monica Tindall
Take a walk around the interweaving streets and alleyways of Desa Sri Hartamas and you will find an eclectic mix of establishments. From dry-cleaners, to massage parlours, to coffee shops, to a seemingly endless variety of ethnic restaurants, it is apparent that Sri Hartamas has a little of something for everyone. Adding to the mix of diversity in the area is Epicure Mercado – a newly opened Spanish themed tapas restaurant that offers a variety of Spanish dishes as well as some more non-traditional Spanish delicacies like pastas and pork knuckle.
Epicureo Mercado is different from many of the other restaurants in the area in that it provides two distinctly different mediums for your culinary adventure. The ground floor of the restaurant offers a more lively and upbeat environment, complete with bar stool seating around the oyster bar and a retail area where you can buy the following: fresh oysters; chilled beef, pork, and foie gras; a selection of imported cheeses; and a plethora of house-imported old and new world wines from around the world. Upstairs is more quiet and quaint, providing, for example, an opportunity to sit down with a fantastic bottle of Rioja while engaging in a conversation with your dinner guests.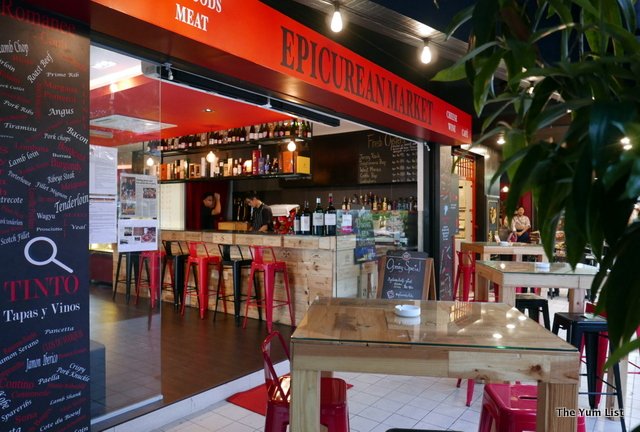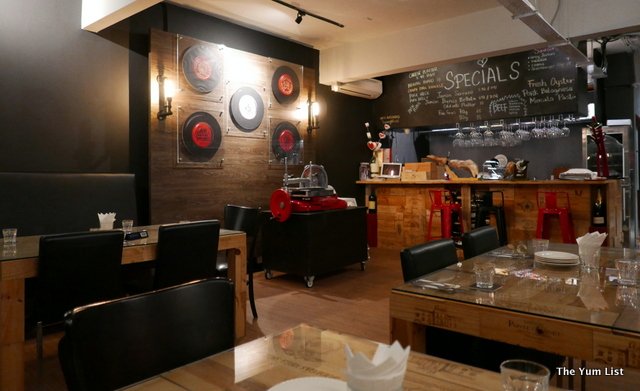 Drinks at Epicureo Mercado
Further setting Epicureo Mercado apart from the plethora of restaurants around it is the fact that there is no wine list available for guests. Now, this may seem incredibly daunting to many, but fear not because Nick has you covered. Trained as a sommelier and possessing viticulture knowledge of incredible depth and diversity, Nick will soon have a carafe in front of you that satisfies both your palate and your budget. Should you prefer to make your own selection, it's not a problem, as this too is an option when you venture into the massive walk-in wine cellar on the second floor. Since Epicureo Mercado imports most of their wines themselves – with a heavy influence on the Spanish, Italian and French varieties – many of the options that you find in-house are not available in other markets around KL.
The house cava option is a crisp and slightly sweet Noche y Dia (RM90/bottle) from Catalunya in Spain. The mouth feel is perfect with an abounding number of miniscule bubbles that fill the palate with notes of apples and pears: marry the Noche y Dia with the brininess of the fresh oysters available on the menu and you have a brilliant pairing.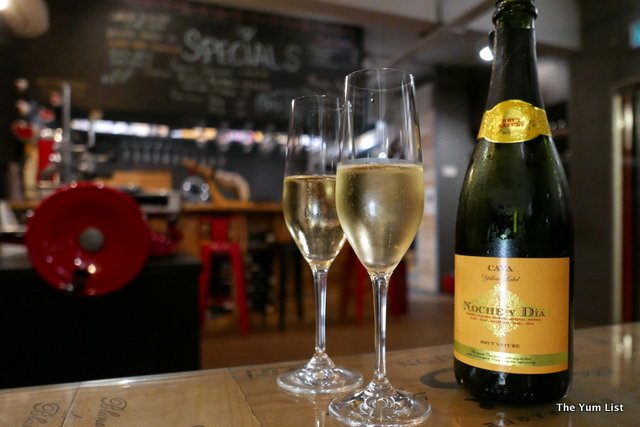 If you enjoy body and depth in your wine, the Valdisanti 2012 (RM250/bottle) from Toscana immediately provides a great deal of body as it fills the palate with aromas of blackberries and vanilla. The super Tuscan blend, which pairs magnificently with the Argentinian rib eye, is incredibly smooth, bold and full of tannins but is also drinkable right now.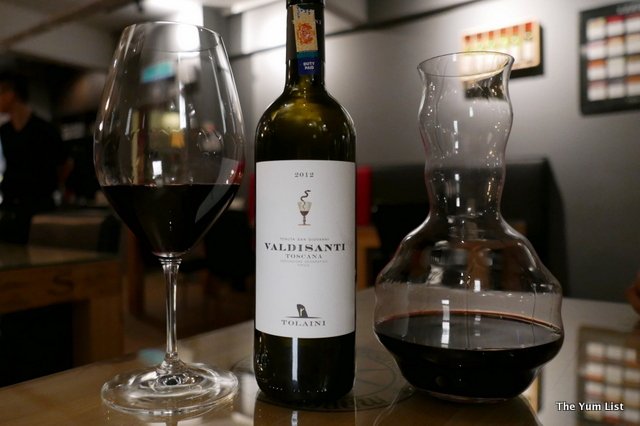 Should a whole bottle of wine be too much for you to consume in a single sitting, then again fear not: Nick will take care of you. Epircureo Mercado does not offer a standardized choice of wines by the glass but rather elects to change the options from week to week. Typically you will find two red and two white varieties to choose from, one of which is fuller bodied and the other a bit on the lighter side. The offerings of wine change in order to coincide with special menu offerings, promotions, or maybe even what Nick thinks is drinking really well at the time. Regardless of what the situation is, you can rest assured you are going to get something great.
Food at Epicureo Mercado
The dining options at Epicureo Mercado have been designed to fit all appetites and budgets. From charcuterie boards and tapas to heavier course selections like pork knucle and grilled steak, you can guarantee that you will arrive hungry and leave satisfied.
The oyster bar provides a constantly changing selection of fresh oysters that are flown in weekly from briny waters all around the world. The West Mersea (RM88/half dozen, RM135/dozen) from the coast of England are meaty and packed with umami flavours, while the Coffin Bay (RM88/half dozen, RM155/dozen) from south Australia are big, bold and very powerful in taste. The Traghaena Bay (RM89/half dozen, RM119/dozen) from Ireland are delicately mild and creamy in texture, and all of the oyster selections are served with a delicious house made pear vinaigrette and Tetsuya's world famous oyster vinaigrette.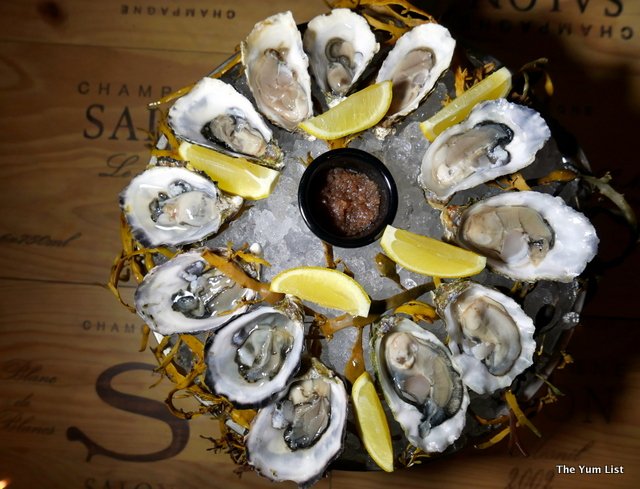 One of the most popular options at Epicureo Mercado is their version of a charcuterie platter – the Mercado Board (RM78). Filled with a selection of sliced hams (black truffle ham, spiced prosciutto, and aged prosciutto), imported cheeses (Murcial a Vino, which is a manchego cheese that has been brined in red wine, and Formambre, a creamy French blue), gherkins, pickled garlic and olives, the sharing platter is a perfect combination of flavours and textures. The hams are delectable and the cheeses are remarkable in their pungent creaminess, and all combined, the dish is perfect to share as either an after-work treat or as a prelude to an entrée.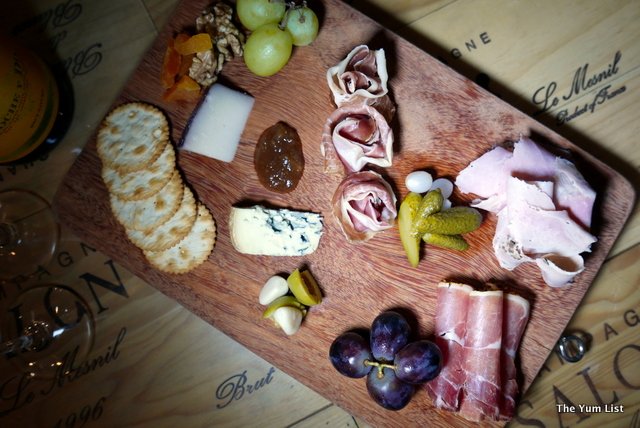 The entrée selections at Epicureo Mercado are designed to highlight the quality of the protein in each dish. The Argentinian Rib Eye (RM42/100g) – accompanied by a hearty serving of creamy potato mash, roasted head of garlic and tomato, and a spicy peppercorn sauce – is cooked to the perfect rare temperature so the depth of flavours in the meat shine. The Epicureo Pork Belly (RM38) is massive slab of deep fried crispy belly served atop a pool of natural jus and caramelized onions. Hints of clove, anise, and cinnamon permeate from the five-spice rub and the meat is both tender and moist. (Disclaimer – If I have the choice of a last meal, this might very well be it!) Lastly, for those with a massive appetite, or perhaps more appropriately for those guests looking to share, Tinto's Pork Knuckle (RM98) is absolutely spectacular. Big enough to feed 2 to 3 people, the crispy skin compliments the rich yet tender meat inside, and though served with 3 choices of dipping sauce (soya with shallots and garlic, vinegar with shallots and cucumber, and traditional spicy English mustard) the pork is incredible enough to stand on its own.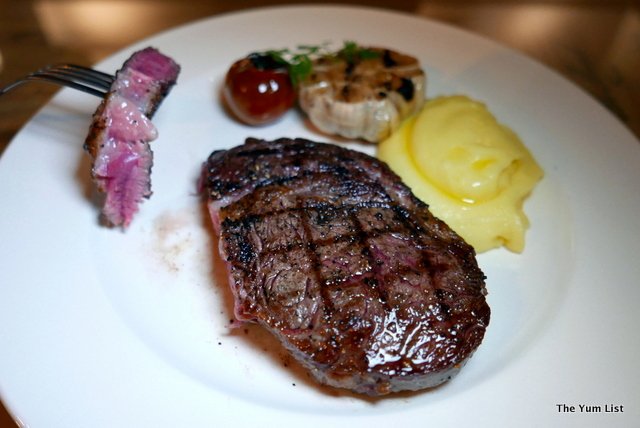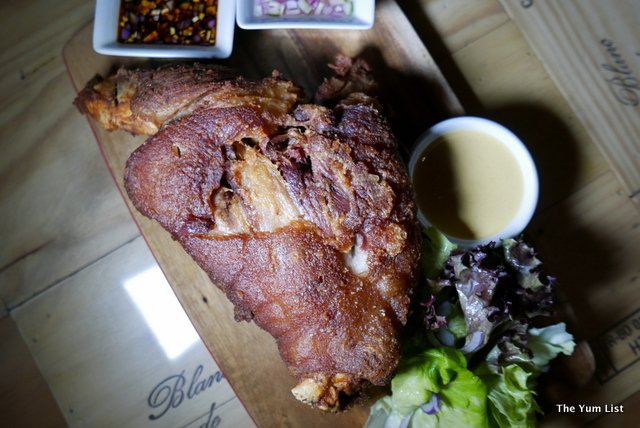 As a Spanish restaurant, something would be amiss without a true Spanish dish. The Spanish Paella (RM68) is everything you could expect paella to be. Filled with heaps of fresh seafood and spicy chorizo, flavours of smoke from the sausage and paprika pair with the perfectly cooked rice. The seafood still possesses the saltiness of the oceans that it came from, and a simple squeeze of fresh lemon takes this dish to the next level.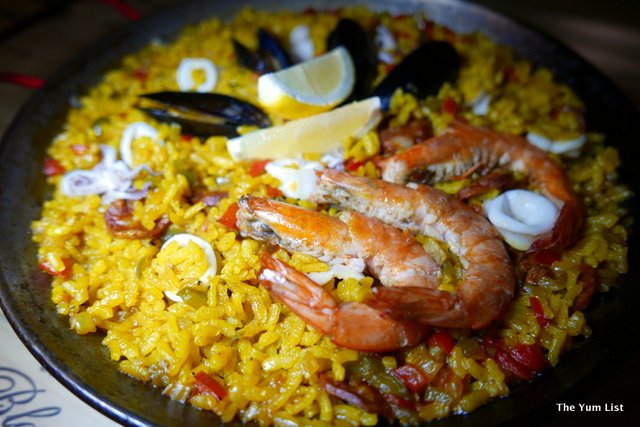 To cap off the night, the light and creamy Tiramisu (RM18) is outstanding. Traditionally prepared but served tableside 'family style', the recipe is a secret of Chef Nam's who learned his secrets from an Italian master chef. The dish is elegantly layered in the traditional style with mascarpone and cream, but what sets this tiramisu apart from others is the mixture of liqueurs used to coat the ladyfinger cookies. (Disclaimer 2.0 – one of these liqueurs is banana based, and banana and cocoa is a glorious combination).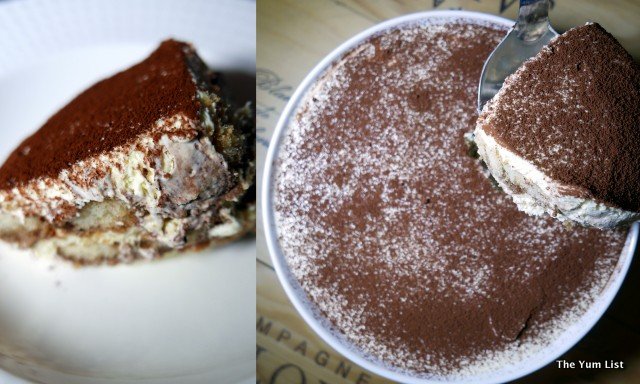 Reasons to visit: The pork belly, pork knuckle and tiramisu are out of this world; an incredible selection of wine in the RM100-200 per bottle range; great service and a high level of attention to detail.
Epicureo Mercado
Jalan 24/70a
Desa Sri Hartamas
50480 Kuala Lumpur
Malaysia
+60 17 287 4833
www.facebook.com/EpicureobyTinto