Words: Heather Onderick     Photos: Monica Tindall
Located in TTDI, surrounded by chic cafes and cute link houses, Kouzu (Japanese restaurant) is a unique and equally creative addition to this charming neighborhood.
Walk in the doors and the low light creates warm ambience while reflecting off the cool graffiti produced in just hours by a Malaysian artist based in Singapore. The open kitchen allows diners to get a glimpse of the action and the simple modernist furniture make this a place that is welcoming to families, hipsters and couples seeking a good meal or a night out.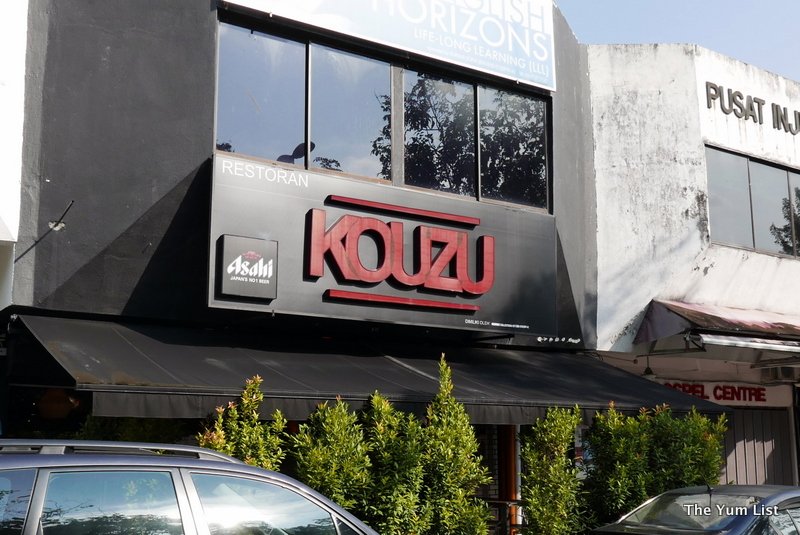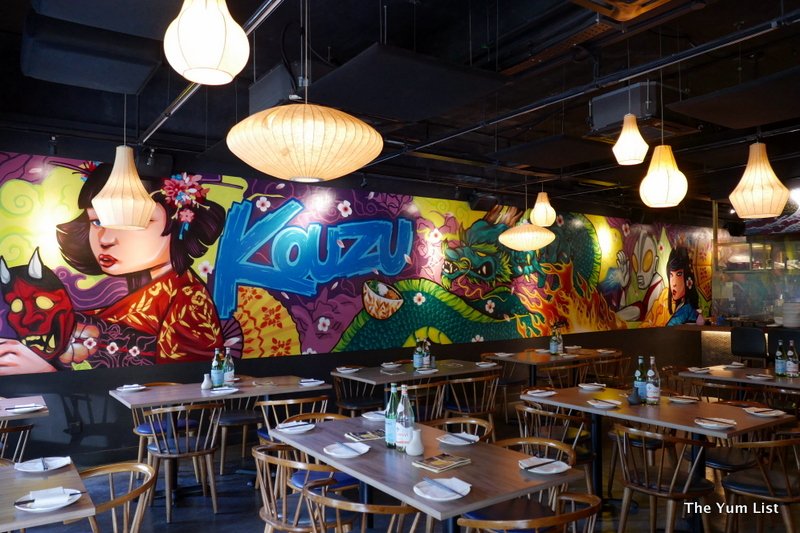 It´s 5 pm, we are having an early dinner but already, there are some local businessmen gathering for an afternoon drink. Kouzu offers three different beer specials with Asahi, Carlsberg or Connors draft specials for RM75 and under.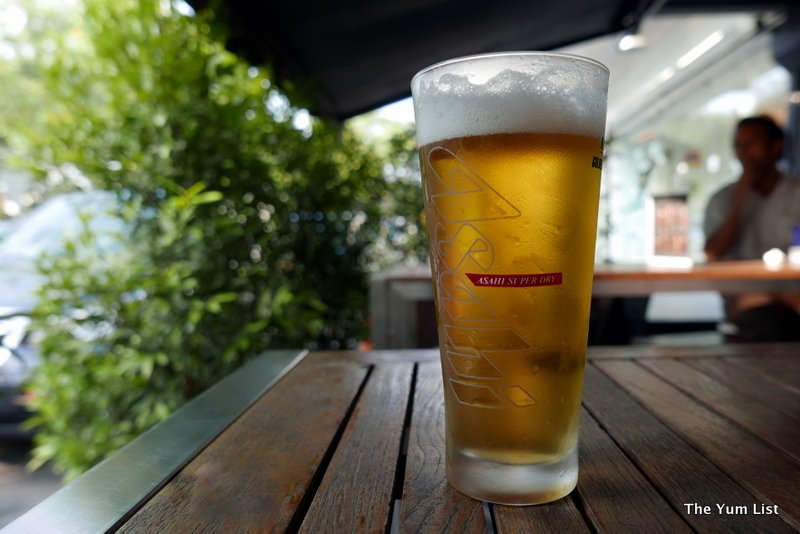 It's not only beer that's of interest. Kouzu has an extensive range of sake, sake coolers, whiskies and spirits too. Two of the most interesting we try are the Obama Sake, so named because it's what Japanese Prime Minister Shinzo Abe served President Barack Obama when on a visit to Japan, and the Yuzu Sake, which has a wonderful citrus tang to it, freshening the richness of the rice base.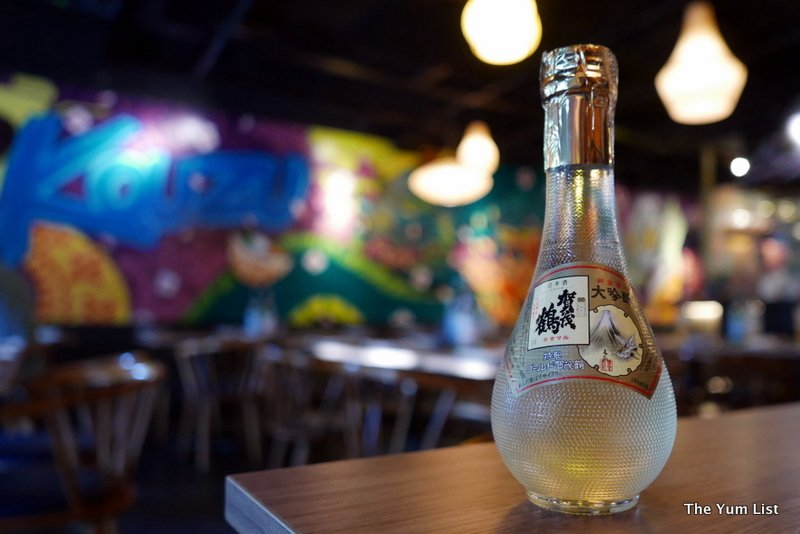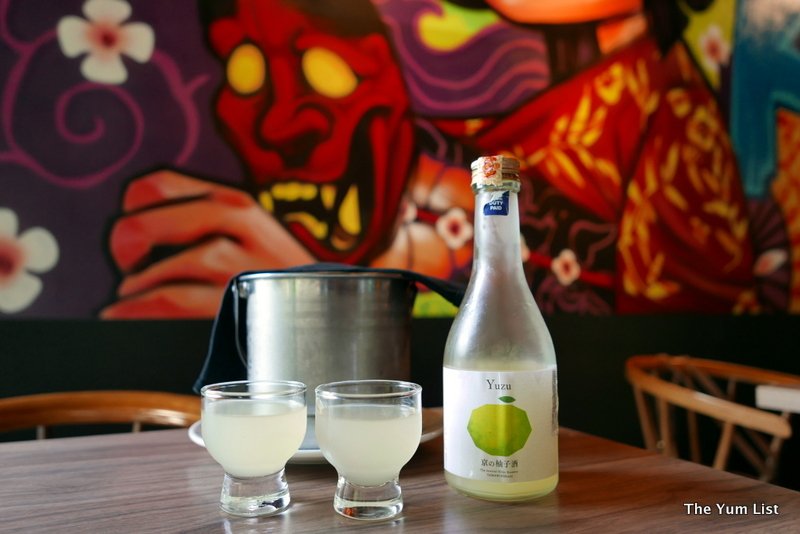 Kouzu´s menu, similar to its environment, is a vibrant contemporary mix of Japas (Japanese tapas) yakitori, Japanese pizza and donburi as well as a variety of salads.
We launch the meal with Tuna with Saffron Mayo and Balsamic (RM25), which fuse the flavors of east, west and middle eastern together. This is a successful blend of worldly flavors and a lighter dish for those needing their daily dose of greens and nutrients like our Monica.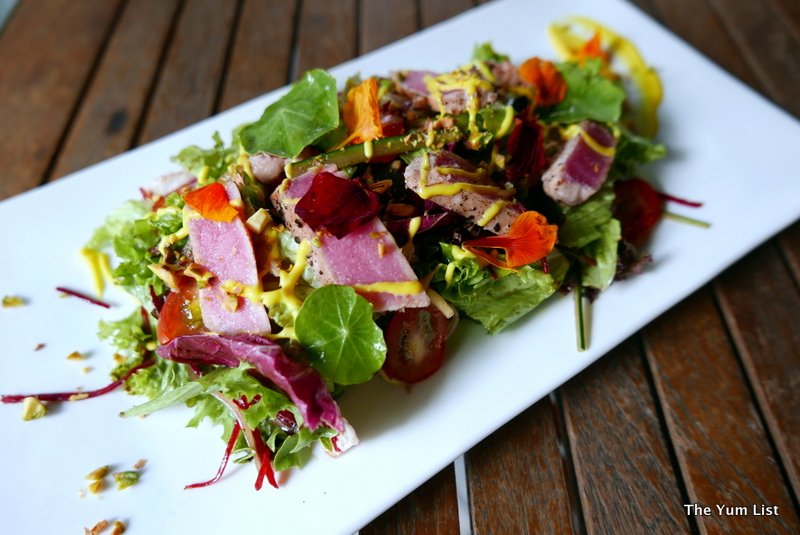 Moving quickly to something more indulgent, a plate of steaming, Creamy Baked Oysters (RM 19) arrives with velvety textures and flavors of fresh mollusc, cream cheese and a dash of salty salmon roe to finish it off. Superb!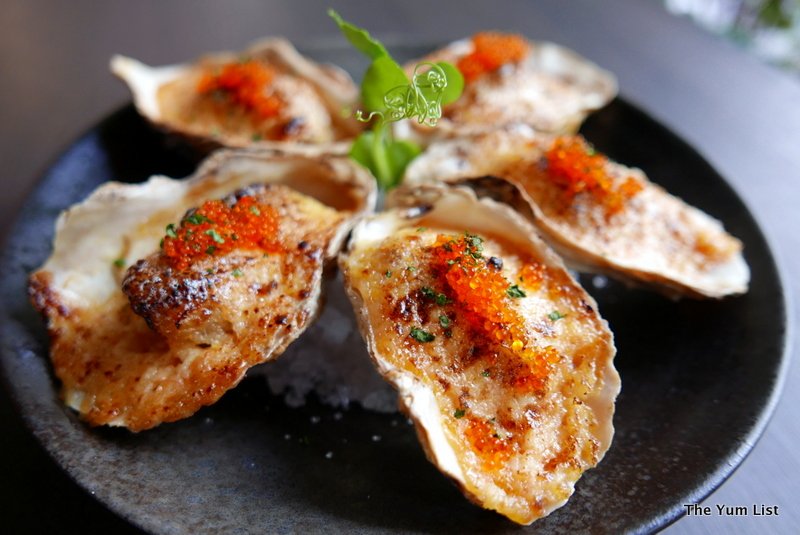 We continue with Pan-seared Tuna with Foie Gras (RM 28), recommended for those desiring a dish perfectly balanced between sweet and savoury. The warming cinnamon apple compote is a brilliant accompaniment that leaves the three of us licking the plate clean.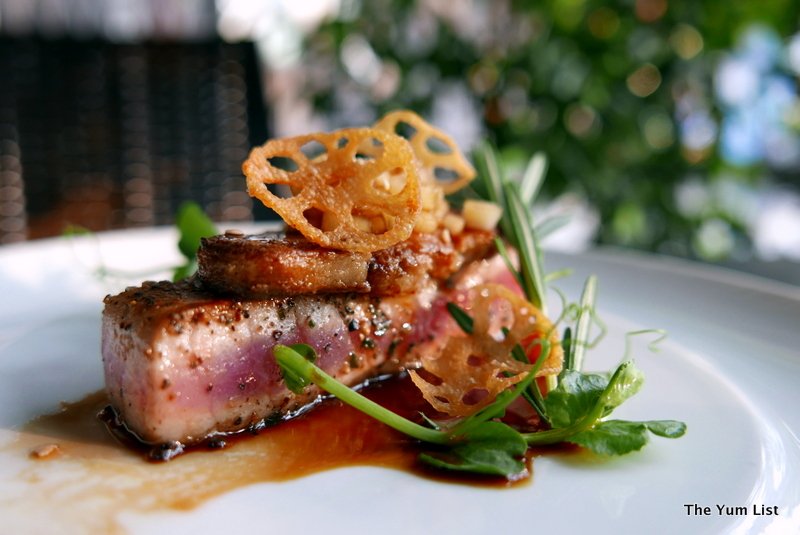 The best presented Japa award though goes to the sizzling Stone Grilled Sirloin (RM 29), arriving with a bit of smoke, the sound of meat cooking and a mysterious wrapping of tin foil. Upon opening the mouth-watering smell of freshly charred beef is revealed with generous slices still pink in the middle.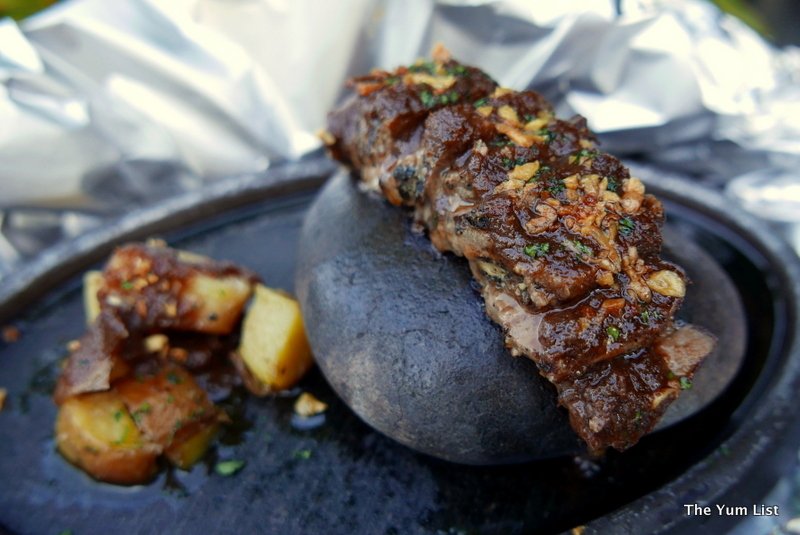 We move into the main courses with the Ishiyaki Bowl with Onsen Tamago. This rice dish served in a stone bowl is Kouzu´s signature comfort food item and consists of sauteed mushrooms, minced chicken, a perfectly poached egg (onsen style), sticky rice and a large and delectable Hokkaido scallop that we all fight over. (Well, not really "fight," as Caning nabs it and downs it before either Mon or I even had a chance to take in its beauty. "Scolded" after the fact might be more accurate.)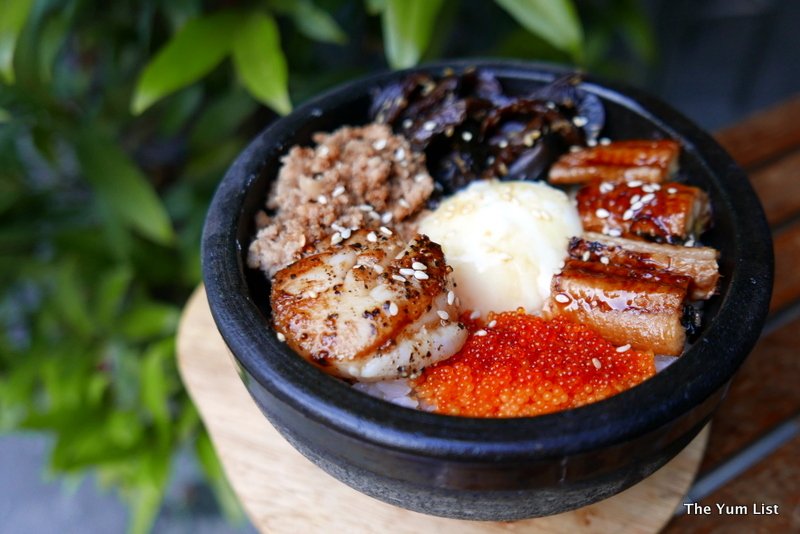 We need some consoling after Caning's antics so are pleased to be introduced to the wonderful world of Japanese pizza. Made with a deep-fried rice dough base the Jidori Yuzu Koshu Miso Pizza (RM25) is something pleasingly different to the common Italian wheat base. A welcome surprise, this simple four-inch pizza is a strong reason to would return to Kouzu. The caramelized sweetness of the chicken, the tangy citrus flavors of the yuzu and the crackly, chewy, fried layer of rice dough are innovations new to me and something I look forward to experiencing again.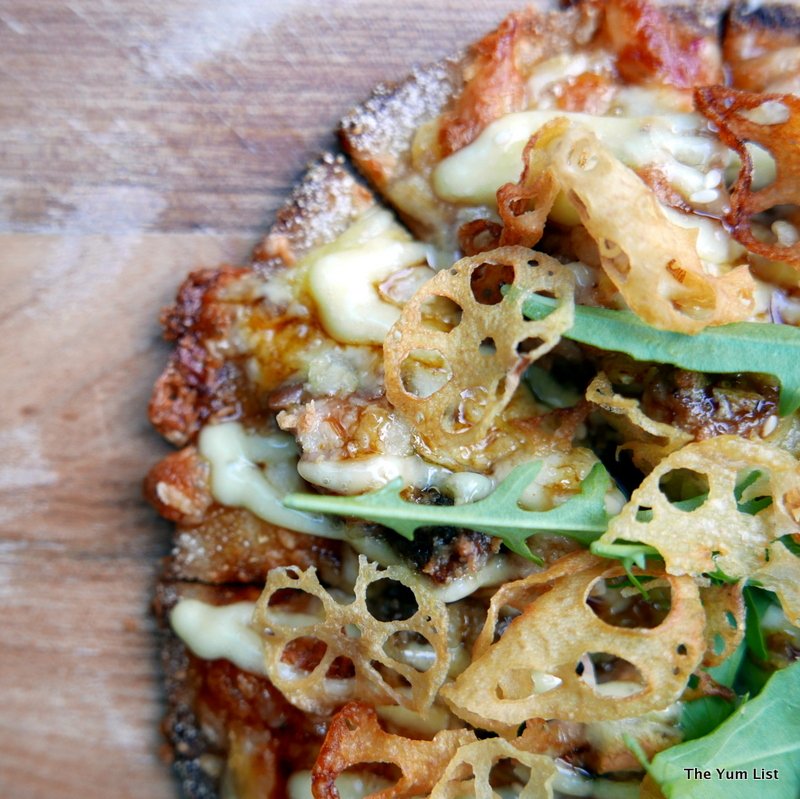 Lastly, for our mains, we move to more traditional Japanese food, a yakitori plate with light and crispy chicken wings, juicy king mushrooms, succulent rock lobster, lush lamb and tender cubes of sirloin.  The yakitori is all reasonably priced ranging from RM 5 to RM 15 per stick, and simply seasoned enhancing the natural savour of the quality pieces of protein.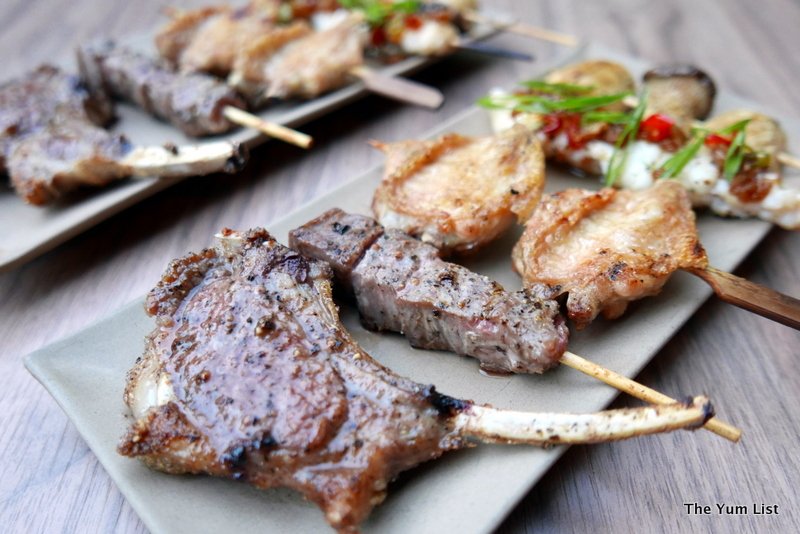 The meal ends with the Banana Chocolate Bar with Rum & Raisin Ice Cream (RM 22) – a fluffy banana layer cake, with a milk chocolate finish and the ever-so-satisfying contradictory warmth of the rum and coolness of the ice cream to balance.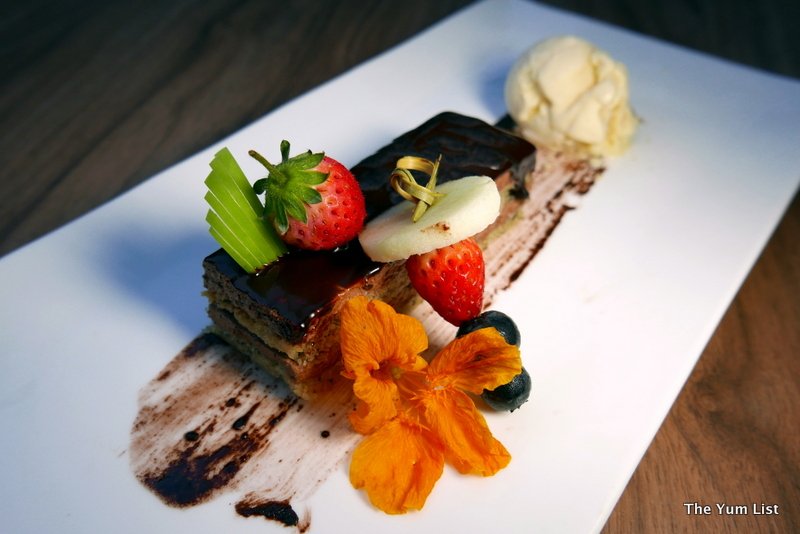 If you are looking for a Japanese dining experience with a variety of tasty and value-for-money options in a hip and cool space, Kouzu should be on your list of places to get to know.
Reasons to visit: my favorites weres the Japanese pizza and savoury Pan Seared Tuna with Foie Gras; Caning's top pick was the Stone Grilled Sirloin; and Mon found comfort in the Ishiyaki Bowl.
Kouzu, Japanese Restaurant
18, Lorong Datuk Sulaiman 1
Taman Tun Dr Ismail
60000 Kuala Lumpur, Malaysia
+60 18 366 3987
www.facebook.com/kouzumalaysia