Bello Pavilion KL
*Now closed
Monica Tindall
The latest opening in Pavilion shopping mall has quickly gained the hearts and taste buds of Italian food lovers. Bello, Pizza and Pasta, is a contemporary trattoria styled off what is currently the trend in Italy, rather than the common perception of what is traditionally Italian. Don't get me wrong; you're still going to get your carb overload here with pasta spilling over the edges of large bowls and pizzas hot from the wood-fired oven. But, you'll find some modern surprises too; small twists on recipes that bring them into 2018, rather than the recipes that many imagine of Italy from 100 years in the past.
Not only does this menu give customers a good taste of contemporary Italian, it is much more akin to a respected independent restaurant found free-standing in a bungalow or shop lot rather the American Italian outlets more commonly the standard in shopping malls. It's casual, affordable and above all very, very good!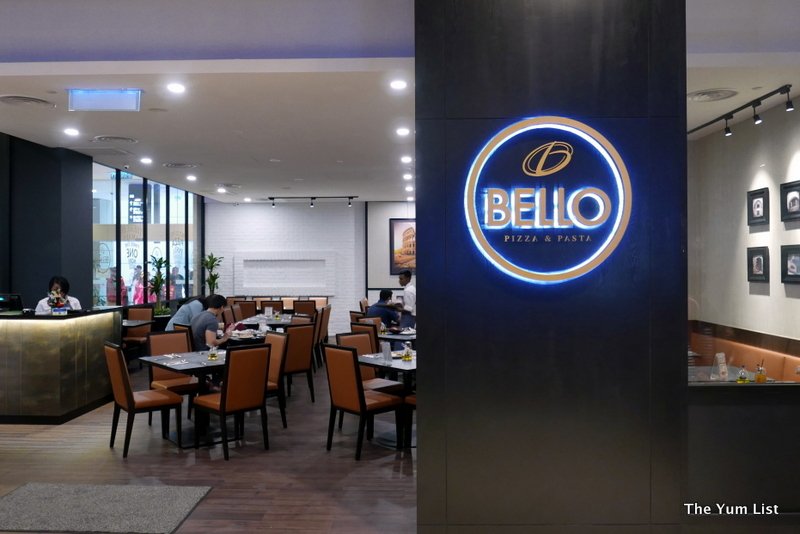 Drinks at Bello, Pavilion
Bello, Pavilion supplies a good range of beverages including some must-try coffees (more on those later), a range of sparkling Italian drinks, and a compact yet decent wine and spirit list. We visited Villa Sandi, a famous prosecco producer last summer in Italy, so when we see that on the menu it's our first pick! The Prosecco (RM45) hails from the Veneto region and this particular producer is a family owned company that has kept the tradition of the region alive for generations. This drop is fresh, fruit-driven and goes down oh-so-smoothly.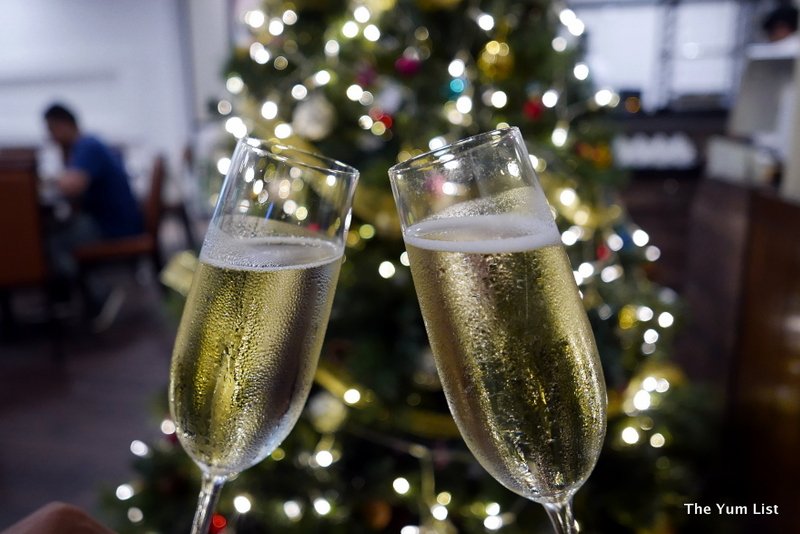 Food Menu, Bello, Pavilion
Salads
Pecans and almonds are still deliciously warm from the pan in the Baby Spinach Salad (RM25). A mound of Australian baby spinach fills the bowl with sliced juicy pears, shreddings of beetroot, soft ricotta and just a few slices of Kalamata olives making this salad a meal on its own or ideal for sharing with a main.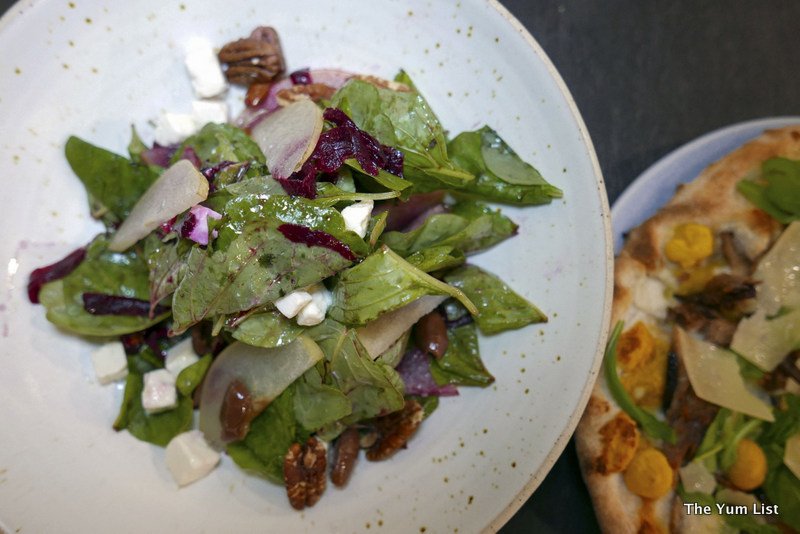 Pizzas at Bello, Pavilion
Home to the only wood-fired pizza oven in Pavilion, without doubt, artisanal pizza is something the staff are proud of at Bello. Following the Italian philosophy of slow-cooking, natural Mother Yeast is used in a process that sees the dough ferment for 24 to 26 hours. The result is, in chef Frederico's words, "a very different dough. It's easy to digest and it's a little puffy like bread. You can eat many pieces and not feel heavy."
We try three medium sized pizzas hot from the oven; the Margherita (RM14), Pizza Pomelo (RM 18), and Pizza Anatra (RM32). The first is a classic, with the simple toppings of tomatoes, mozzarella, basil and oregano. It allows us to fully appreciate the light, delicious flavour of the dough and the rusticity of presentation – the imperfect shapes are a sure tell sign that each and every one is handmade. The second is a cheeky local twist with the addition of pomelo to the classic schiacciata of sun-dried tomatoes, Parmesan and vincotto. The fruit gives flavours of citrus and a touch of bitterness which complement the meat-free option beautifully. And, lastly, the shredded duck confit pizza is the richest of the trio. Portobello mushrooms, pumpkin puree and fried sage make it an opulent choice and guests can lush it up even more with pan-fried goose liver for an additional RM98 if they so choose.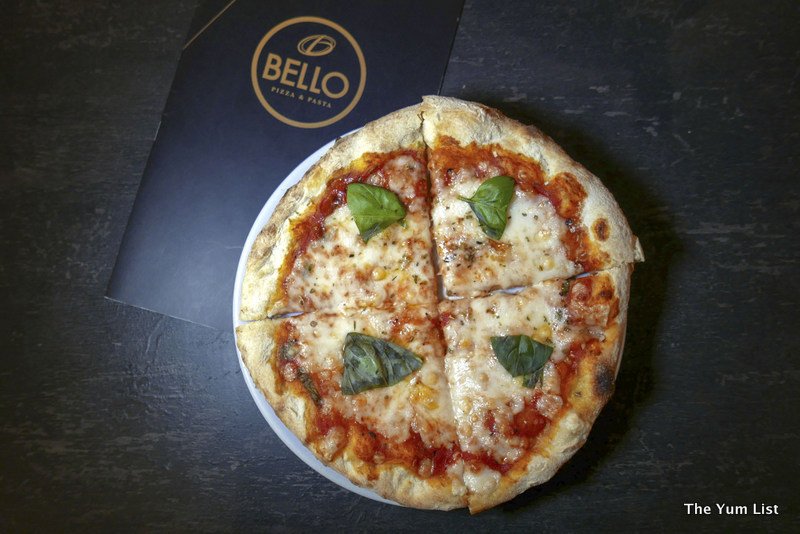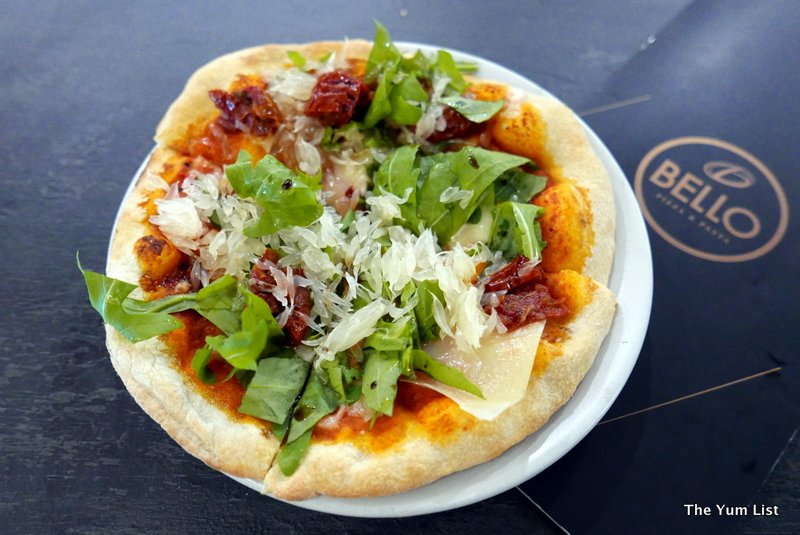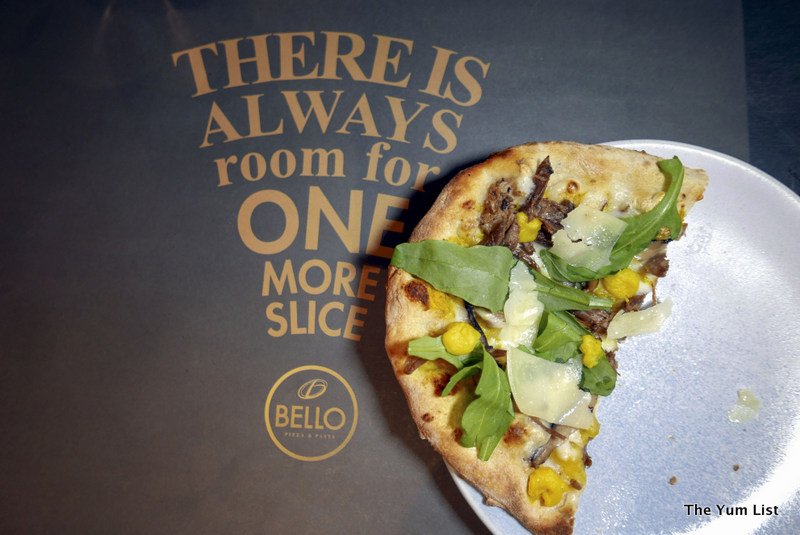 Pasta at Bello, Pavilion
Besides a wide range of dry and fresh pasta, Bello, Pavilion also has a gluten-free pasta option. In line with what's happening in Italy (and around the world), the restaurant caters to a modern diet where there are options for vegan, vegetarian, paleo and gluten-free preferences.
Linguine Funghi and Feta (RM38) is one of the chef's signatures. Mushroom ragout, sautéed chicken, feta cheese, extra virgin olive oil and lemon zest prove a succulent balance of flavours and textures. Both the fungi and the poultry furnish a meaty filling texture, the cheese a soft creaminess and mild saltiness, the basil a touch of herbiness and the wonderful tang of the zest lifts the overall profile. If, like me, you've taken a little time to photograph your food first, be sure to stir up the pasta to ensure you get the lovely lemon flavours that have made their way to the bottom of the plate.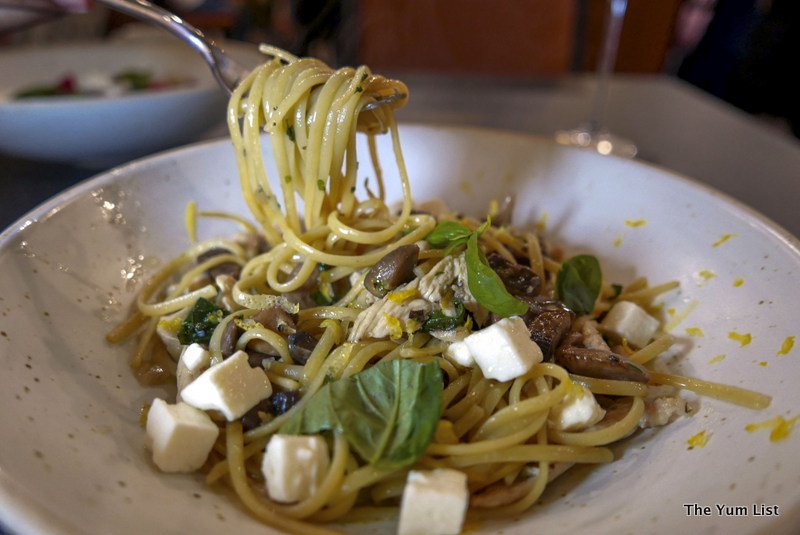 We see more signs of the contemporary trattoria that is Bello, Pavilion in the Pappardelle Rosse (RM35). Wide ribbons of pasta are layered in the bowl, coloured with beetroot pesto and seasoned with feta, Kalamata olives and pecan nuts. It both looks and tastes delicious, and is an excellent meat-free dish.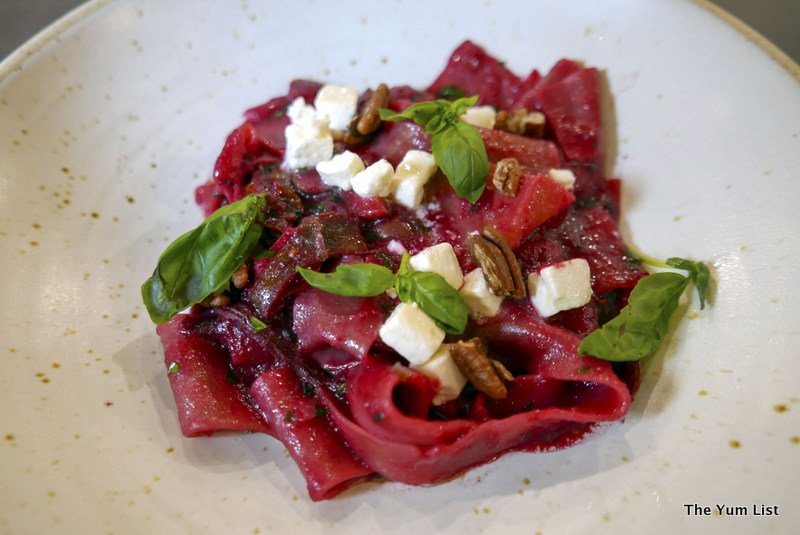 The seductive aromas of sage and butter tickle our noses as the Ravioli Maremma (RM38) is delivered. A duo of giant ravioli spread themselves languidly across the entire plate. There's a bunch of toasted pecans, sun-dried tomatoes and shavings of Parmesan on top. It's not until we really slice in that the true skill of the team is evident though. Besides the standard spinach and ricotta filling our knives reveal a runny egg yolk. What a delicious discovery!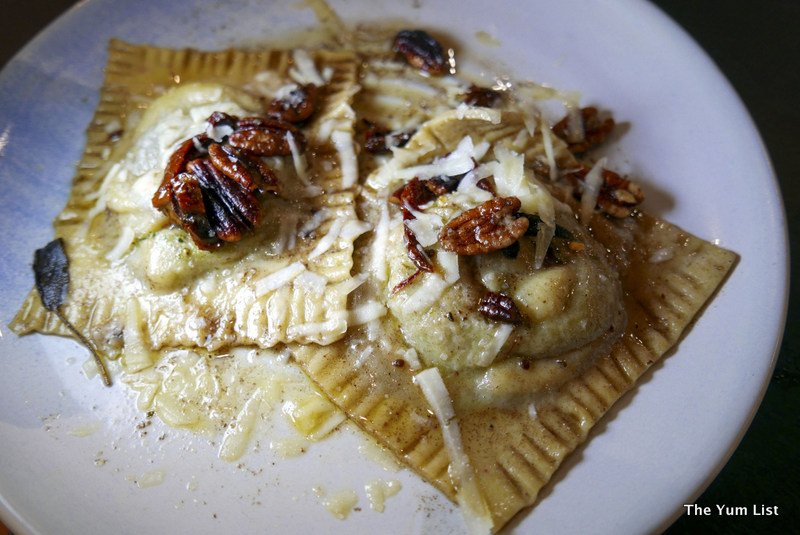 Main Courses
Hubby's begins predatorily hovering his fork around the T-Bone Steak (RM358) when it arrives. I have to be quick with the photos as it's like warding off a hungry lion from the kill as he sits there drooling over the 1.5 (!) kilograms of perfectly cooked dry-aged steak. This is made for sharing! It's scrumptiously charred around the edges with a seasoning of sage, rosemary, sea salt, a tiny bit of garlic and olive oil while remaining juicy and pink within. On the side, there are bowls of sea salt, mustard, béarnaise sauce and a grilled lemon. Not one of them is needed for the quality of the cut is superb and the cooking masterful. Simple mashed potatoes and roasted Portobello mushrooms side it.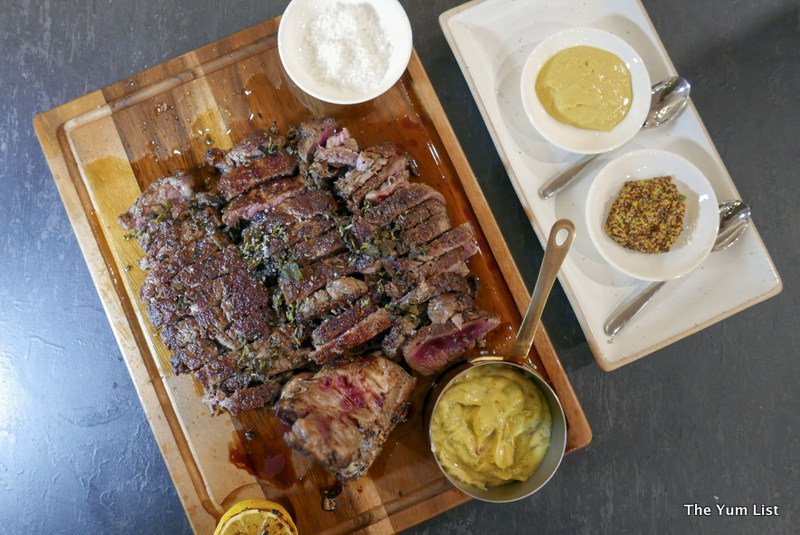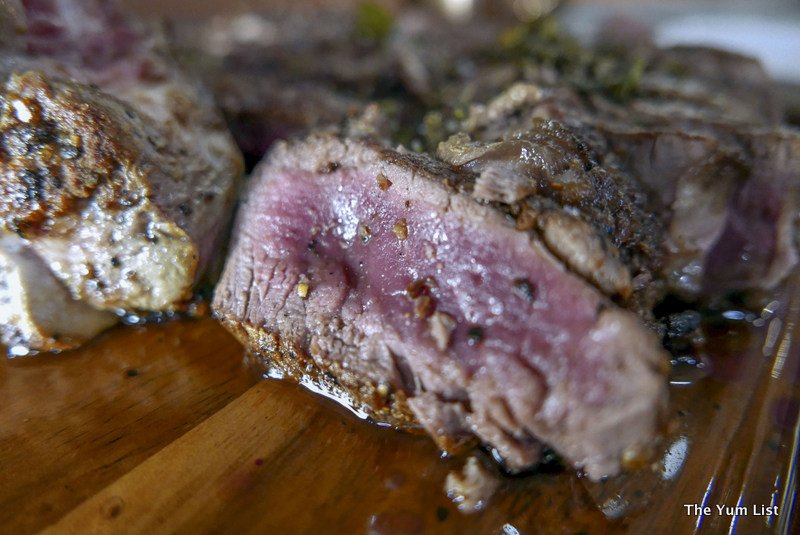 Desserts at Bello, Pavilion
After that feast, a lighter dessert is in order and chef's Panna Cotta (RM15) fits the bill. It must be one of the prettiest panna cotta presentations we've come across. Two small mounds of vanilla dessert are linked on a spiral based plate by a crumble, fresh berries and a spicy (not really, just a whisper) plum sauce. It's fantastically smooth and leaves the decadent remnants of cream on the tongue.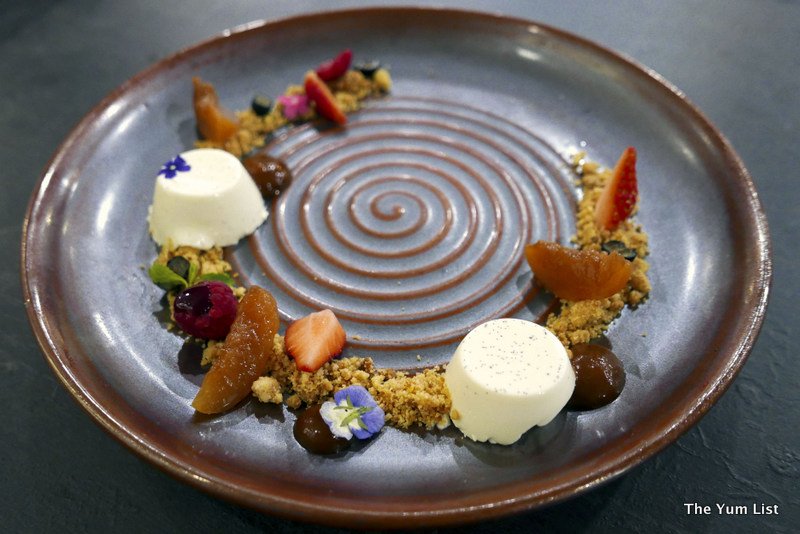 Our sweet waitress Yana, tells us that the to-die-for dessert is the Valrhona Chocolate Cake (RM28). This one needs 15 minutes wait time as it's prepared hot to order. 70% Valrhona chocolate cake is rich, warm and oozing with sultry chocolate lava contrasting the chilled creamy vanilla gelato and fresh berries on the side. It's a play on contrasts that perfectly harmonize.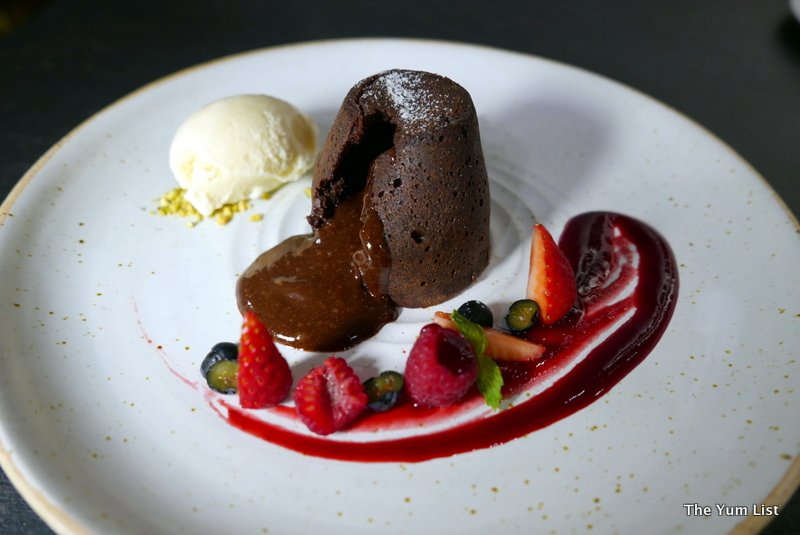 Lastly, what Italian meal is complete without Tiramisu (RM17 with espresso coffee, RM28 with espresso coffee and Marsala wine)? Bello's version plates three generous balls of the mascarpone-layered coffee-soaked ladyfingers, providing another expertly prepared recipe that is made to be enjoyed with companions.
Coffee at Bello, Pavilion
Desserts are fab, but after that enormous meal, we could easily have finished coffee alone. Caffe Medici (RM12) is another recommendation that our hostess insists we're going to love. And, who could resist chocolate, coffee, orange peel and thick cream? The drink comes in layers, and, you see that dark wide strip at the bottom? It's not coffee. It's chocolate! When you stir this one altogether, the result is a viscous liquid that could easily be dessert by itself. The orange peel breaks the richness, encouraging us to continue sipping. Until. It's. All. Gone. The Kathay (RM12) also grabs our attention as something a little different and a dairy-free option too. It's a shot of espresso topped with coconut milk and foam. The full power of the espresso is felt, and the milk alternative equals it in intensity. For those just wanting a single final pop, this is a great choice.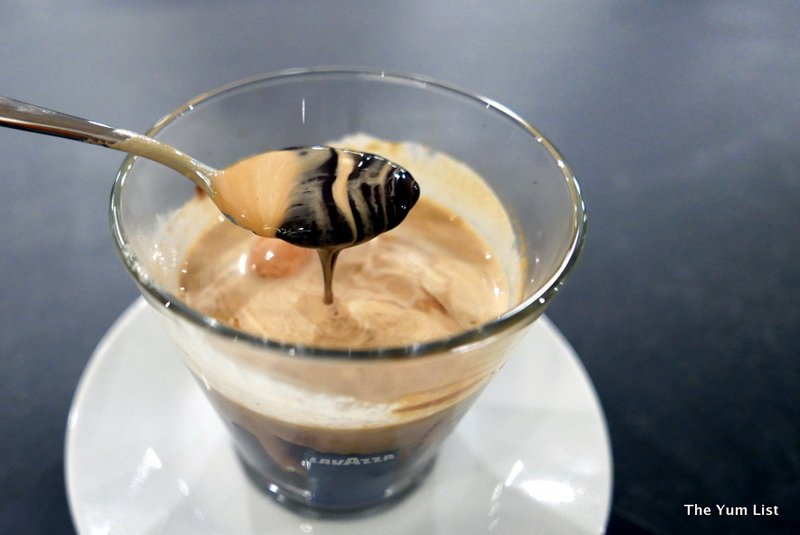 Reasons to visit: a contemporary Italian menu; value-for-money prices; portions sized for sharing; don't miss the artisanal wood-fired pizzas, do try the Ravioli Maremma, make sure to leave room for dessert, and if you're game, give the Caffe Medici a try!
Bello, Pavilion, Pizza and Pasta
Lot 6.01.03, Level 6 (opposite TGI Fridays, same end as Ding Tai Fung)
Pavilion Kuala Lumpur
168 Jalan Bukit Bintang
55100 Kuala Lumpur
Malaysia
+6 03 2148 8108
www.facebook.com/BelloRestaurantMY