Nadodi, Vegetarian Menu, 15-Mile
Words: Patricia Podorsek     Photos: Monica Tindall
I like to think I know something about Indian food. Sure, any foodie with a penchant for curry can claim to know something about the subtlety of her favorite chicken tikka or the creaminess of a dal makhini, but having lived in India for five years–having shopped in her spice markets, snacked on her chaat, puckered over her chutneys, and sipped chai so fresh from the walla that drops of butter formed on the rim of the glass—I thought perhaps I knew a little more than the average dabbler. A recent trip to Nadodi in the city centre exposed my foolish delusion. Here is a place that delivers Indian and Sri Lankan cuisine like you've never experienced before.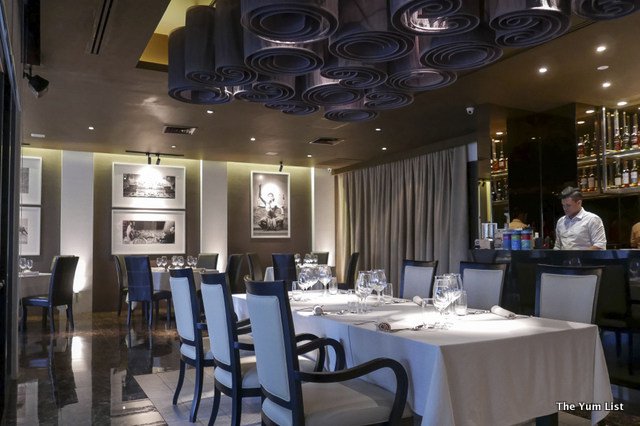 First off, let's be clear about what we mean by Indian. Nadodi draws from the deepest south of the subcontinent. Scouring the regional markets of Kerala, Tamil Nadu and Sri Lanka, Executive Chef Johnson Ebenezer uncovers the rarest of ingredients, waves a wand of exceptional technique, and transforms them into a magical fine-dining experience.
Nadodi, Vegetarian Menu
Our itinerary for the evening is the 15 Mile Vegetarian Journey, a degustation menu unbound by the limits of flesh. So many South Indians refrain from meat in their diets, but are often limited to banana leaf experiences. Chef de Cuisine Sri Charan wanted a menu he would feel proud to serve to his grandparents. The Yum List are not South Indians OR vegetarians, but we are happy to come along for the ride!
The first bend of the road delivers three bites, each introducing one of the three influential cuisines on the menu. The Cracker, representing Kerala, floats airily along the palate like a beauty pageant contestant, adorned with jewels of tamarind and a sash of yogurt dust. The Cloud, representing Sri Lanka, arrives very zen-like on a polished rock, and offers meditation on pandan, sambol, and curry. The Porridge, representing Tamil Nadu, rains in like spring, a burst of creamy millet brightened by green mango mince and chopped drumstick.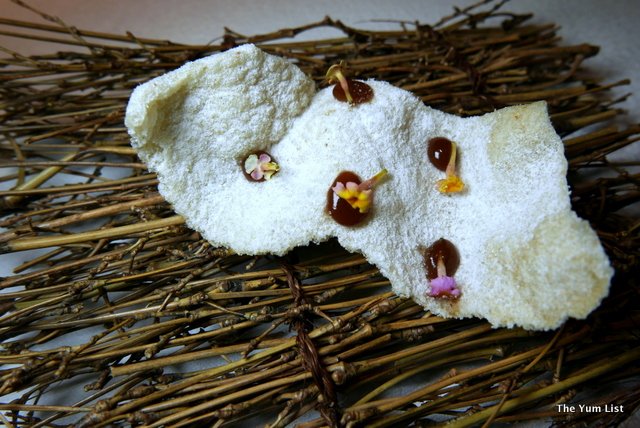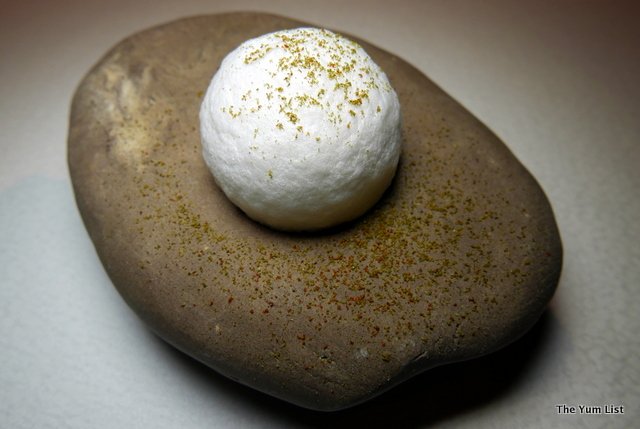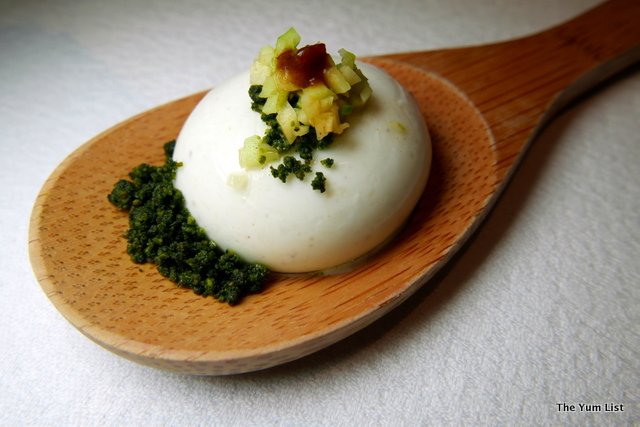 The chefs are not the only passionate inventors at Nadodi. We chose to enjoy our tasting journey accompanied by the suggested cocktails pairings, and were no less pleased with the variety and the quality.
Cocktail #1 comes addressed as Hot and Cold. As our alchemist Akshar Chalwadi draws thick foam across the top of a deep pink liquid, we are fooled into thinking that the cool cream will offset the warmth of the drink. Exactly the opposite! The whisky-based froth is hot and the underlying drink a cool whiskey and plum frappe, gorgeous in both color and aroma.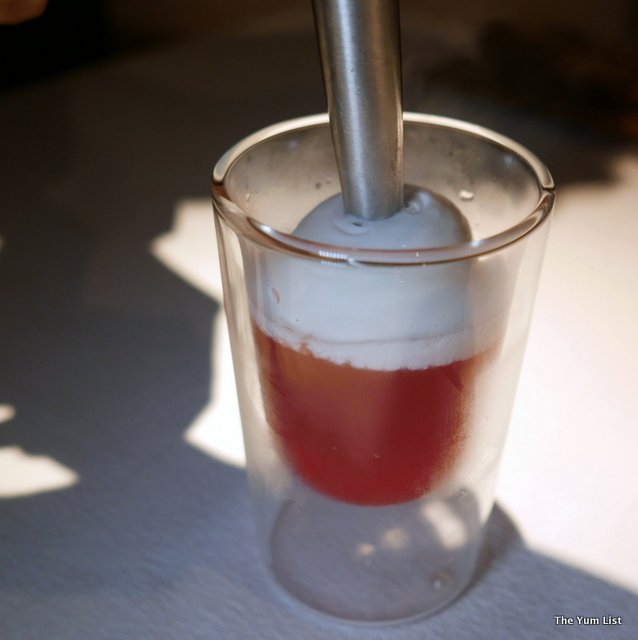 Moving us seaside with Marina, nibbles reminiscent of a Madras boardwalk land on our table wrapped in edible plastic. 'Edible plastic' sounds oxymoronic, I realize, but clear potato starch doesn't quite capture the fun of popping this whole packet in your mouth for a roll of spicy rice and cashew.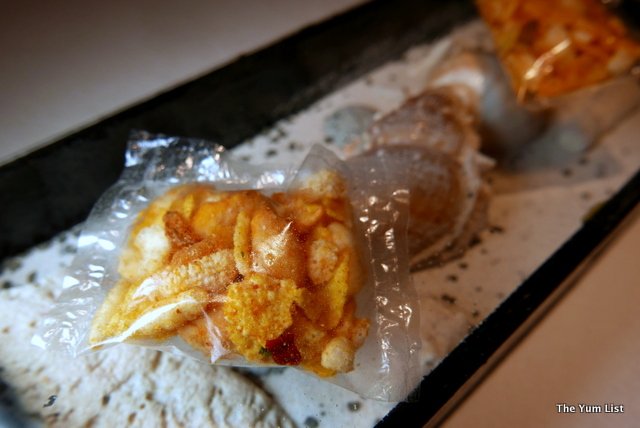 Umami is rest area #5, a stop that embraces a classic puri cup by filling it with smoked tomato and curry leaf salsa. The real surprise here are the pomegranate seeds, which provide a hint of sweetness along with some pop. I am beginning to see the intentional complexity of both flavors and textures at Nadodi.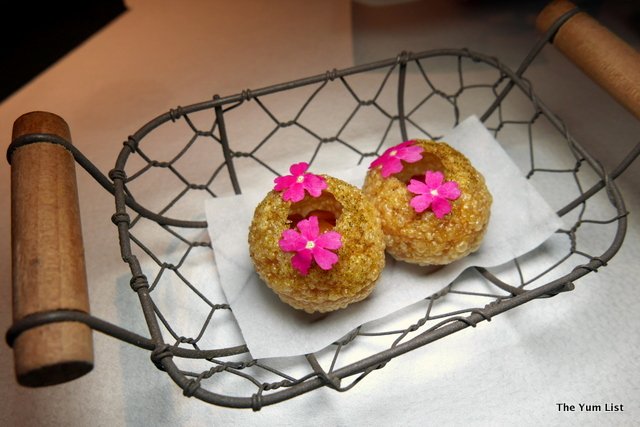 Puri cups are not only good for holding specialized curries! Mixologist Akshar forges a vodka variation of Panipuri called Vodka in Woods, presented beautifully on a gnarled branch with flowers and dehydrated mango. This cocktail – packaged spherically inside the cup – unpacks in layers of cumin, mint, and tamarind that idle around on the tongue.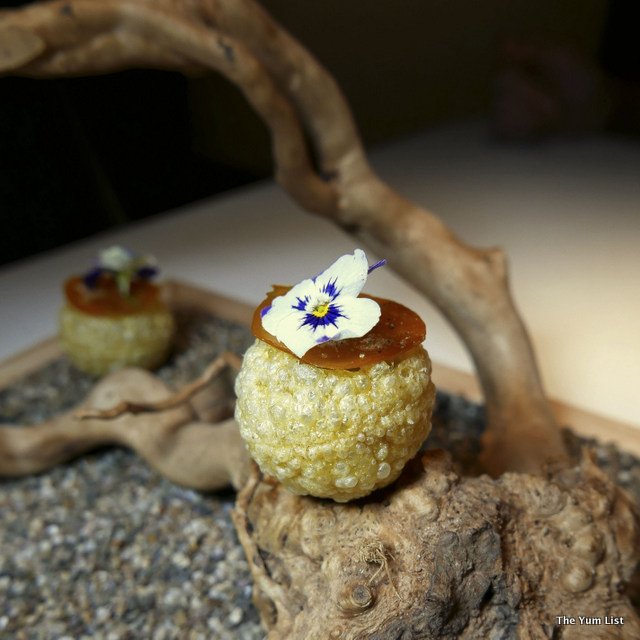 Puff and Underground, the next stops on our food journey, burrow deeper into regional flavors. Puff graces the plate like a mini-terrarium, charcoal soil fertilized by chickpeas, green peas and potato, and blossoming with edible flowers. Underground arrives cloaked in rosella foam, earthy tapioca spiked with tangy chutney. The crunch of the majii leaf alongside reminds me of Nadodi's attention to texture as well as taste.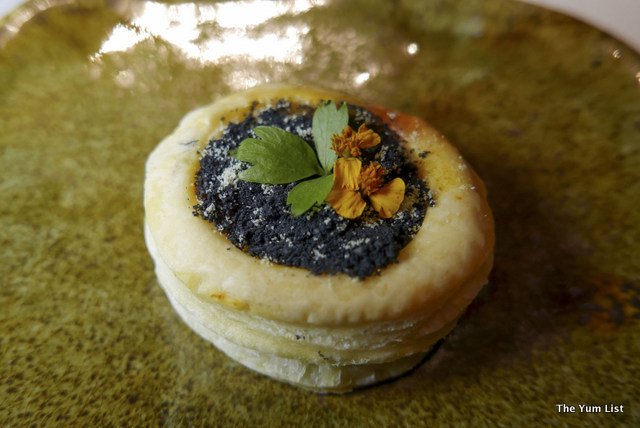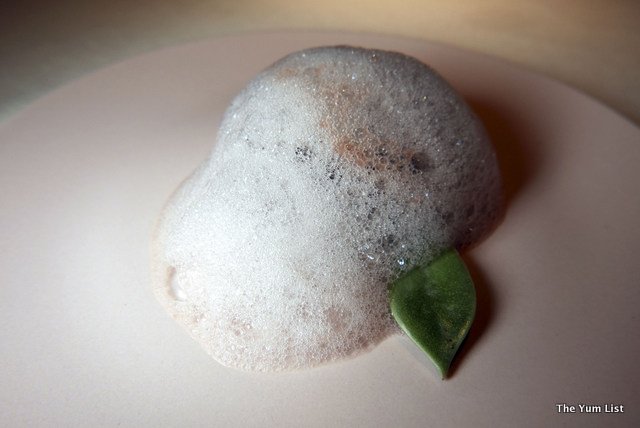 The suggested cocktail here is the Spheroid Margarita: lime, salt and tequila that come shooting out of a bubble like a bullet from a smoking gun. Or a smoking box, in this case. As we've come to expect, presentation at Nadodi is never predictable and always delightfully original.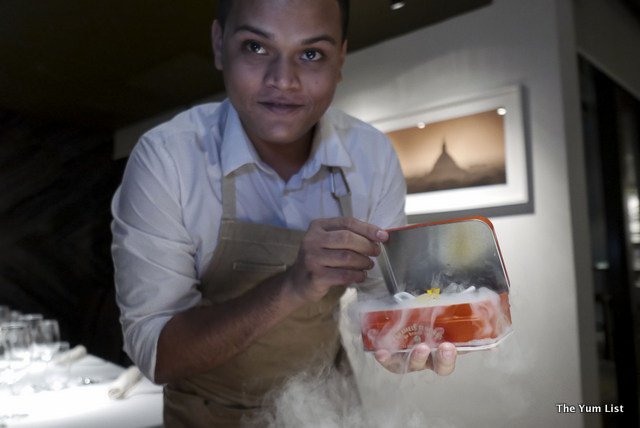 The Tales of Musa, Mile 8, recounts the full story of the banana plant, incorporating stem, fruit and flower all onto one plate. Texture blooms again with the shag of grated coconut and the crunch of lentils atop the tender medallion of a roasted plantain.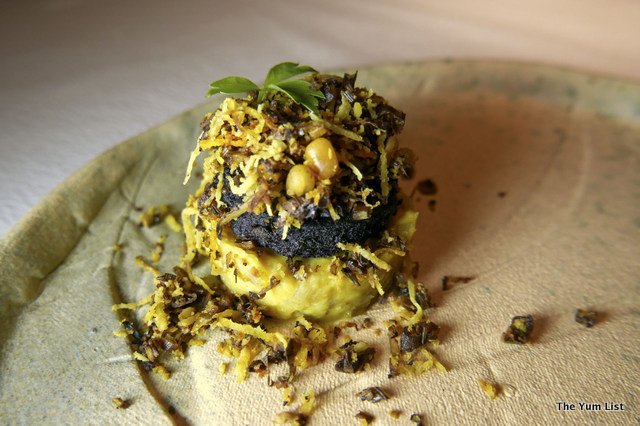 The next cocktail, serenely contained in an eggshell, arrests the olfactory. Truffle-infused gin belies the unassuming foam that sits on top. Bruised with basil and swathed in citrus, the complex aromas and flavors linger and linger and…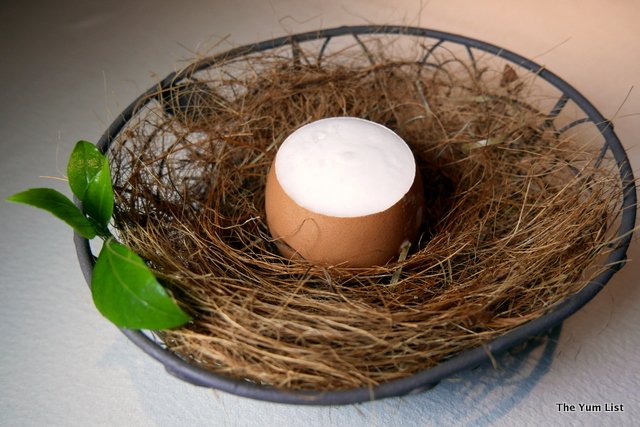 The Ninth and Tenth Mile escort us to little-known places in the subcontinent. Rhizome takes an Escher-like cut of lotus root and marinates it with spices typical in Badaga cuisine, a tribal people who have lived in the Nilgiri hills of Tamil Nadu for centuries. A little coconut cream and some lentil salad cool the masala for some balance in the asymmetry.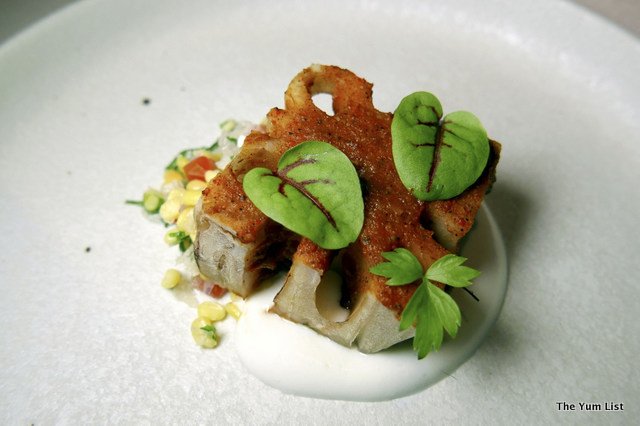 Burma Bazaar is named for a market in Chennai, where immigrants from Myanmar have peddled elements of their cuisine for decades, now overlaid with the local flavors. This vegetarian version of Mohinga, typical breakfast soup in Myanmar, is made from plantains instead of catfish, and is poured over homemade atho noodles, sprouts, cabbage and fried onions.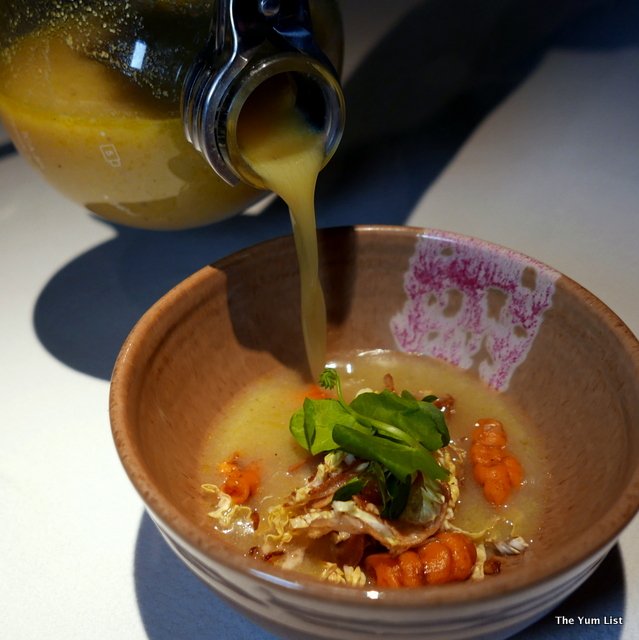 In the event we might have felt lost in the sea of amazing food, Akshar sent over the shimmery Message in a Bottle from the bar. Cool notes of cucumber, ginger, mint, and vodka rescue us from the tidal wave of food heaven and remind us of the five miles to go.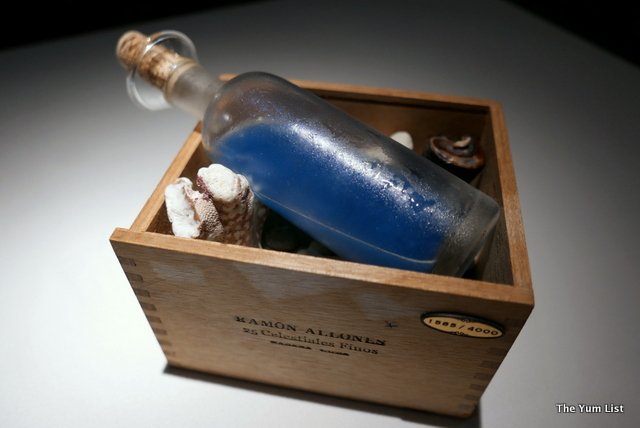 The palate cleanser off the food menu, Ais Ice (Baby!), breezes in with a crisp pineapple and yuzu popsicle offset by the anise-y flavors of carom seeds. Despite the licorice overtones of the carom in the syrup, this is nothing like your grandmother's cough medication!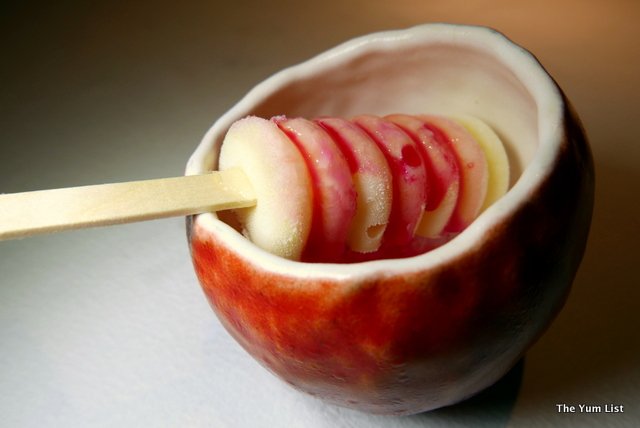 A second sweep of the palate appears in the next glasses from the bar with Break Time. Gin, lime and basil sorbet melt into cranberry earl grey tea that gets poured over the top. This is fabulous: Cold, crisp, and complex.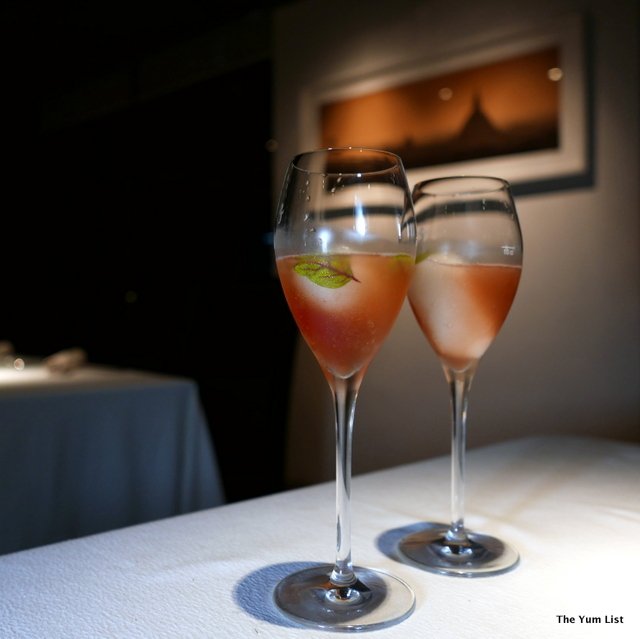 By Mile 12 and 13, you might think we'd be too tired to carry on further, but we hold strong and 'muster' through the arrival of the two mains! Shoots and Roots conveys three-part vegetable harmony on a slab of Himalayan rock salt. Asparagus, beets, and purple yam are marinated in jerky spices and dressed in a blend of fennel, curry leaves and red chile dust.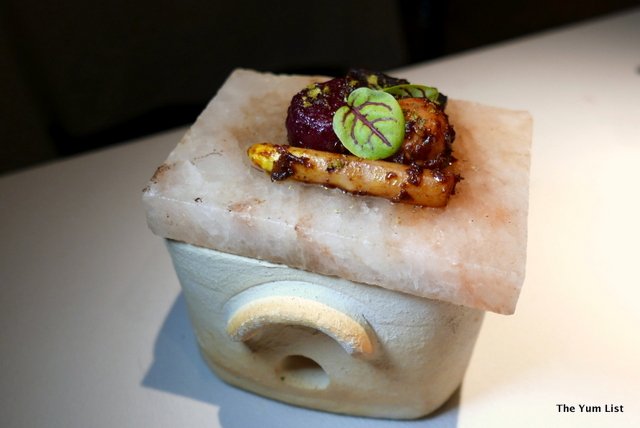 Nomads Global is a signature dish at Nadodi. Served in a galactic 3-part tiffin carrier, pineapple yogurt mousse with pickled onion waits for the opportunity to mix with the spicy short grain rice, smoked eggplant, and almond and cashew sauce. Chef Sri Charan indulges me while I sample all the bits, then instructs me to "eat like a local" and mix it all together into one delightful pile of pleasure.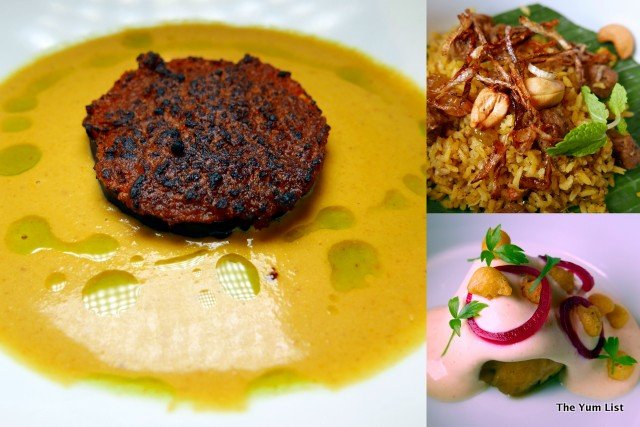 To complement our mains, sweetened sous vide pumpkin forms the foundation of the cocktail called Aiyoo. Mixed with allspice syrup and strengthened by vodka, this slightly sweet, earthy drink is enhanced by the chopped curry leaf and salt on the rim.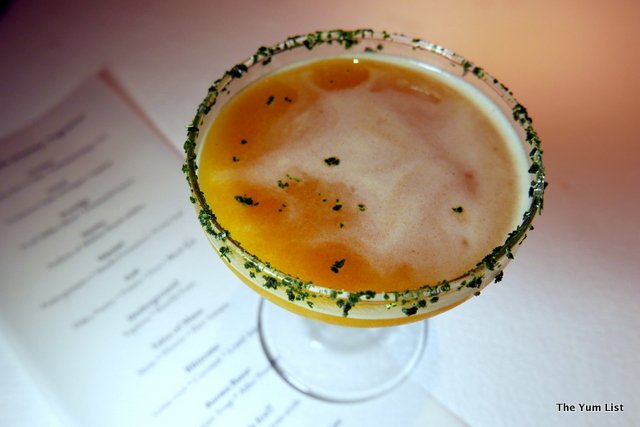 Rava at Mile 14 is so easy to eat it's like falling into bed. Sweet semolina fortified by saffron milk is the pillow atop a cushion of apple marmalade. We pull the sheet of meringue up under our chins and get ready to tuck in.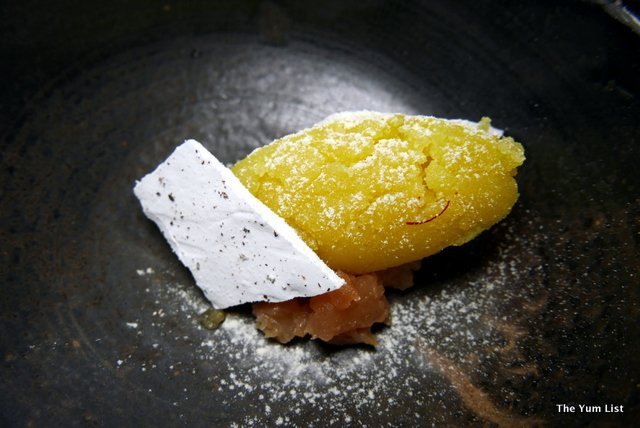 Bonus #1 could be called Mile 14.5 and appears regularly on the 17-Mile Journey. Butterflies in My Tummy is an elegantly presented confection of dates, rose and fennel, pressed into shapes that are as beautiful as they are delicious.
Blurring the line between cocktail and dessert, Bite fills dark chocolate cups with the likes of apricot whiskey and raspberry Cognac. Both infusions are made in-house and carry an intensity to the flavor that rivals the fruit itself. Alongside lies an almond macaroon piped with chocolate and Malibu Rum. Yum and double yum. Now you see why the blog is named the way it is!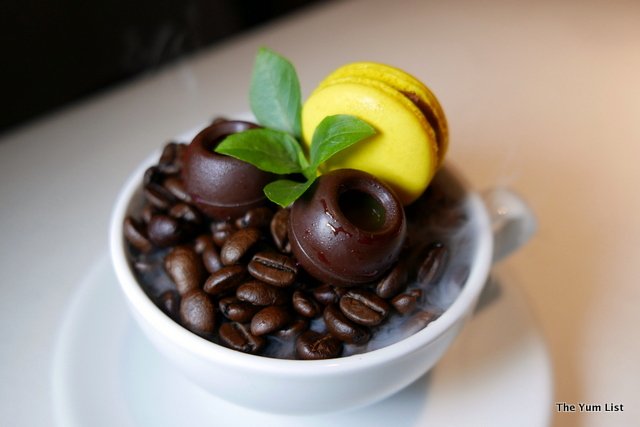 The final turn of the journey brings us to It's Chilly. Green chile ice cream heats up the plate backed by a hint of cardamom. Atop a cushion of white chocolate cremeux and crowned with some roasted pistachio crumbs and nubs of dehydrated honey, this is a sweet ending to our ride.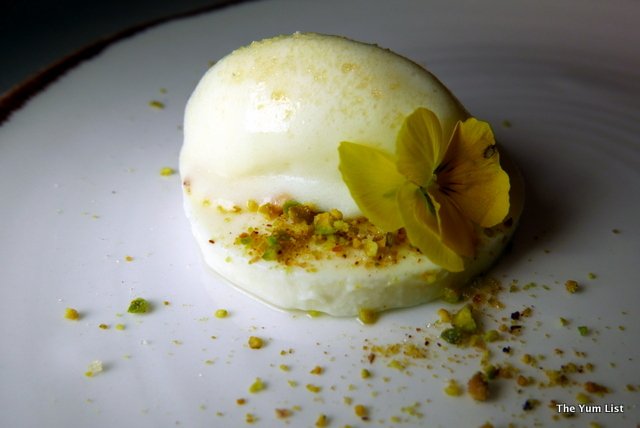 Or so we thought. Imagining that we might finally put up our feet, talk of a digestive rounds the table, and both chef and bartender insist we try one more turn on the road. From the kitchen, The Betels encases betel leaf and floral rose petal in a shell of white chocolate, cocoa butter and charcoal for a dark contrast to the pungent digestive inside. The soil is a green tea, coconut and areca base overlaid with 65% Valrhona chocolate bark. Find the Pebble is a "cocktail" that adds vodka to a similar bundle and hides it among the stones in the dish.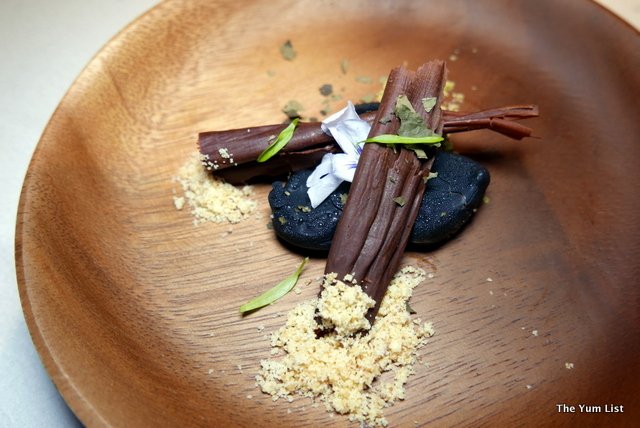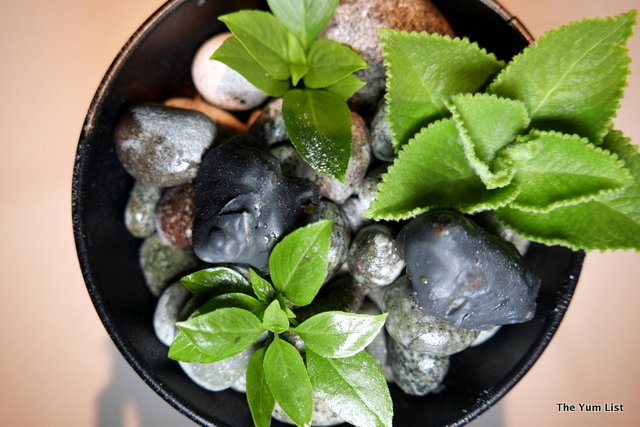 I'm ready to head home, but food meanderer that I am, I will be back. Nadodi is a place to visit again and again. Not only does the name capture the spirit of the wanderer, so does the menu: frequent changes speak to the nomadic nature of the chef's and mixologist's imagination. Find your flavor backpack and ramble over to catch this bus before it leaves you behind in the station.
Nadodi, Vegetarian Menu
Nadodi's 15-Course Tasting Menu runs RM460++ in both veg and non-veg varieties. More generous stomachs might choose to take in the 17-Course Menu at RM480++. Wine pairings will add an additional RM310++ and the cocktail pairings RM270++.
Nadodi is open Monday – Saturday for dinner with seatings at 6:30, 7:30, and 8:30 p.m. Lunch is offered Friday and Saturday from 12:30 p.m. to 2:30 p.m. Reservations are recommended.
Reasons to visit: The culinary wanderings of top-quality subcontinental food prepared with passion and originality.
NADODI – Engaging Nomadic Cuisine
Lot 183, 1st Floor
Jalan Mayang, Off Jalan Yap Kwan Seng
50450 Kuala Lumpur, Malaysia
+60 3 2181 4334
+60 17 390 0792
www.nadodikl.com