Words Margaret Elizabeth    Photos Monica Tindall
Nobu is Nobu and always absolutely bang on point for excellence, inventiveness and value. I highly recommend each of the festive menus that Executive Chef Philip Leong and team, of Nobu Kuala Lumpur has designed for you this Christmas and New Year. Featuring the finest of ingredients and creative genius, I am sure that you will be delighted to have experienced the holiday season in cool, movie star style. If you are new to Nobu, you may not know that Robert de Niro, experienced Chef Nobu's recipes in LA and was so captivated that he went into business with him and a worldwide, cuisine phenomena was happily born. Guests can enjoy a seven-course Christmas Omakase (RM560++) from December 22nd to December 25th and seven-course New Year Omakase and glass of Champagne (RM 595 or RM680++ to include a glass of champagne) from December 29th to January 1st.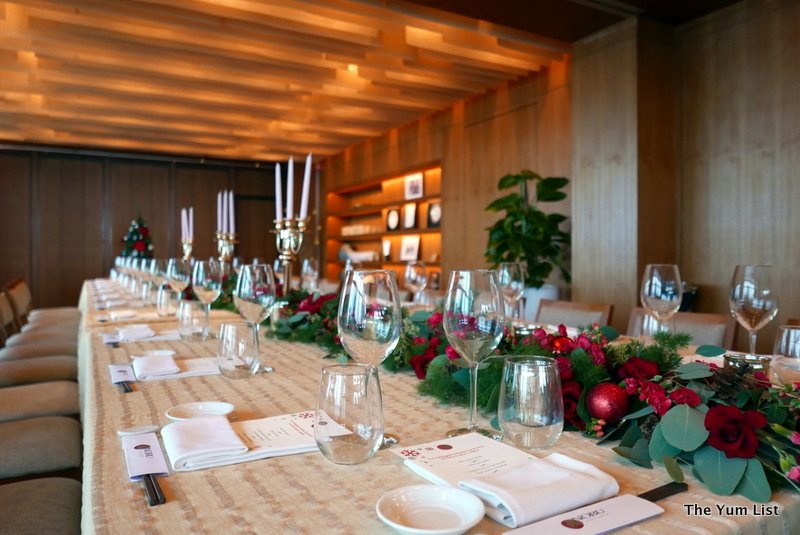 Dining Like Movie Stars
So how do movie stars eat? Monica and I found out at a combined Christmas and New Year preview event. Nobu KL is located on level 56 of Menara 3 in the Twin Towers, so the cityscape is spectacular. Twinkling stars shimmering in velvet to infinity and beyond. The décor is minimalist, laid back and inviting, no grandma's lacy tablecloth, here. The atmosphere is warm and welcoming and we eased into what turned out to be a fabulous and fun night with a signature cocktail of Ron Zacapa 23 year old rum from Guatemala muddled with soda, brown sugar, maraschino juice and smoked sakura tea. And when I say smoked, I mean smoked, this cocktail is the epitome of chic with each cocktail smoking before your very eyes.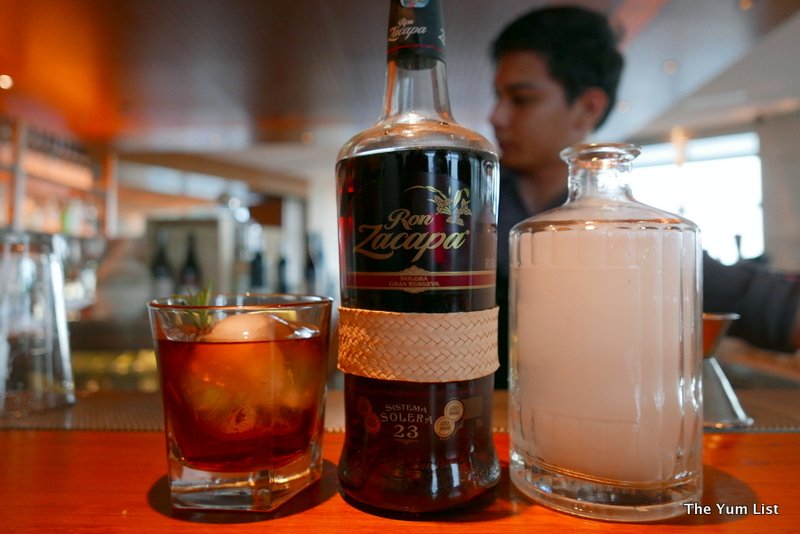 Osechi
After mini appetisers of lobster taco, savory lollipops and salmon on crisps we joined the gang at a tastefully designed, celebration themed table to begin with Nobu Style Osechi. Osechi, was a tapas like journey through six, auspicious Japanese New Year dishes with the food forward, fusion twist that Nobu is famous for. Each dish was delicious and related perfectly to next one on the platter. We began with Toro Tartar, dusky, pink ground tuna subtly juxtaposed with a wasabi soy sauce that woke up our taste buds. Its neighbour, Uni Shot, was a shot glass of golden sea urchin roe and dashi soup containing a quail's egg; delicious and so much fun to shoot that back. Next came Kazunoke Ceviche. Interestingly, the dense texture of this herring roe is perfect for sashimi and has the appearance of fish. At this point you may want to cleanse your palate with the Kuromame, sweet and savoury black beans, before moving along to Salmon Konbu Tiradito, wrapped in seaweed. As you may guess from the title this dish reflects an intermingling of Japanese culture that travelled to Peru. Tiradito is a cousin to ceviche preparation, the citrus used to cure the fish being applied at serving so you get a fuller flavour of raw fish with a trace of citrus. The final delight on the opening platter was a delicate slice of gently pounded, octopus carpaccio that left us refreshed for the next course.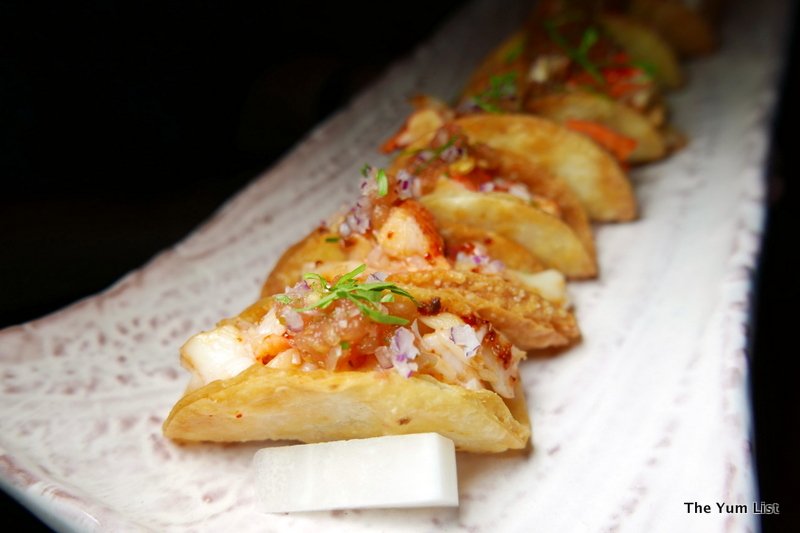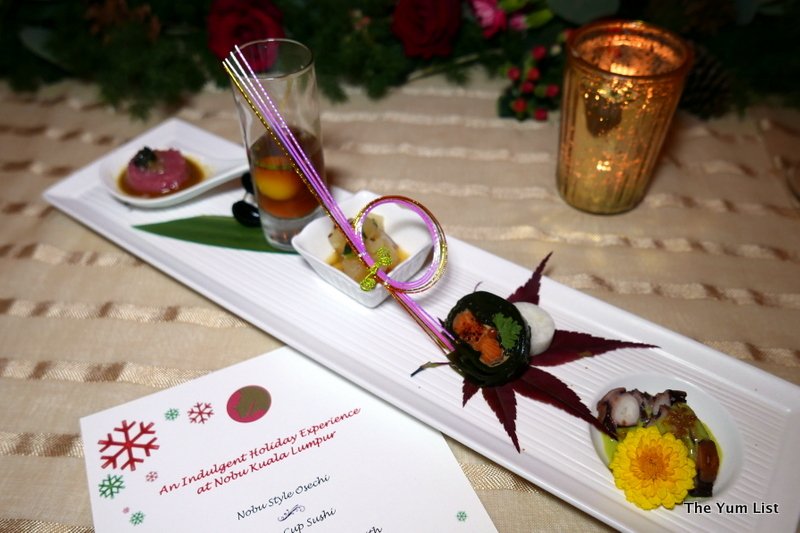 Sake Cup Sushi – Genius
Sake Cup Sushi comprised of Japanese tea cups of deconstructed sushi chewiliciousness (so good it deserves a new word to be added to the dictionary) from the Christmas menu. The addition of sushi rice was like a step forward in terms of texture. A little more filling but still leaving room for the courses to come. Cup one contained seared toro with garlic miso. I do like the juiciness of tuna belly and not being lost in sushi rice I could taste the slight caramelization that was achieved with searing. Together with the just right amount of rice in the cup, the effect was very satisfying. Sushi cup two, was octopus with jalapeno salsa, an homage to South American, Japanese intercultural exchange. The warmth from the chilli paired well with the octopus. I saved my third cup for last and ate the soft shell crab roll next. There was a sea saltiness about the crab sauce that I liked very much and it was a great combination of dry and moist. Onto the third cup, salmon egg with yuzu skin. This was the highlight for me as I loved the squishiness of the roe coupled with the chewiness of the rice and fizzle of zest from the yuzu fruit.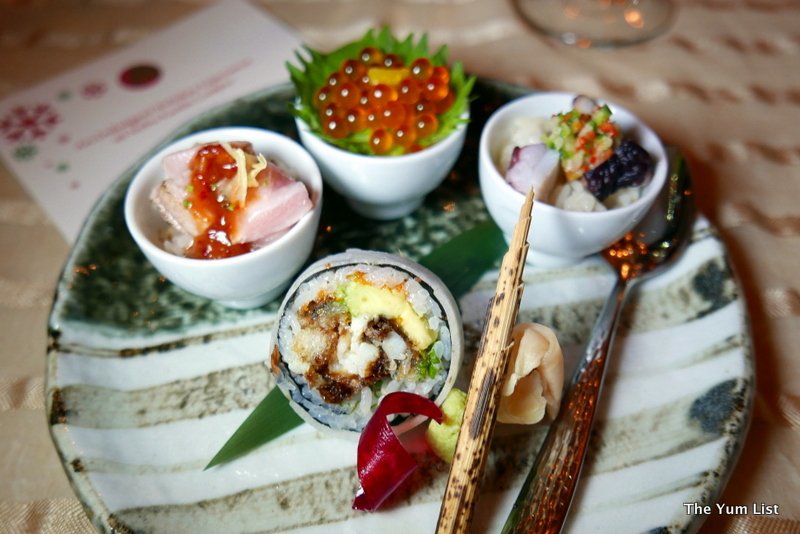 Salad
In, Scallop Quinoa Salad with Yuzu Lemon Dressing I could detect several layers of flavour. The quinoa mixed with red couscous lightened the base texture and added the enticement of colour to set off, pale peach jewels of scallops, piled high like petals on a flower. I find that colour has the power to elevate a food experience and this dish was elevated with a garnish of hues from radish, cress and micro flowers. The pairing of quinoa and yuzu used elsewhere in the menu created a harmonious effect across the entire meal.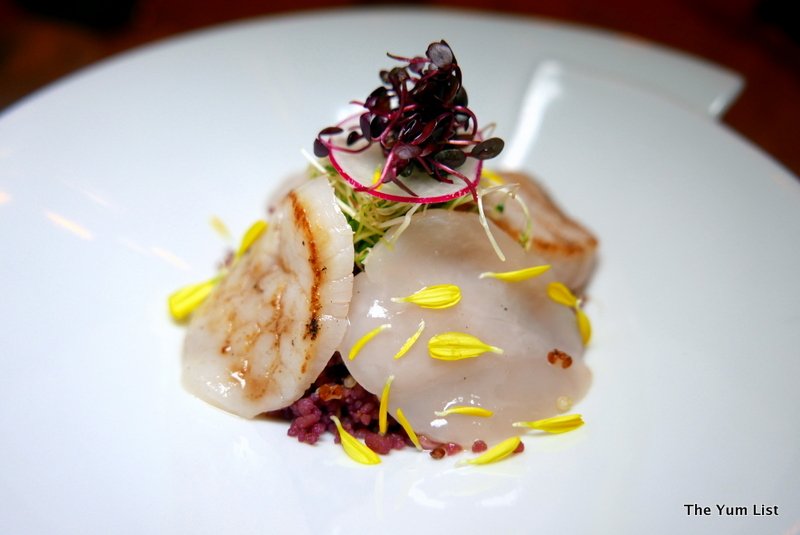 Lobster
The magic of Lobster with Shitake and Quinoa Butter Sauce lay in the silkiness and flavour of the exquisite sauce drizzled attractively across the plate. The succulent texture of plump lobster, intertwined with micro grains of quinoa and crunchy green fern was a winning combination. I enjoy the nutty taste of quinoa and once again, the quinoa tasted subtly different from earlier dishes as it absorbed the flavours of shitake and lobster.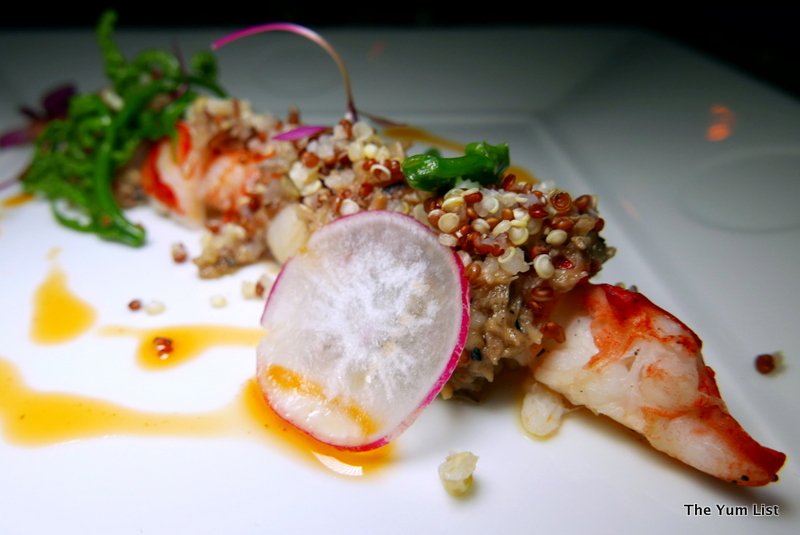 Wagyu
On to a meat course, Smoked Wagyu Beef with Yuba and Nori Sauce served with cauliflower, mushroom and pickled heritage beetroot. The marbling in the beef created a cream with hints of butter flavour, echoing back to the previous dish. Perfectly grilled it was succulent and lifted to a level higher when dipped in nori sauce. I had not eaten heritage beetroot before and discovered that I really liked its crunchy, pickled sweet and sourness. The addition of the lighter flavours of yuba (tofu skin) and mushroom complemented the richness of the meat and also provided a playground of textures. The overall appearance of the plate was appealing with the dark, rich red of the beef, offset by the neutrals of the other ingredients with contrasting highlights from green and maroon garnish with sprinkles of dark, quinoa.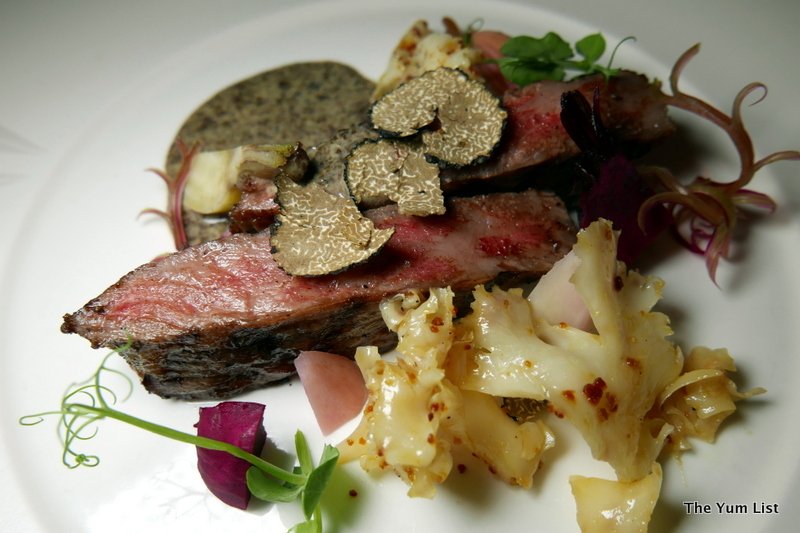 Nobu Desserts
There was so much food to eat that I was getting worried that I would not be able to eat dessert. What a tragedy that would have been? Fortunately, I womanned up and bravely attacked two festive desserts Sweet Santa and Countdown. Sweet Santa looked exactly like Santa's iconic, roly-poly pot belly in his red suit. It looked so cute and simple but was in fact, a complex marriage of green tea, chestnut cream and chocolate raspberry mousse. Complete with suit buttons, Santa's belt nestled in a bed of chill, coconut granite snow. It was a playful delight that captured the essence of Christmas joy and celebration.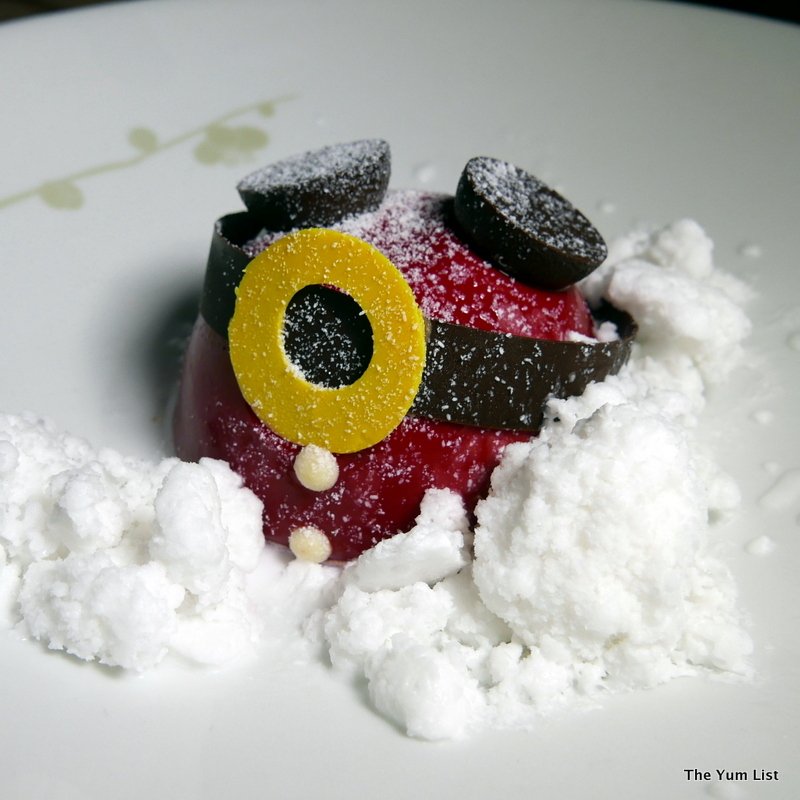 Countdown was a similarly clever idea for New Year's Eve. Made from vanilla sponge, green tea mousse, crème brulee and azuki bean paste. Countdown was a glistening clock face with chocolate hands showing the time just before midnight ready for the New Year's Eve countdown. This dessert pairs well with a glass of bubbling Champagne and fireworks, how spectacularly delicious.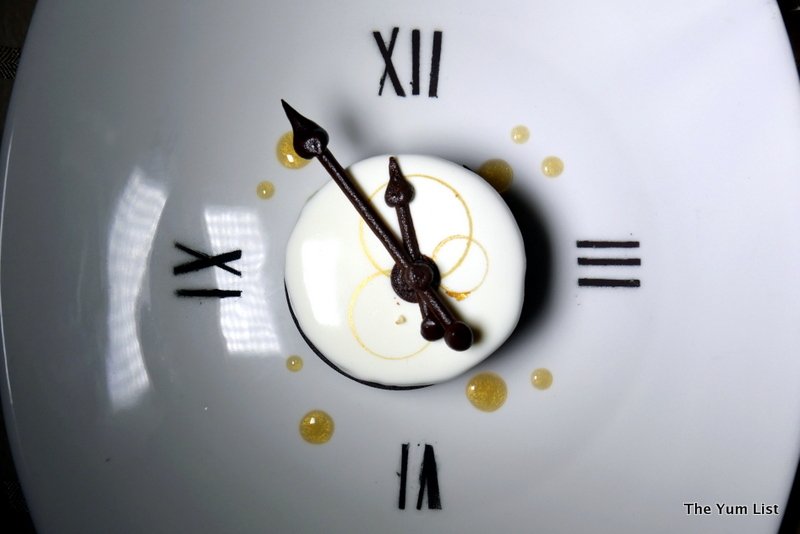 Christmas and New Year at Nobu KL
Throughout the meal the presentation of every dish looked stylishly, simplistic but when you looked closer the food, garnishes and added touches were a complex combination of levels and colours, perfectly balanced like an art masterpiece. The themes and echoes of ingredients and flavours across the menu were genius and sophisticated. If you want to give yourself or loved one a Christmas or New Year gift or, you simply love great food experiences these menus are for you.
Reasons to visit: Latin Japanese fusion at its best; stunning views; superb service; loved the chewy, green fern combined in Lobster with Shitake and Quinoa Butter and who can resist Santa's little upturned belly in the snow?
Nobu Kuala Lumpur
Level 56 Menara 3 Petronas
Persiaran KLCC
Kuala Lumpur 50088
Malaysia

www.noburestaurants.com/kuala-lumpur
+60 3 2164 5084
Whatsapp +6 019 389 5085