Monica Tindall
It seems cooking classes as a form of leisure are a "thing" at the moment. Whether you're learning the finer points of cake decorating from the cooking channel, acquiring the knowledge of a master baker in a professional school, or getting the basics of Thai (insert any country-specific cuisine) from a stay-at-home parent sharing some kitchen skills for extra cash; there are endless opportunities to polish up your domestic prowess. Rarely, however, do you get insight into the work that goes into what some might call an "unconventional" kitchen, and even more seldom is there a Michelin-Starred chef guiding the instruction.
Well, that is exactly what we got today at CUBE 1 in ISETAN – The Japan Store. Jeff Ramsey, the only American outside of the USA to earn a Michelin Star and current head chef at Babe – KL's Japas fun dining restaurant, led a live cooking demonstration using Marukome fermented condiments.
The Japanese company, Marukome, has been supplying fermented food products for over 150 years. Today we sampled Amazake, a nutritious rice drink containing amino acids, antioxidants and enzymes. Chef Ramsey used Ekimiso, a miso paste in liquid form, and Koji, an essential Japanese condiment made with a species of mould grown on rice, in his cooking.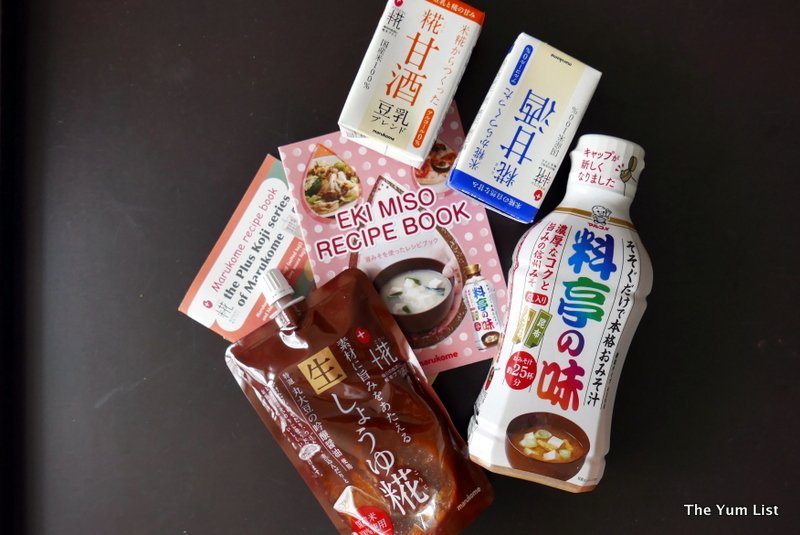 Seats at Babe are hot tickets so guests today were very fortunate to not only try four of Chef Ramsey's creations but to also see and hear about some of the techniques that go into the preparation of each.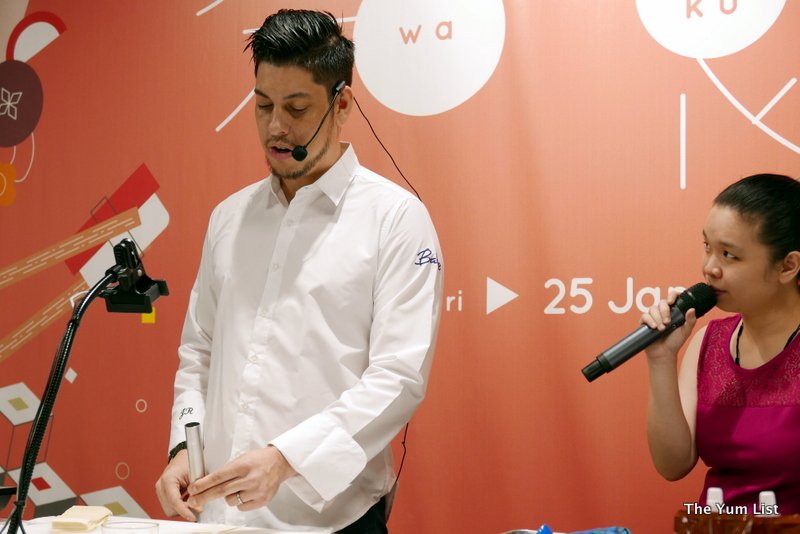 Caesar Salad Capsule
I'd never guess even with multiple chances that the first plate was a Caesar Salad. A capsule, okay, but salad…  no. A frozen ball of green dispersed in the mouth and was served atop toasted brioche and sided with smoked coconut bacon – I'd like a bag of that to snack on in the cinema (please). Chef Ramsey's time in Hawaii and Bali were the build-up to the creation of this "bacon"; two places were the tropical palm seed is found in abundance.
Sashimi Spring Roll
The second demonstration saw fresh pieces of finely chopped fish piped into a crunchy tube. Chef Ramsey told that one thing he's learned over the years of preparing sushi outside of Japan is that people like something crispy with their sashimi. Not having the precise tool needed to make his creation reality, Ramsey hit the hardware store. Collecting pipes that were just the right diameter, he had them cut to order and now uses them as the base for rolling popiah pastry to form the cylinders. To maintain form the pastry and metal both get dunked in the deep-fryer. Later the metal slides out and is replaced with the sashimi filling. Yum!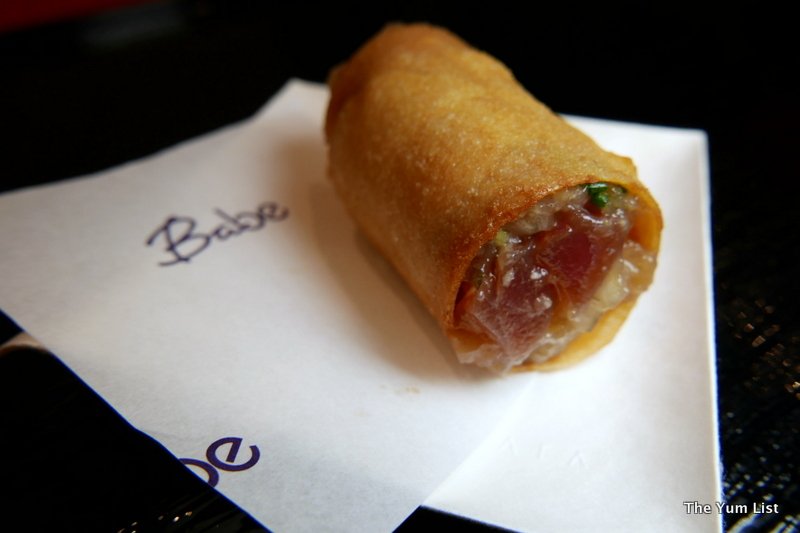 Miso Butter Clam Chowder
A caramelized onion jam hides at the bottom of the Miso Butter Clam Chowder so we're told to make sure our spoons hit the bottom of the bowl with each scoop. The chowder is seasoned with thyme, sake, and ankake dashi and a warm potato mousse is swirled through making the texture more mousse-like than soupy. Making use of the Marukome fermented products, this is a recipe Chef Ramsey created especially for today's presentation.
Bäbe-n-Dazs
We began with a salad and ended with ice cream. Sound simple enough? As you've guessed, when Chef Jeff Ramsey is in the kitchen, nothing is quite as it seems. The Bäbe-n-Dazs is an "ice-cream" sandwich filled with foie gras. Custom-made cookies from Japan got a special "branding" with the Babe logo before wrapping the filling of foie gras enhanced with Cognac, aged mirin and duck fat (making the flavours more "ducky" according to the chef). Sweet and savoury, and "somewhat of a mystery," it was an apt conclusion to a fun cooking demo.