Words: Heather Onderick  Photos: Monica Tindall
If you are like me, you lose all self-control at Christmas. Plates covered in luscious cuts of foie gras, the spreads of stinky but melt-in-your-mouth soft cheeses and the mouthwatering nutty, chocolatey, apple-cinnamon desserts that are overly irresistible.  Within a day or two of holiday eating,  I often feel like I need a detox resort in a Santa Fe recovery center with spinach apple smoothies, yoga twice a day and frequent meditation sessions to take me back to the calm before the festive storm.  Luckily, places like The Good Co, exist, like angels in the outfield, to help us feel lighter, cleaner and realign our physical bodies with the nutrients that they need.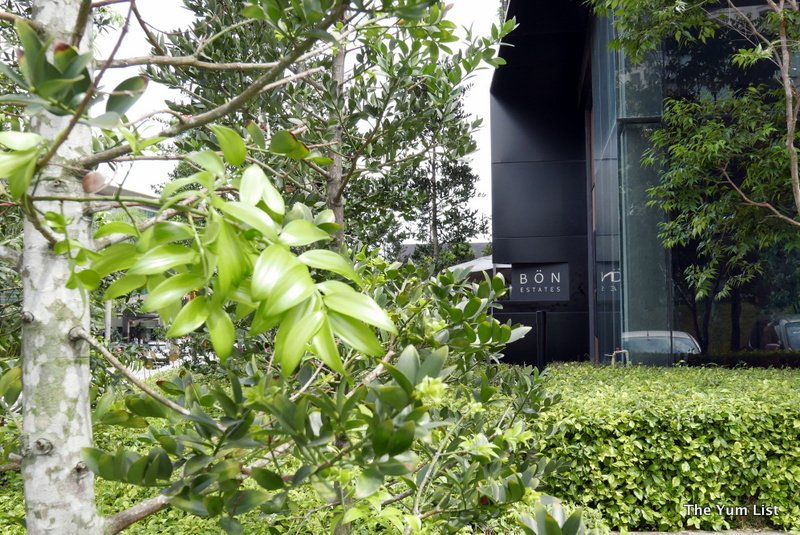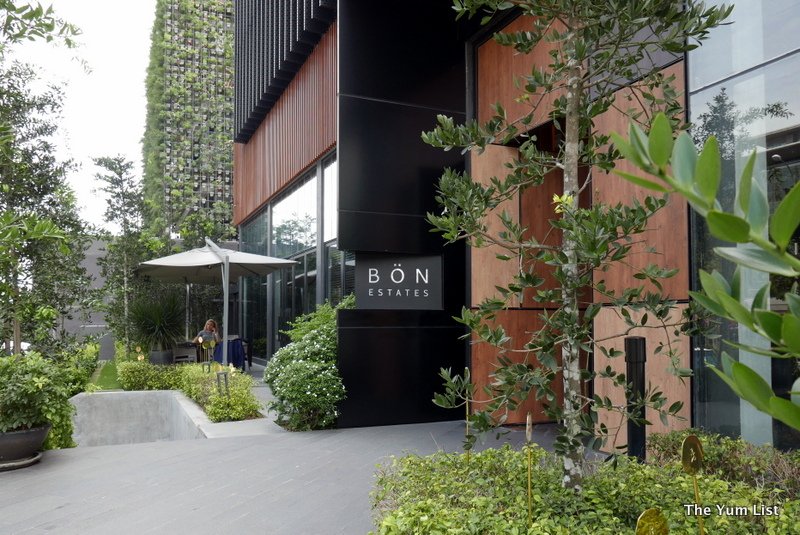 The Good Co is located in a tidy corner of Bangsar, clean and green, channelling Orchard Road sentiments. Beautifully lit, the restaurant has a variety of sitting spaces that cater to all needs.  If you are feeling amorous to the Malaysian heat, there is a well shaded green patio. On the inside, you can indulge in a more upscale Soho cafe feel, with dramatic wooden doors pathing the entryway, a grandiose high ceiling, natural lighting from wall-sized windows, and simple but effective metallic furniture. Finally, there is also a small side room which offers views of the garden in front and rear, if you feel like immersing yourself in what you eat.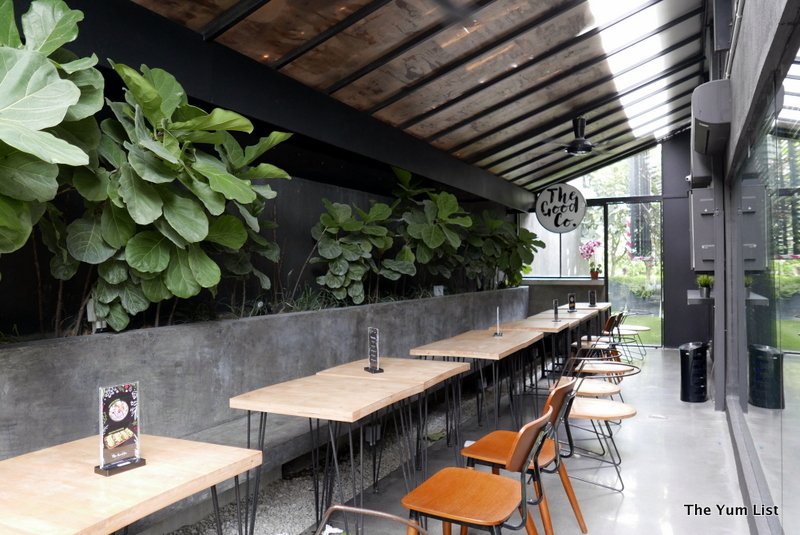 The Good Co is a high-end vegetarian cafe in Bangsar. The food is colorful and creative, offering diners an opportunity to eat clean, green and come out feeling both satisfied and rejuvenated.
Drinks at The Good Co.
We start our meal with a few different drinks that emanate the festive cheer. First, hot off trending menus in Perth, New York, Barcelona and other foodie cities, a pale lavender colored Sweet Potato Latte (RM16). This drink was velvety and thick with a touch of sweetness making it pleasing to those seeking a milky alternative to caffeine. Next up, for those caffeine lovers was a regular Latte (RM14), with a well bitter dark roast coffee. Finally, to help me imagine myself in a beautiful wintery setting with snowflakes and icicles, a Hot Cocoa (RM16) with bittersweet chocolate and a little bit of milk to cut the edge of the rich chocolate.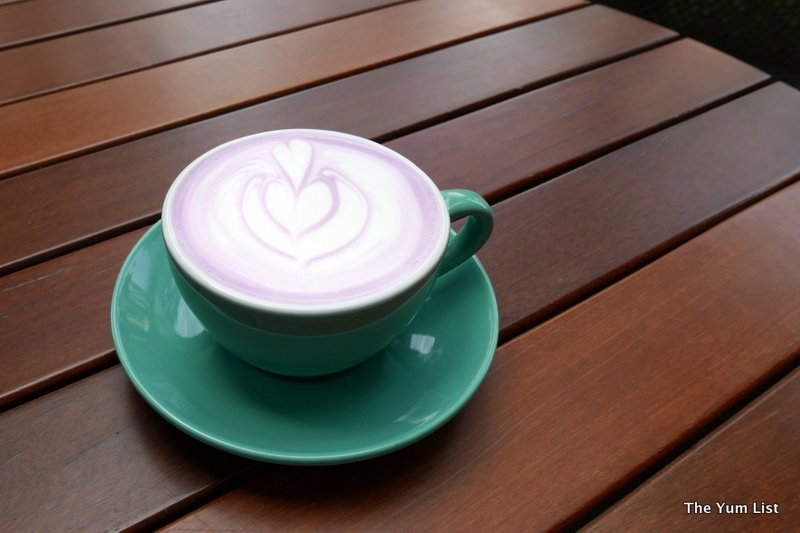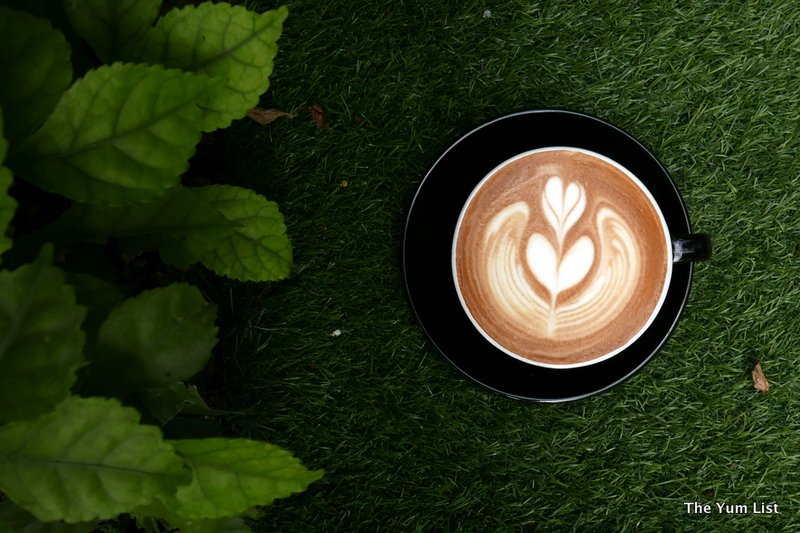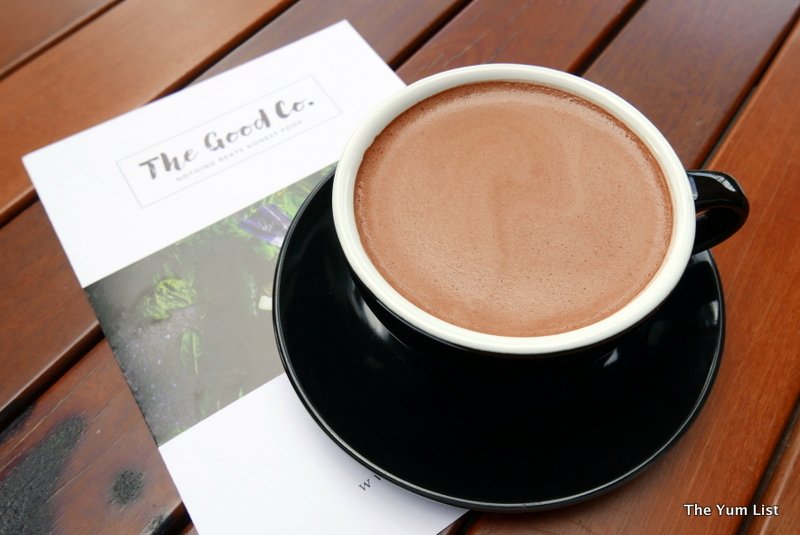 Christmas at The Good Co.
It's recommended that we sample some of the Christmas specials so we start with the Macho Nachos. Satisfying my urgent need for something savory, these gluten-free corn chips featured barbecued pulled mushrooms, tangy mashed avocado, lime zest, juicy jalapeños and cheddar and Parmesan cheese. Anyone who has a craving for junk food after a celebratory festive evening will welcome this healthy but delicious alternative.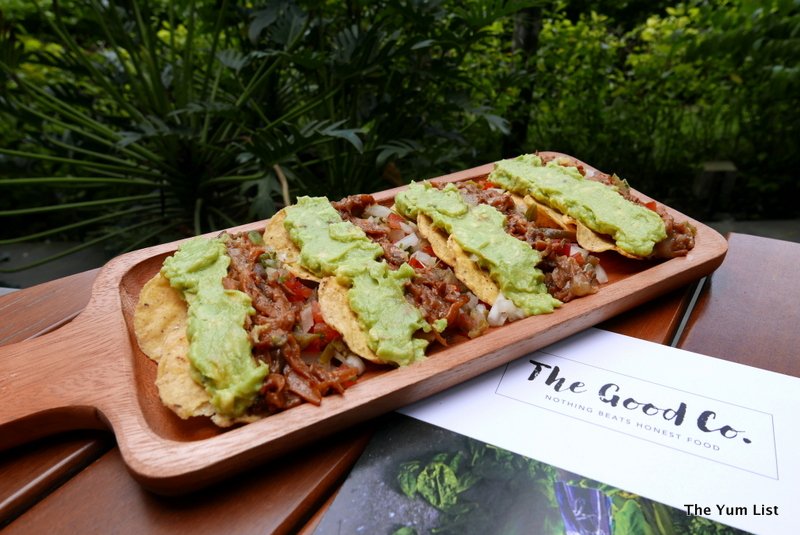 The Good Co makes beautiful smoothie bowls, so the next featured dish was the Grinch Bowl. I had to admit I was a little sceptical when I saw the long list of combined fruits, veggies, etc.  I wasn't so sure that this dish would mould together as planned; but the avocado, passion fruit, banana yogurt with chunks of ruby red dragon fruit, sliced strawberries, succulent kiwis, and dried fruits including cranberries, sultanas, coconut and ginger nut flakes, knocked our socks off. Our three spoons had to wait for the other and this dish was finished within seconds. All in all, the thought beyond the layered flavors was evident and it worked.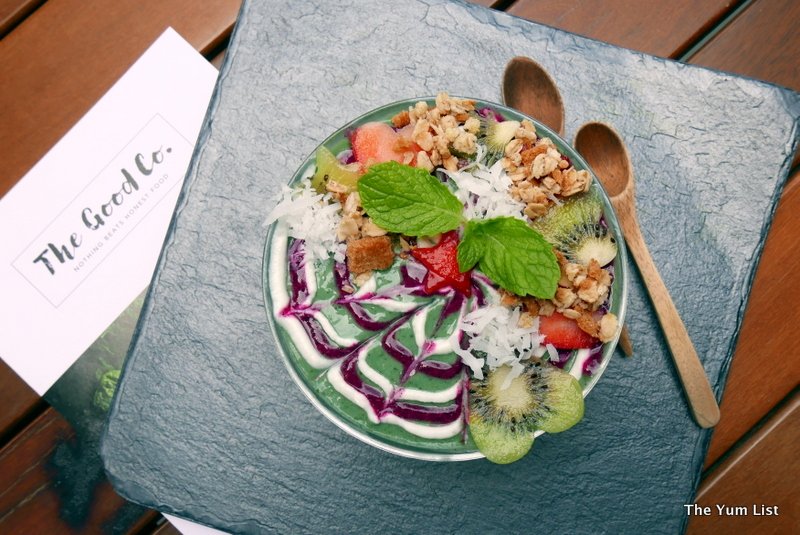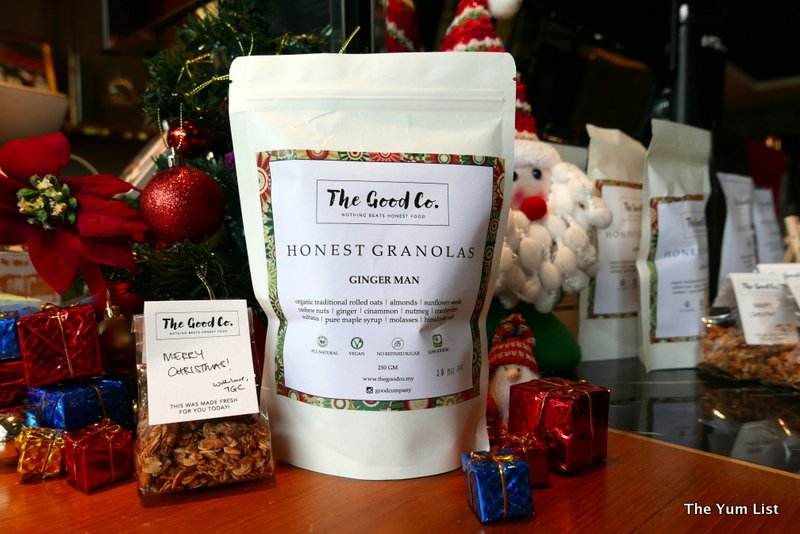 New Year at The Good Co.
For those of you needing something a bit more substantial to satisfy your hunger, try one of the soba noodle bowls on offer (these are a new year special). The Sumo Bowl offers textured seaweed, crunchy okra, delectable pumpkin and sliced mushrooms. Topped with a honey sesame dressing to give it an authentic Asian-fusion feel, it's a satisfying lunch. If you are feeling more adventurous, you can try the Nyonya Bowl served with wakame, fresh tomato, ripe mango, ground ginger torch for a warming effect, and a creamy sriracha dressing for even more of a kick.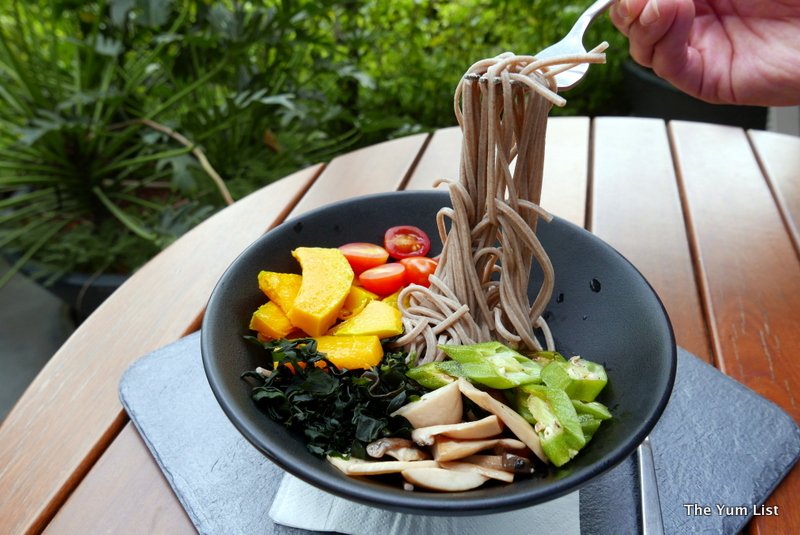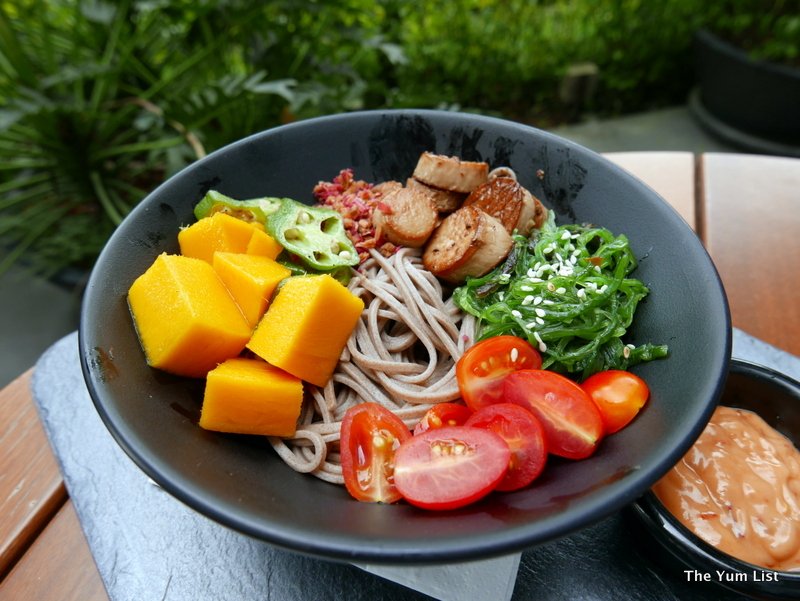 Mon's Favourites at The Good Co.
We finished off the spread with two of Monica's favorites off the regular menu. First, was the Energy Jar (RM 14.90) featuring homemade peanut butter carob, yogurt, chia seeds, granola, oats, mango and banana. Once again, the theme of blending textures together intuitively was obvious with each smooth bite. Not only that, but there is the added benefit is that this combination of superfoods will give you a lift to help you survive the next holiday party. The final treat was a crimson colored Hot Beetroot Oatmeal (RM 18.90) layered with crumbly caramelized apple, brulee banana and a variety of nuts and seeds. Fans of oatmeal will line up for this beauty and the layers of specialized fruit additions will convert even haters of hot cereal like myself.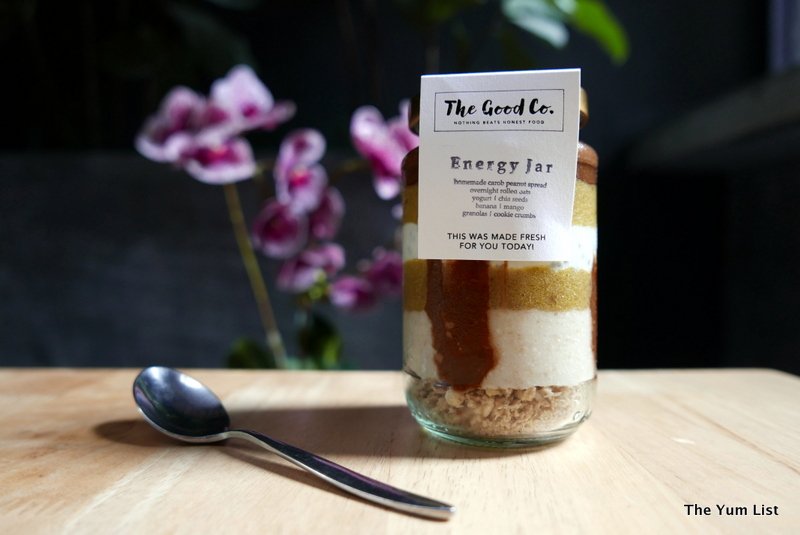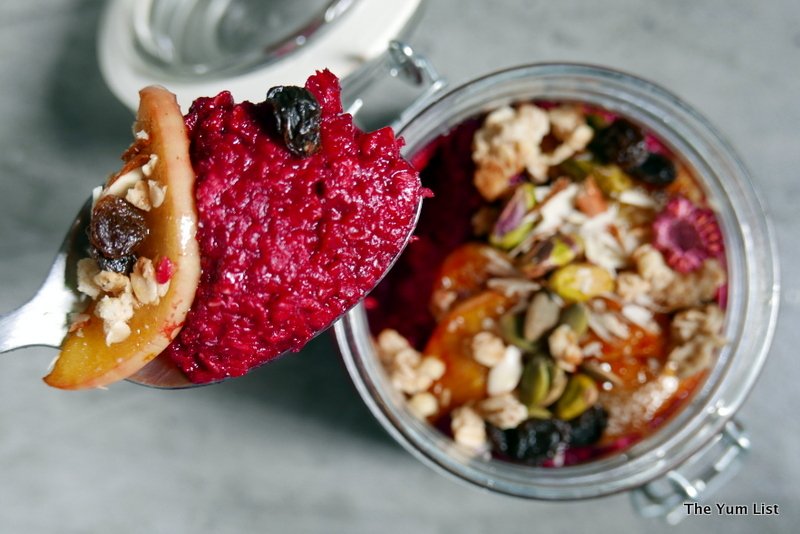 The Good Co. is a must stop shop if you are in Kuala Lumpur over the holidays. Its tasty and radiant dishes will leave diners feeling restored and ready for more festive celebrations.
Reasons to visit: The Grinch Bowl, full of lively colors, flavors and superfoods and the Sweet Potato Latte for a healthy, warming alternative to your cup of jo'.
The Good Co.
184, Jalan Maarof, Taman Bandaraya,
59100 Kuala Lumpur,
Wilayah Persekutuan Kuala Lumpur
Malaysia
+6 03 2202 6536
www.thegoodco.my