Monica Tindall
Can Tho, three and half hours to the south of Ho Chi Minh, offers an authentic Vietnamese experience. While there are a number of foreign companies in the city and its surrounds, the area is not yet a popular tourist destination, and has hence remained relatively unmarked. Things to do in Can Tho revolve around food, food and more food, and courtesy of the Azerai hotel Can Tho, we explore some of Can Tho's street food and culinary traditions with Thomas from the local tour company Can Tho River Tour.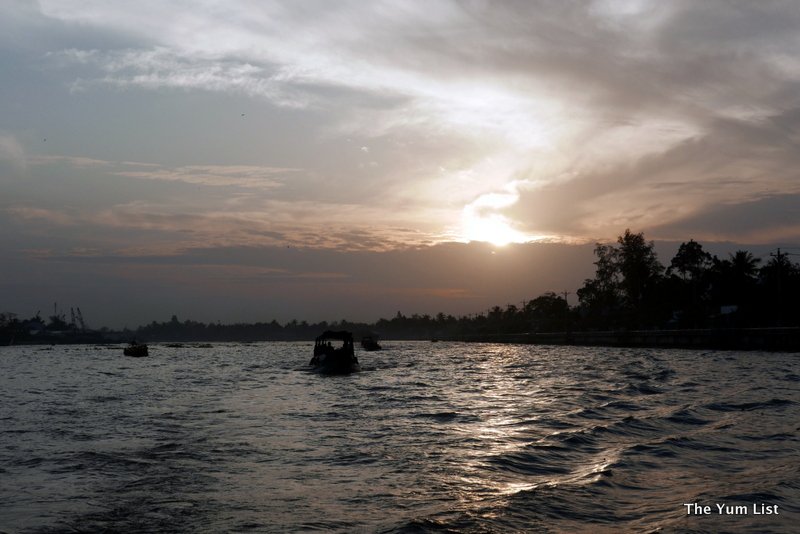 Top Things To Do In Can Tho
Can Tho's Cai Rang Floating Market
At dawn we're picked up in a private car from the Azerai jetty, where we meet our bubbly host Thomas, and are transported to the dock for the first stop on our Can Tho River Tour, Cai Rang Floating Market. There are eight floating markets on the river that run through Can Tho and they're all still functioning just as they have for the past century. It's primarily a wholesale market, but locals also come to buy food for their families and for trade further up the river. 

We arrive as the suns breaks the horizon, and while my photos are not fabulous as I shoot into the light, the scene is magical at this time of day. Tall bamboo sticks advertise the wares on each boat, large boats chug along the river and smaller boats glide about in between. Tropical fruits and vegetables are piled high upon the decks and there's pleasant to and fro and as boats latch on to one another for the duration of a transaction before moving on to the next.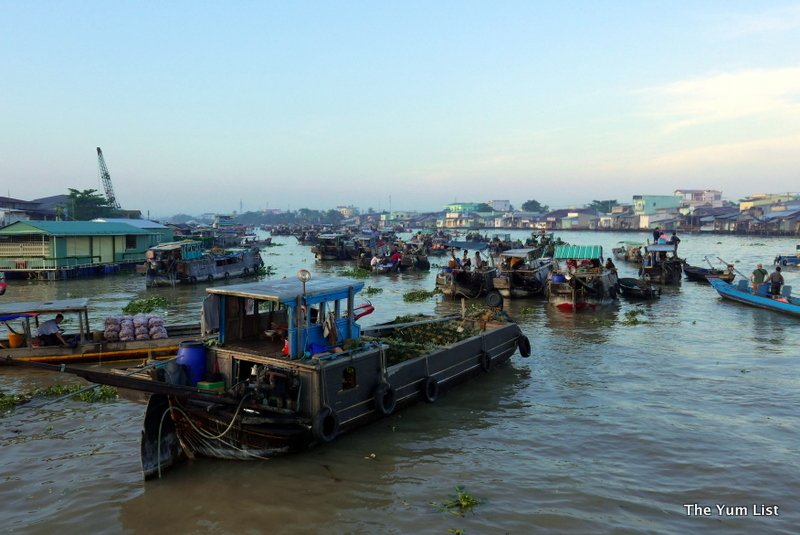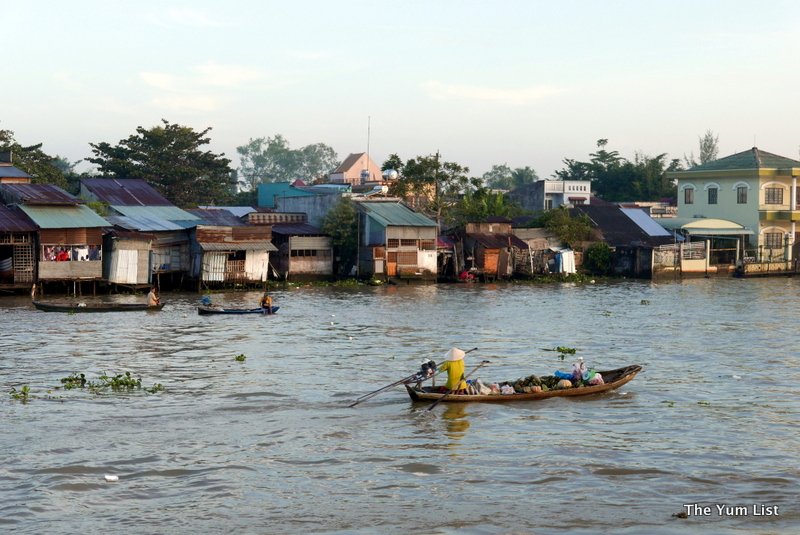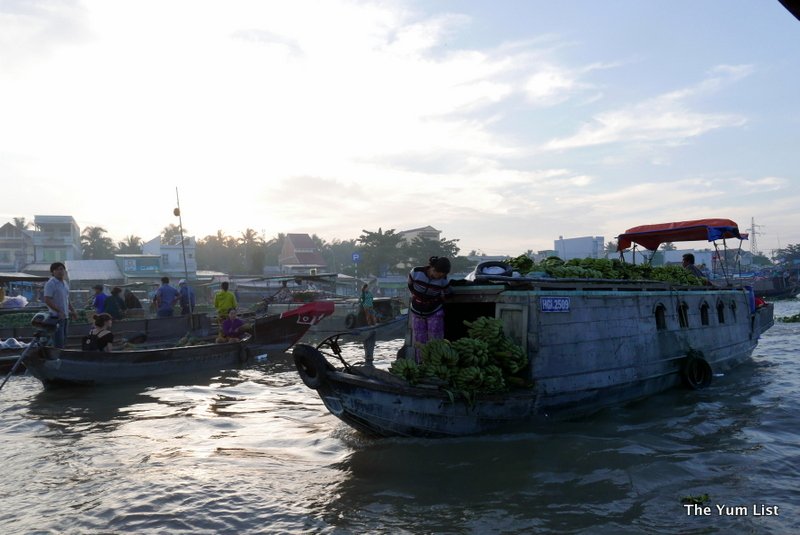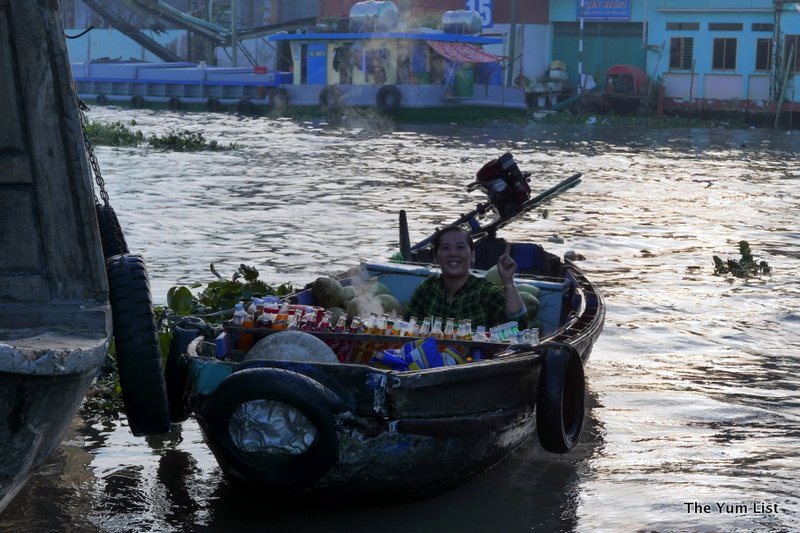 Visitors get to participate too. In fact, it's a must do in Can Tho. A cool coconut from the "floating mini-bar" and a juicy pineapple peeled and served on its own natural stick make the perfect breakfast. Climbing aboard the pineapple vendor's boat we have a magnificent view of the scene, and Thomas, our guide with seemingly endless talents, volunteers to help us capture the best photos of the scene.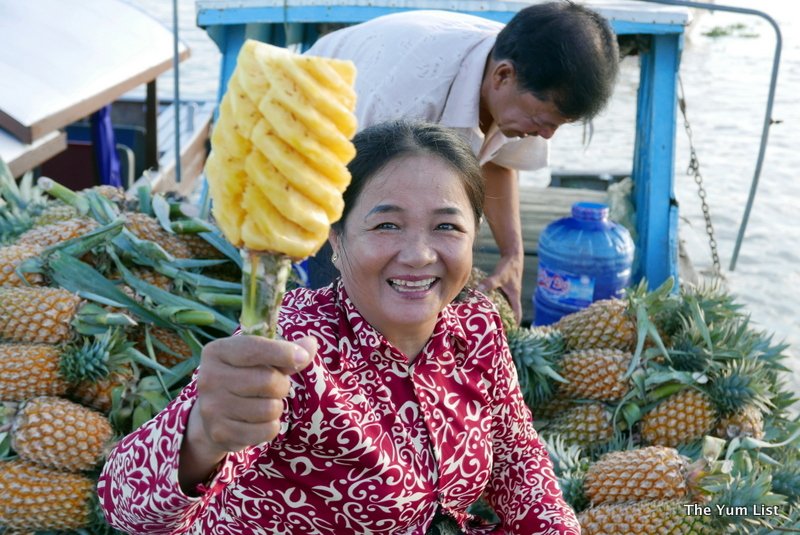 Ba Cong Tropical Fruit Garden
Our next destination, Ba Cong Tropical Fruit Garden is about a 30-minute ride up another channel and allows us to appreciate the serenity of the river and the daily life of its residents as we float by.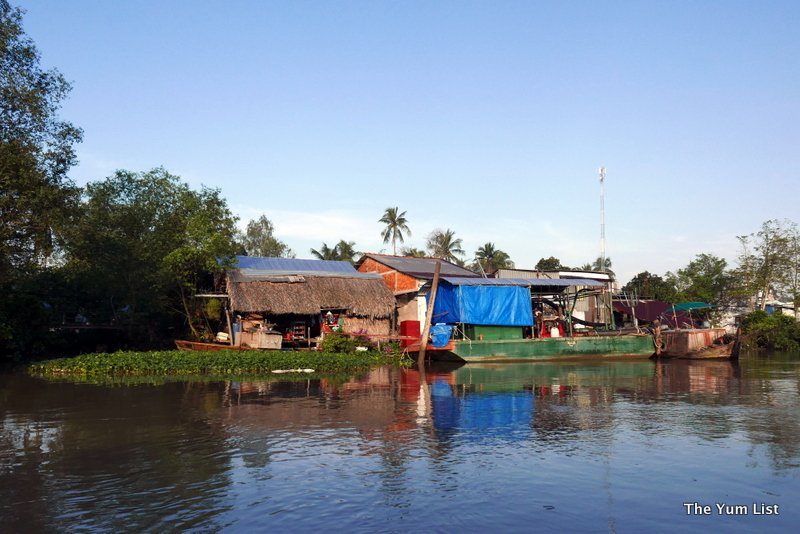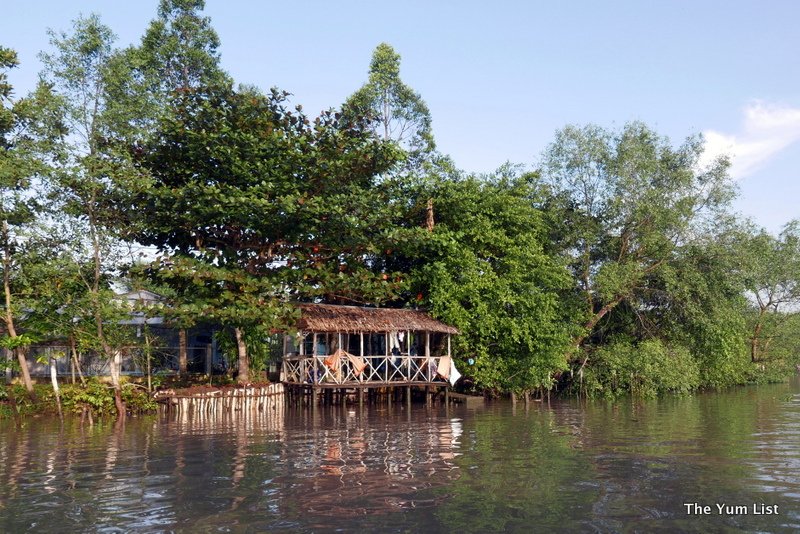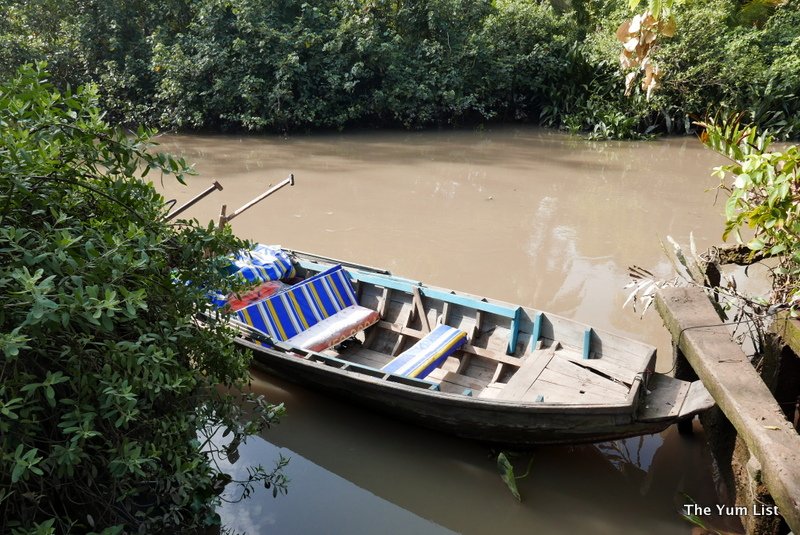 There's a lovely story behind the Ba Cong Tropical Fruit Garden. Apparently, it was just a private plot of land in the past. The owner, however, often noticed tourists coming off boats nearby in rainy weather and concerned for their health offered shelter and hot tea. As you might imagine, those same tourists asked to look around the plantation and with encouragement, the owners slowly turned the garden into a destination for visitors.
Here we take a stroll and admire the diversity of species, finishing the look around with a tea and plates of the sweetest, juiciest tropical fruits that we may have ever eaten. Mango, banana, jackfruit, red dragon fruit and pineapple are in season, and again, our gracious guide ensures that we don't miss a thing with his gasps of, "Oh, oh my, look at that beauty," and suggestions for the best angles for photography.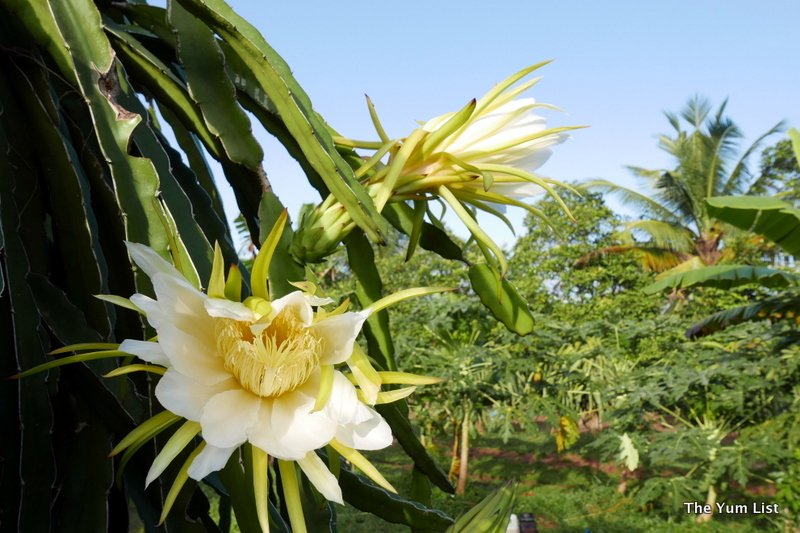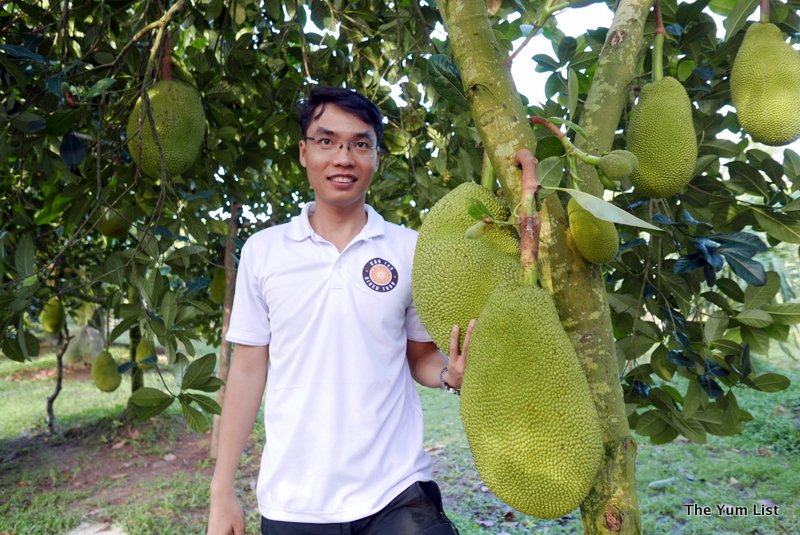 Noodle Pizza
Another boat ride, and we're back on land. This time winding through side streets and back alleys until we arrive at a local noodle maker's home. This family has been making rice noodles since the 1960s in their own self-built factory and we see the process from start to finish and eventually to tummy too. After "helping out" a bit with the production line we're treated to the family's speciality noodle pizza. Noodles are fried until crunchy and served with bean sprouts, peanuts and egg. Yum.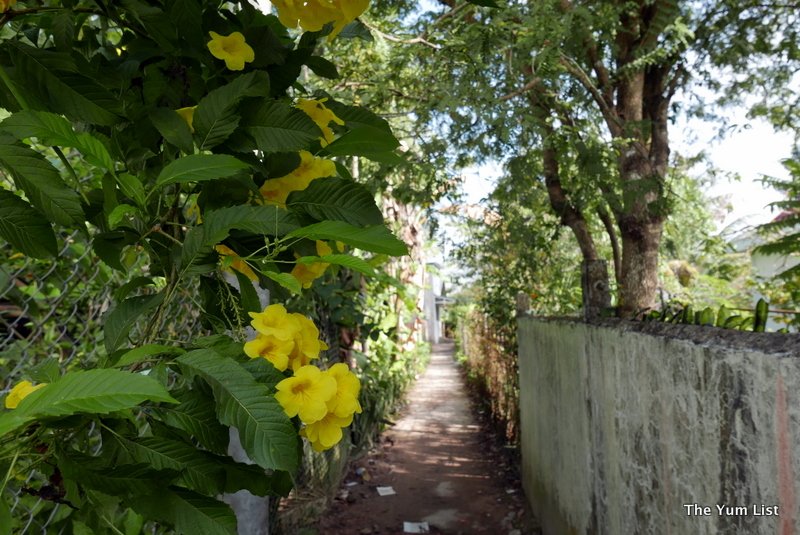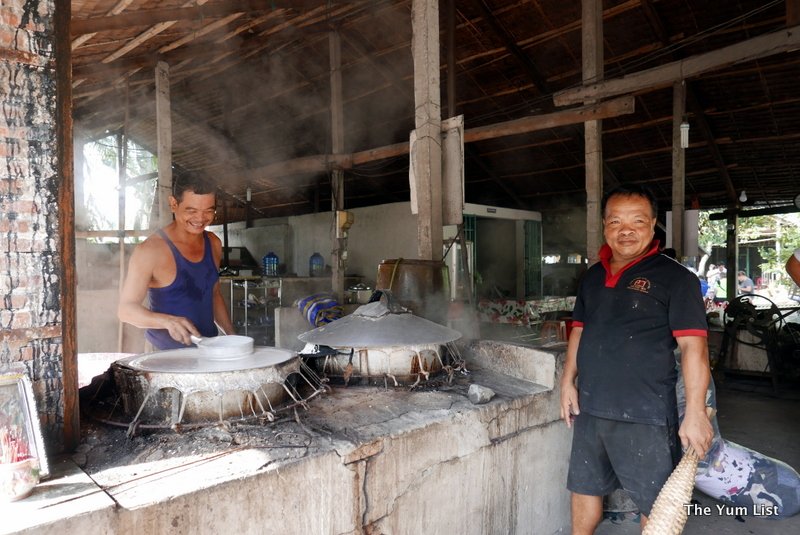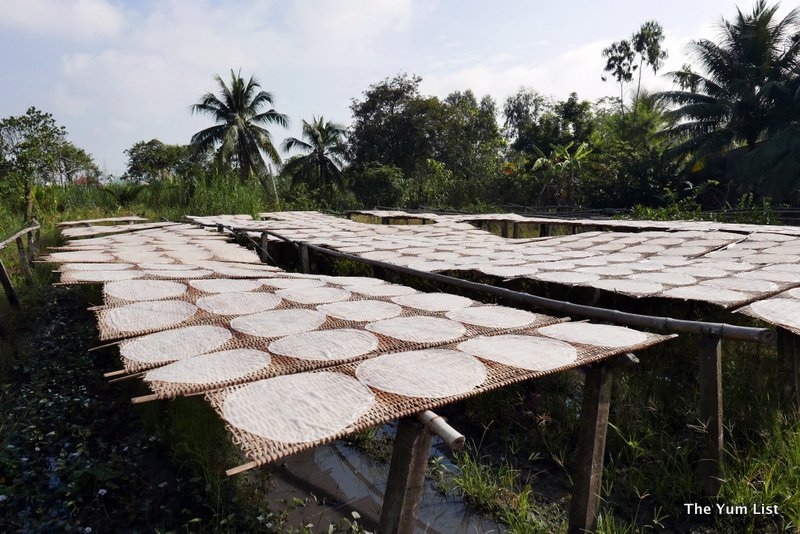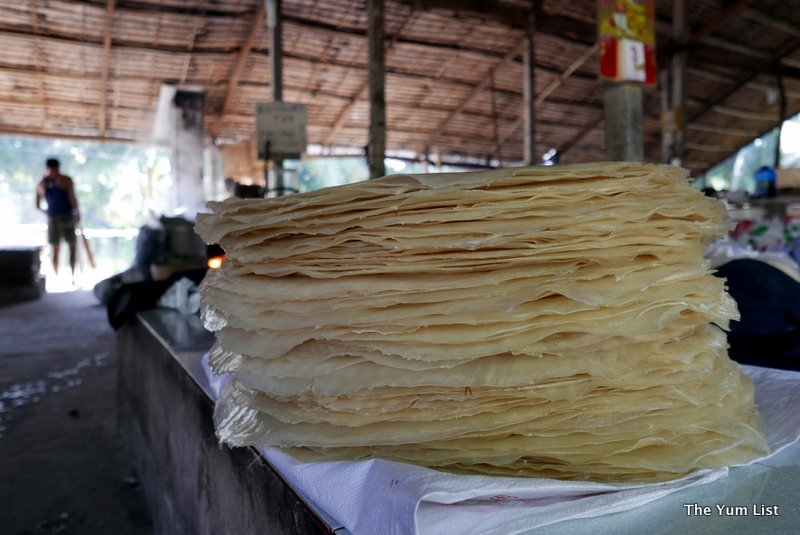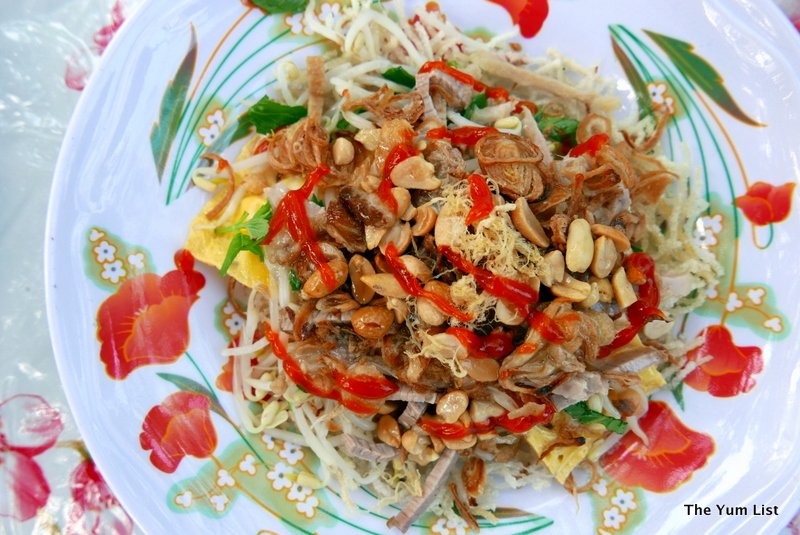 Organic Cacao Farm
Back in the car, we're on the road again and on our way to the Organic Cacao Farm. It's another family with a long history also dating back around 60 years on the land. The original cacao plants were actually brought from Malaysia and they're still thriving today. Organic farming methods are used to grow the plants free of synthetic chemicals and here we get a taste of some hot chocolate and even some cacao wine.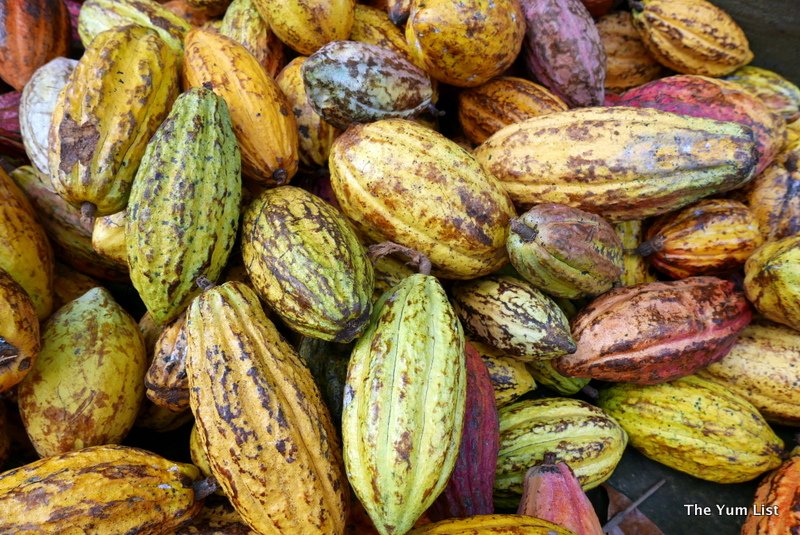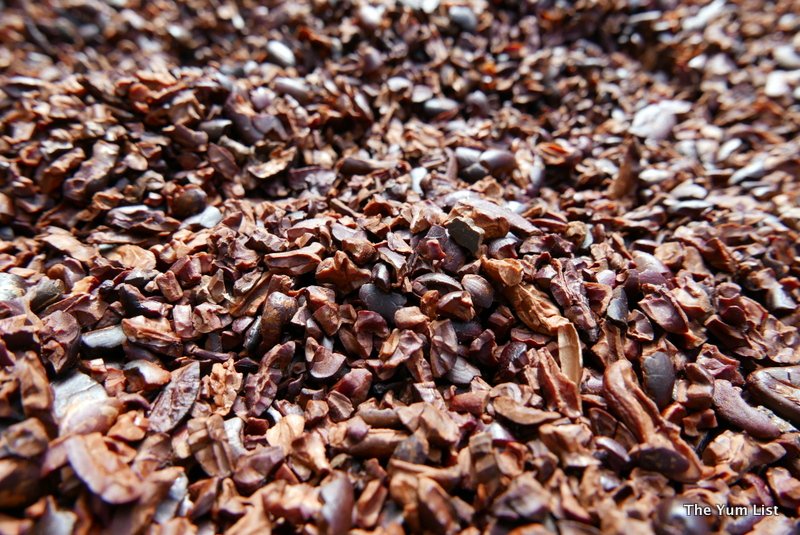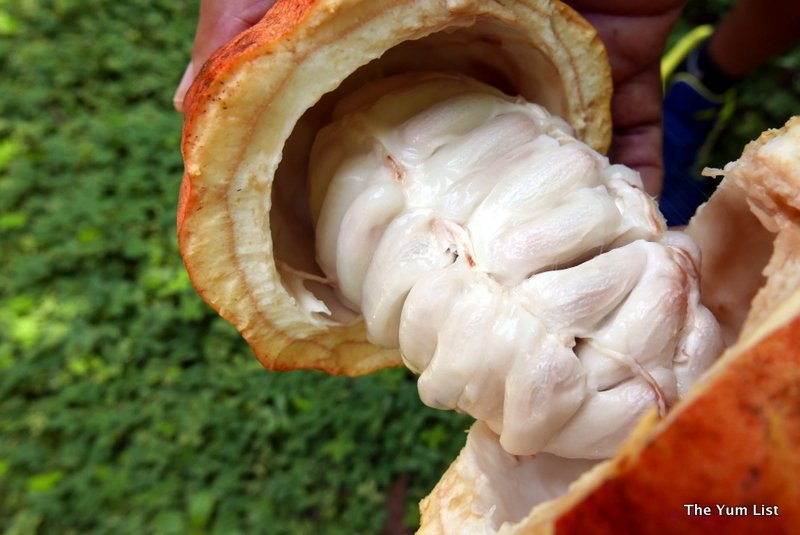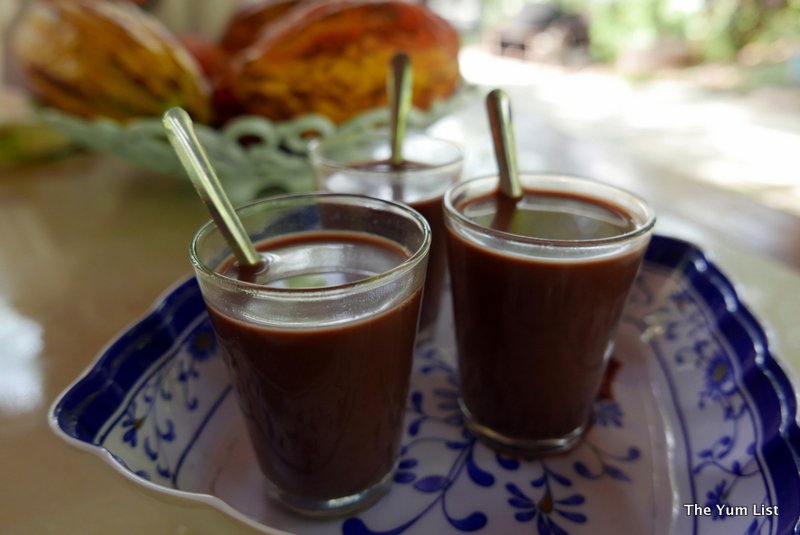 Lunch at Ut Dzach – A Must Do In Can Tho
Even though we've now had four different food stops and some yummy local banana crackers in the car along the way, surely it's time for lunch. We think so but Thomas puts us to work first making hammock-shaped rice vermicelli noodles at Ut Dzach, our next destination's signature product.
Using a handmade machine that requires two people to work it, one person stands at the end pushing down on a lever to squeeze rice dough through perhaps a hundred tiny holes, while person number two holds a banana leaf under the spout moving it gently from left to right to get the famed hammock pattern.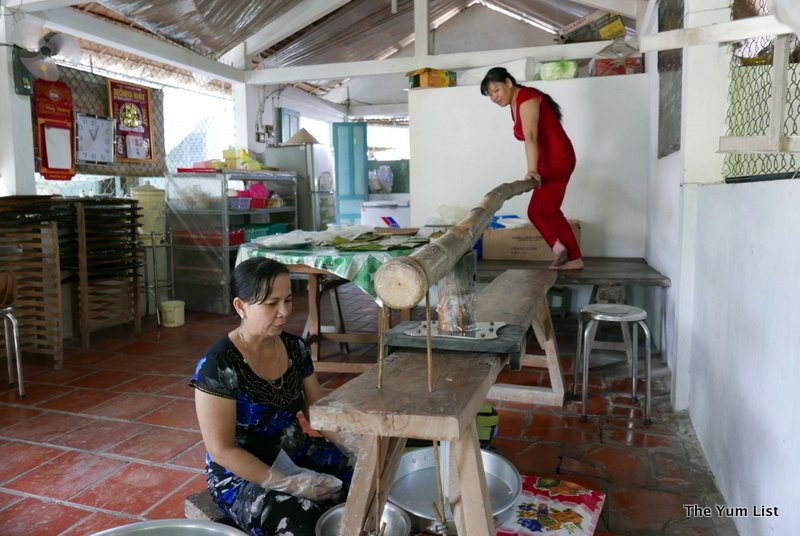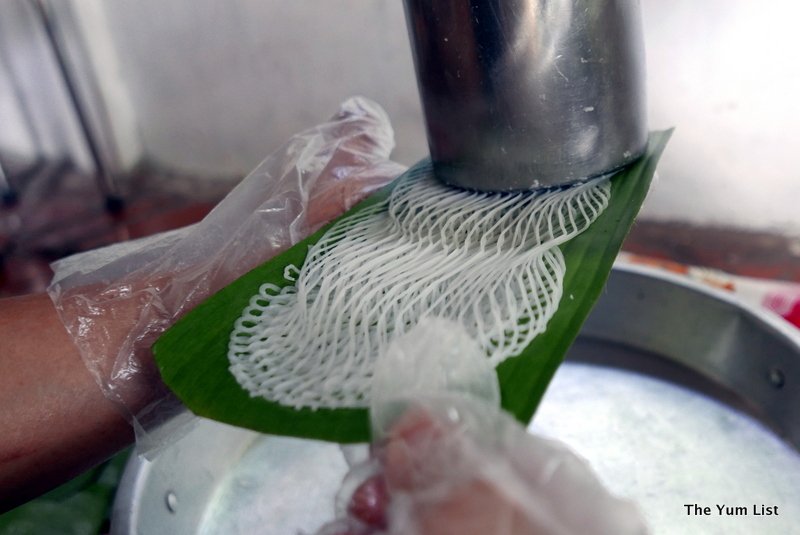 Settled around a table in the garden we now enjoy a true Can Tho feast. While the food in the south of Vietnam has many similarities to dishes we've dined on in Ho Chi Minh, Hoi An and Hanoi, the flavours are distinctly different. I've always thought of Vietnamese cuisine as fresh and loved the bountiful use of herbs in recipes, but when those greens come from some of the richest soil on earth (the Mekong Delta) and have literally been plucked minutes before serving, the flavours are simply unbeatable.
As a starter, the hammock-shaped rice vermicelli noodles are rolled with marinated pork and herbs in a lettuce wrapper. A tangy fish sauce makes perfect dipping. Fried crispy elephant ear fish is a sight to behold presented upright with the curled scales stuck to the sides, and just to ensure there's not a single pocket left in our stomachs, another course composed of pork cabbage soup, morning glory stir-fried with garlic, dried shrimp in a red sauce and steamed rice leaves us with tummies bulging.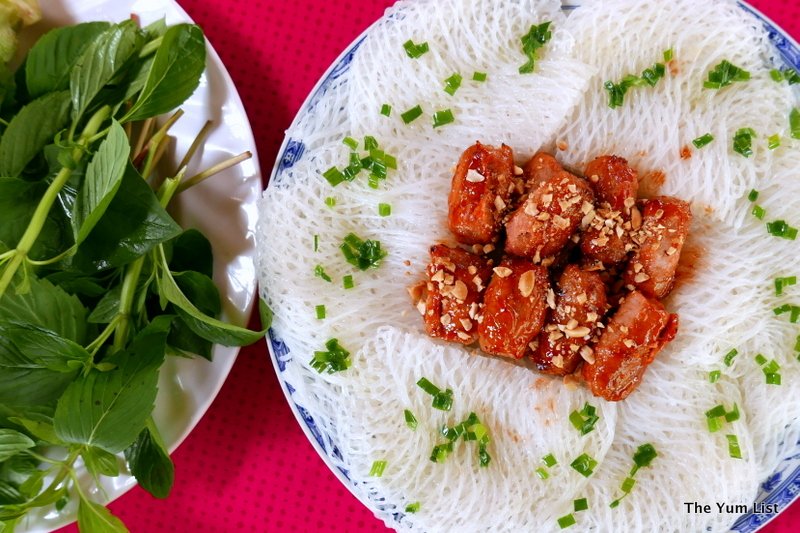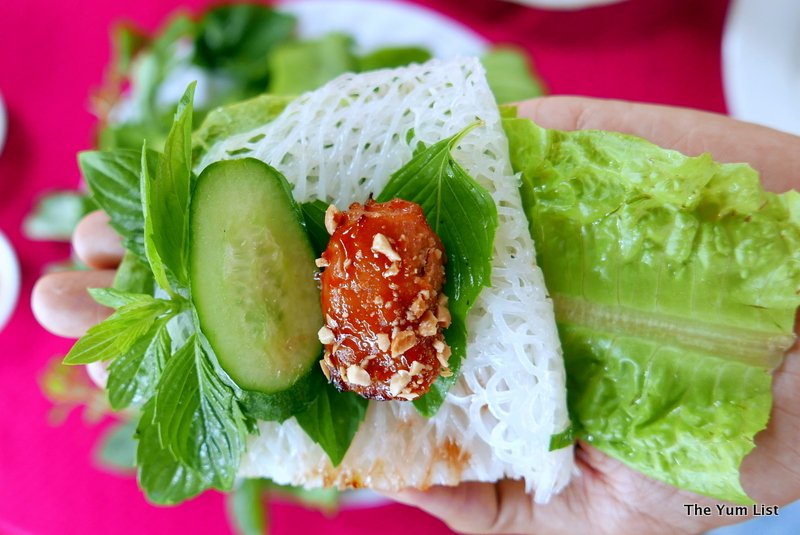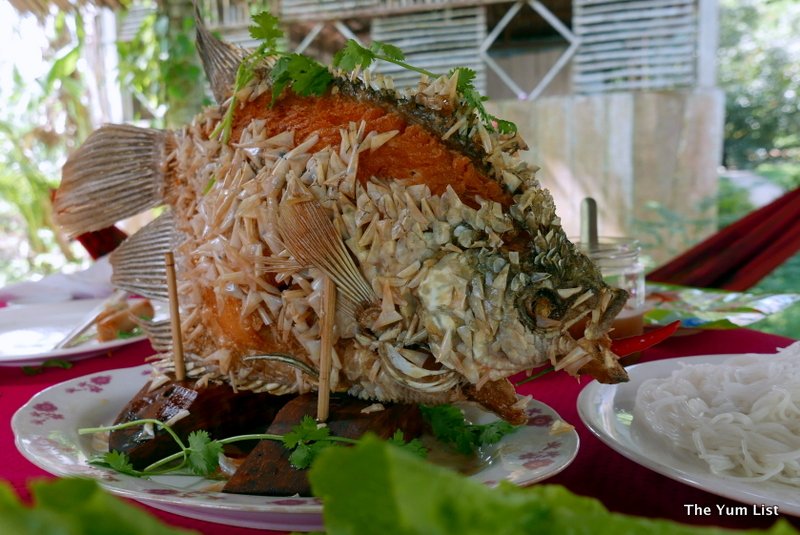 Binh Thuy – French Colonial House
On our way back to Azerai Can Tho, we stop at Binh Thuy, a French colonial house built in the 1870's, which was also part of the film set for the movie, The Lover. It's a beautiful building inside and out with colourful bougainvillaea framing the entrance and a museum full of handcrafted antiques within.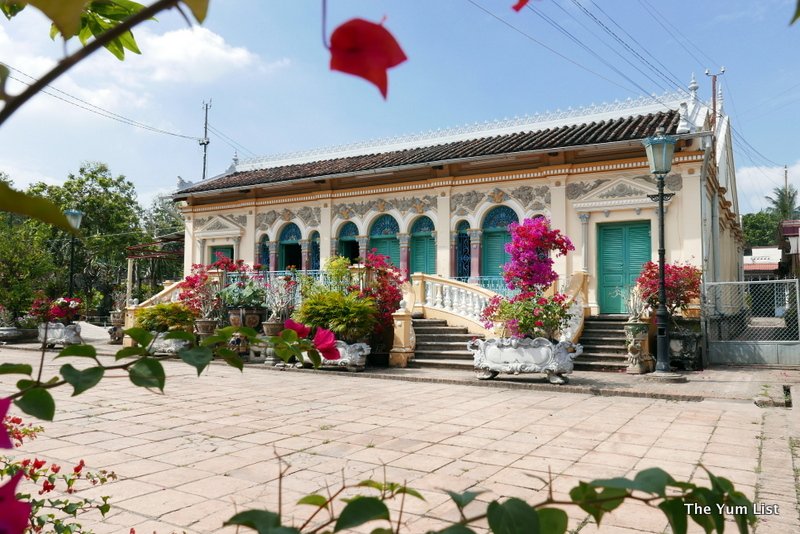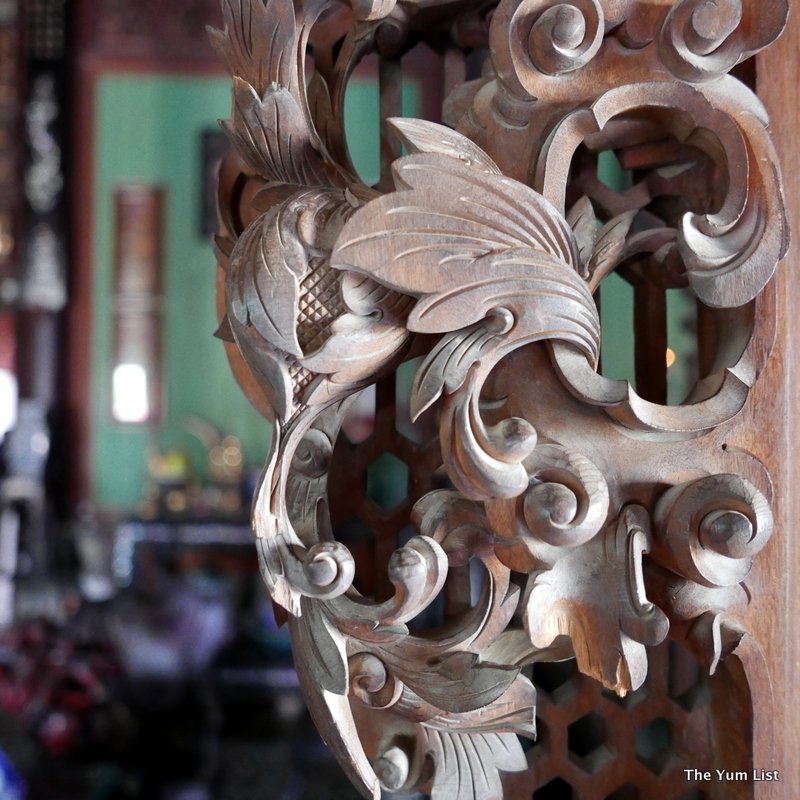 Thomas, our guide from Can Tho River Tour ensured we had a good time, that our stomachs were never empty and that we got the best angles for all of our photography. His enthusiasm for his hometown and its culinary traditions is contagious and we can recommend, without hesitation, Can Tho River Tour as a professional and one of the best tour operators in Can Tho.
Reasons to visit: preprogrammed and customized tours with a local expert; Thomas has excellent communication skills and a real passion for his hometown; very professional operation.